35 Fun Things to Do in Chandler, AZ
Destguides may receive commissions from purchases made through affiliate links in this article.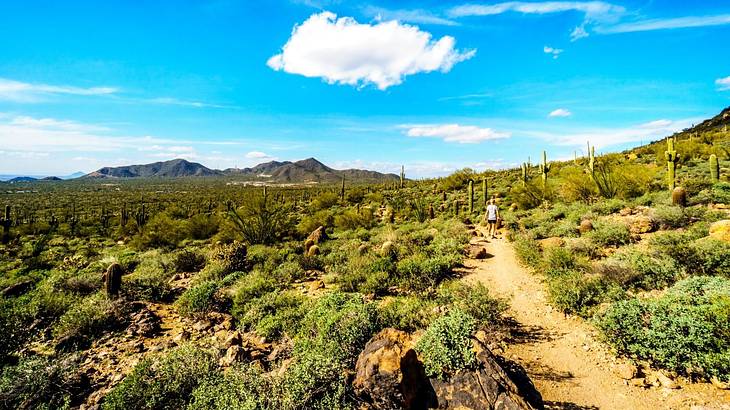 When visiting Arizona, many people head to the most popular cities, like Phoenix or Tucson. However, you can discover many unique and lesser-known towns that are well worth checking out, like Chandler.
Fun things to do in Chandler, AZ, include hiking in desert parks, learning about local ecology at the Chandler Nature Center, and relaxing at luxurious resorts, such as the Sheraton Grand at Wild Horse Pass. Want to discover all the top attractions you must visit in Chandler? Then read on for 35 suggestions!
35 Fun Things to Do in Chandler, Arizona
Chandler, AZ, Things to Do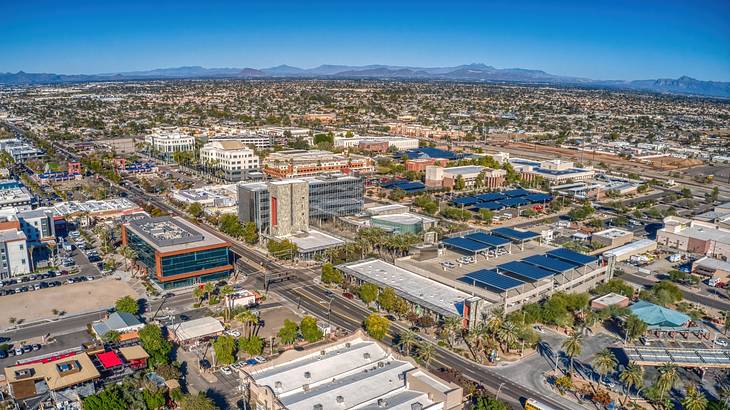 Horseback ride at Koli Equestrian Center
Koli Equestrian Center is the perfect place to go if you enjoy horseback riding. At the center, you can follow a range of trails that will take you through stunning landscapes. The center is also open to all levels, from new riders to experienced equestrians.
Learn about railroads at the Arizona Railway Museum
The Arizona Railway Museum is a fascinating specialty museum to visit in Chandler. The museum covers the history of railroads in Arizona and the Southwestern US and features railroad artifacts and some old-fashioned trains. Those that visit are guaranteed to learn many new things about the importance and history of railroads in the US.
Shop at the Chandler Fashion Center
One of the best things to do in Chandler, AZ, for shopaholics is going to the Chandler Fashion Center. The indoor mall has many stores, including chains, independent shops, and high-end stores. The mall also has dining options, from coffee shops to sit-down eateries. There is additionally a movie theater next to the mall if you want to catch a film.
Walk around Veterans Oasis Park
Veterans Oasis Park is a fun place to spend some time in the fresh air. The 113-acre park has trails, a scenic lake, and lots of flora and wildlife. You can also discover the Chandler Solar System Walk at Veterans Oasis Park. This trail takes you past various monuments representing the sun and the planets.
Play golf at Bear Creek Golf Complex
Bear Creek Golf Complex features two well-maintained 18-hole courses, one ideal for beginners and the other popular with experienced golfers. After playing a round, you can visit the Bear's Den Bar & Grill for refreshments.
Walk around Desert Breeze Park
Another of the Chandler, AZ, things to do for those that want to spend time in the fresh air is going to Desert Breeze Park. The park has a lake and many trails. There are also sports facilities, like tennis courts and volleyball courts. Additionally, Desert Breeze Park is highly family-friendly and features a playground and splash pad for kids.
Hang out at Tumbleweed Park
Tumbleweed Park is another excellent local park with walking trails and areas to hang out on the grass. This park also has multi-use fields, volleyball courts, playgrounds, and bocce ball courts. In addition, there's a recreation center next to the park that offers many activities.
Go to Tumbleweed Recreation Center
Located in Tumbleweed Park, the Tumbleweed Recreation Center has activities for all ages. At the 62,000-square-foot complex, you'll find a gym and rooms for exercise and dance classes. There are also indoor racquetball courts. In addition, the center offers many things for kids to do, including exercise classes and art sessions.
See artworks at the Zelma Basha Salmeri Gallery
If you like the arts, one of the Chandler, Arizona, attractions you won't want to miss is the Zelma Basha Salmeri Gallery. Notably, the gallery houses the Eddie Basha Collection, one of the world's largest privately-owned collections of American Indian art. As you explore, you'll be able to see a range of pieces, from paintings to pottery and sculpture.
Visit Ocotillo Golf Resort
Ocotillo Golf Resort is another golf course to check out in Chandler. The venue has a 27-hole course that features waterfalls, lakes, and lush greenways. Lessons are also offered if you're new to golf or want to improve your skills. After your game or lessons, you can relax at Ocotillo Grill with a meal and some drinks.
Enjoy BMX and freestyle biking at Chandler Bike Park
If you're interested in BMX or freestyle biking, one of the attractions in Chandler, AZ, you'll want to check out is the Chandler Bike Park. The attraction is free to enter and has various features that allow riders to practice tricks and improve their skills.
Create art at Burst of Butterflies Art Studio
At Burst of Butterflies Create & Paint Studio, you can have fun creating stunning artworks. Things to do include painting pottery or canvases and creating fused glass art.
The Burst of Butterflies paint your own pottery and art studio is open to all ages, making it an excellent place for some family fun or a laid-back place to hang out with friends or a date. You'll also get to go home with one-of-a-kind artwork.
Immerse yourself in nature at the Chandler Nature Center
The Chandler Nature Center, also called the Chandler Environmental Education Center, is an interesting attraction that's fun for the whole family. The center is situated in Veterans Oasis Park and features nature-based exhibits with a focus on the ecology and environment of Arizona. After looking around the nature center, you can walk through the park, spotting creatures in their natural habitat.
Ride the Desert Breeze Railroad
Riding the Desert Breeze Railroad is one of the best Chandler things to do for families with young children. You and your kids will board the train at an 1880s-style station and journey around the pond and playground at Desert Breeze Park. There's also a carousel to ride and a snack bar selling kid-friendly snacks.
Find out fun facts at the Chandler Museum
If you want to learn more about Chandler, plan a trip to the Chandler Museum. Exhibits cover the city's history and significant events. You can also see a variety of photographs and artifacts dating from the city's founding to the present.
Watch a performance at Chandler Center for the Arts
Chandler Center for the Arts hosts various shows and events to appeal to all types of visitors. Performances to watch include concerts, comedy shows, dance performances, and musicals. The venue also features an art gallery with rotating exhibits and many works by local artists.
Splash around at Mesquite Groves Aquatic Center
Mesquite Groves Aquatic Center is an ideal place to cool off on a hot Arizona day. This attraction is especially fun for families with kids. The water park features pools, water slides, a lazy river, splash pads, and much more. There are also many places to sit and relax by the pool while your kids swim.
Fill up on candy at Sweeties of Arizona
Sweeties of Arizona is one of the most fun places to go in Chandler, AZ if you have a sweet tooth. The huge candy shop sells numerous varieties of sweets and is known as Arizona's largest candy store. You can find all the most well-known candies and candy brands here as well as some more unique offerings.
Discover antiques at Merchant Square
Merchant Square is a must-visit spot for those that like finding antiques and unique items. The indoor marketplace features around 200 antique vendors. Items on offer range from jewelry to furniture, books, and records. Even if you don't purchase anything, exploring this vast antique mall is a fun activity in itself.
Sip cocktails at The Ostrich
If you're looking for Stuff to do in Chandler, AZ, at night, going to The Ostrich is highly recommended. The speakeasy-style cocktail bar has an extensive drinks menu with a range of classic and craft cocktails. They also have a comprehensive list of liquors, including over 30 whiskeys, cachaca, and rum.
The Hidden House is the perfect place to enjoy lunch or dinner. The eatery has a contemporary interior and serves dishes like tomato bisque, truffle mac and cheese, and grilled swordfish. Decadent desserts and sophisticated cocktails are also on offer. The Hidden House has excellent happy hour offers too.
Grab a coffee at Downtown Chandler Cafe and Bakery
Downtown Chandler Cafe and Bakery serves delicious baked goods, fresh coffee, and more. It's a great place to grab a coffee to take out or to relax with a drink on the tranquil outdoor patio. Along with a range of coffee and tea drinks, you can order food like bagels and lox, cinnamon roll pancakes, and chilaquiles.
Drink beer with tropical birds at The Perch Brewery
The Perch Brewery is definitely one of the coolest attractions in Chandler, Arizona. The local brewery has a rooftop bar and is home to many tropical rescue birds. The menu includes 30 craft beers, plus specialty cocktails, wine, and pub food like fish and chips, mac and cheese, and peach salad.
As you enjoy your food and drinks, you can admire the pretty tropical birds. Species to see include hyacinth macaws, African gray parrots, and green wing macaws, all of which were rescued after being abandoned.
Ice skate at Ice Den Chandler
Ice skating probably isn't an activity that comes to mind when visiting the desert state of Arizona. However, you can do just that at Ice Den Chandler. The rink is open for public skating on the weekends and sometimes on other days of the week. Ice hockey tournaments are hosted here too.
Have fun at Makutu's Island
Makutu's Island is another fun place to take your kids to in Chandler. The indoor playground features tunnels, pretend trees to climb, and slides. There's also a cafe serving snacks like pizza, fries, and ice cream, and areas for parents to relax while their kids play.
Fun Things to Do Near Chandler, AZ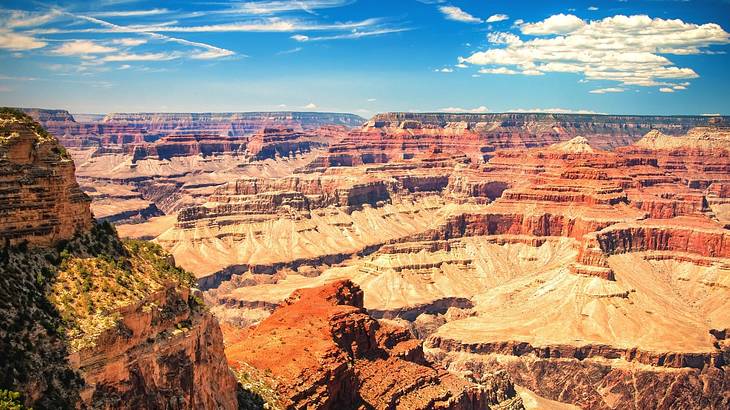 Spend the day at Grand Canyon National Park
The Grand Canyon is one of the most famous landmarks in the world. Conveniently, it's located just three hours from Chandler, and driving to see this iconic natural attraction is well worth it!
You can marvel at the canyon and follow some nearby trails when visiting. Other things to do in Grand Canyon National Park include taking a helicopter tour and going on a guided hike.
If you're wondering when to visit Grand Canyon National Park, opt for a spring or fall trip. During these periods, the weather is dry but not overly hot, and crowd levels are at their lowest. However, you'll have a fantastic time no matter when you visit.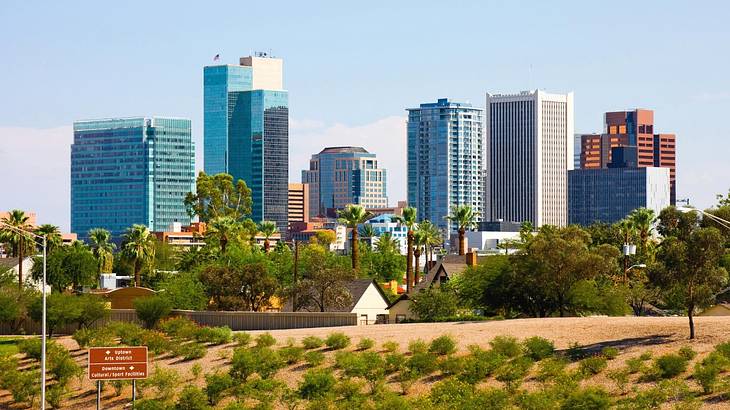 Drive to Phoenix
Phoenix is just a 35 minute drive from Downtown Chandler, making it the ideal place for a day trip or overnight getaway. Once you arrive, you'll find an array of things to do in Phoenix.
Activities to enjoy in Downtown Phoenix include going to the Phoenix Art Museum, watching an Arizona Diamondbacks game at Chase Field, and wandering around the Japanese Friendship Garden of Phoenix.
Stay at the Sheraton Grand at Wild Horse Pass
If you're visiting the area, staying at the Sheraton Grand on the city border between Chandler and Phoenix is highly recommended. This luxurious hotel features a modern design that incorporates elements of the Gila River Indian Community's heritage and culture.
Guests can book rooms and suites, including those with poolside views. You can also benefit from many amenities at the hotel, like five-star restaurants, including Kai, Arizona's only AAA Five Diamond Award Restaurant, and a relaxing pool with a poolside bar.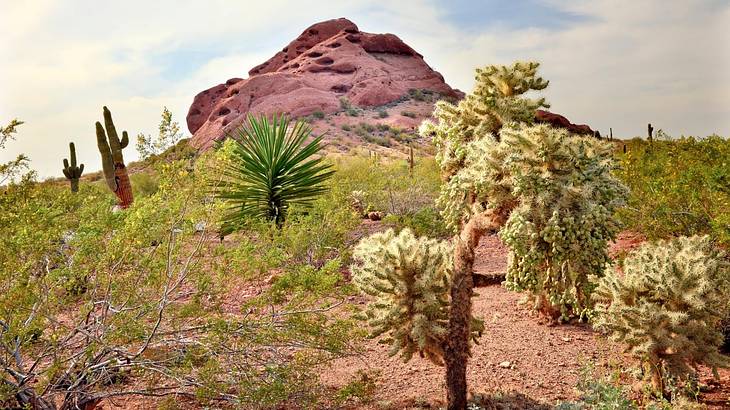 See desert plants at the Desert Botanical Garden
The Desert Botanical Garden is a pretty attraction to visit in Phoenix. Located 20 minutes outside Chandler, the garden is home to numerous plants native to the deserts around Arizona. Plants to see include multiple species of cactus and colorful wildflowers. There's also a butterfly pavilion to visit after you've walked around the garden.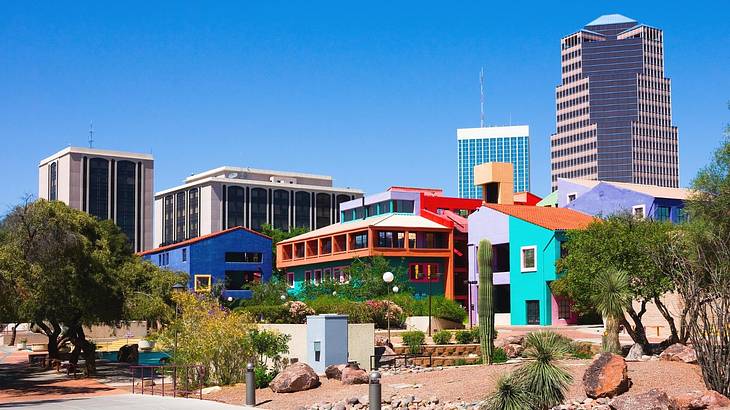 Plan a trip to Tucson
Tucson is another well-known Arizona city that's located just an hour and a half from Chandler. Things to do in Tucson range from visiting museums like the Tucson Museum of Art to going on bike tours of the city and visiting famous Tucson landmarks. If you stay into the evening or overnight, you'll also find many outstanding bars and restaurants.
Relax at Aji Spa
Are you looking for relaxing things to do near Chandler, Arizona? Then plan a visit to the tranquil Aji Spa! The spa is located at the Sheraton Grand at Wild Horse Pass and offers various treatments, including massages, body scrubs, facials, and manicures. If staying at the hotel, you can also relax by the pool after your spa session.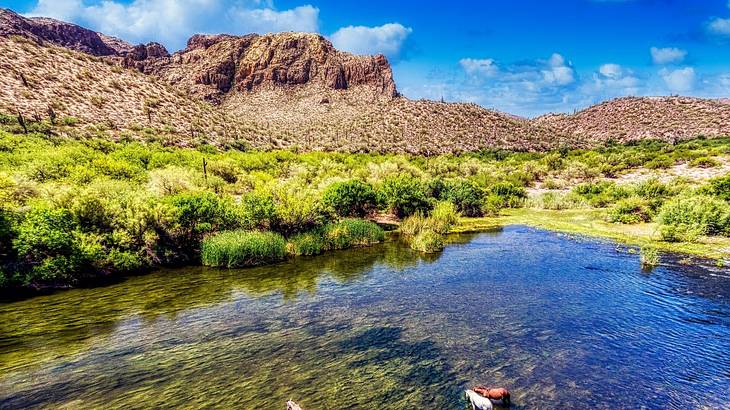 Tour Tonto National Forest at sunset
Tonto National Forest is another natural Arizona landmark that has to be on your must-visit list. This vast forest covers almost three million acres and is only 30 minutes from Chandler when driving.
During a visit to the forest, you can enjoy many activities, including hiking, biking, and camping. While the area is beautiful during the day, visiting at sunset is highly memorable.
A fun way to do so is by going on a jeep tour of Tonto National Forest. You can join the tour in Scottsdale, just a 25-minute drive from Chandler. As you explore, you'll get to admire the park under a pink and orange sky.
Explore San Tan Mountain Regional Park
San Tan Mountain Regional Park is situated about 40 minutes away from central Chandler. The 10,000-acre park is an ideal place to hike and view part of the San Tan Mountains. Other activities to enjoy here include mountain biking and watching the sunset over the mountainous landscape.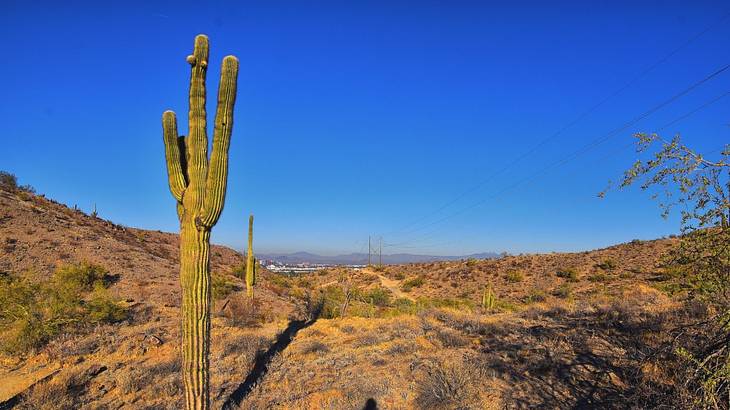 Hike at South Mountain Park and Preserve
South Mountain Park and Preserve is the largest municipal park in the US and is just 20 minutes from Chandler. It covers approximately 16,000 acres and features a desert landscape and three mountain ranges. Visitors to the park can hike a range of trails, which allow them to admire the views and spot native plants and wildlife.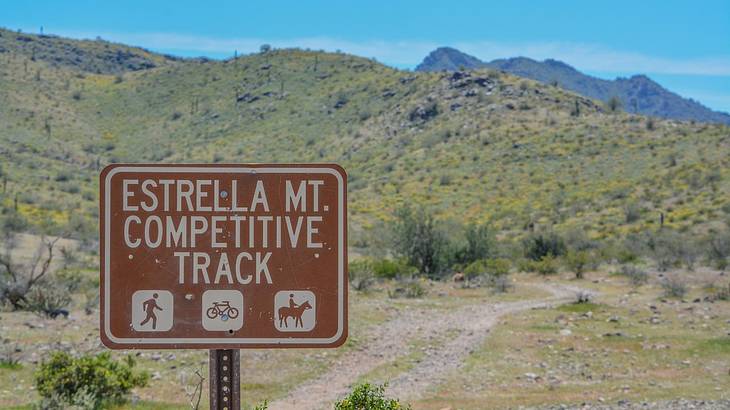 Follow trails Estrella Mountain Regional Park
Another perfect place to hike near Chandler is Estrella Mountain Regional Park. The park has multiple trails that take you through a mountainous desert landscape and past wetlands. Along the route, you'll also see numerous species of desert plants and may spot animals, like lizards and roadrunners.
In Conclusion
As you can see, there's no shortage of stuff to do in Chandler, Arizona, and the surrounding area. Being situated in the desert, you'll find many unique places to hike, like Estrella Mountain Regional Park.
Visitors can also go to many attractions, like the Arizona Railway Museum or Ocotillo Golf Resort. Whether you live near Chandler or are visiting, this list should have given you lots of fun activity ideas to add to your to-do list!
Give us feedback about this article
More visual stories related to this article:
Want to keep exploring?
Subscribe for discounts on tickets and hotels and our latest guides.
Thank you for subscribing
We will be in touch soon with discounts on tickets and hotels and our latest guides.
Want to keep exploring?
Subscribe for discounts on tickets and hotels and our latest guides.
Thank you for subscribing
We will be in touch soon with discounts on tickets and hotels and our latest guides.