25 Fun Things to Do in Peoria, AZ
Destguides may receive commissions from purchases made through affiliate links in this article.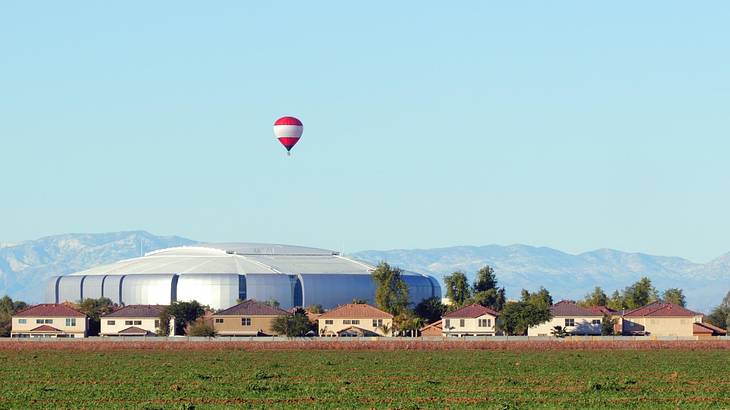 Located just north of Phoenix, Peoria is well worth visiting when in Arizona! Fun things to do in Peoria, AZ, include drinking wine at local wineries, going on a cruise on Lake Pleasant, and seeing Major League Baseball teams train and play at Peoria Sports Complex.
If you want to plan a trip to another city or attraction while in the area, there are also many destinations nearby, like Tucson, the Grand Canyon, and, of course, Phoenix. To discover everything to do in and around Peoria, read on for 25 ideas!
25 Fun Things to Do in Peoria, Arizona
Peoria, AZ, Things to Do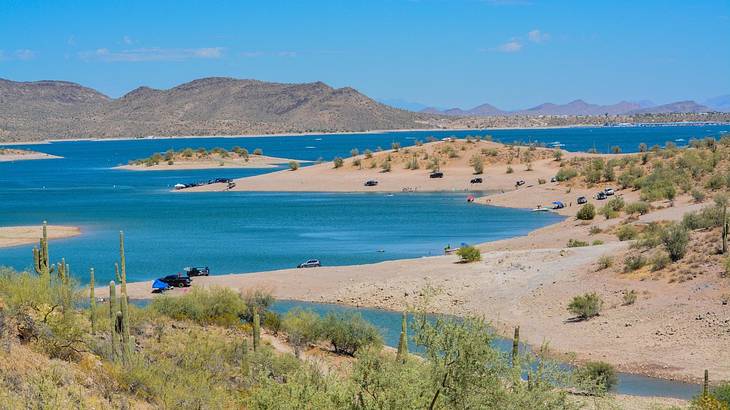 Experience a cruise around Pleasant Harbor Marina and Lake Pleasant
Watersports enthusiasts will want to head to Pleasant Harbor Marina. At the marina, you can boat, kayak, and even enjoy a waterslide, with rentals of water sports equipment available.
Another fun thing to do here is going on a cruise with Lake Pleasant Cruises. You can book various cruises, from a luxurious brunch cruise to a romantic sunset dinner cruise. All cruises will allow you to enjoy views of Lake Pleasant, and many cruises offer drinks like cocktails and food.
Play sports at the Rio Vista Recreation Center
Also known as the Rio Vista Community Center, the Rio Vista Recreation Center is a family-friendly attraction with excellent sports facilities. The recreation center within Rio Vista Community Park features a gymnasium, climbing wall, and indoor racquetball courts, among many other sports and fitness attractions. There are also outdoor seating areas, a duck pond, and a fun splash pad for young kids.
Have a game of golf at Quintero Golf Club
Quintero Golf Club is popular with Peoria locals and residents from other nearby cities, like Scottsdale and Phoenix. The top-rated course has 18 holes across a lush green course with sand and water hazards.
Lessons are also offered at Quintero Golf Club, and you can even stay at vacation rentals next to the golf course to enjoy a golfing weekend. Whether you're an avid golf player or are looking to learn, playing at Quintero Golf Club is one of the best activities in Peoria, AZ.
Hang out at Pioneer Community Park
Peoria has many excellent parks, including Pioneer Community Park. The 83-acre park has a scenic lake and many amenities, from baseball fields to playgrounds and a splash pad for kids.
There are also picnic and barbeque areas, which are the perfect place to get together with friends or family. A dog park is located within Pioneer Community Park as well if you're looking for a place for your pup to run around and meet other dogs.
Ice Skate at AZ Ice Peoria
Ice Skating probably isn't the first activity that comes to mind when thinking about things to do in Arizona. However, you can enjoy ice skating in the desert at AZ Ice Peoria.
This indoor rink has open skating sessions, and skates are available to rent for your time on the ice. Lessons are also available, and those that live in the area can join ice hockey leagues or figure skating clubs.
Sip local wines at Winery 101
Winery 101 produces delicious handcrafted red and white wines and sweet dessert wines. You can visit the winery to do a tasting before deciding on some bottles to purchase. Winery 101 also hosts some special tasting events that include live music, and you can even join the wine club!
Jump around at Sky Zone Trampoline Park
A great place to take kids of all ages is Sky Zone. The indoor trampoline park has a range of attractions, from standard trampolines to a parkour trampoline park, a dodgeball court, a zipline, and more.
If you have young kids, there's also a kids' trampoline zone and a toddler area. The venue stays open until 10 and 11 PM on Friday and Saturday, respectively, so adults can also enjoy the park when it's a little quieter in the evenings.
Splurge at the Park West shopping center
Whether you want to splurge or do some window shopping, going to Park West is another of the fun Peoria, Arizona, things to do. Clothing, beauty, and accessory stores can be found at the mall, including Victoria's Secret and Bath & Body Works.
After some shopping, you can stop at the mall's eateries which range from pizzerias to breweries and ice cream shops. A cinema is on-site too, where you can catch a movie if you want to extend your day out.
Climb at the Ape Index Rock Climbing Gym
Ape Index Rock Climbing Gym is another excellent indoor sports facility in Peoria. The venue has a range of walls for all levels, from experienced climbers to those trying rock climbing for the first time. Lessons are also offered, and there are climbing clubs for kids to join.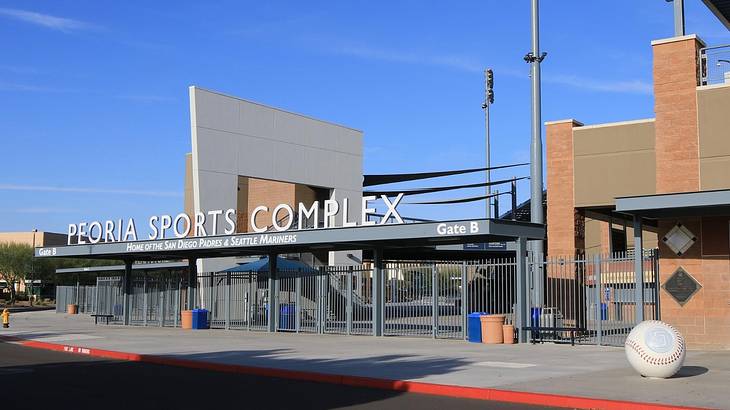 Catch a baseball game at the Peoria Sports Complex
If you like sports, one of the best things to do in Peoria, AZ, is going to the Peoria Sports Complex. Interestingly, this location is the Spring training ground of the San Diego Padres and the Seattle Mariners MLB teams.
Along with being able to see some Padres and Mariners preseason games in March, you can watch minor league teams here. The other three baseball teams to see at the Peoria Sports Complex are the Arizona Complex League Mariners, the Arizona Complex League Padres, and the Peoria Javelinas of the Arizona Fall League.
Bike or hike the New River Trail
The New River Trail is a biking and hiking trail that runs through Maricopa County. You can join the trail at various places in Peoria, and as you follow it, you will get to pass fields, prairie lands, and creeks. There's also lots of wildlife to spot along the railway, from coyotes to birds like eagles and kestrels.
View artworks at the West Valley Art Museum
If you're an art enthusiast, the West Valley Art Museum is one of the Peoria, AZ, attractions you won't want to miss. You can see various art pieces, from paintings to costumes, and the works on display come from over 60 countries.
There are also many pieces by artists from Arizona, including those local to Peoria. West Valley Art Museum hosts temporary exhibitions as well, allowing you to see new artworks every time you visit.
Watch a show at the Arizona Broadway Theatre
Spending an evening watching a show at the Arizona Broadway Theatre is an excellent idea for a night out in Peoria. The venue specializes in Broadway-style plays and other musicals.
As you enjoy the show, you can order dinner with dishes like sweet chili glazed salmon, stuffed portobello mushrooms, or calamari on the menu. Alcoholic drinks are also available at the theater, as are desserts like chocolate torte or raspberry sorbet.
Get drinks and a meal at Social on 83rd
If you're wondering what to do in Peoria, Arizona, at night, getting a meal and some drinks at Social on 83rd is an excellent idea. The trendy spot serves a variety of dishes, from bruschetta or red pepper hummus to burgers, salads, and flatbread pizzas.
With your meal, you can order white wine or craft beer. Alternatively, opt for a delicious cocktail or two, with specialty cocktails named after movie stars like Audrey Hepburn and Marylin Monroe available. Social on 83rd serves brunch on Saturday and Sunday until 2 PM as well.
Watch sports and eat sushi at Headquarters Grill Bar Sushi
Headquarters Grill Bar Sushi is a laid-back spot to hang out and enjoy sushi, a beer, and the game. A range of games, including NBA, NFL, and MLB, are shown, with most games featuring Arizona teams available to watch.
While watching, you can order snacks like an array of sushi rolls as well as classic bar snacks such as burgers, wings, and nachos. Craft beer, plus cocktails and other alcoholic beverages, are also on the menu.
Take your kids to Uptown Jungle Fun Park
Those with young kids will want to plan a trip to Uptown Jungle Fun Park. The exciting indoor activity park has a range of amusements like trampolines, slides and play structures, climbing walls, and a mini zipline. If you have kids, Uptown Jungle Fun Park is definitely one of the best Peoria, Arizona, attractions to check out!
Dine at Firebirds Wood Fired Grill
Another great spot to visit for dinner is Firebirds Wood Fired Grill. At the eatery, you can order various cuts of steak, salmon, and other seafood dishes and sides like onion rings, salads, and baked potatoes. To accompany your meal, order a bottle of wine or a cocktail.
After dinner, you can treat yourself to decadent desserts such as creme brulee cheesecake, chocolate cake, or five-layer lemon cake. You can also treat yourself to dessert coffee, cognac, port, or whiskey.
See a race at Canyon Speedway Park
If you're interested in racing and are looking for things to do in the evening, catching a race at Canyon Speedway Park is a great idea. Canyon Speedway Park generally hosts multiple races each month, and you can see different racing divisions, like IMCA Stock Cars and Power 600 Mini Sprints. As you enjoy the races, you can get snacks and drinks from on-site concessions.
Bowl at AMF Peoria Lanes
Whether you're looking for things to do at night or during the day, going to AMF Peoria Lanes is always a fun activity! The bowling alley has multiple lanes that feature black lights at night, plus an arcade and billiards.
A bar and grill is also on-site, where you can get bar snacks like wings or pizza and beer, wine, or cocktails. Food and drink can be delivered to your bowling lane too!
Things to Do Near Peoria, AZ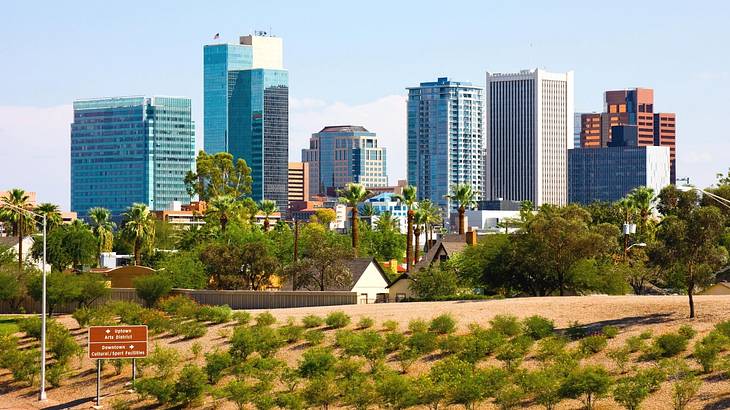 Visit Phoenix
Phoenix is one of Arizona's most well-known cities and is about 30 minutes from Peoria. If you have time, visiting this city is a must, and you'll discover many fun things to do in Phoenix, from visiting the Challenger Space Center of Arizona to seeing an Arizona Diamondbacks game at Chase Field.
You'll notably find many activities to enjoy in Downtown Phoenix, like wandering through the Roosevelt Row Arts District or buying local produce at the Downtown Phoenix Farmers Market. You can also plan a fun date in Phoenix if visiting with your partner, for example, relaxing together at the Clarendon Hotel & Spa or having dinner at Quiessence Restaurant.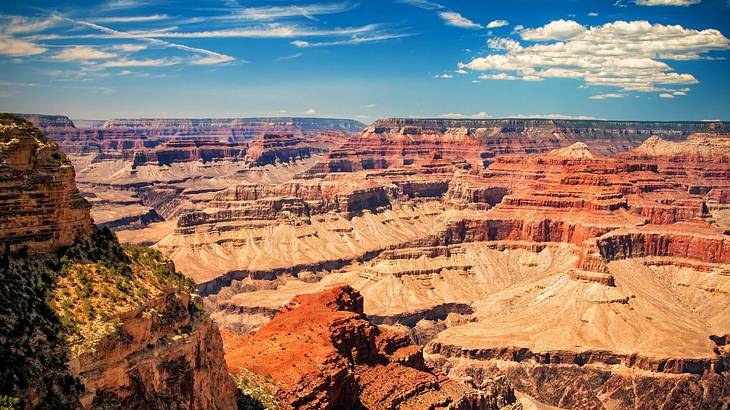 Marvel at the Grand Canyon
The Grand Canyon is an Arizona landmark that's famous across the United States and most of the world. This world-famous landmark is located around three and a half hours from Peoria and is well worth driving to, with many cozy rentals available if you want to stay around Grand Canyon National Park overnight.
Visitors can explore the area alone or take a Grand Canyon tour. Excursions include hiking and driving tours as well as helicopter flights over the impressive canyon.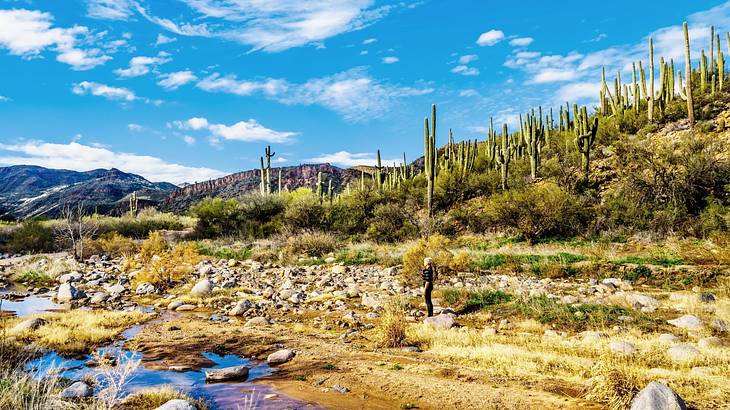 Explore Tonto National Forest
Tonto National Forest is a stunning natural attraction located around 45 minutes to an hour from Peoria. The landmark is the ninth-largest national forest in the United States! If you enjoy hiking and exploring the outdoors, visiting the park is well worth it.
Once you arrive, you can drive through the park and follow scenic hiking trails on which you'll see wildlife, desert plants, and mountainous surroundings. You could also drive about 30 minutes from Peoria to Scottsdale to join an off-road jeep tour of Tonto National Forest. You'll be driven through the best parts of the park and will also be able to drive by Pinnacle Peak Park and Reata Pass.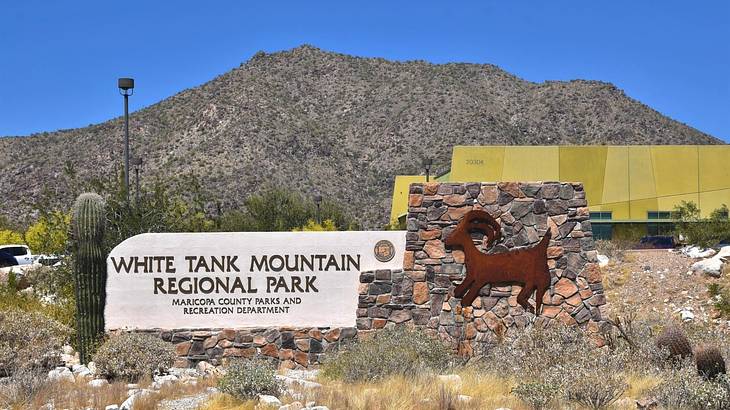 Camp at White Tank Mountain Regional Park
White Tank Mountain Regional Park is a popular hiking and camping area located around an hour from Peoria. The almost 30,000-acre park features desert and mountain landscapes and allows you to see desert plants and animals, like desert tortoises and javelinas.
If you want to spend the night in nature, you can book a camping spot at White Tank Mountain Regional Park.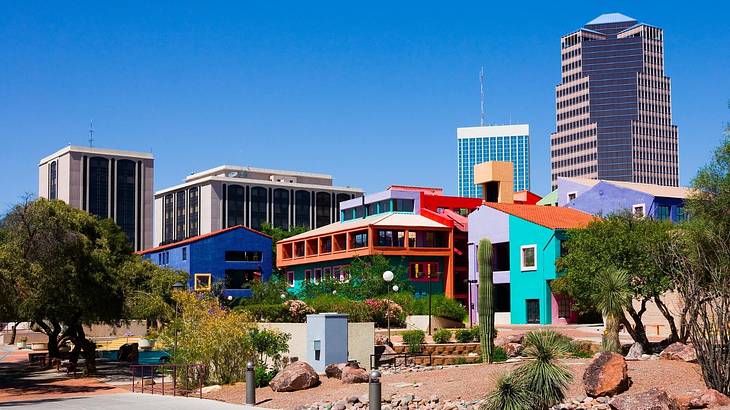 Spend the weekend in Tucson
If you want to plan a weekend getaway from Peoria, going to Tucson is a wonderful idea! The city is around two hours from Peoria, depending on traffic, and has lots of attractions to check out.
Tucson activities range from visiting Tucson landmarks like Mission San Xavier del Bac to wandering around the pretty Tucson Botanical Gardens or exploring Sabino Canyon Recreation Area.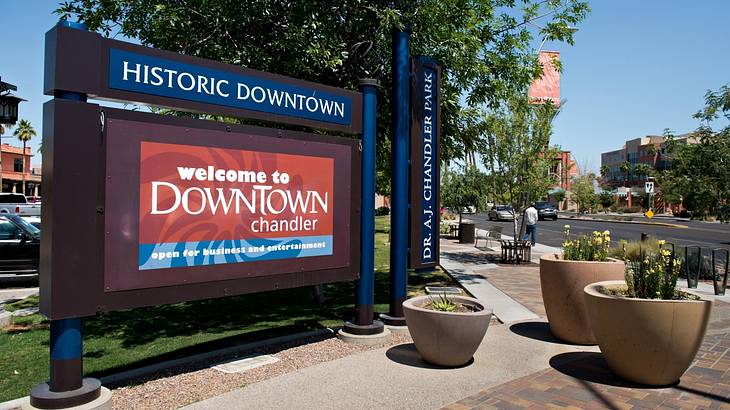 Plan a trip to Chandler
If you want to visit some other unique Arizona cities while in the Peoria area, consider driving to Chandler. This destination is about an hour away from Peoria, depending on traffic.
Once you arrive, things to do in Chandler include visiting the Arizona Railway Museum, creating artworks at Burst of Butterflies Create & Paint Studio, and getting a beer with tropical birds at The Perch Brewery!
In Conclusion
If you're planning a trip to Arizona and have been wondering what to do in Peoria, AZ, this article should have shown you how many fun things there are to do in the area. When in Peoria, you can check out local theaters, play golf at Quintero Golf Club, hang out at sports bars, and so much more. Whatever you decide to do, you'll have a great time in this desert city!
Give us feedback about this article
More articles about Arizona:
Read more articles about the United States:
More articles about things to do:
---
---
Want to keep exploring?
Subscribe for discounts on tickets and hotels and our latest guides.
Thank you for subscribing
We will be in touch soon with discounts on tickets and hotels and our latest guides.
Want to keep exploring?
Subscribe for discounts on tickets and hotels and our latest guides.
Thank you for subscribing
We will be in touch soon with discounts on tickets and hotels and our latest guides.
Related Articles