The 15 Best Parks in Berkeley, CA
Destguides may receive commissions from purchases made through affiliate links in this article.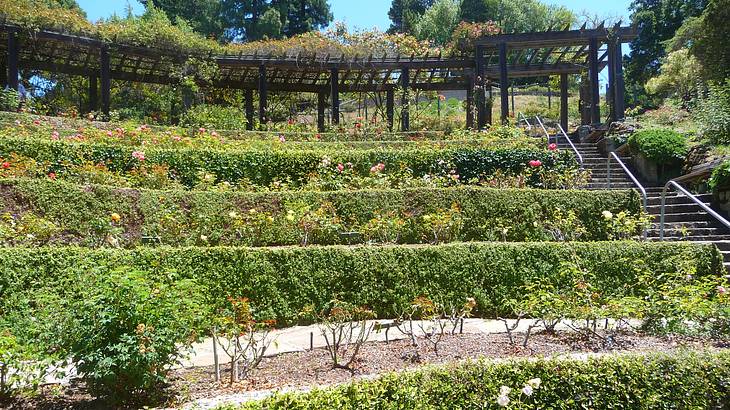 Named after the Irish bishop and philosopher George Berkeley, Berkeley is a city on the Eastern shore of San Francisco Bay in Northern California. It is a mix of city and nature and is home to the oldest campus of the University of California.
Mostly known for its diverse food scene, the city is also a center for the arts, music, and literature, with multiple art festivals, theaters, and bookstores around. Hidden within the town, you can find many of Berkeley's parks as well!
With hills to the east and water to the west, Berkeley has over 50 parks on offer, from nature preserves to lovely local parks. These parks allow locals and tourists to enjoy a range of outdoor activities in Berkeley, such as hiking, rock climbing, biking, picnicking, and more. If you want to find out more, keep reading to discover the 15 best parks in Berkeley, CA!
15 Best Berkeley Parks
The Best Parks in Berkeley, CA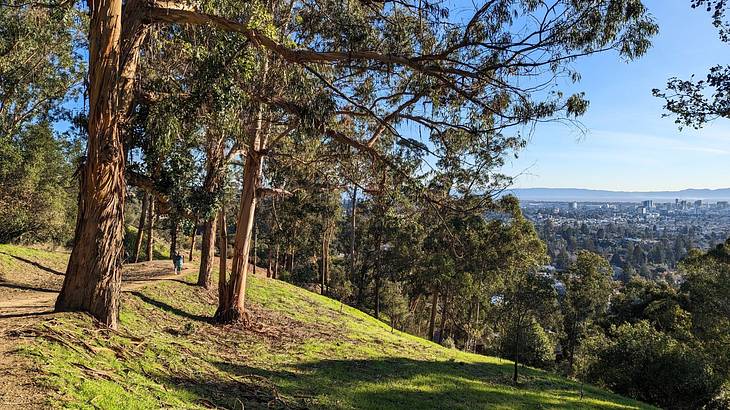 Claremont Canyon Regional Preserve
Nestled in the hills of Berkeley and Oakland, Claremont Canyon Regional Preserve spans 208 acres. Through community activism, people managed to preserve the Claremont Canyon watershed in the '70s.
Claremont Canyon Regional Preserve serves as a partial ecological corridor, offering a mosaic of flora and fauna. Inside, you can find grasslands to coastal scrub and oak/bay woodland to eucalyptus plantations, all of which support various animal species and plant communities.
In the park, there are a lot of hiking and equestrian trails to choose from. The main trail is the Stonewall-Panoramic Trail, which offers a panoramic view of Oakland, Berkeley, San Francisco Bay, and the Golden Gate Bridge. Additionally, a section of Claremont Creek flows through the canyon's center.
Codornices Park
Opened in 1915 as one of the first parks in the city, Codornices Park featured an excellent tennis court, a splendid field house, and many other amenities. Half a century later, the park included a softball field.
However, the park improved further in 1980. Los Amigos de Codornices, a community group, came together and began a series of community work to restore paths, meadows, hillsides, bridges, and trails.
The park offers its original amenities, plus a play area, magnificent trails, and a vista. Lastly, there's a tunnel underneath Euclid Avenue that leads to the Berkeley Rose Garden, an honorable mention on the best parks in Berkeley, California list.
McLaughlin Eastshore State Park
Bordering the north and south of Aquatic Park, McLaughlin Eastshore State Park spans 8.5 miles across the shoreline. In 2012, this park was named after Sylvia McLaughlin, the co-founder of Save The Bay. A fitting name for a recreational center in harmony with nature.
This park boasts of being one of the most outstanding achievements in open space protection. Despite its location amid California's highly urbanized area, this park is excellent for looking at wild Californian flora.
Moreover, as it's situated on the 500-mile San Francisco Bay Trail, pedestrian and bicycle trails run along the entire park, offering a panoramic view of the East Bay.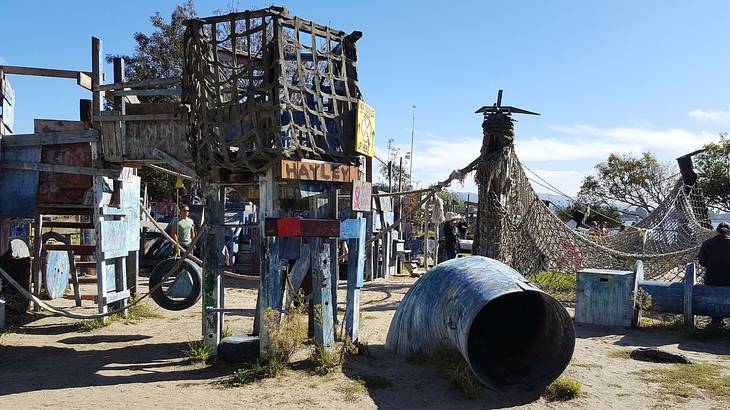 Shorebird Park Nature Center & Adventure Playground
Situated along the southern shoreline of Berkeley, Shorebird Park Nature Center offers terrific activities and spectacular views. Within the nature center, there are picnic sites with BBQs. You can also find hiking trails, a children's play area, a beach area, and, the Shorebird Nature Center.
Adjacent to the center is the renowned Adventure Playground. This wonderfully unique outdoor play space for children and families is a tradition among native Berkeleyite. Here, participants can have fun on the many forts, ride the zipline, or create items using various tools and recycled materials.
Indian Rock Park
Berkeley boasts multiple rock parks for avid climbers and boulderers, with Indian Rock Park being one of Berkeley's best rock parks. It's said that Richard Leonard, the American climber, learned rock climbing and developed his mountaineering techniques at Indian Rock.
This park is located closest to the Thousand Oaks area, providing beautiful vistas of San Francisco Bay and challenges for beginner climbers. Mason-McDuffie Real Estate Company gifted Indian Rock Park to the City of Berkeley for park purposes in 1917.
Cesar Chavez Park
Originally known as North Waterfront Park, Cesar Chavez Park replaced the former landfill site as a pleasant waterfront park. In 1996, it was renamed for the noted union leader and founder of the United Farm Workers of America.
Inside the marina, there's a wide range of recreational activities and breathtaking views of the three-bay bridges, Angel Island, and Alcatraz. Additionally, this park is great for BBQing, hiking, and kite flying.
You can also check out the Chavez Memorial Solar Calendar or enjoy the vegetation and animal life in the wetlands and wildlife sanctuary. Lastly, the famous 500-mile San Francisco Bay Trail goes around the whole park.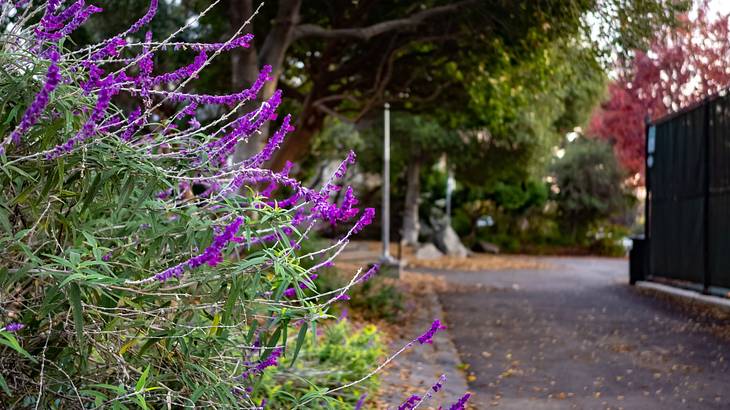 Willard Park
One of the most popular City of Berkeley parks is Willard Park. it encompasses a sizeable multipurpose turf, plus a clubhouse and fully enclosed tot play area with slides, swings, and other fun amenities.
When the park was developed in the '70s, activists named it Ho Chi Minh Park for the Vietnam War. In the mid-1990s, Friends of Willard Park implemented several renovations in the park, including redesigning the tot play area.
This active community, an adopt-a-park group, remains vigilant in the continuous maintenance and overall improvement of the park. Now, Willard Park has two tennis courts with a practice wall and improved tot area, picnic area, and clubhouse.
Live Oak Park
Right beside the Berkeley Art Center, Live Oak Park hosts several community festivals and provides a wide range of recreational activities. Walking paths wind through impressive oaks and other Californian native trees.
From basketball and tennis courts to a recreation center, the park also offers tot and school-age play areas, along with a garden center and an indoor theater. Many great athletes used these grounds, including the female tennis player Helen Wills Moody.
Friends of Live Oak Park and their volunteers have recently improved the park, including the renovation of the gorgeous stone fireplace, where you can enjoy a BBQ and a picnic!
San Pablo Park
Opened for public use in 1914, San Pablo Park provides various recreational activities for all ages. From baseball to children's play areas, this park has two ball diamonds, two tennis courts, basketball courts, handball courts, and a clubhouse. There's also a BBQ area.
In recent years, a community group, the Friends of San Pablo Park, has helped improve the tot play area by adding swings, slides, a train, and spring riders.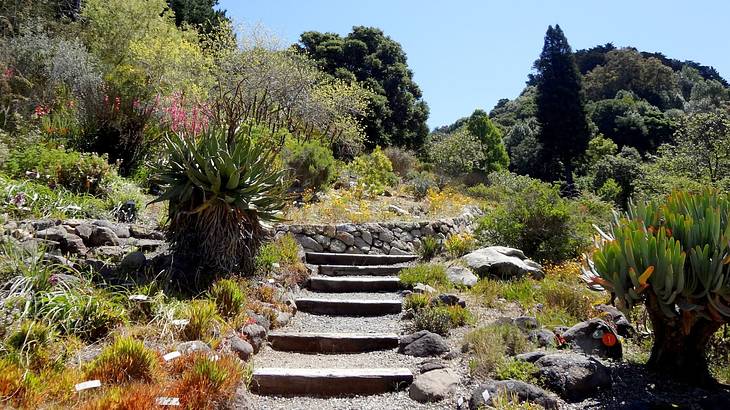 University of California Botanical Garden
Featuring nine regions of flora from North America to Australia, the UC Botanical Garden encompasses 34 acres. It is one of the most diverse gardens in the world.
Established in 1890, the garden's living collections act as valuable resources for international research in plant biology and the conservation of plant diversity.
Through maintaining a diverse living collection of plants, the garden helps support teaching and promote public understanding and appreciation of these plants and their natural environment.
To visit, make a reservation on their website. Alternatively, you can visit Berkeley's Historic Rose Garden, which features 1,500 rose bushes and 250 varieties of roses.
You can also see spectacular views of the famous Golden Gate Bridge and San Francisco Bay from the garden.
Cedar Rose Park
The city of Berkeley developed Cedar-Rose Park along a portion of the abandoned Santa Fe Railroad in 1984. Located in the northern neighborhood of Westbrae, Cedar Rose Park has picnic areas, sports facilities, and a stage/amphitheater.
Additionally, there are significant play areas for both tots and school-age children and nearby community gardens. Along the park is also a hidden cafe where you can buy a drink and relax!
Martin Luther King Jr. Civic Center Park
Honoring the famous civil rights activist, the city designated this park as the Martin Luther King Jr. Civic Center Park in 1983.
This historical park has hosted many of Berkeley's festivals and events, including Earth Day and Cinco de Mayo. It also provides a large grass area for picnicking, along with playgrounds and historical features.
In fact, the entire park is marked as a Historic District with a historic fountain and the Peace Wall. Appropriate to its name, this place is also a staging area for large gatherings and protests.
The Best Parks Near Berkeley, CA
Tilden Regional Park
Located in Orinda, about 10 minutes when driving from Berkeley, this park is one of East Bay's oldest and most famous parks. Spanning 2,037 acres, Tilden Regional Park has a plethora of activities and features to do and visit.
You can visit Tilden Little Farm, Tilden Nature Area, the environmental education center, or the Regional Parks Botanic Garden. Moreover, you can hike on one of its many trails, take a ride on the steam train or Merry-go-round, play golf on the Gold Golf Course, have a picnic, or swim at Lake Anza.
Tilden has several options that'll delight anyone of any age, from fun recreational activities to peaceful nature walks.
Sibley Volcanic Regional Preserve
Sitting between Berkeley and Oakland, Sibley Volcanic Regional Preserve is also one of East Bay Regional Park District's oldest parks, along with Tilden. Initially called Round Top Park, it was later renamed Sibley after a member of the board.
The original name came from the preserve's most prominent feature - its round top. With an elevation of 1,763 feet, it's one of the area's highest peaks, created by lava and volcanic debris leftover from a volcano 10 million years ago.
For hikers, there are many trails to choose from in Sibley Volcanic Regional Preserve. Some of the most popular include Round Top Road, Round Top Loop Trail, the 31-mile East Bay Skyline National Recreation Trail, and the Volcanic Trail. Most trails are hiking and equestrian only; however, a few tracks permit dogs and biking. Check the park website for more information!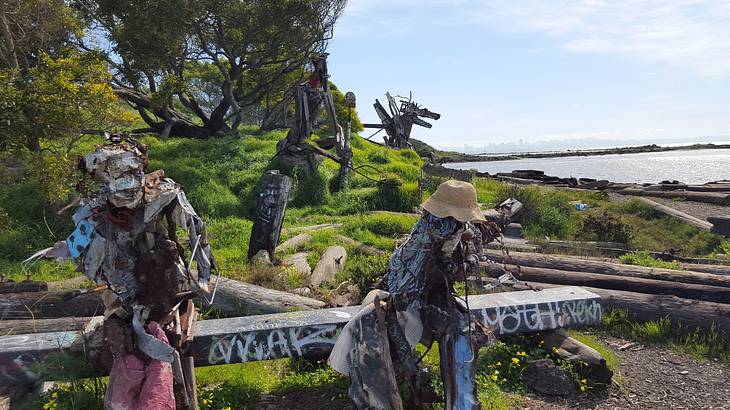 Albany Bulb
North of McLaughlin Eastshore State Park, the Albany Bulb juts out into the bay. Originally a construction debris landfill, the Albany Bulb became a public recreational space after the landfill site ceased operation in 1984.
Although it is still under construction, the Albany Bulb is a lovely park to go for a walk. Nearby, there is a fantastic beach, where dogs and swimming are allowed. Lastly, with unplanned art projects it's also a great place for urban art. Take a photo with the many sculptures and scenic views!
In Conclusion
Berkeley is an attractive, charming, and less crowded mirror of San Francisco. Whether you're visiting Berkeley for its food culture or the arts, make sure to stop by one of its many beautiful parks.
With options from hiking, biking, and rock climbing to more leisurely activities like picnics and enjoying spectacular views, there's something for everyone, including families with young kids and pets.
If you have doubts about parking, how to get to a park, or restroom facilities, check out the city or district's website. Using the links above, you can also look out for special events while you're in town too!
Give us feedback about this article
More visual stories related to this article:
---
---
Want to keep exploring?
Subscribe for discounts on tickets and hotels and our latest guides.
Thank you for subscribing
We will be in touch soon with discounts on tickets and hotels and our latest guides.
Want to keep exploring?
Subscribe for discounts on tickets and hotels and our latest guides.
Thank you for subscribing
We will be in touch soon with discounts on tickets and hotels and our latest guides.
Related Articles