30 Famous California Landmarks You Must See
Destguides may receive commissions from purchases made through affiliate links in this article.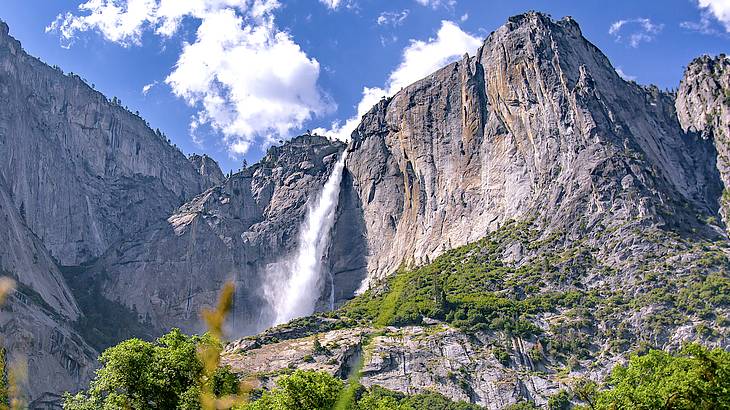 California can be found on the West Coast of the United States, with Sacramento as its capital (although, if you thought that title belonged to Los Angeles, you're certainly not alone).
With a population of around 40 million people, it is by far the most populated state. Yet, thanks to 840 miles of coastline stretching from Mexico and along the Pacific Ocean, there's so much of California waiting to be explored.
A state boasting stunning cliff-lined beach towns, rocky national parks, and brilliant things to do, these are the most famous California landmarks worth adding to your famous landmarks bucket list. A map of California landmarks can also be found below, so you can easily plan your trip.
30 Famous Landmarks in California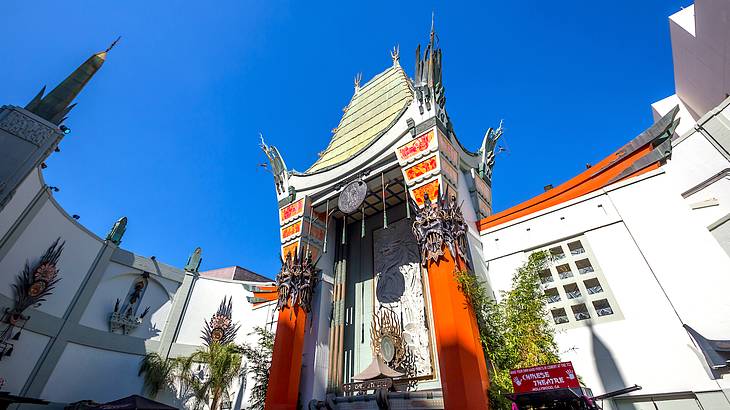 TCL Chinese Theatres, Los Angeles
Located at the end of Hollywood Boulevard, the TCL Chinese Theatre in Los Angeles is easily recognizable thanks to its impressive facade. It is home to over 50 events a year, including movie premieres and festivals.
The theatre was opened on May 18th, 1927, with Cecil B. DeMille's The King of Kings as the first premiere. Although the outside is impressive, the inside of the cinema palace is even more breathtaking, with elegant velvet seats and an opulent ceiling display.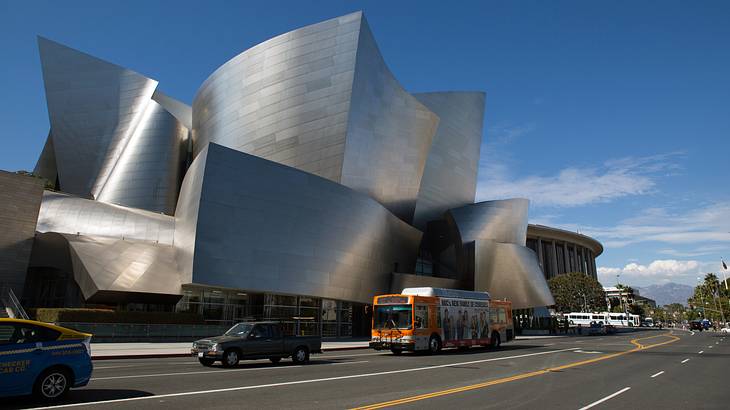 Walt Disney Concert Hall, Los Angeles
Frank Gehry is responsible for the unique design of the Walt Disney Concert Hall in Los Angeles. It is currently the home of the LA Philharmonic Orchestra and the Los Angeles Master Chorale.
Walt's wife, Lillian Disney, gifted 50 million dollars in 1987 for a performance venue to be built as a tribute to Walt's devotion to the arts and the city of LA. The concert hall finally opened in October 2003, after extensive planning.
Attending a concert here is a brilliant way to spend an evening in LA; performances range from classical operas to orchestral film music concerts.
The Getty, Los Angeles
The Getty is an iconic institution in Los Angeles. It's both a museum and a cultural center, as well as an excellent spot for a beautiful view over the city. The center cost $1.3 billion to build and first opened to the public on December 16, 1997.
The Getty's rotating exhibitions range from classic artwork collections to more avant-garde photography from up-and-coming creatives. The permanent collection features work by Rembrandt, Cézanne, Van Gogh, among a range of other household names.
Universal Studios Hollywood, Los Angeles
Whether you're an avid thrill-seeker or just fancy a day of family-friendly fun, Universal Studios in Hollywood is the best place for both. Visiting a theme park while in Los Angeles is one of the best things to do when here after all!
Those who want to scream loudly can enjoy Jurassic World or The Mummy Rollercoaster. Or, if you would like something more gentle, opt for Despicable Me: Minion Mayhem or the newly opened The Secret Life of Pets dark ride.
This theme park also has lots of character meeting opportunities and brilliant themed food. You will need to spend at least a day here to do everything.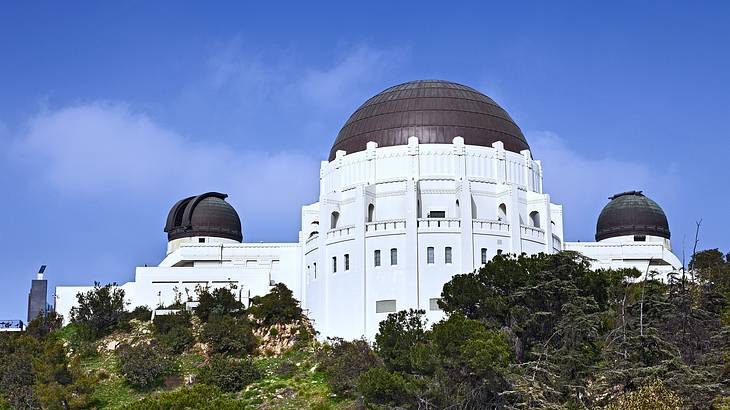 Griffith Observatory, Los Angeles
Located next to Mount Hollywood, Griffith Observatory is easily one of the most interesting landmarks in California. Made famous after appearing in the Hollywood blockbuster La La Land, this is described as the 'gateway to the cosmos' and a wonderful place to catch the sunset.
You can look through telescopes and explore several exhibits relating to science and the stars, with live talks from inspiring professors and experts. Or, head to Griffith Park for a spot of stargazing - one of the best things to do in Los Angeles at night!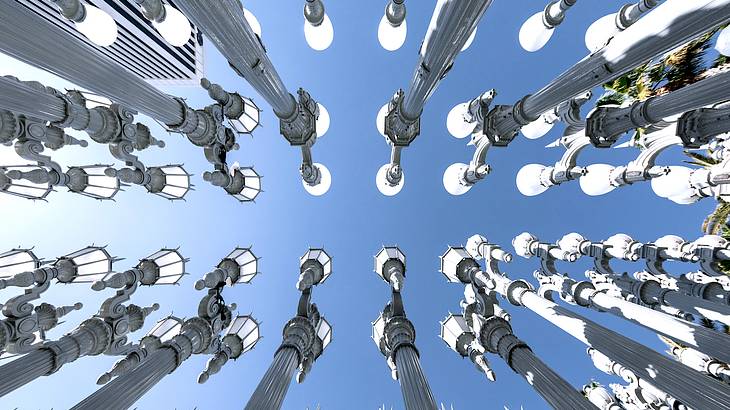 Los Angeles County Museum of Art, Los Angeles
Although the Los Angeles County Museum of Art (LACMA) was originally part of the wider Museum of History, Science and Art, this museum branched off in 1961 and made a name as a separate art gallery.
With a broad collection of art spanning the globe and many eras, this is one of the best places in California to see work from the renaissance, post-modern, and surrealism movements. Artists whose art is displayed here include Pablo Picasso and Diego Rivera.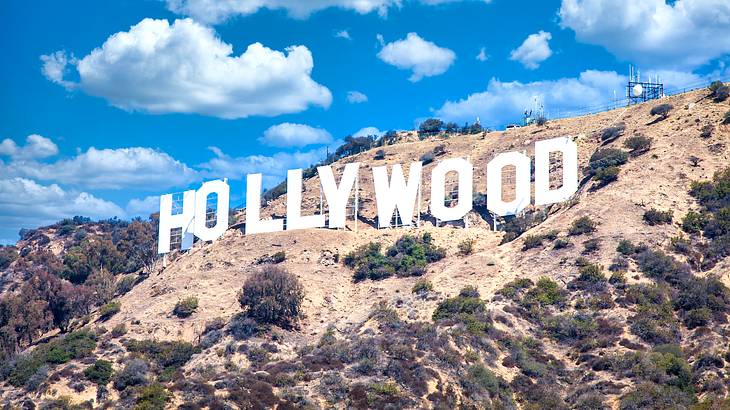 Hollywood Sign, Los Angeles
As one of the most photographed landmarks in North America and the USA, the Hollywood Sign is usually top of many people's bucket lists when visiting Los Angeles.
You can spot the sign adorning Mt Lee in Griffith Park from different locations, but to snap the best photo, you should head to either Canyon Lake Drive or Griffith Park.
The sign was placed on the mountain in 1923 and originally read 'Hollywoodland,' although 'land' was removed in 1949 after the area changed its name.
It was first erected to help promote real estate in Hollywood, but it was decided that the sign could stay after it became a symbol of Golden-age Hollywood.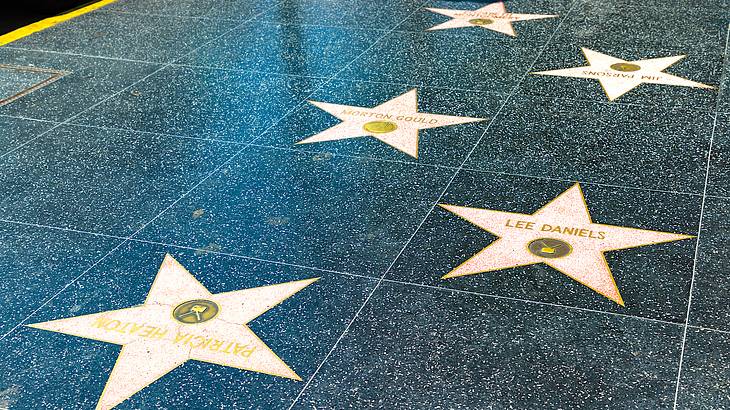 Hollywood Walk of Fame, Los Angeles
The Hollywood Walk of Fame on Hollywood Boulevard is one of the most iconic landmarks in Los Angeles. A series of stars with celebrity names inside line the street, ranging from glamorous actors to great sports stars, including Muhammed Ali.
The Walk of Fame was officially opened in 1960 when a star dedicated to Joanne Woodward was unveiled after she won an Academy Award for The Three Faces of Eve.
Generally, to get a star on the Walk of Fame, a celebrity must have had high levels of fame for at least five years and have been involved with something charitable.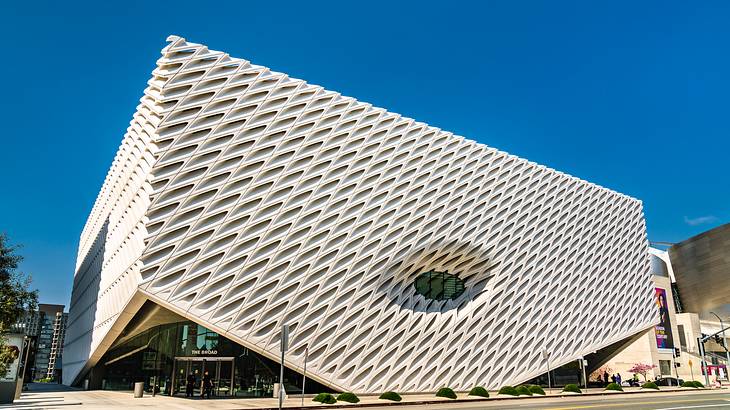 The Broad, Los Angeles
Located next to the Walt Disney Concert Hall, The Broad in Los Angeles is a vibrant art space that showcases some of the most exciting works. The museum is named after the philanthropists Eli and Edythe Broad, who paid the $140 million that it took to complete the building.
Work from John Ahearn, John Baldessari, and Cy Twombly are on display here, along with hundreds of other names. The Broad also hosts several rotating exhibitions, so make sure to catch one while you are there.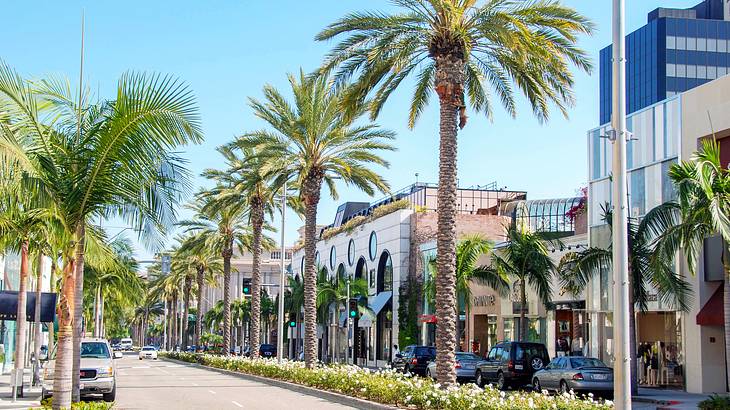 Rodeo Drive, Beverly Hills
One of the most popular landmarks in California and a shopping-lovers paradise, Rodeo Drive is a street in Beverly Hills filled with luxury designer brands.
Stretching from Beverwil Drive to the incredibly famous Sunset Boulevard, this is a bustling spot that is always busy with tourists and locals.
Expect all the iconic brands at Rodeo Drive: Audemar Piguet, Gucci, and Jimmy Choo, among others. There are also plenty of pop-ups, so even if you don't want to splash the cash, it's worth walking this iconic street for food and celebrity spotting alone.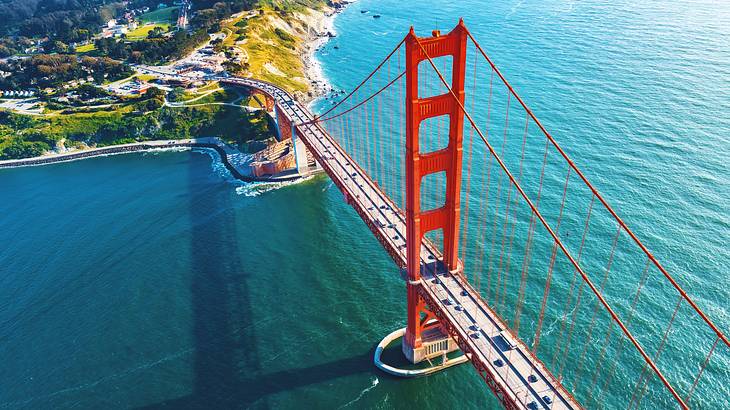 Golden Gate Bridge, San Francisco
One of the most iconic Californian landmarks is the Golden Gate Bridge, which connects San Francisco to Marin County over the Pacific Ocean. It is an absolute must on any San Francisco itinerary!
Johan Strauss was the man in charge of creating this bridge, and he oversaw the project until it was finally completed in 1937 after four years of construction.
At 4,200-ft long, this red art deco bridge is relatively small, although it is very impressive and draws huge crowds each year. The bridge is an iconic photo opportunity, and you shouldn't visit San Francisco without seeing it.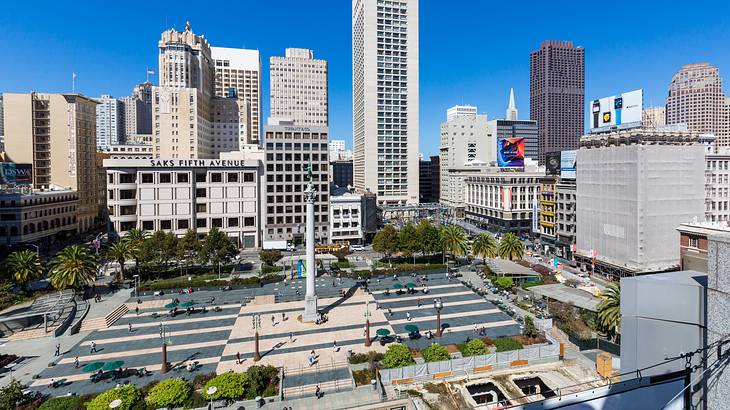 Union Square, San Francisco
Union Square refers to a commercial district of San Francisco, filled with shops, bars, and brilliant things to do. Union Square was actually a sand dune until 1850 when it was transformed into the area's central hub. Today the square is filled with pop-up art exhibitions as well as street performers.
The Dewey Monument stands in the center of the square, with the Greek Goddess Nike as the focus. She represents the victory of Manila Bay, which took place during the American-Spanish War and was spearheaded by Admiral George Dewey.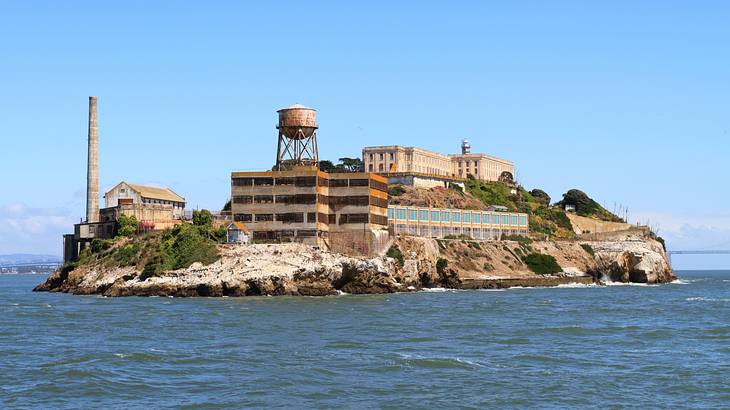 Alcatraz Island, San Francisco
As one of the most historic places in California, Alcatraz Island has a long and intense history behind it. Situated just over a mile from San Francisco Bay are the remains of a military base and one of the US' toughest prisons, which incarcerated people between 1934 and 1963.
During this period, around 36 men tried to escape in 14 masterminded plots. All were found, except for three men who evaded recapture: Frank Morris, Clarence Anglin, and his brother John Anglin. If dark tourism excites you, a visit to Alcatraz Island is a must.
Exploratorium, San Francisco
San Francisco's Exploratorium is an exciting science museum that combines historical exhibits with mad-scientist experiments and interactive fun.
Some of the most famous artwork on display at the Exploratorium include Archimedes by Douglas Hollis, Albert by John Billingsley, and plenty of futuristic pieces by Ned Kahn.
Six indoor and outdoor galleries navigate the links between art, science, and human perception. It's done in a way that is suitable for any age, although they famously open after dark on Thursdays for adults, allowing you to grab a drink and explore in your own time.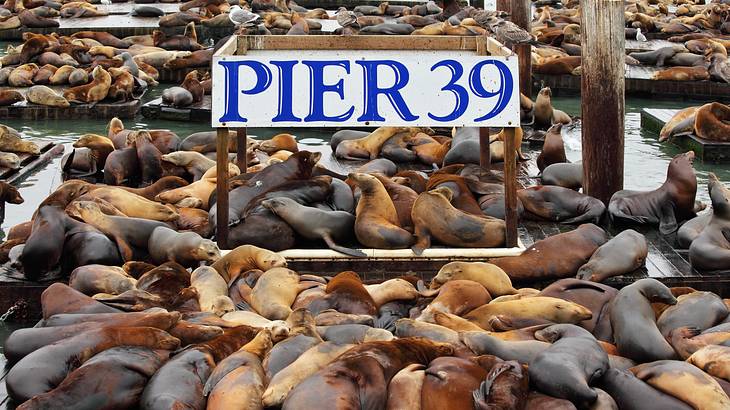 Pier 39, San Francisco
Pier 39 is a famous landmark in San Francisco with a shopping center, an abundance of restaurants, and an aquarium. There are also many street performers in the area, making it a fun place to grab an ice cream and explore in the evening.
If you head to Pier 39 in the summer, you will be able to spot the sea lions that live there before they migrate in the winter months. It's also common to see expert naturalists hanging out nearby answering questions about the creatures.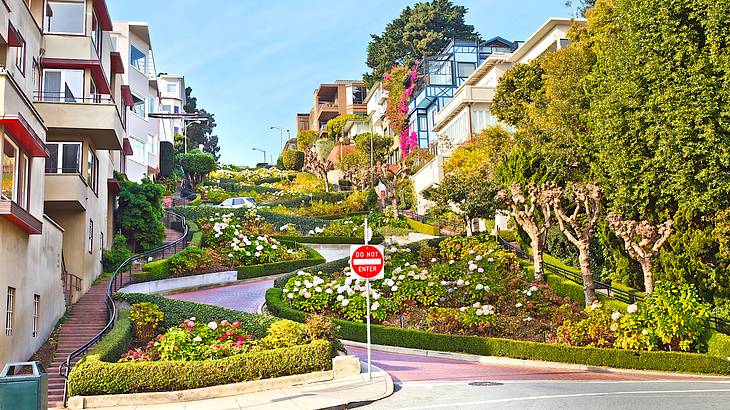 Lombard Street, San Francisco
Lombard Street is one of the most iconic Californian landmarks that has featured in popular culture throughout history: a steep stretch of road famous for its eight hairpin turns. The top of the street also has brilliant views of the surrounding areas.
Especially beautiful in the evening, when the street lights illuminate the pink houses and flowers decorating the road, you can drive (or walk, if you prefer) down Lombard Street yourself. Be careful, though - it is very, very steep.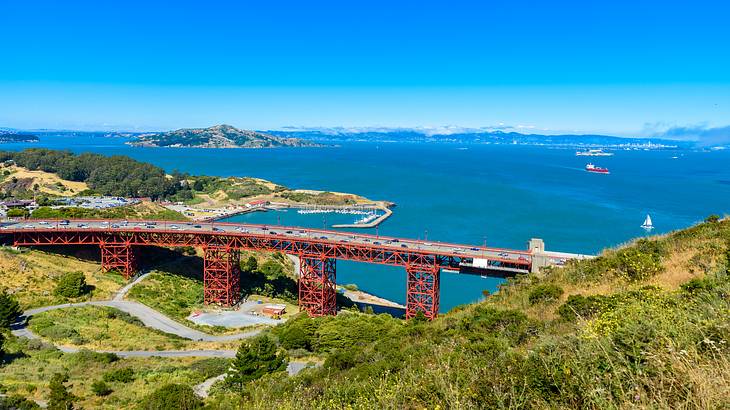 Golden Gate National Recreation Area, Mill Valley
Next on this famous California landmarks list is the Golden Gate National Recreation Area, located just north of San Francisco near the bridge of the same name.
This is one of the best places to view the bridge (if you're not driving over it), as well as a perfect spot for picnics, hikes, and learning about indigenous culture.
The park features 19 ecosystems containing more than 2,000 plant and animal species, so it's also a brilliant place to spot wildlife.
A slither of sand and shingle can be found to the south of the park at Rodeo Beach, which is where you can enjoy the gorgeous sunset.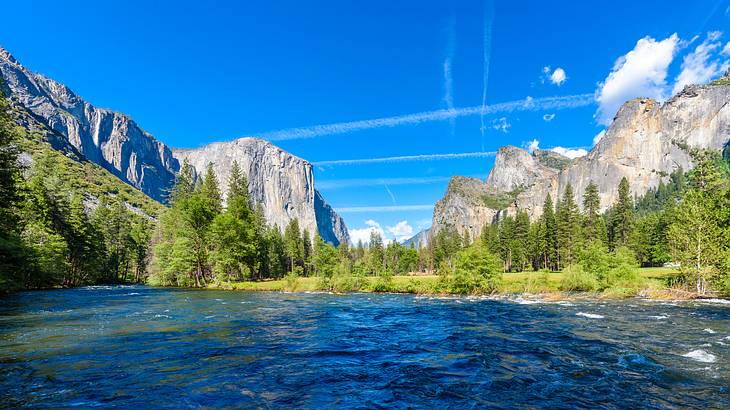 Yosemite National Park
California's Yosemite National Park, a landmark of America's natural beauty, welcomes millions each year. The popular West Coast national park is known for its stunning waterfalls, giant sequoias, abundant wildlife, and incredible cliffs, such as Half Dome and El Capitan.
Yosemite will provide the perfect spot for anyone looking to take an adventure vacation or just want to relax in nature. You can even camp here, which is a brilliant experience for anyone brave enough.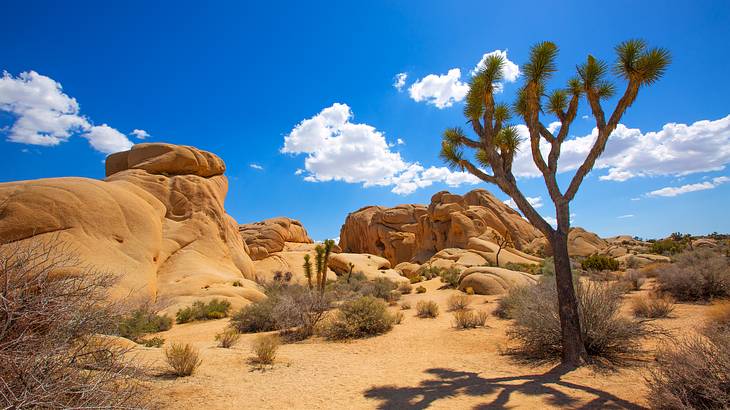 Joshua Tree National Park
The Joshua Tree National Park features rugged mountains, abandoned gold mine ruins, and desert plains with unique trees. It is one of the most famous landmarks in the USA.
The Joshua Tree National Park is located at the ecological crossroads where the high Mojave Desert meets the low Colorado Desert. This marriage produces fantastic desert flora, including the distinctive namesake trees (actually a kind of yucca).
The area is a paradise for stargazers. The vibrant sunsets melt into a night filled with stars, making it a beautiful place to be.
Joshua Tree National Park is approximately 140 miles north of Los Angeles, making it a popular destination for people looking to take long weekend trips outside of the city.
Disneyland Park, Anaheim
Walt Disney's vision was of a tourist attraction to be built near his Burbank studios to entertain those who wanted to visit.
However, he quickly realized that the proposed location was too small, so Disney purchased a 160-acre site in California in 1953. The park's construction began in 1954, and the park was officially opened on July 17, 1955.
Disneyland Park is made up of nine themed lands. When Disneyland Park opened in 1965, the first lands were Main Street, U.S.A. Frontierland Fantasyland, and Tomorrowland.
Over time more lands have been introduced, and as the Disney company adds more narratives to its roster, we can expect them to expand and introduce new lands.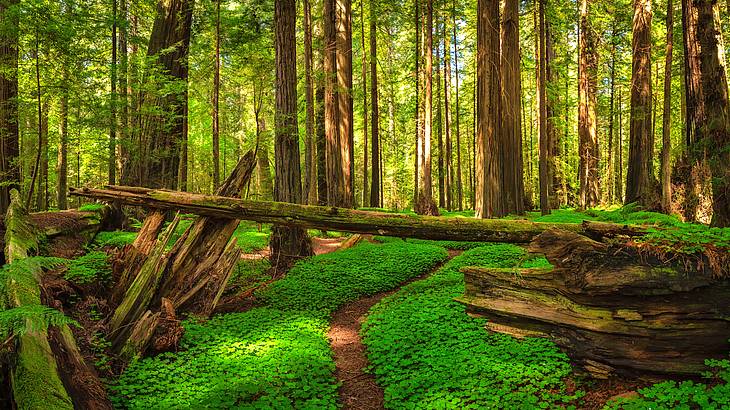 Redwood National and State Parks, Crescent City
Carefully looked after by the US National Park Service, the Redwood State Parks that are dotted across northern California are the best place to see the impressive redwood trees.
You can actually see Hyperion in the Redwood National State Parks, which takes the title for the tallest tree in the world. There are also plenty of trails waiting to be explored and camping opportunities in the state parks.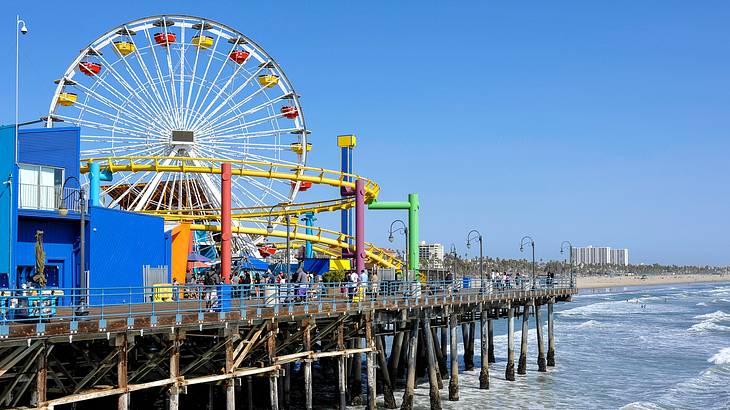 Santa Monica Pier, Santa Monica
Santa Monica Pier is one of the most famous piers in the world, and a Californian landmark that thousands of tourists flock to each year.
Boasting shops, an aquarium, and even an amusement park, there's so much to do here that the whole family can get involved with—all while waves from the Pacific Ocean lap at the sand below.
As well as this, there are lots of spots where you can grab a bite to eat, including the popular Bubba Gump Shrimp, which serves up delicious southern-inspired seafood and fun cocktails.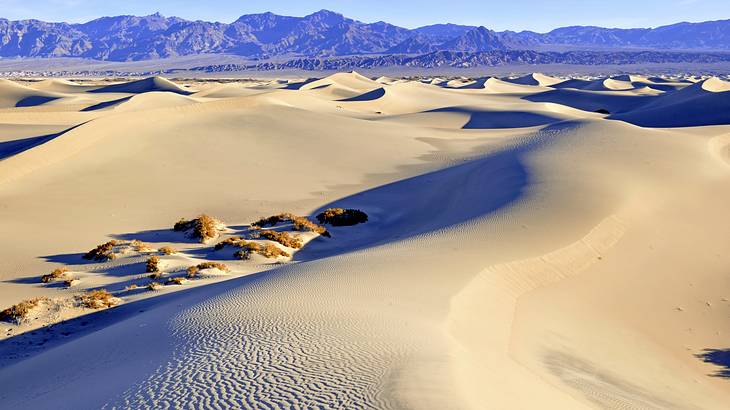 Death Valley National Park
As one of the many natural landmarks in California, Death Valley National Park is one of the hottest places on Earth during the scorching Californian summer. The national park is a desert stretching from the Mojave desert, crossing into Nevada near the Las Vegas area.
The highest temperature to be recorded on the Earth's surface was at a point known as Furnace Creek. This is also where the museum and visitor center for Death Valley National Park is located. If you can stand the heat, this is a unique spot to visit in California.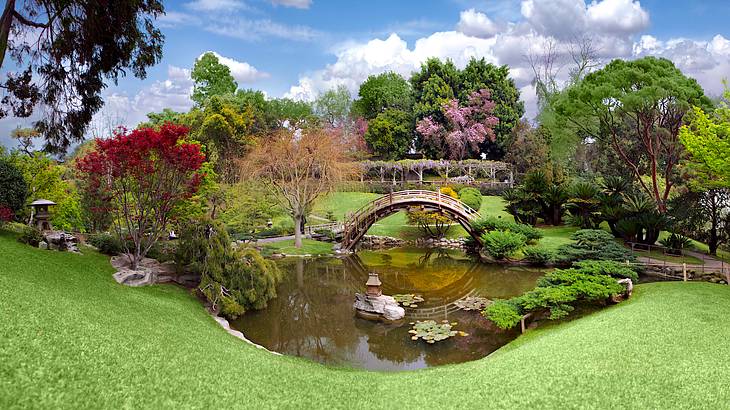 The Huntington Library, San Marino
Despite its name, The Huntington Library also boasts an art museum and breathtaking botanical garden at its San Marino location in California.
The institution was first established in 1919 by Henry Huntington and his wife, Arabella, and specializes in 18th and 19th-century European art.
Interestingly enough, actor Steve Martin gifted $1 million to The Huntington Library to help them acquire and exhibit American artwork. This proved to be crucial to the library, as they have since run many incredibly popular exhibitions.
The botanical garden features over 120 acres of landscaped greenery, including a "Japanese Garden," the "Desert Garden," and the "Chinese Garden" areas.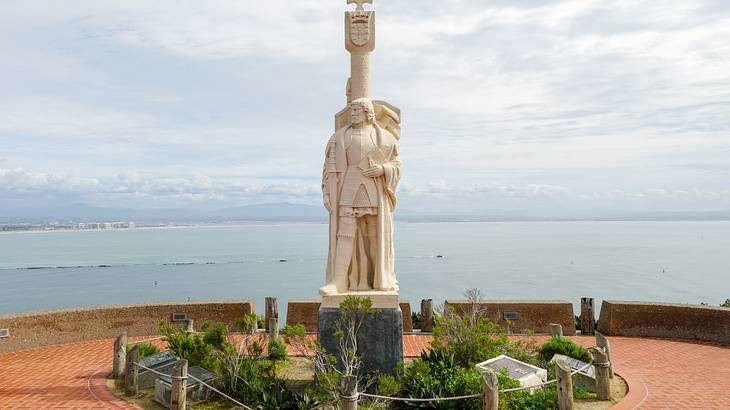 Cabrillo National Monument, San Diego
The Cabrillo National Monument is a large part of the National Park in San Diego and is dedicated to Juan Rodriguez Cabrillo. It is one of the famous landmarks in San Diego, California.
Juan Rodriguez arrived as the first European on the West Coast of the USA in 1542 after a long and exhaustive journey from Spain, and is commemorated with a giant stone statue in the park.
There are many things to explore here, from the actual monument itself to the tidepools below and the Old Point Lighthouse. Spend an afternoon fully exploring the park and its rich heritage.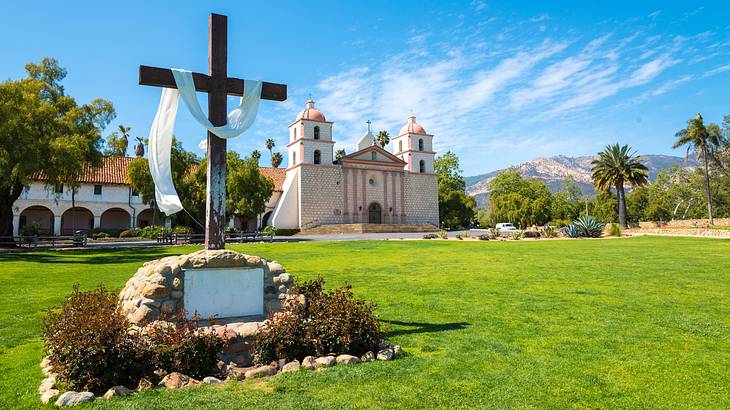 Old Mission Church, Santa Barbara
The Old Mission Church in Santa Barbara was originally built during the Spanish colonization of the Americas; it would have been used to influence natives to make the switch to Christianism. The church that still stands in Santa Barbara is the perfect example of these communities.
The building is a beautiful place to explore; its colonial architecture makes for a stunning photo. Or, go inside and delve deeper into the controversial history of the old missionaries in California.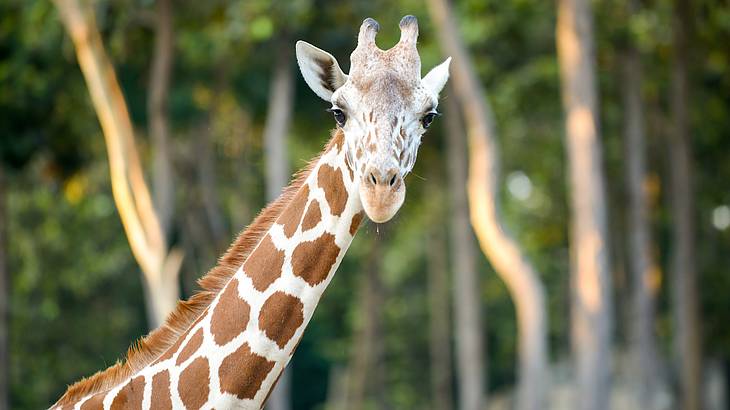 Santa Barbara Zoo, Santa Barbara
Santa Barbara Zoo is one of the smaller but very popular zoos in California. Boasting over 500 animals in naturalistic habitats, this is an excellent place for the whole family to visit. There's also a train that circles the zoo and a giraffe-feeding platform where you can try your hand at being a keeper.
The zoo also hosts a 'Zoofari' bonanza in the summer each year, where the zoo is transformed into a fancy dress party complete with raffles and brilliant prizes. It is one of the highlights in Santa Barbara every year.
Lotusland, Montecito
Lotusland was opened in Santa Barbara in 1993 after Madame Ganna Walska - a famous Polish opera singer - spent over forty years of her life growing the garden. She sadly passed away in 1984, and afterward, Lotusland became a not-for-profit botanical garden, rated as one of the best in the world.
The garden has a varied collection of exotic plants, from wild cacti to rare Japanese plants not found outside of Japan. The collection is spread throughout many different gardens, spanning 37-acres and reflecting Walska's love for all things dramatic.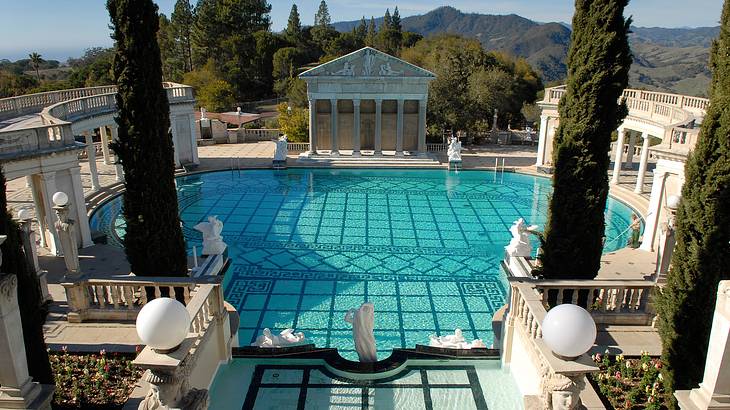 Hearst Castle, San Simeon
What was once an elegant property with a powerful publishing headquarters inside is now a castle-turned museum. It was first built because William Hearst wanted a decadent estate overlooking the San Simeon area for him and his wife to run their company from.
With pools inside (yes, you can even swim in them) and opulent rooms with low-hanging chandeliers and gold accessories, you will feel like you have stepped straight into The Great Gatsby as you roam the halls at Hearst Castle.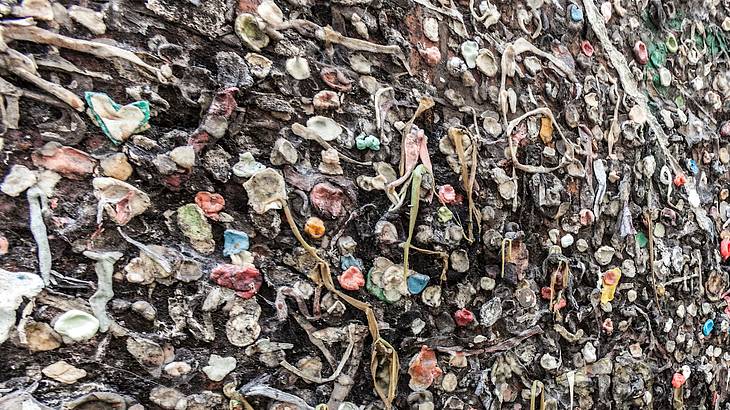 Bubblegum Alley, San Luis Obispo
One of the more unique Californian landmarks can be found in San Luis Obispo. This slightly gross but fascinating landmark dubbed 'Bubblegum Alley' features a small walkway completely covered in chewed bubblegum.
Nobody is quite sure who started the trend, but experts believe it was likely a result of rivalry from two nearby schools. By the 1970s, the alley was fully established, and despite multiple clean-up attempts, still stands today.
More recently, the alley has featured in lots of TV shows, including MTV's Call to Greatness and The Tonight Show Starring Johnny Carson. If you're in the San Luis Obispo area, it's well worth checking out Bubblegum Alley (and even add to the collection).
In Summary
The Golden State is the perfect place to visit for those looking for sea, sand, and a whole lot of adventure. These famous California landmarks are just some of the thousands of things to do in the US' most populous state.
Whether you want to explore Santa Monica Pier, seek thrills at Disneyland, or take your chances in Death Valley National Park, this is a state that has so much variety. There's something for everyone in California.
Give us feedback about this article
More articles about California:
Read more articles about the United States:
More articles about landmarks:
More visual stories related to this article:
---
---
Want to keep exploring?
Subscribe for discounts on tickets and hotels and our latest guides.
Thank you for subscribing
We will be in touch soon with discounts on tickets and hotels and our latest guides.
Want to keep exploring?
Subscribe for discounts on tickets and hotels and our latest guides.
Thank you for subscribing
We will be in touch soon with discounts on tickets and hotels and our latest guides.
Related Articles