25 Fun Free Things to Do in Orange County, California
Destguides may receive commissions from purchases made through affiliate links in this article.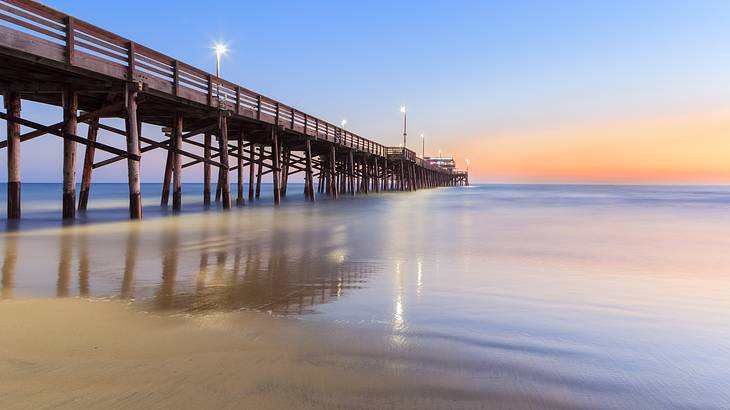 On the West Coast of the United States, you will find Orange County (the OC) nestled between the Santa Ana mountains and Newport Beach. This area of California has a reputation for being pricey.
If you are looking to experience the OC without breaking the bank, there are plenty of places to go in this part of Southern California. Most nature reserves are donation-based, and some government-funded museums are completely free.
Plus, you can enjoy the natural wonders of California like the marine life in tide pools, or the natural wetlands landscape. To get the most out of your trip to the OC, scroll through this extensive list of 25 fun free things to do in Orange County, California.
25 Fun Things to Do for Free in Orange County
Discover the OC through the Balboa Island Museum
To start the list of best free things to do in Orange County, CA, consider visiting the Balboa Island Museum. This museum prides itself on connecting the community with visitors. Walk around to see artifacts from the historical Newport Harbor.
Balboa Island Museum prides itself in recognizing their diverse culture on such a treasured island. Enjoy free general admission and free two-hour parking, which is a treasure in itself.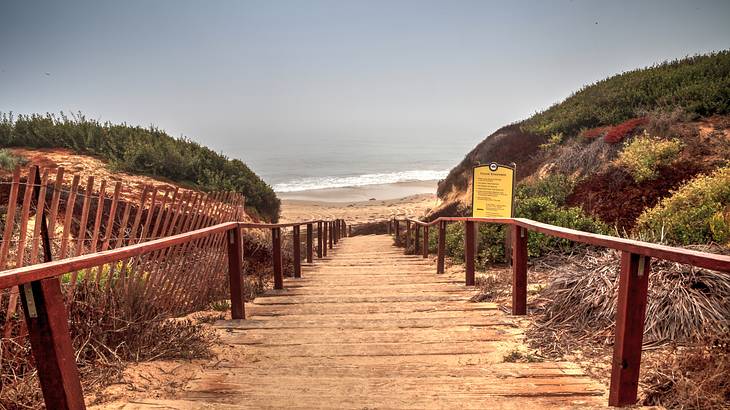 Get sandy at Crystal Cove State Beach
Crystal Cove State Park has vast open spaces and is full of natural seashores. This park can be challenging to find at first, so take the Pacific Coast Highway even if your GPS says otherwise.
Parking can be difficult to find unless you pay the $15 day-use fee per vehicle. There is free parking along the streets of Laguna Beach. This beach rarely gets crowded since it covers over 3.2 miles of the coast.
Enjoy walking along the ocean at Crystal Cove, especially with a date, as it's one of the most romantic things to do in the OC!
Stroll through free art galleries in Laguna Beach
Experience one of California's best beach towns while strolling through free art galleries. Start your walk along the Pacific at the Cast of Crowns Art Collective. Continue to walk south on N. Coast HWY to drop into a multitude of free art galleries.
If you have the chance, enjoy a First Thursday at Laguna Beach. There are a plethora of free activities and tastings along the street. Street fairs offer some of the best opportunities to see free attractions in Orange County.
Hike through the Oak Canyon Nature Center
This is a beginner-level hiking trail that runs along a year-long stream. The lush vegetation next to the stream creates a stark contrast against the Anaheim Hills. This hike can take between 2-3 hours depending on how serious of a hiker you are.
The path is well kept and marked well. There is also a small museum with regional natural history exhibits to visit at the end of your hike.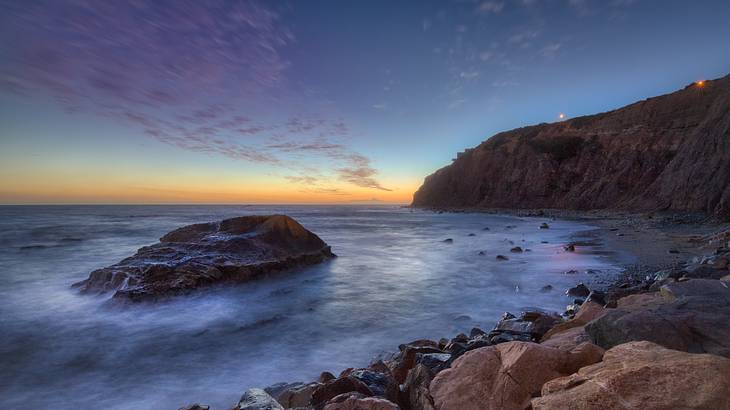 Go see starfish in tide pools at Dana Point
Cali hosts some of the most unique wildlife; visiting the beaches at low tide to see the tide pools is a must! Locals prefer Dana Point Marine Protected Area. Tucked behind the address 24200 Dana Point Drive, you'll find a staircase that leads down to the beach.
Check the tide charts and look at times when the tide is the lowest. Dana Point is close to the town of San Juan Capistrano, which is a perfect spot for lunch. Please remember to avoid touching marine life and enjoy from a comfortable distance!
Walk through the Costa Mesa art walk
Out of the many free places to go in Orange County, Costa Mesa's art walk is the most unique. There are more than 20 great places to view free public art!
Start your walk at Sun Ribbon and find free street parking on Anton Blvd, or park in one of the many parking structures (prices range between $2-$7 an hour). Then, walk towards Noguchi Garden behind the Maestro's restaurant.
Visit Little Saigon, a Vietnamese wonderland
If you love authentic Asian food, Little Saigon will be your heaven! This little slice of Vietnam includes multiple pho restaurants. You can't miss the opportunity to dine at one of the eateries here!
Start your tour of Little Saigon with the Asian Garden Mall, and walk through the streets (less than a mile) towards a place to eat. Little Saigon also has Asian grocery stores with exotic candies and fun trinkets everyone will enjoy. By far one of the best free places to visit in Orange County!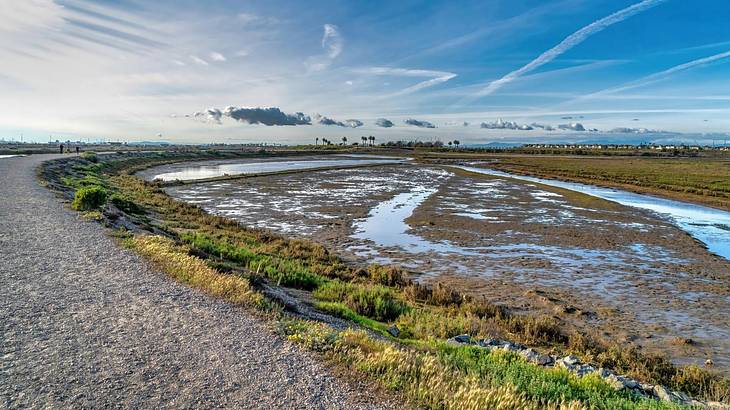 Hike through Bolsa Chica Ecological Reserve
This Ecological Reserve near Huntington Beach is perfect for nature lovers! The conservancy of Huntington Beach is a volunteer-based nonprofit program dedicated to teaching travelers about the ecology of the wetlands in California.
The Bolsa Chica Ecological Reserve offers a free guide for bird watching on their website. This is a helpful tool to have throughout your stay in the OC. Without competition, this is the largest saltwater marsh along the coast of California and is a free sight you can't miss!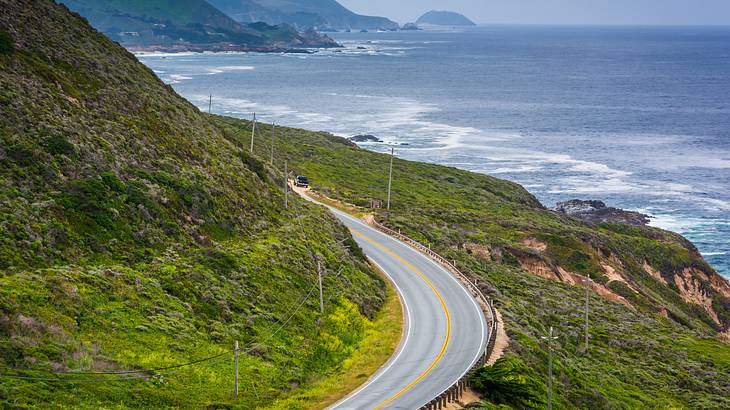 Drive the Pacific Coast Highway
The Pacific Coast Highway is called the PCH by locals. This is ranked the most scenic drive in the United States! Not only do you get the view of the mountains and cliffs over the Pacific, but you get to view the glistening waves out to the horizon.
The best time to drive the PCH is during high traffic, so there is plenty of time to take photos and fully enjoy the laid-back lifestyle of Californians. If you plan to road trip to San Diego from the OC, the PCH is by far the best way to get there!
Get inspired at the Nix Nature Center
Another of the many fun things to do in Orange County, CA, for free is visiting the Laguna Beach Wilderness Park. More specifically, the Nix Nature Center, just off Laguna road. There are free options to park along the street.
Bring a hat and sunscreen because the Nix Nature trails are for experienced hikers. No need to fear, though; these hikes range between 1-4 hours long. If you are taken away by the views, you can spend all day here!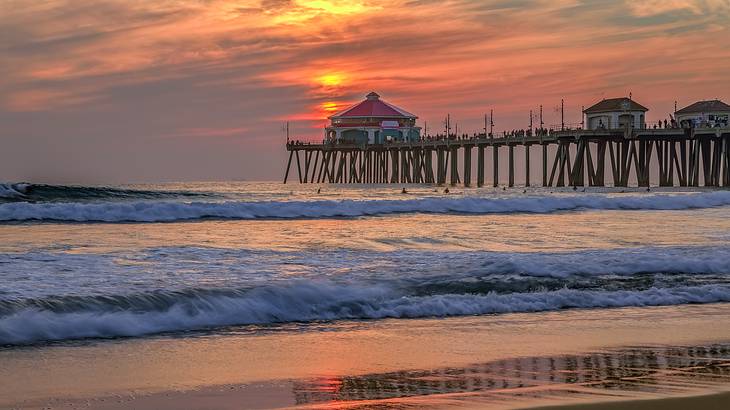 Surf the waves at Huntington Beach
Huntington Beach is known as Surf City. Not only does it have world-class surfing, but it also has some of the best seafood street food you'll ever experience!
If you didn't bring your board, look out for smaller board rentals on the beach. These are often cheaper than larger companies by the street.
Otherwise, enjoy relaxing by one of the most iconic beaches in California, or walk the Pier at sunset (it is one of the best things to do in Orange County at night)!
Create some magic at the Downtown Disney District
Visit one of California's famous landmarks by heading to the Downtown Disney District. Get all of the magic of Disney without the price of a daily ticket!
This Downtown District area has stores, restaurants, and character-themed IG-worthy photo spots. This is one of the places to visit in Orange County for free. If you aren't looking to break the bank but still want a taste of Disney, this is a perfect free alternative!
Take a break at the Fullerton Arboretum
If you are wiped out from rushing from beach to beach, consider taking a break at this botanical garden. The Fullerton Arboretum is considered one of the most fun things to do in Orange County for free because they have easy trails to stroll through.
The California weather will accompany you along ponds and artificial lakes. There are inside atriums, including the Heritage House and the Arbor Shed. There is even a garden made specifically for kids!
Get inspired at Santa Ana's Artist's Village art walk
The Santa Ana Art District envelopes the vibes of the California lifestyle. This is more of a modern art walk located in Santa Ana Artist's Village.
There are famous galleries open for free to the public on the first Saturday of every month. The streets (and even the parking garages) are full of craft and food vendors. It's like a mini street festival every month!
Discover the legend of Old Towne Orange
Another favorite of the many Orange County free things to do is to learn about the legend of Old Towne Orange. Old Towne Orange is one of the oldest hotels remaining in the OC.
You can take a self-walking tour of the area or go to Plaza Square Park, which offers a fun mix of contemporary and antique aesthetics.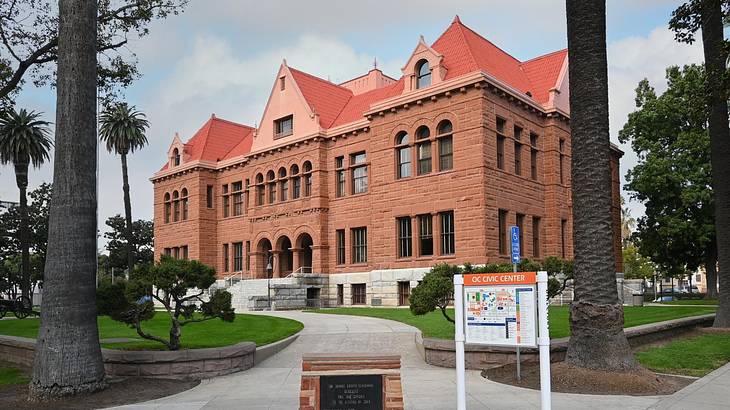 Go back-in-time when you visit the Old Courthouse Museum
This intimate museum holds rare photographs and historical artifacts. You get the experience of a 1900's courthouse that has been kept in pristine condition by the Old Courthouse Museum Society.
There is free parking along Santa Ana Blvd. But just in case it's full, there is parking for visitors in Lot P8. This attraction is nestled between local favorites like the Waffle House, the Yost Theater, and the old YMCA, so it is a good start to doing a self-guided walking tour in downtown Santa Ana.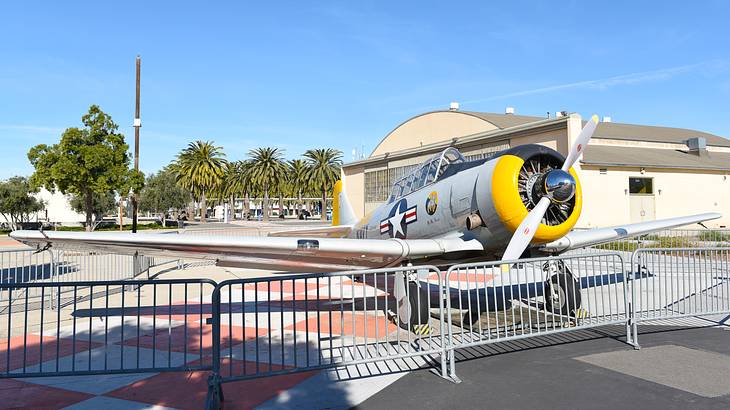 Walk around Orange County Great Park
Technically in Irving, California, The Orange County Great Park is a modern park that often has walk-through art installments.
This relatively new park has already shown great strides in promoting places to go in Orange County for free, which includes art galleries, sports monuments, and famous murals.
Some notable parts of the Great Park include the Plane Hangar 244, which is open to the public. This is next to a beautiful palm tree court and walking distance from the carousel and walkable historical timeline.
Volunteer at the Pacific Marine Mammal Center
The best way to experience the Pacific Marine Mammal Center is through volunteering. There are volunteer opportunities for everyone, but if you are over 21, you can view the marine life from an insider's perspective. If you are stuck on what to do in Orange County for free, consider volunteering!
Relax in the sand at Salt Creek Beach Park
Salt Creek Beach is one of the free fun things to do in Orange County. It is known for its gnarly waves and small offshore reef.
You can find free parking further away from the park, but a parking lot is located directly across from the beach for $15 a day.
Salt Creek Beach Park gives you a great excuse to go by the Ritz Carlton since the stairs to the beach are a short walk past this beautiful hotel.
Hike at Shipley Nature Center
The Shipley Nature Center made it on this list because of its beautiful trails. Ran by volunteers, these are self-guided walks through a freshwater wetland.
There is a suggested $3 donation per person and parking is free on Goldenwest Street. The trails at the Shipley Nature Center are designed for beginner hikers. They also have a bird detective program that creates an interesting walk through the woodlands.
Sometimes the Shipley Center hosts local events and free activities in Orange County. Call ahead and ask if they are doing a special event!
Immerse yourself in art at The Muckenthaler Cultural Center
Deep into Anaheim, the "Muck" has incredible exhibitions and performances available to the public. Some shows and classes cost extra, but the majority of the Muck has free attractions. The Muck also houses an outdoor sculpture garden and a sunset garden.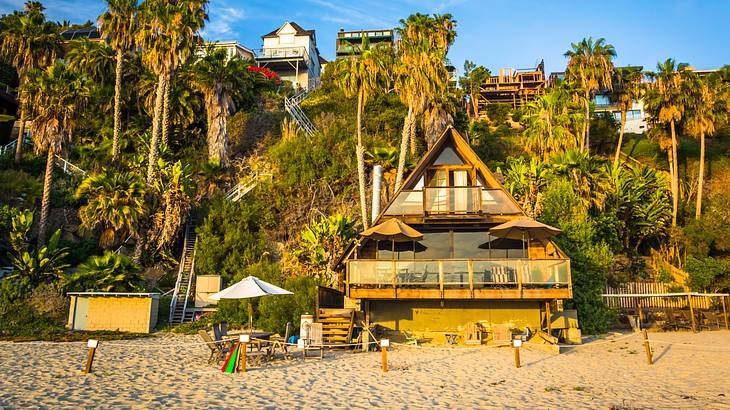 Take the challenge to visit Thousand Steps Beach
If you have come to California hoping for more space, this is the beach for you! This beach is for people willing to put in a little work for the ideal Cali beach experience.
You could have guessed by the name of the beach; it has a 1000-step-staircase leading down to the beach. This means that after a long day at the beach, you will have to go back up those same stairs.
So, pack light but bring plenty of water. There is only one restroom and no local restaurants close by.
Meditate in the sensory garden at The Tucker Wildlife Sanctuary
Opening back up in 2022, the Tucker Wildlife Sanctuary is one of the OC's smaller sanctuaries at 12 acres. It is located in Modjeska's majestic canyon. This cozy space includes a sensory garden, perfect for morning meditation.
The sanctuary accepts donations and suggests a $3 donation per person. They even offer free online brochures of trail guides and natural science guides.
Cool off at splash pads
If you are looking for family-friendly free stuff to do in Orange County, consider visiting one of the many splash pads. There are so many Orange County parks with splash pads that are completely free. The Atlantis Play Center, however, does have a small $2 admission fee.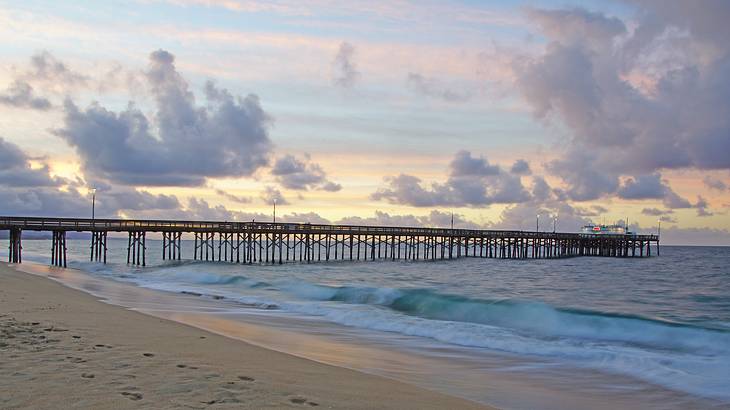 Go fishing on the pier
To finish off this list, you will be excited to learn that there are FREE days to enjoy the calming activity of fishing in the OC!
California offers two free fishing days per year, meaning you can fish in any freshwater lake without a license on those two free days. You can fish off the pier of your favorite beaches while enjoying the salty sea mist.
If you can't make one of those days, you will need to obtain a license and pay a small licensing fee to Fish and Game.
Conclusion
Can't decide where to start? Overwhelmed by all the choices? This list of 25 fun free things to do in Orange County, California, can make you feel that way!
You should always choose your next adventure based on something you have enjoyed in the past or something you've been dying to try! Enjoy your time in Southern California either way!
Give us feedback about this article
More visual stories related to this article:
---
---
Want to keep exploring?
Subscribe for discounts on tickets and hotels and our latest guides.
Thank you for subscribing
We will be in touch soon with discounts on tickets and hotels and our latest guides.
Want to keep exploring?
Subscribe for discounts on tickets and hotels and our latest guides.
Thank you for subscribing
We will be in touch soon with discounts on tickets and hotels and our latest guides.
Related Articles