36 Fun Things to Do in Fresno for Couples
Destguides may receive commissions from purchases made through affiliate links in this article.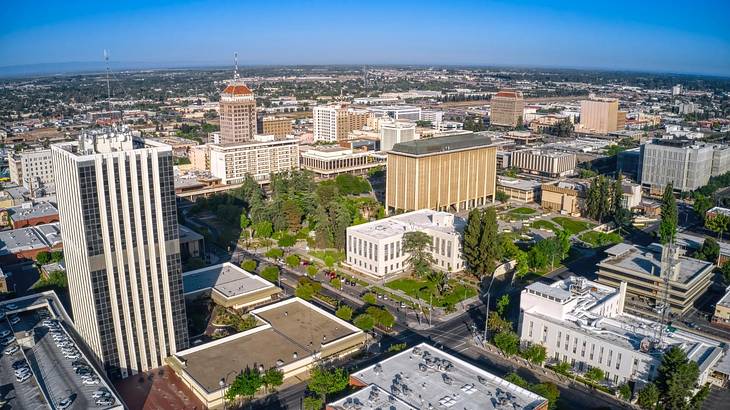 Fresno sits within the San Joaquin Valley in California. While lesser-known than some other California cities, like Los Angeles or San Francisco, it's a fun place to explore, especially with your other half!
If you're living in the city with your partner or visiting as a couple, you'll be pleased to learn that there are many fun things to do in Fresno for couples. This list covers some of the top date activities, from romantic and cute daytime dates to exciting date night ideas. Keep reading to discover all of the things you and your other half can do in and around Fresno.
36 Fun Date Ideas in Fresno, CA
Best Things to Do in Fresno for Couples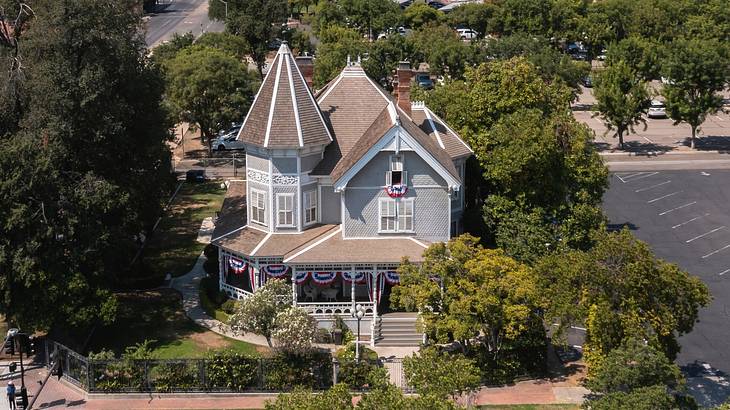 Tour Meux Home Museum
The Meux Home Museum is one of many interesting places to go on a date in Fresno. The home is a beautiful 19th-century Victorian building featuring 16 rooms, all decorated as they would have been in the 1800s. During a guided tour, you and your partner can explore each room and learn more about the property's history and its owners.
Visit the Kearney Mansion Museum
The Kearney Mansion Museum is another interesting property to visit with your partner in Fresno. At this early 20th-century mansion, you can look around the rooms that are decorated with period pieces and antiques.
There's also an art gallery and artworks spread throughout the house. To ensure you get to view the property with a guide, book Kearney Mansion Museum guided tour spots before you arrive.
Get coffee at Fulton Street Coffee
A coffee date is always a good idea, and there are numerous coffee shops to choose from in Fresno. If you can't decide which to visit, Fulton Street Coffee is a great choice. Drinks can be taken to go, or you can stay at the shop and enjoy them outside on the cafe patio.
You and your partner can choose from hot and iced coffee beverages, with various plant milks available. Other drink options include matcha lattes and chai tea. You can also add unique flavored syrups to your drinks, such as brown sugar, lavender, or marzipan syrup.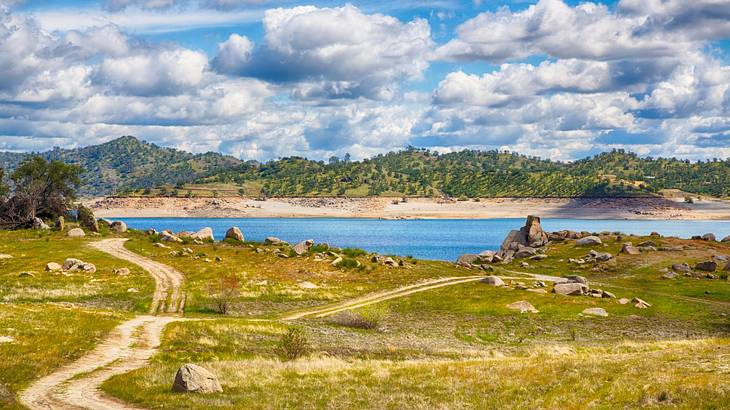 Spend the day at Millerton Lake
Millerton Lake is the perfect place to spend time with your date on a sunny day. You can hang out on the banks around the lake or get in the water to go swimming. Boating and other watersports can also be enjoyed on the lake, and there are hiking trails surrounding it.
Admire artworks at the Fresno Art Museum
Couples that love art can't miss going to the Fresno Art Museum. The gallery has a large collection of modern art as well as many Mexican and Mexican-American artworks.
There are approximately 3,600 works on display in the museum, and temporary exhibitions are also hosted. Along with seeing the permanent and temporary collections, you can attend various events at the Fresno Art Museum; just check the website for the events calendar.
Venture underground to the Forestiere Underground Gardens
The Forestiere Underground Gardens are one of Fresno's most interesting attractions and a fun place to check out with your date. The unique subterranean structures were created by Italian immigrant Baldassare Forestiere between 1906 and 1946.
During a visit to the attraction, you can follow paths that will take you through hidden passageways and small patio-like gardens. You can also take a guided tour to learn more about the attraction and its creator.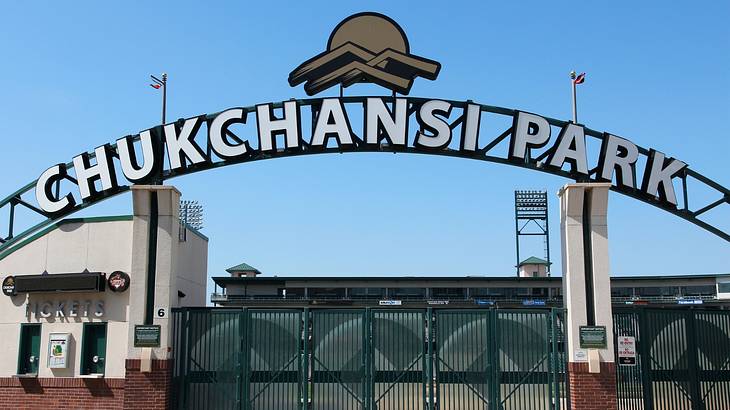 Catch a game at Chukchansi Park
One of the most fun things to do in Fresno, CA, for couples that like sports is going to a Fresno Grizzlies game at Chukchansi Park. The Minor League Baseball team plays from April through September in the regular season, with both afternoon and evening games played. Even if you and your date aren't huge baseball fans, attending a game is an exciting thing to do.
Grab drinks at Tioga-Sequoia Brewing Company Beer Garden
On a nice day, taking your date to the Tioga-Sequoia Brewing Company Beer Garden is a great idea. At this microbrewery taproom and beer garden, you can choose from various brews, with something for all tastes.
If you can't decide what to get, beer flights are available. Food trucks are also often on-site. This brewery is the ideal place to hang out with your other half on a warm and sunny day!
Jump around at Aerozone Trampoline Park
If you and your date want to enjoy a fun and laid-back date, go to Aerozone Trampoline Park! The trampoline park has a range of trampolines to bounce around on, as well as foam pits and other amusements.
Aerozone Trampoline Park stays open late into the evening if you want to visit when it's quieter and fewer kids are around.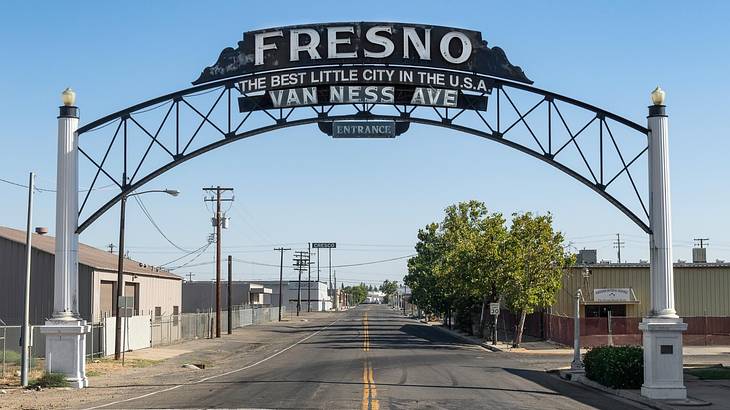 Snap a photo with the Fresno Entrance Gate and explore downtown
Also known as the Van Ness Arch, seeing the Fresno Entrance Gate is a must for couples visiting the city. After taking a few pictures, you can wander to downtown, spotting lots of cool street art along the way. In downtown, you can shop or relax at a bar, cafe, or restaurant.
Go shopping at the River Park Shopping Center
The River Park Shopping Center is an open-air shopping mall that's a fun and laid-back place to visit together. Whether you want to splurge or not, you'll have a great time checking out all the different stores, from clothing and accessories shops to beauty outlets and home decor stores.
After shopping around, you and your date can grab food at one of numerous eateries, with sweet and savory options available. A farmers market is also hosted on Saturdays.
Tackle an escape game at Next Gen Escape
Playing an escape game is a date idea that will appeal to most couples and is also a good option if the weather isn't great on the day of your date. At Next Gen Escape, you'll have an hour to solve puzzles and use clues to escape from whichever themed room you choose.
Romantic Things to Do in Fresno for Couples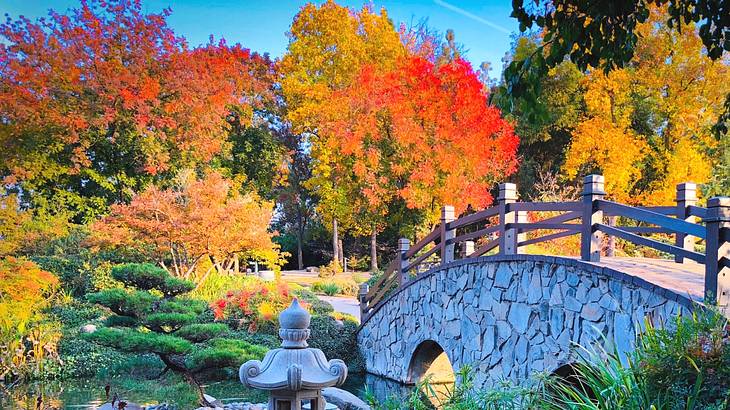 Stroll around the Shinzen Friendship Garden
If you're looking for a place to go for a scenic walk together, planning a date at the Shinzen Japanese Garden, or Shinzen Friendship Garden, is a must. This beautiful garden was constructed by Fresno's Japanese-American community.
The Fresno landmark features traditional Japanese elements like a teahouse and koi ponds. As you explore, you'll also see beautiful plants, including a large collection of bonsai trees. Don't forget to snap some couples photos together with the stunning garden as a backdrop.
Unwind at Muses Day Spa & Wellness Center
One of many romantic things to do in Fresno, CA, is unwinding with some spa treatments at Muses Day Spa & Wellness Center. Treatment options include various types of massages, including a couples massage, facials, and body scrubs and peels.
Manicures and pedicures are also available, and you can opt for spa packages if you want to enjoy a few treatments.
Taste local wine at Moravia Wines
Moravia Wines is one of the romantic places in Fresno, CA, for a daytime date. On weekend afternoons, you can head to the winery for a tasting, where you can taste a range of delicious Californian wines.
You'll also be able to sit outside, taking in the beautiful vineyard views. Before you leave, pick up a few bottles of wine for your next date night!
Share brunch at The Point Patio Bar and Bistro
While many couples will opt for a dinner date, going to brunch together is just as fun and romantic. The Point Patio Bar and Bistro is an excellent choice for brunch with your partner, and, as the name suggests, you can enjoy your meal outside on a scenic patio.
Various sweet and savory brunch dishes are available, and you can accompany your meal with soft drinks or cocktails like mimosas.
Ideas for a Date Night in Fresno, CA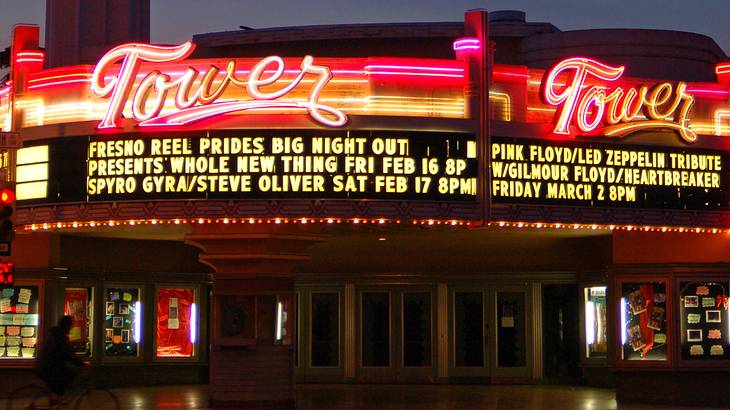 Attend a concert at the Tower Theatre
If you want to plan a memorable date night in Fresno, CA, take your partner to Tower Theatre. Opened in 1939, this performing arts venue remains a popular place to go to see concerts, as well as some other performances.
Concerts by artists from many musical genres are hosted, so you're sure to find a show that appeals to you. There's also a lounge with a bar and food menu.
Relax with drinks at Modernist Craft Cocktail Bar
If your date likes unique and delicious cocktails, taking them to Modernist Craft Cocktail Bar is a must. At the stylish bar, you can choose from an extensive drinks menu.
While you could order a classic cocktail, opting for a drink created in-house is highly recommended, and the menu changes seasonally. There's also a happy hour in the early evening, which lasts all night on Tuesdays!
Have dinner and drinks at Eureka!
Eureka! is a trendy spot that's ideal for a dinner and drinks date. Dinner options include various burgers, salads, and sharing plates like crispy glazed sprouts or cauliflower bites with garlic aioli. You can also get delicious craft cocktails, and happy hour deals are available most days.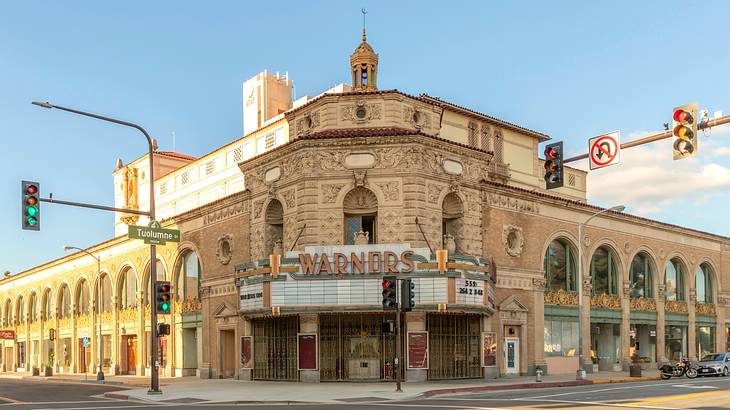 Watch a performance at Warnors Theatre
Warnors Theatre is another performing arts venue to check out. This historic theater opened in 1928 and was added to the National Register of Historic Places in 1978.
Today, you can see a range of shows at the stunning Spanish Colonial Revival performance venue. Options include concerts and musicals, and you can attend a weekly "Art Hop" event.
Play a spooky mini-golf game at Ghost Golf
Playing a round or two of mini-golf is a more unique but super fun date idea. Ghost Golf is extra unique as it's a horror-themed golf course!
The spooky course is open year-round and features 18 holes decorated with Halloween-style decorations. If you enjoy your first game, you can play a second round at a discounted rate.
Dine at The Annex Kitchen
There are lots of romantic restaurants in Fresno, California, to choose from for a dinner date, with The Annex Kitchen being one of the most popular spots for couples to dine at. This upscale Italian eatery serves freshly made pasta dishes and wood-fired pizzas.
You can also get other Italian main dishes and appetizers and can finish your meal with desserts, including affogato or zeppole. Of course, Italian wine, as well as cocktails, are available to accompany your romantic dinner.
Experience a show at Roger Rocka's Dinner Theater
Enjoying dinner and a show at Roger Rocka's Dinner Theater is a unique and fun evening activity in Fresno. You and your date can watch a musical comedy while dining on a buffet dinner. You can also order drinks, including alcoholic beverages, and decadent desserts are available to finish your meal.
Cute Date Ideas in Fresno, CA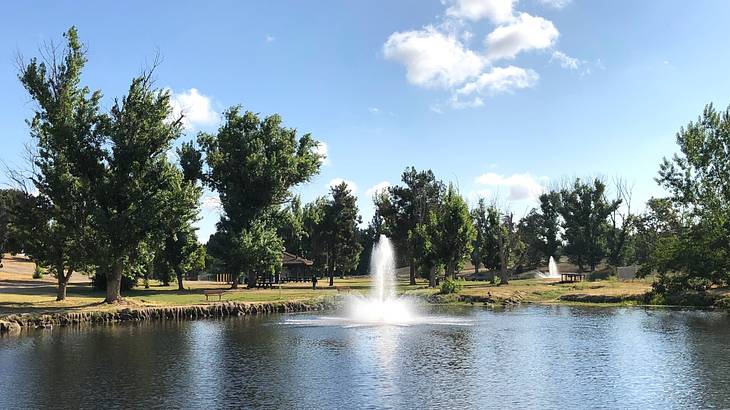 Hang out at Woodward Regional Park
If you're looking for a place to hang out together in the fresh air, visiting Woodward Park is a good idea. This park is the largest in Fresno County, at 300 acres, and has around five miles of trails to walk along.
You can sit on the banks beside the river as well, and the outdoor attraction is home to the pretty Shinzen Japanese Garden. If you and your date have dogs, you could also bring them along, as there's a large dog park.
Treat your date to ice cream at Ampersand Ice Cream
On a hot Californian day, getting ice cream at a local ice creamery will appeal to almost all couples. A great spot to check out in Fresno is Ampersand Ice Cream.
The small chain has a few locations around the city and serves delicious flavors like whiskey caramel swirl, honey matcha, and buttered pecan. They also have some non-dairy options, including berry lemon and elderflower sorbet or peanut butter chip non-dairy ice cream.
Ice skate at Gateway Ice Center
Skating at Gateway Ice Center is one of the cute indoor date ideas in Fresno. The skating rink has open skate sessions in the afternoons and evenings most days.
Whether you and your date are experienced skaters or beginners, you'll have a fun time at the rink. You could even take ice skating lessons together to improve your skills.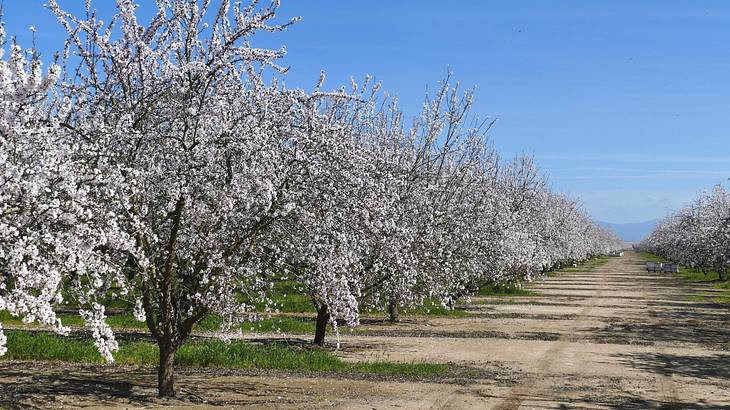 Drive along the scenic Fresno County Blossom Trail
During late fall and early spring, driving or walking along the Fresno Blossom Trail is another of the cute and romantic things for couples to do in Fresno. The trail is in bloom during the Spring blossom festival and features hundreds of trees covered in pink and white blossoms. Types of blossoms to see include almond, apricot, and citrus blossoms.
Get sweet treats at La Boulangerie
La Boulangerie is a charming French bakery where you and your date can get pastries and other sweet treats. Menu items include eclairs, macarons, and fruit tarts. Romantic chocolate-dipped strawberries are also available, among many other sweets and baked goods.
Sip wine and enjoy events at Engelmann Cellars
Engelmann Cellars is a local winery that produces excellent Californian wines and hosts many fun events. Taking your partner to one of these events is sure to be a good time and will allow you to sip wine in the fresh air.
Just a few of the events held include outdoor concerts with wine tasting and food trucks, and a vineyard dog walk that ends with wine, food, and some treats for your pup. The winery often hosts live music acts as well.
Fun Things to Do Near Fresno, CA, for Couples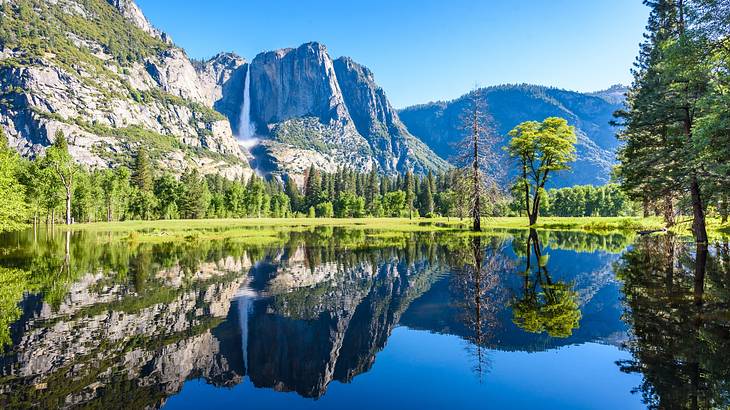 Plan a trip to Yosemite National Park
The world-famous Yosemite National Park is located about two hours from Fresno, depending on traffic. If you and your other half enjoy exploring the outdoors, planning a trip to Yosemite is a must, you could even rent a cabin or camp overnight.
Once you arrive, you can hike an array of trails, all of which offer a stunning view of the park's forests, mountains, and lakes. You could also take a guided tour of Yosemite National Park.
If unsure about when to plan your trip, the best time to visit Yosemite National Park is generally considered to be in the spring or summer when the weather is warm and sunny.
Roller skate at United Skates
Located in Clovis, about 15 minutes outside Downtown Fresno, United Skates is a cool place to spend the evening skating with your date. The retro roller rink does open in the afternoon on some days, but it will be quieter later in the evening. There are also adult-only nights; just check the online calendar for dates.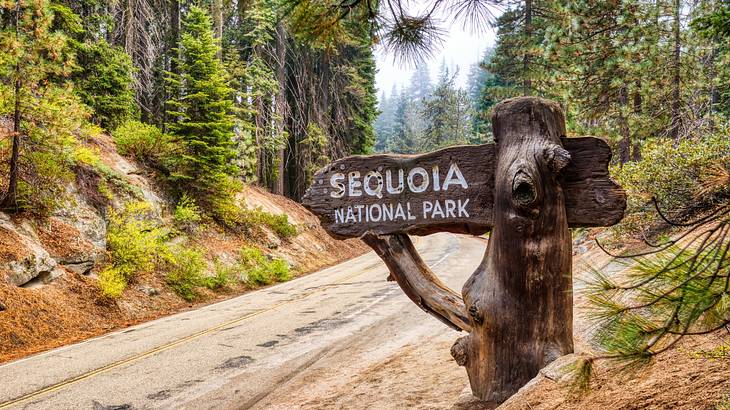 Hike through Sequoia & Kings Canyon National Park
Another of the excellent natural California landmarks to visit together is Sequoia & Kings Canyon National Park. The two parks, Sequoia National Park and Kings Canyon National Park, sit next to each other and can be explored together or separately.
You can reach the area in about an hour and a half to two hours when driving. At the parks, you can hike or mountain bike and admire the beautiful sequoia trees and other plant and animal life. You could also take a Sequoia National Park and Kings Canyon National Park guided hiking tour.
See a movie at Madera 2 Drive-In
A movie date is always a good idea! A fun place to catch a film with your partner near Fresno is Madera 2 Drive-In. The retro drive-in theater is located about 30 minutes outside of Fresno, in Madera, and shows new releases as well as some classic films.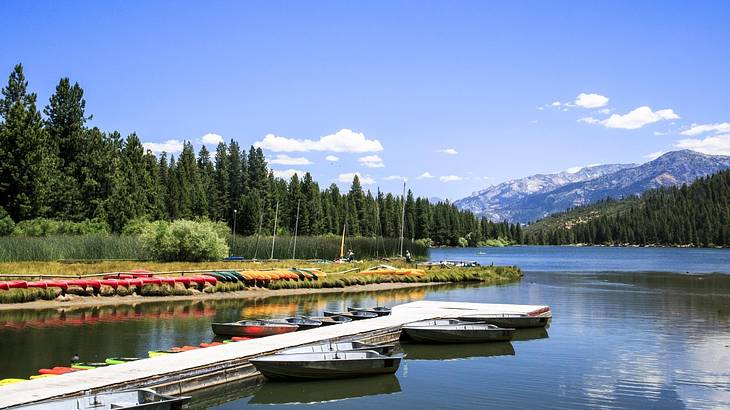 Enjoy a day at Hume Lake
Located in Fresno County, about two hours from the city of Fresno, Hume Lake is a great place to spend the day when the weather is nice. At the lake, you can hang out on the shore under the sun or hop on the water to boat, kayak, or paddleboard. Swimming is also allowed, and there are some hiking trails around the lake.
Explore Henry W. Coe State Park
Are you looking for more outdoor places to explore together near Fresno? Henry W. Coe State Park is another spot to check out! This park is about two hours away from Fresno near San Jose and features scenic mountain hiking and biking trails.
As you hike through the park, you'll see an array of plant life and animals, from deer and elk to wild pigs and bobcats.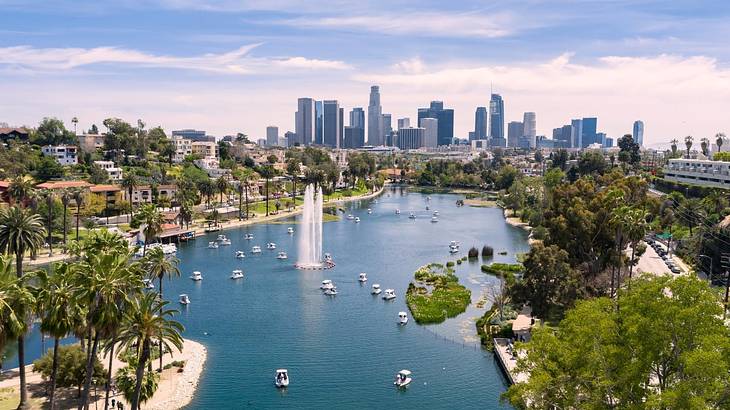 Drive to Los Angeles
If you're looking for a weekend getaway destination from Fresno, Los Angeles is a perfect choice. The famous city is around four hours away, depending on traffic, and you'll find no shortage of romantic things to do in Los Angeles once you arrive.
Activities include getting your date flowers at the Original Los Angeles Flower Market, hiking and taking in the views at Runyon Canyon Park, and seeing a performance at the Walt Disney Concert Hall. You could also book one of many unique LA tours and excursions.
In Conclusion
This list should have given you an array of date ideas, from fun daytime date activities to romantic things to do in Fresno at night. Now all you have to do is organize your date and make memories together!
Give us feedback about this article
Learn more about Fresno:
More articles about California:
Read more articles about the United States:
More articles about date ideas:
---
---
Want to keep exploring?
Subscribe for discounts on tickets and hotels and our latest guides.
Thank you for subscribing
We will be in touch soon with discounts on tickets and hotels and our latest guides.
Want to keep exploring?
Subscribe for discounts on tickets and hotels and our latest guides.
Thank you for subscribing
We will be in touch soon with discounts on tickets and hotels and our latest guides.
Related Articles