35 Fun Date Ideas in Orange County, California
Destguides may receive commissions from purchases made through affiliate links in this article.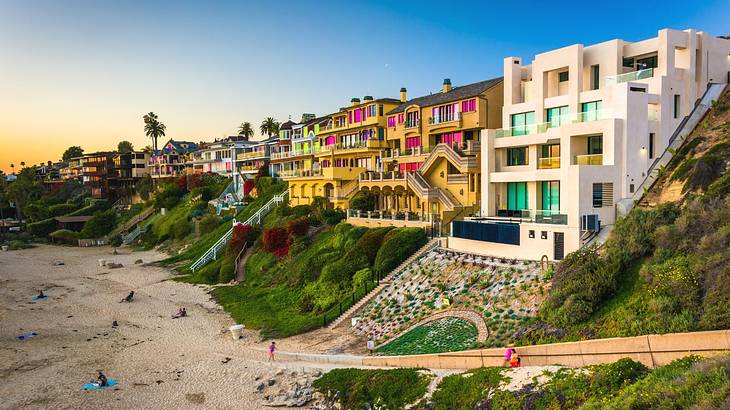 Orange County is a pleasant area located on the West Coast of California. It's full of activities like beaches, concerts, national parks, and amazing restaurants. If you are on the hunt for fun date ideas in Orange County, California, you have come to the right place!
Orange County is south of Los Angeles and is one of the most popular areas in the United States. If you are ready to create a romantic experience with your partner, Orange County is the best place to make memories.
Keep scrolling to discover all of the unique attractions Orange County has to offer for your next date night!
35 Orange County Date Ideas
Plan an evening at the Segerstrom Center for the Arts
The Segerstrom Center for the Arts is the perfect place for a date night in Orange County. A variety of classic plays are offered, alongside concerts and ballets.
If you and your significant other want to experience some California culture, watching a show here is a fantastic way to spend your date night.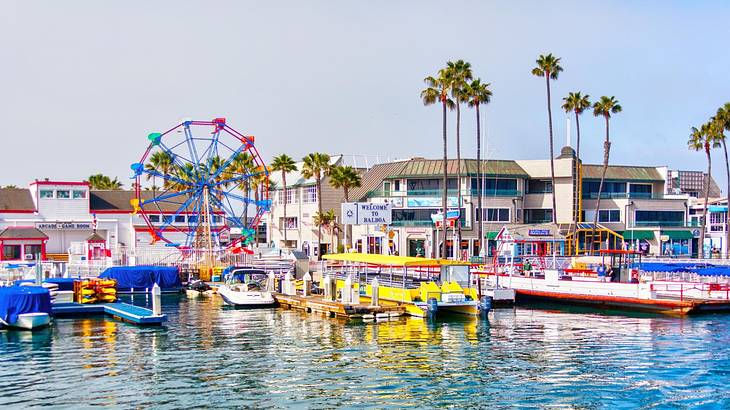 Adventure to the Balboa Fun Zone
Balboa Island is one of the fun things to do in Orange Country at night. It is located just off of Newport Beach. You can ride the giant Ferris wheel at Balboa Fun Zone or enjoy some classic American fair food.
This is an iconic landmark in the area and the perfect idea for your next date in Orange County.
Experience the Old Towne Orange together
If you are looking for romantic things to do in Orange County, California, then Old Towne Orange should be at the top of your list.
This historical part of Orange County has one of the oldest hotels in the area, a shopping district called Plaza Square Park, and a trendy section with self-walking tours.
Old Towne Orange is a great place to stroll through with your significant other. It has a charming feel of a historical district with a trendy contemporary vibe, and it is one of the free things to do in Orange County.
Explore the magical street of the Downtown Disney District
Going to the Downtown Disney District is one of the best ways to experience California's famous landmarks. Get the total date experience Disney has to offer, without the price of a daily ticket!
This romantic district has stores, restaurants, and character-themed, IG-worthy photo spots for you and your boo!
Stroll through the Anaheim Packing District Night Market
You can create some magical memories on your date at the Anaheim Packing District's Night Market. Your date will enjoy the live music and an assortment of available food vendors.
This market was an orange packaging plant but was recently converted into the market you see today. To make it an extra special night, check out the calendar for updated events.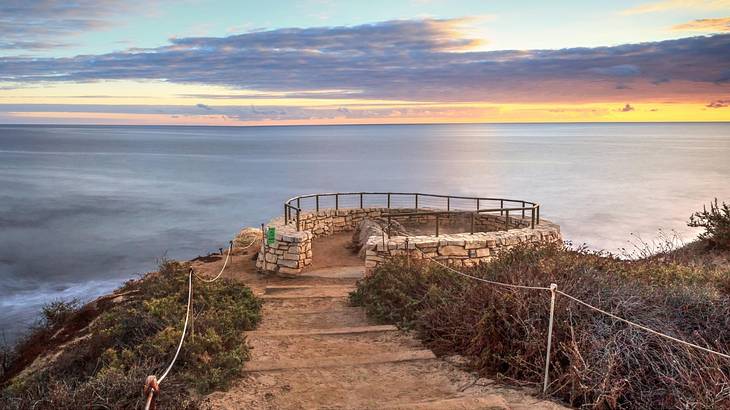 Walk along the beach at Crystal Cove State Park
At Crystal Cove State Park, you can create a romantic experience. This is a beach lover's favorite as it covers over 3.2 miles of the coast.
When you visit Crystal Cove, you and your date will love the open spaces and natural seashores. Take the Pacific Coast Highway (PCH) to ensure you are going in the right direction, as this park can be difficult to find at first.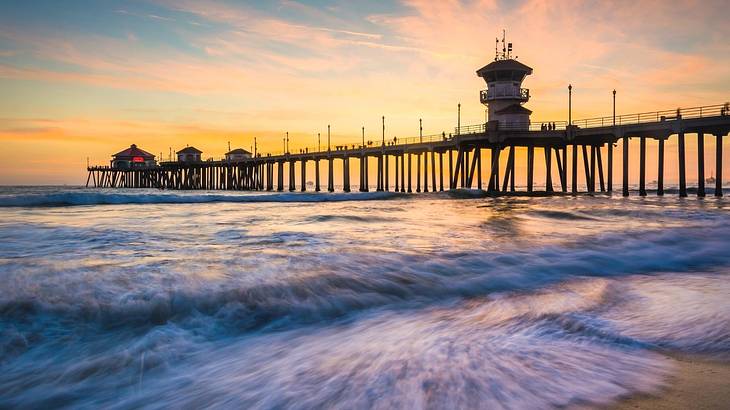 Watch the sunset at Huntington Beach
Huntington Beach is the prime location to watch the sunset in Orange County. Take your date to the pier, or venture down the rocky hillside to enjoy the quiet sandy beaches. Either way, Huntington Beach Pier is a gorgeous backdrop to any sunset-watching date night.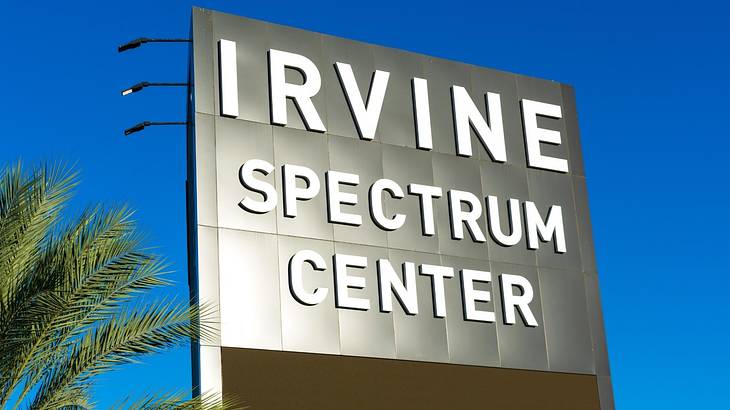 Kiss at the top of the Irvine Spectrum Center's Giant Wheel
The Irvine Spectrum Center has something for any date night. There is a Ferris wheel, stores for shopping, and a comedy show center called Irvine Improv.
This area is covered in lights and has the full Orange County vibes you are looking for. That's why the Irvine Spectrum Center is one of the best date ideas in Orange County.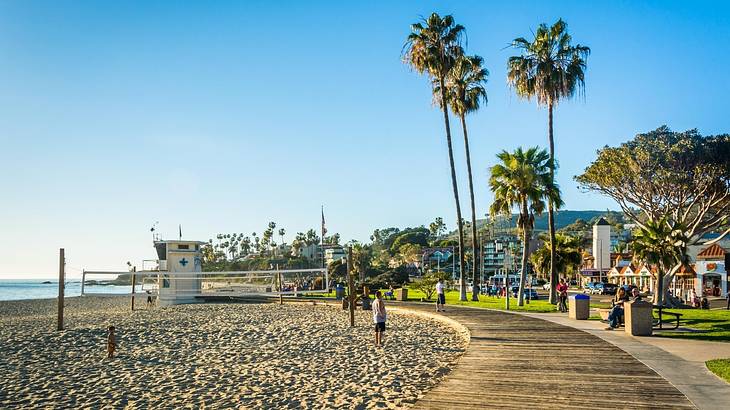 Take a lovely drive to Laguna Coast Wilderness Park
California is known for the canyon roads down to the beach, and Orange County makes no exceptions. The Laguna Coast Wilderness Park is a coastal region at the bottom of Laguna Canyon Road.
There are multiple places to eat at, and plenty of shops to walk around during your date at Laguna Beach - one of the best California beach towns.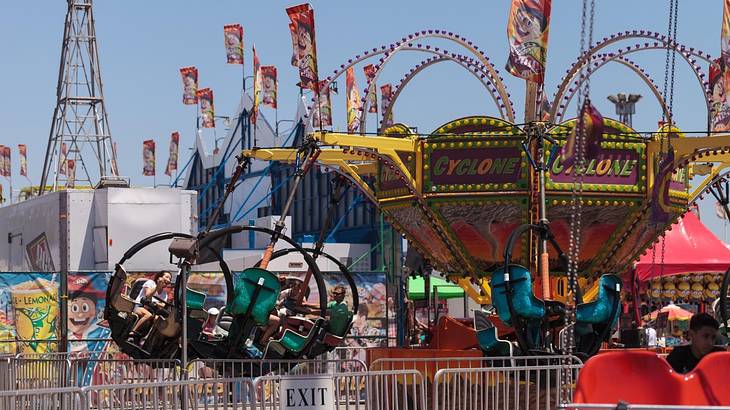 Plan your next date at the OC Fair & Event Center
The OC Fair and Event Center has year-round events open to the public. You can plan your next date at the OC Farmers Market or a concert.
You can see the center's online calendar for the best events coming up for your next date night. The event center is also home to the Speedway track and an amphitheater. There are events for all couples!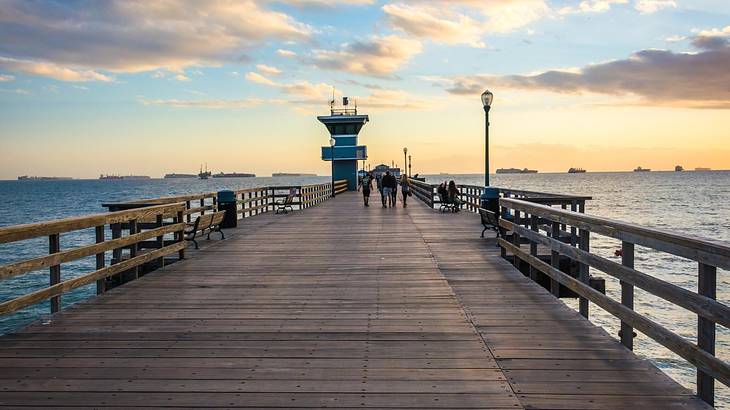 Have a romantic picnic at Seal Beach
Watching the sunset from the pier at Seal Beach is one of the top things to do in Orange County. It has been a part of Orange County since the 1900s. The Seal Beach Municipal Pier is also a popular spot to bring a blanket and sit for a picnic with your loved one.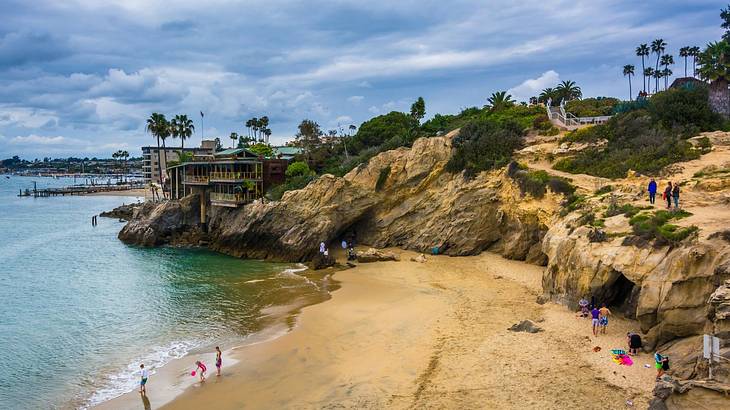 Discover the Corona Del Mar State Beach Park
When you see Corona Del Mar State Beach, you'll find what a world-class beach looks like. The start of your date can be at Newport Harbor; then, you can picnic at Corona Del Mar Beach.
If you plan your date around low tide, you can enjoy some shallow tide pools called the Little Corona's tidepools. Either way, visiting this beach is one of the best date activities in Orange County.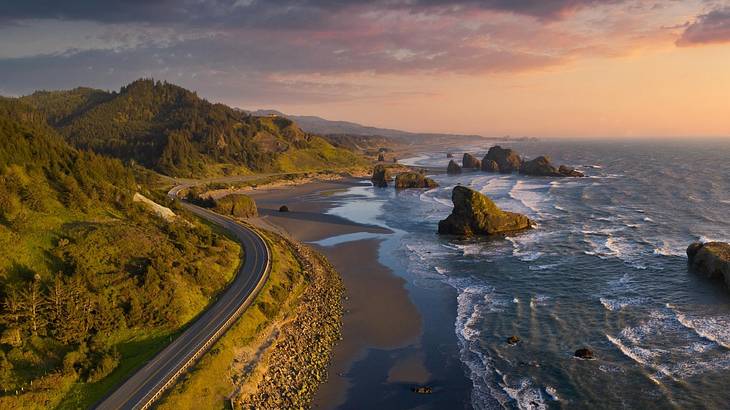 Take a romantic drive down the Pacific Coast Highway
There is nothing more romantic than driving down the Pacific Coast Highway with your significant other.
This iconic highway has the best ocean views, making it one of the most romantic places in Orange County. The PCH goes from North of San Francisco down to San Diego.
Grab dinner at the FIFTH Rooftop Restaurant & Bar
Orange County has rooftop bars sprinkled across the area. But the FIFTH Rooftop Restaurant & Bar is a fun place to have a cocktail with your bae.
Your evening will start with the best views of the city. If you go at the right time, you might be able to see the California Adventure Park nightly fireworks.
Whether you just want to have dinner or some cocktails, this is a fantastic choice for your Orange County date night.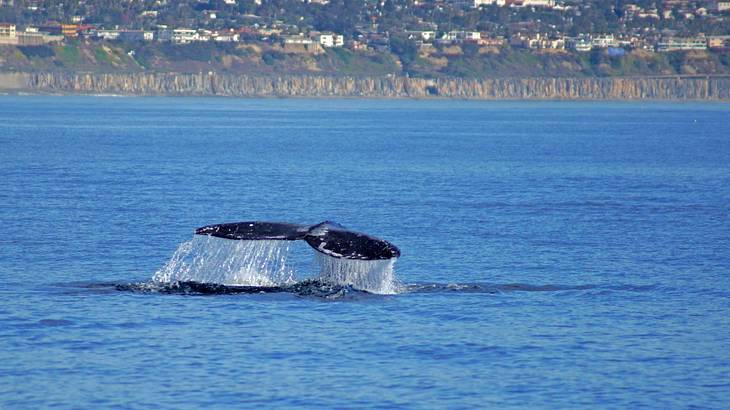 Go on a romantic whale watching boat tour
If you get the chance, you should visit the bustling Dana Point Harbor for whale watching for your next date. You can enjoy a place to eat at one of the restaurants and shop around Dana Point before or after your whale-watching cruise.
Even if you don't see whales, the coast is full of dolphins and other wildlife. This will surely be an experience that will bring you and your date closer together!
Spend some quality time together at the SEA LIFE Aquarium
The Californa SEA LIFE Aquarium is an extremely romantic place to walk through in Orange County. The Aquarium hosts tropical fish, stingrays, and jellyfish.
You can take cute couple pics with a giant aquarium background or continue your date with a private feeding session with some of the animals.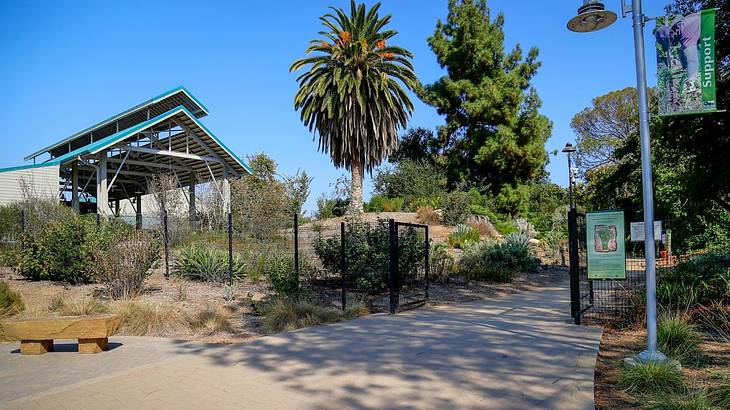 Hang among the trees at the Fullerton Arboretum
A date at the Fullerton Arboretum is to be in the middle of a massive 26-acre botanical garden. Bask in the pleasant California weather at this urban oasis.
This botanical garden is a world-class plant conservation center and hosts plenty of areas to spend quality time with your partner. You can enjoy some rare and endangered plants or just stroll through the gardens together.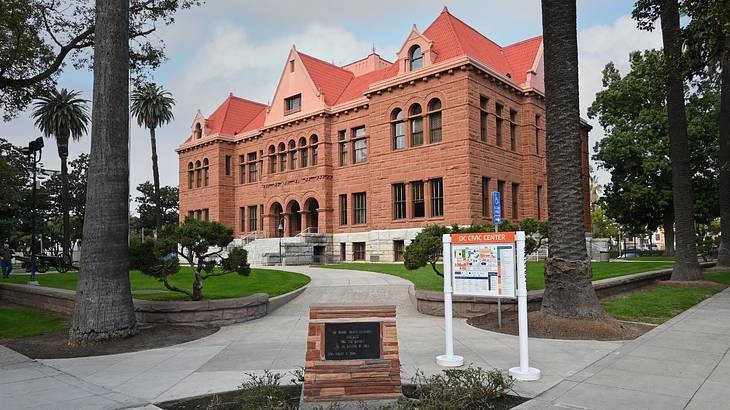 Learn something new together at the Old Courthouse Museum
The Orange County Old Courthouse Museum is located in Santa Ana and has been a staple in the historic district since the 1900s.
You can learn something new with your boo at some of the temporary or permanent exhibits here, like about the history of the OC. Enjoy the historic area after strolling through the Old Courthouse Museum.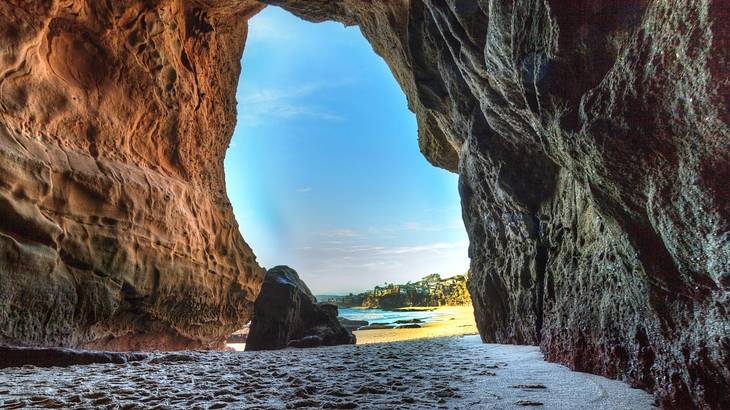 Go on a hiking date at Thousand Steps Beach
There is no better way to bond with your lover than by walking 1000 steps down to a quiet Orange County beach. You can pack a picnic and spend some time by the Pacific Ocean.
After a few hours here, you can climb back up the 1000 steps to complete the grueling bonding mission. Then you can both say you took the challenge and climbed the Thousand Steps Beach!
Take your date shopping at Fashion Island
Another Newport favorite, Fashion Island, has premier shopping experiences for all styles. There are a variety of high-end stores and plenty of dining options.
After some shopping, you can enjoy the luxury cinema and an alcoholic beverage with your significant other. Shopping here is one of the fun OC date ideas!
Get the full surf culture experience at the International Surfing Museum
If you and your partner love surfing, then you have to visit the International Surfing Museum. This is a non-profit museum located in Huntington Beach.
The International Surfing Museum has the best exhibits covering the surfing history and culture of Orange County. You and your significant other can learn about the events that shaped the sport's history here.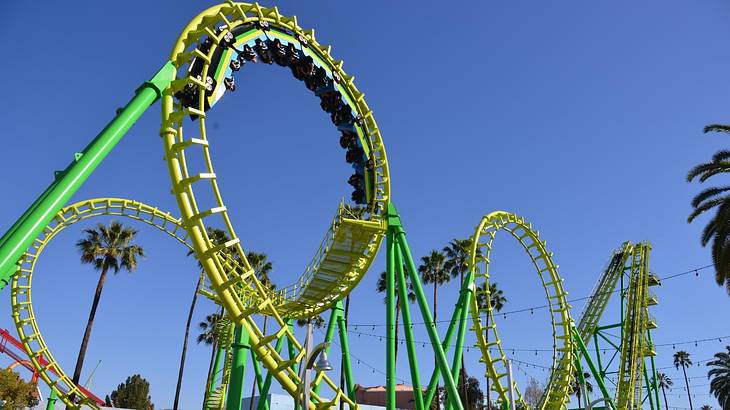 Ride the roller coasters at Knott's Berry Farm
Whether you are an adventure seeker or want to enjoy some fair food, Knott's Berry Farm is a fantastic place for a date night. There are roller coasters, carnival games, and carnival food.
Your date will find joy in the Snoopy-themed park and feel like it's a day at the state fair. You can spend all day in this amusement park with your partner!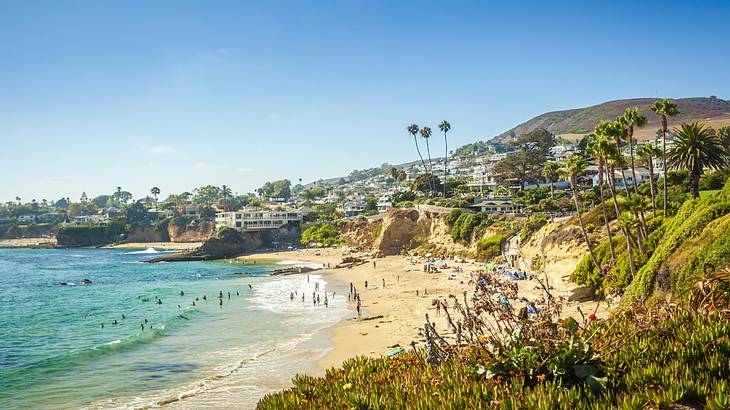 Explore together with an Orange County beach tour
When exploring Orange County, consider taking your date on a beach tour. There are segway options, electric bike tours, or a classic driving tour down the coast.
There are self-guided tours as well, but some of the best options are coastal sightseeing tours. You can enjoy spending time with your lover and getting the ultimate views of Orange County.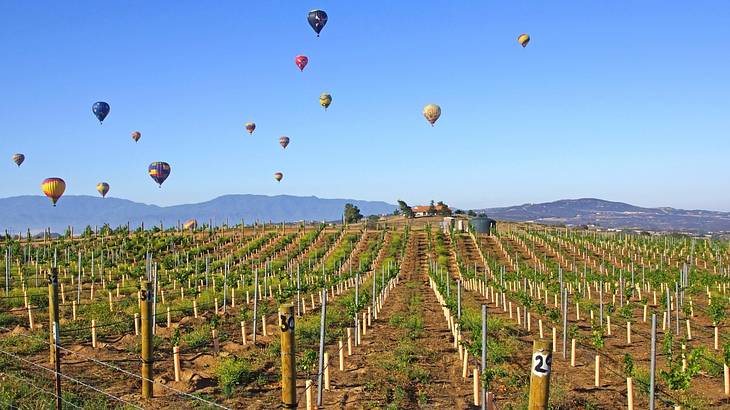 Take a magical Temecula Wine Tour
Even though North California is known as wine country, South Orange County is home to Temecula Wine Valley. You and your date can sample award-winning wines and see the largest wine cave in Orange County here.
Enjoy wine flights, charcuterie boards, and a guide to help you through the spectacular wines. That's why a date at the Temecula Wine Tour from South Orange County visiting some of the best Temecula wineries is a must-do!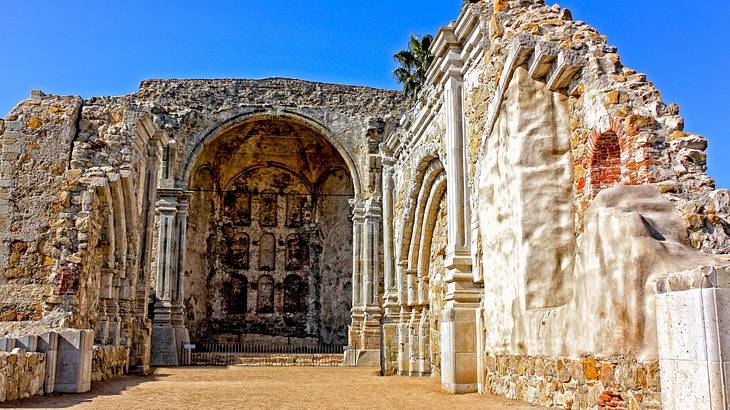 Explore Mission San Juan Capistrano
When you are looking for a place to take your date for the day, consider the quaint city of San Juan Capistrano. This town is full of Spanish flair in architecture and culture.
For a romantic date, you can walk through the gardens at the museum and learn about the history of Orange County in the 18th and 19th centuries. This is a unique attraction that can be great fun for a couple!
Experience an authentic gondola ride with Gondola Adventures
For one of the ultimate romantic dates in Orange County, there is nothing better than to take your lover on a gondola ride in Newport Beach. These are realistic gondola tours that include artistic boats and a private guide.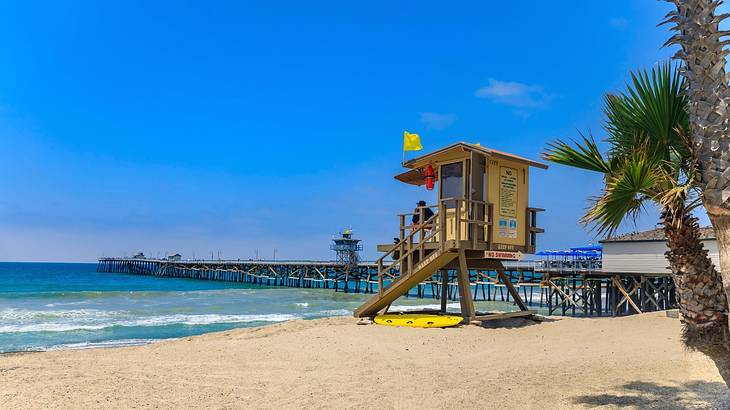 Learn to surf together in San Clemente
If you and your date want to learn to surf together, take a beginner class in San Clemente. Orange County beaches are the best beaches to learn to surf! You and your date can do a beginner course, or if you are more experienced, pay for a private lesson.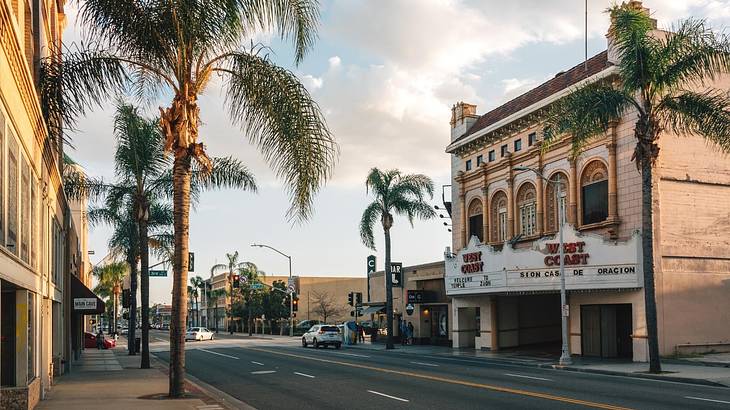 Hangout at the food halls in Downtown Santa Ana
Southern California is known for its trendy outside street markets. The 4th Street Market in Santa Ana is a fantastic place for your future date nights in Orange County.
These markets are great places for you and your date to enjoy a variety of Cali foods. The hall is full of restaurants that serve fried chicken and Mexican Asian fusion. The patio has a nice ambiance too.
Check out the Costa Mesa Art Walk
If you are looking for a free date in Orange County, then doing the Costa Mesa Art Walk is the perfect date idea for you. The walk includes world-renowned international artists like Noguchi and Joan Miro.
You can do the free audio tour from your phone and guide your date through the unique pieces. You can impress your date with a cultural experience while learning something new about Orange County.
Take an art class at the Muckenthaler Art & Cultural Center
Learn something new with your date at the Muckenthaler Art & Cultural Center. This center was originally an 18 room mansion for the Muckenthaler family in 1925.
The family donated the mansion, hoping the community would use it as a creative outlet. Today, this mansion hosts a cultural museum, musical performances, and art classes.
See majestic birds at the Tucker Wildlife Sanctuary
If you and your lover want to spend time together in the great outdoors, consider taking a walk at the Tucker Wildlife Sanctuary.
As one of the fun dates in Orange County, Tucker Wildlife Center is a picturesque park with plenty of opportunities for bird watching.
Volunteer together a the Pacific Marine Mammal Center
The Pacific Marine Mammal Center is a rescue center that practices releasing mammals, like injured sea lions, back into their natural habitat. The organization is a non-profit and is taking in new volunteers.
You can grow together through helping animals and have the opportunity to get close to multiple sea lions. It is the perfect date idea for couples looking to do something new.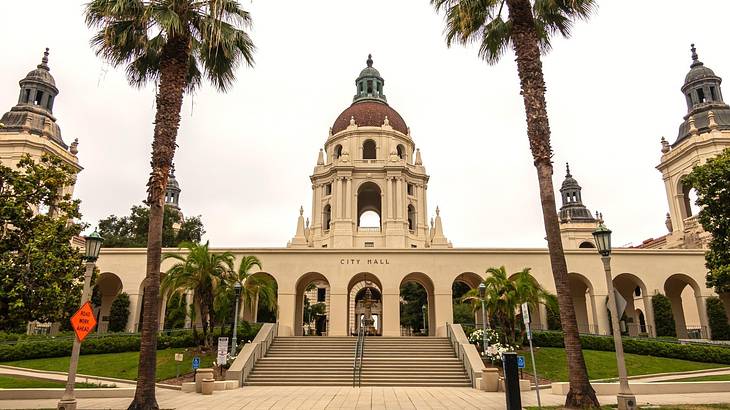 Take a day trip to Pasadena
If you are looking to do a day trip with your date, consider driving to Pasadena for the day. This mini road trip from Orange County offers eclectic shops, famous restaurants, and a beautiful city center.
Well-known music festivals are hosted at Pasadena, and they also have art and food festivals on some weekends.
Learn together at the Los Rios Historic District
If you and your date are into history, the Los Rios Historic District is located in San Juan Capistrano, perfect for your next date experience. The entire town is equipped with plaques that will teach you about the town's history.
The Los Rios Historic District is one of the oldest occupied neighborhoods in California. It dates back to 1794 when many of the buildings in this district were built.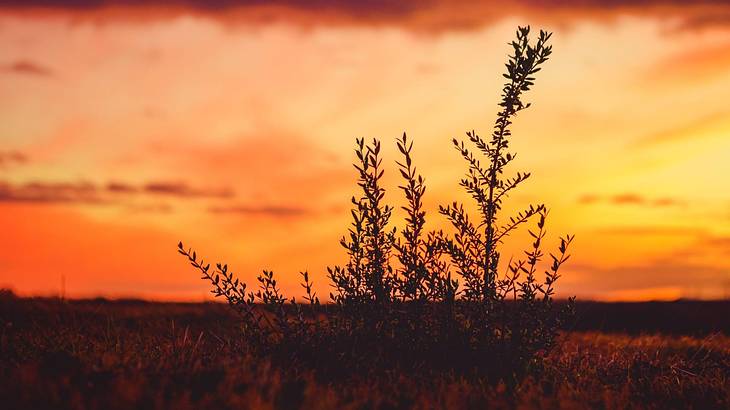 Take a stroll through Fairview Park
If you want a quaint date experience, take your date to Fairview Park to enjoy 194 acres of woodlands. Within this park, there are multiple historical sites and a ton of bike trails.
You may want to bike if you want to see the entire park. Otherwise, a stroll through the park will be the perfect way to spend some quiet time together.
In Summary
Whether it's your first date or 100th, this list is full of romantic spots in Orange County to check out. Hopefully, you got more than one idea to try while spending time with your loved one on this special part of the California Coast.
Whether you are into museums, rollercoasters, Disney, or simply a foodie, these coastal date ideas are sure to please any level of adventurer you are spending quality time with.
Now all you have to do is pick a day and tell your date! What are you waiting for?
Give us feedback about this article
More visual stories related to this article:
---
---
Want to keep exploring?
Subscribe for discounts on tickets and hotels and our latest guides.
Thank you for subscribing
We will be in touch soon with discounts on tickets and hotels and our latest guides.
Want to keep exploring?
Subscribe for discounts on tickets and hotels and our latest guides.
Thank you for subscribing
We will be in touch soon with discounts on tickets and hotels and our latest guides.
Related Articles