15 Fun Things to Do in Orange County at Night
Destguides may receive commissions from purchases made through affiliate links in this article.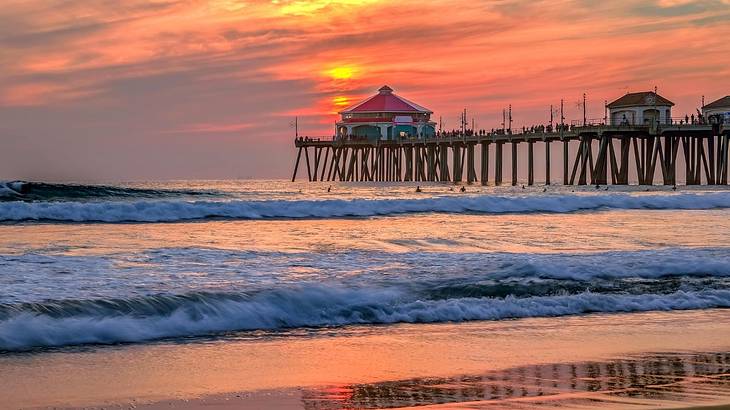 Orange County is known for being the home of Disneyland during the day, but what if you are looking for something fun to do at night?
The OC is full of nightlife! It is well known for the lights along the Huntington Beach Pier and the pleasant night weather. When you visit the OC at night, you will get the true California aesthetic that so many travelers are searching for when here.
At night, Orange County also lights up brilliantly! Disneyland becomes even more magical, and the sky is full of fireworks and allurement.
You can visit rooftop bars or wineries and watch the sunset on the Pacific Coast Highway (PCH). There are so many fun things to do in Orange County at night!
Sometimes it can be overwhelming to look for activities on your own. If you find yourself scrambling to find something to do last minute, refer to the list below for 15 fun things to do in OC at night!
15 Fun Things to Do at Night in Orange County, CA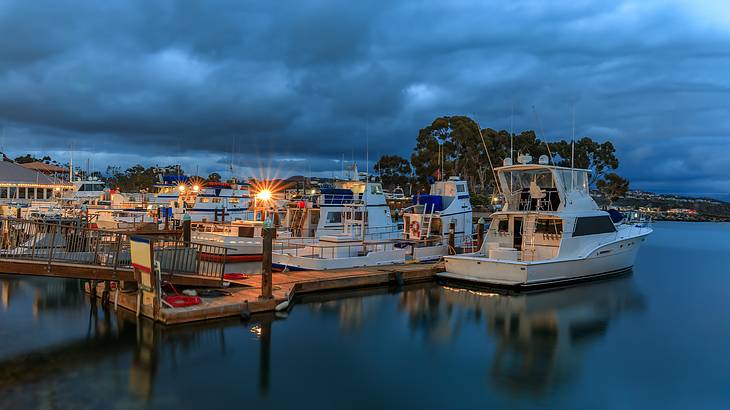 Walk around Dana Point Harbor
Dana Point Harbor is bustling with people during the day. There are whale watching cruises, kayaking, paddle boarding, and more. But at night, you will see a different side of Dana Point. This Harbor is surrounded by restaurants and shops and hosts some of the nicest yachts in the OC!
One of the cool things to do in Orange County at night is to walk through the boardwalks of fancy yachts that are often lit up with Christmas lights or security lights.
After looking at the yachts, you can enjoy some of the best seafood in Southern California at restaurants like Harpoon Henry's or Harbor Grill. Consider making a reservation if you plan to go during the weekend!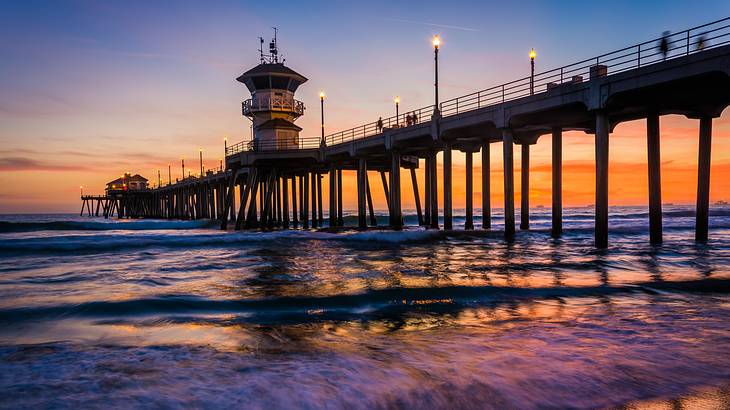 Stroll along the Huntington Beach Pier
No trip to Orange County is complete unless you see the Huntington Beach Pier at night! Whether you are viewing it from the sand or walking on the boardwalk with a date, the Pier holds a sense of wanderlust in the glow of the lights.
This iconic California landmark constitutes itself as one of the most fun places to go in Orange County at night!
If you want the ultimate California experience, consider looking at vacation rentals near Huntington Beach. Some condos are right off the beach where the Pier and the ocean are your temporary backyard. Huntington Beach is a true gem of Southern California!
Ride the Ferris wheel at Irvine Spectrum Center
In the heart of the Irvine Spectrum Center is a giant Ferris wheel that lights up at night. The big wheel is surrounded by all your favorite shopping brands and a beautiful courtyard to hang out in. The courtyard has palm trees and strung lights to create a halo of light below on patrons.
If you enjoy a good comedy show, the Irvine Spectrum Center also hosts the "Irvine Improv" with rotating comics. There are a variety of night showtimes, and you can buy your tickets directly from the Irvine Spectrum Center's website.
You're sure to make memories at Orange County attractions like this shopping center!
Get your thrills at Knott's Berry Farm
Consider one night booked on your trip to the OC because Knott's Berry Farm is one of the most fun night activities in Orange County. If rollercoasters are your thing, you can enjoy this park until 10 pm, weather permitting.
The rollercoaster rides here are the ultimate nighttime experience for thrill-seekers! Enjoy rides like the HangTime, Ghost Rider, and the Jaguar as you experience Knott's Berry Farm in the evening.
Book your Admission Tickets for Knott's Berry Farm.
Take a sunset stroll around tide pools at Doheny State Beach
Doheny State Beach is known for the vibrant life found in its tide pools. Check the tide charts in advance to know the best time to visit this park in the evening.
Imagine walking around tidepools looking at marine life while the sun is setting on the horizon. There is no better vibe than that!
Doheny State Beach is close to the bustling restaurants in Dana Point Harbor. After the sun sets here, enjoy a cocktail at one of the outdoor decks in Dana Point. All public paths are well lit and easy to follow to find the row of restaurants.
Eat your way through the Anaheim Packing District night market
If you have never experienced a night market, the Packing District's night market will be an adventure for you! There is live music and an assortment of food vendors available.
You'll see stalls with everything from exotic Mediterranean foods to classic American dishes. There is no shortage of new foods to try and vendors to meet!
This OC market used to be an orange packaging plant in 1919 and was recently converted to the multistory market you see today. Before you go, check the calendar to see if there is live music.
Even if no one is playing on the stage, you will have a blast at this IG-worthy socialite location!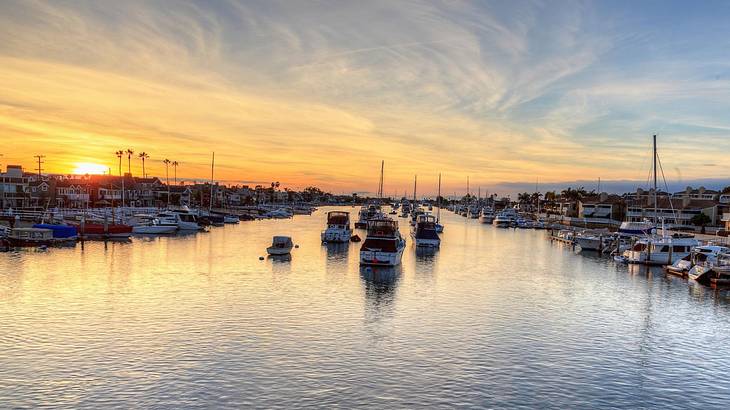 Adventure around Balboa Island
Nights are done right on Balboa Island! The island glows from the shore, inviting travelers to visit for its nightlife. It is one of the most interesting things to do at night in OC.
Just off the coast of Newport Beach, Balboa Island is full of gift shops, beach apparel stores, and even boutiques with home decor.
There are mentionable wine and dine restaurants here like Basilic, a regal French-Swiss eatery, and Ciao Balboa, a New York-style Italian restaurant.
During the day, Balboa Island is known for being the prime spot to start a whale-watching cruise. But at night, it shines like a star on the sea!
Have a Disney-themed night out
Whether you are a huge Disney fan or just want to re-live some childhood memories, Disney never disappoints! You can visit the Downtown Disney District as a free activity, or you can buy a daily ticket for Disney California Adventure Park.
Either way, the park is open for all who want to explore Disney at night. Disney-themed decorations are meticulously lit up to provide a magical glow as you walk the streets of this district.
Seeing as Disneyland is one of California's famous landmarks, you shouldn't be surprised that Disney goes all out!
At the Disney California Adventure Park, there is a firework show every night at 9 pm (weather permitting). There are unique firework shows on holidays and special events.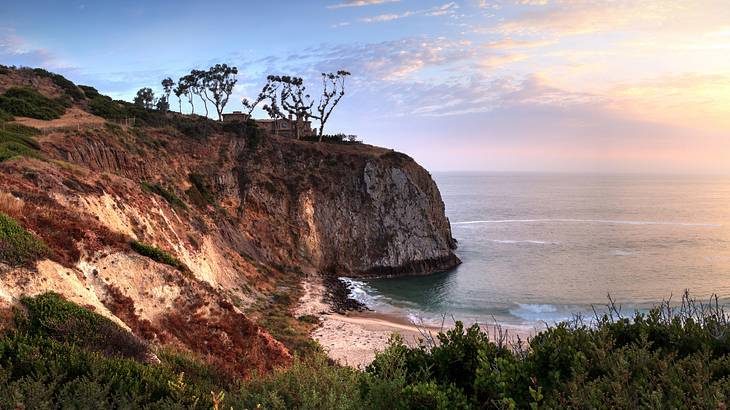 Enjoy the sunset at Crystal Cove State Park
Most state parks close at sunset, which is defined as the point at which the sun goes past the horizon. Sunsets at Crystal Cove State Park are beautiful, and the historic district is open until 10:00 pm.
This park is located right off the PCH, between Corona del Mar and Laguna Beach. There are four entrances to Crystal Cove State Park.
Consider going to Pelican Point to see some tidepools while the tide is lower at night. Double-check the tide charts and remember the park closes after sunset.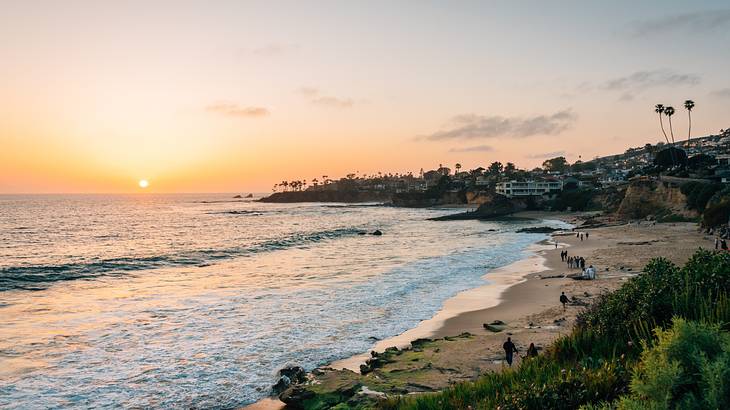 Drive down Laguna Canyon Road to find Laguna Beach
Laguna Canyon is an iconic Californian road leading from the Santa Ana hills down to the Orange County beaches. The hills truly come alive with hues of pink and gold while the sun is setting over the horizon.
At the end of this canyon road, you will find yourself at one of the best California beach towns, Laguna Beach. Laguna Beach should be added to your OC bucket list, it is full of island-like flora and fauna.
Some evenings you may find yourself in one of the many festivals the Wilderness Park hosts. Laguna Coast Wilderness Park is a huge advocate for the arts and shows work from San Clemente all the way up to Anaheim.
The ultimate stuff to do in Orange County at night includes the beautiful scenery of Laguna Beach and the culture of Southern California. This park has both!
Watch a concert at the OC Fair & Event Center
The OC Fair & Event Center is located in Costa Mesa, CA, and it hosts everything from agriculture shows to concerts.
You are sure to find something you love at this event center. It has an amphitheater, an intimate concert hall called the Hangar, and an action sports arena.
The entertainment at the OC Fair and Event center can be local talent or A-list celebrities. There is a wide variety of events, so take a look at the schedule to see how you could be entertained in the OC for an evening.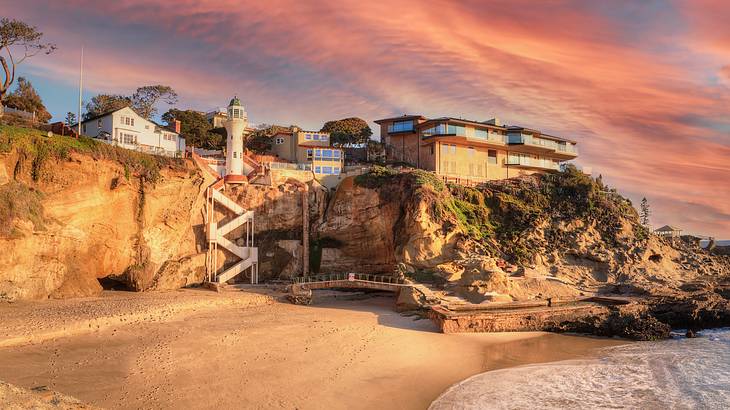 Embrace the views at Thousand Steps Beach
Consider waiting for the late afternoon/evening before taking the Thousand Steps Beach challenge. California beaches can easily get too crowded, but Thousand Steps Beach rarely gets packed.
It could be because the steps are easy to get down, but after a long day at the beach, 1000 steps back up can be brutal!
It's best to let the heat of the day settle and watch the views from this beach in the evening. Make sure to pack light, but bring plenty of fluids. There aren't any restaurants by this beach, and it is a little more remote than some of the other OC beaches.
Have a cocktail at The Fifth Rooftop Restaurant & Bar
The only way to enjoy a rooftop bar is after the blazing California sun is starting to set. That's when you can truly enjoy the Fifth Rooftop Bar and Restaurant!
It has some of the best views of the city and is conveniently located about half a mile from Disney. If you are lucky, you can see the nightly fireworks from Disney California Adventure Park here as well!
This restaurant is known for its seafood menu and fancy cocktails. The entire roof has fireplaces and heat warmers to keep you cozy while you enjoy a drink. This rooftop bar also hosts live music on the weekends, so you're destined to have a blast here!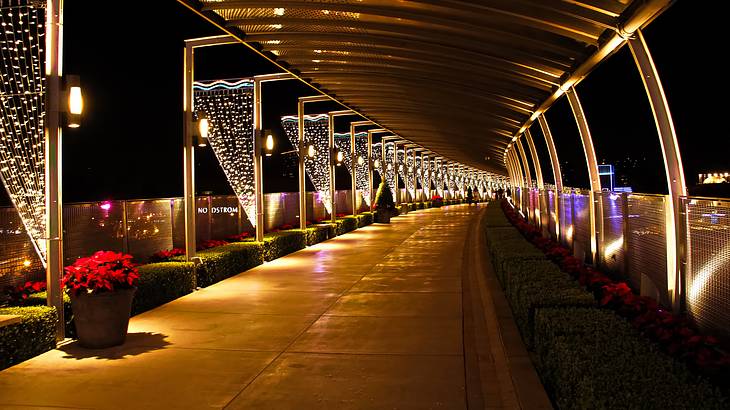 Enjoy an evening at South Coast Plaza
The South Coast Plaza is an international destination you are sure to enjoy! At night, the art installments in the shopping center light up, and the stores are open later than most other malls.
Located in the heart of Costa Mesa, the South Coast Plaza is known for being culturally adept and educational as well as aesthetically pleasing.
If you are wondering what to do in Orange County at night, you have to experience the boutiques and restaurants that show the variety of cultures in the area here!
Take a mini road-trip on the Pacific Coast Highway
The Pacific Coast Highway is ranked the number one most scenic drive in the United States. Driving at night offers the view of the mountains and cliffs over the Pacific - a sparkling experience like no other! You get to view the glistening waves all the way out to the horizon.
When considering driving the PCH, look at going at peak traffic times. This allows for a slower pace and more time to enjoy the scenery. Peak times usually start at 4 pm and can go all the way to 8 pm, depending on the day.
If you want to plan a road trip up the central coast of California along the PCH, the best way to do it is by flying into John Wayne Airport in Orange County and taking the PCH to San Francisco. This route offers some of the best views of Southern California!
In Summary
Orange County will guarantee you will never get bored or run out of things to do. The next time you find yourself struggling to find where to go in Orange County at night, consider this list of the top 15 places to enjoy OC nightlife!
With this list and interactive map, you can choose the best route to take your evening to the next level. You can fill your itinerary or keep it low-key with a new beach every night!
Give us feedback about this article
More visual stories related to this article:
---
---
Want to keep exploring?
Subscribe for discounts on tickets and hotels and our latest guides.
Thank you for subscribing
We will be in touch soon with discounts on tickets and hotels and our latest guides.
Want to keep exploring?
Subscribe for discounts on tickets and hotels and our latest guides.
Thank you for subscribing
We will be in touch soon with discounts on tickets and hotels and our latest guides.
Related Articles