8 Top Things to Do in Los Angeles, California
Destguides may receive commissions from purchases made through affiliate links in this article.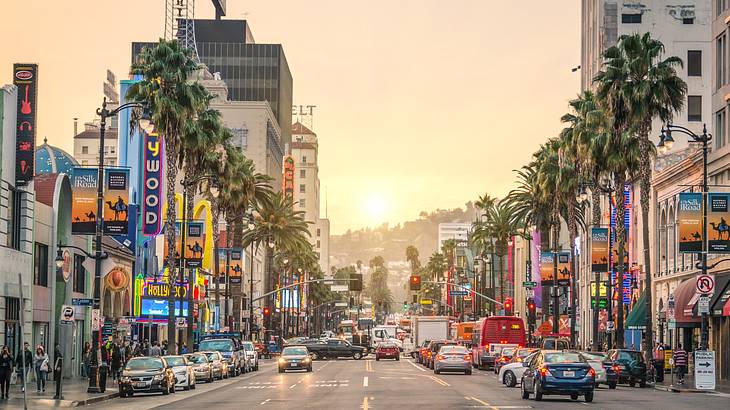 Home to Hollywood, Los Angeles is one of the most laid-back metropolitans in the world. With beautiful beaches and sprawling palm trees, the tropical vibes of Los Angeles are comparable to a vacation in Hawaii.
Los Angeles is also a very opportunistic city drawing crowds of people with very diverse backgrounds from across the globe, earning it the name the "City of Dreams." It is the hub of the entertainment industry as well, with all the major movie studios being located here, like Warner Bros, Universal, Fox, Paramount, and more.
Speaking of entertainment, Las Vegas is just a four-hour drive from Los Angeles, and so are some of the most stunning national parks in the Western USA. This includes the beautiful landscapes of Death Valley, dessert peace at Joshua Tree, and the picturesque hikes in Yosemite.
Los Angeles is one of my favorite cities, but I might be a little biased as I have lived here for a couple of years while studying at USC and then working at the Tinder headquarters in West Hollywood. I have met people with fascinating backgrounds in this city!
There are so many fun things to do in Los Angeles, but I would pick the following 8 top things to do in LA if I had to narrow it down. Keep reading to learn which ones I chose!
8 Best Los Angeles Activities
Los Angeles Things to Do Video
Check out our highlights video of Los Angeles things to do.
Los Angeles Things to Do Map
A map of Los Angeles. Use the map to explore all the things to do.
Take a picture with the Hollywood Sign
If there's something that identifies Los Angeles uniquely, it's got to be the world entertainment symbol of Hollywood, the Hollywood Sign. Like the Empire State Building in New York City and the Eiffel Tower in Paris, getting a click with this famous Los Angeles landmark is usually at the top of most people's 'Things to Do in LA' lists.
Although there are multiple locations in the city from where you can see the Hollywood sign, the most rewarding one is from Lake Hollywood Park or the hike to the oak-studded hills of Griffith Park.
It's illegal to get very close to the sign now - the easiest and most popular route was closed in 2017 due to a private property dispute (sigh). I was living in Los Angeles back then and went for this route as Google suggested, only to find out that it was closed indefinitely (such a bummer).
Bonus: If you are into photography, you can get a nice shot of the sign with palm trees on both sides of the street at "S Windsor Blvd and 5th Street, Los Angeles, CA 90020". Check out Hollywood Sign tours and activities here.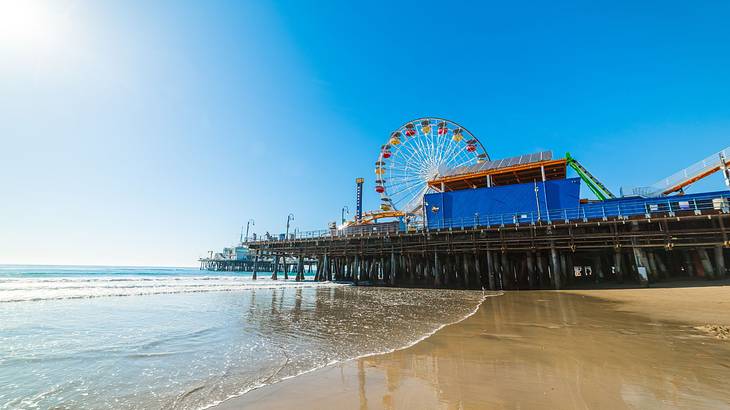 Walk around the Santa Monica Pier
One of the most iconic piers in Los Angeles is also where the famous cross-country Route 66 terminates, so you should definitely get a snap with the highway marker!
The pier overlooks the enormous Pacific Ocean and hosts a myriad of entertainment. It has an amusement park (Pacific Park) with over 10 rides, including the world's first solar-powered Ferris wheel that offers a 360-degree view of the area from the top (which I highly recommend).
Apart from the beach and amusement park, this popular California beach town has some fantastic restaurants and local shops. The Third Street Promenade is just a couple of blocks from the pier and has a lively atmosphere and shopping options.
The overall setting is just perfect for beach entertainment and has been used in various scenes in Hollywood movies. Bonus: Go for a drive along the famous Pacific Coast Highway (PCH).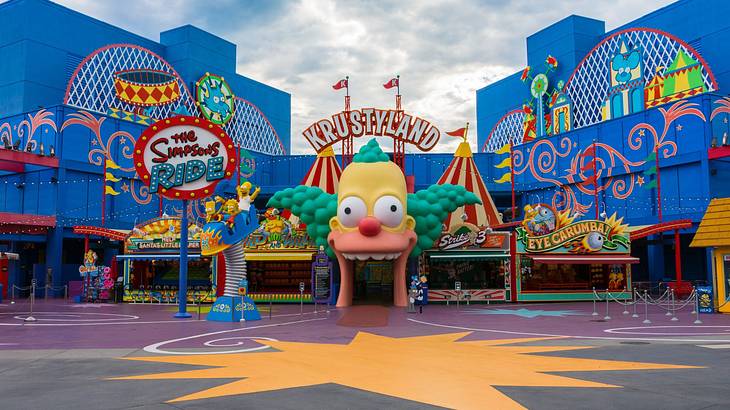 Have fun at a theme park
You have to visit at least one of the several theme parks in and around Los Angeles Universal Studios, Disneyland, Six Flags Magic Mountain, and several others.
If you are a Hollywood buff and fancy a world of Jurassic Park, Transformers, and their newest addition, The Wizarding World of Harry Potter, then you must visit Universal Studios! I visited in 2016, and Hogwarts didn't exist back then. It has been on my list ever since - gotta tick it off soon.
If you believe in magic and fairy tales or are planning to travel with kids, then Disneyland in Anaheim is a no-brainer! It's only a 30-45 minute drive from Los Angeles.
Or, you can turn your world upside down by riding the monster roller coasters at Six Flags Magic Mountain. X2, Goliath, and Tatsu are some of the most terrifying but funnest rides I have ever experienced.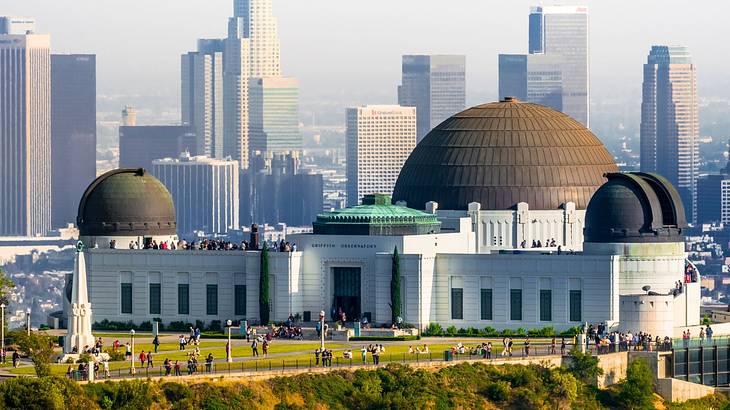 Visit the Griffith Observatory & Griffith Park
The Griffith Observatory is located atop Mount Hollywood and provides panoramic views of Downtown Los Angeles, all the way out to the Pacific Ocean. The Hollywood sign is also quite closely visible from the park (Yay!), and it is one of the famous landmarks in California to visit.
The Observatory is a treat for astronomy nerds. On the Observatory's roof is a giant Zeiss telescope that is free to the public every night the Observatory is open, and the sky is clear - I have always seen a long line for it, though!
Many movies, including the Oscar-winning "La La Land," have filmed multiple scenes in Griffith Park and inside the Observatory itself.
There are several trails in the park as well, the most famous being the hike that takes you up close to the Hollywood sign. Check out Griffith Park tours and activities here.
Stroll Venice Beach & the Boardwalk
The bohemian lifestyle in Venice, one of the most touristy yet laid-back neighborhoods in Los Angeles, is one of my personal favorites!
The 1.5-mile-long boardwalk features a bike path; a variety of restaurants and bars; skate and surf shops; hundreds of local vendors offering graphic tees, piercings, and tattoos; arts and crafts displays; and street performances with crowds cheering.
There is also a skating ramp where you can see kids and adults showing off their skills and a gym on the beach - all provide a magnificent view of Venice Beach surrounded by palm trees.
The buildings in the surrounding area have some vibrant and colorful exteriors, some with beautiful murals. You will often find tourists and models here trying to get those Instagram-worthy shots at night or during the day!
Bonus: Go for a stroll along the lesser-known Venice Canals, also known as the Venice of America, where you can spot some beautiful homes and gondolas. Check out Venice Beach tours and activities here.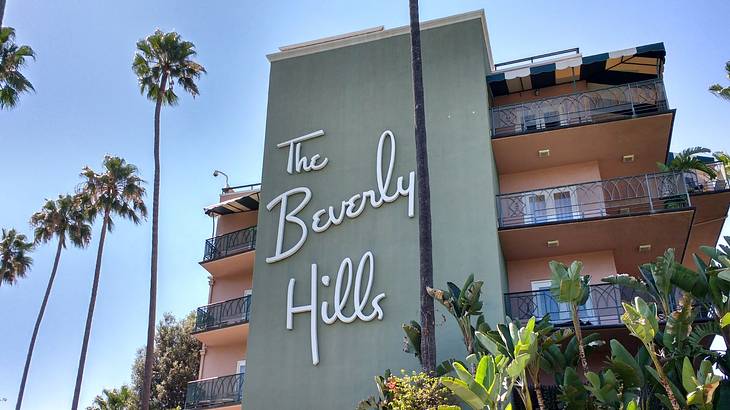 Get lost in Beverly Hills
As you must have seen in the movies, Beverly Hills is home to the stars, not just from Hollywood but also other industries.
This part of LA is where you drive through the beautiful hills looking (rather papping) at some pretty glamorous building structures. You can also take a guided tour from Hollywood. Lastly, make sure to take a quick snap of the "Beverly Hills" marker at Beverly Gardens Park.
Venture down Rodeo Drive
Beverly Hills and Hollywood demand luxury, which Rodeo Drive fulfilled after becoming a must-visit place in Los Angeles following its appearance on the Beverly Hills 90210 show. Very few shopping districts in the world are as famous or as expensive as Rodeo Drive.
Most of the brands here are high-end ones, like Gucci, Burberry, and Louis Vuitton. You will also find many luxury and sports cars on the street - Ferraris, Bentleys, Maseratis; you name it!
Don't forget to get a pretty snap with the "Rodeo" street marker towards the end of the street. Check our Rodeo Drive tours and activities here.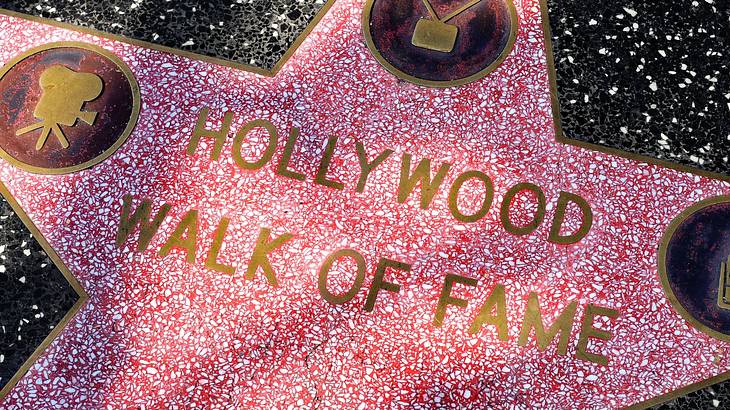 See the Hollywood Walk of Fame
The Hollywood Walk of Fame at the world-famous Hollywood Boulevard is not how you might have imagined Hollywood in your head - you won't see any stars or red carpets here.
This was the first thing I visited in Los Angeles without much research, and I was somewhat disappointed by how it lacked the luster that I expected from something as big as Hollywood. The area is flocking with tourists and locals in superhero costumes trying to make a few bucks off them.
You might be wondering then why am I even mentioning it as one of the top activities to do in Los Angeles? Well, it deserves a spot of its own because of its history! Hollywood Boulevard is where the big movie studios operated before moving to Universal City, Burbank, and Culver City.
The TCL Chinese Theater is still located here, which is the most iconic movie palace in the world and continues to make Hollywood history with over 50 plus events a year, like movie premieres & film festivals. We went to watch a premiere here when I was in LA, and it did feel special.
The other fun thing to do is to try and spot your favorite stars on the street (not literally) - their names are embedded all along the 1.3-mile Walk Of Fame.
Remember I said earlier that you wouldn't see any red carpets here, but that's not entirely true if you happen to visit during the Oscars, which is held inside the famous Dolby Theater at Hollywood & Highland Mall.
Other top attractions in the area include the Madame Tussauds Wax Museum and El Capitan Theatre. Check out Hollywood Walk of Fame tours and activities here.
In Summary
We have barely scratched the surface with the above list of some of the best things to do in Los Angeles, California. Either way, I am positive that you'll be left wanting to explore it more after your trip. The good news is "It's always sunny in Los Angeles," so do visit again soon!
Give us feedback about this article
Learn more about Los Angeles:
More articles about California:
Read more articles about the United States:
More articles about things to do:
More visual stories related to this article:
---
---
Want to keep exploring?
Subscribe for discounts on tickets and hotels and our latest guides.
Thank you for subscribing
We will be in touch soon with discounts on tickets and hotels and our latest guides.
Want to keep exploring?
Subscribe for discounts on tickets and hotels and our latest guides.
Thank you for subscribing
We will be in touch soon with discounts on tickets and hotels and our latest guides.
Related Articles