48 Fun Things to Do in Orange County, California
Destguides may receive commissions from purchases made through affiliate links in this article.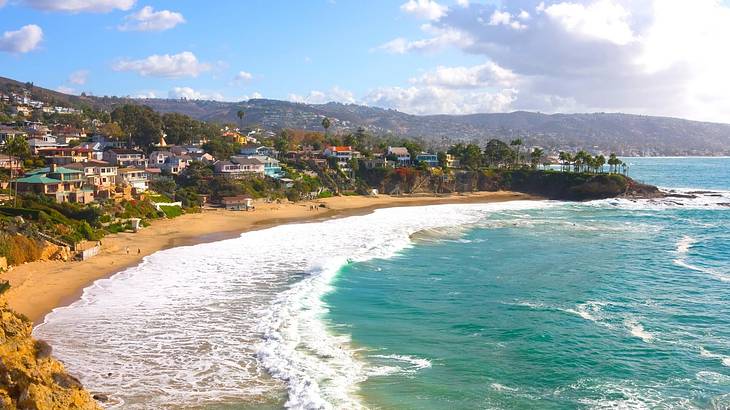 Orange County is a coastal county in California. The beautiful destination features the most amazing beaches, unique attractions, and easy access to national parks. If visiting, you'll find an array of fun things to do in Orange County, California, from going to theme parks to enjoying wildlife hikes and relaxing on the beach.
Traveling to Orange County is also very convenient. It's located six hours from the hub of San Francisco, and just under an hour from Los Angeles. The area also has an airport, John Wayne Airport, making flying into Orange County from other places on the West Coast of the United States low hassle. To find out all the exciting things you can do in Orange County, keep reading!
48 California things to do
48 Fun Things to Do in Orange County, CA
A Map of Orange County California
A map of California. Use the map to explore all the things to do.
Orange County Things to Do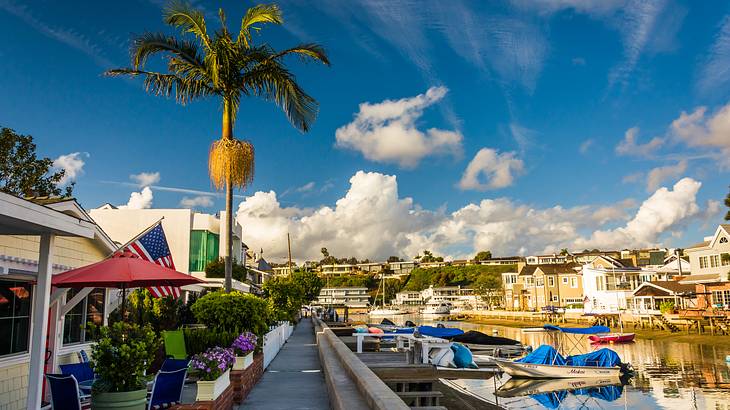 Explore Balboa Island
Balboa Island is found in trendy Newport Beach, California. This bustling human-made island has independent shops, outstanding restaurants, and stunning coastal views. It is a fun thing to do in Orange County even at night!
Having shopped and grabbed something to eat, also check out the amusement park here. This exciting attraction is a fun place to visit for kids and adults.
Plan a beach day at Doheny State Beach
One of the most enjoyable activities in Orange County is spending the day at the beach. Heading to Doheny State Beach is highly recommended.
At this tranquil beach, you can sunbathe, swim, and play beach games. Hanging out at Doheny State Beach is ideal for all occasions, from a day with friends to a family get-together.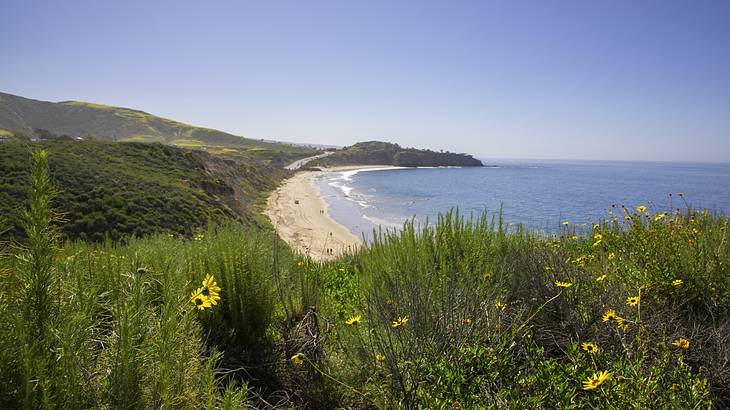 Admire the coastline at Crystal Cove State Park
Beautiful Crystal Cove State Park is a coastal park that runs along 3.2 miles of the Pacific coastline. At the park, you can appreciate the rolling waves, explore wooded canyons, and walk along sandy beaches.
You can also bring your dog with you, as long as they stay on paved paths. No matter what you do at Crystal Cove State Park, you're guaranteed to enjoy the most breathtaking seaside vistas.
Tackle the El Moro Canyon Loop Trail
A must-try hiking trail in the OC is the El Moro Canyon Loop at Crystal Cove State Park. Luckily, this trail isn't too challenging, so most people can give it a go. Walking the route will allow you to appreciate coastal views and stunning wildflowers.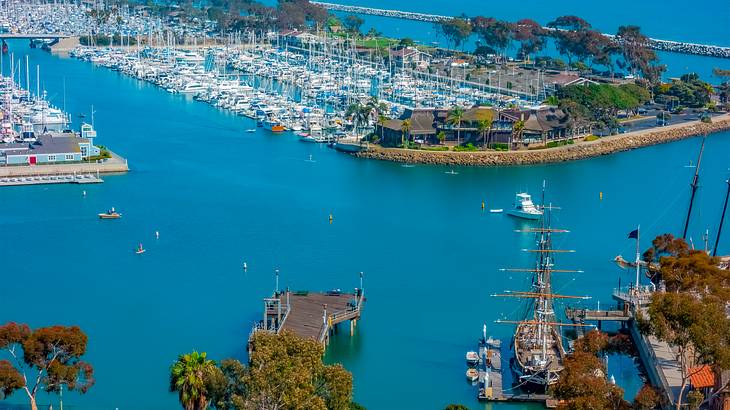 Go on a Dana Point Harbor dolphin watching tour
For marine life enthusiasts, one of the best things to do in Orange County is going on a dolphin-watching tour. An eco-tour dolphin-watching cruise from Dana Point Harbor is an ideal one to try!
On this tour, you'll board a catamaran and sail to areas known to be home to dolphins as well as whales. Watching these majestic sea mammals frolic in the water is incredibly memorable.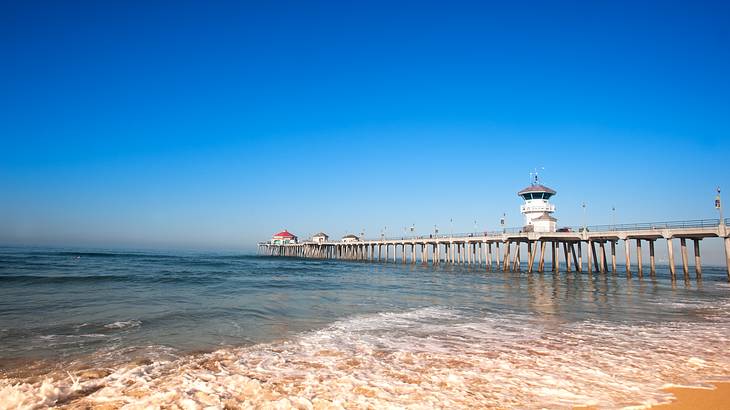 Walk along the Huntington Beach Pier
The iconic Huntington Beach Pier is found at Huntington Beach. This landmark stretches for 1,850 feet and is notably one of the West Coast's longest piers.
Seeing the pier and walking along it is a must when in the area. You can visit the attraction at your leisure or see it on a fun best beaches in Orange County tour.
Wander around breathtaking gardens at Fullerton Arboretum
Fullerton Arboretum is one of the pretty places to see in Orange County. The 26-acre botanical garden houses a vast array of plants, flowers, and trees.
Flora to see includes endangered plant species and exotic plants that you may never have seen before. Wandering around the stunning gardens is the perfect laid-back OC date idea.
Spend a magical day at Disney California Adventure Park
The world-renowned Disney Adventure Park is in Anaheim, the second-largest city in Orange County. A trip to Disneyland is a dream for kids and adults alike! When visiting this North American landmark, you'll be spoiled for choice with a range of Disney-themed roller coasters to ride, shows to see, and restaurants to try.
Of course, you'll also get to meet all your favorite Disney characters. Spending a day, or more, at this exhilarating and magical attraction will create lifelong memories.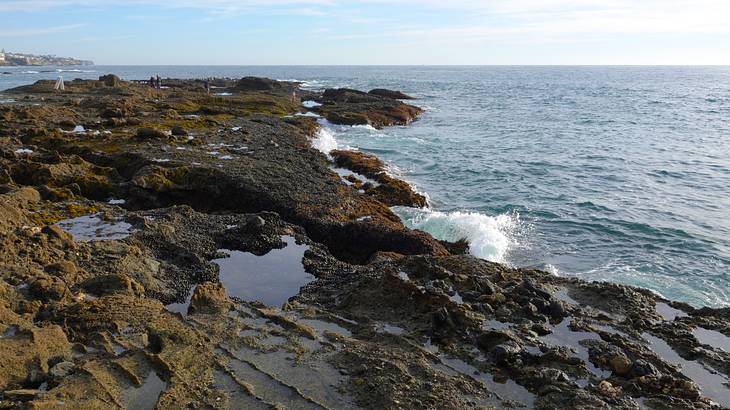 Discover the pretty Laguna Beach Tide Pools
Laguna Beach features multiple beaches with fascinating tide pools, including Treasure Island Beach and Diver's Cove. When in the area, checking out these pools is a must. These unique marine ecosystems feature clear waters, ocean plants, and small sea creatures.
Ocean animals you may see in the pools include crabs, octopi, urchins, and sea snails. Wading birds also like to spend time around these tranquil pools.
Go on wildlife hikes at Laguna Coast Wilderness Park
Laguna Coast Wilderness Park is a 7,000-acre wilderness park near Laguna Beach. Found in the San Joaquin Hills, you can discover coastal canyons and the only natural lakes in Orange County.
While visiting, you can hike or bike on one of 44 trails and are guaranteed to see wildlife, like deer and red-tailed hawks. A trip to Laguna Coast Wildlife Park is one of the best Orange County, CA, activities for nature lovers.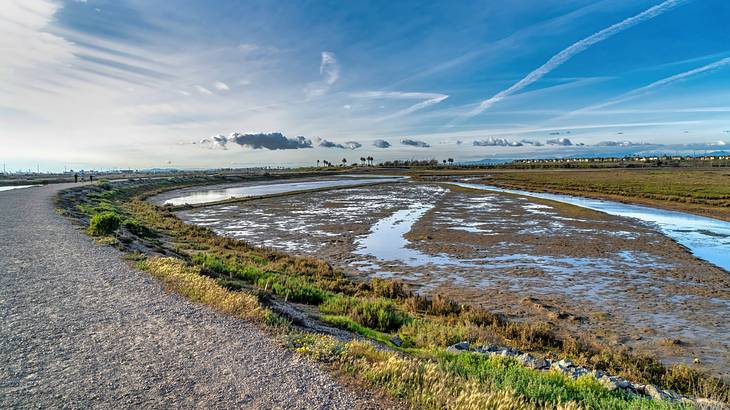 Spot Californian wildlife at the Bolsa Chica Ecological Reserve
Located close to Huntington Beach, the Bolsa Chica Ecological Reserve is a 1,300-acre coastal wildlife reserve. If you enjoy seeing local animals in their natural habitat, a trip to the reserve must be on your Orange County bucket list.
Creatures you may see include a range of birds, raccoons, snakes, coyotes, and much more. There are also various hiking trails to walk along.
Learn about Orange County history at the Old Courthouse Museum
The Old Courthouse Museum is in Santa Ana and has sat in the historic district since 1901. Today, the courthouse houses a museum where you can learn about the history of Orange County. Temporary and permanent exhibits are on display that are sure to teach you something new about the OC!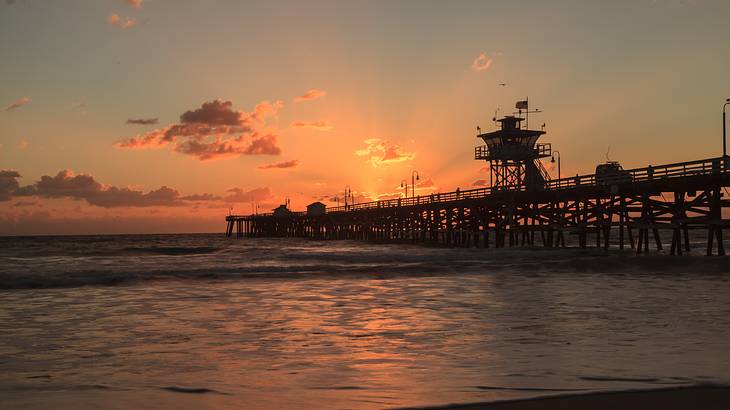 Watch the sunset at San Clemente Pier City Beach
Another of the cool things to do in Orange County is heading to the San Clemente Pier City Beach to watch the sunset. San Clemente Beach is a beautiful vast sandy destination, surrounded by shops and restaurants.
Having spent the day here, staying to watch the sunset is highly recommended. Watching the pink and orange sky over the ocean and quaint pier is breathtaking.
Take your kids to the Pretend City Children's Museum
If in Orange County with kids, a trip to Irvine to visit the Pretend City Children's Museum is a must. This interactive attraction has 17 exhibits that mimic small cities.
Kids are encouraged to explore, play, and try various educational activities, from shopping in a mini grocery store to playing in a pretend fire truck.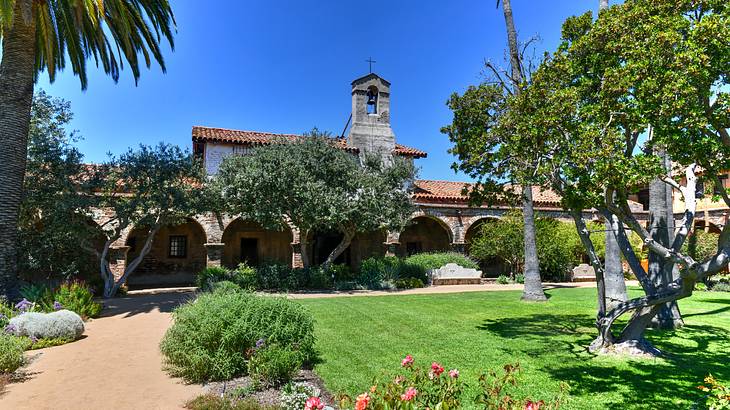 Visit the Mission San Juan Capistrano
San Juan Capistrano is a small charming city in Orange County. Within the town, you'll find a Spanish mission that has been in the area since 1776.
At the mission, you can visit an on-site museum to learn about the history of the area and Orange County in the 18th and 19th centuries. There are also pretty gardens to explore, and you can go to the main chapel.
Spot wildlife at the Shipley Nature Center
Those who like seeing wildlife will love taking a trip to the Shipley Nature Center. This attraction covers 18 acres and houses a range of plants and animal species.
At the center, you can follow various trails and spot an array of creatures. The nature center is the ideal place to go birdwatching too.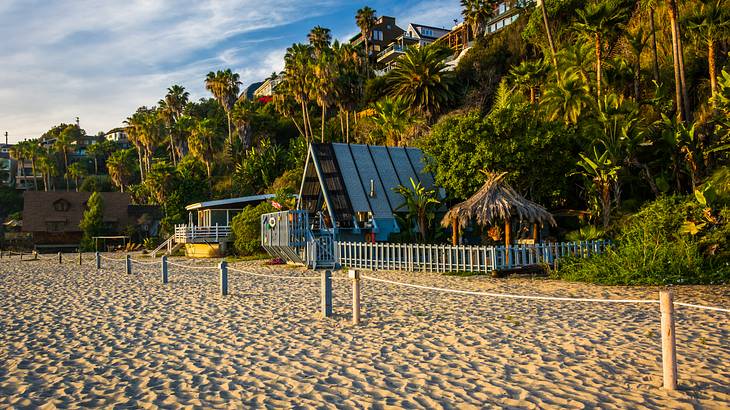 Climb the many steps at Thousand Steps Beach
Thousand Steps Beach is found along the Pacific Coast Highway, in South Laguna Beach, one of the best beach towns in California to visit. It is known for the over 200 steps you must climb to reach the sandy shore.
After tackling the staircase (which thankfully doesn't really include 1,000 steps), you'll be greeted by a stunning beach with white sand, turquoise water, and rock caves.
Shop at South Coast Plaza
Located in Costa Mesa, South Coast Plaza is the largest shopping mall on the West Coast. This shopping outlet features 250 boutiques, 50 high-end restaurants, and a range of other stores and attractions. Whether you window shop or splurge, a day a South Coast Plaza is time well spent!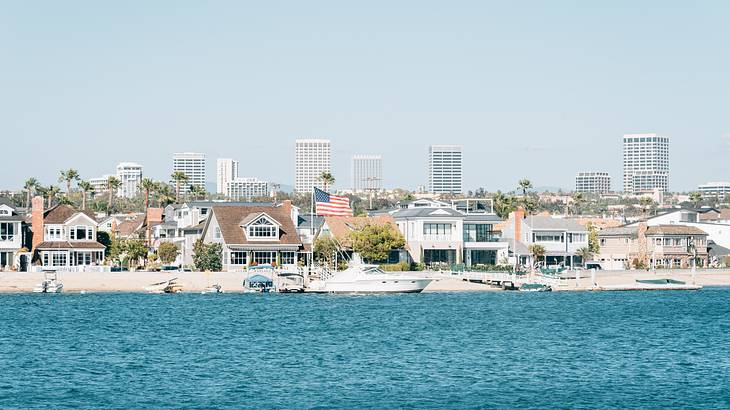 Whale watch at Newport Beach
Go whale watching from Newport Beach KW There are a range of whale watching options around Orange County. Going on a Newport Beach whale cruise is one of the most popular options.
During your tour, you're guaranteed to spot wild whales, and your captain will provide you with interesting information on these creatures. Getting out on the water to spot some whales is definitely one of the most fun activities in Orange County!
Learn about surf culture at the International Surfing Museum
The International Surfing Museum is a non-profit museum in Huntington Beach. The goal of the attraction is to teach visitors about surfing history and culture. Exhibits cover the world's top surfers and significant events in the sport's history.
If you enjoy sports-themed attractions or are a surfing fanatic, don't miss this museum!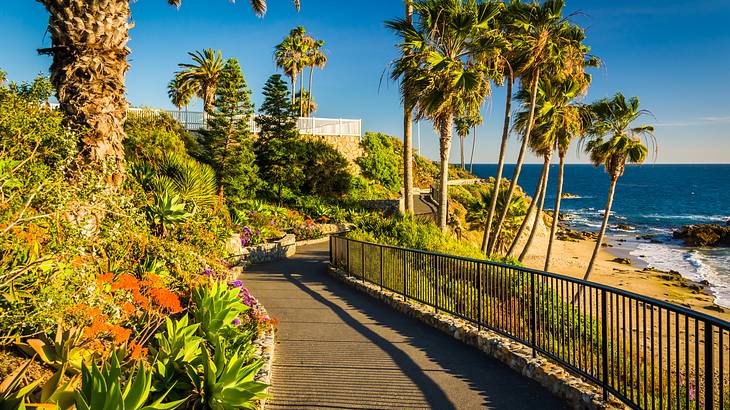 Appreciate the coastal views from Heisler Park
Heisler Park is a beachside park with artistic sculptures, benches to relax on, and stunning coastal views. If you want to go down to the beach, you'll be able to explore tide pools and walk along the tranquil sandy shores. Heisler Park is a calm oasis where you can completely unwind.
Stroll along the Surfing Walk of Fame
Another surf-related attraction, found near the International Surfing Museum, is the Surfing Walk of Fame. Like the Hollywood Walk of Fame, this landmark is covered in plaques for the most famous surfers. When in the area, stroll along the path to see all of these surf legends.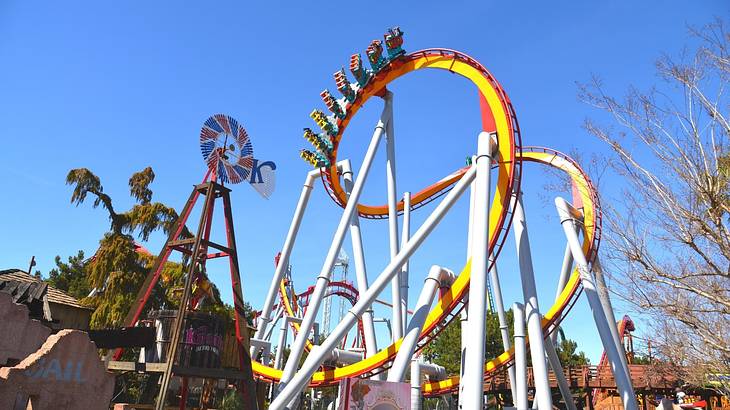 Ride roller coasters at Knott's Berry Farm Theme Park
A great Orange County activity is spending the day at Knott's Berry Farm. This exciting amusement park covers 57 acres and features a vast selection of rides, roller coasters, and games. There's also a waterpark, and kids can meet a range of well-known characters, like Snoopy and Charlie Brown.
Enjoy shopping and dining at Fashion Island
Another of the places to visit in Orange County that lets you shop and dine is Fashion Island. Known as "Orange County's premier shopping center," this mall includes high-end stores and over 40 dining options.
Having shopped, you can also catch a movie at the on-site theater. This luxury cinema allows you to enjoy alcoholic beverages and snacks as you watch.
Learn about Nixon at the Richard Nixon Presidential Library and Museum
An interesting cultural activity in Orange County is visiting the Richard Nixon Presidential Library and Museum. This landmark houses Nixon's presidential library and his burial site. At the museum, you can learn more about the life and work of the 37th president of the United States.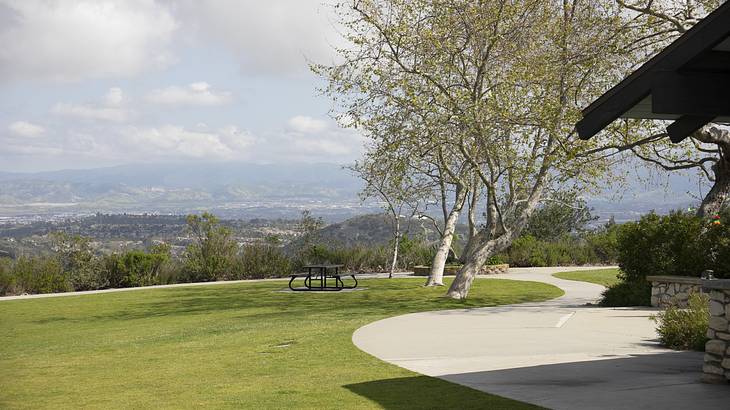 Take a stroll through Aliso and Woods Canyons Wilderness Park
Found next to Laguna Coast Wilderness Park, Aliso and Woods Canyons Wilderness Park is another amazing outdoor attraction in Orange County.
While hiking through the park, you can spot many tree species, including sycamores and elderberry trees. The park is also designated as a wildlife sanctuary.
Look around Old Towne Orange
Old Towne Orange is a historic plaza in Orange County. This is one of the significant Orange County attractions and is an ideal place to spend some relaxed time exploring.
The plaza features shops with old-fashioned exteriors selling a range of products. You'll also find quaint eateries and antique shops and markets.
Hike at Oak Canyon Nature Center
Hiking at Oak Canyon Nature Center is a lovely way to spend an afternoon in Orange County! This park consists of 58 acres comprised of four intertwining canyons.
Trails are for varying levels of experience, so there's something for everyone. There is also a stream that spans the park. While there, be sure to check out the live animal exhibit (it's free) to learn about the animals you may encounter on your hike.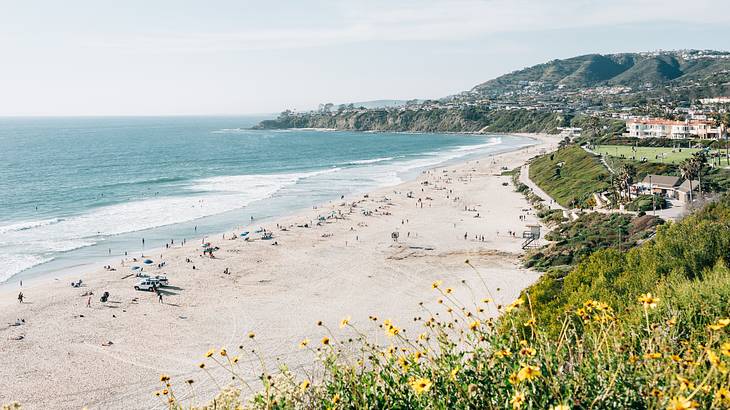 Play sports at Salt Creek Beach Park
Salt Creek Beach Park in Dana Point is popular amongst tourists and locals. The park features numerous sports courts, including those for volleyball, tennis, and basketball. The beach is also an ideal surfing location. If you like sports, be sure to head here to enjoy some sporting activities.
View amazing artworks at Bowers Museum
Bowers Museum is one of the finest art museums in Orange County. The museum has notably been voted "Best Museum in Orange County" for almost two decades.
Located in Santa Ana, the museum houses over 100,000 art objects. As you explore, you can view incredible art pieces, including Native American and Pacific Island art.
Attend an event at the OC Fair and Event Center
The OC Fair and Event Center is a 150-acre venue that hosts year-round events in Costa Mesa. The 150+ events draw in over four million visitors throughout the year. Some popular events include the OC farmers market and concerts.
The event center also features the Costa Mesa Speedway track and Pacific Amphitheatre. Check out the center's calendar to see what events are being hosted during your trip!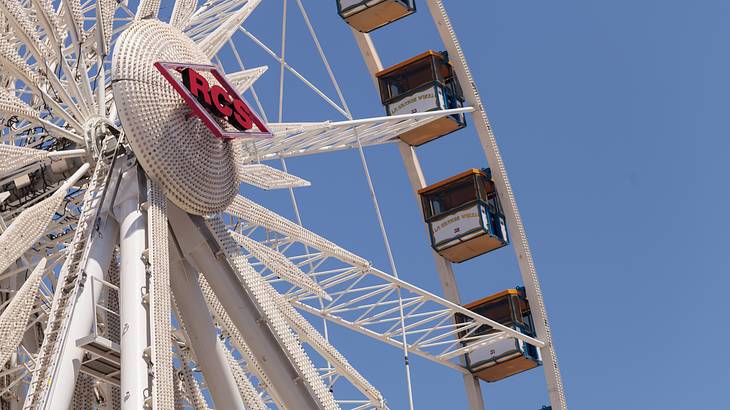 Enjoy the Orange County Fair
The month-long Orange County Fair is one of the most popular events held at the OC Fair and Event Center. The OC Fair runs in July and August and is another of the fun places in Orange County to visit for a memorable day out.
At the fair, you can go on rides, eat yummy carnival snacks, and watch live entertainers. Taking some family photos on hay bales is highly recommended too!
Look around the Muckenthaler Cultural Center
The Muckenthaler Cultural Center was originally an 18-room mansion that was built and owned by the Muckenthaler family in 1925. The family notably owned a citrus and nut farming business that served the local area.
The home was donated by the family's son in 1965, with the intention of providing creative outlets to the community. The center today is known for its cultural museum, musical performances, and art classes and events.
Meet sea lions at the Pacific Marine Mammal Center
The Pacific Marine Mammal Center is a rescue, rehabilitation, and release center that takes in injured sea lions and seals. The organization's goal is to treat these aquatic patients and then release them back into the wild.
Currently, the center is home to 20 sea lions. When visiting, you can catch them swimming in their habitats, sunbathing on the rocks, or munching on some fish!
Bird watch at Tucker Wildlife Sanctuary
One of the best Orange County places to visit for wildlife enthusiasts is the Tucker Wildlife Sanctuary. The 12-acre sanctuary and reserve features a bird-watching deck and several walking trails that allow you to peacefully observe the animals that live here.
A small natural museum is also on-site and includes exhibits on local plants and wildlife.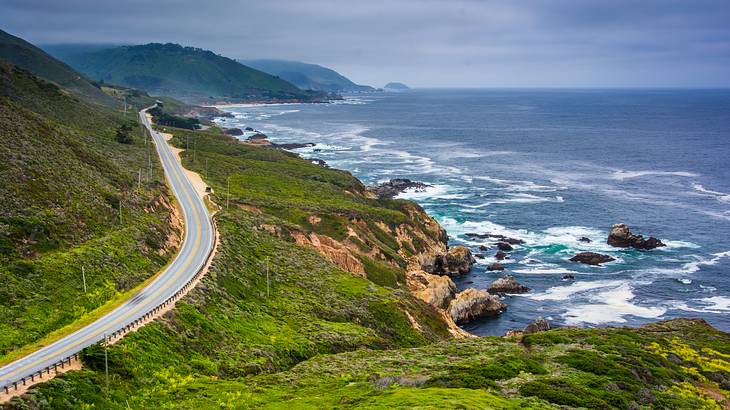 Drive the Pacific Coast Highway
The Pacific Coast Highway features 656 miles of road that runs along the coast of California. As you drive along the iconic highway, you can appreciate photo-worthy winding roads and stunning ocean views.
Of course, you don't have to drive the entire highway, but doing so would make an incredible road trip! Along with admiring the views, you can stop at many central coast of California landmarks while driving the route.
Wander through the fields and woodlands at Fairview Park
Located in Costa Mesa, Fairview Park spans 208 acres. 194 of those acres are free-growing grass and woodlands, while the remaining are more manicured.
There are additionally two nationally recognized historic sites at Fairview Park, plus seven miles of hiking and biking trails. The park is quite isolated, making it ideal for people who need a break from the crowds.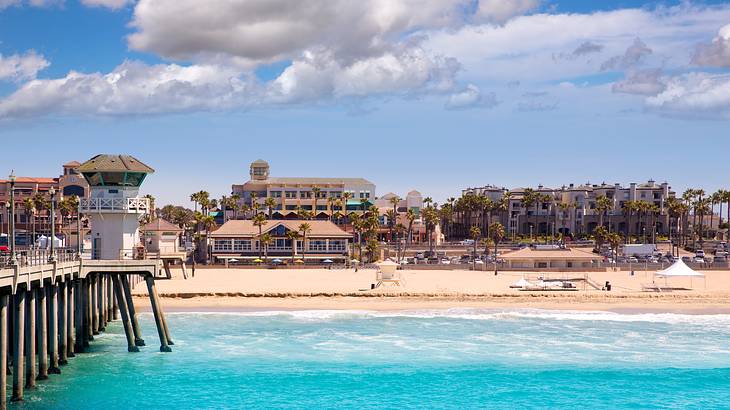 Go on an Orange County beach tour
Renting a car for the day and driving along the coast of California is one of the most fun things to do in Orange County! As you drive, you'll come across nine well-known beaches and dozens of other small ones.
At each beach, you can surf, tan, and walk down beautiful piers. Be sure to remember your camera too! Popular beaches to stop at include Huntington Beach and Laguna Beach.
Learn about Los Rios Historic District
Located in San Juan Capistrano, the Los Rios Historic District is a history enthusiast's dream! Many of the buildings in the district date back to 1794, and the area is the oldest occupied neighborhood in California.
As you walk around the town, keep your eyes open for plaques that will teach you more about the history of your surroundings.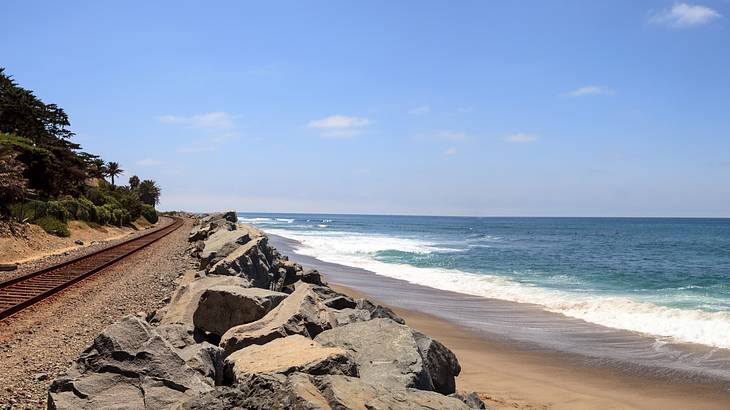 Follow the San Clemente Coastal Trail
The San Clemente Coastal Trail spans 2.3 miles along the California coast. It runs from North Beach to Calafia Beach Park. Locals and tourists love to use the trail for walking and biking. The dirt trail is also dog-friendly, as are the beaches along the route.
Walk through the art galleries at Laguna Beach
One of the top things to do in Orange County for art enthusiasts is going to the galleries in Laguna Beach. There are dozens of exhibits and galleries to see, many of which offer free admission.
The galleries feature a range of art forms, including sculpture, paintings, photographs, and more. Live demos are frequently held in galleries too. You're bound to find an artist you love as you explore and may even be inspired to take on a new hobby!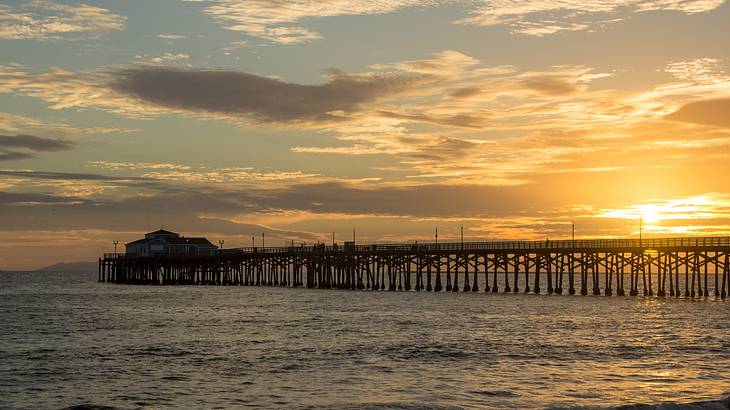 See the sunset at Seal Beach Municipal Pier
Seal Beach Municipal Pier was originally built in the early 1900s, and today, the pier remains a popular attraction with both tourists and locals. Watching the sunset at Seal Beach is highly recommended and is an activity you have to enjoy while in Orange County. Seeing the sky turn orange and pink above the calm ocean waters is truly breathtaking!
Fun Things to Do Near Orange County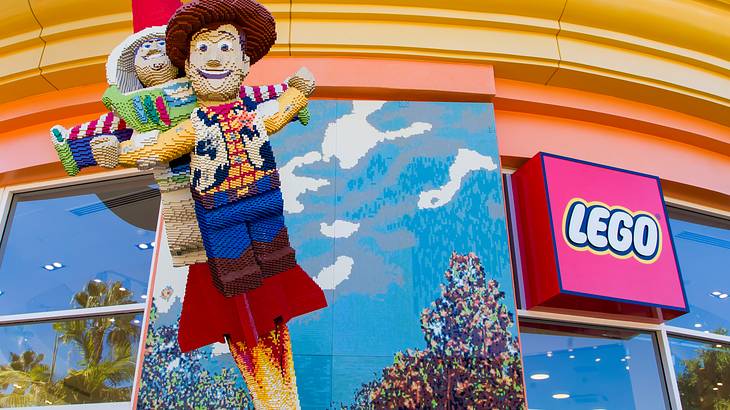 Have a fun day out at Legoland
You can discover numerous theme parks near Orange County and Legoland is one of the most exciting. Found close to San Diego, the park houses an array of attractions made completely from Lego blocks.
From riding roller coasters to building lego designs and buying a range of fun lego merchandise, you're guaranteed to have fun at Legoland! You'll even get to see Lego replicas of world landmarks.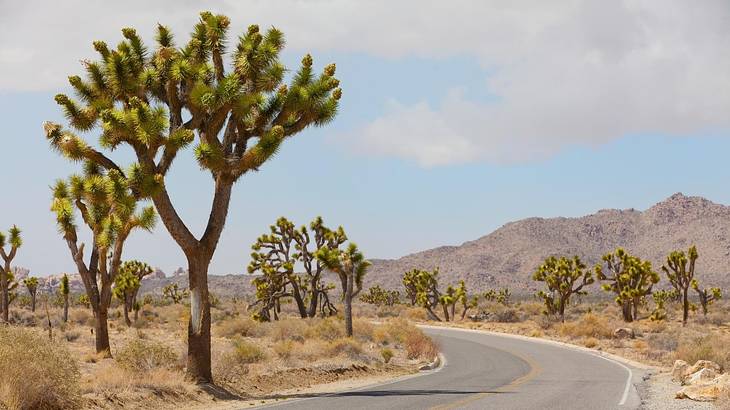 Venture through Joshua Tree National Park
The breathtaking Joshua Tree National Park is one of the best national parks on the West Coast. Venturing through some of this stunning protected park is highly rated as one of the top things to do in Orange County.
You can head out to the desert park yourself, or why not try a Joshua Tree National Park driving or hiking tour?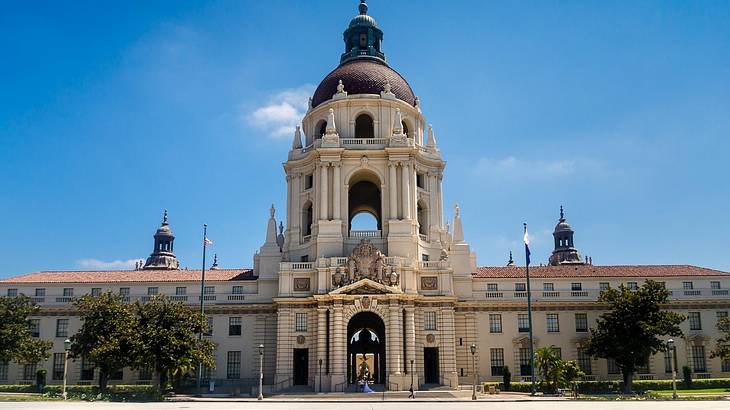 Drive to Pasadena
Pasadena is a charming destination that's just an hour away from Orange County. Taking a mini road trip here has to be on your OC bucket list. In Pasadena, you can find many unique shops to visit and delicious restaurants and cafes to try. Going to the architecturally beautiful City Hall is a must too.
Discover marine life at the SEA LIFE Aquarium
The California SEA LIFE Aquarium is on the same site as Legoland in Carlsbad. At the aquarium, you can see over 5,000 sea creatures. Animals to spot range from tropical fish to stingrays, octopi, and more.
You will also get to admire vibrant colored coral reefs and watch feeding sessions. A trip to SEA LIFE Aquarium is definitely one of the most exciting kid-friendly activities near Orange County.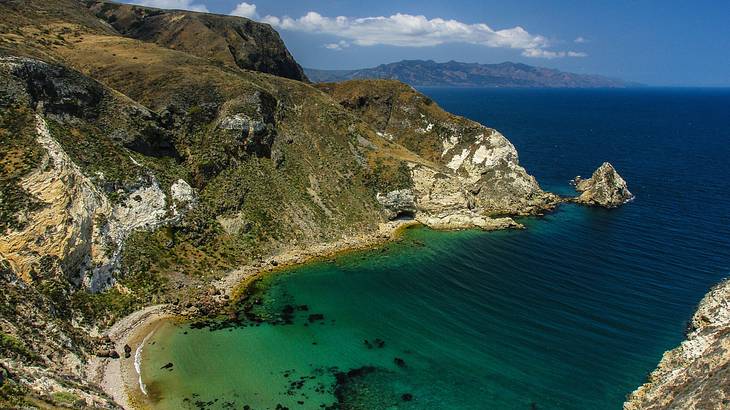 Visit Channel Islands National Park
Channel Islands National Park is an island chain off the Southern California coast, featuring five islands: Anacapa Island, San Miguel Island, Santa Cruz Island, Santa Rosa Island, and Santa Barbara Island.
Activities to enjoy on the islands include visiting a scenic lighthouse, spotting seals, and venturing through sea caves.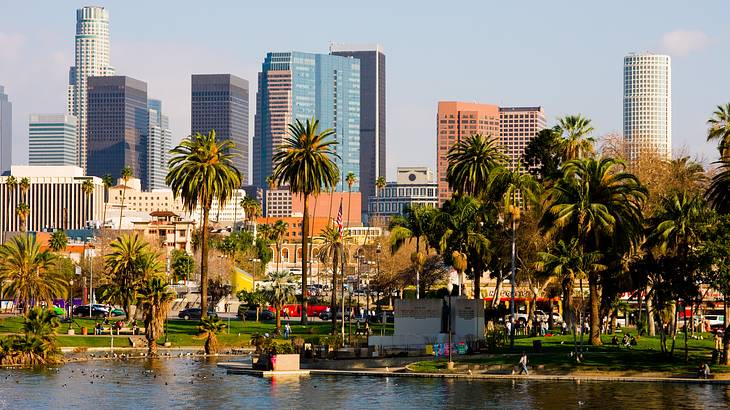 Go on a day trip to Los Angeles
Taking a day trip to Los Angeles is highly recommended, with the iconic destination found just an hour away from Orange County. Once you arrive, there is a multitude of things to do in Los Angeles, during the day and at night.
LA activities range from seeing the Hollywood Walk of Fame to shopping on Rodeo Drive and hanging at Venice Beach.
In Summary
Orange County is a scenic and exciting destination on the West Coast of the United States. The county features many amazing places to see and things to do. No matter how many of these attractions in Orange County you visit, you're sure to have an incredible time!
Give us feedback about this article
For more interesting articles about United States, read:
For some great articles about things to do, check out:
For visual stories related to this article, take a look at:
---
---
Want to keep exploring?
Subscribe for discounts on tickets and hotels and our latest guides.
Thank you for subscribing
We will be in touch soon with discounts on tickets and hotels and our latest guides.
Want to keep exploring?
Subscribe for discounts on tickets and hotels and our latest guides.
Thank you for subscribing
We will be in touch soon with discounts on tickets and hotels and our latest guides.
Related articles