25 Fun Things to Do in Oxnard, California
Destguides may receive commissions from purchases made through affiliate links in this article.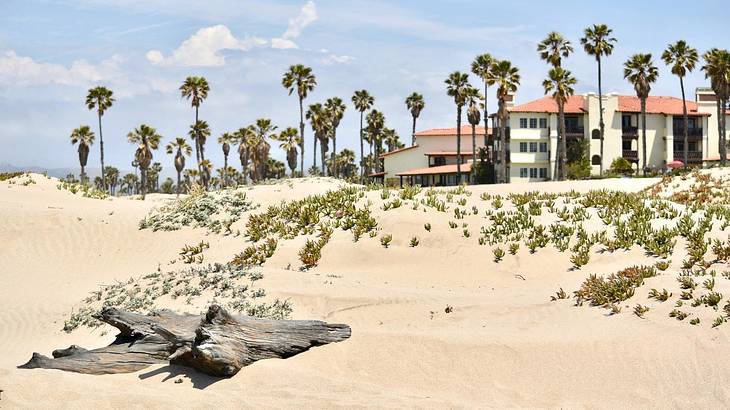 You can discover many great beach towns in California, like Oxnard. This Southern California destination is located about an hour west of Los Angeles and has many attractions to check out. There are fun things to do in Oxnard, CA, for all types of visitors, including couples, families, and groups of friends.
Attractions range from beaches like Oxnard State Beach Park to museums and entertainment spots like The Collection at RiverPark. Want to answer the question "What is there to do in Oxnard, California?" Then, keep reading for 25 fun and memorable activity suggestions!
25 Fun Things to Do in Oxnard, CA
Oxnard, CA, Things to Do
See vintage cars at Mullin Automotive Museum
Opened in 2010, Mullin Automotive Museum houses a private collection of vintage cars and other vehicles. As you explore, you'll see automobiles from as early as the 1800s through the 1950s. Vehicles include luxury cars and race cars. There are also special exhibitions, including one focusing on classic French cars and a Bugatti exhibit.
Buy local produce at Channel Islands Harbor Farmer's Market
A great way for visitors to mix with locals is by going to the Channel Islands Harbor Farmer's Market. Even if you live in the area, the market is an excellent place to pick up some fresh and delicious local produce.
You can buy goods like fresh fruit, vegetables, and baked goods at the waterfront market. Plants and flowers, plus some arts and crafts items, are also for sale. The market is open on Sundays, and entertainment like live music is often on-site.
Check out cars at the Murphy Auto Museum
Another of the best things to do in Oxnard, CA, for vintage car enthusiasts is visiting the Murphy Auto Museum. This museum houses classic cars from the start of the 20th century to the present. Many events are also held at the venue, and you may be able to book private tours for large groups.
Bowl and enjoy other amusements at Bowlero
Bowlero is a popular entertainment chain with a location in Oxnard. The venue has 28 bowling alleys that are great for all ages. After bowling, you can play arcade games like Mario Kart and Pac-Man.
Bowlero also has a sports bar where you can get beer, wine, and cocktails, plus food like pizzas, burgers, and wings. Food and drinks can be ordered lane-side while you bowl as well.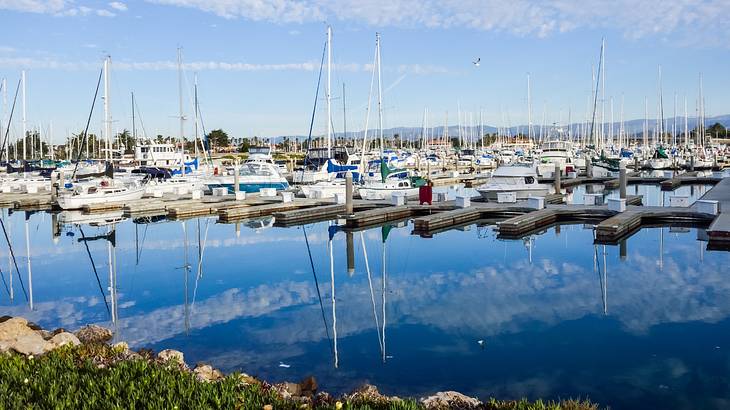 Kayak or paddle board at Channel Islands Harbor
Oxnard is a playground for water sports and activities! One of the most fun activities to try is kayaking or paddle boarding through Channel Islands Harbor. As you explore, you'll get to see luxury homes and boats and admire California's sea lions.
Seeking more adventure? Head over to Wild Blue Adventures and kayak an 11-mile trek across the channel from Santa Cruz Island to Silver Strand. During this trip, you'll also see the Channel Islands National Marine Sanctuary, where you can spot native plants and animals.
Enjoy Outdoor Activities at Silver Strand State Beach
Hanging out at Silver Strand State Beach is another of the fun outdoor activities in Oxnard, CA. This beach has a vast sandy shore that's ideal for sunbathing or going for a relaxing coastal walk. Those who enjoy water sports can kayak or surf in the ocean as well.
As this beach is somewhat of a hidden gem and mainly known to locals, it will generally be quieter than other beaches in the area, especially on weekdays. If you walk to the southernmost part of the beach, you can also see Point Hueneme Lighthouse.
Explore the Channel Islands Maritime Museum
Oxnard has a variety of specialty museums, including the fascinating Channel Islands Maritime Museum. At the museum, you can see exhibits on maritime art, history, and culture.
Artworks include those by local artists depicting the coastal scenery around Oxnard and some older maritime-themed works by American and international artists. Other exhibits include facts on maritime history and ship models.
Try a local coffee shop
Oxnard has some unique coffee shops that are well worth checking out. If unsure which to try, heading to Heritage Coffee & Gifts is recommended. Located inside a vintage craftsman-style farmhouse in Heritage Square, the shop sells various coffee drinks and interesting souvenirs.
Other great spots include Café Dolce Vita, selling Italian gelato and single-origin coffee, and Xielo Artisan Desserts, which offers beverages made from authentic Mexican coffee. Coffee lovers will definitely find something unique to try at these Oxnard Coffee shops!
Hang out at Oxnard State Beach Park
Oxnard State Beach Park is one of the best beaches in the area and is well worth visiting. The park has a sandy beach with access to the water, making it the ideal place to hang out on a hot day.
Along with the sandy shoreline, you'll find lawns to relax on and picnic and BBQ areas. Those visiting with children can additionally keep them occupied at the fun playground. If you don't bring your own food and drink, you'll conveniently find some beachfront cafes.
Wine and dine at Tierra Sur at Herzog Wine Cellars
If you're a wine lover looking for activities in Oxnard, California, add a trip to Tierra Sur at Herzog Wine Cellars to your to-do list. The local winery produces a variety of delicious blends, which you can enjoy by the glass or bottle.
While at the winery, you can have lunch or dinner too. Dishes on offer incorporate local seasonal ingredients and include corn ravioli, fire-roasted tomato soup, and salmon with balsamic, marmalade, and pistachio. To end your meal, sweets like churros and chocolate souffle are on the menu.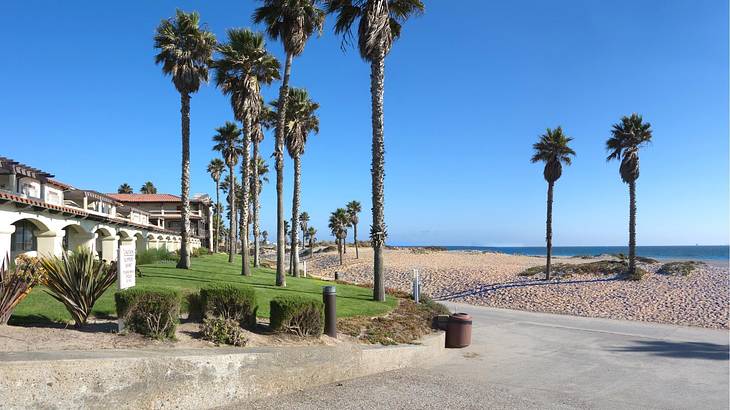 Walk through coastal dunes at Mandalay State Beach
Mandalay State Beach is a stunning coastal area with a diverse landscape. The beach notably features many coastal dunes that sit next to the sandy shore and warm ocean.
Visitors can wander along this beautiful beach, taking in the surroundings. While Mandalay State Beach is the perfect place for a walk with friends or family, do note that dogs are not allowed on the beach.
Indulge in comfort food dishes at Lazy Dog Restaurant
Lazy Dog Restaurant is a popular and relaxed spot for dinner and drinks. The bar has an extensive menu of comfort food dishes. Just a few of the many food options include Thai noodles, pot pie, and fried chicken sandwiches.
For dessert, you can treat yourself to triple chocolate mousse, banana pudding, and chocolate brownie sundae, among many other options. Wine, cocktails, and craft beer are also available, and Lazy Dog Restaurant does a great happy hour.
Hit the course at River Ridge Golf Club
Golf enthusiasts will definitely want to check out River Ridge Golf Club. The well-manicured course has 36-holes in total, split between two 18-hole courses. If you're new to golf or want to improve your skills, you can take some lessons.
For those that live in the area, memberships are available to make frequenting the course more affordable. Members also get lots of added benefits, like access to events and professional clinics.
Sip wine at Rancho Ventavo Cellars
Another outstanding winery to visit in Oxnard is Rancho Ventavo Cellars. Located within a historic house, the winery produces a selection of reds and whites that you can try via a tasting. You can also order by the glass, and wine flights are available, allowing you to try a few varieties.
Eat at The Annex Food Hall
The Annex Food Hall is part of The Collection at Riverpark, which features shops, entertainment options, and bars and restaurants. The food hall houses local vendors to create a dining marketplace.
Eateries and bars to try include a local brewery, a smoothie bar, and dinner spots, including those selling ramen, Nashville chicken sandwiches, and pizza.
Shop and more at The Collection at RiverPark
After dining or getting drinks at Annex Food Hall, you can explore the rest of The Collection at RiverPark. Shopping outlets include clothing chains, jewelry stores, and beauty shops.
However, shopping isn't the only attraction here! Other things to do include seeing a movie, painting a masterpiece at Color Me Mine, and laughing at a comedy show.
Take your kids to Jump N' Jammin
Families in Oxnard with young kids will want to check out Jump N' Jammin. Located at The Collection at RiverPark, this entertainment center has many kid-friendly attractions for children as young as two months up to 12 years.
Things to do include exploring indoor jungle gyms, climbing on climbing walls, and playing on slides. There's also a toddler area with toys and puzzles.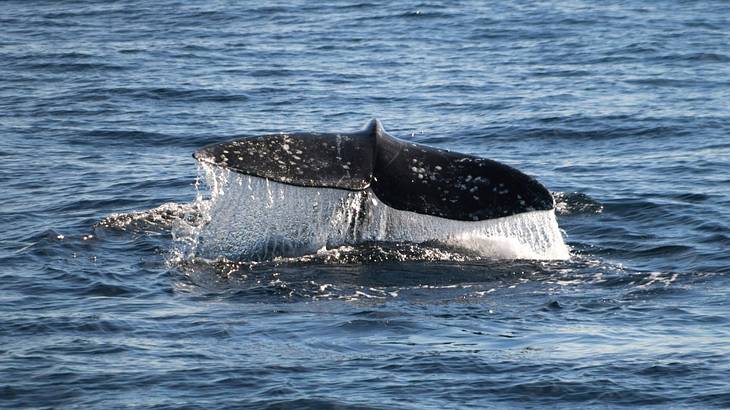 Experience whale watching
Whales frequently inhabit the waters around Oxnard, and whale watching cruises are highly popular. Taking one of these cruises is highly recommended and will allow you to see these breathtaking creatures up close.
A great cruise to try is a Channel Islands whale watching tour from Oxnard. You'll likely see blue, gray, orca, and finback whales, plus dolphins, seals, and sea lions as you sail through the waters. Whale watching is definitely one of the best things to do in Oxnard, California, if you're looking to create unforgettable memories!
Tour Heritage Square
Heritage Square is a fascinating part of Oxnard that's situated in the Historic Downtown area. The street features Victorian and Craftsman-style houses that will take you back to the early days of settlers on the West Coast.
You can explore the area alone or join a walking tour. On a tour, your guide will offer information on the history of some of the homes and their previous owners.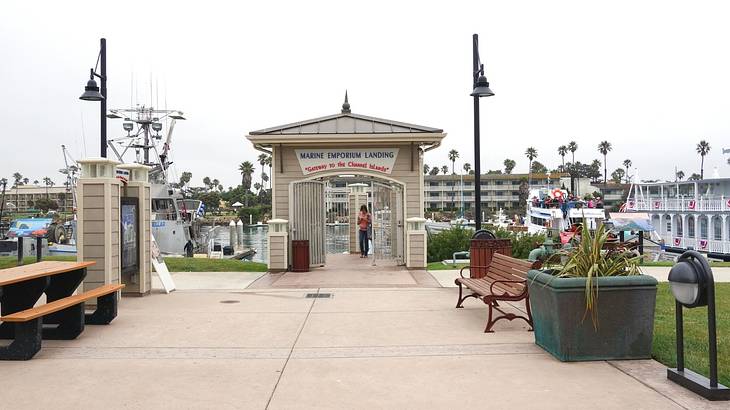 Wander around Marine Emporium Landing
Marine Emporium Landing features waterfront restaurants and bars. It's the ideal place to go for a walk, stopping at any outlet that interests you.
Dining options include sushi spots, seafood restaurants, and a Brazilian-style steakhouse. Numerous bars serving delicious cocktails can also be visited, with many having happy hour deals. Coffee shops and gelaterias are available too.
Other activities at Marine Emporium Landing include renting kayaks, boats, stand-up paddleboards, and the like to get out on the water. You can also rent bikes to explore the boardwalk area.
Watch a show at the Elite Theatre
The Elite Theatre is a charming local performance venue that opened in 1994. It's the ideal place to spend an evening watching a one-of-a-kind show. You can see a range of performances at the venue, including plays and open mic nights. Events are also held at the venue, such as craft workshops and community events.
Attend a local festival or concert
There are festivals all year round in Oxnard; from summer concerts to tamale festivals and Dallas Cowboys Training Camp, there's always something exciting happening in town!
One of the most popular festivals to attend is the California Strawberry Festival. Visitors can try locally grown strawberries as well as more unique snacks like strawberry pizza or nachos. There's also live entertainment, craft areas for kids, carnival rides, and much more!
Fun Things to Do Near Oxnard, CA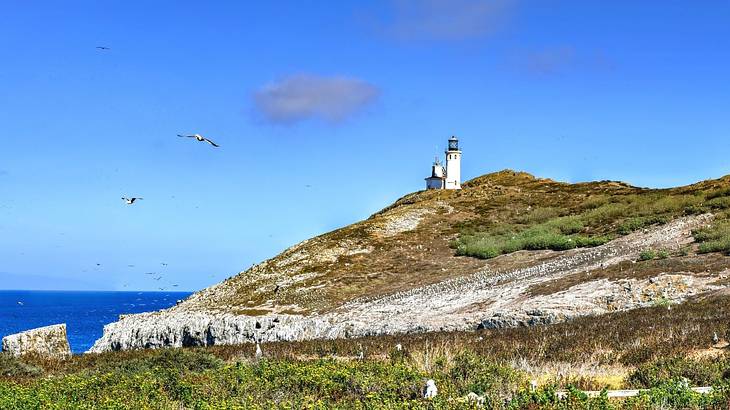 Hike around Channel Islands National Park
Whether you're an outdoor enthusiast or just want to enjoy the beautiful scenery and fresh air, going to Channel Islands National Park is one of the top things to do near Oxnard, California!
The park comprises five islands that feature trails, wildlife-watching opportunities, and coastal views. The stunning attraction can only be reached by boat, but ferry transport is easily accessible from Oxnard Harbor or Ventura Harbor.
Relax at Marina Park
Marina Park is one of the best places to spend time in the fresh air near Oxnard. Located 15 minutes from Oxnard in Ventura, the 15-acre beachfront park offers ocean views and sandy shores to relax on.
You'll also find some grassy areas surrounded by palm trees and volleyball courts scattered across the park. As with many other parks in the area, there's a playground for kids as well.
Have fun at Golf N Stuff
A fun and laid-back attraction near Oxnard is Golf N Stuff. The family-friendly venue in Ventura has an excellent mini-golf course with obstacles like castles and shipwrecks. Other amusements include an arcade, mini race car track, and bumper cars and boats. After enjoying all the attractions, you can get snacks like popcorn, corn dogs, and nachos.
In Conclusion
This list of 25 fun Oxnard, California, things to do should have given you an idea of how many incredible attractions the city has. From beautiful beaches to specialty museums, wineries, and local markets, there's an activity for everyone to enjoy in Oxnard!
Give us feedback about this article
More visual stories related to this article:
---
---
Want to keep exploring?
Subscribe for discounts on tickets and hotels and our latest guides.
Thank you for subscribing
We will be in touch soon with discounts on tickets and hotels and our latest guides.
Want to keep exploring?
Subscribe for discounts on tickets and hotels and our latest guides.
Thank you for subscribing
We will be in touch soon with discounts on tickets and hotels and our latest guides.
Related Articles