35 Unique Things to Do in San Diego, CA
Destguides may receive commissions from purchases made through affiliate links in this article.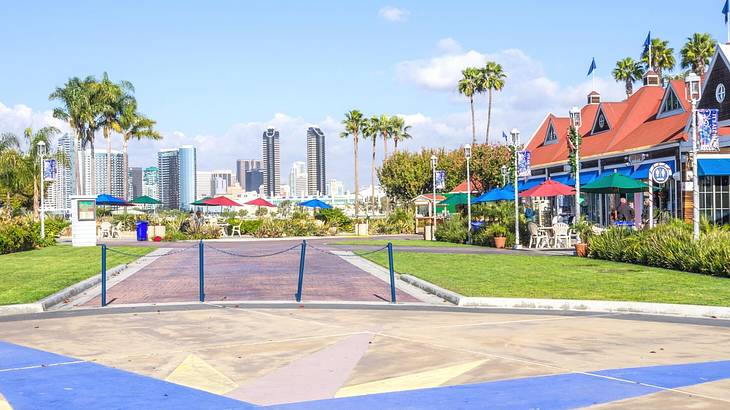 If you're looking for unique things to do in San Diego, CA, you've come to the right place! While this Southern California city has many tourist hotspots, you can also discover numerous one-of-a-kind activities.
Cool and unusual things to do include going on a seal-watching cruise, attending a cocktail event at the San Diego Museum of Art, and taking a day trip to Tijuana, Mexico! Continue reading for 35 of the most unique San Diego activities.
35 Cool Things to Do in San Diego, California
Unique San Diego Things to Do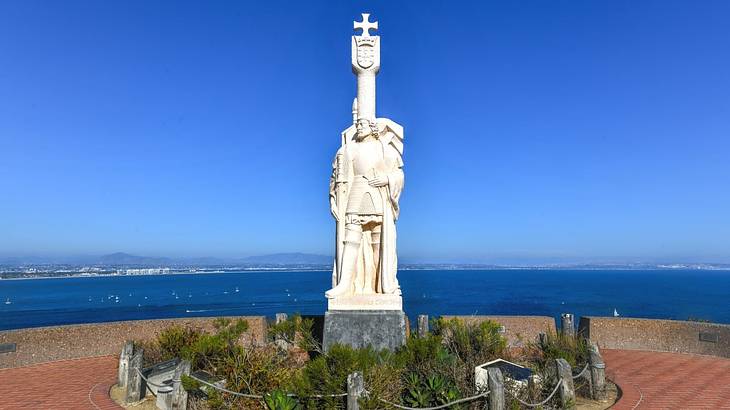 See the Cabrillo National Monument
Constructed in 1949, the Cabrillo National Monument represents Juan Rodríguez Cabrillo, the first European to step foot on the modern-day West Coast of America in 1542. Seeing this California landmark that's situated on Point Loma is a must for first-time visitors to the city.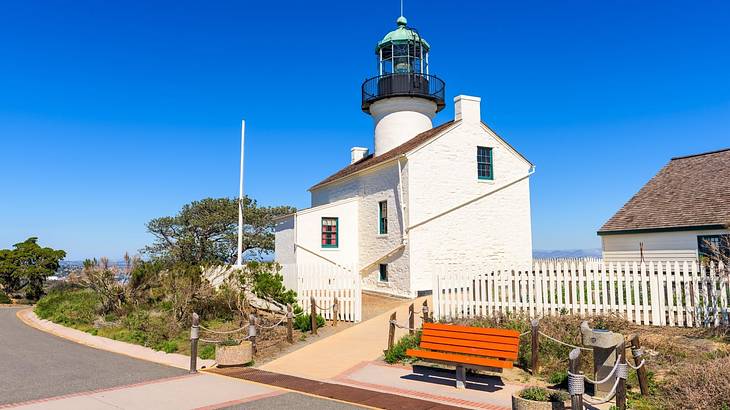 Visit Old Point Loma Lighthouse
Another unique attraction on Point Loma is the Point Loma Lighthouse. This lighthouse was constructed in 1855 and was added to the National Register of Historic Places in 1974. Today, it's a museum that houses exhibits on the lighthouse's history and allows access to some of the living quarters.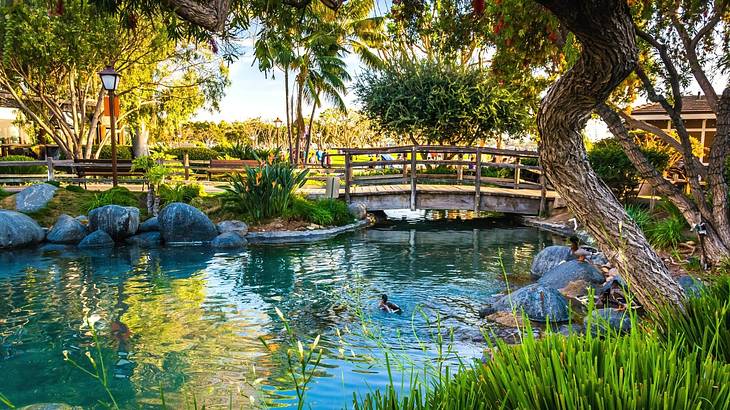 Stroll through Seaport Village
Seaport Village is a bustling area with shops, waterfront eateries, and incredible views. Going for a walk around this scenic complex is a must and will allow you to admire the coastal views and discover tranquil ponds and gardens. You can also visit independent shops and art galleries.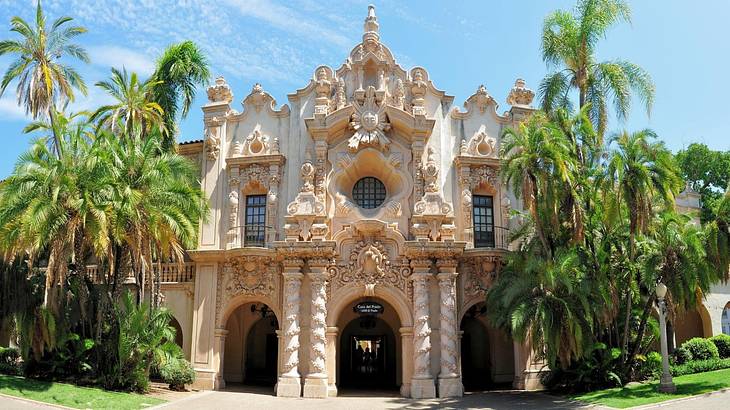 Balboa Park is a famous San Diego landmark that has lots of green space plus attractions like museums and a zoo.
If you're looking for something a little different to do, one of the cool things to do in San Diego, CA, is taking a hidden gems of Balboa Park tour. Your guide will take you to the best parts of the park and teach you some facts that even residents don't know about Balboa Park landmarks.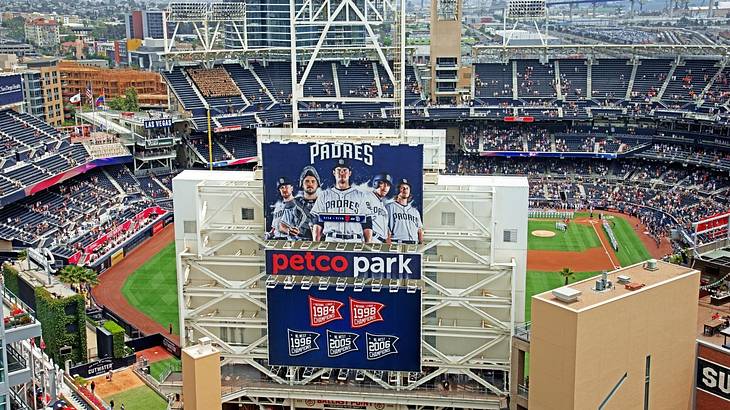 Tour Petco Park
One of the most well-known San Diego attractions is Petco Park, where you can watch the San Diego Padres MLB team play. Catching a game is always a fun thing to do, but a more unique activity is touring Petco Park. You'll get to visit many areas usually not accessible to the public and learn more about the team and its history in the city.
Watch a show at the Old Globe Theatre
The Old Globe Theatre in Balboa Park hosts a variety of shows and is the ideal place to spend the evening. You can see classic plays here as well as more unique independent performances. A few shows that have been on at the theater include A Midsummer Night's Dream and Dial M for Murder.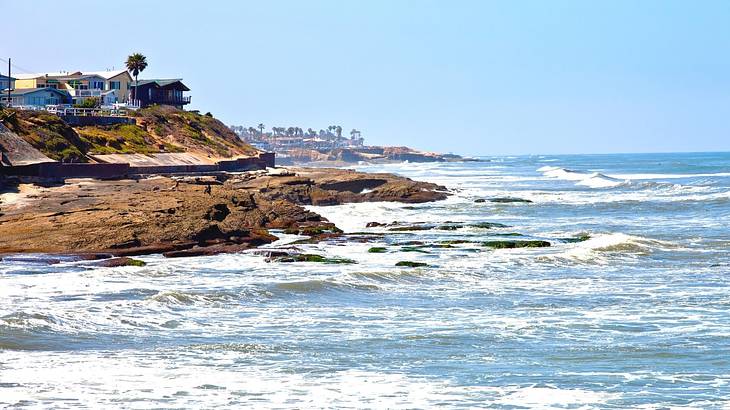 Sail around Shelter Island and Point Loma on a seal-watching tour
If you like seeing wildlife, one of the coolest things to do in San Diego is joining a seal-watching tour! Once on the water, you'll sail around Shelter Island and Point Loma in San Diego Bay, looking for these cute sea creatures. Along with seeing lots of seals, you may see dolphins and even whales.
Check out the events at Liberty Public Market
Liberty Public Market is an entertainment complex with an array of bars, eateries, and independent shops. Along with checking out all the fantastic vendors, attending some fun events is a must. The market has events frequently throughout the month, including live music events and beer and bingo nights.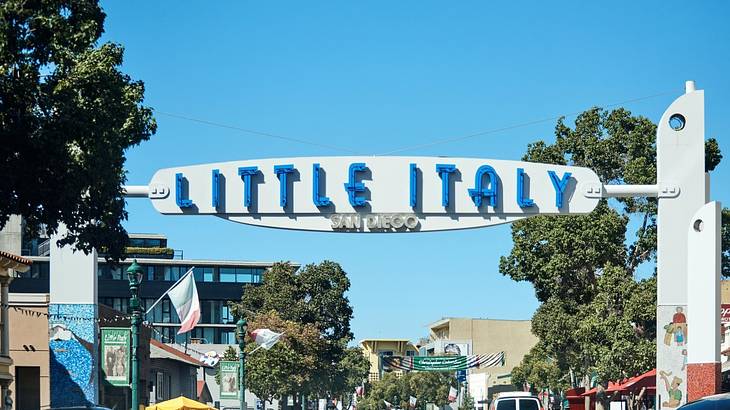 Discover the best eateries in Little Italy
A must-visit area to add to your San Diego itinerary is Little Italy. This neighborhood has many fantastic restaurants, cafes, and shops, all with an Italian influence.
You can discover the best eateries in the area by joining a Little Italy food tour. You'll visit places serving Italian classics and sweet treats while also seeing landmarks and learning some fun facts about San Diego's Little Italy.
Meet comic book characters at the Comic-Con Museum!
The Comic-Con Museum is one of the cool places in San Diego, CA, for comic book lovers. Those who enjoy visiting unique specialty museums will also want to check out this attraction.
Inside, you'll find exhibits on famous characters, life-sized action figures, photo backdrops, and much more. Temporary exhibitions are often hosted, as are exciting events, especially during the annual Comic-Con convention.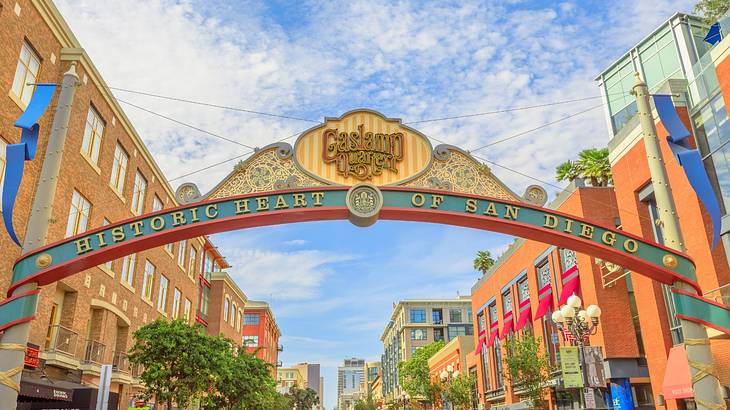 Find out some interesting things on a Gaslamp Quarter tour
The Gaslamp Quarter is another of the popular neighborhoods in San Diego that features many nightlife spots and restaurants. A unique way to explore the area is by going on a Gaslamp Quarter culinary tour. You'll get to try dishes and delicious drinks while learning facts about the area, including some bizarre and fascinating ones about the area's past!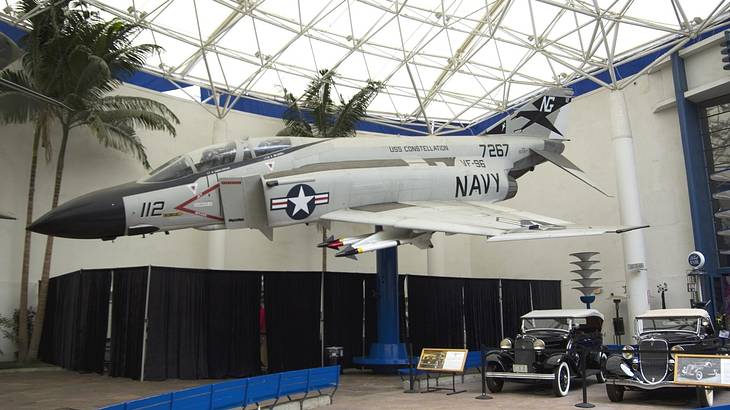 Go to the San Diego Air & Space Museum
The San Diego Air & Space Museum opened in 1961 and features fascinating exhibits on space exploration and aviation. You can discover the museum in Balboa Park. As you explore, you'll learn more about the topics of air and space travel, including some fun facts that many people don't know!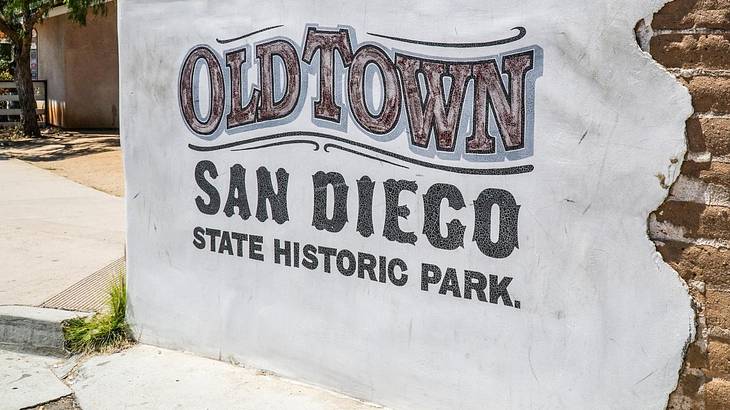 Dare to go on a ghost tour in Old Town San Diego
As the name suggests, Old Town San Diego is one of the oldest parts of the city and was once San Diego's most important area. If you're looking for something unique to do in this area, joining an Old Town ghost tour is a perfect idea.
This experience lets you hear some spooky stories of hauntings and paranormal activity relating to landmarks in the area. Places to visit include El Campo Santo Cemetery and Pioneer Park.
Experience a whale-watching cruise
During much of the year, the waters around San Diego are home to whales. You can see some of these magnificent creatures by going on a whale-watching cruise. You'll hop aboard an 1850s ship replica to explore the area while looking out for whales, dolphins, and other marine creatures.
While you can see whales throughout the year, the best time to visit San Diego for whale watching is during the winter months of December through February when they are in the waters during their migration south.
Summer is another excellent option, and visiting during this time increases your chances of seeing blue whales.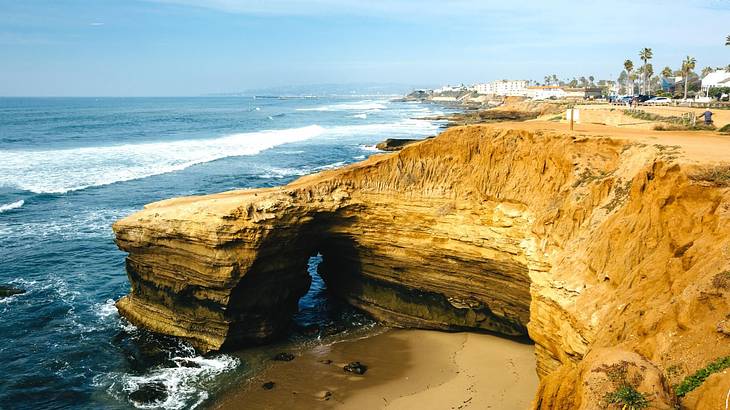 Follow trails at Sunset Cliffs Natural Park
Undoubtedly one of the coolest places in San Diego to enjoy stunning coastal views is Sunset Cliffs Natural Park. Located just a 20-minute drive from downtown, this park sits next to the Pacific Ocean and has some scenic trails to follow. As you walk along the cliffs, you can admire the breathtaking views of the surrounding beaches and oceans.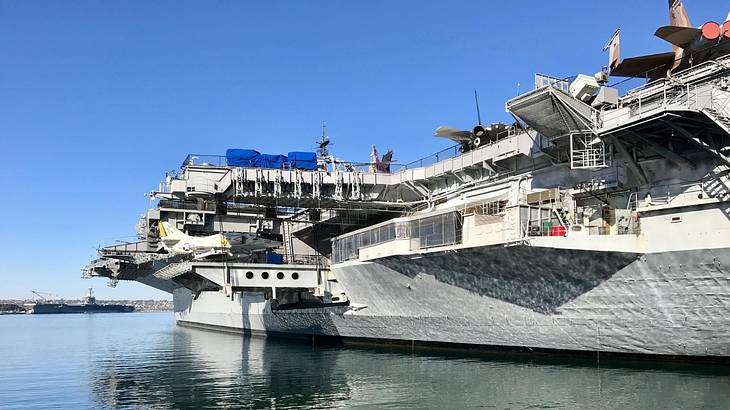 Hop aboard the USS Midway Museum
The USS Midway Museum is a fascinating attraction housed aboard a naval aircraft carrier. Docked in San Diego Bay on the edge of Downtown San Diego, the museum has exhibits on United States maritime history.
You can also see a collection of aircraft carriers previously used by the US Navy. This attraction is popular, so buying USS Midway Museum tickets in advance is recommended.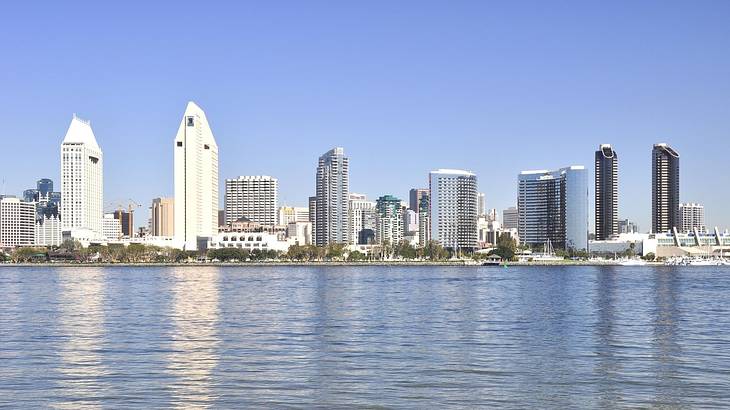 Luxuriate on a San Diego Harbor cruise
The ideal way to admire San Diego's harbor area is by booking a San Diego Harbor cruise. You'll sail through San Diego Bay, enjoying views of the city and surrounding areas.
A few places you'll pass include the Cabrillo National Monument, Coronado Bridge, and the Star of India. There's also a bar onboard if you want to sip on drinks while taking in the vistas.
View railroad models at the San Diego Model Railroad Museum
The San Diego Model Railroad Museum is another specialty museum in the city. It features a variety of railroad models that represent real California railroads. Notably, it's the largest museum of its kind in North America. It's also one of the biggest model railroad museums in the world.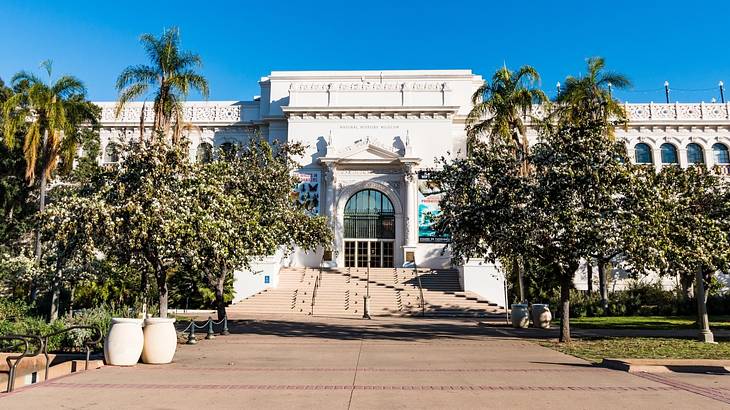 Walk with dinosaurs at San Diego Natural History Museum
Situated in Balboa Park, the San Diego Natural History Museum is the oldest scientific institution in Southern California, founded in 1874. Visitors to the museum will discover many fascinating exhibits on earth sciences, wildlife, and paleontology.
One of the most popular things to see here is the Fossil Mysteries exhibit which focuses on fossils and dinosaurs. You'll also be able to see life-sized replicas of dinosaurs!
Camp at Mission Trails Regional Park
Mission Trails Regional Park is a stunning park located just 20 minutes from central San Diego. At the park, you can follow trails, boat on Lake Murray, and spot wildlife. A unique activity to add to the list is camping overnight. Campsite spots are available on weekends and allow you to sleep surrounded by nature.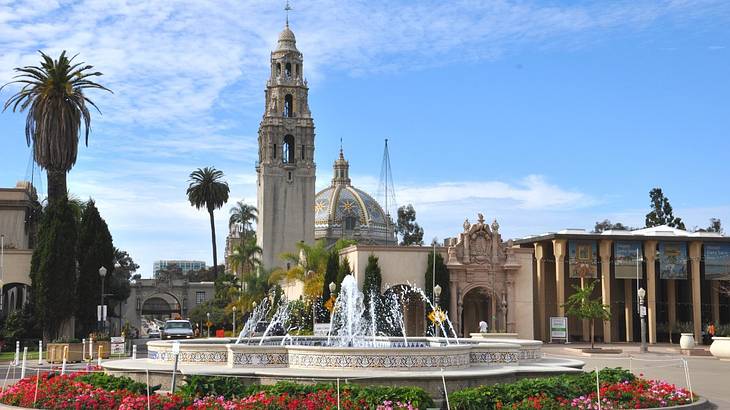 Attend the Culture & Cocktails event at the San Diego Museum of Art
Art lovers must visit the San Diego Museum of Art, which has a collection of over 20,000 pieces. A fun thing to do is attend a Culture & Cocktails event. The event is held frequently and allows you to explore the museum while sipping on cocktails and hearing live music performances.
Search for the Spruce Street Suspension Bridge
The Spruce Street Suspension Bridge is one of the cool places to go in San Diego; if you can find it! Constructed in 1912, the footbridge is hidden within a valley just outside downtown. Once you find the bridge, you can wander along it and snap some unique photos.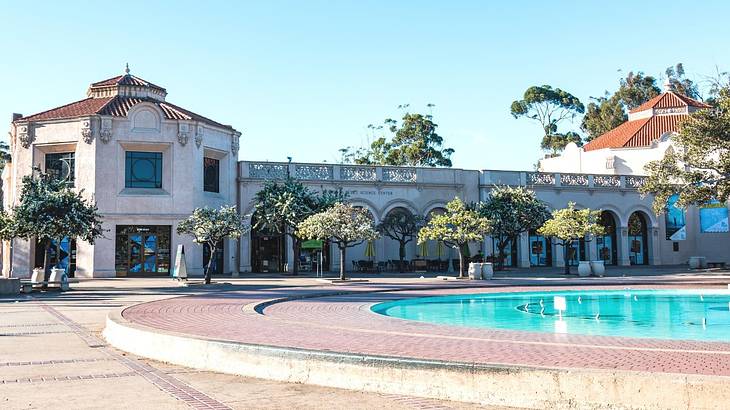 Interact with fascinating exhibits at the Fleet Science Center
Another museum in Balboa Park to check out is the Fleet Science Center. Opened in 1973, this museum has an array of exhibits on science topics, from ecology and wildlife to astronomy. After seeing the one-of-a-kind exhibits, you can watch movies in the IMAX theater. Fleet Science Center also hosts events, such as monthly planetarium shows.
Nightclub hop on a San Diego club crawl
San Diego has a great nightlife scene and lots of fantastic nightclubs. To check out these spots, one of the unusual things to do in San Diego is joining a nightclub crawl. Your group will check out four clubs where you can dance and benefit from drinks deals. Then, you can return to your favorite club for the rest of the night at the end of the crawl.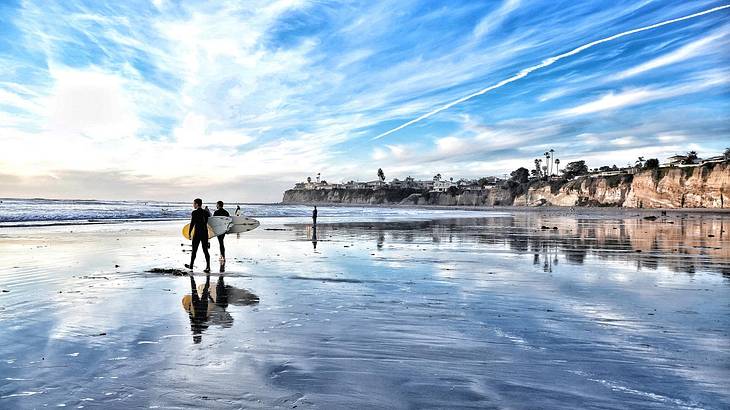 Learn to surf
San Diego's nickname of Beach Paradise exists due to its many stunning beaches. While relaxing on the sand or going for a coastal walk is fun, you can also try something a little different at the beach, like surfing.
Beaches in San Diego have ideal surfing conditions, and taking surf lessons is a great idea for first-timers. During your hour-and-a-half-long session, you'll learn the basics and get to test out your new skills in the ocean. Classes for intermediate and advanced surfers are available too.
Unique Things to Do Near San Diego, CA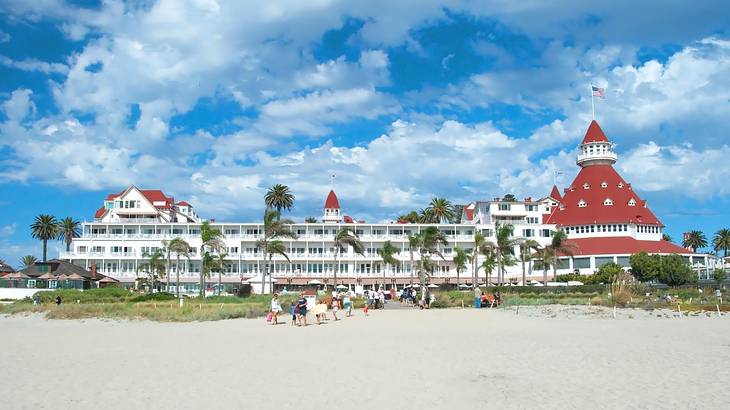 Get dinner and drinks at Hotel del Coronado
The most iconic landmark on Coronado Island is Hotel del Coronado. Staying at the hotel is an excellent idea if you're looking to plan a weekend getaway. However, another unique thing to do is getting dinner and drinks at the hotel's bars and restaurants. There are a few waterfront options to choose from where you can enjoy high-end cuisine and delicious cocktails.
Sleep overnight at San Diego Zoo Safari Park!
If you've already visited the well-known San Diego Zoo downtown, heading to San Diego Zoo Safari Park is a must. A unique experience at the park is its Roar and Snore Safari.
This activity allows you to stay overnight at the safari park in tents, including a simple option and a more luxurious glamping tent. During your stay, you'll get to explore the park, make S'mores over the campfire, and enjoy the jungle surroundings.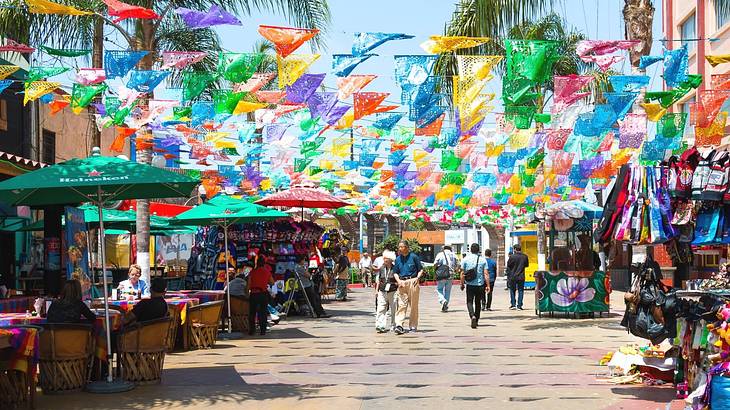 Venture to Tijuana!
As one of California's southernmost cities, San Diego is very close to the US-Mexico border. In fact, it's just a one-hour drive from central San Diego to Tijuana, Mexico.
If you want to plan a day trip, one of the most unique and memorable options is going on a guided tour to Tijauna! Once in the city, your guide will take you to notable landmarks and incredible attractions. Of course, ensure you have the needed identification for crossing into Mexico and back.
Eat your way around Tijuana on a taco and craft beer tour
If you're more of a foodie than someone that likes to discover tourist attractions and landmarks, join a Tijuana taco and craft beer tour from San Diego. This experience allows you to try the best food in the area and discover some fantastic local breweries.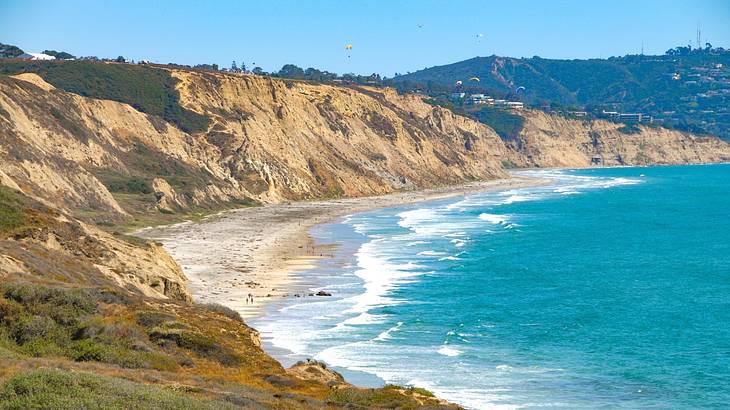 Hang glide at Torrey Pines State Park
Thrill-seekers looking for adventurous things to do in San Diego will definitely want to hang glide over Torrey Pines State Park! To do so, head to Torrey Pines Gliderport, which offers a range of hang gliding and paragliding activities.
Beginners can take a tandem flight with an instructor, or more experienced flyers can improve their skills. No matter what, you'll be able to glide above the beautiful Torrey Pines State Park, taking in the coastal views.
Create art at Emerald C Gallery on Coronado Island
Coronado Island is a peninsula with lots of unique shops and eateries. One of the fun things to do while visiting is going to a Wine & Paint session at Emerald C Gallery. At this evening event, you'll be able to paint a masterpiece with the help of an art instructor while enjoying a glass or two of wine. All supplies and beverages are provided!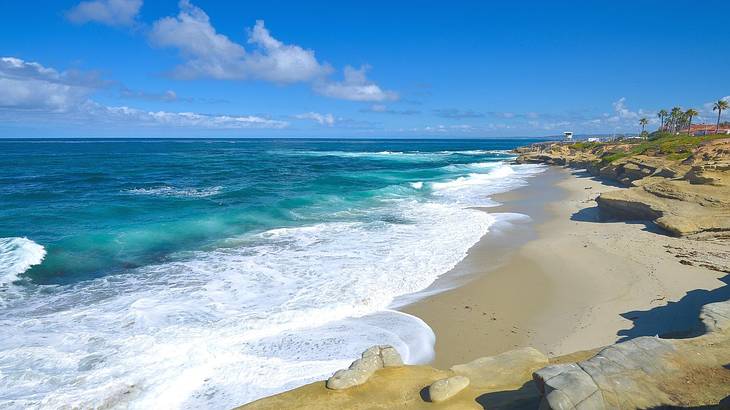 Sea kayak at La Jolla Cove
La Jolla is a beautiful coastal town in San Diego county. Things to do when visiting include hanging out at the beach, surfing, and exploring local shops.
A more unique activity to try is sea kayaking in La Jolla Cove. You'll get to explore sea caves that most people don't get to see and may spot marine life, including dolphins and seals. Doing an after-dark dive at La Jolla Cove is another option and is one of the best things to do in San Diego at night.
Fly over San Diego on a hot air balloon ride
An amazing activity to book in San Diego is a hot air balloon ride. You can fly over central San Diego and the Del Mar Coastline or soar above the vineyards of Temecula. During your flight, you can also enjoy a glass of champagne as you admire the breathtaking views. While this flight will take you over central San Diego, you'll take off from a location about 25 minutes away in Cardiff.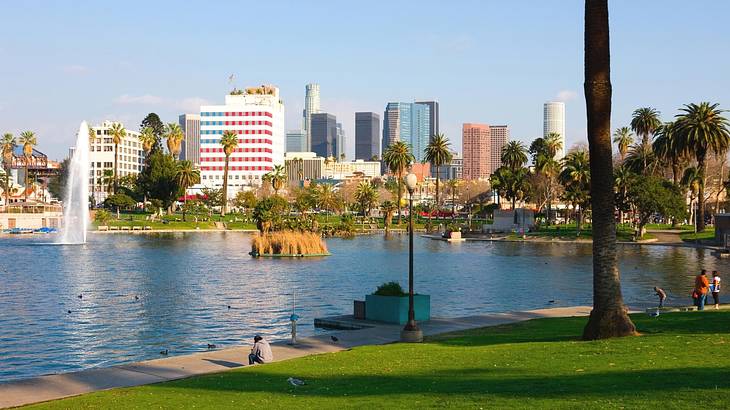 Plan a trip to Los Angeles
Los Angeles is just a two-hour drive from San Diego, making it an ideal day trip destination. Once you arrive, you can find many fun and unique things to do in Los Angeles, from visiting LA landmarks to trying more one-of-a-kind activities. If you plan an overnight trip, you'll also discover an array of memorable things to do at night in Los Angeles.
Spend the day at Legoland!
Whether traveling with kids or not, going to Legoland California is a fun idea! Located 30 minutes from San Diego, Legoland has fun Lego-themed rides, shows and events, a movie theater with Lego films, and much more! It's the ideal place to occupy your family or feel like a kid again yourself.
In Conclusion
If you're looking for unique and unusual things to do, you can find an array of cool spots in San Diego that offer a one-of-a-kind experience. Whether you want to go on exciting tours, explore amazing outdoor spaces, or visit fascinating museums, San Diego will have a unique attraction for you!
Give us feedback about this article
Learn more about San Diego:
More articles about California:
Read more articles about the United States:
More articles about things to do:
---
---
Want to keep exploring?
Subscribe for discounts on tickets and hotels and our latest guides.
Thank you for subscribing
We will be in touch soon with discounts on tickets and hotels and our latest guides.
Want to keep exploring?
Subscribe for discounts on tickets and hotels and our latest guides.
Thank you for subscribing
We will be in touch soon with discounts on tickets and hotels and our latest guides.
Related Articles