35 Best Things to Do in Breckenridge, Colorado
Destguides may receive commissions from purchases made through affiliate links in this article.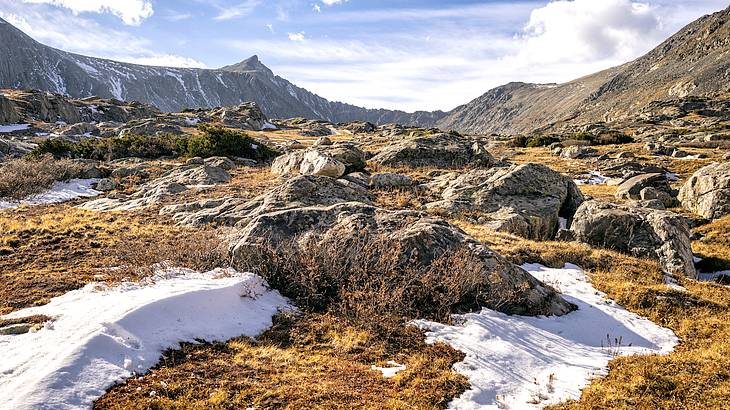 Breckenridge, Colorado is probably best known for its skiing, and for good reason. After all, it's the second most-visited ski resort in the country after Vail Mountain.
But what about other activities? And what's there to do in the summer and fall? While skiing may have put this mountain town on the map, it's got a lot more going on than you might think.
Whether you want to indulge in other outdoor adventures, spend a night on the town, find fun for the whole family, or just relax off of the slopes for a day, there are plenty of things to do around Breckenridge.
There are memories to be made by adults and kids alike in this mountain wonderland, and you may just find yourself planning a trip back in order to do it all, or to do it all again.
This list of the 35 best things to do in Breckenridge, Colorado, will appeal to both adventurers and vacationers, so read on to learn how to customize your Breckenridge itinerary!
35 Breckenridge Things to Do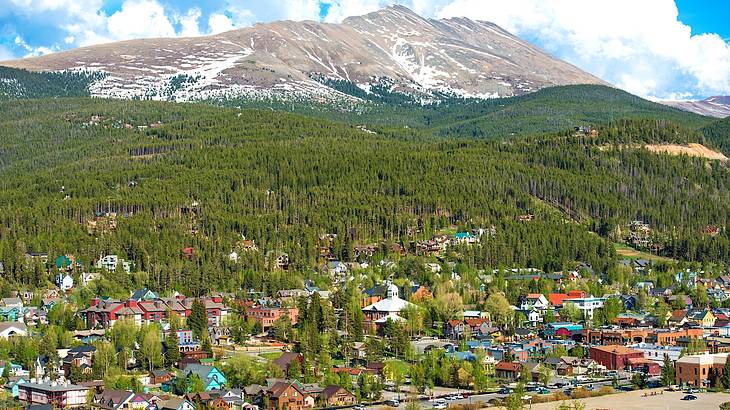 Walk the Rec Path through Downtown Breckenridge
There's no better way to get a feel for this Rocky Mountain town than to stroll or bike along the Blue River Recreation Path, or Rec Path for short.
This is a perfect starting point for visitors who want to get their bearings on what downtown Breckenridge has to offer while also taking in the majestic vistas.
The Rec Path continues far out of town as well, offering views of the Blue River all the way North to neighboring Frisco, about ten miles away.
Rent a Fat Tire Bike
Don't let winter weather stop you from biking in Breckenridge! Fat tire bikes are widely available to rent and can keep you upright on the Rec Path in snowy weather with their 4.8" tires. It's kind of like snow-shoeing on a bike, and it's a ton of fun!
If you're looking to stay in town or are still learning your way around, you can get a guide with Breckenridge Fat Bike Tours, and they can even throw in stops at a brewery and distillery for interested parties.
Whether you're bundling up to hit the trails or just wanting to get around downtown, fat-tire bikes have become one of the most popular activities in Breckenridge, Colorado to do.
SUP board on Maggie Pond
Stand Up Paddle Boarding, or SUP Boarding, has taken the recreational world by storm in recent years. Summer visitors in Breckenridge can join the movement by heading to Maggie Pond at the base of Peak 9 and renting one by the hour from Charter Sports, found at Main Street Station.
Novices can practice their balance on the pond's tranquil waters, and more experienced SUP boarders can point their eyes to the sky for views of the Tenmile Mountain Range. This is easily one of the most fun things to do in Breckenridge, Co.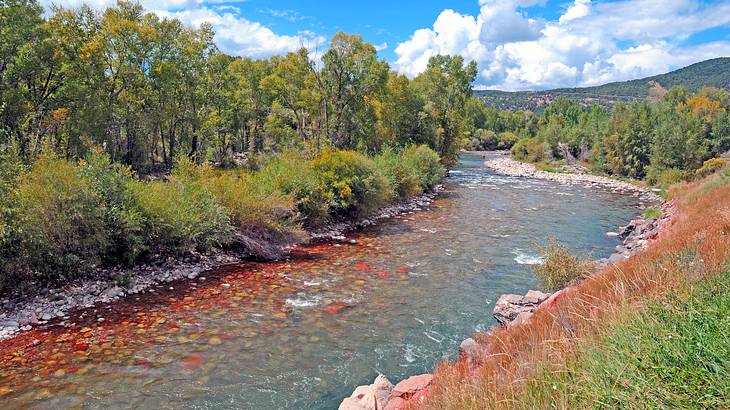 Go fly-fishing in the Blue River
What's a mental picture of the Rocky Mountains without someone in galoshes, knee-deep in a glacial river with a fishing rod swishing and flicking about? Get ready to insert yourself into this scene, as this is one of the top Breckenridge attractions.
Breckenridge Outfitters or Mountain Anglers can provide you with gear, arrange a trip to one of the prime fly fishing spots in the Blue River, or both.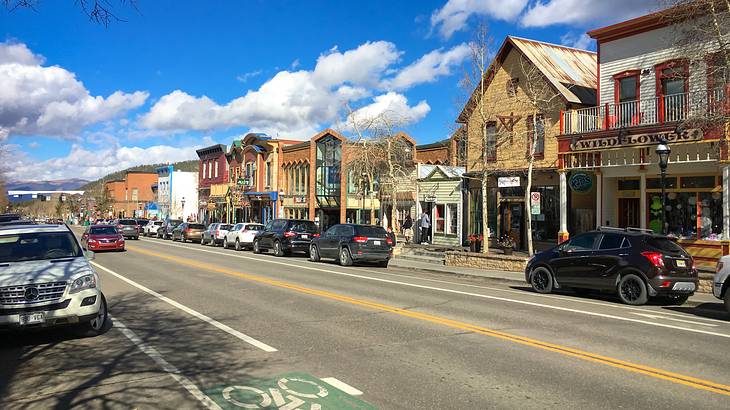 Eat well on Main Street
With all of the activities in Breckenridge, Co, travelers will get hungry quickly and often. Luckily, Breckenridge has you covered. You can find dining options of almost any variety, but there are two standouts from opposite sides of the foodie spectrum.
If you're in the mood to treat yourself, look no further than Blue River Bistro for gourmet delights for all dietary wants and needs. For a less fancy but more famous option, you can line up for Crepes a la Cart, a takeaway-only option also found right on Main Street.
Beat the altitude at The O2 Lounge
The town of Breckenridge is found about 80 miles west of Denver, but also almost a mile higher than the mile-high city (a popular nickname for Colorado). And that's to say nothing of the surrounding peaks and slopes.
It's common for vacationers to find themselves a little short of breath from routine physical activities, and if that's the case, then you can head to the O2 Lounge oxygen bar for a few shots of fresh air.
It offers flavored oxygen and even oxygen to-go, perfect for fatigue, jet lag, or even hangovers from some of the other types of bars found in Breckenridge.
Embrace your creative side at BREAK Create
Breckenridge Creative Arts, or "BRECKCreate," is a set of galleries where visitors can go to enjoy theatre, music or get messy at an arts and crafts workshop.
This unique project has rotating installations and various activities and performances throughout the year, so visitors asking themselves what to do in Breckenridge other than skiing should check the event calendar on their website.
Shakespeare, watercolor workshops, bike-in movies, and linocut printmaking are just a few of the things that this one-of-a-kind spot has to offer vacationers.
Get your sports fix at the Breckenridge Recreation Center
Visitors can also enjoy a day of sports and movement at the Breckenridge Recreation Center. In addition to their ice rink, climbing wall, and aquatic center, they have regular times on the schedule for drop-in soccer, softball, lacrosse, and tennis, so there's no organization of teams needed on your part. They make it easy, so you can just sign up and have fun.
They cater specifically to kids, adults, and seniors, so find whatever fits your needs. They also offer free guided tours and hikes in the surrounding area. All you need to do is make a reservation through their website and show up ready to go at the designated meeting point!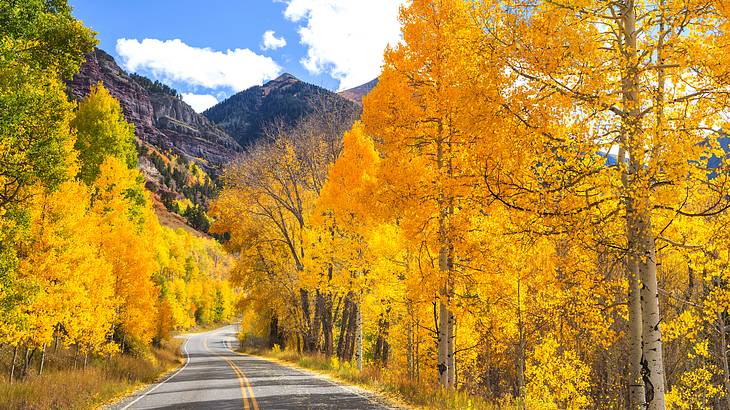 Take a drive on the scenic Boreas Pass Road
Sometimes it's nice to just hop into your car and take a drive, especially through the majestic mountains of Colorado. That's why one of the most popular things to do around Breckenridge, Colorado is to head along Boreas Pass Road all the way up to its summit at over 11,000 feet.
It can be a little bumpy, and some parts are dirt road, but it's all in the name of a good adventure. A regular 2-wheel drive car with low clearance can handle it, though you may want to check the weather before heading out to maximize your enjoyment.
See the Race of the Santas
If you're in Breckenridge in December, you can partake in a little bit of holiday fun by signing up for the Race of the Santas. This annual "race" is less than a mile long and is more about the Christmas spirit than it is about winning.
That said, be prepared to see a few sprinting Santas booking it down Main Street for the full three-quarters of a mile. You can get your own Santa suit at the Breckenridge Welcome Center, and there's a "Moose March" for kids 12 and under who want to participate as well.
Come for the International Snow Sculpture Championships
There's more winter fun to be had in Breckenridge in January, when you can catch the International Snow Sculpture Championships. Near the Riverwalk Center, competitors from all around the world chisel and shape their snowy creations for everyone to see.
With many standing well over 10 feet tall, there will be plenty of oohs and aahs as you stroll through to figure out which one you want to vote for in the People's Choice Award.
Pig out at the Breckenridge Hogfest
This annual event sponsored by Buffalo Trace features bacon and bourbon, and it can be found in Main Street Station and The Village in downtown Breckenridge.
You can find pork in just about all of its delectable forms, and the event runs for the whole weekend, making this among the Breckenridge, Colorado attractions that summer visitors flock to.
Depending on your schedule, you can get a day pass or a weekend pass, each coming with tickets for spirits and pork-dish samples.
Or, you can spring for a VIP for more exclusive options, like Friday's Bourbon Pairing Dinner or Saturday's Bourbon Tasting Seminar.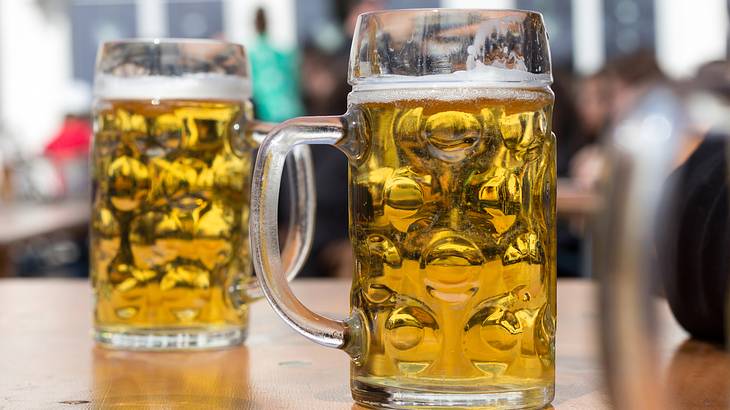 Celebrate Oktoberfest in Breckenridge
If you find yourself in Breck in between its main summer and winter seasons, you will have its annual Oktoberfest celebration to look forward to.
There is a street party to enjoy and the OktoberFEAST, where restaurants all around town host German-themed beer, wine, and food pairings.
Additionally, visitors and participants can get a liter or half-liter stein to commemorate the event, with each year having its own unique design and logo.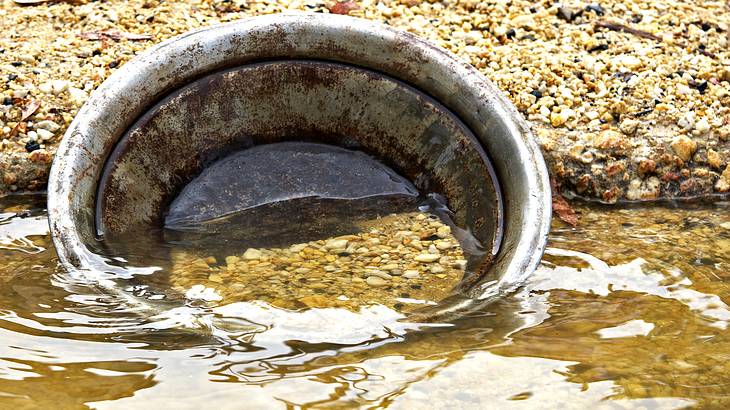 Pan for gold in the Blue River
Gold panning in Breckenridge goes back to its discovery in 1860 by a miner named French Pete. In fact, that's where the French Gulch area got its name.
Award-winning Country Boy Mine is the only real gold mine that you can still visit in Summit County. Go 1100 feet deep into the mountain, then pan for authentic gold in the creek running out of the mine. As an added bonus, you can keep any gold you're able to collect in your pan!
You can additionally see mini burros here, take a sleigh ride behind a monster truck, or go extreme sledding in the winter.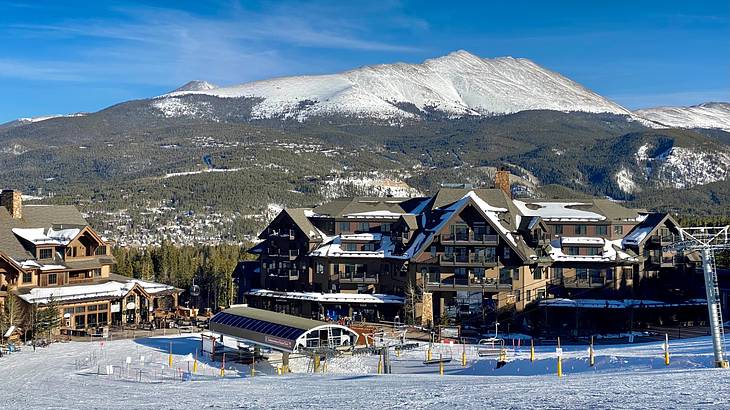 Have a family adventure at Epic Discovery
From roughly Memorial Day until Labor Day, Peak 8 in Breckenridge transforms itself from idyllic ski slopes into an adventure park with zip lines, a roller coaster, bungee trampolines, climbing walls, and mini-golf.
Perhaps the most popular, however, are the gigantic alpine slides. You can race your friends and family as you each choose one of the three paths, and get ready for some serious speed as you descend along the nearly half-mile-long slides.
Learn about trains at the High Line Railroad Park and Museum
High Line Railroad Park and Museum is one of the several places in Breck that is run by the Breckenridge Heritage Alliance. Here, you can find out just how important trains and the railways were for the town's historical development.
The museum is free (with a suggested donation of $5), has a park for kids, and usually takes about 30 minutes to explore, making this a nice afternoon stop for your itinerary of things to see in Breckenridge.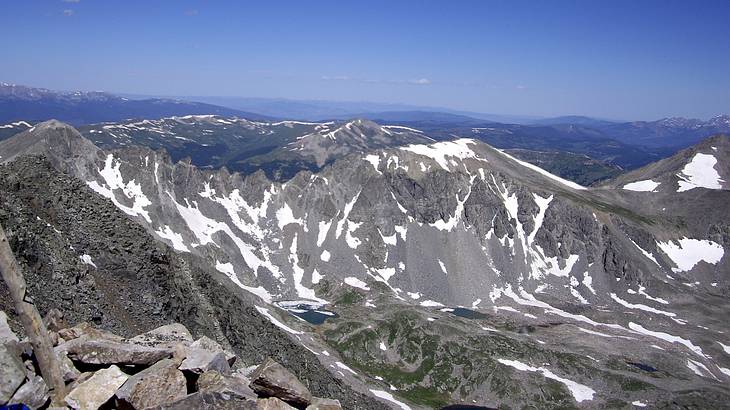 Take a sleigh ride or go horseback riding with Breck Stables
In the winter, you can head to Breckenridge Stables for a horse-drawn sleigh ride. The views of the Tenmile Range, the crisp mountain air, and the jingling of sleigh bells will bring magic to the season while you're snuggled under a blanket in the back.
In the summer, they have family-friendly horseback riding options, with a selection of over 100 horses that can suit any experience level.
Go sledding on Runway Sledding Hill
This BYOS (Bring Your Own Sled) location is a favorite for some good old-fashioned sledding. It's on Airport Road, has free parking, and is easy to access via bus or shuttle.
If you go with kids, it's important to know that this isn't staffed or organized by the nearby Recreation Center, so you'll need to stay and supervise. Or, even better than supervising, join in the fun!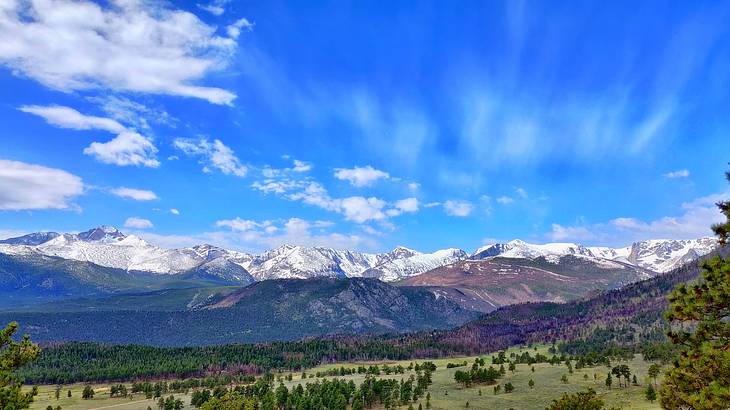 Hop in a hot air balloon for a Rocky Mountain panorama
There are so many ways to take in the views around Breckenridge. Perhaps the most dizzying, and certainly one of the most fun things to do in Breckenridge, Co, would be to catch those views from the heights of a hot air balloon.
Colorado Hot Air Balloon Rides will take you anywhere from 2 to 10 miles around the area (depending on conditions) as you enjoy a glass of champagne, mimosa, or sparkling cider while cruising thousands of feet above the ground.
The launch site is about 50 miles from downtown Breckenridge, so be sure to budget about an hour for travel before your scheduled takeoff.
Take to the Fairways at Breckenridge Golf Club
In the warmer months, golf enthusiasts can enjoy a day at Breckenridge Golf Club. They have three different 9-hole courses, or you can spend some time at their driving range.
All 3 of their courses are Jack Nicklaus's signature courses, and they give unique mountain golfing experiences. You might be distracted by the views and the wildlife, but golfing at almost two miles high is sure to elevate your game.
Get a flight (or two) at Broken Compass Brewery
No matter the season, everyone needs a break to kick back and socialize. Breckenridge has plenty of restaurants, bars, and local dives for this kind of leisure, and one of the most well-known ones is Broken Compass Brewery.
This brewery started in 2014 and now has two separate taprooms in town, with the newest one recently opening on Main Street. They have a rotating selection of their craft beers on tap as well as 4-packs to go, and these dog-lovers encourage patrons to bring their canine companions in with them.
Indulge in wine, cheese, and chocolate at Ridge Street Wine
If you're more of a wine person than a beer person, Breckenridge still has you covered. You can head to Ridge Street Wine to indulge in wine, cheese, and chocolate treats.
Owner Anne Dowling handpicks a broad selection of wines from small producers around the world. You can try some by-the-glass at their wine bar, along with their recommended cheese and chocolate pairings, and then get a bottle or two to go as well. Their wines make great gifts, stories, or compliments to your own dinners.
Brush up on history at the Barney Ford Museum
Another thing to do to Breckenridge is to head to the Barney Ford Victorian House. It's another of the museums run by the Breckenridge Heritage Alliance, and it offers visitors a glimpse into the town's settlement and history.
Barney Ford was born into slavery and moved west with his wife Julia after escaping. He became a successful entrepreneur and had a Victorian home built for them in Breckenridge. His story is one of both success and hardship, battling slavery and racism, but also becoming one of the founders of Colorado's statehood.
The museum offers much more about his story and achievements, and Rocky Mountain PBS recently aired a documentary about his life.
Learn about local flora and fauna at the Edwin Carter Discovery Center
Nature lovers will want to head to the Edwin Carter Discovery Center, the third and final of the Breckenridge History Alliance sites on this list.
Edwin Carter was an early naturalist in the region who wanted to preserve the wildlife of the Rocky Mountains. For him, though, preservation meant through taxidermy after he'd hunted and killed them. The 19th century was a strange time...
Despite the irony of his mission, it's still a fascinating look at the flora and fauna of the region, and visitors should expect to spend about an hour here on average. Like the other History Alliance projects, it's free admission with a suggested $5 donation.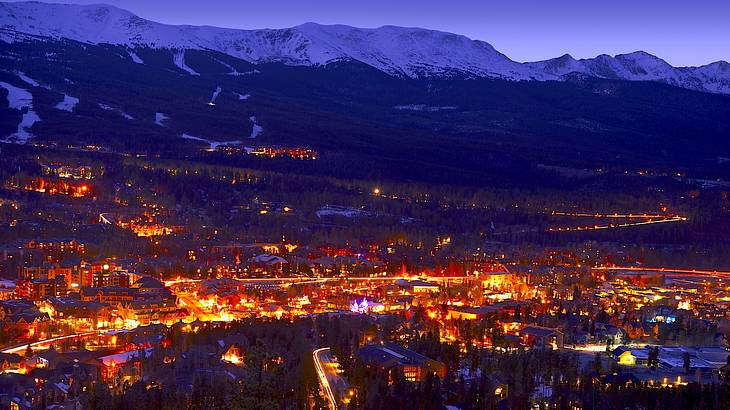 Go dancing at Cecilia's Nightclub and Cocktail Bar
For a night of DJs and dancing, the party crowd can head to Cecilia's Nightclub and Cocktail Bar on Main Street. It has 2 for 1 happy hour specials on select cocktails, and it was ranked in the top 10 best dance clubs in the state by Best Things CO.
Be sure to check their event calendar to see which DJs are coming, but you can count on something to be going on from Thursday through Sunday.
Get your live music fix at the Riverwalk Center
Fans of live music may prefer a more scenic venue, which is exactly what the Riverwalk Center offers to visitors looking for fun things to do in Breckenridge, CO.
Their 750-seat venue sits right by the Blue River in downtown, and it can open its glass doors to expand outside in the summer months.
Many artists and groups make this a stop on their national tours, and there are regular performances by the Breckenridge Music Festival Orchestra and the National Repertory Orchestra.
Catch a movie and grab a drink at The Eclipse
Yet another cool venue in downtown Breckenridge is The Eclipse, formerly known as the Speakeasy Movie Theatre. They have popcorn, beer, and wine for moviegoers and offer screenings of both classic and contemporary films curated by the owner for their single-screen operation.
They also have a film library and archive rooms for guests to peruse in the upper levels of this converted gymnasium, and it's clear that this was a place made by and for movie lovers.
Go wild at the Breckenridge Nordic Center
The Breckenridge Nordic Center is a one-stop shop for visiting adventurers. They have equipment, rentals, and information to support all of the outdoor activities you can do here, and they also offer guided snowshoeing tours for individuals or groups.
Additionally, you can sign up for their Snowcat Adventure tour for one of your activities in Breckenridge, Colorado. This all-terrain snow tank will take you through the surrounding forests while a knowledgeable guide tells you about the region's ecology, history, and legends. In case you weren't sold yet, the 90-minute tour also includes a stop for s'mores and hot chocolate.
Dog sled with Good Times Adventures
Yet another unforgettable experience you can have in Breckenridge is going dog sledding with Good Times Adventures. After learning about dog sledding from your guides, everyone in the group will take turns leading the team of Siberian huskies through the Swan River Valley.
After just an hour-and-a-half, you'll have memories to last you a lifetime. Still, make sure to ask your group members on the snow-mobile sleigh to take some photos of you during your turn running the sled!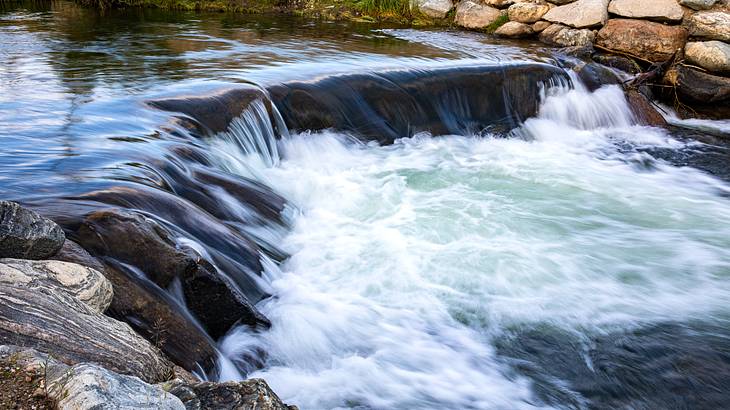 Whitewater raft on the Blue River
Just minutes from Breckenridge, summer visitors can enjoy an adventure on the rapids of the Blue River with the conveniently named Breckenridge Whitewater Rafting company.
Their guides will take you on a 3-mile trip down the river with views of the Gore Range. Either because of the short season for this run or for people looking for more gnarly rapids, they also offer trips down Clear Creek, the Colorado River, and the Arkansas River.
These are all a bit further away but still within 60 miles of town, making them some of the most exciting Breckenridge activities for visitors seeking an adrenaline rush.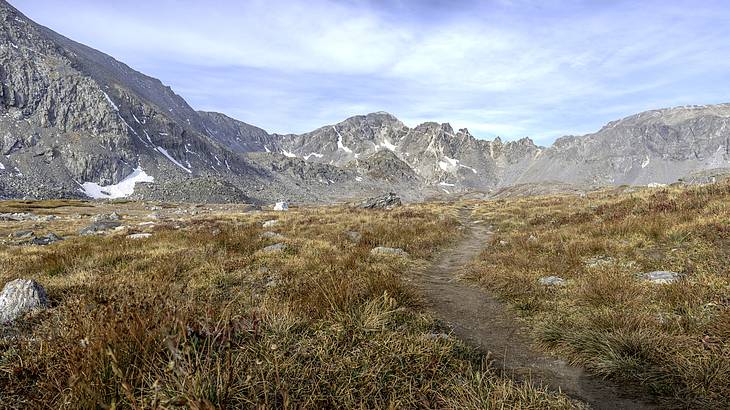 Hike McCullough Gulch Trail
Hikers will love all of the trails and backpacking opportunities around Breck, and the McCullough Gulch Trail is one of the most popular. The challenging and beautiful trail is about 6.4 miles long and rises over 1600 feet in elevation from the trailhead.
Despite the difficulties, its popularity as one of the top things to do in Breckenridge, Co comes from its jaw-dropping views and alpine lakes as hikers ascend past 12,500 feet. Parking can be tricky during popular times, so carpooling is best, and pets are welcome on this trail.
Relax at the Mt Princeton Hot Springs
Hot Springs enthusiasts can find some amazing locations in the Rockies. While there are no hot springs in the town of Breckenridge, visitors can take a day trip out to Mt. Princeton Hot Springs Resort in Nathrop.
About an hour-and-a-half away by car, this impressive complex offers day passes and dining for you before you head back, or you can make a night of it by booking a room here.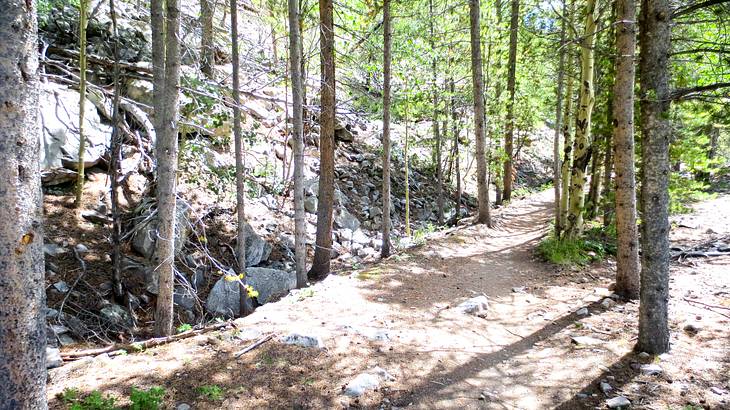 Mountain Bike on the B&B Trail
Mountain biking is probably second only to skiing in terms of popular activities in Breckenridge, CO. Its network of trails and paths make it a top destination, and cyclists can ride to nearby towns on scenic roads, or go off the beaten path and through the woods.
The B&B trail falls somewhere in between and starts near Country Boy Mine. It loops for 1.5 miles on a primitive double track, and it is considered a relatively easy ride that is great for kids. More advanced mountain bikers and adrenaline junkies can check out the nearby B-Line trail.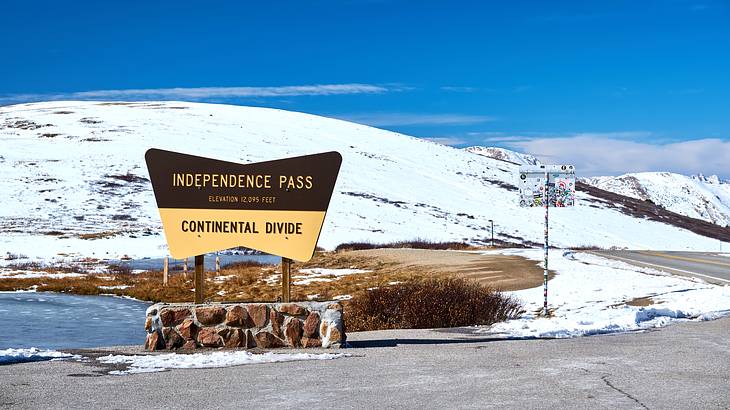 Indoor and outdoor rock climb
Breckenridge certainly has no shortage of rocks, but that hasn't stopped them from constructing some indoor climbing centers so rock climbers can hone their skills all year round.
The Breckenridge Recreation Center, Epic Discovery, and Summit Climbing Gym are all great spots in town to practice top-roping, bouldering, and lead climbing.
Outdoor climbing spots are plentiful as well, and include near Prospector Campground for beginners, at Peru Creek in Montezuma for intermediate climbers, and around Independence Pass for the most challenging routes in the area.
Get married (say "I Do" with a view)
The last of the Breckenridge, Colorado attractions might not be for everyone, but the town has been increasing in popularity as a setting for destination weddings.
Not only will it provide beautiful wedding photos, but there are the previous 34 things from this list that you can do with your loved ones and partner-to-be. And that's not even counting skiing!
This town is made for making memories, and what better occasion than a wedding celebration to take advantage of that?
Conclusion
So there you have it, 35 things to do in Breckenridge, Colorado, that have absolutely nothing to do with skiing. From the great outdoors to unique cultural experiences and cozy restaurants, there's something for everyone in this town, even if you have no intention of hitting its famous powdery slopes.
You'll probably find that there are simply too many things to squeeze into a single trip. If that's the case, maybe it's time to make this an annual destination. And whether you're alone, with friends, with kids, or you're even getting married, you're sure to have a blast in this winter AND summer wonderland.
Give us feedback about this article
More visual stories related to this article:
---
---
Want to keep exploring?
Subscribe for discounts on tickets and hotels and our latest guides.
Thank you for subscribing
We will be in touch soon with discounts on tickets and hotels and our latest guides.
Want to keep exploring?
Subscribe for discounts on tickets and hotels and our latest guides.
Thank you for subscribing
We will be in touch soon with discounts on tickets and hotels and our latest guides.
Related Articles