35 Fun Things to Do in Colorado Springs Indoors
Destguides may receive commissions from purchases made through affiliate links in this article.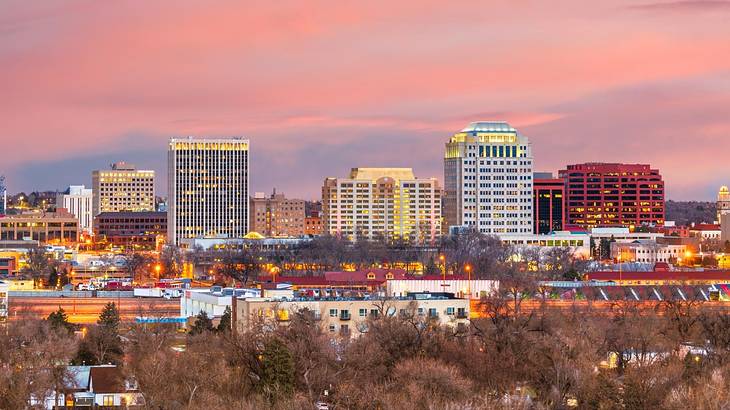 Colorado Springs is a beautiful destination located in the state of Colorado. The town is just an hour away from the popular city of Denver and is easily accessible from many other parts of the US.
While the area is known for its outdoor attractions, you may experience a rainy day or two when visiting. Luckily, there are numerous fun things to do in Colorado Springs indoors. From playing bowling or laser tag to exploring museums or going whiskey tasting, Colorado Springs has an inside activity for everyone!
35 Best Indoor Activities in Colorado Springs, CO
Colorado Springs Things to Do Indoors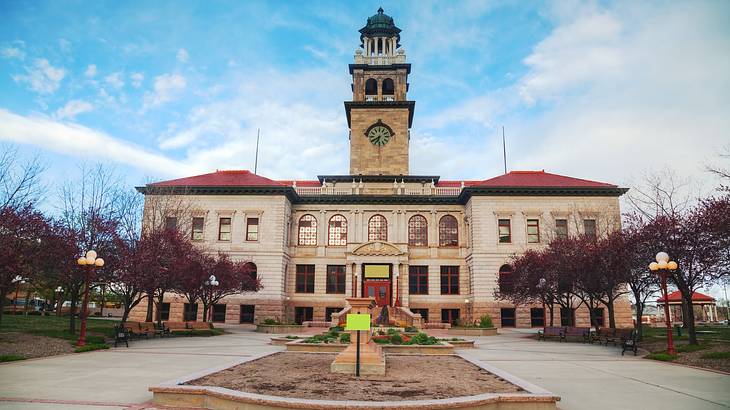 Visit the Colorado Springs Pioneers Museum
The Colorado Springs Pioneers Museum is located inside an old courthouse and features exhibits on Colorado and United States history. Most of the displays cover history from the 1700s and 1800s. There are also lots of activities for kids here, making this Colorado Springs landmark a great family-friendly attraction.
Check out the Western Museum of Mining and Industry
Colorado was formerly a large mining state. The area was so well-known for mining, especially of lead, that a Colorado nickname to this day is the Lead State. A great place to learn more about this industry is at the Western Museum of Mining and Industry.
The attraction covers mining history in Colorado and across the West Coast. With so much interesting information on mining in the US, you're sure to learn something new!
Have a game of laser tag
Another of the fun indoor things to do in Colorado Springs is playing laser tag. One of the most popular places to do so is at The Summit. At the venue, you and your laser tag team can play in a 3,500 square foot, two story space.
The Summit frequently hosts laser tag weekly specials and adult-only nights too.
Enjoy a bowling competition
The Summit also has bowling lanes and playing a game or two is an ideal thing to do on a rainy day. After playing, you can grab a meal and some drinks at the onsite grill. You can also play some arcade games or billiards while visiting.
Grab a drink at a local brewery
If you don't have any kids in your groups, one of the fun things to do indoors in Colorado Springs, CO, is going to some of the area's breweries. You can find an array of top breweries in the area to grab a drink or two and relax. Recommended spots include Storybook Brewing, Pikes Peak Brewery, and Cerberus Brewing.
Look at vintage cars at Penrose Heritage Museum
Penrose Heritage Museum showcases a collection of artifacts owned by philanthropists Spencer and Julie Penrose. Things to see range from old-fashioned vehicles to art and antiques. The attraction is especially focused on motorsports, with 15 race cars on display. Best of all, admission is free!
Tour the National Museum of World War II Aviation
Located at the Colorado Springs Airport, the National Museum of World War II Aviation allows visitors to see WWII aircraft. Within the museum's 40,000 square foot hangar, you get the chance to see 20 fully restored airplanes. This fascinating museum is one of the best historical attractions in the area!
Explore the Ghost Town Museum
A fascinating attraction to visit in Colorado Springs is the Ghost Town Museum. At the museum, you'll find model town structures that mimic the buildings of the Wild West. If visiting with children, they can also pan for gold at the Ghost Town Museum.
Find great books at the Colorado Springs Public Library
One of the top things to do in Colorado Springs inside for book lovers is going to a Colorado Springs Public Library. There are two main libraries and 11 branches in the area. At the library, you can explore the many shelves of books and may discover a new genre or author to enjoy.
Learn about insects at May Natural History Museum
One of the most interesting indoor attractions in Colorado Springs is the May Natural History Museum. Notably, the venue houses the world's largest private insect collection.
Along with seeing the insect display, you'll also find out more about the creatures in the collection, including beetles and butterflies.
Take a trip to the US Olympic and Paralympic Museum
A new attraction in Colorado Springs is the US Olympic and Paralympic Museum. Opened in 2020, the museum covers the United States' involvement in the Olympics and Paralympics. You can learn about the history of the events, plus some of the US' top athletes from the games.
Rock climb at an indoor climbing wall
CityRock Climbing Center is an ideal place to spend some time indoors while still staying active. During a visit, you can climb a range of walls of varying difficulty. Lessons are also available for beginners and advanced climbers, as well as kids and teens.
Unwind with a day at the spa
What can be better than enjoying some treatments at the spa? If you want to unwind, Colorado Springs has a range of spas to choose from. Alluvia Spa at Cheyenne Mountain Resort is one of the most recommended to visit. Treatments you can book include massages, facials, scrubs, and more.
Immerse yourself in outer space at the Space Foundation
Founded in 1983, the Space Foundation helps promote the global space industry through a range of activities and campaigns.
When visiting the Space Foundation Discovery Center, you can enjoy interactive exhibits and shows. Topics covered include science, technology, and engineering relating to space exploration.
Find out more about cash at ANA Money Museum
Another of the unique things to do inside in Colorado Springs is going to the ANA Money Museum. Not only does the museum cover how money gets into the economy, but it also looks at the effects of money on societal events. In addition, you can see a vast collection of rare coins.
Look around the McAllister House
McAllister House was owned by Henry McAllister, a significant figure in Colorado Springs history. Today, it's a house museum that you can tour alone or with a guide. As you explore, you'll learn more about McAllister and the history of Colorado Springs.
Watch a show at Broadmoor World Arena
Broadmoor World Arena is a mid-sized multi-purpose venue in central Colorado Springs. At the arena, you can watch an array of shows. Things to see include music concerts, comedy shows, and ice dancing performances.
No matter what types of shows you like, they'll be something you want to watch at Broadmoor World Arena!
See the Colorado Tigers ice hockey team play
Another fun event to watch in Colorado Springs is ice hockey. You can see the collegiate team, the Colorado Tigers, play at Ed Robson Arena.
The hockey season generally runs from November to April, so you can catch the team playing if visiting in winter or spring. If your other half loves sports, attending a game is also one of the best date ideas in Colorado Springs!
Relax with a delicious cup of coffee
If you love good coffee, you'll enjoy is checking out some of the area's top coffee shops. There are many to choose from where you'll be able to relax with a delicious drink and some tasty sweet treats.
Recommended coffee shops include Peak Place, Urban Steam, Jives Coffee Lounge.
Discover a world of figurines at the Michael Garman Museum & Gallery
The Michael Garman Museum & Gallery has over 500 intricate sculptures that represent Americans from all walks of life. Each of the figurines is also placed in a scene complete with buildings, meaning the museum acts as an interesting miniature town.
Look inside St. Mary's Cathedral
St. Mary's Catholic Cathedral has been in Colorado Springs since 1891. It acts as the seat of the Diocese for the area and on the National Register of Historic Places.
When in Colorado Springs, visiting the church and admiring its Gothic architecture is a must. You can go inside any time during the day unless a service is being held.
Shop for antiques
Sweet William Antique Mall is the perfect place to find a unique piece for your home. The shop is filled with antiques, including books, typewriters, decor items, and larger pieces of furniture.
If you aren't in the market to buy anything, no problem! Simply wandering around the store and looking at the fascinating items is a great way to spend some time.
Taste whiskey at Distillery 291
For those that like spirits, one of the fun indoor places in Colorado Springs that you have to check out is Distillery 291. At the distillery, you can do a whiskey tasting and learn more about the distilling process. If you find a whiskey you really enjoy, you can buy a bottle too.
Marvel at magic tricks at Cosmo's Magic Theater
At Cosmo's Magic Theater, you can watch renowned magician Cosmo Solano perform a range of tricks. The show takes place in a cozy lounge-like room, and audience participation happens frequently.
Even if you don't actively participate, you'll have a memorable evening watching high-quality magic tricks!
View artworks at the Colorado Springs Fine Arts Center
An ideal indoor place to visit for art lovers is the Colorado Springs Fine Arts Center. The art museum features a vast permanent collection, with works from local, national, and international artists. You can also find a Broadway theater within the center that hosts a range of great shows.
Take your kids to Play Street Museum
If you're looking for indoor Colorado Springs activities for young kids, taking them to Play Street Museum is recommended.
The museum houses interactive exhibits that allow children to play and learn. Things to do include playing dress-up, building models with blocks, and creating artworks.
Try ax throwing
A unique thing to try in Colorado Springs is ax throwing. At Bad Axe Throwing, you get the opportunity to throw axes at various targets and can compete with friends to see whose skills are best. You can also bring food in, and there is a beer and wine menu to order from.
Listen to a piano show at the Golden Bee
Golden Bee is a 19th-century style pub found at the Broadmoor Hotel. The pub notably holds piano evenings each night where you can listen to ragtime piano and sing along to well-known songs. You can also order from a menu of gastropub dishes and a full bar is on-site.
Treat yourself to candy at Patsy's Candies
Patsy's Candies is a popular Colorado Springs candy shop selling an array of sweet treats. At Patsy's, you can try saltwater taffy in a variety of flavors, plus toffee, chocolates, and peanut brittle, among other tasty candies.
When visiting, you may also be able to take a tour of the on-site production facility. You'll get the chance to learn more about the candy production process and may get samples too.
Let your kids bounce around at House of Bounce
Another must-visit spot for those looking for indoor stuff to do in Colorado Springs for kids is House of Bounce. Your kids will be able to bounce around on a selection of bounce houses.
Along with standard bounce houses, there are ones with obstacle courses, climbing walls, and slides. As the kids play, you can relax in the seating area with a drink and a snack.
Create a masterpiece at Painting with a Twist
If you like crafts, be sure to check out Painting with a Twist. At this art class, you can follow along with local artists to create your own work of art. You can also order snacks and beer or wine to enjoy as you paint. Once the class is over, you can keep your one-of-a-kind masterpiece!
Attempt to get out of an escape room
Playing an escape game is a highly popular indoor activity. In Colorado Springs, you can attempt to get out of different themed rooms at Escaped In Time. Themes include a pirate-inspired treasure hunt and government surveillance missions, there's even an upside-down room to escape from.
Indoor Things to Do Near Colorado Springs, Colorado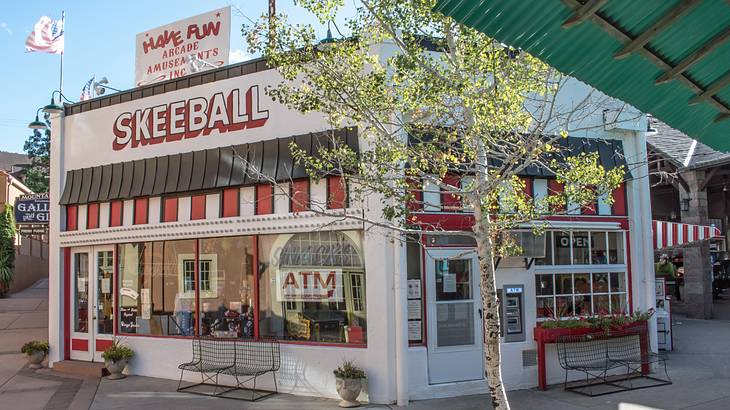 Play games at the Manitou Springs Penny Arcade
One of the fun indoor attractions near Colorado Springs for kids and adults alike is the Manitou Springs Penny Arcade. The arcade games to play include pinball, Pac-Man, and many others from the past and present. There are also kids' penny rides, like airplanes and spaceships.
See dinosaurs at the Rocky Mountain Dinosaur Resource Center
Located 30 minutes from central Colorado Springs, the Rocky Mountain Dinosaur Resource Center is a fossil museum covering North America's Late Cretaceous period. During a visit, you can see a range of fossils, including life-size dinosaur skeleton models. You'll also learn more about the life of dinosaurs and the discovery of their fossils.
Go to the Cripple Creek District Museum
Cripple Creek is a small town located an hour from Colorado Springs. Making the drive to the town is well worth it, and you can find many things to do indoors when visiting.
A highly recommended attraction to check out is the Cripple Creek District Museum. The museum is housed in a Victorian railroad house and has exhibits on the founding fathers of Cripple Creek. You will also see displays on the area's mining history and the gold rush.
In Summary
Colorado Springs is a perfect vacation destination with lots to do for all types of travelers. Along with being able to try a range of outdoor activities, you'll find many interesting things to do indoors.
Whether you're traveling as a couple, with friends or family, or even live in Colorado Springs, there's no shortage of fun indoor attractions to check out!
Give us feedback about this article
Learn more about Colorado Springs:
More articles about Colorado:
Read more articles about the United States:
More articles about things to do:
More visual stories related to this article:
---
---
Want to keep exploring?
Subscribe for discounts on tickets and hotels and our latest guides.
Thank you for subscribing
We will be in touch soon with discounts on tickets and hotels and our latest guides.
Want to keep exploring?
Subscribe for discounts on tickets and hotels and our latest guides.
Thank you for subscribing
We will be in touch soon with discounts on tickets and hotels and our latest guides.
Related Articles