25 Fun Things to Do in Fort Lauderdale at Night
Destguides may receive commissions from purchases made through affiliate links in this article.
Fort Lauderdale is a popular party and beach destination in Florida, United States. Situated only 30 minutes from Miami, the city features fantastic beaches, bars, nightclubs, and oceanfront restaurants.
Being such a famous party city, it's no surprise that you'll find many fun things to do in Fort Lauderdale at night! Activities range from experiencing a sunset cruise to dancing at world-renowned nightclubs and going on a unique pedibus pub crawl.
Interested in learning more about all the nighttime things to do in Fort Lauderdale? Then keep reading for 25 exciting suggestions!
25 Fun Things to Do at Night in Fort Lauderdale
Best Things to Do in Fort Lauderdale at Night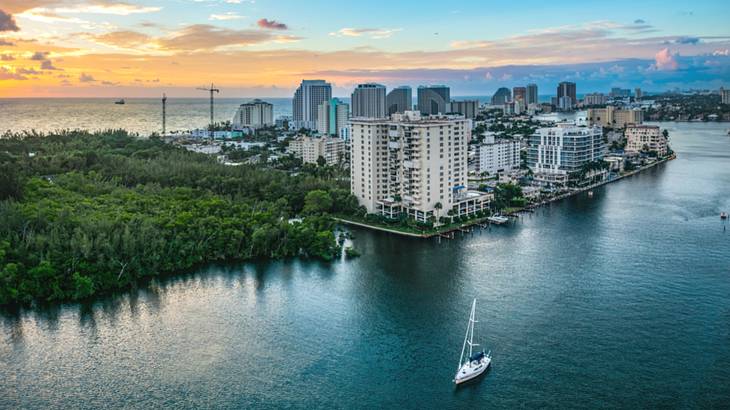 Fly over Fort Lauderdale on a nighttime helicopter tour
One of the best ways to enjoy views of Fort Lauderdale is from the sky on a helicopter tour. While there are many day tours, you can also find scenic sunset helicopter tours to book.
During the flight, you'll admire the city and ocean views below you. You'll also fly over nearby Miami, which allows you to spot some iconic Florida landmarks, such as Miami Beach.
Have fun on a pedibus pub crawl
A fun activity to enjoy with friends in Fort Lauderdale is going on a pedibus pub crawl. Pub crawl participants will pedal around Las Olas, stopping at many great bars in the area. At each stop, you'll get to grab drinks and bar snacks. Along the route, you'll also see various Fort Lauderdale landmarks, like Fort Lauderdale Beach and the New River.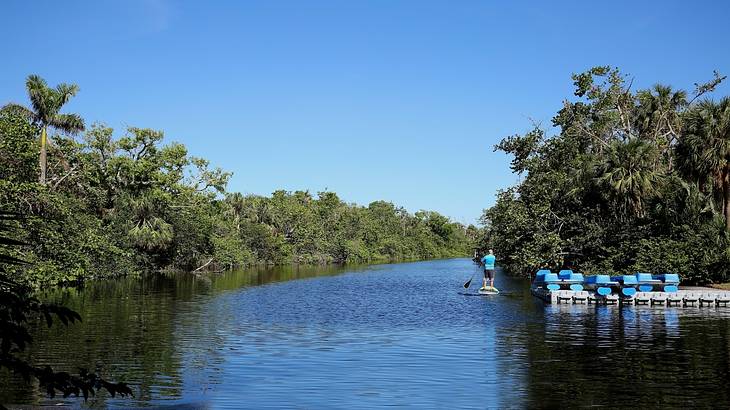 Wander around Hugh Taylor Birch State Park
Hiking in local parks may sound like more of a daytime activity; however, as Hugh Taylor Birch State Park stays open until 8 PM, you can enjoy a scenic evening stroll through the park.
Biking is also allowed on most of the park's trails, and you could bring a picnic dinner along with you to enjoy surrounded by the park's beautiful trees and plants. As you look around, you'll likely spot animals as well, including many species of bird that are native to South Florida.
Take your family on a pirate cruise!
Going on a pirate cruise is definitely one of the best family-friendly activities in Fort Lauderdale at night. However, the cruise isn't only for families. It's still a fun and unique experience for those without kids.
The cruise departs at 5 PM and features pirate-themed activities, like pirate face painting for children and pirate games. Kids even get a pirate certificate and a goody bag to take home. While the kids enjoy the activities, adults can take in the surrounding views. Refreshments aren't included, but guests are welcome to bring their own food and drinks.
Luxuriate on a champagne sunset cruise
One of the most luxurious Fort Lauderdale things to do at night is taking a champagne sunset cruise. Once aboard, you'll sail around the water in Fort Lauderdale, viewing areas like Millionaires Row. You'll then sail out onto the Atlantic Ocean to admire the stunning sunset. As you take in the views, you can also sip a glass of champagne.
Paddleboard under the stars
Paddleboarding at night is a different and memorable thing to do in the evening. Once on your paddleboard, which is provided, you'll explore the waterways around Fort Lauderdale, taking in the views of the illuminated city. Fun glow sticks and beer are also provided to enjoy as you paddle around.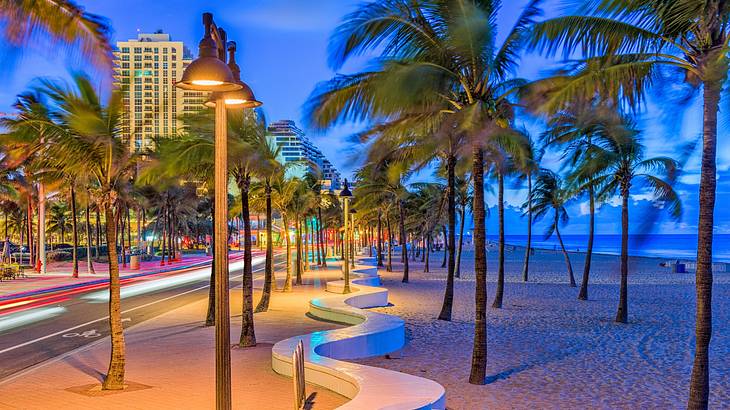 Share a picnic dinner on the sand at Fort Lauderdale Beach
Fort Lauderdale Beach is a popular neighborhood that features sandy beaches and ocean access. While it's great to hang out at the beaches during the day, you don't have to leave at night! One of the laid-back but fun Fort Lauderdale night activities is heading to the beach area around sunset with a picnic.
You can relax on the sand with friends or family, watching the sun go down and enjoying food and drinks. After sunset, you'll also get to admire the pretty night sky.
Explore Las Olas Boulevard
One of the most bustling areas in the evening in Fort Lauderdale is Las Olas Boulevard. The area features an array of shops, bars, and restaurants.
If looking to dine along Las Olas Boulevard, you'll be spoiled for choice with many cuisines represented, from Italian and Spanish to Brazilian and Middle Eastern restaurants available. You can also find wine bars, sports bars, places hosting live music, and much more!
Dine at Coconuts
Coconuts is an atmospheric coastal eatery that's well worth checking out for dinner. The beachy eatery serves dishes like fish tacos, seafood towers, and heirloom tomato salad. Delicious desserts like Key lime pie and coconut cheesecake are available as well. To drink, you can opt for tropical cocktails or ice-cold beer.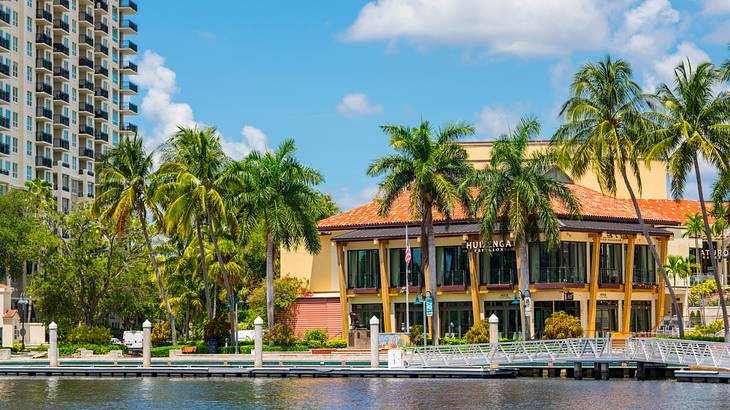 Watch a show at the Broward Center for the Performing Arts
If you're wondering what to do in Fort Lauderdale at night and like the arts, going to a show at the Broward Center for Performing Arts is a can't-miss activity. Opened in 1991, the venue hosts many performances, from musicals and concerts to comedy shows and ballets. There are also some great family-friendly events to check out, like Disney Junior Live.
Unwind at Casbah Spa & Salon
Not every activity in Fort Lauderdale involves partying! If you want something laid-back to do in the evening, book some spa treatments at Casbah Spa & Salon. The spa stays open until 9 PM most days, although it closes a little earlier on Sunday and Saturday. Treatments to enjoy include massages, facials, and body treatments like exfoliating scrubs.
Party at Sway Nightclub
If you want to experience Fort Lauderdale nightlife, you have to go to Sway Nightclub. The popular club stays open until 4 AM and hosts local and internationally known DJs. You'll often get to see performers around the club as well, like belly dancers. As you dance and enjoy the atmosphere, you can get cocktails or mixed drinks, and bottle service is also available.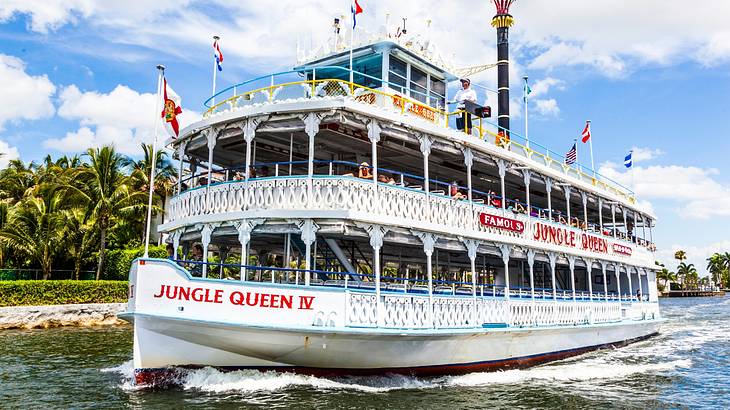 Go on a Jungle Queen Riverboat dinner cruise
Jungle Queen Riverboat Cruises offers various excursions along Fort Lauderdale's waterways, including a dinner cruise. Diners will hop aboard a vintage riverboat and sail past an array of Fort Lauderdale landmarks.
You'll then carry on to a private island, where you can enjoy dinner, tropical cocktails, and a show complete with live music and Polynesian fire dancing.
Hop aboard a floating tiki bar with Cruisin' Tikis
Another of many fun ways to enjoy the water in the Greater Fort Lauderdale area in the evening is by going on a Crusin' Tiki boat. These fun boats act as floating tiki bars and include Bluetooth speakers and coolers for any drinks you want to bring aboard.
You and your friends can then mix drinks at the fun tiki bar while sailing around Fort Lauderdale. Your captain can also offer fun facts about all the sights you see.
Enjoy the amusements at Xtreme Action Park
While you can find many clubs and bars to check out in the evening, Fort Lauderdale also has other types of attractions, like Xtreme Action Park. The entertainment complex stays open until 10 PM to 12 PM, depending on the day, and has many amusements, including go-karting, escape rooms, bowling, and laser tag.
After enjoying all the attractions, you can stop at Pit Bar for a craft beer or get bar snacks like burgers and wings at Pit Stop Kitchen. There's also The Green Hat, a speakeasy-style bar serving elegant cocktails. If visiting in the early evening before 7 PM, you can benefit from happy hour deals as well.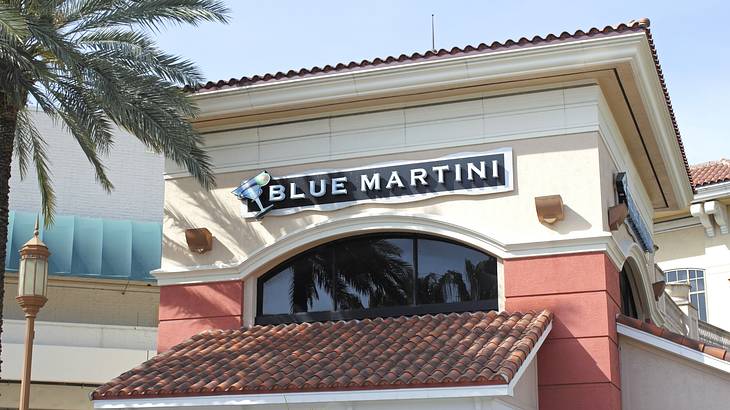 Sip delicious drinks at Blue Martini
Another of the top things to do in Fort Lauderdale at night is going to Blue Martini. The trendy bar has an extensive drinks menu, which includes many types of martini, from green apple to a classic dirty martini.
Bottles of wine and champagne can be ordered as well. In addition, you can order bar snack dishes such as vegan or lobster tacos, truffle burrata salad, and seared tuna with seaweed salad.
Get drinks and dance at Club Euro Night Club
Club Euro Night Club is one more of the can't-miss places to visit in Fort Lauderdale at night. This popular nightclub is open Thursday through Sunday and features DJs playing top 40 hits, hip-hop, and more. Guests can opt for VIP bottle service, and there are many drinks deals available, like a ladies night on Thursdays where women drink free all night.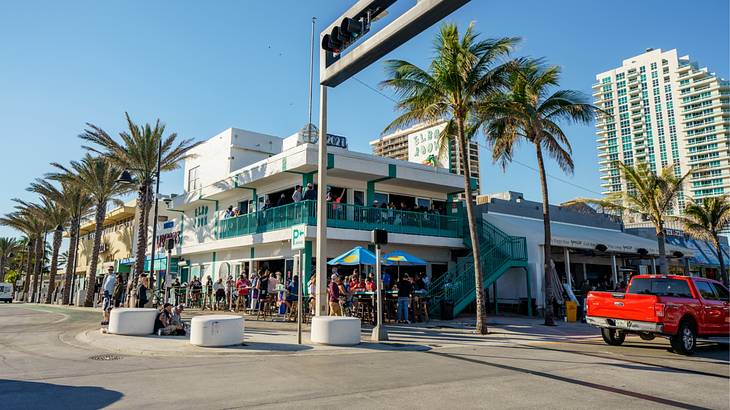 Check out Elbo Room
Elbo Room is a fun club to spend the evening at. The venue features live DJs, an outdoor patio, and great drinks deals. As the famous Fort Lauderdale bar sits right on the beach, you can also enjoy coastal views. If you had fun during the evening, you can also return during the day as the bar is generally open from 8 AM to 2 or 3 AM the next day!
Have dinner at Lona Cocina Tequileria
Another excellent restaurant to visit in the evening is Lona Cocina Tequileria. The Mexican eatery sits on the waterfront and offers diners an extensive menu.
Dishes range from tuna tostada and avocado salad appetizers to lobster quesadillas and various types of tacos, among many other options. Tequila cocktails, wine, and beer can accompany your meal, and you can end your dining experience with a decadent dessert.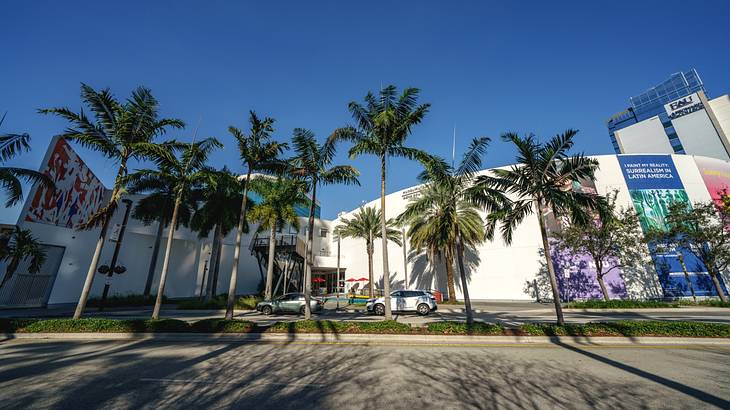 Admire artworks at NSU Art Museum
NSU Art Museum generally closes at 5 PM, but once a month, the museum remains open until late for a Sunny Days and Starry Nights event. Hosted on the first Thursday of the month, the event allows you to explore the museum for free until 7 PM. There are also happy hour deals in the museum cafe, like 2-for-1 on glasses of wine.
At the museum, you can admire over 7,500 works of art. Pieces to see include paintings and photographs. Interestingly, the museum features one of the world's largest collections of works by American painter William J. Glackens. If you're looking for fun and free activities, going to the NSU Art Museum after-hours event is a must!
Sail around Fort Lauderdale with Las Olas Gondola Tours
Las Olas Gondola Tours offers memorable gondola rides around Fort Lauderdale. In the evening, you can opt for the popular sunset cruise, with nighttime cruises also available.
During the 75-minute ride, you'll see luxury homes and gardens and many Fort Lauderdale attractions. Visitors can also bring a picnic and beverages, including alcoholic drinks like champagne.
Things to Do Near Fort Lauderdale at Night
Spend the evening at the Seminole Hard Rock Hotel & Casino
The Seminole Hard Rock Hotel & Casino in Hollywood, Florida, is the perfect place to visit for a fun night out. You can reach the hotel and casino in around 20 minutes from Fort Lauderdale. Visitors can play a range of games in the casino, including table games and poker.
You can then grab a meal and drinks at one of over ten eateries, with dining at the Hard Rock Cafe highly recommended! You'll also find various bars and lounges to relax at with some drinks.
Dance all night at DAER Nightclub
DAER Nightclub is open Fridays and Saturdays from 10 PM to 4 AM, making it the ideal place to dance all night! The nightclub is located at the Seminole Hard Rock Hotel and Casino and resembles Las Vegas nightclubs.
During the evening, you can dance to live DJ sets and drink delicious cocktails. There are also VIP areas if you and your friends want to party like celebrities! If you like DAER Nightclub, you can come back in the day to check out DAER Dayclub, which features DJs, pools, and VIP cabanas.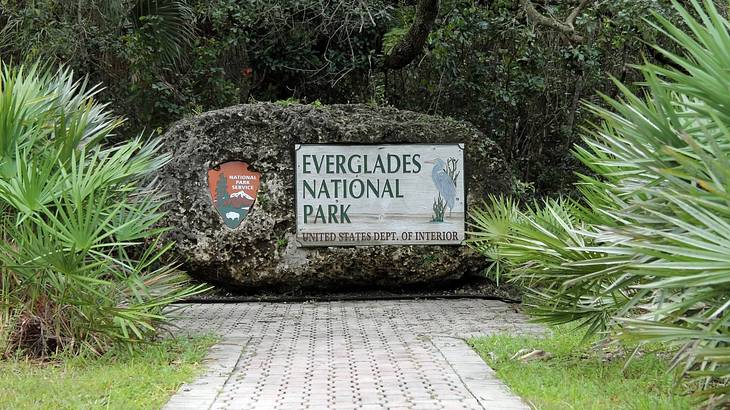 Experience a Florida Everglades night tour
Everglades National Park is a must-visit destination when in Florida, and the world-renowned park is located near to Fort Lauderdale, making planning a visit a must! An interesting way to explore the park is by going on a Florida Everglades night airboat tour.
You'll join the tour at Sawgrass Recreation Park, about 30 minutes from Downtown Fort Lauderdale. During the excursion, you'll get to see the stunning subtropical ecosystem and learn more about the ecology of the area.
A little-known Florida fact about the park is that it's home to many protected animal species and you'll also get to see some of these animals, like wood storks, when on the airboat tour.
Parasail at sunset
If you like adventure activities or want to try something new, parasailing over Pompano Beach in Fort Lauderdale has to be on your to-do list! You can book a parasailing session in the day, but there's also a 6 PM option. The evening session allows you to admire the sunset over the beach and surrounding areas, like Millionaires Row.
In Conclusion
This list of things to do in Fort Lauderdale, Florida, at night should have given you an idea of all the exciting activities to enjoy in this party city! From dancing at clubs to dining at waterfront eateries and paddleboarding under the stars, you're sure to have a fun night out in Fort Lauderdale.
Give us feedback about this article
More visual stories related to this article:
Want to keep exploring?
Subscribe for discounts on tickets and hotels and our latest guides.
Thank you for subscribing
We will be in touch soon with discounts on tickets and hotels and our latest guides.
Want to keep exploring?
Subscribe for discounts on tickets and hotels and our latest guides.
Thank you for subscribing
We will be in touch soon with discounts on tickets and hotels and our latest guides.