35 Fun Things to Do in Fort Myers, Florida
Destguides may receive commissions from purchases made through affiliate links in this article.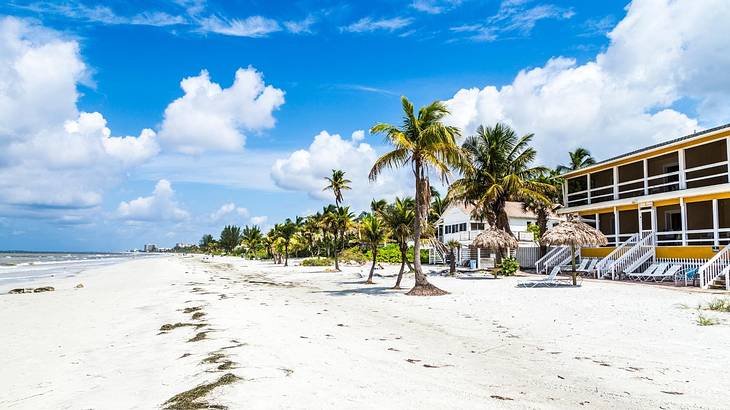 Fort Myers is one of the most popular cities in Florida for its beaches, fishing, and shopping. It is also home to several nature reserves, theaters, and the Edison & Ford Winter Estates.
With so many ​​fun things to do in Fort Myers, Florida, you can't go wrong with planning a visit here. Whether you are looking to relax on the beach or plan a trip full of activities, Fort Myers has a ton of activities to offer!
35 Fun Things to Do in Fort Myers, FL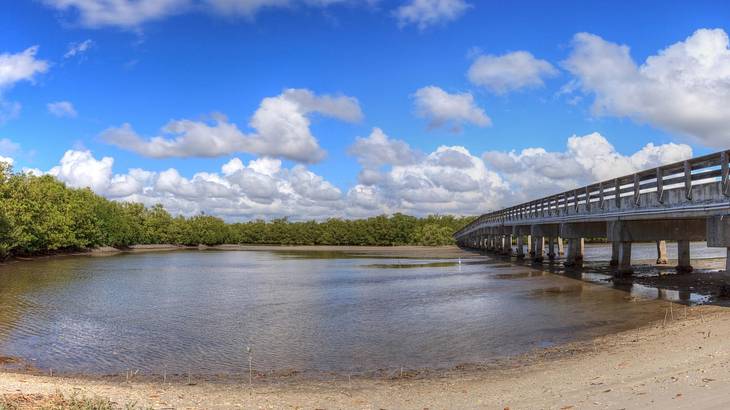 Experience serenity at Lovers Key State Park
One of the best Florida beaches, Lovers Key State Park covers over 700 acres and includes four barrier islands. Now reachable by car, stop by this unbelievable destination for a day of enjoying the impeccably white sand.
Dolphins, coastal birds, and manatees can be seen from the beach, so don't forget your binoculars!
Photograph wildlife at Florida Panther National Wildlife Refuge
The Flordia Panther National Wildlife Refuge features two hiking trails through a varied landscape full of birds, butterflies, and other wildlife. Panthers do frequent the area but are considered a rare sight. Bring your camera and appreciate the scenery at this beautiful refuge!
Connect with nature at Calusa Nature Center & Planetarium
Over 100 acres cover this unique nature center that has been a part of the Southwest Florida area for almost 50 years. ​​
Calusa Nature Center & Planetarium is filled with ​​Fort Myers activities, including butterfly and bird aviaries, natural trials, and a planetarium theater. The Planetarium also hosts an all-ages Laser Show on the weekends.
Catch a home run at Lee County Sports Complex
Every year the Minnesota Twins come to Fort Myers, Florida, for Spring Training. While you're here, stop by Hammond Stadium, located in Lee County Sports Complex, to watch these teams prepare for the new season.
The entire complex, formerly known as CenturyLink Sports Complex, has five additional playing fields and is home to two minor league teams. Catching a Spring Training session is one of the cool and unusual things to do in Fort Myers, Florida.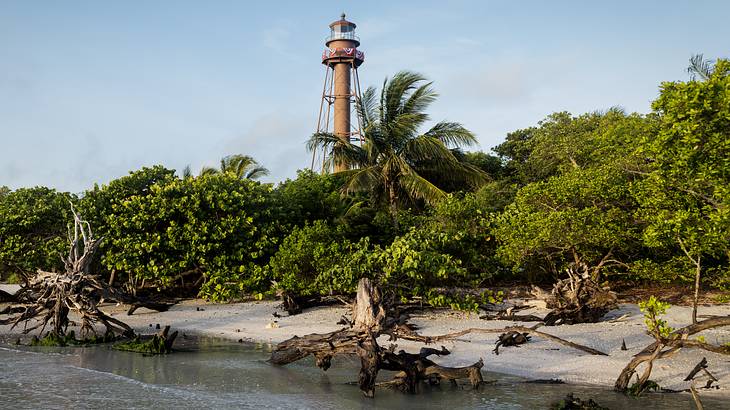 View Sanibel Island via a dolphin cruise
Sanibel is an island located near Fort Myers, Florida. It is most known for its beaches, sunsets, and lighthouse.
Take a cruise near the island and try to spot some of the famed dolphins while getting up close to the Sanibel Island Lighthouse.
You'll definitely appreciate the pontoon boat and wildlife spotting opportunities.
Shop all day at Fleamasters Fleamarket
If you love shopping, you'll be amazed by this flea market that covers over 400,000 square feet and features more than 900 shops.
Spend your day looking through the booths that feature everything from antiques to kitchen products and jewelry or snacks. As one of the top things to do around Fort Myers, you can't go wrong with Fleamasters Flea Market.
Birdwatch at Caloosahatchee National Wildlife Refuge
Accessible via boat only, the Caloosahatchee National Wildlife Refuge is a major wintering area for the endangered West Indian manatee. Several other birds also make their home here.
It's the perfect spot to pull out your binoculars or camera and try to view rare wildlife, so make a day out of it!
Enjoy the arts at Florida Repertory Theatre
Relax and enjoy a show in the historic Arcade Theater, built in 1915, where the Florida Repertory Theatre performs. Although this theater has celebrated 24 years of Award-Winning Regional Theatre, this activity is a do-not-miss and is loved by tourists and locals alike.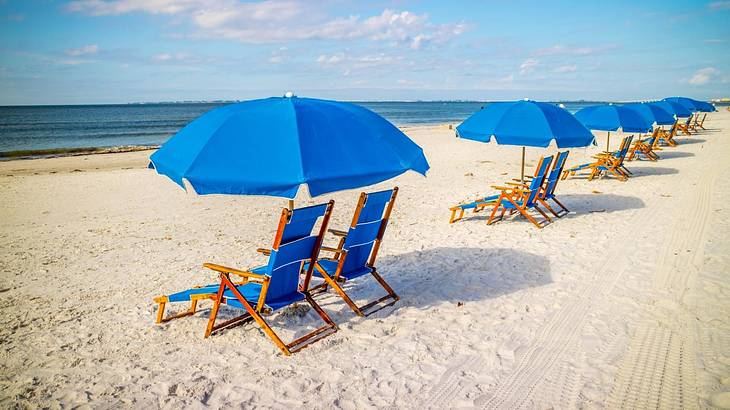 Parasail at Fort Myers Beach
Fort Myers Beach is one of the most popular destinations in Fort Myers, Florida. It is covered with white sand and sits on a barrier island that stretches about seven miles long.
The beach is most popular for water sports, and what is a better way of seeing the beach than parasailing at 400 feet high? Join this tour and you can see for yourself!
Have a drink at Fort Myers Brewing Company
Fort Myers Brewing Company serves as an off-the-beaten-path gathering place for many Fort Myers locals. Tourists will enjoy the free brewery tours. Afterward, grab a beer and a bite to eat.
The brewery hosts fun weekly events. Stop by on Thursday nights when there are food trucks and live music. It is one of the fun things to do in Fort Myers at night.
Soak in the history in the Fort Myers River District
In downtown Fort Myers, you'll find the Fort Myers River District, which features modern restaurants, shopping, and more. It also has a rich history and many landmarks.
To best learn all there is to know about the area, join this historic Fort Myers River District walking tour. You'll learn about the iconic landmarks, attractions, and buildings that make this part of the city so unique.
Touch a live marine animal at IMAG History & Science Center
Enjoy a day of fun with over 60 interactive exhibits at IMAG History & Science Center. Here you can touch live marine animals in a 3,200-gallon aquarium displaying fish and sharks.
In addition, this Fort Myers to do features a walking path, earth and space center, 3D movie, and more.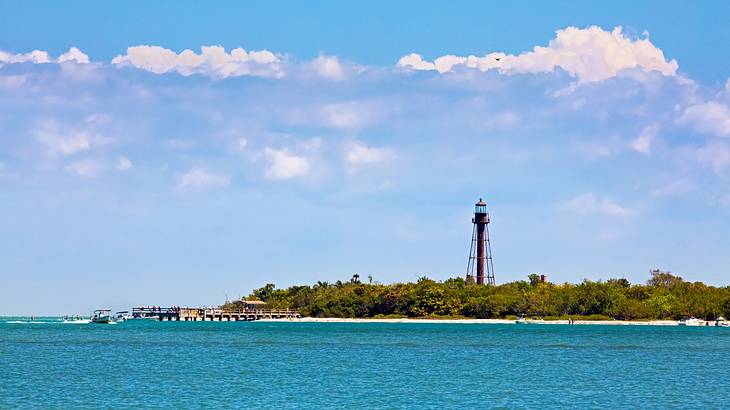 Experience a catamaran tour around Fort Myers
One of the best ways to see Fort Myers is from the water. If you want to treat yourself while taking in scenic views, book a Fort Myers catamaran sail.
You'll sail through the waters around Fort Myers Beach and Sanibel Island and will likely see marine life, like dolphins. Your captain can also offer information about the ecosystems of the places you pass by.
Take a picnic to Lakes Regional Park
Covering over 275 acres just north of downtown Fort Myers, Lakes Regional Park offers all sorts of fun activities for the whole family. Bikes and paddleboats are available to rent for a fun adventure.
Once you're done exploring the park, enjoy your picnic lunch at one of the many picnic locations on site.
Burn off energy at John Yarbrough Linear Park Trail
Looking for the perfect spot for a run or bike ride? The John Yarbrough Linear Park Trail is where locals come to sweat and enjoy the views.
One of the understated places to go in Fort Myers, this trail will delight with the canal nearby and bird-spotting opportunities.
Ring the bell at the Railroad Museum of South Florida
This is one of the great Fort Myers points of interest if you have young kids with you. The Railroad Museum of South Florida features a live steam scale locomotive and a brass bell that visitors can ring.
Make sure to stay and watch a video of the history of the park and railroad if you have time!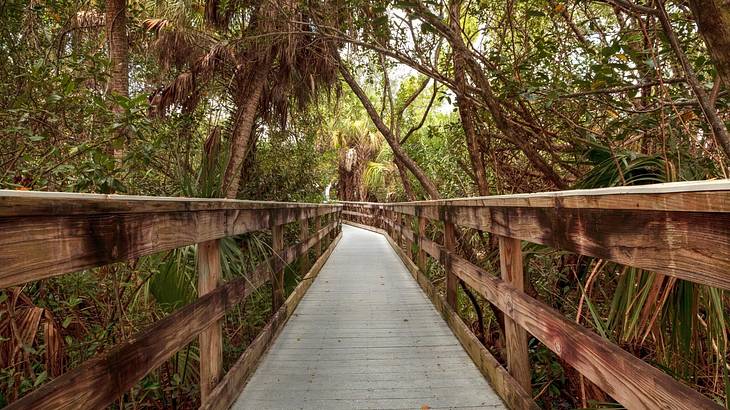 Enjoy the manatees at Manatee Park
Imagine a warm water refuge for the manatees that call Florida home. That's exactly what you'll find at Manatee Park, where dozens of Manatee flock for this warm water natural habitat.
Popular with both tourists and locals, the park also features picnic areas, a kid's playground, and trails to enjoy.
See a show at Barbara B. Mann Performing Arts Hall
Seeing a live performance is always a fun activity! Barbara B. Mann Performing Arts Hall is the largest proscenium stage in Southwest Florida, and a Fort Myers must do.
While enjoying the show, make sure to grab a drink or a snack at the full-service concession bars.
Walk the boardwalk at Six Mile Cypress Slough Preserve
The Six Mile Cypress Slough Preserve is a stop on the Great Florida Birding Trail and includes a nature center with interactive exhibits. While you're here, make sure you take a self-guided walk on the boardwalk.
There are several different types of trees and wildlife species here; you could spend the entire afternoon following the self-guided tour if you wanted.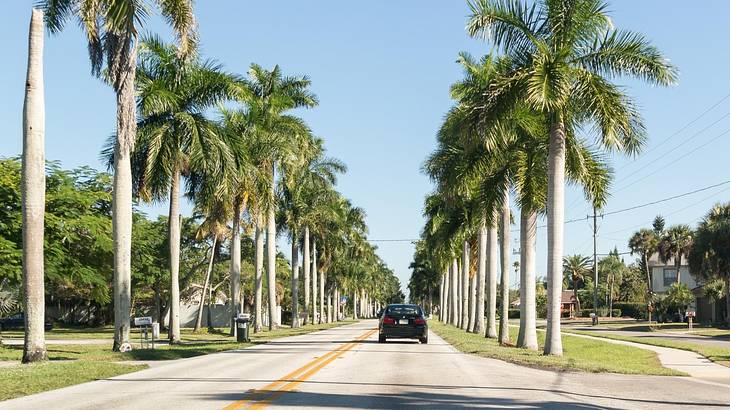 Take a drive down McGregor Boulevard
Experience the feeling of a Hollywood movie with this beautiful 2 lane road lined with palm trees. You'll see many beautiful houses and even pass by the Ford and Edison Estates on the route.
Roll the windows down, and be prepared to soak in all the scenery on this drive!
Dare to go on a Fort Myers ghost walk
Lovers of the paranormal and spooky stories may be interested in a haunted history walking tour. The tour takes place after dark and will take you to an array of Fort Myers sites that are linked to eerie events and are supposedly haunted. A few places to visit include the Florida Repertory Theatre and the Sidney & Berne Davis Art Center.
Catch a glimpse of the Gulf Coast Model Railroad
You'll be surprised that this model railroad is located in a retirement home, but it was created by a small group of residents who enjoyed making model railroads as a hobby.
This really great sight to see is a 43' by 41' Gulf Coast Railroad in the shape of Florida, which attracts thousands of visitors each year!
Go inside the Florida Native Butterfly Society
As a nonprofit organization, the Florida Native Butterfly Society operates a 3,100+ square foot glass butterfly house that hosts a variety of native butterfly species during the year.
This educational facility opens its doors to visits to learn more about native species and appreciate their beauty. Don't miss this butterfly paradise on your trip to Fort Myers!
Watch Spring Training at Jetblue Park
Jetblue Park is the primary spring training home of the Boston Red Sox and features the same dimensions as Fenway Park, including the "Green Monster" in left field.
The grounds also feature six additional fields and are the home field for a minor league team. Stop by and watch some games!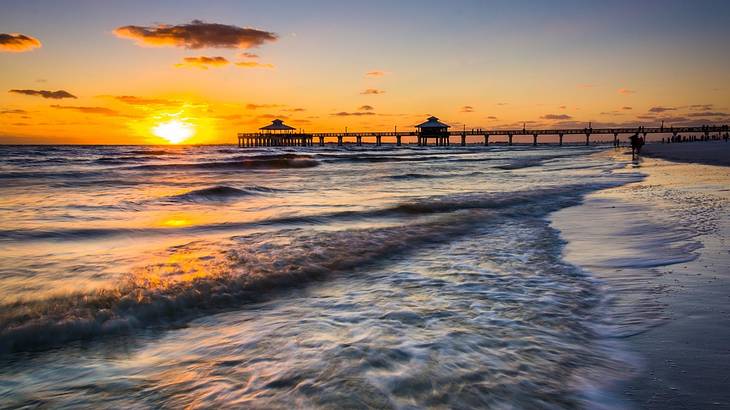 Relax on a Sunset Cruise
The beautiful coastline and exotic animals are a Fort Myers must-see, and what better way to enjoy them than with a sunset sailboat cruise?
Relax away from the day's stresses and take in the sunset from a new perspective on the water.
As you sail along the coast, appreciate the beaches, the water, and maybe you'll squeeze some birdwatching in.
Get curious at the Murder Mystery Dinner Train
What a unique experience this Murder Mystery Dinner Train offers guests! Get ready for a 5-course meal and a murder mystery show to entertain you throughout your dining experience.
You'll be on a moving train with beautiful views for over three hours for this great show.
Get sandy at Bunche Beach
A fun fact is that Bunch Beach Preserve is one of the few natural beaches with native vegetation and mangrove tunnels that kayaks can explore.
This 718-acre beach and mangrove forest preserve also features other recreational activities like swimming, fishing, and hiking. Don't miss out on another one of Fort Myer's great beaches! Book your Bunche Beach Guided Eco Tour Kayak here!
Rent a boat at Port Sanibel Marina
Port Sanibel Marina is located in Fort Myers, Fl, close to Sanibel Island. It is the perfect location to rent a boat, kayak, or canoe to have your own fun on the waters near Fort Myers.
You can also catch a fishing charter or an eco-tour here if that is also more up your alley.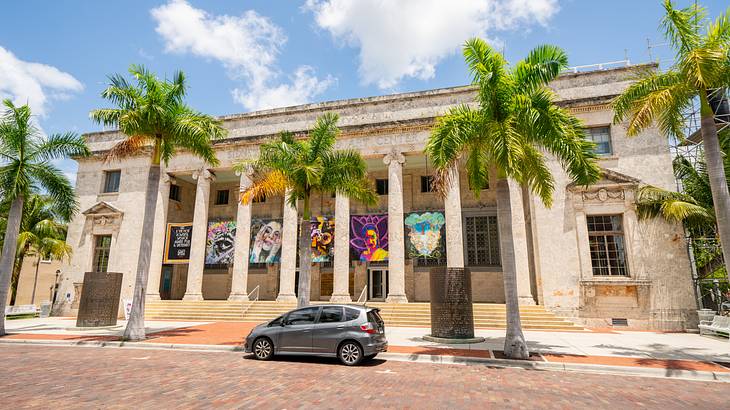 Appreciate art at Sidney & Berne Davis Art Center
The Sidney & Berne Davis Art Center is a beautifully restored building, but they also focus on bringing a wide range of events to the public in Fort Myers. The center hosts many events ranging from art exhibitions to galas.
Jump around at Defy Fort Myers
This all-ages activity is sure to be fun for the whole family! There are trampolines, foam pits, a ninja obstacle course, and more. Imagine practicing your parkour in the parkour pit or ziplining through the facility.
This is the perfect spot to have a little fun indoors with the entire family!
Experience Alliance for the Arts
Whether you love art or performance, the Alliance for the Arts has something for you! This nonprofit is a visual and performing arts center located in Fort Myers that offers a calendar of performing arts or live exhibitions. When looking for ​​fun in Fort Myers, this is a great stop!
Celebrate shells at the Bailey-Matthews Shell Museum
The area surrounding Fort Myers is known for being one of the best areas for shelling, and the Baily-Matthews Shell Museum showcases the beauty of shells for everyone.
This fun museum on Sanibel has educational opportunities for everyone in the family. Visitors can touch live mollusks or watch the Giant Pacific Octopus!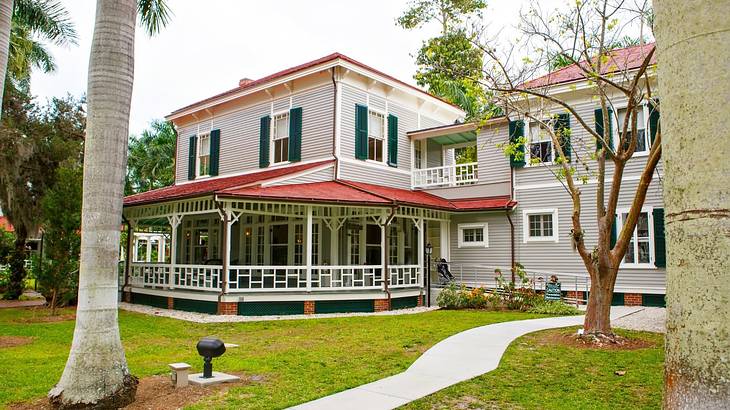 Take a tour of the Edison & Ford Winter Estates
The Edison and Ford Winter Estates date back to 1885 when the first estate, the Edison Estate, was built in 1886, followed by the Ford Estate being constructed in 1911.
When here, you'll see the museum and 21-acre garden on the site of the winter homes of both Thomas Edison and Henry Ford.
Spot manatees and dolphins on a paddleboard tour
Wildlife enthusiasts will be interested in going on a dolphin and manatee-watching kayak tour. The tour takes place about 45 minutes outside central Fort Myers around Big Hickory Island.
Once you hop on your paddleboard, your guide will take you to areas known to be home to dolphins and manatees. You can also get up close with other marine life, like sea turtles.
Spend the evening on a haunted pub crawl
A unique way to spend the evening in Fort Myers is by going on a haunted pub crawl. Like a regular pub crawl, you'll hop from bar to bar, getting drinks and meeting new people. However, between each spot, you'll hear about Fort Myers ghost stories and see haunted landmarks.
Conclusion
Fort Myers, Florida, is a great place to visit if you are interested in conservation, beach hopping, or outdoor activities.
It also has an abundance of family-friendly activities to excite people of all ages! Sports fans can even catch a spring training game while they are here. Fort Myers really has it all!
Give us feedback about this article
More visual stories related to this article:
---
---
Want to keep exploring?
Subscribe for discounts on tickets and hotels and our latest guides.
Thank you for subscribing
We will be in touch soon with discounts on tickets and hotels and our latest guides.
Want to keep exploring?
Subscribe for discounts on tickets and hotels and our latest guides.
Thank you for subscribing
We will be in touch soon with discounts on tickets and hotels and our latest guides.
Related Articles