20 Best Free Things to Do in Key West, FL
Destguides may receive commissions from purchases made through affiliate links in this article.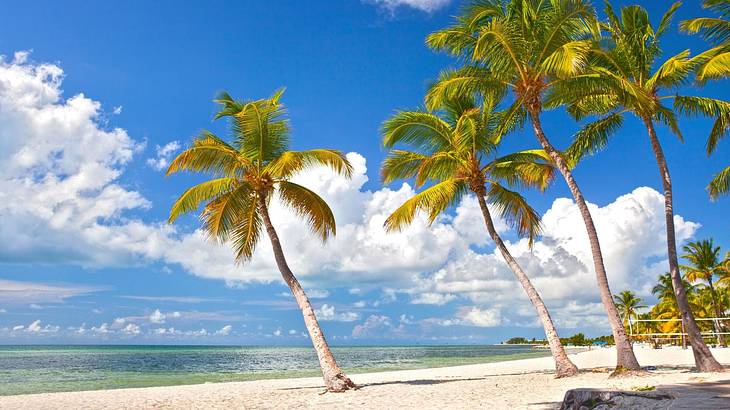 If you're planning a vacation in South Florida, visiting Key West is highly recommended. Located just three hours from Miami, the destination has incredible beaches, historical attractions, and unique activities to try.
Travelers on a budget will be pleased to learn that there's no shortage of affordable things to do in the area. Some of the best free things to do in Key West, FL, include having a beach day, sampling rum at the city's first distillery, and finding the US' Southernmost Point. To discover all of the fun and free things to do in this Florida Keys hotspot, read on!
20 Fun Things to Do in Key West for Free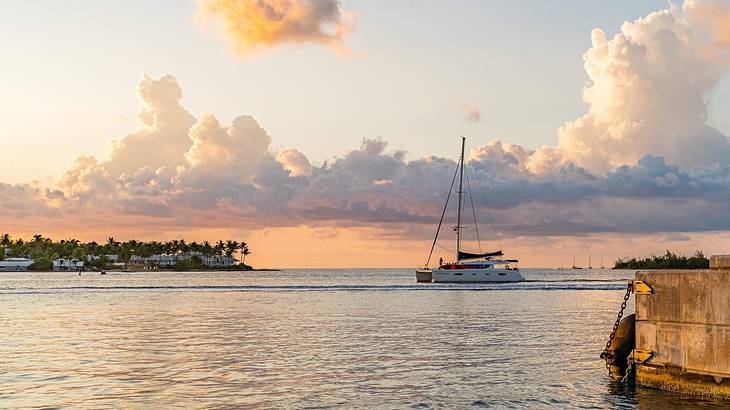 Go to the Mallory Square Sunset Celebration
Seeing the Key West sunset is an absolute must! One of the best places to do so is Mallory Square. This location has become so well-known as the go-to place to watch the sunset that a free event, called the Mallory Square Sunset Celebration, is hosted every night.
Just before sunset, any night of the week, head to Mallory Square to admire the pink and orange sky over the ocean. Various entertainers are often on-site too, including musicians and stunt performers.
Even if you're visiting the area quickly, going to the Mallory Square Sunset Celebration has to be on your Key West itinerary!
Explore the gardens at West Martello Tower
West Martello Tower is a Key West landmark that was constructed in 1862 and was added to the National Register of Historic Places in 1976. The historic structure is located near Higgs Beach and is home to the Key West Garden Club.
Due to the presence of the club on the site, you can discover beautiful gardens when visiting. These gardens have colorful plants, water features, and garden rooms. You'll also spot wildlife, like birds and butterflies. Best of all, admission to West Martello Tower and the gardens is free!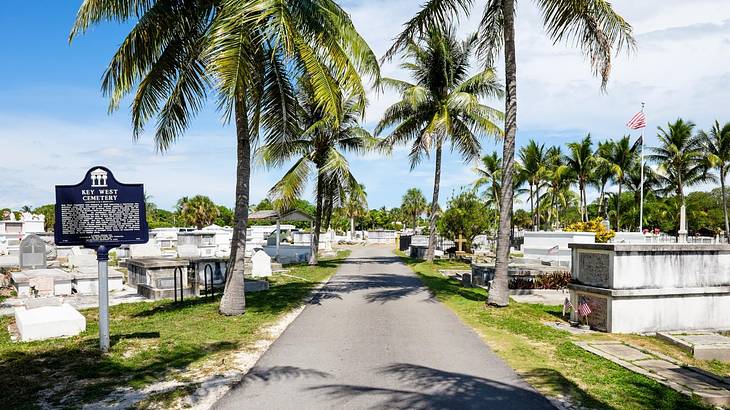 Walk around the Key West Cemetery in Old Town
One of the more unique free things to do in Key West, Florida, is walking around the Key West Cemetery. The burial ground was opened in 1847 and covers 19 acres.
An interesting Key West fact relating to the cemetery is that over 100,000 people are buried there. This number is more than three times the current population of Key West.
When in Old Town, you can visit the cemetery and walk around the grounds. As you do, you'll discover gravestones and tombs dating back to the 19th century. While going to a cemetery may seem odd, it's a popular tourist landmark, and walking around the greenery-filled area is quite relaxing.
Learn about animal rehabilitation at the Key West Wildlife Center
The Key West Wildlife Center is a not-for-profit center that houses wild animals in need of care and rehabilitation. While you cannot see all of the animals that are recovering, you can visit the center and interact with some animals that live there.
Creatures to see include pelicans, turtles, and eagles. You can also learn more about the wildlife center's work and mission. Entrance is free, but donations are welcome.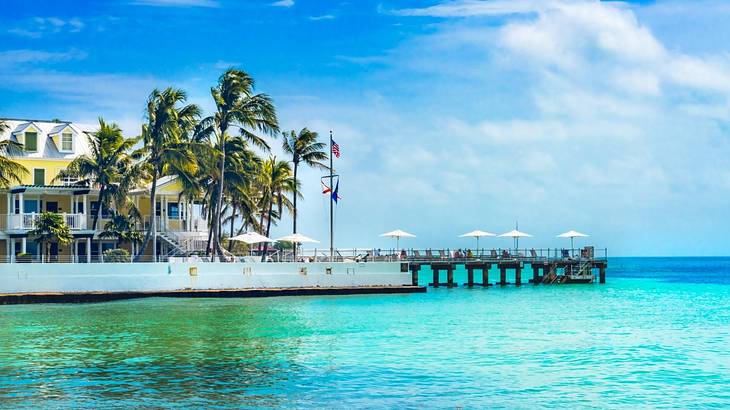 Relax under the sun on Higgs Beach
Relaxing on the many beaches in the area is definitely one of the best free activities in Key West. Higgs Beach, also known as Higgs Beach Memorial Park, is a great spot to check out. This beach features white sandy shores and warm, clear ocean water.
At the beach, you can swim, snorkel, or sunbathe and hang out on the sand. You may also see roosters wandering around and can discover lots of pretty shells. If traveling with children, there's a kids' playground at Higgs Beach too.
Taste local spirits at the Key West First Legal Rum Distillery
As the name suggests, this attraction was the first legal rum distillery in Key West. If interested in learning more about the Key West First Legal Rum Distillery, you can take a free tour of the facility.
Tours are offered daily and last between 15 and 20 minutes. During a visit, you can also try free samples of rum. Along with producing bottles of rum, the distillery makes rum cake and hosts mojito classes.
If you feel like spending a little, picking up a bottle of local rum or rum cake is highly recommended!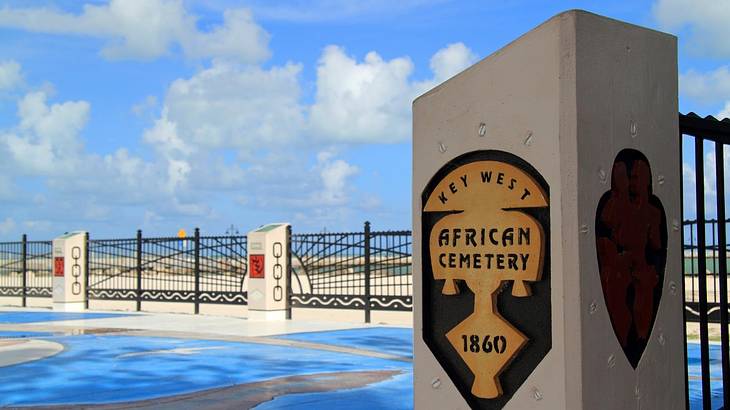 Pay respects at the Higgs Beach African Cemetery
The Higgs Beach African Cemetery is a historical site located on Higgs Beach that was discovered in 2002. The somber landmark pays respects to people who were brought to Key West as slaves but sadly died.
These individuals, and approximately 1,000 others, were rescued from a slave ship in 1860. Unfortunately, some of them did not survive the days and months after and were laid to rest at Higgs Beach.
At the cemetery, you can find some plaques offering more information on the burial ground and the lives of those who were buried there.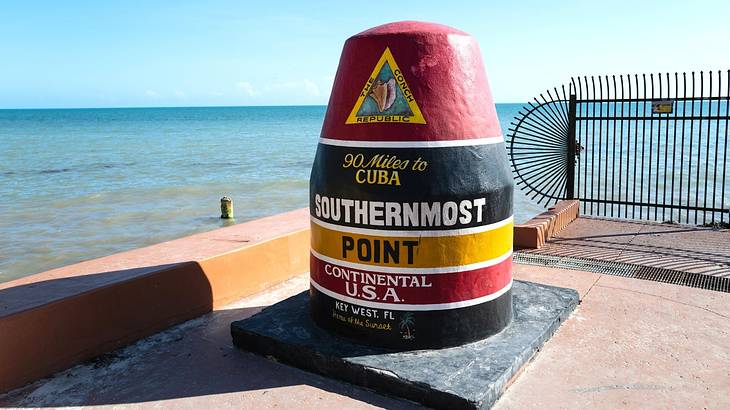 Find the Southernmost Point of the Continental United States
Key West is the southernmost city in the contiguous United States, and as such, you can see the location of the Southernmost Point in the US when visiting. This point is located between Whitehead Street and South Street.
You can easily identify the point as it's designated by a large marker. While there isn't much to do in this area, seeing the Southernmost Point is a must! And, of course, visiting this Key West landmark is also free.
Visit the Florida Eco Discovery Center
Another of the exciting Key West attractions to check out is the Florida Eco Discovery Center. Key West and the rest of the Florida Keys are known for being home to a wide array of wildlife. At the Florida Eco Discovery Center, you can learn more about the plants and animals living in the area.
Things to see include a living reef exhibit and an underwater ocean laboratory. You'll also learn about wildlife conservation efforts in the Keys, among other topics. Admission to the center is always free, as is parking.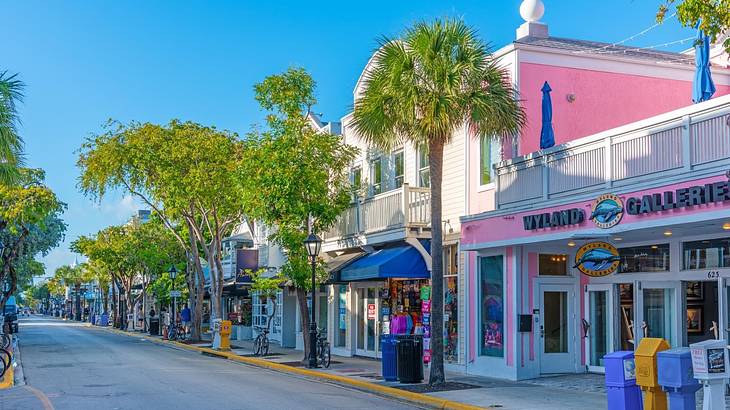 Window shop on Duval Street
Another of the free things to do in the Keys is walking along Duval Street. This bustling street has lots of shops and restaurants, as well as colorful buildings and unique architecture to admire.
As you walk along, you can stop in the independent stores to browse their offerings. Outlets sell a range of goods, including clothing, souvenirs, and decor items. You'll most likely see chickens wandering around the area too, and there are often street performers to watch.
Watch the sunrise at Rest Beach
While many flock to watch the sunset in Key West, the sunrise is just as beautiful. Rest Beach is one of the best places to do so. Also known as C.B. Harvey Park, the beach has soft sand and is one of the top places to go shelling in the city.
If you can wake up early, head down to the beach just before sunrise to witness the sky turn stunning colors above the ocean. Once the sun has risen, you can wander along the seashore, enjoying the peace and quiet and the ocean views.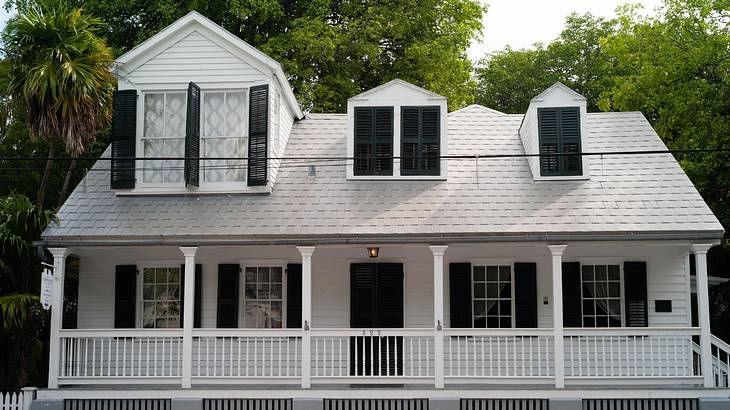 See the Oldest House in Key West
One of the interesting things to see in Key West for free is the city's oldest house and gardens. The home was built in 1829 and is located on Duval Street. Today, this landmark in Florida acts as a house museum.
There is an admission fee for the museum. However, entry is free for members of the Old Island Restoration Foundation. If you don't want to pay for entrance to the museum, still make time to walk past the house. It's an iconic Key West structure that's well worth seeing!
Spend the day at South Beach
Another of the beaches to visit in Key West is South Beach. Located in the southern part of Key West, close to the Southernmost Point, the small beach has sandy shores to hang out on.
The water here is also very calm and shallow, making it ideal for swimming. The calm conditions are perfect if traveling with children too, as they can play in the water safely. If you can stay until later in the day, South Beach is additionally a good place to watch the sunset.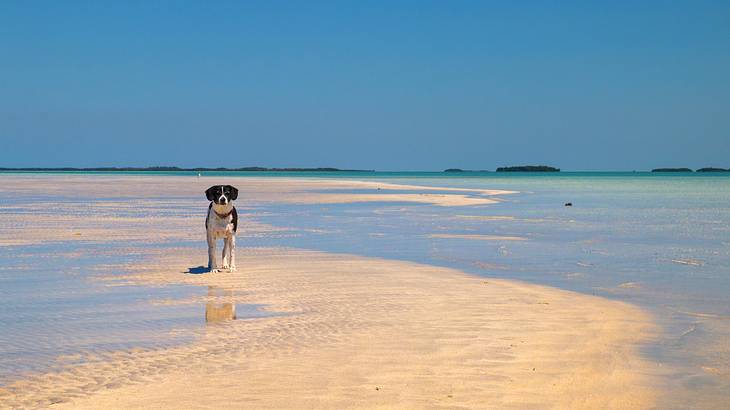 Take your canine pal to the dog beach!
If you're traveling with your dog, you can find a few dog beaches to take your fluffy friend. The most popular one is the Key West Dog Beach, which has lots of space for your dog to run around and play. They can go for a swim in the ocean too.
Higgs Beach is also dog friendly and has a dog park area. Even if you don't have a dog, you can visit the dog beaches for free and hang out on the sand as you watch the cute pups!
Party at Fantasy Fest
Make sure to check out Fantasy Fest if you visit Key West in October. The ten-day event is a street party that features live music, parades, and other activities.
Started in 1979, the party attracts hundreds of visitors each year. Many say it resembles Mardi Gras in New Orleans, and the vast majority of events and shows are free to enjoy.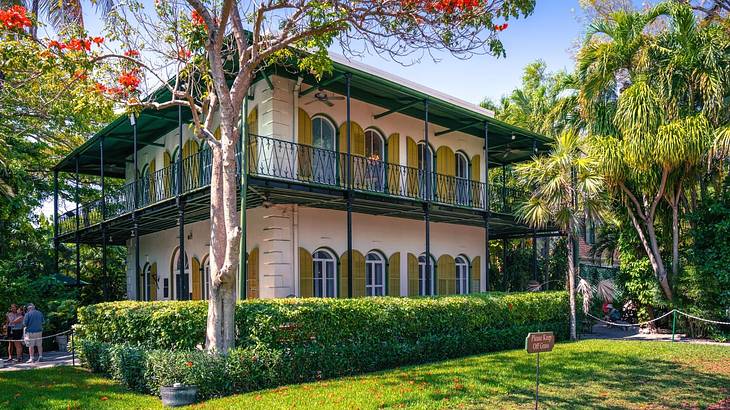 Discover landmarks on the Key West Historic Marker Tour
If you're visiting for the first time, one of the best things to do for free in Key West is going on a self-guided Key West Historic Marker Tour. The free tour guide is easy to download and is provided by the Key West Art & Historical Society.
Once you've downloaded the guide, you'll have access to a map with 121 historic location markers. Which ones and how many you visit is up to you. Each location is of historical significance and pays homage to Key West's history and culture.
Interact with animals at the Sheriff's Animal Farm
One of the Key West free attractions that's perfect for kids is the Sheriff's Animal Farm. Also known as the Monroe County Sheriff's Office Animal Farm, the petting zoo houses animals that were rescued or abandoned.
Some of the creatures to see include cows, foxes, lemurs, and goats. During a visit, you can learn about each animal's story. Kids can also pet the animals and feed them.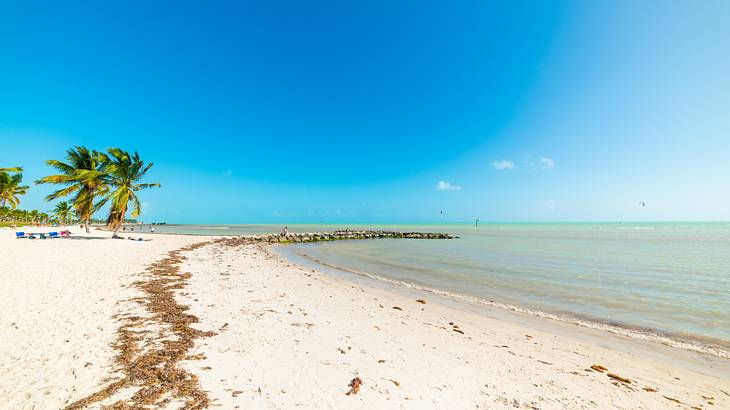 Swim, snorkel, and more at Smathers Beach
Smathers Beach is the largest beach in Key West at about a mile and a half long. The beach has soft sand and calm waters. Activities to enjoy here include sunbathing and playing volleyball. Simply walking along the shore is a great idea as well and allows you to admire your tropical surroundings.
This location is also another great spot to swim and snorkel, although the number of fish you'll see varies. The best time to plan your Key West trip to enjoy ideal snorkeling conditions is in the winter or spring.
The low levels of rainfall during these periods keep the water extremely clear, allowing you to see lots of marine life. The beaches will also be less crowded than during the summer.
Try samples at Kermit's Key West Key Lime Shoppe
Key West is known around the world for its namesake limes and Key lime pie. The most popular place to get a slice of Key lime pie, and other Key lime baked goods, is at Kermit's Key West Key Lime Shoppe.
The bakery has two locations in Key West, both of which offer free samples. Treats to try include their iconic pie, Key lime cookies, and Key lime bars. If you feel the need to indulge and buy some sweet treats, the prices are very reasonable.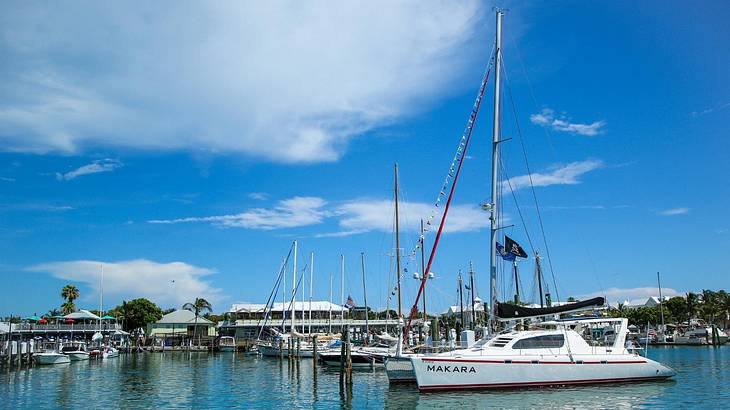 Look around the Key West Historic Seaport
Having been a global maritime base for hundreds of years, it's no surprise that Key West has a spectacular marina. The seaport offers ocean views and scenic walking paths.
When in the area, you can wander around, admiring the vistas and watching boats and yachts coming into and leaving the port. The Key West Historic Seaport is another of the top places to watch the sunset too.
In Summary
There are numerous fun and memorable things to do in Key West, Florida, for free. From visiting wildlife centers to hanging out on the beach and tasting rum and Key lime pie samples, this tropical destination has an affordable activity for everyone!
Give us feedback about this article
More visual stories related to this article:
Want to keep exploring?
Subscribe for discounts on tickets and hotels and our latest guides.
Thank you for subscribing
We will be in touch soon with discounts on tickets and hotels and our latest guides.
Want to keep exploring?
Subscribe for discounts on tickets and hotels and our latest guides.
Thank you for subscribing
We will be in touch soon with discounts on tickets and hotels and our latest guides.