The Most Perfect 3 Days in Miami Itinerary
Destguides may receive commissions from purchases made through affiliate links in this article.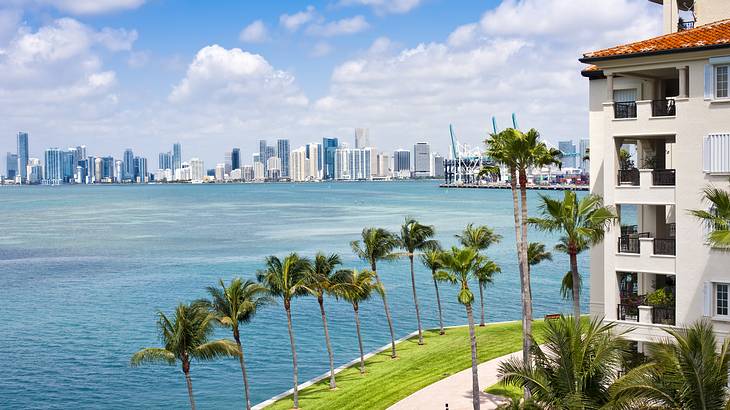 Miami has something for everyone. Whether you're a foodie, a beach bum, a night owl, or all three, there's plenty here to keep you coming back. That said, it's easy to be overwhelmed by all of the options if you don't have much time.
This 3 days in Miami itinerary is the perfect answer for anyone planning a long weekend or extending a layover at Miami International Airport to explore the "Magic City." Continue reading to learn more!
3 Day Miami Itinerary
Miami Beach and the Art Deco Historic District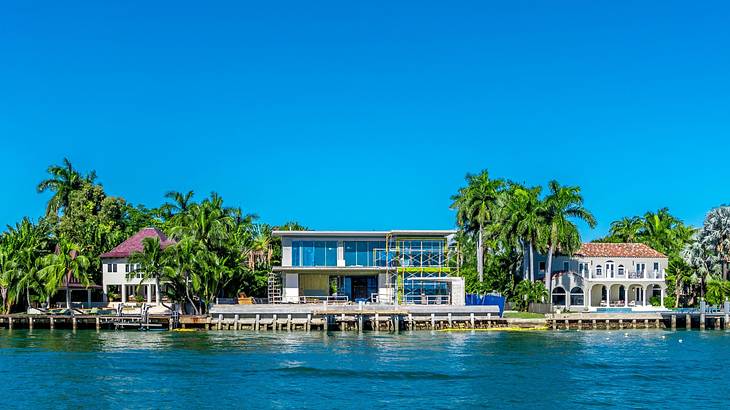 For your first day in Miami, there's no better place to start than Miami Beach. Connected by bridges to the mainland, the Miami Beach area is known for its Art Deco architecture, shopping, beaches, and nightlife.
While it is recommended to either pick the first or second activity for the morning, both have been included so you can make your own choice depending on your preferences and time.
Miami Beach Botanical Garden
Start your first day away from the hustle and bustle of the city with a visit to the Miami Beach Botanical Garden. It's open from 9 AM until 5 PM, Tuesday through Sunday, so you may need to rearrange this if you begin your stay on a Monday.
If you happen to be there on a Saturday, you can join one of the guided tours that starts at 11 AM. If you would prefer to show yourself around, general admission is $5, and you can enjoy the water features, an edible garden, flowering trees, and colorful orchids at your own pace.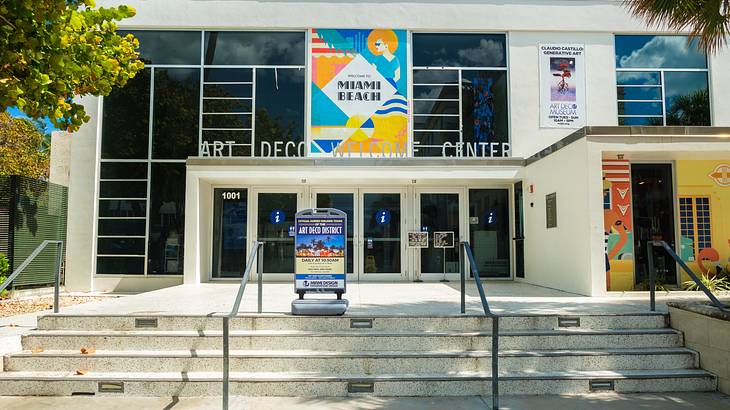 Art Deco Welcome Center
Next, on your 3-day trip to Miami, make your way to the Art Deco Welcome Center and Museum for a wealth of information on the city's architectural history, including the Art Deco, Mediterranean Revival, and Miami Modern (MiMo) styles.
You can sign up for their two-hour guided walking tour and have expert information at your disposal.
Walking tours begin at 10:30 AM from Friday through Monday and should be booked in advance due to their popularity and the limited number of people allowed per tour. This lines up well for anyone planning a 3 day trip to Miami.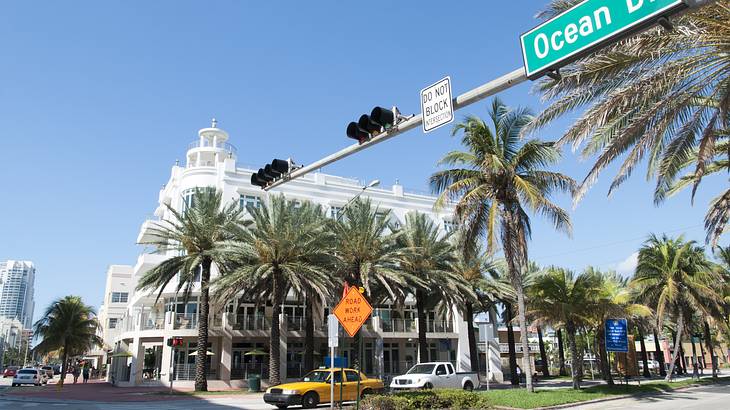 Ocean Drive
Ocean Drive is part of the Miami Design District, packed with Art Deco buildings. It's on the Art Deco walking tour and is also an excellent opportunity to take a break, grab a bite, and people-watch.
Most Miami restaurants along the world-famous promenade provide climate-controlled outdoor seating, allowing you to get a break from the southern Florida heat while still getting to see and experience what you came for.
Ocean Drive is a great place to return to for nightlife and salsa dancing, especially if you're visiting Miami on a romantic getaway or looking to meet new people.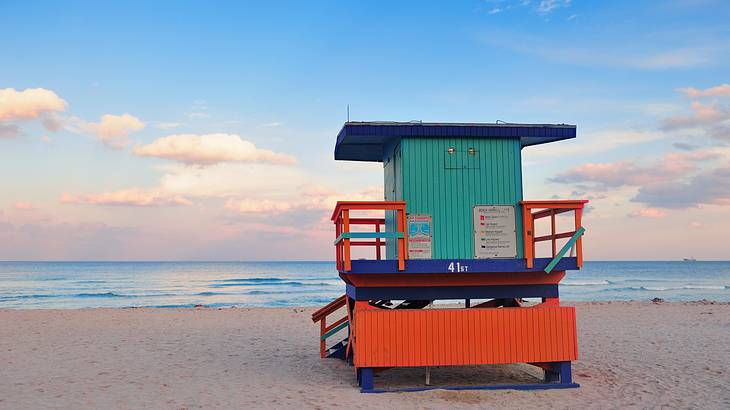 South Beach
After feeling refreshed from your stop on Ocean Drive, it's time to head to South Beach's four miles of white sands for an afternoon of sun and surf. If you've been out all day and don't want to return to your hotel or lodgings for your own equipment, there's plenty to rent along this public beach.
Snag a chair and an umbrella from one of the many vendors and then find your spot to enjoy the lapping of turquoise waves, an ocean breeze rustling through the palm trees, and the art deco lifeguard stands that dot the beach.
If you're unsure of when to visit Miami for the perfect beach vacation, spring is generally the best option. It's sunny, and the water is warm but not overly humid. Hurricane risk is also low.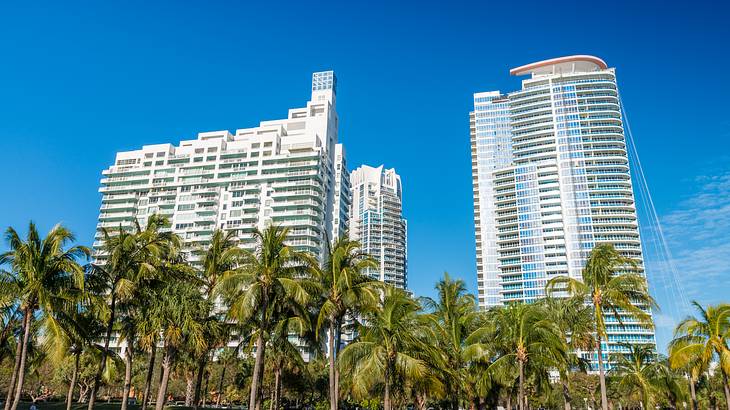 South Pointe Park
You can end the first day of your itinerary for Miami, Florida, at the southernmost part of South Beach called South Pointe Park. Here, you can enjoy some greener spaces and cool off a bit in the Splash Pad water playground.
The South Pointe Pier extends about 450 feet off the island's tip and is a great place to be at sunset for panoramic views of the beaches and city skyline. You can book a boat tour or rent a jet ski while the light lasts, or relax and wait for the neon lights to announce South Beach's vibrant nightlife.
Around Miami: Biscayne Bay and the Everglades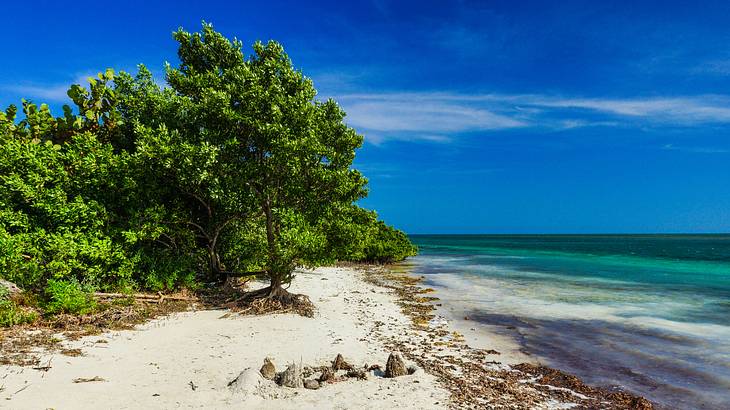 For day two of your Miami 3-day vacation, you'll be exploring the incredible natural beauty of the surrounding area. Southern Florida's unique climate and ecosystem make it a place unlike any other in the United States, and your trip won't feel complete without branching out a bit to some nearby national and state parks.
To make the most of your time in the national parks, it is best to pick one of the two: Biscayne National Park or Everglades National Park.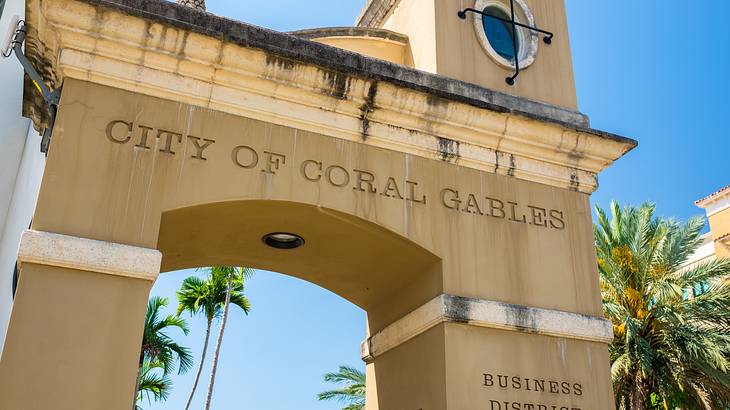 Coral Gables Merrick House
On your way out of town, make a short pitstop at Coral Gables Merrick House. Coral Gables, Florida, is a planned city that sprang from the City Beautiful Movement of the early 1900s. This movement emphasized the livability of cities for their residents and called for urban beauty for its own sake.
In Coral Gables, real-estate developer George Merrick realized this vision, whose house has now been converted into a museum.
Merrick also founded the University of Miami in this city, whose mascot is ironically the "Hurricanes," even though it was a series of actual hurricanes - along with the Great Depression - that halted Merrick's expansion of Coral Gables.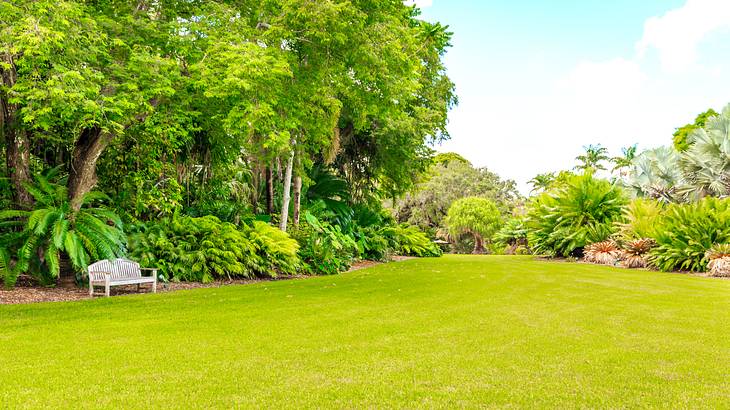 Fairchild Tropical Botanic Garden
Continuing away from downtown Miami, your next stop is Fairchild Tropical Botanic Garden, a sprawling 83-acre paradise of tropical flora with two miles of paved walking areas for visitors to weave through.
The estate boasts twenty-five distinct exhibits. You'll need about two hours to enjoy it without rushing. A small sampling of its beautiful collection includes an organic vegetable garden, a tropical fruit pavilion, a butterfly garden, and a conservatory for the Florida Keys coastal habitat.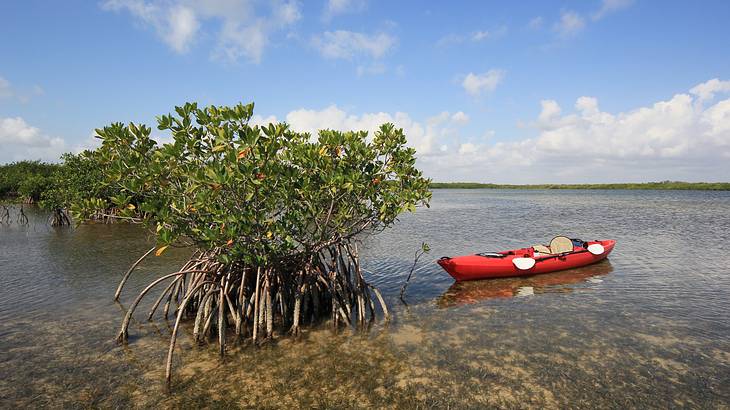 Biscayne National Park
For the next stop on your Miami 3-day itinerary, keep heading south to see the magnificent Biscayne National Park, home to the first of Florida's keys. The entrance is about a forty-minute drive from Fairchild Botanic Garden, but with about 95% of this park's 173,000 acres underwater, you'll need to leave the car behind to go exploring.
You can book a boat tour to explore the shallow bay, go snorkeling to spot some manatees or hop in a canoe to weave through the mangrove forests.
The submerged mangrove roots and shallow waters provide an ideal habitat for lobsters, nesting birds, and pelicans, and keep your eyes peeled for the American crocodile.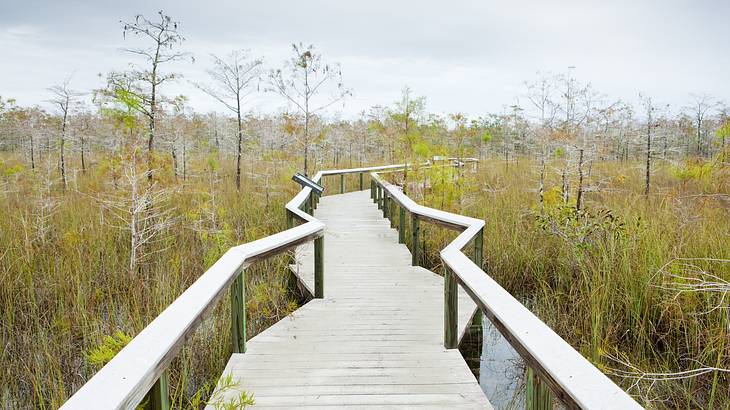 Everglades National Park
For the rest of the afternoon, grab some food and snacks and drive west through the expansive Everglades National Park, one of the best National Parks in the eastern United States.
The Ernest F. Coe Visitor's Center is about a half-hour away from Biscayne National Park by car, but the park extends all the way to Florida's gulf coast. You can often find alligators sunning along the highway, so drive carefully and observe them from at least twenty feet away if you see one while out of your vehicle.
In the park, you can go fishing or take an airboat tour of the wetlands, and there are campgrounds available if you want to stay the night and head back to Miami in the morning.
Mainland Miami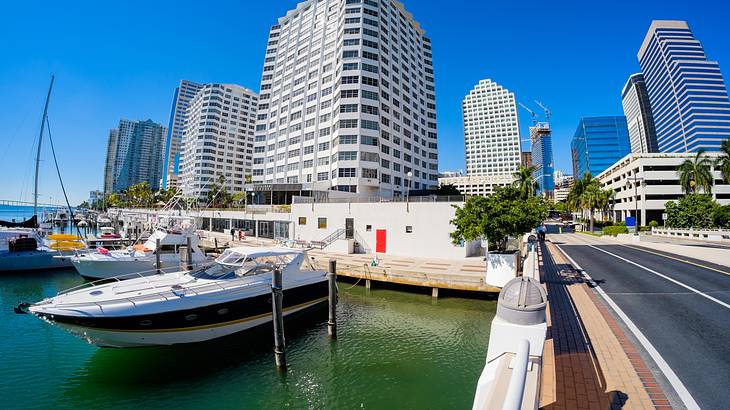 For the final day of this 3-day Miami trip itinerary, you'll explore the mainland part of the city in and around Downtown Miami. While this day is jam-packed, all items have been included to give you options, so modify this itinerary for yourself as needed. For example, you can omit the last stop - Bill Baggs Cape Florida State Park.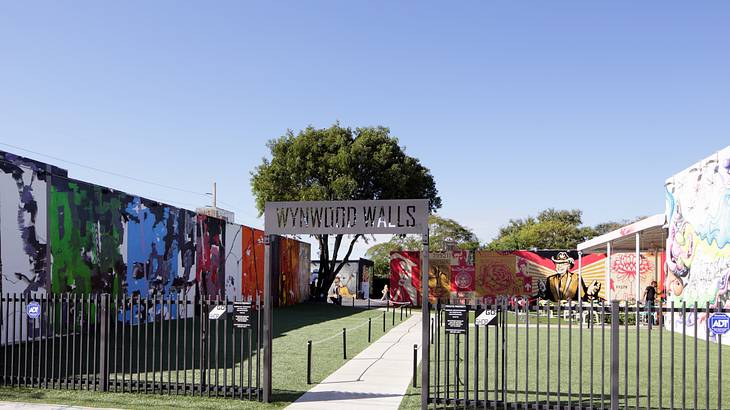 Wynwood Walls
Start your day at Wynwood Walls, an outdoor urban art installation that has revitalized the Wynwood warehouse district. Real-estate developer Tony Goldman bought these neglected, windowless buildings after seeing their potential for street art. Starting in 2009, he commissioned graffiti artists to use them as their canvases.
The Wynwood Walls are perhaps less famous than Miami's Art Deco District. However, their notoriety has still attracted artists from around the world, including Mexico, France, and Japan. The installation now covers over 80,000 square feet of walls.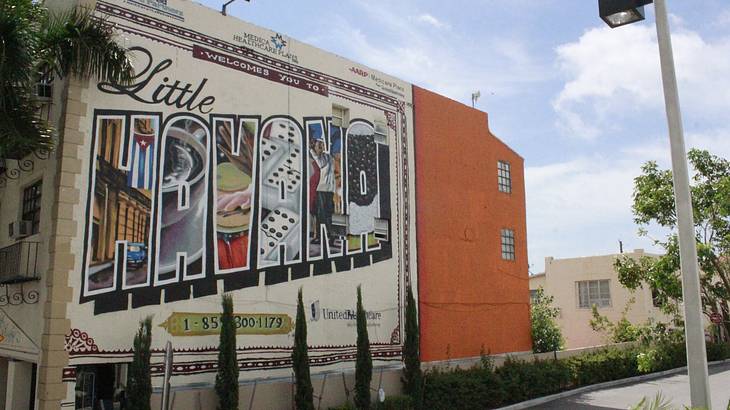 Little Havana
Next, explore Little Havana. This vibrant neighborhood, where many migrants from Cuba have made their new home, is one of the most popular Miami sights to see, and your stomach will thank you.
Take a stroll down Calle Ocho and pop into a restaurant to enjoy a Cubano sandwich, empanada, or pastelito de guayaba on a Little Havana food tour. If you are vegan or don't eat gluten, no worries, there are plenty of vegan options in Miami.
Cigar lounges, live music, and a walk of fame also populate the boulevard and invite tourists and locals to celebrate Cuban and Latino culture in the United States.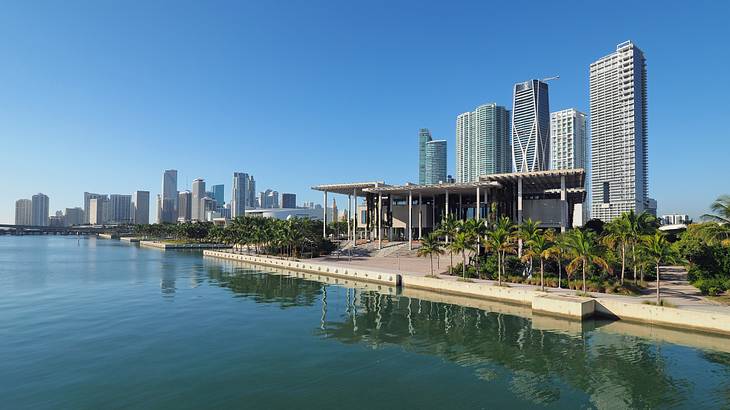 Perez Art Museum Miami
With a full belly and perhaps a mojito-induced buzz, there's one more art museum that you need to visit before leaving Miami. The Perez Art Museum Miami (PAMM) showcases modern and contemporary art from around the world.
The museum's permanent and temporary exhibitions feature the U.S. Latino experience and perspectives from Latin America, the Caribbean, and the African diaspora.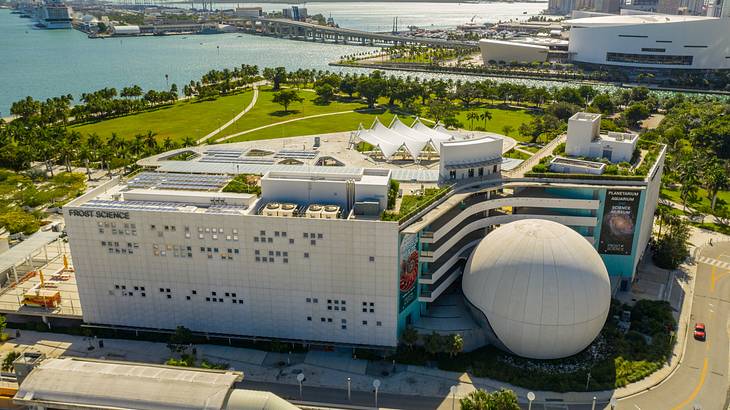 Phillip and Patricia Frost Museum of Science
Almost next door to PAMM is the Phillip and Patricia Frost Museum of Science. With a planetarium, aquarium, and interactive STEM exhibits, this stop is more of an experience than a museum.
They also have special events, renowned presenters, and educational camps, so be sure to check the calendar on their website to see what's going on while you're there.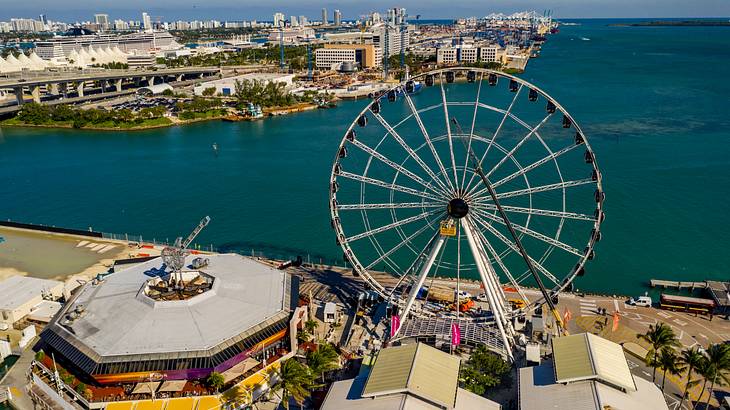 Bayside Marketplace
After enriching yourself at the museums, take a twenty-minute walk, or a five-minute drive, to Bayside Marketplace for some more food, shopping, and people-watching opportunities. There are two floors, twelve restaurants, and 150 shops to choose from in this open-air market.
You can also get a bird's-eye view of Miami on the nearby 200-foot observation wheel, catch-free live music, and go out for a boat ride from this waterfront stop.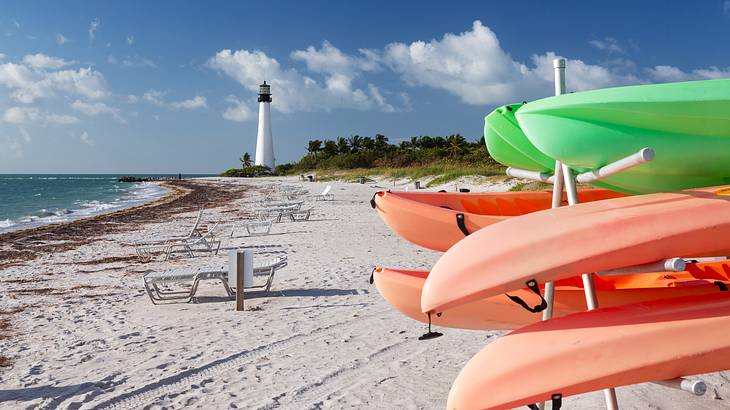 Bill Baggs Cape Florida State Park
Finally, end your Miami 3 day itinerary with a trip to Cape Florida State Park on Key Biscayne. After paying an $8 fee per vehicle to enter, you'll have until sunset to enjoy the park's beaches, walking trails, and parks.
If you're a lighthouse enthusiast, you can move this stop earlier in your day to catch one of the free tours of Cape Florida Lighthouse that are offered at 10 am and 1 pm, Thursday through Monday.
This famous Miami landmark is the oldest surviving structure in the region, and visitors over forty-two inches tall can ascend the 109 spiraling stairs to the observation deck.
In Conclusion
This is the best Miami itinerary that you can squeeze into a long weekend, but it's hard to see Miami in 3 days.
You can always slow down your pace by spending more time in this unique city full of subtropical charm, but it's hard to imagine a trip here without making it to each of the above destinations. Have a great time!
---
---
Want to keep exploring?
Subscribe for discounts on tickets and hotels and our latest guides.
Thank you for subscribing
We will be in touch soon with discounts on tickets and hotels and our latest guides.
Want to keep exploring?
Subscribe for discounts on tickets and hotels and our latest guides.
Thank you for subscribing
We will be in touch soon with discounts on tickets and hotels and our latest guides.
Related Articles