20 Fun Things for Couples to Do in Miami, Florida
Destguides may receive commissions from purchases made through affiliate links in this article.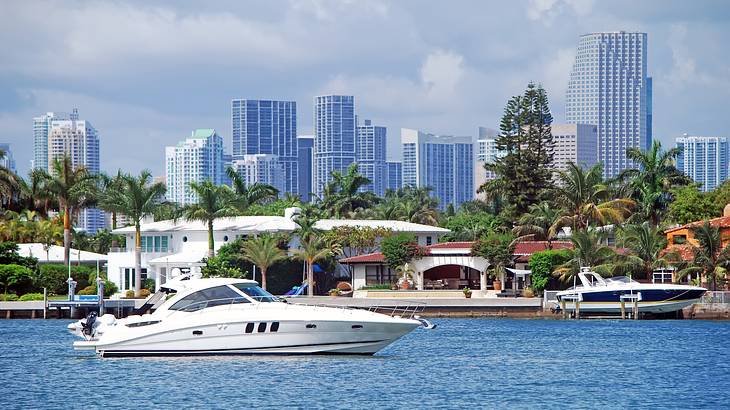 Miami is a trendy and exciting destination in South Florida. This iconic vacation spot is known for its incredible beaches, luxury shops and restaurants, and retro vibes. Miami is a must-visit location for all types of travelers, including couples.
No matter what interests you and your partner have, you'll find many fun things for couples to do in Miami, Florida. Activities range from beach yoga and Latin dance classes to exploring national parks and getting out on the water. Before you finalize your Miami itinerary, be sure to check out this list of 20 must-do things for couples.
20 Fun Couple Things to Do in Miami
Things to Do in Miami, Florida, for Couples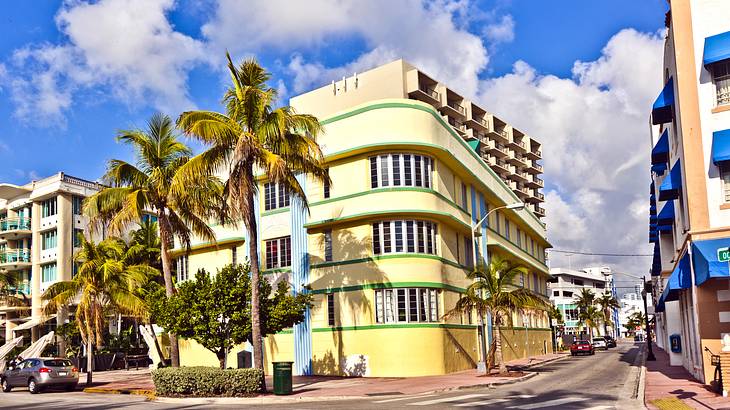 Discover the Art Deco District on a walking tour
The Art Deco District is one of the coolest places in Miami, Florida. The best way for you and your partner to see all that this area has to offer is by going on an Art Deco District walking tour.
On the tour, can see the area's most stunning Art Deco buildings and learn more about the architectural designs and the preservation of the district. You'll also get access to the Art Deco Museum.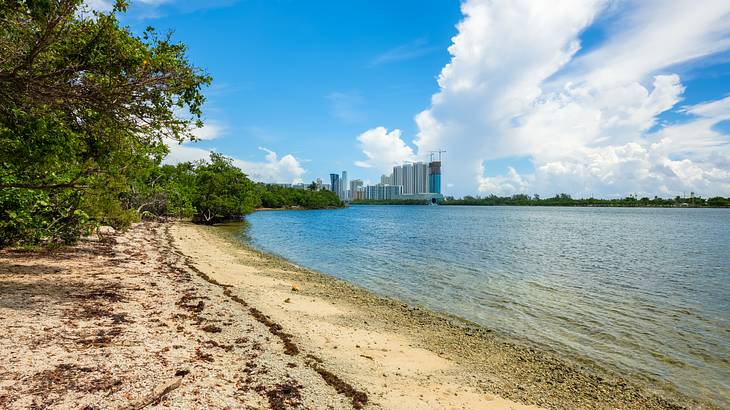 Be adventurous at Oleta River State Park
Oleta River State Park is just 30 minutes from Downtown Miami. So if you and your other half enjoy outdoor activities, going to Oleta River State Park is a must.
At the park, you can hike trails, follow off-road biking paths, and explore mangrove forests. If you want to extend your visit, you can stay overnight. Both camping spots and rustic cabins are available to book.
While the weather is always beautiful in this area of Florida, the best time to visit Miami to explore outdoor attractions like Oleta River State Park is between December and March. The weather is sunny and dry but not too humid; perfect for hiking and biking!
Interact with animals at the Zoological Wildlife Foundation
Miami Zoological Wildlife Foundation (ZWF) is an appointment-only zoo offering hands-on interaction with animals. Visiting the zoo is an exciting and memorable experience to share with your partner, especially if you're both animal lovers.
Animals at the zoo include lion cubs, jaguar cubs, various primates, sloths, and more. This foundation specializes in rescuing at-risk animals and spreading awareness about endangered species. As a sustainable and conservation-based zoo, all proceeds go to wildlife protection and education.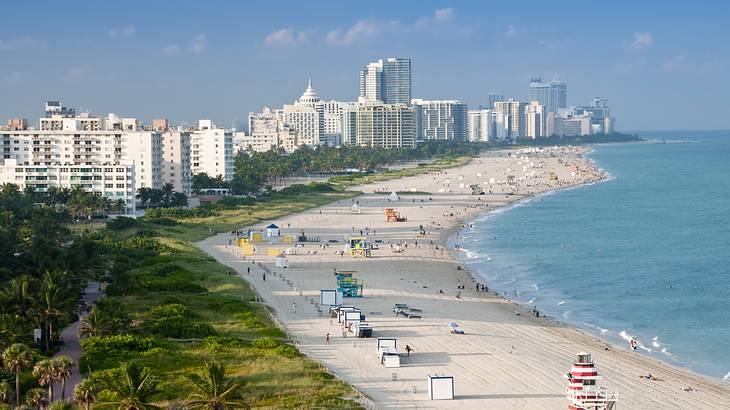 Parasail over Miami Beach
Miami Beach is one of the most famous landmarks in Miami. Visiting this iconic island neighborhood is a must, and parasailing in the area is one of the super fun things to do as a couple in Miami.
This activity is an ideal combination of adventure activity and tourist sightseeing. Once in the air, you'll enjoy views of Biscayne Bay, Coconut Grove, and the Miami skyline before returning safely to land with lifelong memories.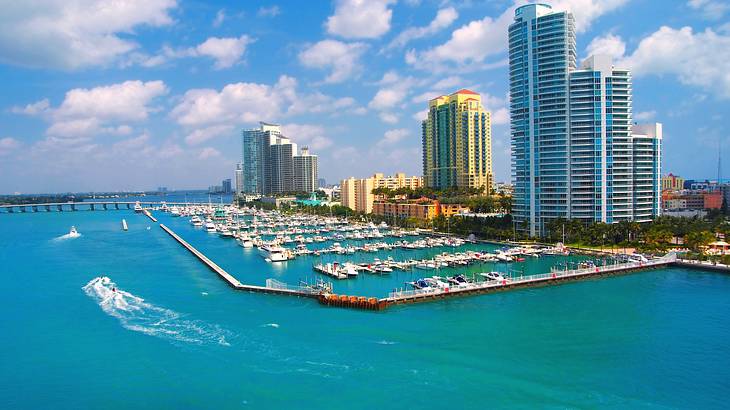 Get a taste of South Beach on a food tour
South Beach is a neighborhood in Miami Beach known for high-end shops, restaurants, and hotels. One of the most interesting things to do in the area is experiencing a South Beach food tour. The tour is led by a local guide who will take you to eateries serving various cuisines, from Italian and French to Cuban and Peruvian.
Departing from Ocean Drive, you'll visit restaurants and cafes on Lincoln Road, in the Art Deco District, and on Espanola Way. Along the way, you can learn more about each area you visit as well as tasting incredible dishes.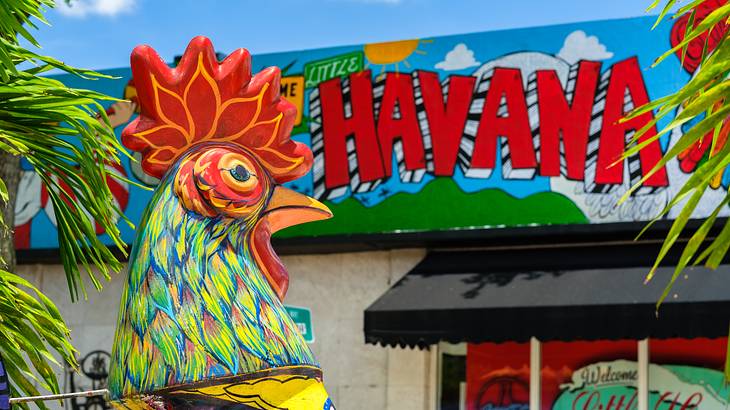 Dive into the culture of Little Havana
Little Havana is an exciting part of Miami, influenced by Latin, primarily Cuban, culture. While you can find many Latin influences across the city (it even has the Miami nickname, the Capital of Latin America!), the most popular area to experience Latin culture is Little Havana.
This part of the city features delicious restaurants, unique shops, and a vibrant and friendly vibe. The perfect way to explore this neighborhood and really learn about the area's culture is by taking a Little Havana tour.
There are a variety of tours to choose from, but most will offer background on the area and take you to the trendiest food outlets, stores, and other attractions. No matter what tour you take, falling in love with Little Havana is almost guaranteed!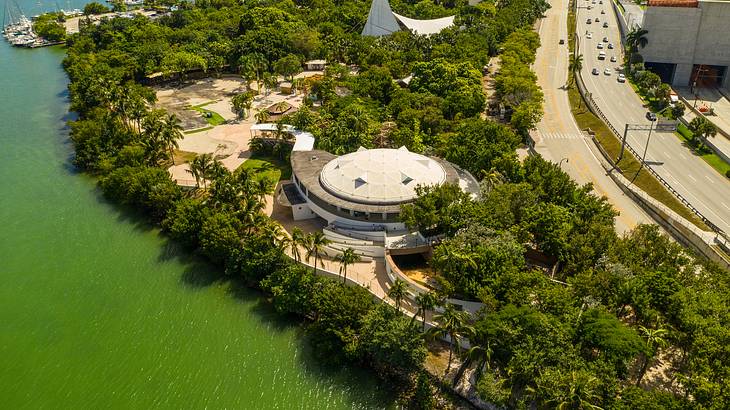 Spend the day at Joia Beach on Jungle Island
Jungle Island is an eco-theme park on a small island between Miami Beach and Downtown Miami. Along with checking out the theme park, one of the best things to do for couples in Miami is to spend the day at Joia Beach, a beach club and restaurant.
This beach club is like a little bit of paradise in central Miami. At the club, you can relax on the white sand beach and eat at the stylish beachside restaurant. Dishes to order include octopus carpaccio, watermelon and arugula salad, and burrata pizzetta. The club also hosts fun weekly events, like happy hours with DJs and live music.
Transport yourself to the Mediterranean at Vizcaya Museum and Gardens
A trip to Vizcaya Museum and Gardens, located in Coconut Grove, will make you and your other half feel as though you are in the Mediterranean instead of Miami. The Italian-style villa estate acts as a museum, showcasing artworks, antique furniture, and perfectly manicured gardens.
Having taken in the luxurious and opulent mansion, you can explore the stunning gardens that feature roses, orchids, water features, and more. This location is also the ideal spot to take some cute photographs together.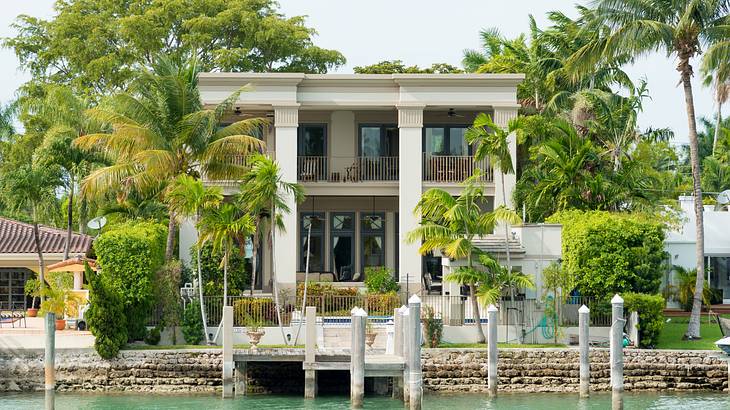 Cruise around Biscayne Bay
Miami is full of beautiful waterfront neighborhoods, and another fantastic part of the city to check out is Biscayne Bay. While in the area, one of the most romantic things to do in Miami for couples is going on a Biscayne Bay cruise.
You'll sail past a range of Florida landmarks and multi-million dollar waterfront homes on Star Island. You can choose a cruise that runs during the day or take a sunset trip for the ultimate romantic experience.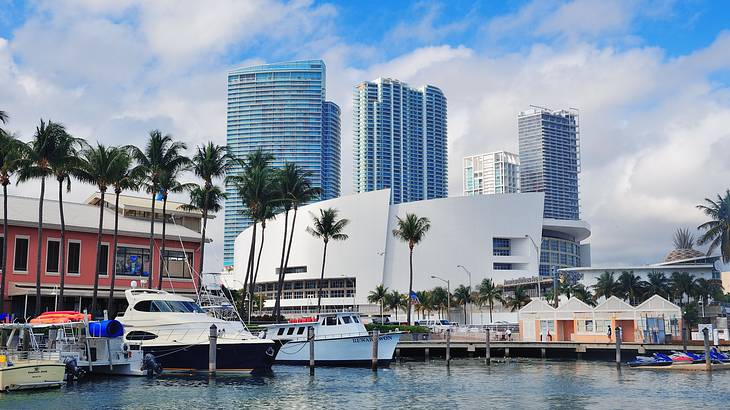 Shop and eat at the Bayside Marketplace
While in the Biscayne Bay area, a trip to Bayside Marketplace is a must. This open-air shopping mall and dining complex is one of the most visited attractions in Miami and features an array of chain and independent shops to check out.
Once you and your partner are finished shopping, you can stop for food and drinks at one of the numerous waterfront eateries. Enjoying the views of Biscayne Bay with your meal is the perfect way to finish your visit to the marketplace.
Learn to dance salsa and bachata
You and your partner can have an amazing night of Latin dancing by taking salsa and bachata lessons. Your lessons will take place in the Mojito Room at Miami's Mango's Tropical Cafe. Once at the club, you'll be taught how to do these romantic Latin dances.
Live music will play as you show off your new dance moves, and mojitos are provided between classes for a laid-back and super fun night out. After the lessons are complete, you have access to the club all night to dance until late.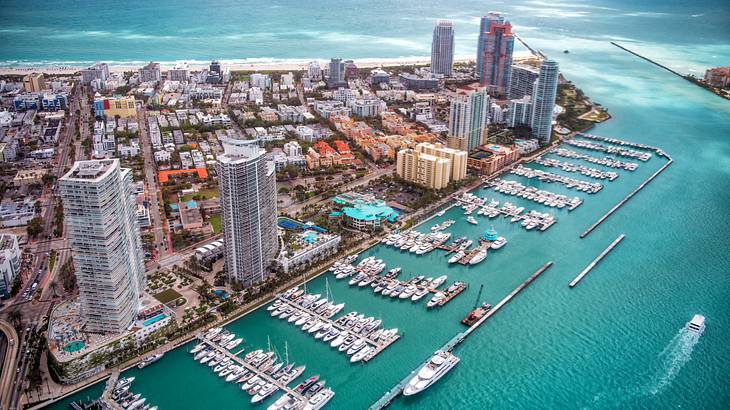 Fly above Miami on a champagne helicopter tour
Going on a helicopter tour with champagne is one of the most romantic activities in Miami! On the 50-minute flight, you'll fly over numerous landmarks, from Coconut Grove and Biscayne Bay to Sunny Isles Beach and Vizcaya Museum and Gardens.
As you enjoy the ride, you can sip on champagne and will be offered commentary from your pilot regarding the Miami landmarks you see. This activity is the ultimate luxurious way to spoil your other half and has to be on your Miami itinerary!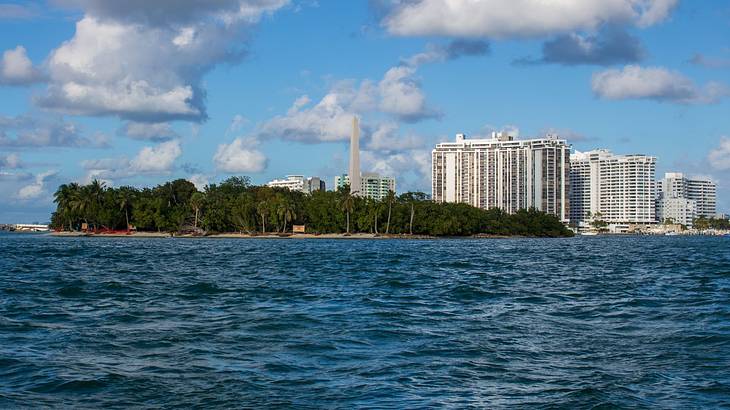 Spend a fun day in the water near Flager Memorial Island
If you and your partner are looking for a laid-back day of fun, going on a Miami Island adventure is for you! Your day will start with a boat tour of Flager Memorial Island. Then, you can hang out on a catamaran or enjoy various water activities.
You'll be able to paddleboard, kayak, and even jump on water trampolines! This activity is the ideal way to spend time with your partner and cool off on hot Miami days.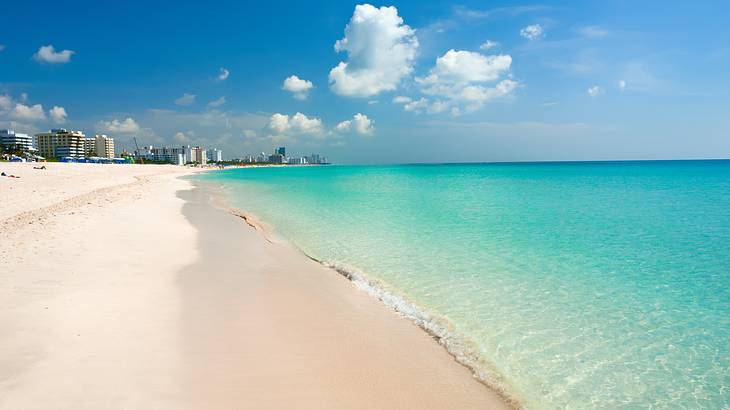 Take a beach yoga class
If you and your partner enjoy exercise and the outdoors, then taking a South Beach yoga class is one of the best things couples can do in Miami. This relaxing and unique class is perfect for all activity levels and will allow you to stretch and meditate surrounded by incredible scenery.
At the beach, your instructor will guide you through each move and offer tips on incorporating meditation and mindful practices into your everyday life. After your session, you can relax more on the beach or will be re-energized and ready to tackle another fun and busy day in Miami.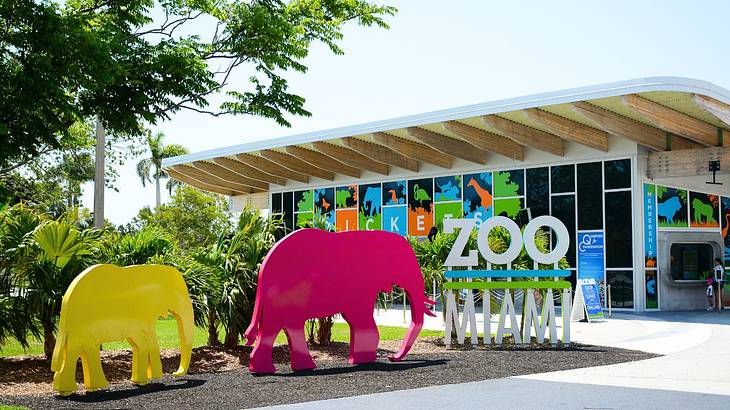 See exotic animals at the Miami Zoo
Having a day out at the zoo isn't just for kids! Visiting Miami Zoo with your partner is a chilled-out date idea, that's especially ideal if you both like animals.
At the zoo, you can see a range of creatures. These animals include giraffes, alligators, meerkats, lions, and many more. You can also enjoy experiences, such as animal feedings and "meet the zookeeper" sessions.
Break out of an escape room
Test your problem-solving skills as a couple by attempting to break out of an escape room together! You'll get one hour to solve a range of puzzles to escape the asylum-themed room.
What's extra fun about this escape room is that after you're done (whether you manage to escape or not), you can head up to a rooftop bar to grab some drinks and celebrate your team effort!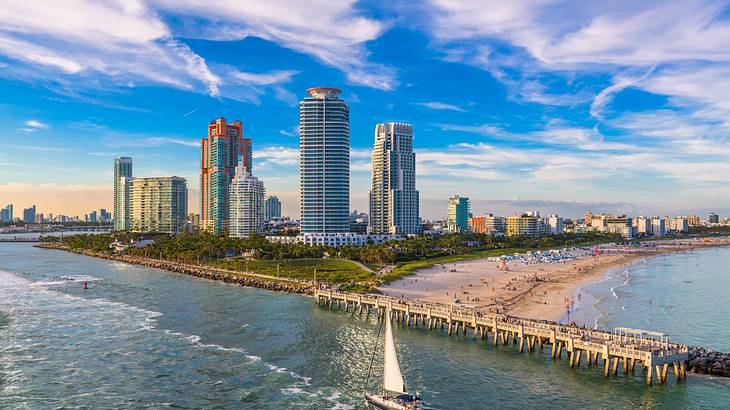 Explore Miami by boat on a private yacht cruise
Another romantic activity to try with your partner in Miami is going on a private yacht cruise. Once on the water, you'll be taken past various landmarks while listening to music and enjoying a glass or two of champagne. Treating your date to a Miami yacht cruise is the ideal way to sightsee in style.
Things to Do Near Miami for Couples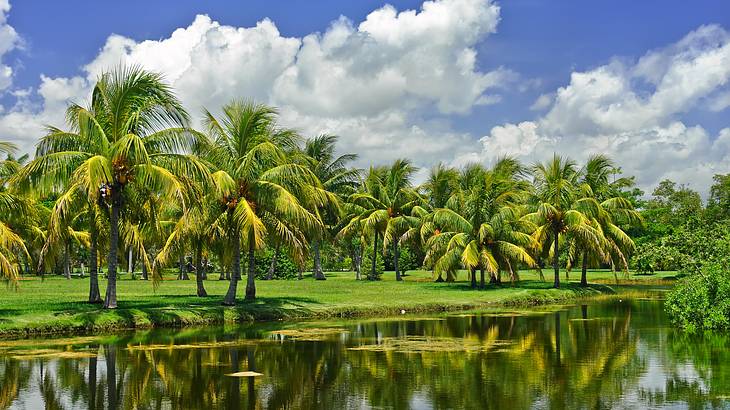 Stroll around the Fairchild Tropical Botanic Garden
What better way to relax with your other half than strolling around the beautiful Fairchild Tropical Botanic Garden? The 83-acre collection of gardens features an array of gorgeous tropical plants, an aquatic garden, and a butterfly garden.
Flora to see includes palms, exotic fruit trees, succulents, and jade vines. If you're looking for nighttime activities, there's also a magical night garden to discover.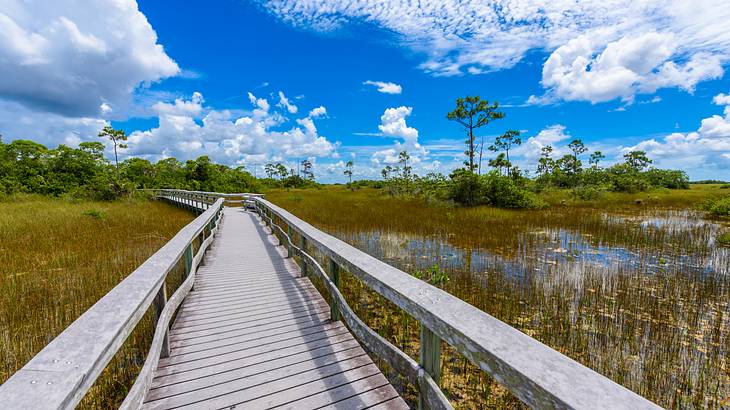 Take a trip to Everglades National Park
Everglades National Park is well-known as one of the best national parks in the United States. Taking a day trip to the park is also one of the exciting couples things to do in Miami. You'll discover various Everglades National Park tours to choose from.
Activities to try in the swampy park include taking an airboat ride, spotting wildlife like alligators, and kayaking. This day trip is ideal for couples that love nature and outdoor adventures.
If you can't decide when to plan this once-in-a-lifetime trip, the best time to visit Everglades National Park is between November and April, with January being an excellent choice for those that can plan a trip at any time.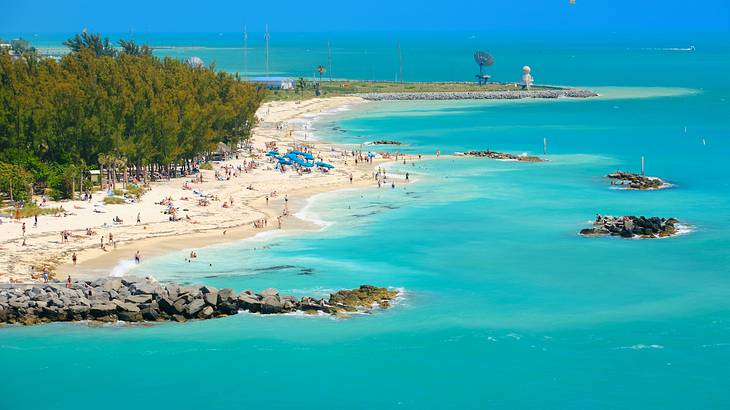 Go on a Key West getaway
Key West is a scenic city on the southernmost part of the Florida Keys archipelago. The relaxing getaway destination is just a three-hour drive from Miami, and going for an overnight stay is the ideal romantic activity.
Once you arrive, you'll find a plethora of activities to try in Key West. Experiences to enjoy include kayaking, snorkeling, spotting sharks, going on dinner cruises, and so much more. If you're looking for a more laid-back weekend, you and your partner can also relax on Key West's incredible sandy beaches.
In Conclusion
Miami is a top destination to visit as a couple. You can find numerous attractions and activities to enjoy with your partner in this stylish and vibrant city. Whether you love being outdoors, discovering famous landmarks, or learning about the best food and shopping spots in the city, you and your other half are sure to find lots to do in Miami, Florida!
Give us feedback about this article
More visual stories related to this article:
---
---
Want to keep exploring?
Subscribe for discounts on tickets and hotels and our latest guides.
Thank you for subscribing
We will be in touch soon with discounts on tickets and hotels and our latest guides.
Want to keep exploring?
Subscribe for discounts on tickets and hotels and our latest guides.
Thank you for subscribing
We will be in touch soon with discounts on tickets and hotels and our latest guides.
Related Articles