30 Fun Things to Do With Kids in Naples, FL
Destguides may receive commissions from purchases made through affiliate links in this article.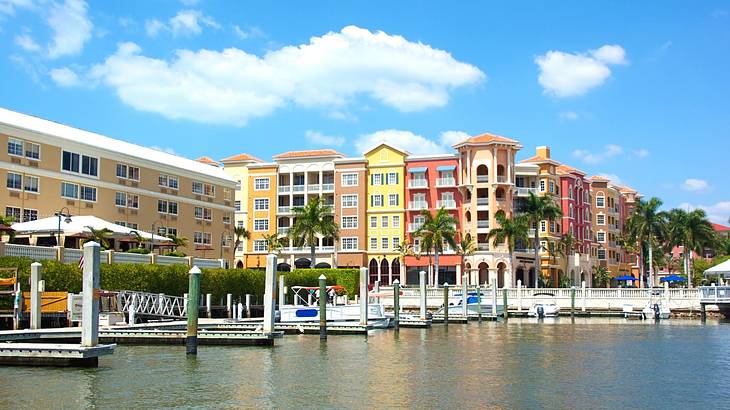 If you're looking for a family-friendly vacation destination in the United States, Naples in Florida is a great option. This coastal city has an array of stunning beaches and lots of attractions to visit.
Just a few of the fun things to do with kids in Naples, FL, include going on dolphin and manatee-watching tours and spending the day at a waterpark. You can even hang out with parrots at a bird sanctuary! Keep reading to discover all the amazing family-friendly activities in Naples.
30 Fun Things to Do With Kids in Naples, Florida
Fun Things to Do in Naples, FL, for Kids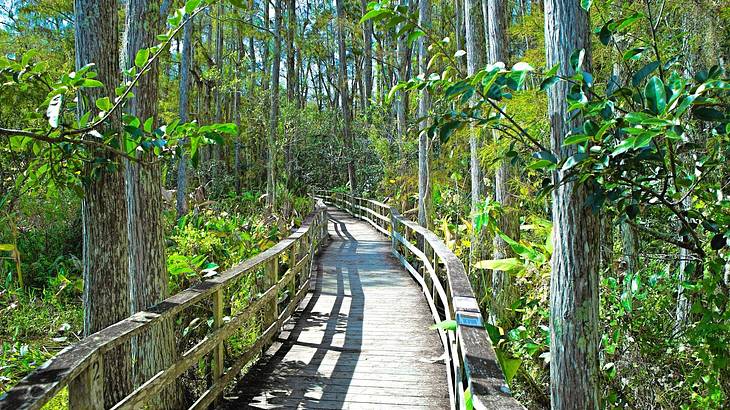 Spot wildlife at Audubon Corkscrew Swamp Sanctuary
When on a family vacation in Naples a trip to the Audubon Corkscrew Swamp Sanctuary is a must. This wildlife preserve has trails, an observation tower, and many animals to see.
Creatures you and your kids may see include alligators, otters, and wading birds. Do note that you must currently make a reservation online before visiting as walk-ins are not accepted.
Hang out with parrots at the Bird Gardens of Naples
Another of the interesting wildlife-based things for kids to do in Naples, FL is going to the Bird Gardens of Naples. This non-profit organization focuses on parrot welfare and wild parrot conservation. The parrots living here are being cared for due to being abandoned or abused or injured in the wild.
At the attraction, you can take a tour which will allow you to see a range of colorful and cute parrots. Tours are free; however, donations are welcome to help with the continued care of the parrots.
Sail around Naples on a kayak tour
Families that love outdoor adventures will be interested in taking a kayak tour around Bonita Springs. You'll be guided to some of the most beautiful coastal and wetland areas and will likely spot dolphins. The kayaks are also clear, so you can look down at the marine life below you.
Explore 5th Avenue South
5th Avenue South is a premier shopping and entertainment area in Naples. The waterfront street has an array of shops, restaurants, and other attractions to visit.
If your kids like sweets, take them to Regina's Ice Cream Pavilion or Grace & Shelly's Cupcakes. You can also find a few stores selling children's clothing and toys.
Walk around Cambier Park
Cambier Park is a quaint 12-acre park located just a ten-minute walk from downtown. It's the perfect place to relax on the grass or have a family game of softball. The park also has a playground for young children and a basketball court.
Stay at the Naples Grande Beach Resort
Not sure where to stay in Naples? Booking at the Naples Grande Beach Resort is highly recommended. This kid-friendly resort has multiple pools and a waterslide. There's also a beach area, tennis court, and more!
The hotel also has a selection of on-site dining options, many of which have kids' menus. If you plan on going out without the little ones, Naples Grande Beach Resort can arrange childcare too. This resort is also pet friendly.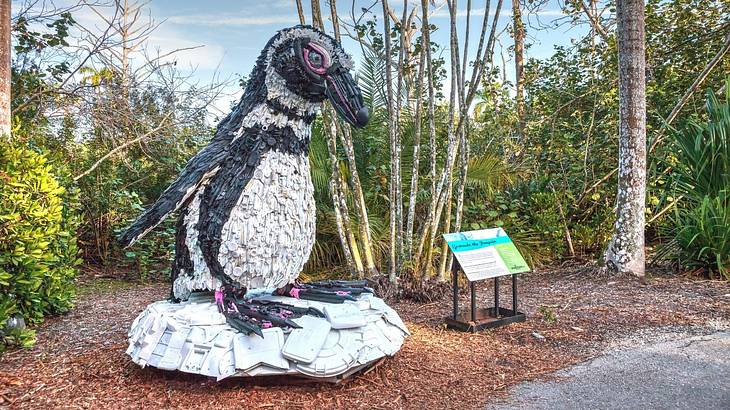 Find exotic animals at the Naples Zoo at Caribbean Gardens
The Naples Zoo is definitely one of the best kids' attractions in Naples, FL. Opened in 1969, the zoo continues to be a popular destination among local and visiting families.
Creatures to see at the zoo range from sloths and lemurs to black bears, lions, and cheetahs. You can also see turtles, alligators, and toucans, among an array of other exotic animals.
Splash around at Sun-N-Fun Lagoon
Sun-N-Fun Lagoon is a waterpark located an hour and 20 minutes from downtown Naples. It has multiple pools, plus fun waterslides and a lazy river.
There's also a children's wading pool for younger kids. If you're looking for a daytime activity to keep your kids occupied, going to Sun-N-Fun Lagoon is recommended. Do note that the park is seasonal, so check the website for openings before planning a trip.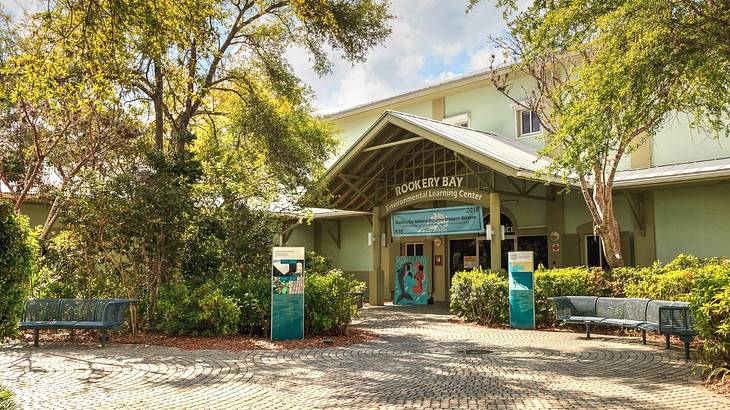 Check out the Rookery Bay Environmental Learning Center
The Rookery Bay Environmental Learning Center is found at the Rookery Bay National Estuarine Research Reserve. The learning center is ideal for kids and offers them a look at the animals and habitats found in the reserve.
Having explored the center, you can follow some nature trails. There are also picnic tables, allowing you to enjoy lunch surrounded by wildlife.
Learn to cook Greek dishes at a cooking class
Does your family like to cook together? Then teach your kids how to make some new dishes by taking them to a Greek cooking class. The class is held by a Naples local and you'll learn to make dishes like artichokes in lemon and dill sauce, pasta with meat sauce and Greek spices, and spinach pie. If your children like the dishes, you can recreate them at home.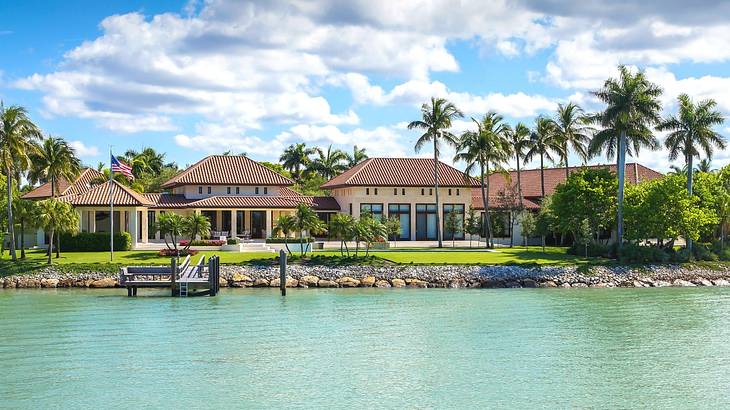 Get to know the area on a sightseeing boat tour
A perfect way to get to know the Naples area is by going on a boat sightseeing tour. Florida landmarks you'll pass include Keewaydin Island and the Gordon River Greenway. Your children will likely see dolphins in the water as you sail along too.
Enjoy a manatee boat tour
There are many fun things for kids to do in Naples, Florida that involve wildlife, and one of them is going on a manatee boat tour. Once aboard, you'll sail to areas known to be home to manatees.
You can see the animals frolic and the water around you and learn more about the species and their habitat. You'll sail through the harbor, smaller bays, and the mangrove forest and manatee sightings are practically guaranteed.
Look at model trains at Naples Train Museum
The Naples Train Museum is found next to the Naples Depot Museum. It features model trains and exhibits on trains and railways. There's also a mini outdoor train that your kids can ride around on.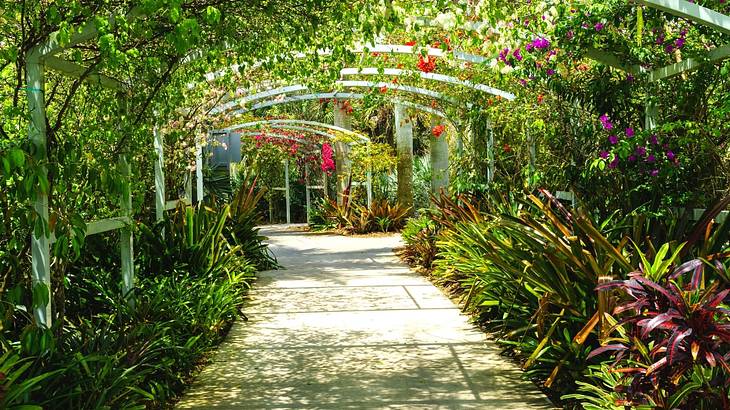 Admire plants and flowers at the Naples Botanical Garden
Another of the fun things to do in Naples, Florida, with kids, is going to the Naples Botanical Garden. The 170-acre attraction has a range of beautiful gardens that feature many species of plants, flowers, and trees.
Interestingly, the park is split into sections that represent world climates and the plants found in those individual areas. Gardens include a Brazilian garden, an Asian garden, and a Florida garden.
Relax at Clam Pass Park
Clam Pass Park is a perfect place to relax on the beach as your kids play in the sand. You can also swim here, and there is a scenic boardwalk that goes through the mangroves for you to stroll along. It's worth mentioning that you won't find concessions or restrooms at this beach, so plan accordingly.
Dine at Riverwalk Restaurant
If you're wondering what to do with kids in Naples, Florida, for dinner, dining at Riverwalk Restaurant is recommended. At this family-friendly spot, you can order fresh seafood dishes, tacos, and sandwiches.
If your kids aren't adventurous eaters, there's a children's menu with things like grilled cheese. The eatery is waterfront, so you can enjoy ocean views with your meal too.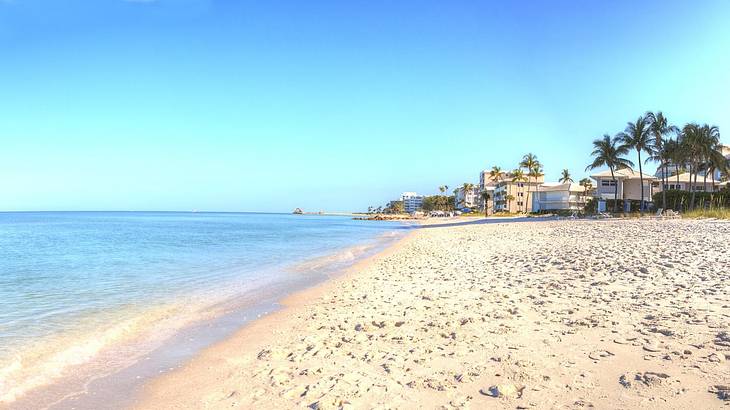 Spend some time at Lowdermilk Park
Another great beach park in Naples is Lowdermilk Park. At the beach, you can hang out on the sandy shore and swim in the clear ocean water. Spending the day here with your family is a great idea! Pack a picnic and beach games and make fun family memories!
Play and learn at Cmon Golisano Children's Museum of Naples
The Cmon Golisano Children's Museum of Naples is a 38,000 square foot museum created with kids in mind. During a visit, children can play with a range of hands-on exhibits.
Things to do include exploring a pretend veterinary office, creating masterpieces in the Art Studio, and shopping in a play produce market. If you have younger kids, the Children's Museum is the perfect place to take them while in the area.
Shop for local produce at Third Street South Farmers Market
On Saturdays, you can head downtown to visit the Third Street South Farmers Market. You can go stall to stall with your kids, discovering all the local produce sold here.
Things for sale include freshly grown fruit and vegetables, flowers, and pastries and other baked goods. There are also some stores around the market selling antiques, decor items, and clothing.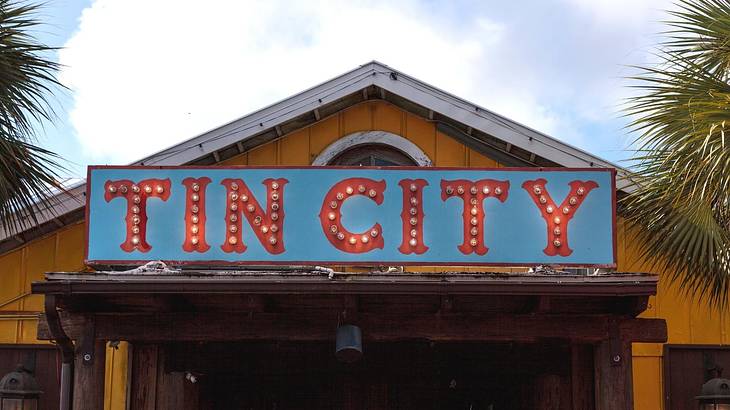 Wander around Tin City
Tin City is one of the main shopping districts in Naples. Located right on the waterfront, it's home to a vast selection of locally-owned clothing, decor, and souvenir shops.
If your kids would like some mementos of the trip, they're sure to find something in Tin City. You may also find some fun and unique pieces to take home.
Treat your kids to ice cream at Gelato & Co
One of the kids' activities in Naples, FL, that's sure to please the whole family is getting ice cream at Gelato & Co. Many call this gelateria the best ice cream spot in the city. Kid-friendly flavors to choose from include Nutella, cookies and cream, and peanut butter. Additionally, coffee or pistachio, among others, are available for adults.
Food truck hop at Celebration Park!
Heading to Celebration Park to check out all the food trucks is one of many fun and unique things to do in Naples with your family. You can find numerous dishes and cuisines, with options like Greek, French, and Cuban food on offer.
There are also lots of vegan and vegetarian food trucks. If your family can never decide on what to eat, going to the food trucks at Celebration Park for lunch or dinner will keep everyone happy!
Things to Do Near Naples, FL, for Kids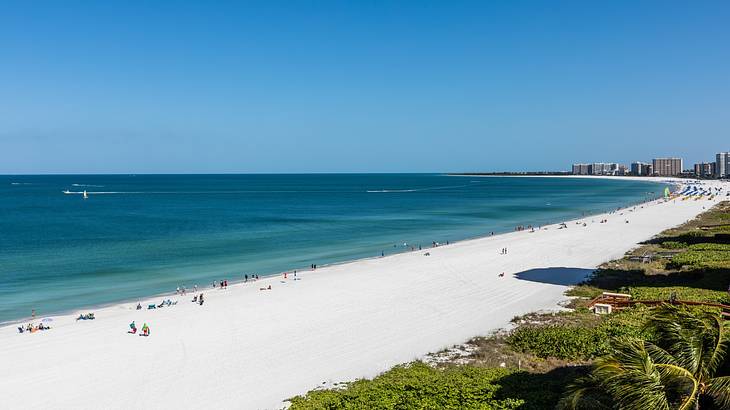 Have a fun day on Marco Island
Located 30 minutes from Naples, Marco Island is a barrier island in the Gulf of Mexico with many outdoor attractions. When on the island, you can explore the beaches, visit the Briggs Nature Center, boat on the water, and more.
Due to the number of activities found here, Marco Island is one of the best places to visit for some outdoor family fun! You could even spend the night here as there are many family-friendly places to stay on Marco Island.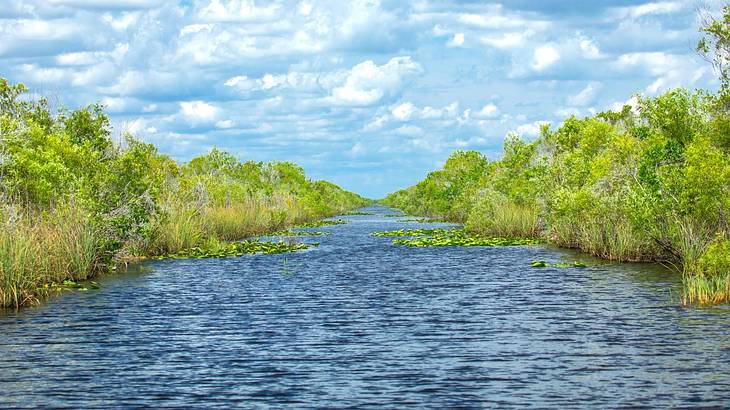 Have an adventure in Big Cypress National Preserve
One of the many fun outdoor activities for kids near Naples, Florida, is exploring Big Cypress National Preserve. A convenient way to do so is by booking an Big Cypress National Preserve adventure tour.
This experience takes you to the preserve where your family can hike and view wildlife and wetland plants. On the tour, you also get taken to the Oasis Visitor Center to see alligators. You'll even get to pass through Everglades National Park, which is one of the most famous landmarks in the US.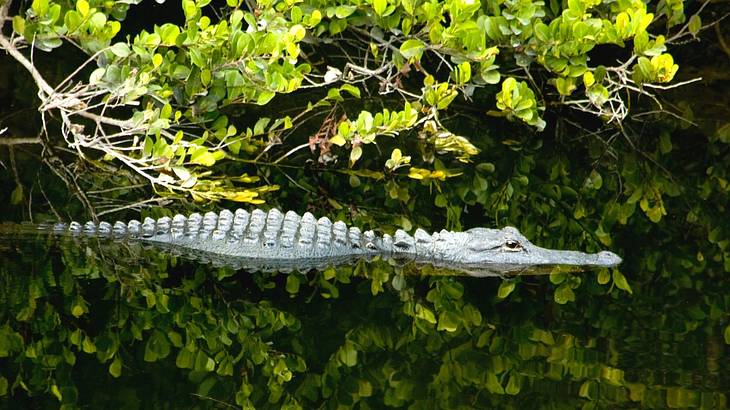 Go to Everglades National Park
The renowned Everglades National Park is just 50 minutes from Naples. If interested in visiting the park, joining an Everglades National Park eco-tour is recommended. You'll get to boat and kayak around the park, spotting animals like alligators and turtles.
As the best time to visit Everglades National Park is between November and April, it makes a great place to go during Christmas vacation or spring break.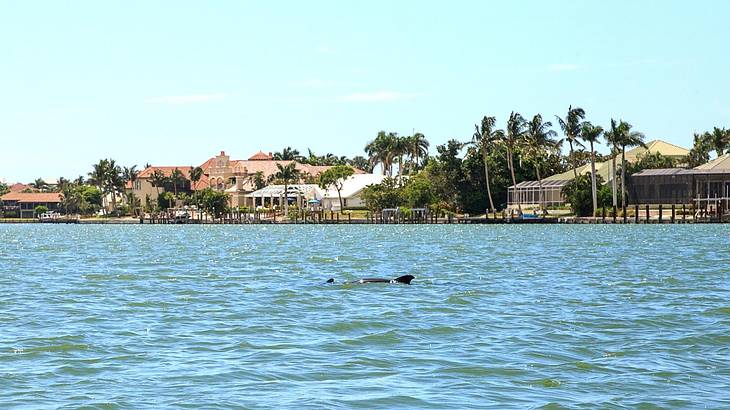 See dolphins on a Marco Island dolphin watching tour
If your kids like wildlife, one of the best Naples, Florida, kids activities is going on a dolphin watching tour. The experience takes place around Marco Island and allows your family to see dolphins in their natural habitat.
You'll also be taught about the area's ecosystem. Other animals you may see include a variety of birds and manatees.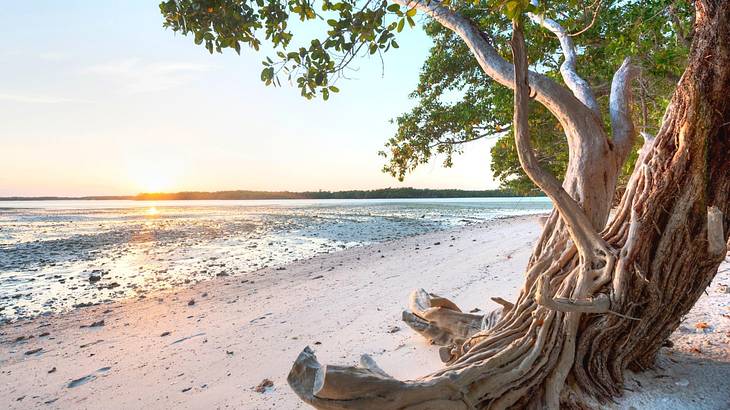 Try shelling on Ten Thousand Islands
Shelling is a popular Southwest Florida activity whereby you search for beautiful and unique shells on the seashore. You can enjoy this relaxed thing to do by booking a Ten Thousand Islands shelling tour.
To get to Ten Thousand Islands, located near Everglades National Park, you'll have to hop aboard a boat. Once there, your children can search for seashells and can keep the ones they deem the best!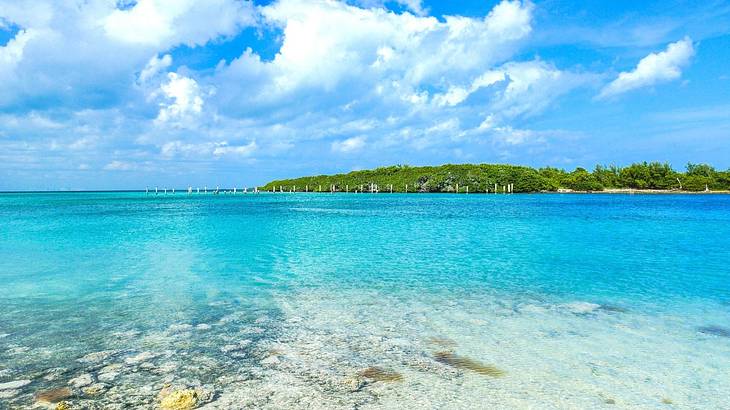 Appreciate the outdoors at Biscayne National Park
Biscayne National Park is one of the best national parks on the East Coast. The park is close to Miami and is a two-hour drive from Naples.
At the park, you and your family can canoe or kayak, snorkel, and go on eco-tours, among other outdoor activities. Of course, you'll also get to admire the beautiful surroundings!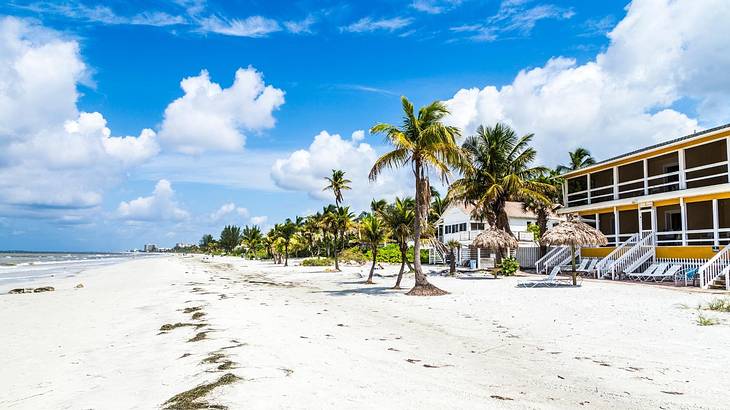 Parasail in Fort Myers
Another of the things to do in Fort Myers is parasailing above Fort Myers Beach. As you fly up into the air, you can admire the tropical view below, complete with turquoise ocean, sandy shores, and palm trees.
This activity is especially exciting for kids, as they've probably never experienced anything like it.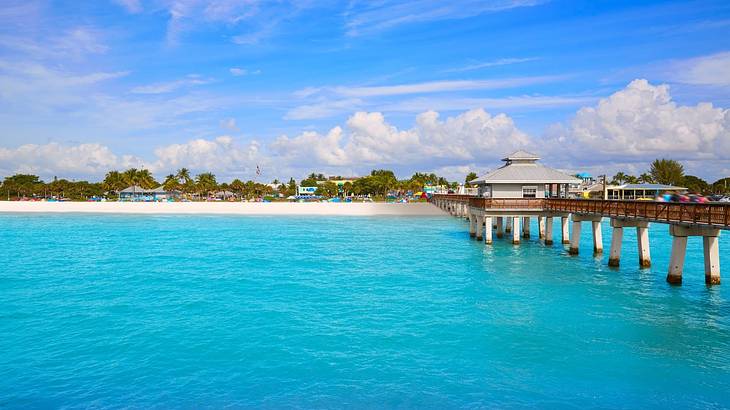 Paddleboard with dolphins and manatees in Fort Myers
If willing to go a little out of the city, one of the best Naples, FL, things to do with kids is going to Fort Myers. The beach town offers visitors many activities to enjoy.
A great activity for families is experiencing a dolphin and manatee tour. During the experience, you'll paddle through the water as dolphins and manatees swim around you in their natural habitat.
West Indian manatees can only be seen in a handful of places in the world, so this is a very unique activity! Children must be at least six years old to go on this tour.
In Summary
As you can see, there are an array of things to do for kids in Naples, Florida. From outdoor adventure activities to wildlife encounters and beach days, there's no shortage of things to do in this Floridian city!
Give us feedback about this article
More visual stories related to this article:
---
---
Want to keep exploring?
Subscribe for discounts on tickets and hotels and our latest guides.
Thank you for subscribing
We will be in touch soon with discounts on tickets and hotels and our latest guides.
Want to keep exploring?
Subscribe for discounts on tickets and hotels and our latest guides.
Thank you for subscribing
We will be in touch soon with discounts on tickets and hotels and our latest guides.
Related Articles