15 Atlanta Landmarks You Should Not Miss
Destguides may receive commissions from purchases made through affiliate links in this article.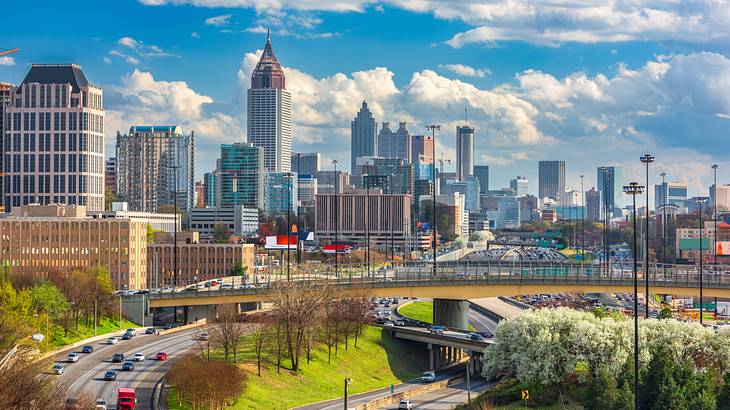 Atlanta, Georgia, has something for everyone. From unique art and entertainment to a history that helped shape America, it's a vibrant city with a lot to see. So, deciding which Atlanta landmarks to add to your bucket list might be a little daunting. To make planning easier, this list has 15 top sites you must visit to enhance your trip.
Some landmarks you can look forward to seeing are the Atlanta Botanical Garden, the Fox Theatre, and the Sweet Auburn Historic District. If a trip to "The Big Peach" is in your future, keep reading to learn more about the landmarks you won't want to miss!
15 Landmarks in Atlanta, Georgia
Atlanta, Georgia, Landmarks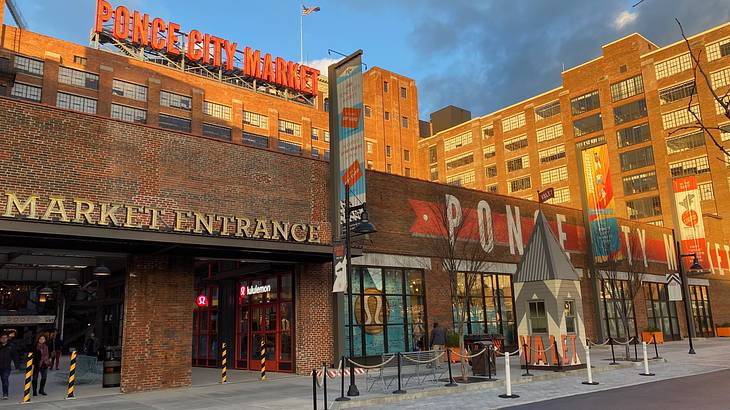 Ponce City Market
When planning an Atlanta getaway, you won't want to miss the chance to visit one of the most vibrant Atlanta historical sites. Though Ponce City Market opened in 2014, its history goes back much further than that.
During the 1800s, the area where the market now sits was a popular mineral spring and spa. Later, it was converted into an amusement park before Sears acquired the land and converted it into a factory, warehouse, and office branch spanning 60 years until the 1980s.
However, in 2011, plans to convert the abandoned factory building into a lively shopping area were set in motion. Today, thousands of people visit Ponce de Leon Avenue to shop at both popular chain and local artisanal shops.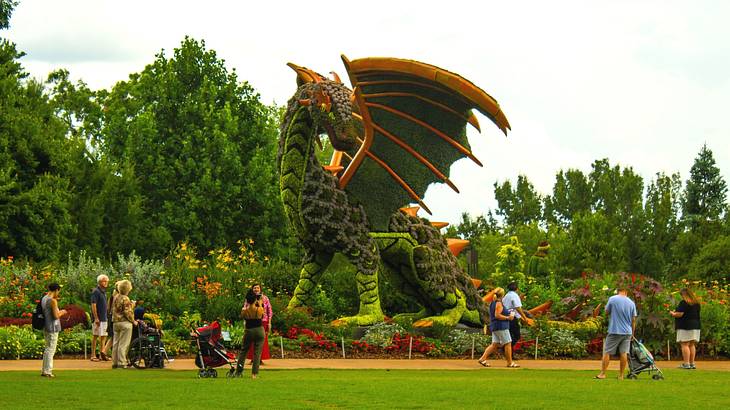 Atlanta Botanical Garden
In the heart of the city, you'll find the Atlanta Botanical Garden, which opened in 1976 as a small research and educational garden. It now spans 30 acres of land dedicated to ensuring that plant life thrives.
With many temperature-controlled greenhouses on the premises, the garden displays a wide variety of plants native to different climates. In particular, the garden's orchid and rose collections are famous among plant lovers.
So, if you want to admire the plants while they're in full bloom, spring is one of the best times to visit Atlanta. However, it's a popular landmark and event venue for locals and tourists throughout the year.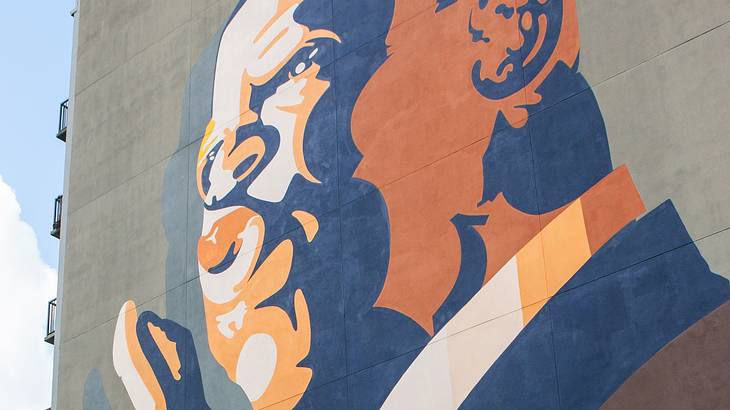 John Lewis Mural
Since being unveiled in 2012 by the artist Sean Schwab, the six-story John Lewis Mural has become a beloved Atlanta landmark. John Lewis was a civil rights icon and one of the most prominent Atlanta figures during the civil rights movement due to his dedication and fortitude to the cause, even in the face of extreme danger to his life.
Painted on the side of a building between Jessie Hill Jr. Drive and Auburn Avenue, the mural is headed by the word "Hero." This area of Atlanta has become known for its artistic murals, but few have gained such widespread recognition. Since the mural is in plain sight while walking through the city, it's sure to captivate you.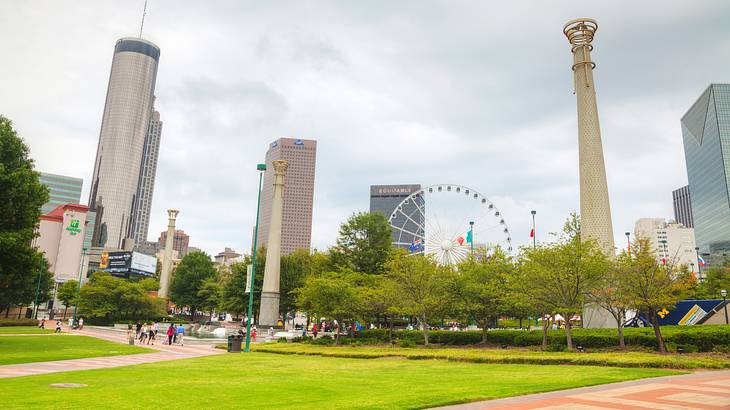 Centennial Olympic Park
In 1996, Atlanta hosted the Summer Olympics, which brought people from around the world to the city. Unfortunately, during those games, this downtown Atlanta park was the site of a tragedy when a single explosive went off, injuring over 100 people.
In the years since that event, the city has honored these victims by building a prominent memorial visited by thousands of people each year. In addition to the memorial monument, you can see other sculptures and attractions like the Olympic Rings statue and its Fountain of Rings interactive water installation.
Centennial Olympic Park is also within walking distance of city landmarks like the Georgia Aquarium and the National Center for Civil and Human Rights. The scenic outdoor space is also one of the best day-date locations in Atlanta.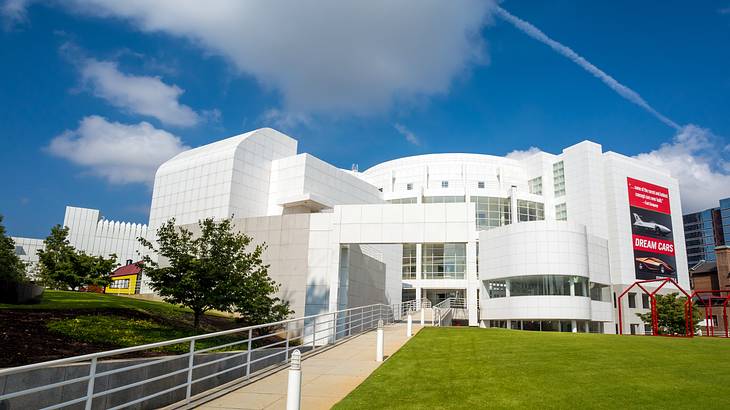 High Museum of Art
With over 11,000 permanent pieces and numerous temporary exhibits, the High Museum of Art has become one of Atlanta's most important cultural landmarks. The museum was opened in 1905 by the Atlanta Art Association.
However, it didn't start expanding its collection until the 1920s when Harriet Harwell Wilson High donated land to facilitate the building of a larger museum. Now its collection is housed in an over 312,000 square foot building in the city's art district, making it the largest museum in the Southeastern US.
The museum has a vast collection of art from around the world and covers styles from photography and design to impressionism. The museum also hosts talks and classes to foster an interest in art by people of all ages.
Famous Buildings in Atlanta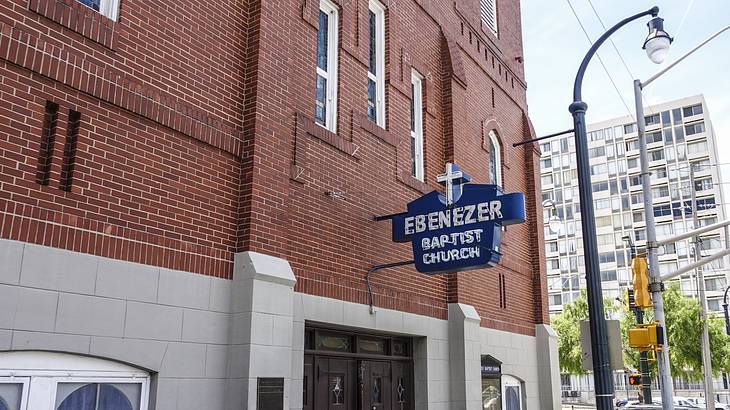 Ebenezer Baptist Church
Ebenezer Baptist Church has been a pillar of the Sweet Auburn community for over a century. It was built a few years after Atlanta's reconstruction following the Civil War and has been a prominent place of worship and local outreach ever since.
That's not where Ebenezer's history ends, however. In 1927, Martin Luther King Sr. began his ministry at this church, becoming the official reverend a few short years later in 1931.
His son, also a preacher and the future civil rights movement figure, Martin Luther King Jr., assisted his father. Today, a congregation of around 6,000 worshippers attends the church, and it has been designated a National Historic Landmark since 1977.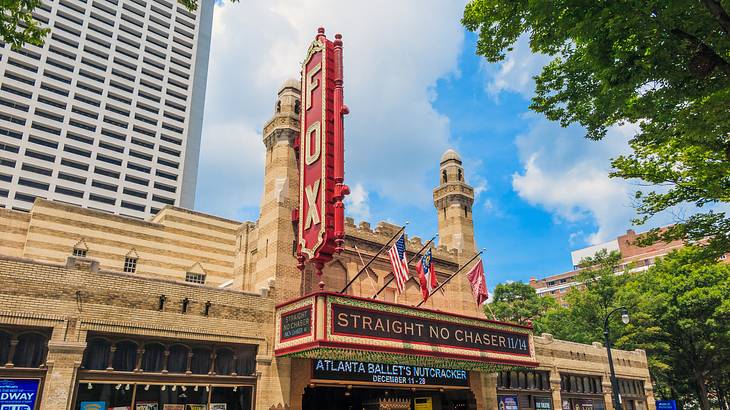 Fox Theatre
When the Fox Theatre was first built in 1929, no one had any idea it would become one of the most famous places in Atlanta. Initially, the theater was a luxurious cinema, but it later expanded to include ballet, music, and other culturally-orientated performances.
The theater's architecture sets it apart from the other buildings in Metro Atlanta because Olivier J. Vinour, the architect, took inspiration from buildings and styles around the world.
The exterior parts of the building have Islamic roots, which can be seen from the domes atop the theater. The building's interior also had foreign influences, for example, the auditorium resembles an Arabian courtyard.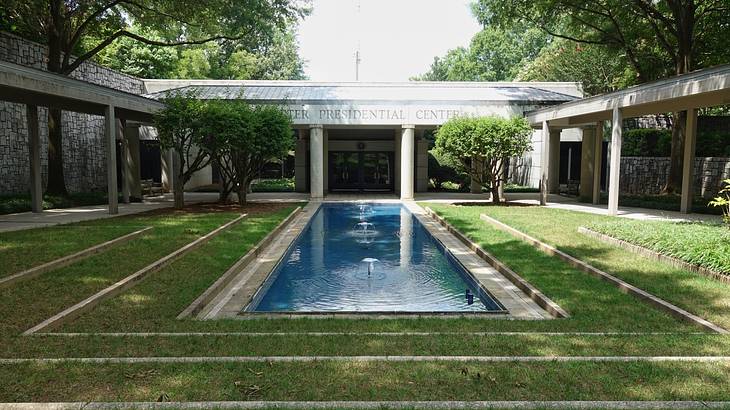 Jimmy Carter Presidential Library and Museum
Since 1929, each US president has had a library erected in their name in their home state to archive everything relating to their life and administration. As the only president to hail from Georgia, Jimmy Carter's presidential library is a particularly special Atlanta landmark.
The Jimmy Carter Presidential Library and Museum officially opened to the public in 1986 and houses over 2,700,000 documents, photographs, and pieces of memorabilia. Not only do the documents cover details regarding the Carter Administration, but also his life and that of his family.
A lot of room is needed to store that many artifacts, and the museum complex sits on 35 acres of land, accommodating over 69,000 square feet of space required for exhibits and storage.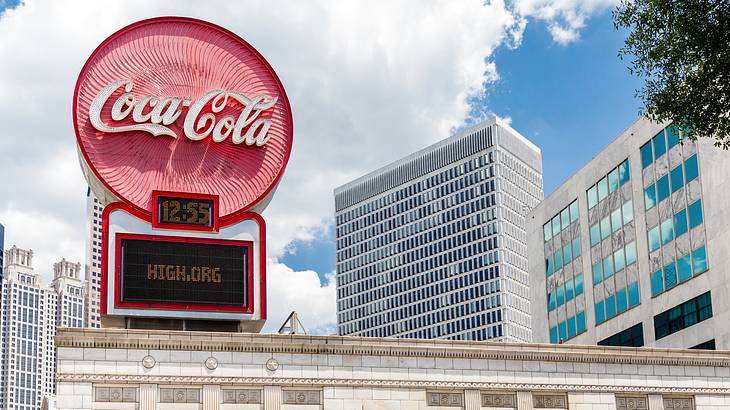 Olympia Building
The Olympia Building is one of Atlanta's most underrated historical landmarks. Known as a Five Points landmark, this building marks the city's geographic center and is located at the intersection of Peachtree Street, Edgewood Avenue, and Decatur street.
Since 1935, the building has gone from being a popular local meeting place for the city's residents to the center of its urban growth; it is easily recognizable in pictures taken of Atlanta's downtown area.
Since becoming the property of the state in 2012, those involved in renovation projects have begun to restore the building and maintain its historical integrity. This project is significant because the Olympia is one of the few Depression-era buildings left in the city.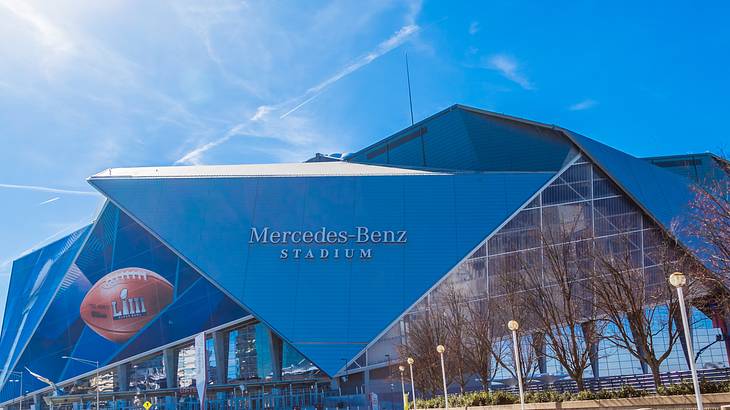 Mercedes-Benz Stadium
Though it's only been open since 2017, Mercedes-Benz Stadium has become one of the most recognizable buildings in Atlanta. The stadium is used for multiple purposes, but primarily as the home stadium for the local NFL team, the Atlanta Falcons.
It's also home to Major League Soccer team Atlanta United FC and is a popular venue for concerts. The stadium will even host some of the 2026 World Cup's soccer games.
Planning for the stadium was announced in 2011, but its numerous cutting-edge design features delayed the opening for six years. For example, one of the stadium's primary features is its intricate pinwheel roof design.
The retractable roof covers 14 acres and consists of eight panels, each with its own mechanism. The stadium also wows game day visitors with its nearly 64,000-foot video screen.
Historical Sites in Atlanta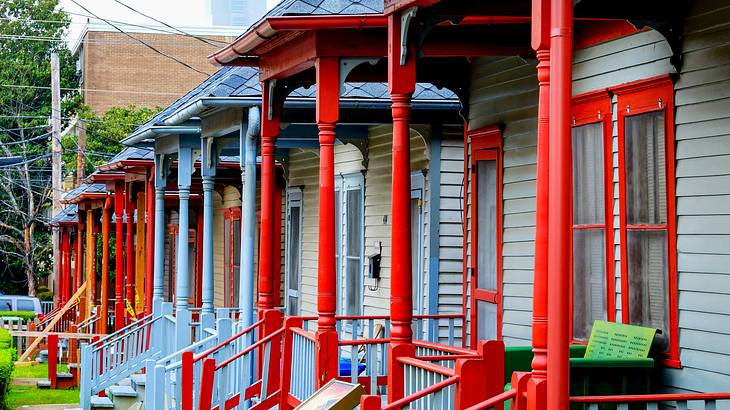 Sweet Auburn Historic District
Before the civil rights movement allowed widespread integration, the Sweet Auburn District was the cultural heart of Atlanta's African American community. The district runs the length of Auburn Avenue, a two-mile stretch of prominent businesses, churches, and entertainment venues.
The district saw massive growth between 1880 and 1970 and became a source of pride for African American residents, especially as more people moved to the city. In 1976, this National Historic Landmark earned its designation for its essential role in Atlanta's black history.
However, in the 1980s and 1990s, Atlanta's urban growth put the district at risk. Many businesses left the area, and the National Trust for Historic Preservation considered it "endangered." Since then, renewed efforts have been made to ensure Auburn's spirit continues to endure.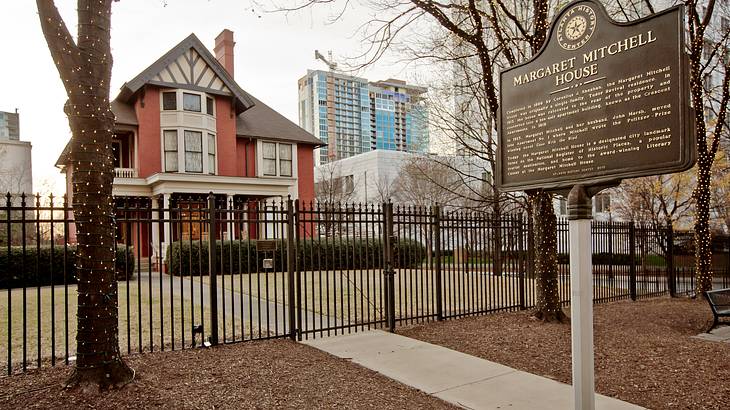 Margaret Mitchell House
Avid readers regularly flock to one of the most historical places in Atlanta, Georgia. Margaret Mitchell, the esteemed author of the novel Gone with the Wind, did most of her writing at her Atlanta residence, now called Margaret Mitchell House,
The property comprises many small apartments, one being Mitchell's home. Now the house is part of the midtown section of the Atlanta History Center, a collection of buildings that have greatly enriched Atlanta's cultural scene.
The house is closed for some much-needed renovations to maintain its structural and historical integrity, and it's set to re-open again in early 2024.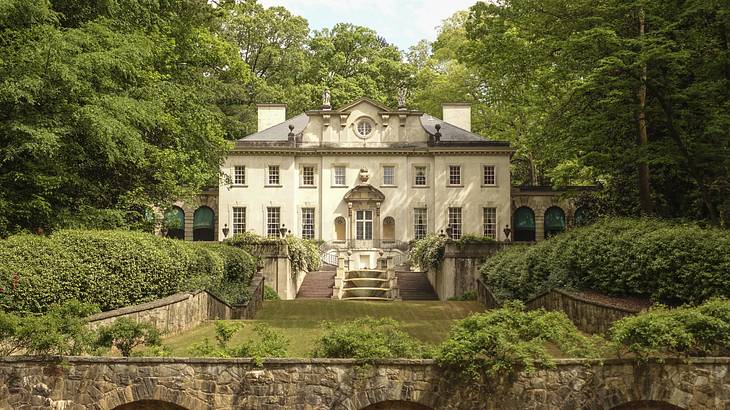 Atlanta History Center
The Atlanta History Center is the premier landmark to visit if you're interested in learning about the city's past. Founded in 1926, the museum sits on a 33-acre campus in Atlanta's Buckhead district and contains many gardens and historic buildings.
Inside, you can see historical artifacts and one of the country's largest collections of Civil War memorabilia. Since Atlanta's history stretches further than Buckhead, a secondary campus in midtown was established to encompass Margaret Mitchell House.
The Atlanta History Center also opened the Kenan Research Center, so the museum's historians could have space to analyze documents and piece together Atlanta's history.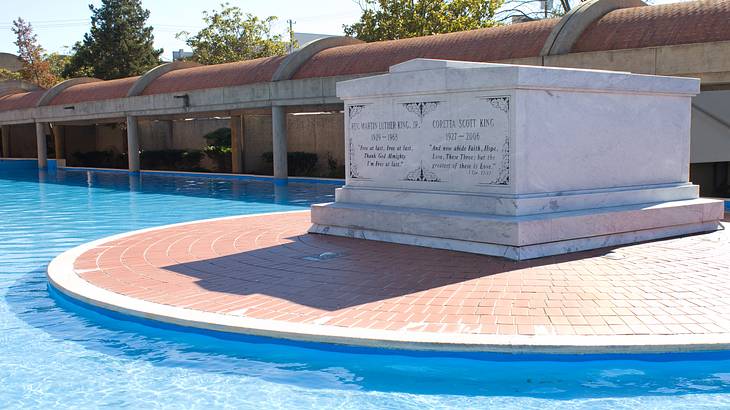 Martin Luther King, Jr. National Historical Park
Dr. Martin Luther King Jr.'s civil rights efforts made him one of the most important historical figures of the 20th century. Though his work took him around the country, he maintained ties to his home city, Atlanta.
To honor this influential and inspiring man, the Martin Luther King, Jr. National Historical Park was established in 1980, though it was previously deemed a historic site in 1974. The park covers around 35 acres in downtown Atlanta and contains many buildings important to his life and work.
Among the buildings that can be visited while exploring the park are Martin Luther King Jr.'s birth home, the Ebenezer Baptist Church, and his final resting place. This park receives nearly one million visitors annually.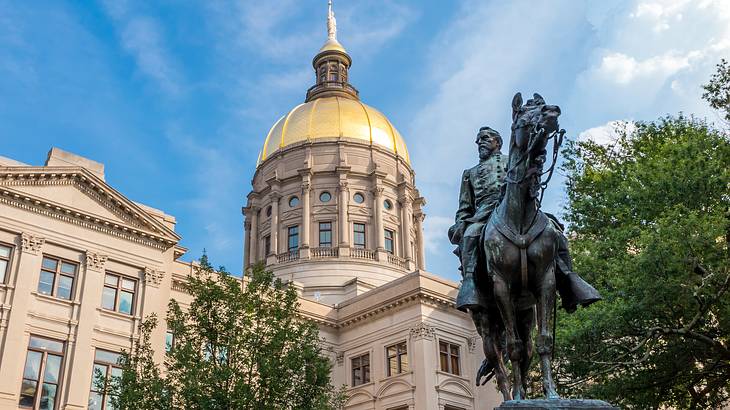 Georgia State Capitol
Georgia's State Capitol isn't just the center of the state's government but also one of the most important historical landmarks in Atlanta, Georgia. Since 1889, Georgia's congress has passed laws and discussed issues that would affect the state's residents, and it has been deemed a place of national historical importance since 1971.
The building was constructed in Neoclassical and Renaissance styles to represent Georgia's "rebirth" after the Civil War. However, the site was initially the home of Atlanta's City Hall. The city donated the location to the state government to convince politicians to name Atlanta the new state capital.
Though the Georgia congress holds its sessions in the building, visitors are still welcome. A dedicated museum on the capitol grounds draws history buffs of all ages, especially those interested in US history and politics.
In Summary
Whether you're a history buff or like to stay up-to-date on new art and culture, Atlanta has something for you. So it's not surprising that millions visit the area each year to explore what "The New York of the South" has to offer.
From the High Museum of Art to the Martin Luther King, Jr. National Historical Park, there's something interesting to check out around every corner. Hopefully, this list of the top landmarks of Atlanta has inspired you to plan a trip so that you can fall in love with the city yourself.
Give us feedback about this article
Learn more about Atlanta:
More articles about Georgia:
Read more articles about the United States:
More articles about landmarks:
---
---
Want to keep exploring?
Subscribe for discounts on tickets and hotels and our latest guides.
Thank you for subscribing
We will be in touch soon with discounts on tickets and hotels and our latest guides.
Want to keep exploring?
Subscribe for discounts on tickets and hotels and our latest guides.
Thank you for subscribing
We will be in touch soon with discounts on tickets and hotels and our latest guides.
Related Articles