25 Fun Things to Do in Columbus, GA
Destguides may receive commissions from purchases made through affiliate links in this article.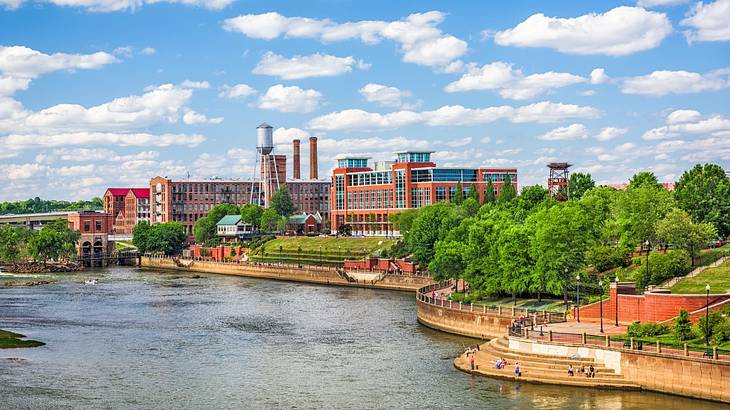 The state of Georgia in the Southeastern US is a memorable destination to visit with many amazing cities to check out. Columbus is one of the cities that is a must-visit, and it's conveniently located near more well-known places like Atlanta.
Attractions include the unique Lunchbox Museum, the charming Kadie the Cow statue, and the fascinating Columbus Historic District. There are also cool bars to grab a drink at, parks to explore, and much more. Keep reading for 25 of the most fun things to do in Columbus, GA!
25 Fun Things to Do in Columbus, Georgia
Columbus, GA, Things to Do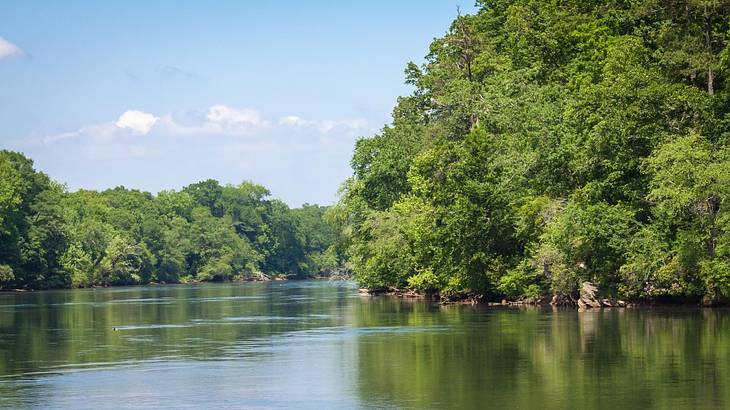 Experience white water rafting with Whitewater Express
If you love adventure activities, one of the best things to do in Columbus, Georgia, is going white water rafting on the Chattahoochee River. You can do so with Whitewater Express, and, notably, the course you'll follow is the longest urban whitewater rafting course in the world.
There are three guided white water rafting tours to choose from, a basic course, a medium course, and a difficult course that tackles the most intense rapids.
Look around the Lunchbox Museum
The Lunchbox Museum is a unique attraction that houses an array of vintage lunch boxes. The museum is curated by River Market Antiques and is the largest in the world of its kind. Lunch boxes on display feature a range of designs and well-known characters; you may even recognize some from your childhood!
Visit the Oxbow Meadows Environmental Learning Center
If you're interested in learning about animals and ecology, plan a trip to the Oxbow Meadows Environmental Learning Center. This attraction is also very family-friendly, with many exhibits for kids.
Along with learning more about the habitats and wildlife in the area, you can see some animals like tortoises or snakes at the rehabilitation center. Numerous nature trails also surround the learning center on which you can see various plants and animals.
Stroll around the Columbus Botanical Garden
Columbus Botanical Garden is one of the most beautiful attractions in Columbus, GA. It covers 22 acres and has various themed gardens, including herb and vegetable gardens and a rose garden.
In addition, you can wander through a pollinator garden full of colorful blooms, butterflies, and bees. After seeing the main gardens, you can wander along some nature trails.
Find out about space at the Coca-Cola Space Science Center
Coca-Cola Space Science Center is owned and operated by Columbus State University. This attraction is a space-themed museum with exhibits for all ages. After seeing the exhibits, you can go to the Omni Theater to watch movies on topics like space exploration, the planets, and even volcanoes.
View military exhibits at the National Infantry Museum
Another interesting museum in Columbus to visit is the National Infantry Museum. Opened in 2009, the museum features exhibits on United States military history, including the American Revolutionary War, WWII, the Vietnam War, and more recent conflicts. Admission to the National Infantry Museum is free, but donations are recommended.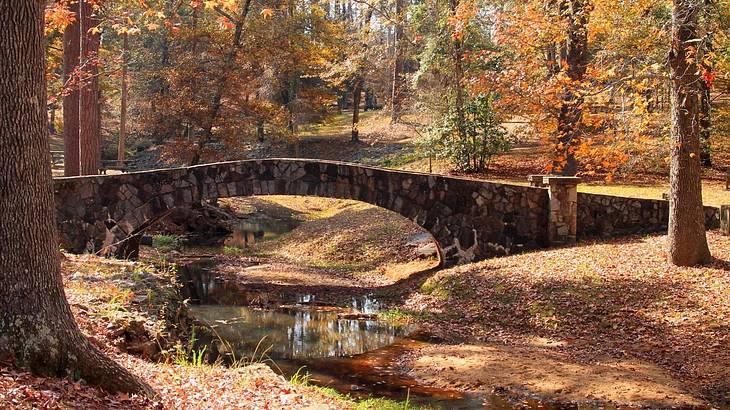 Enjoy outdoor activities at Flat Rock Park
Situated about 20 minutes from downtown Columbus, Flat Rock Park offers many outdoor activities. The park has hiking and biking trails that take you through beautiful woodlands and past a scenic creek. There's also a children's playground for little ones and a fun disc golf course.
See a show at the River Center for the Performing Arts
One of the best things to do in Columbus, GA, in the evening is seeing a show at the River Center for the Performing Arts. The venue primarily hosts musicals and Broadway shows, with past productions including Annie, Jesus Christ Superstar, and Phantom of the Opera.
Comedy shows and concerts, like classical music concerts like those by the Columbus Symphony Orchestra, may also be on during your visit.
Attend a show at the Springer Opera House
Springer Opera House opened in 1871 and is a much-loved venue. The Victorian building was also added to the National Register of Historic Places in 1970. The Opera House now hosts musicals and plays, and catching one of these shows here is a must!
Go to the National Civil War Naval Museum
The National Civil War Naval Museum is a popular attraction for those interested in Civil War or general US military history. The attraction has a range of exhibits on the use of the Navy in the national war. As you look around, you'll see uniforms, other artifacts, and two Confederate Naval ships.
Learn about local history at the Columbus Museum
The Columbus Museum is a fascinating attraction with an art gallery and exhibits on regional history. The museum was founded in 1953 and is the perfect place to learn more about Columbus, Georgia, and see some fantastic American art. You can also see some interesting temporary exhibits along with the main collection.
Dine at Mabellas
If you're looking for Columbus, Georgia, things to do at night, book a table at Mabellas! The Italian-style restaurant serves dishes using fresh ingredients, with menu options including spicy tomato bucatini, wild mushroom ravioli, and chicken parmigiana. You can accompany your meal with a bottle of Italian wine or a craft cocktail.
Shop at Columbus Park Crossing Mall
If you want to treat yourself to some new purchases, going to Columbus Park Crossing Mall is a must. The mall and entertainment complex has many shops, including chains and independent stores. After shopping, you can get food and drink at sit-down restaurants or snack and take-out places. There's also a movie theater next to the mall.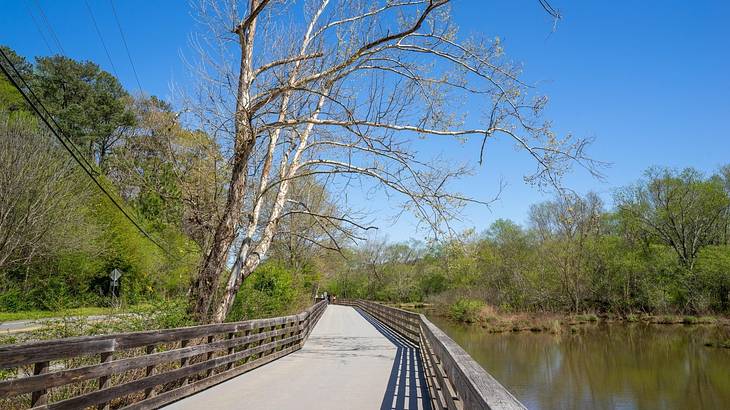 Wander along the Chattahoochee RiverWalk
The Chattahoochee RiverWalk is one of the most popular outdoor attractions in Columbus. This walking and biking path runs along the river and offers stunning views. If you're planning to go jogging, the RiverWalk is also one of the best places to run in the city.
Swim at the Columbus Aquatic Center
If you're wondering what to do in Columbus, GA, with kids, taking them to the Columbus Aquatic Center is a great idea. You kids can practice their swim skills in the lap areas, and there's also an open swim area and diving board. Even if you don't have children, the pool is a great place to exercise, and aquatic fitness classes are also offered.
Zipline through the forest to Alabama!
Columbus sits close to the border with Alabama, with the Chattahoochee River between them. A cool activity for thrill seekers is ziplining through forests and over the river into Alabama. Whitewater Express' Blue Heron zipline allows you to do just that.
You can fly along two ziplines that cover two-thirds of a mile. You'll go past trees and across state lines into Alabama. You can then zipline back into Georgia, enjoying the views. This activity is a fun family thing to do; however, kids must be at least ten years of age to participate.
Snap photos of Kadie the Cow
Kadie the Cow is a fun landmark to visit when in Columbus. The attraction is a giant statue of a black and white cow that sits in front of Peachtree Mall along the Manchester Expressway.
It's a well-known roadside attraction in the US and was initially constructed in 1967 by the now shut-down Kinnett Dairy. Stopping to see Kadie is highly recommended, and you can snap some unique pictures with her.
Purchase items from local vendors at Market Days
Market Days is a weekly outdoor market that covers four blocks along Broadway in downtown. The Saturday market hosts around 200 local vendors. Items for sale range from produce and baked goods to crafts, jewelry, and homewares.
It's the ideal place to find one-of-a-kind gifts or souvenirs for yourself. After visiting all the stalls, you can also explore independent shops and eateries on Broadway that the market is held around.
Watch the game at Hangout Bar & Grill
Whether you want to watch football on Sunday, catch a basketball game mid-week, or see any other major league sport, you can do so at Hangout Bar & Grill. The sports bar has multiple TVs, often showing different games, that you can watch with drinks and a meal.
Menu options include bar snacks like buffalo cauliflower, soft pretzels, and nachos. The bar additionally proclaims to have "the best spaghetti in Columbus!" Games like giant connect four are also available to play after you've eaten.
Relax with a coffee at Iron Bank Coffee Company
Iron Bank Coffee Company is one of the trendiest coffee shops in Columbus and is the perfect place to relax with a drink. The cafe is housed in an old bank building and serves specialty coffees, plus baked goods and other snacks.
Coffee drinks include classics like a macchiato or cappuccino and more unique caffe lattes such as a banana and white chocolate latte or a caramel, cinnamon, and hazelnut mix. Plant milks are also available for all drinks. Other drinks include tea, hot chocolate, and even beer and wine. Food options range from sandwiches to croissants and freshly baked cakes.
Check out the events at Outskirts Sports Bar & Grill
Outskirts Bar & Grill is another fun sports bar in the city. Along with being able to go here to watch sports and grab a beer, you can enjoy weekly events. Things going on at the bar include karaoke nights, comedy shows, and live music acts on the weekend.
As you enjoy these events, you can order a range of alcoholic drinks, plus food like wings, burgers, quesadillas, and many other bar snacks. The bar also has brunch on weekends and 'Taco Tuesday' offers.
Tour the Columbus Historic District
The Columbus Historic District, or Columbus Downtown Historic District, is a top landmark in the city and encompasses 20 blocks. The historic district was added to the National Register of Historic Places in 1969 and features houses from the 1800s and early 1900s, including the unique Octagon House.
Visitors can explore the area alone or take a guided tour. A tour will allow you to learn more about the homes you see, and your guide can also point out other notable landmarks. Along with the renowned downtown district, there are ten other historic districts to explore around Columbus.
Fun Things to Do Near Columbus, GA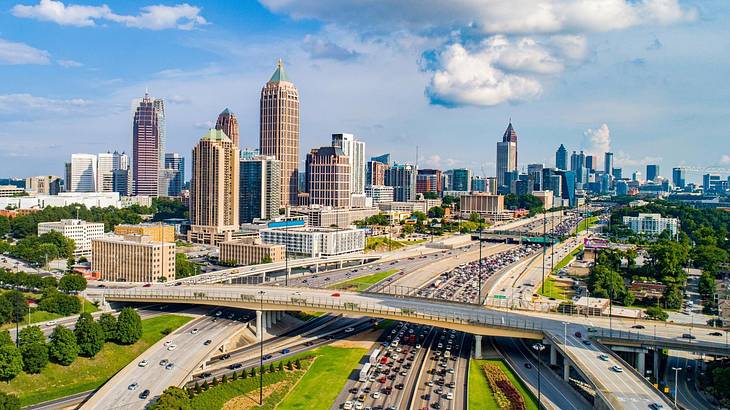 Plan a trip to Atlanta
Atlanta is the state capital of Georgia and one of the state's most well-known cities. It's located just under two hours from Columbus, and planning an Atlanta weekend getaway is highly recommended!
Activities in Atlanta range from going to Ponce City Market to walking in Piedmont Park or visiting the High Museum of Art. Notably, there are many things for couples to do in Atlanta, making it a perfect destination for a couples trip.
Spend the weekend in Savannah
Savannah is another of the beautiful cities to visit in Georgia. As it's a little over four hours from Columbus, planning a weekend getaway in Savannah is the best idea to make the journey worth it. During your trip, you'll find many fun things to do in Savannah.
Activities include seeing Georgia landmarks like Forsyth Park and the Savannah historic district. If you're on a budget, you can still visit many attractions as there are lots of free things to do in Savannah, such as going to the Savannah Botanical Gardens and or enjoying a free sightseeing tour.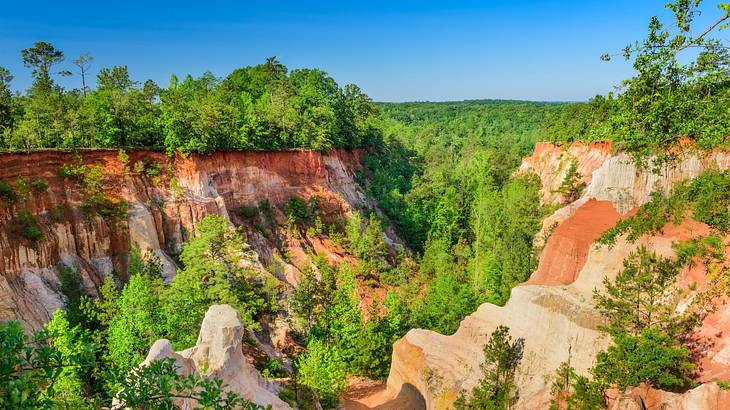 Hike in Providence Canyon State Park
Hiking in Providence Canyon State Park is one of the fun things to do near Columbus, Georgia, for outdoor activity enthusiasts. The 1,003-acre recreation area is located 50 minutes from central Columbus.
At the park, you can hike various trails and see Providence Canyon, often called the "Little Grand Canyon" of Georgia. There are also backcountry trails and climbing opportunities for experienced hikers and climbers. You can camp overnight in the park too.
In Conclusion
No matter what you enjoy doing, you'll discover many fun activities in Columbus, GA, to add to your to-do list. Activities range from exploring outdoor attractions and visiting unique museums to spending the evening at great restaurants or performing arts venues. Of course, don't forget to take a fun picture with Columbus' famous Kadie the Cow!
Want to keep exploring?
Subscribe for discounts on tickets and hotels and our latest guides.
Thank you for subscribing
We will be in touch soon with discounts on tickets and hotels and our latest guides.
Want to keep exploring?
Subscribe for discounts on tickets and hotels and our latest guides.
Thank you for subscribing
We will be in touch soon with discounts on tickets and hotels and our latest guides.