20 Best Free Things to Do in Savannah, GA
Destguides may receive commissions from purchases made through affiliate links in this article.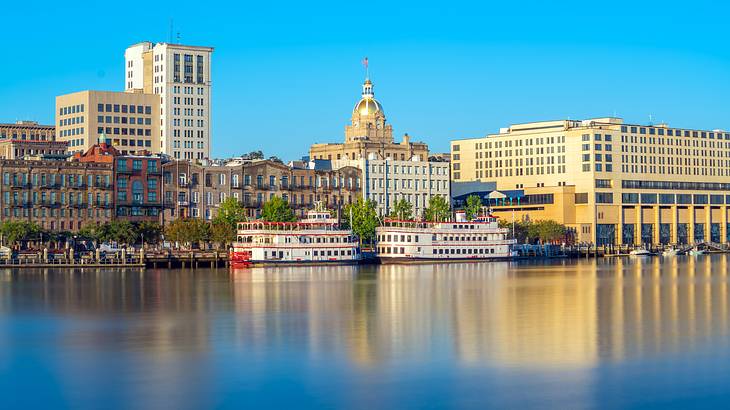 Savannah is an exciting and historical destination. The city features impressive architecture, lots of landmarks, and attractions for all types of travelers.
If you're traveling on a budget, there are many things to do in Savannah at no cost, from exploring various parks to visiting a battlefield and spotting dolphins on Tybee Island. To make the most of your trip without breaking the bank, check out these 20 best free things to do in Savannah, GA.
20 Things to Do in Savannah, GA, for Free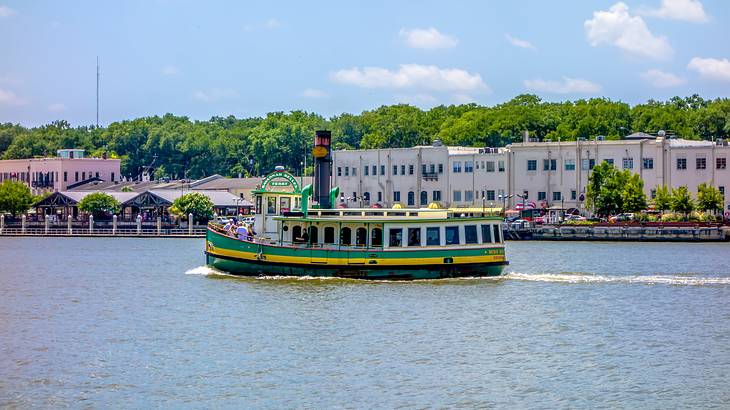 Ride the Savannah Belles Ferry
A ride on the Savannah Belles Ferry is quick but well worth it. The five-minute free ferry ride takes you across the Savannah River from the Downtown Riverwalk to Hutchinson Island. On the ride, you can enjoy views of the Savannah skyline.
The ferry also has historical connotations, with the "Belles" being famous Savannah women. These historical figures are Juliette Gordon Low, Susie King Taylor, Florence Martus, and Mary Musgrove.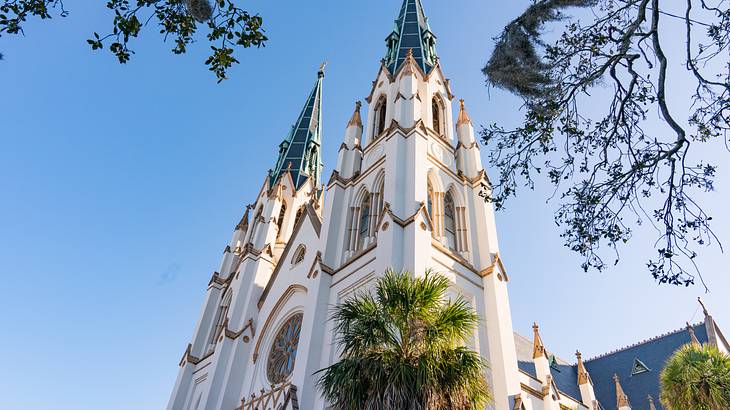 Marvel at the Cathedral of St. John the Baptist
The Cathedral Basilica of St. John the Baptist is a Roman Catholic church in downtown Savannah. This church is notably the Mother Church of the Roman Catholic Diocese of Savannah. Even if you aren't religious, visiting the cathedral for the architecture alone is worth it.
The French Gothic design features stunning stained glass windows and tall white towers. Inside, you can appreciate the stained glass in more detail, along with beautifully painted ceilings and religious art and statues. If you are religious, services and mass are still actively held at the cathedral.
View amazing art at the SCAD Sidewalk Arts Festival
The SCAD Sidewalk Arts Festival is one of the coolest art events in Georgia. It's also one of the best free attractions in Savannah, GA. The annual event features various amazing designs placed directly on the sidewalks surrounding Forsyth Park.
The art installation is contributed to by Savannah College of Art & Design (SCAD) students, with the best designs being awarded prize money and other honors.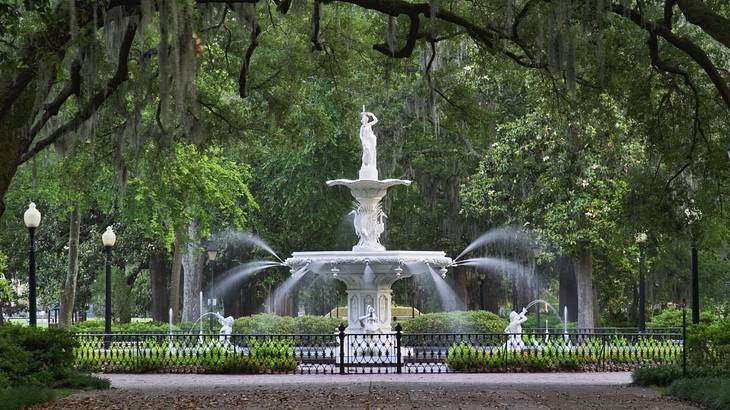 Hang out in Forsyth Park
Having originally been created in the 1840s, Forsyth Park continues to be a favorite spot in Savannah for locals and tourists. Best of all, visiting the park is free. The urban park features vast green areas, pretty plants, and an iconic water fountain.
You can walk around the park, hang out on the grass, take some great photographs, or do a quick workout. No matter what you do in Forsyth Park, visiting is an ideal way to relax and unwind after or before a busy day in Savannah.
Stroll around the Savannah Botanical Gardens
Savannah Botanical Gardens is a stunning collection of gardens located a little outside of Downtown Savannah. Admission to the garden is free, and you'll be able to see numerous plant, flower, and tree species. There's also a large pond and various nature trails.
As you explore the gardens, you'll encounter wildlife as well, including birds and butterflies. If you do want to spend a little, there is a garden center selling plants seen in the gardens.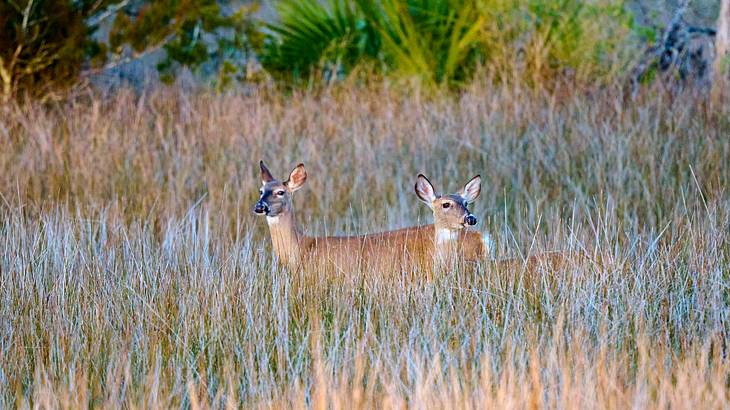 Spend a day outdoors at Skidaway Island State Park
Located just a 30-minute drive from Downtown Savannah, spending a day exploring Skidaway Island State Park is a must-do for nature lovers! You'll discover a range of hiking trails that take you through maritime forests and salt marsh.
There's also a quaint boardwalk and even an observation tower to check out. Skidaway Island State Park is one of the best free places to visit in Savannah, GA, and should definitely be added to your itinerary.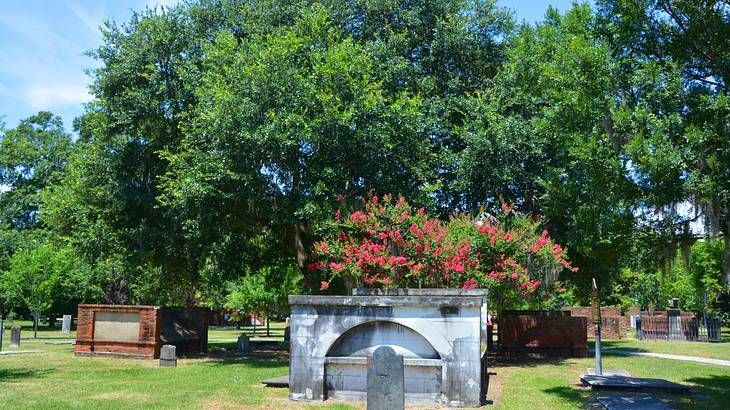 Tour the Colonial Park Cemetery
Colonial Park Cemetery is one of Savannah's historic landmarks that's free to visit. This cemetery was the city's main burial ground until 1853 and is now a park. Some even say the site is haunted!
Despite burials no longer occurring here, you can still see the graves of those buried in the cemetery before the 1850s. Along with being the final resting place of 700 Yellow Fever victims, the graves of Archibald Bulloch, first Governor of Georgia, and Button Gwinnett, a signer of the Declaration of Independence, are found here.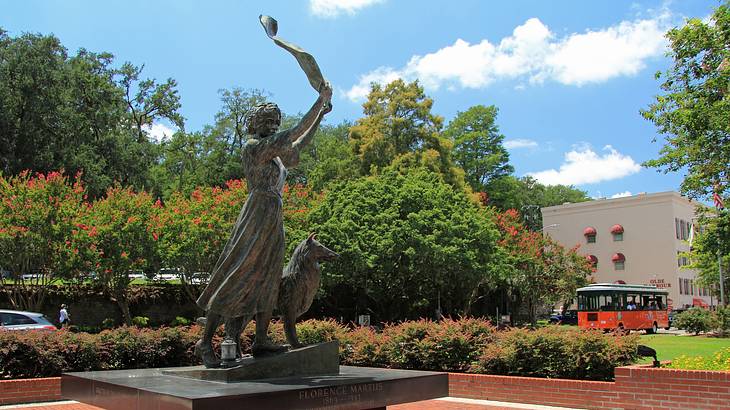 Take a picture of the Waving Girl Statue
The Waving Girl Statue is an iconic statue located on Savannah's River Street. It's also one of the must-visit free attractions in Savannah, GA. The statue depicts Florence Martus and her dog.
Florence lived in Savannah all her life, from 1868 until 1943. She became known as the woman who would safely wave in ships to the harbor. It's said that she began doing this after falling in love with a sailor who promised to return to Savannah but never did.
Today, she still greets ships into the harbor, and getting a picture of the renowned statue is a must for anyone visiting the city.
Explore the Historic Reinhard House
The Historic Reinhard House is an 1840s German farmhouse located in the Savannah Botanical Gardens. The house was initially constructed in the 19th century in what is now Downtown Savannah. It was interestingly moved to the Botanical Gardens grounds to avoid demolition in the 1990s.
Stopping by the historic farmhouse is one of the can't-miss free things to do in Savannah, Georgia. The building is one of just two pre-Civil War farmhouses in Savannah, making it one of the important landmarks in Georgia.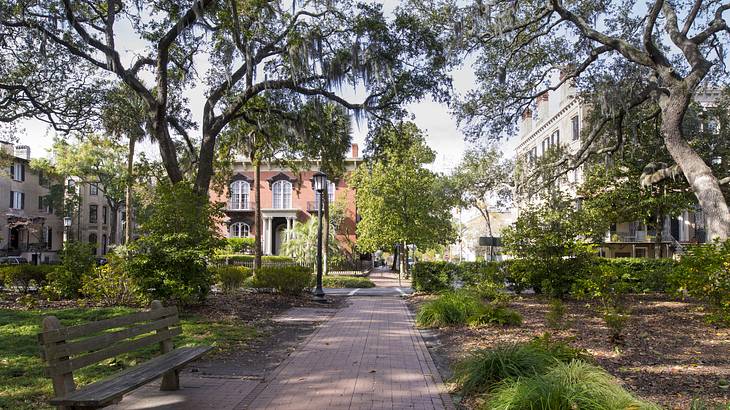 Walk around the Savannah Historic District
The Savannah Historic District is one of the most famous areas of Savannah, and you can explore it for free when in the city. Just a handful of the landmarks in the area that you can spot include the Sorrel Weed House, the Mercer-Williams House, and the Juliette Gordon Low Birthplace.
Forsyth Park is also located in this district. Wandering around the Savannah Historic District is a fun and relaxing way to see some of the most famous Savannah landmarks without spending a penny.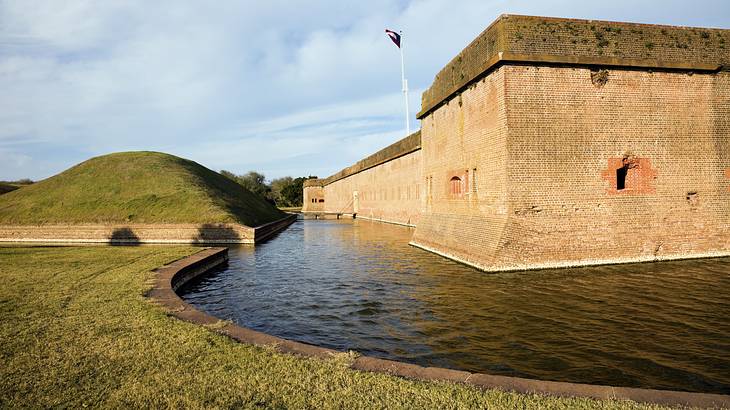 Hike the McQueen's Island Trail
The McQueen's Island Trail is located just a 20-minute drive outside of Downtown Savannah. The six-mile-long trail stretches across an old railroad bed and takes you through scenic marshlands.
On the trail, you can also see the Savannah River, and it's possible to extend your hike to reach Fort Pulaski. This trail is easy, so great for all hiking abilities. The trail is under some construction, so the amount you can access may vary.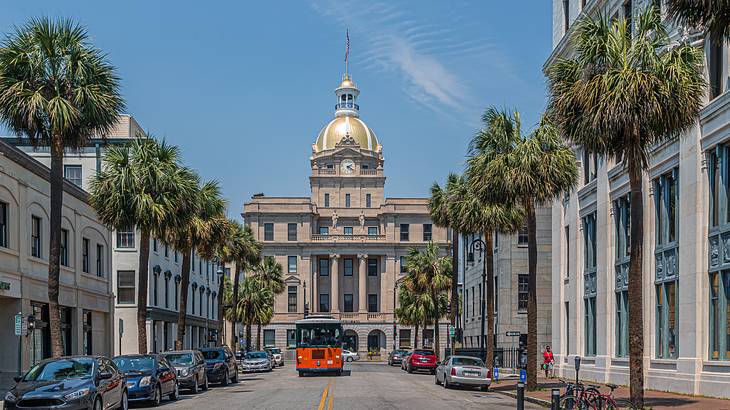 Take advantage of a free walking tour
One of the best free things to do in Savannah, Georgia, is taking a walking tour. Free Savannah Tours offers a 90-minute walking tour of the city at no cost. On the tour, your guide will take you to various landmarks, offering background and commentary on everything you see.
Places you'll see include Forsyth Park, Bull Street, the Cathedral of St. John the Baptist, and much more! This walking tour is the ideal way to ensure you don't miss any of Savannah's landmarks.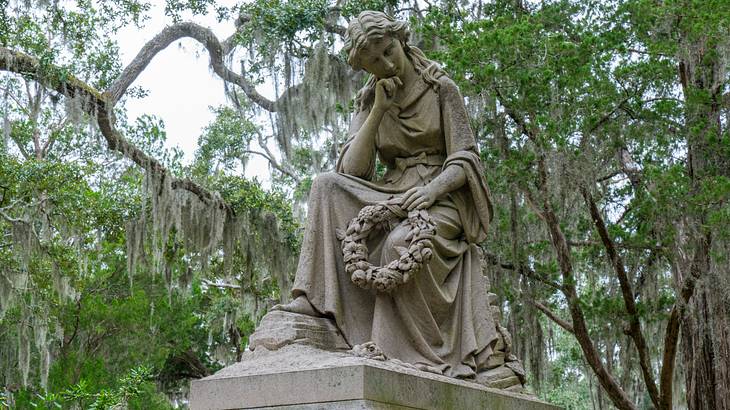 Dare to explore Bonaventure Cemetery
Bonaventure Cemetery sits on the historically significant site of the Bonaventure Plantation. The cemetery features ornate tombs and mausoleums as well as many gravestones.
The cemetery is the final resting place of notable people, including Johnny Mercer and Conrad Aiken. Bonaventure Cemetery was also featured in the Savannah-based novel "Midnight Garden of Good and Evil."
Look around the Forsyth Farmers Market
Held every Saturday, the Forsyth Farmers Market is a great place to wander around and discover a range of local produce, even if you don't buy anything. Products you'll find here include fruits and vegetables, honey, flowers, and much more.
If you decide to buy, your purchase will help support local Savannah farmers. As the market is held in Forsyth Park, it's the ideal place to visit before or after exploring the park.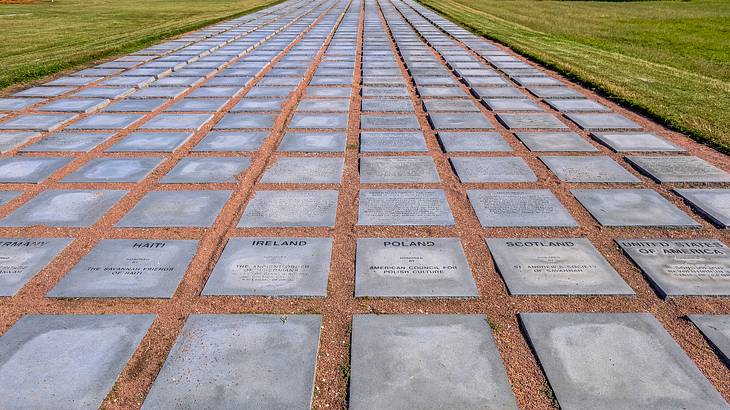 See the battlefield at Tricentennial Park
Another of the things to do for free in Savannah, GA, is going to Tricentennial Park. This landmark features three museums and a battlefield and memorial.
Although in Tricentennial Park, the battlefield is named Battlefield Memorial Park. While the museums have an admission fee, you can see the battlefield and memorial for free.
Battlefield Memorial Park is a real battlefield that was the site of the Battle of Savannah during the Revolutionary War. This is one of the best free places to visit in Savannah, GA, if you're interested in the Revolutionary War.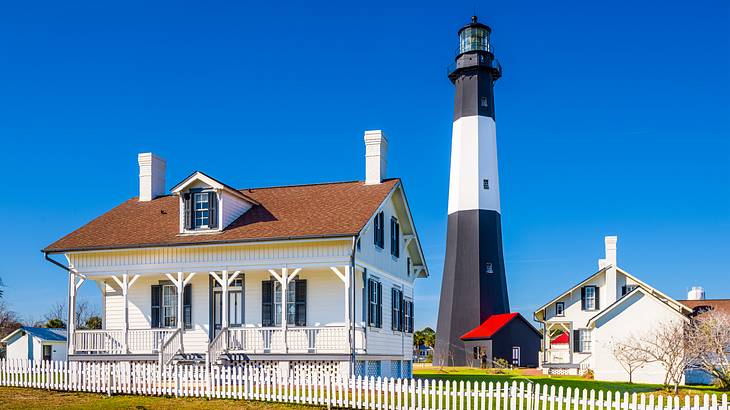 Take a trip to Tybee Island
Tybee Island is a barrier island near Downtown Savannah. The island features many outdoor activities that are free to enjoy. Things to do on Tybee Island include hiking, seeing the island's iconic lighthouse, and hanging out on the beach, where you may spot dolphins.
There are also many places to play volleyball, soccer, and other sports. Spending a day on Tybee Island is notably one of the best things to do with kids in Savannah.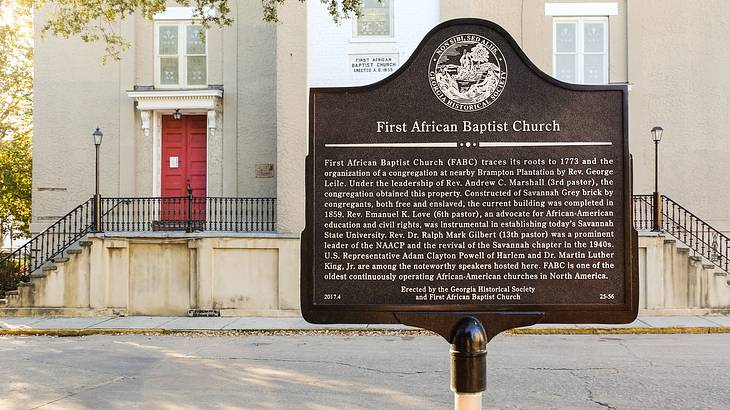 Visit the First African Baptist Church
Savannah's First African Baptist Church is the location of the first congregation organized by African American Baptists. It was founded in 1773 and was important to the Civil Rights Movement in Savannah. It also acted as a meeting place during segregation.
During a visit, you can admire the building's many original features and the stained-glass window of Reverend Leile, the church's founder. This is a free landmark in Savannah that everyone should see!
Discover African artifacts at the Savannah African Art Museum
The Savannah African Art Museum features a collection of over 1,000 items from West and Central Africa. Pieces on display include spiritual and ceremonial artifacts made from wood, ceramics, and metal.
This vast and interesting collection also represents 28 countries and over 180 cultures. Visiting the Savannah African Art Museum is a fascinating experience, and it's definitely one of the best free attractions in Savannah, GA.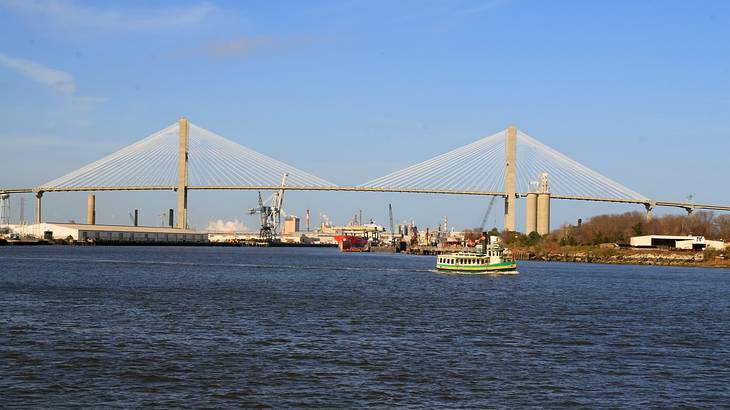 View the Savannah skyline from the Talmadge Memorial Bridge
The Talmadge Memorial Bridge runs across the Savannah River and connects downtown Savannah to Hutchinson Island. Walking across the 1.9-mile-long bridge allows you to enjoy the best views of the Savannah skyline and surrounding river. Even if you don't walk the entire length of the bridge, you'll get to appreciate the incredible views of the city.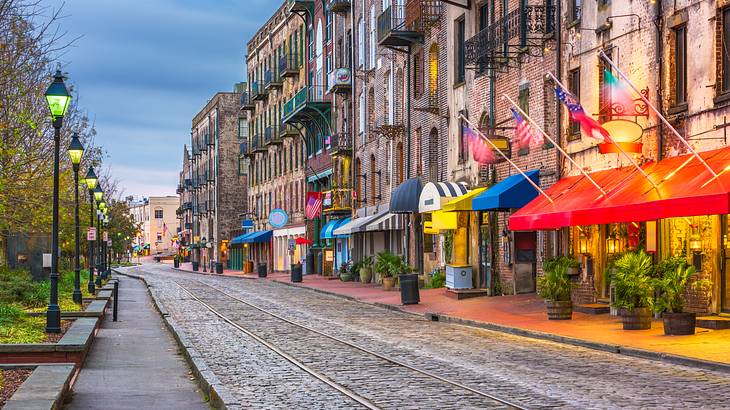 Wander Down River Street
River Street is one of Savannah's most renowned streets. Located right by the water, the cobblestone street features stunning architecture and a range of shops, restaurants, and art galleries.
When in the city, strolling along this street is a must and will allow you to appreciate the Savannah riverfront and see the boats on the water, from tanker ships to old-fashioned cruise boats. You'll additionally come across the Waving Girl statue and a handful of other statues.
In Conclusion
Savannah is a must-visit city with an array of attractions and landmarks. Best of all, there's so much you can do in the city for free, from visiting museums and botanical gardens to hiking and going on walking tours. No matter what your vacation budget is, you'll find incredible free activities in Savannah, GA, to enjoy!
Give us feedback about this article
Learn more about Savannah:
More articles about Georgia:
Read more articles about the United States:
More articles about things to do:
More visual stories related to this article:
---
---
Want to keep exploring?
Subscribe for discounts on tickets and hotels and our latest guides.
Thank you for subscribing
We will be in touch soon with discounts on tickets and hotels and our latest guides.
Want to keep exploring?
Subscribe for discounts on tickets and hotels and our latest guides.
Thank you for subscribing
We will be in touch soon with discounts on tickets and hotels and our latest guides.
Related Articles