Do You Know These 20 Interesting Facts About Savannah, GA?
Destguides may receive commissions from purchases made through affiliate links in this article.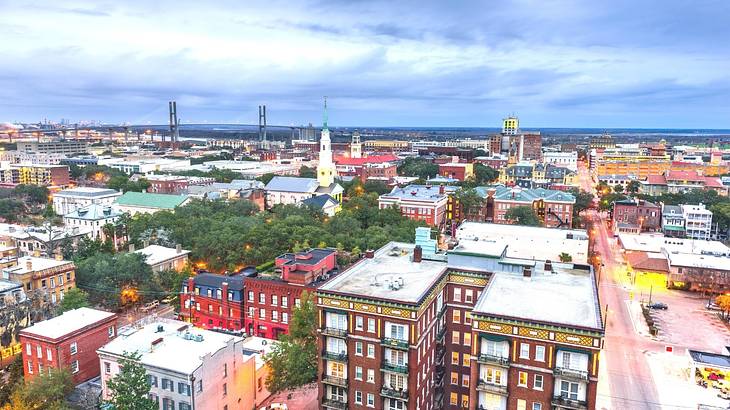 Located in Chatham County in the Southern state of Georgia, Savannah is one of the most fascinating and unique cities to visit in the US. The area has a rich history and features many famous landmarks, exciting attractions, and friendly locals.
If you live in the area or enjoy visiting this amazing vacation destination, you should check out these interesting facts about Savannah, GA. From what the oldest building in the city is to where the most haunted places are located, you're sure to learn something new about Savannah!
20 Savannah Facts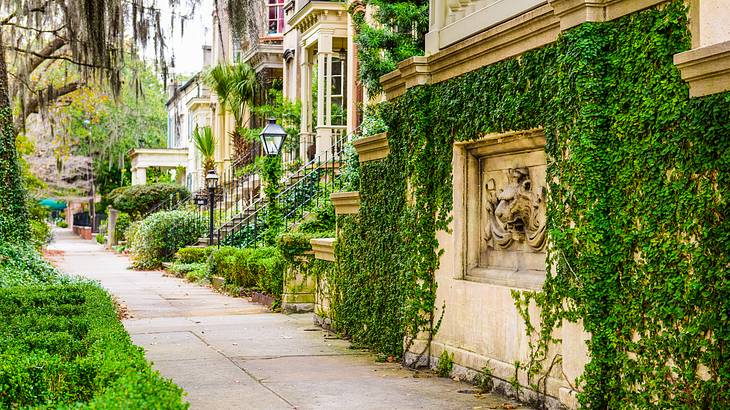 One of the US' largest National Historic Landmark Districts is in Savannah
The US has 2,300 National Historic Landmark Districts, and Savannah's Historic District is one of the biggest urban historic preservation districts in the country. The Savannah Historic District corresponds to the pre-civil war limits of the city, and today, houses an array of historic Savannah landmarks.
Must-see landmarks within this historical area of Savannah include Savannah City Hall, the First African Baptist Church, the Mercer-Williams House Museum, and many more. Visiting this part of Savannah is an absolute must when in the city!
Savannah's First African Baptist Church was the country's first black church
Founded in 1773, Savannah's First African Baptist Church was the first created by an African American congregation in the United States. The church played a vital role in the Civil Rights Movement and acted as a safe haven for freed and escaped slaves.
This important church is still active today, and you can visit it when in Savannah to learn more about its history and significance.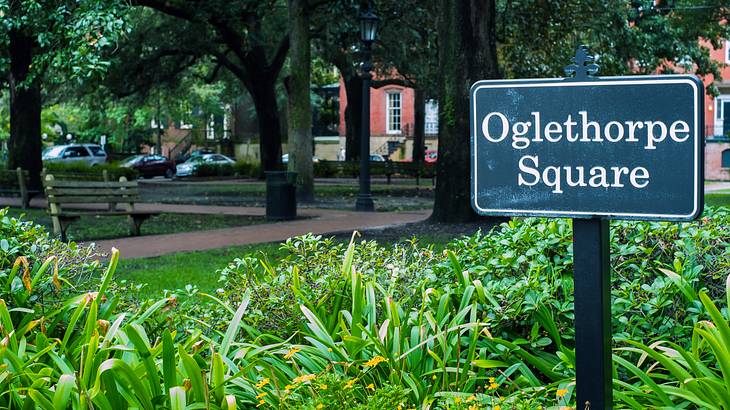 Savannah is Georgia's oldest city and the first planned city in the US
One of the interesting facts about Savannah, Georgia, is that it was one of the first planned cities in the United States. It's also, therefore, the oldest city in Georgia.
Savannah was founded in 1733 by James Edward Oglethorpe, and he arrived with a detailed plan of how the city would be organized. With the US officially becoming its own country three years later, in 1776, Savannah was named the first city shortly after.
Catholicism was outlawed when Savannah was founded
When Savannah was founded in the 1700s, James Edward Oglethorpe made Catholicism illegal. He also outlawed the consumption of alcohol and lawyers, among other things that we would find odd if banned today.
Interestingly, slavery was also outlawed until it was unfortunately reinstated in the 1750s. Of course, today, Catholicism, alcohol consumption, and lawyers are allowed in Savannah, and slavery was abolished in 1863.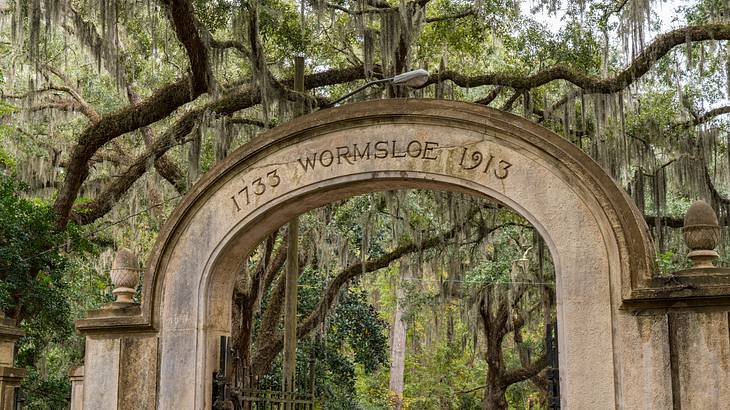 Wormsloe Historic Site houses Savannah's oldest structure
The Wormsloe Historic Site is one of the most significant historical landmarks in Savannah. The site also features an estate, known as the Wormsloe tabby ruin, that was owned by Noble Jones in 1739.
This building holds the title of being the oldest standing structure in Savannah. When visiting the historic site, you can view the estate, explore the grounds, and learn more about Wormsloe's history.
Pirates' House is the oldest building in Savannah
While the Wormsloe Historic Site ruin holds the title of being the oldest standing structure in the city, Pirate's House is the oldest building in Savannah that remains fully intact.
Built in 1794, the building acted as a tavern and today is a historic restaurant. The part of the building called "Herb House" is the oldest portion.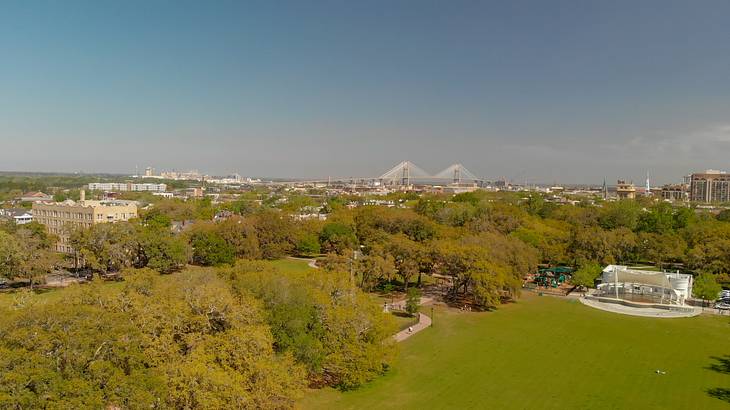 Savannah was gifted to President Lincoln during the Civil War
One of the multiple interesting Savannah, GA, history facts is that Savannah was given to President Lincoln as a Christmas present during the Civil War.
On December 22, 1864, Union General William T. Sherman offered the city to the President. This was done after the "March to the Sea to Atlanta", which effectively captured Savannah from the Confederate army.
Savannah is home to one of the oldest Jewish congregations in the US
Savannah's Temple Mickve Israel is one of the oldest synagogues in the US. The temple is also home to the United States' third-oldest Jewish Congregation. Founded in 1878, the synagogue is still active today.
Guided tours are also available for those interested in learning more about this historical religious landmark. If touring the temple, you'll be able to view two Torahs that date backs to the 1400s, along with many other artifacts.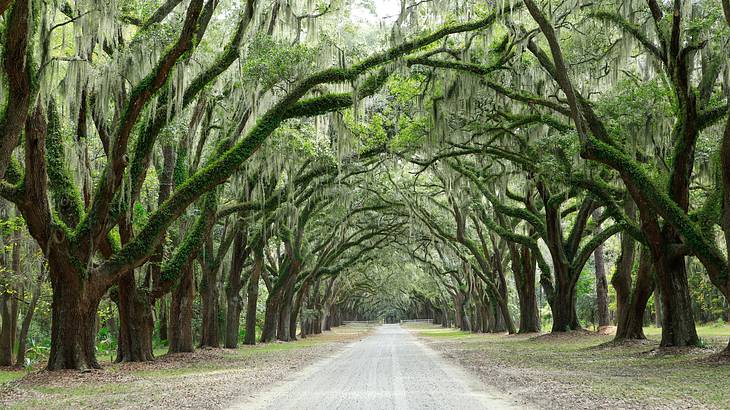 Savannah's iconic Spanish Moss isn't moss!
Savannah is known for its moss-covered streets and trees, specifically covered with Spanish Moss. However, this Spanish "Moss" is not actually moss at all. The plant seen around Savannah is part of the Bromeliad family, the same family that Pineapple plants fall under.
Moon River Brewing Company is another of Savannah's most haunted sites
Moon River Brewing Company is located in one of Savannah's oldest buildings and is also known as one of the city's most haunted sites. The building was built in 1812 as the first hotel in Savannah and now houses a popular brewery.
During its long past, the building was used as a hospital for those dying of Yellow Fever, and various murders have occurred ​​at the location before it became a brewery. Many of these victims are said to still haunt Moon River Brewing Company, making it one of the city's most ghostly attractions.
The song Moon River is about Savannah
The haunting of Moon River Brewing Company isn't the only fact related to "Moon River." The 1960 song Moon River by Johnny Mercer, featured in Breakfast at Tiffany's, was written about Savannah and Mercer's life there.
The singer grew up in Savannah, and you can find a statue of him downtown, just a short walk from River Street. Many assume the song is about Moon River, located near Skidaway Island. Others think that "Moon River" refers specifically to the Savannah River.
Savannah was one of the main cities featured in Forrest Gump
Savannah is one of the primary cities that the 1994 movie Forrest Gump was set and filmed in. Along with Savannah featuring in the storyline (although many of those scenes were filmed in South Carolina), famous scenes were filmed in the city.
One of the most renowned scenes was filmed in Savannah's Chippewa Square. In this scene, Forrest sits on a bench talking to anyone that passes by and utters his famous "Life is like a box of chocolates line."
The South's oldest operating historical society is in Savannah
The Georgia Historical Society, headquartered in Savannah, is one of the oldest in the United States. Founded in 1839, the Georgia Historical Society is also the oldest continuously operating historical society in the south of the US.
The society focuses on teaching Georgia history and collecting information and artifacts relating to the state.
Savannah was Georgia's first state capital
Another of the fascinating Savannah, GA, history facts relates to the state's capital. Although Atlanta is the state capital of Georgia today, Savannah was the state's original capital.
Georgia has had five state capitals in total, starting with Savannah in 1776. Following state capitals were Augusta, Louisville, Milledgeville, and finally Atlanta in 1868.
The Girl Scouts were founded in Savannah
The Girl Scouts of America were founded in Savannah in 1912 by city resident Juliette Gordon Low. The first girl scout troop included just 18 girls who wanted to create a global movement to make a difference in their communities and across the world.
Today, there are over 2.5 million Girl Scout members. The organization's headquarters is still located in Savannah.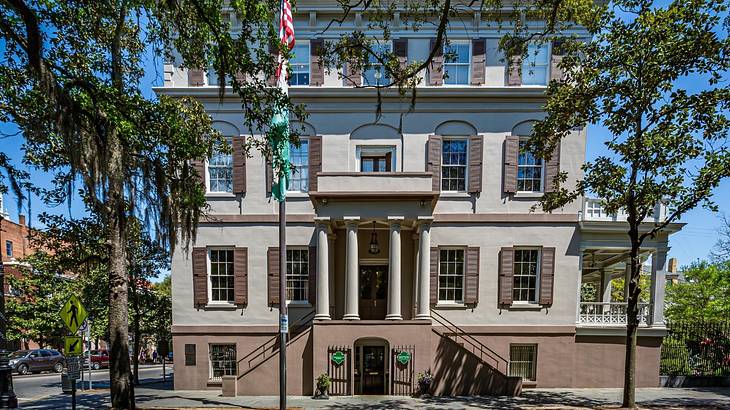 Juliette Gordon Low has a district of the city named after her
Girl Scout founder Juliette Gordon Low is such a significant figure in Savannah that she has a district named after her, the Juliette Gordon Low historic district.
This district includes the Juliette Gordon Low Birthplace and first Girl Scout headquarters. If visiting Savannah with kids, visiting these sites is a fun thing to do, especially if your children are Girl Scouts.
You can take your alcoholic drinks to-go in Savannah!
One of the fun facts about Savannah, Georgia, is that it's legal to take alcoholic drinks to go. Whether you haven't finished your drink by the time you leave a restaurant or want a beverage between stops on a night out, asking for a to-go cup for wine, beer, and liquor is permitted.
However, this law only applies within the historic district boundaries. These go from River Street to Jones Street and from East Broad Street to West Boundary Street. This is a useful law to keep in mind if visiting Savannah for a weekend getaway!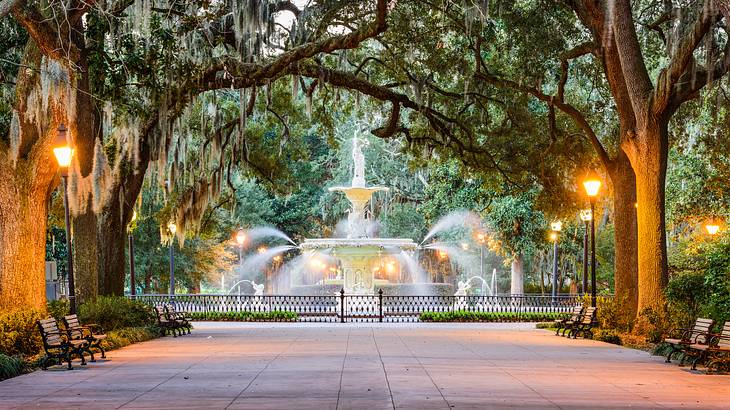 The Forsyth Park fountain was ordered from a catalog
Forsyth Park is an iconic park in downtown Savannah known for its over 150-year-old fountain and stunning gardens. But few people know that the renowned fountain was not hand-designed, but instead, it was ordered from a catalog.
This means that the fountain isn't unique to Savannah, with similar fountains being found in New York, Peru, and France. Despite this fact, hanging out in Forsyth Park is still one of the best free things to do in Savannah!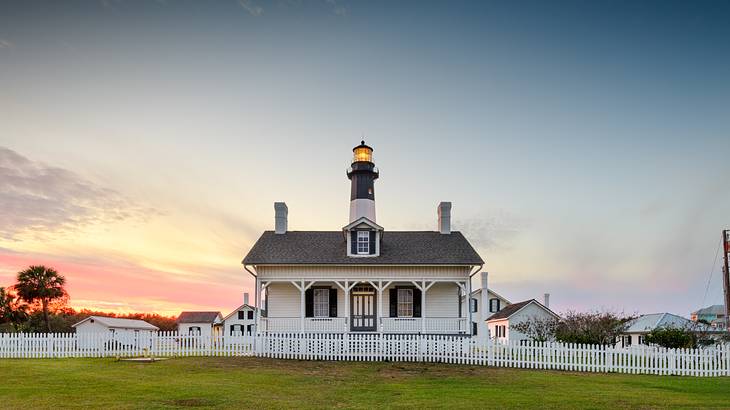 There's a nuclear bomb on Savannah's Tybee Island
One of the little-known Savannah, Georgia, history facts, is that a nuclear bomb was dropped near central Savannah on Tybee Island.
In 1958, the US air force accidentally dropped the nuclear bomb on the island during a military exercise where two planes collided. The over 7,000-pound bomb didn't detonate and worryingly has never been found.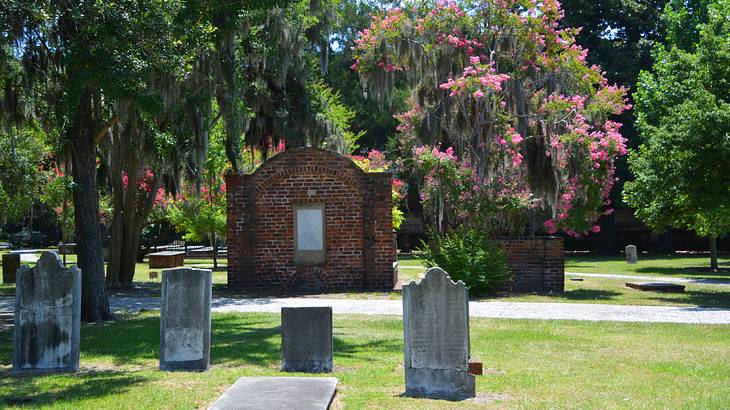 Colonial Park Cemetery is one of Savannah's most haunted sites
Colonial Park Cemetery is Savannah's largest cemetery and one of the city's most haunted sites! The cemetery opened in 1750 and was the city's main burial ground until 1853.
During that time, many individuals were buried there, including over 700 Yellow Fever victims. Due to the vast number of dead buried here, the site is assumed to be haunted, with ghost sightings being recorded frequently.
In Summary
Savannah is an incredible location to visit, with an interesting history. Due to this rich historical and cultural background, you can discover an array of fun and fascinating facts about Savannah, GA.
Hopefully, this list has highlighted some facts about Georgia you didn't know, and it allowed you to learn more about this charming Southern city.
Give us feedback about this article
For more interesting articles about United States, read:
For some great articles about facts, check out:
For visual stories related to this article, take a look at:
---
---
Want to keep exploring?
Subscribe for discounts on tickets and hotels and our latest guides.
Thank you for subscribing
We will be in touch soon with discounts on tickets and hotels and our latest guides.
Want to keep exploring?
Subscribe for discounts on tickets and hotels and our latest guides.
Thank you for subscribing
We will be in touch soon with discounts on tickets and hotels and our latest guides.
Related articles