A Perfect Weekend in Savannah, GA - 3 Day Savannah Itinerary
Destguides may receive commissions from purchases made through affiliate links in this article.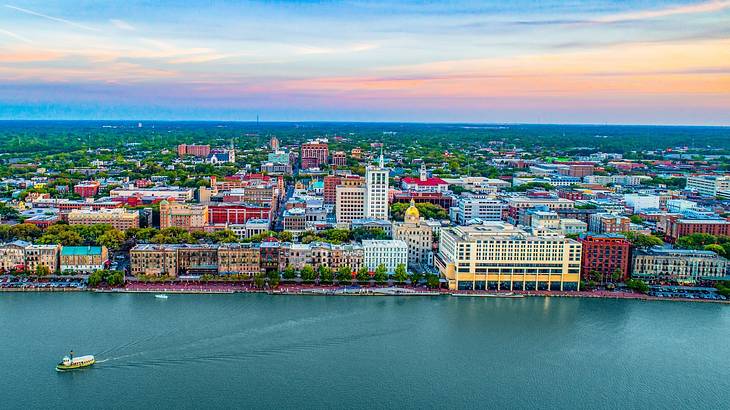 Finding the perfect weekend getaway destination can be challenging, but Savannah, Georgia, is a great choice! The city is conveniently located close to Hilton Head International Airport and boasts an array of unique attractions.
When planning the perfect weekend in Savannah, GA, you'll find many places you must visit, from incredible restaurants to art museums and Georgia landmarks galore. This activity-packed 3 day Savannah itinerary is sure to keep you busy and amused.
Weekend Getaway in Savannah, Georgia
Savannah Historical and Cultural Landmarks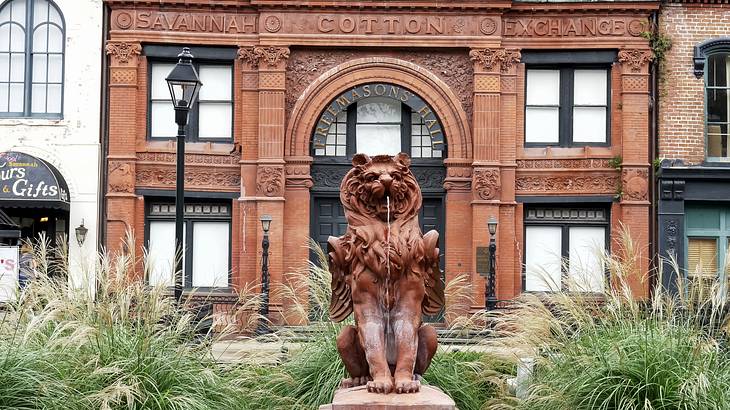 Your first day in Savannah, Georgia, will be spent exploring a variety of attractions. First, you'll visit the SCAD Museum of Art to appreciate contemporary work by emerging artists. You'll then wander around the iconic Savannah Historic District.
Next is a trip to City Market to browse shops and art galleries and get lunch at one of many excellent eateries. In the afternoon, you'll visit the fascinating Mercer Williams House Museum before enjoying a traditional southern dinner at Mrs. Wilkes. Dining Room. You'll end the night with at least one drink at Crystal Beer Parlor.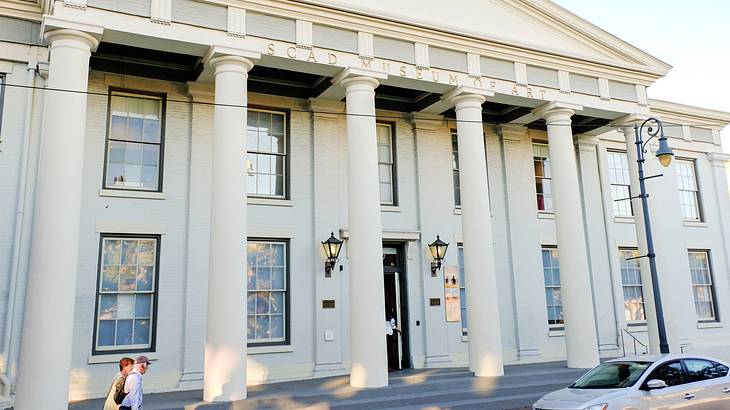 SCAD Museum of Art
SCAD Museum of Art is a contemporary art museum featuring collections from American and international artists. The museum is part of the Savannah College of Art and Design (SCAD) and was founded in 2002.
Artists with works on display include Hein Koh and Mehryl Levisse. Despite housing a variety of artworks, you don't need to spend too long at the SCAD Museum of Art and can see all the pieces in around 20 minutes.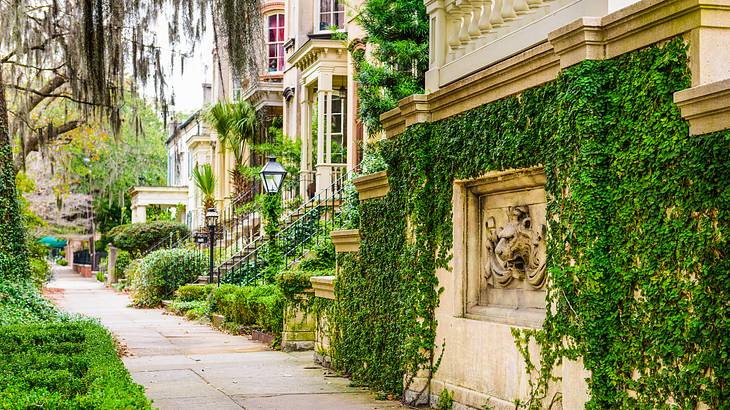 Savannah Historic District
Wandering around the Savannah Historic District is a must when in the city. This renowned area is home to a multitude of landmarks, including the Sorrel Weed House and the Juliette Gordon Low Birthplace.
Along with checking out the various Georiga landmarks located here, you can simply wander around and take in the beautiful streets lined with old-fashioned houses.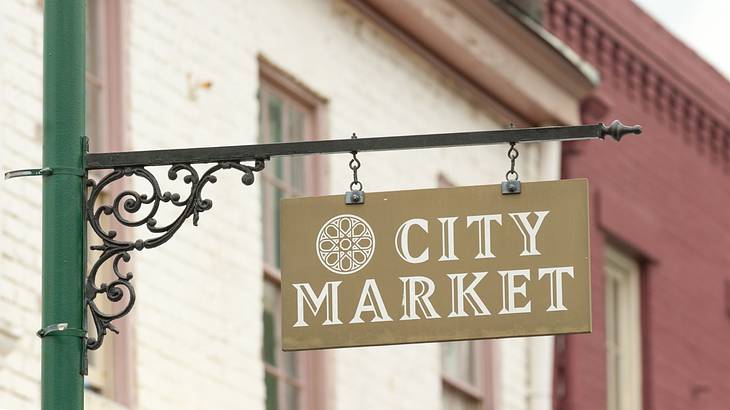 City Market
The next stop on your weekend trip to Savannah, GA, is City Market. This open-air market features a range of cafes and restaurants serving incredible dishes. You'll also discover independent shops and art galleries here.
Restaurants to try include Belford's Savannah Seafood and Steaks and The Little Crown by Pie Society, selling savory and sweet pies. Having eaten, check out the multiple shops here, from candy stores to jewelry shops.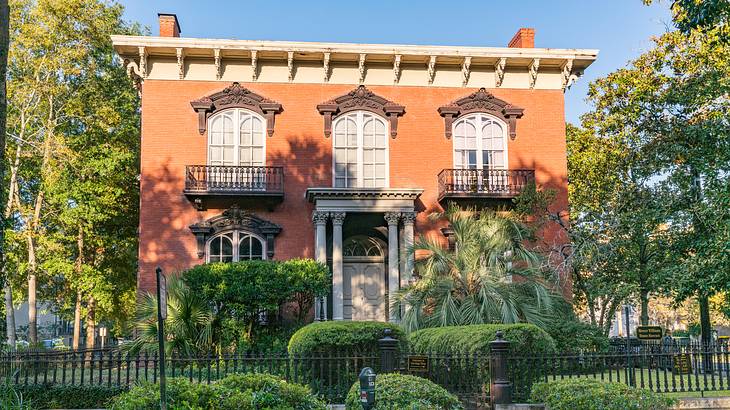 Mercer Williams House Museum
The Mercer Williams House Museum is an iconic Savannah historic site located in the Savannah Historic District. You may recognize the house from the book and movie "Midnight in the Garden of Good and Evil."
The house is notably home to a Savannah native who was tried four times for a murder that took place in Mercer Williams House. At the museum, you can learn about the history of this renowned home and appreciate the many antiques that sit inside.
Mrs. Wilkes' Dining Room
Having spent the day exploring, the next stop on your Savannah weekend getaway will allow you to relax with a great meal and a drink. Mrs. Wilkes Dining Room is a family-owned diner founded in 1943. The quaint restaurant serves incredible Southern dishes and offers a friendly atmosphere.
Dishes to try include fried chicken, meatloaf, mac and cheese, and candied yams. No matter what you get to eat, you're sure to have an amazing Southern-style dinner.
Crystal Beer Parlor
The ideal way to end the night in Savannah is with some drinks at Crystal Beer Parlor. The trendy bar is housed in a centuries-old grocery store and features an extensive drink menu.
Beverages to choose from include a vast selection of whiskies and tequilas, draft beer, wine, and various cocktails. They also have tasty snacks, like onion rings or homemade potato chips.
An Island Getaway and Delicious Eats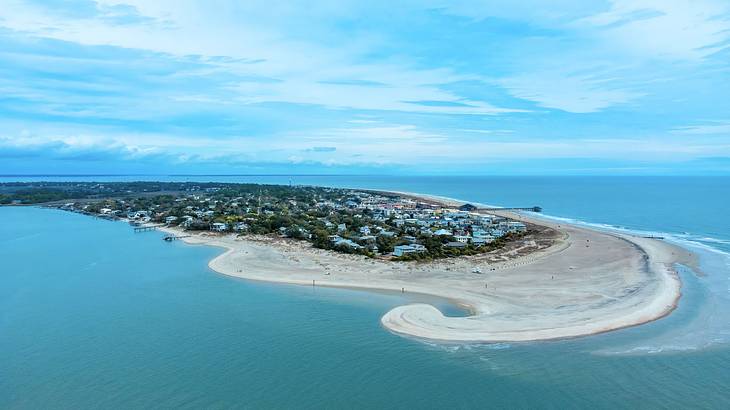 Day two of your Savannah, Georgia, weekend getaway will start with a trip out of the city to Tybee Island. At this location, you can go to the beach, spot dolphins, and visit the island's quaint lighthouse. On the way back to central Savannah, you'll stop at the Wormsloe Historic Site to explore the grounds and estate.
Later in the day, you'll visit the spooky but fascinating Bonaventure Cemetery. Having wandered around this landmark, you'll head to the renowned Leopold's Ice Cream for a delicious sweet treat. Dinner today will be at the Perry Lane Hotel, where you can taste high-quality dishes before getting some drinks at one of two sophisticated bars.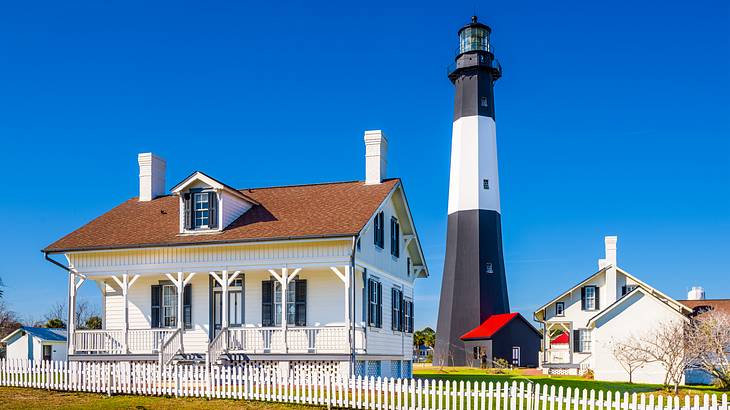 Tybee Island
Tybee Island is located 30 minutes from central Savannah and is a small barrier island with a range of attractions. Things to do on this pretty island include relaxing at the beach, hiking, and going on a dolphin-watching tour.
You must also check out Tybee Island Light. This lighthouse dates back to 1736 and is the island's most famous landmark. If you have time, visiting nearby Fort Pulaski is a great idea too.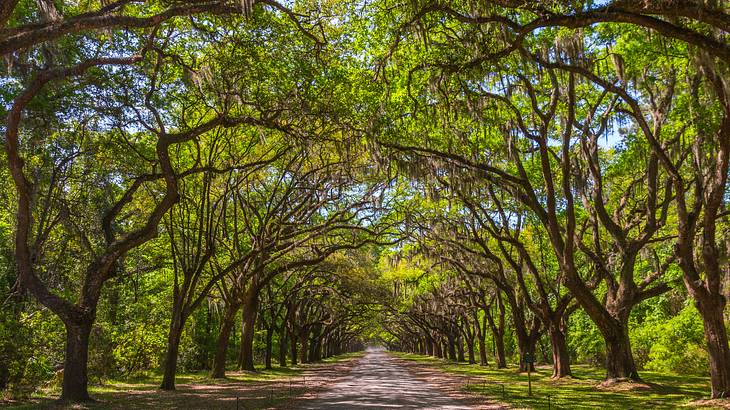 Wormsloe Historic Site
As another of Savannah's many landmarks, Wormsloe Historic Site is a must-visit spot. The main attraction here is the large park, complete with beautiful moss-covered oak trees.
There is also an old mansion, Wormsloe Estate, to explore that features a museum inside. Notably, this building is the oldest structure in Savannah. If you want to learn more about this attraction, taking a Wormsloe Historic Site guided tour is a great idea.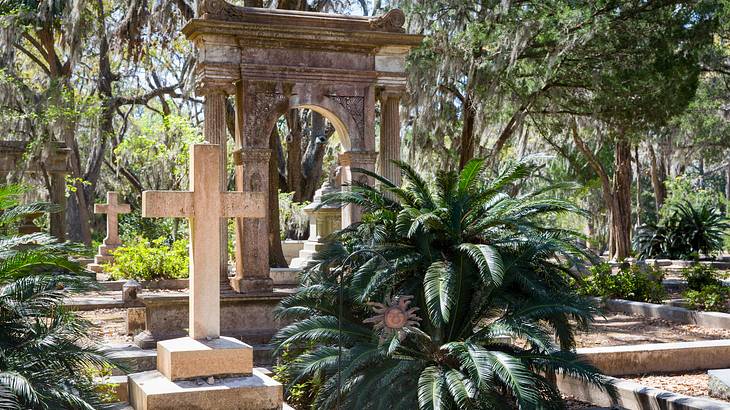 Bonaventure Cemetery
If you enjoy slightly more eerie attractions, visiting Bonaventure Cemetery needs to be added to your Savannah weekend getaway itinerary. The cemetery houses ornate tombs, mausoleums, and gravestones within lush green surroundings.
Bonaventure Cemetery is also another Savannah attraction featured in "Midnight in the Garden of Good and Evil." Wandering around the cemetery is a great way to unwind, and if you want to learn more about the ground's rich history, consider taking a Bonaventure guided tour.
Leopold's Ice Cream
Leopold's Ice Cream is a Savannah dessert institution serving delicious ice cream in various flavors. Founded in 1919, this location is a must-visit for those with a sweet tooth.
Tasty treats include ice cream sundaes, banana splits, and milkshakes. You can also get single or double scoops, and flavors to try include butter pecan, lemon custard, and rum bisque. A trip to Leopold's Ice Cream is also an ideal activity when traveling to Savannah with kids.
Perry Lane Hotel
The Perry Lane Hotel is a luxury hotel that features three outstanding bars and restaurants. If you're looking for a delicious dinner, then getting a reservation at Perry Lane's Emporium Kitchen & Wine Market is a must.
Having dined at Emporium, you can grab some more drinks at the hotel's Wayward bar or Peregrin rooftop bar. Both serve an array of yummy cocktails and offer a relaxed atmosphere.
An Attraction-Packed Day with a Spooky Finish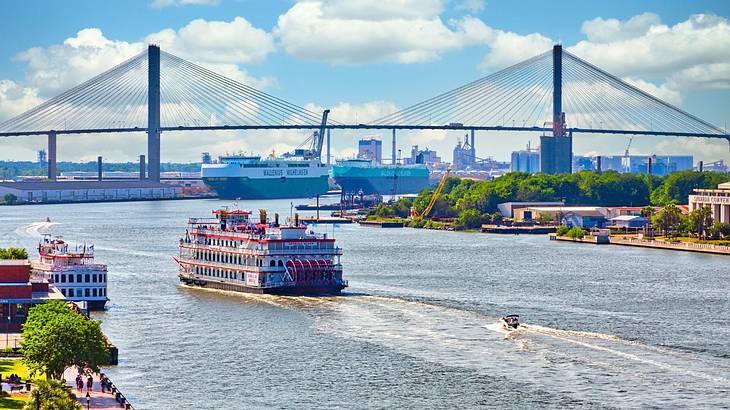 After a busy few days in the city, the last day of your Savannah, GA, weekend getaway will start with a relaxing walk in Forsyth Park. Your next stop is another historical landmark, the Andrew Low House, which was once home to Girl Scout's founder, Juliette Gordon Low.
Around lunchtime, you'll head down to River Street to hop aboard a cruise on the Savannah River before heading back to land to explore the Colonial Park Cemetery. You'll then have an incredible meal at the famous Olde Pink House Restaurant. The day will end with an eerie but exciting ghost tour of Savannah.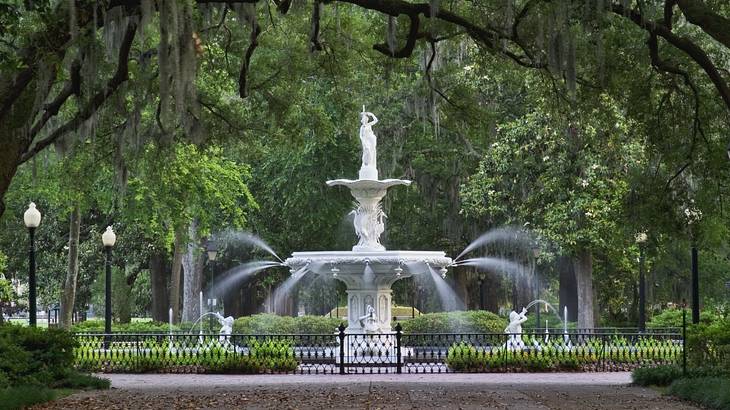 Forsyth Park
Forsyth Park is a beautiful urban park that's the ideal place to enjoy a laid-back walk. The park features its iconic water fountain as well as tranquil trails and lots of greenery. Best of all, visiting Forsyth Park is one of the great free things to do in Savannah.
You can walk or jog in the park, and wildlife sightings are almost guaranteed. You can even return later in the day for a lunchtime picnic in Forsyth Park!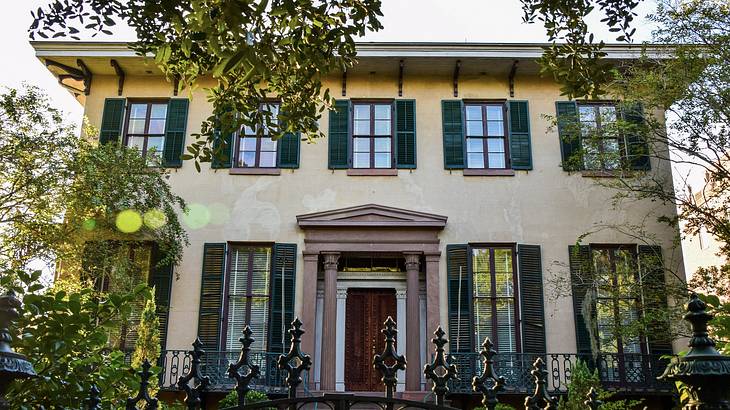 Andrew Low House
The Andrew Low House is a historic home in Savannah where Girl Scouts founder, Juliette Gordon Low, lived with her husband. The house was originally constructed in 1848 by Juliette's father-in-law, Andrew Low.
Today, the house acts as a museum with displays on the house's previous owners. Each room is also decorated as it was when Juliette lived there, and the rooms feature a range of antiques and 19th-century furniture.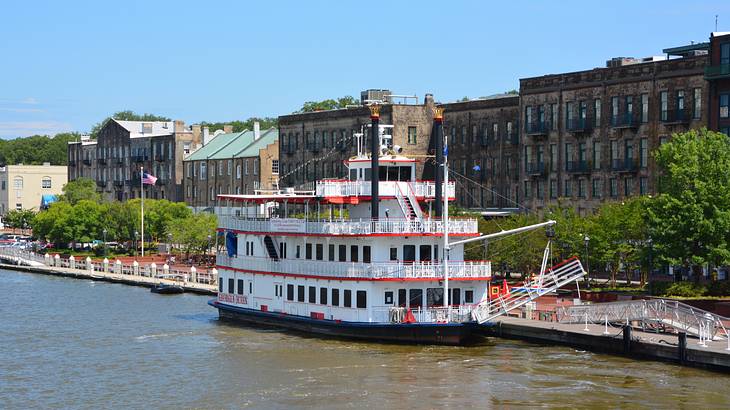 Savannah Riverboat Cruise
Taking a riverboat cruise is a fun activity that will allow you to get on the water and appreciate the Savannah skyline. You can find various Savannah riverboat cruises to choose from, many of which also offer a meal, drinks, and entertainment.
Once aboard the boat, you'll be taken past many Savannah landmarks and can appreciate stunning views. Crew members can also offer more information on the sights you see and city history. This activity is highly recommended for all travelers and will create lasting memories.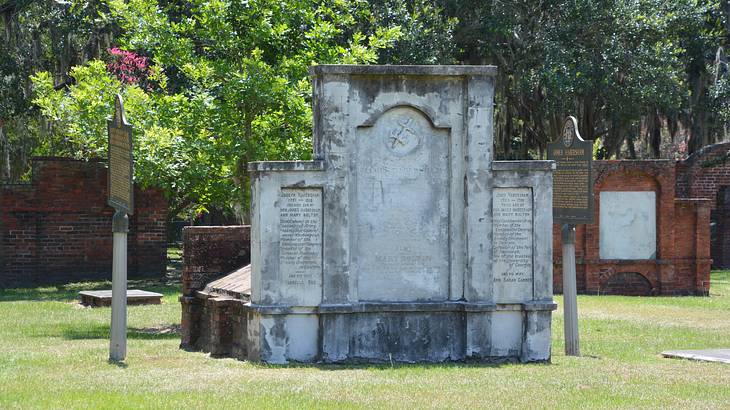 Colonial Park Cemetery
Another slightly spooky spot to visit on your weekend trip to Savannah, GA, is the Colonial Park Cemetery. This cemetery closed to burials in 1853 and is now a unique urban park.
While exploring the area, you can still see many of the graves of those buried at Colonial Park Cemetery in the 1800s. The intricately designed gravestones and tombs scattered among pretty trees and greenery make for an interesting and memorable sight.
The Olde Pink House Restaurant
Savannah has an array of outstanding dining spots, and Olde Pink House Restaurant is one of the most iconic. The restaurant is housed in a quirky pink building and is one of the city's oldest eateries, opening in 1789.
Delicious menu options include crab cakes, shrimp and scallops, and pecan-crusted chicken. To make your evening even better, you can also enjoy a drink before or after your meal in the on-site Archer's Bar.
Savannah Ghost Tour
Savannah is well-known as a haunted city, and the best way to experience all the paranormal activity the city has to offer is by going on a Savannah ghost tour. You can find an array of ghost tour operators that will take you to various ghostly sites.
Haunted places you may visit include Wright Square, The Marshall House, and central Savannah's cemeteries. This activity is the ideal yet slightly scary way to end your weekend in Savannah!
In Conclusion
Savannah is the perfect destination for a weekend away. This charming city features an array of historical and cultural landmarks and attractions that will please all travelers. If you're planning a trip, this three-day itinerary will be helpful to ensure you see all the city's top landmarks and attractions.
Give us feedback about this article
More visual stories related to this article:
---
---
Want to keep exploring?
Subscribe for discounts on tickets and hotels and our latest guides.
Thank you for subscribing
We will be in touch soon with discounts on tickets and hotels and our latest guides.
Want to keep exploring?
Subscribe for discounts on tickets and hotels and our latest guides.
Thank you for subscribing
We will be in touch soon with discounts on tickets and hotels and our latest guides.
Related Articles