26 Best Things to Do in Kona, Hawaii
Destguides may receive commissions from purchases made through affiliate links in this article.
Hawaii is consistently ranked as a top travel destination due to its breathtaking scenery, beautiful beaches, remarkable culture, famous Hawaiian landmarks, and delicious food.
While many tourists opt to visit well-known areas such as Maui or Honolulu, the town of Kailua-Kona, or just Kona, is also a great vacation destination.
Kona is located on the Big Island's western shore. It spans about two-thirds of the island's western side and is found between Kohala to the north and Kau to the south.
If visiting, the following list outlining the best things to do in Kona, Hawaii, will help you plan your vacation activities.
26 Best Things to Do on Kona, Hawaii
Kona, Hawaii, Things to Do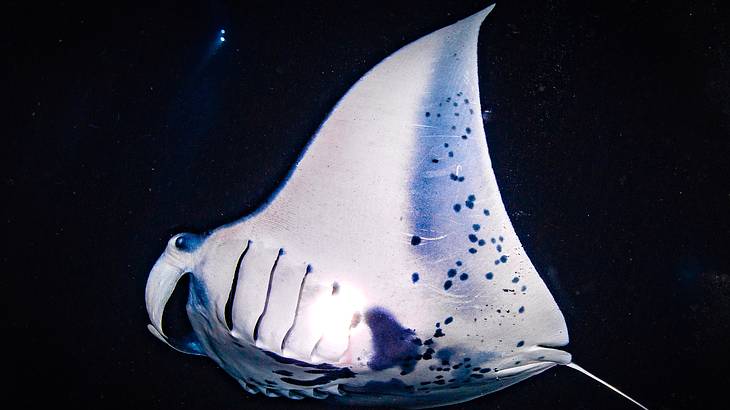 Night snorkel with manta rays
Snorkeling with manta rays is something you must absolutely do while in Kona. The manta rays in the Kona region are particularly interesting as they are the second-largest ray species in the world!
To ensure you spot some manta rays, you will have to snorkel at night as this is when the rays are most active. During the night snorkeling experience, you have the chance to view these immense creatures up close surrounded by Kona's tranquil nighttime waters.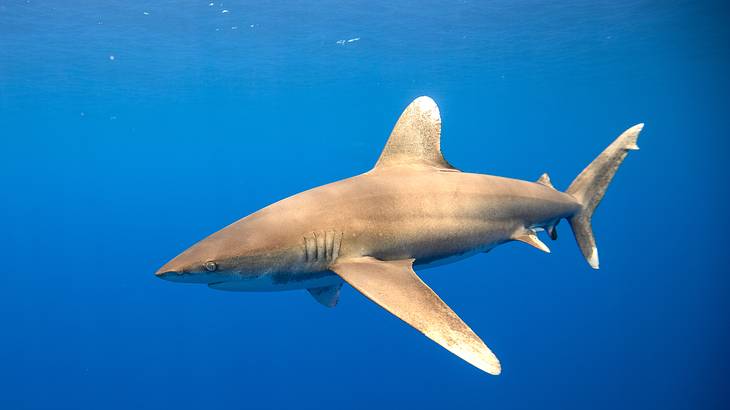 Dare to swim with sharks
The waters around Kona are home to a vast array of marine life, including sharks. If you're up for it, you can swim with these creatures while visiting.
Despite it sounding like a scary experience, the sharks in Kona are not dangerous to humans. Your guide will also know how to keep you safe and where to go for the best up-close shark viewings.
Swimming with Kona's sharks is highly recommended and will leave you with lifetime memories!
Visit Ocean Rider Seahorse Farm
Popularly known as the Kona Seahorse Farm, Ocean Rider has been working since 1998 to protect seahorses and other aquatic animals from extinction. This family-operated aqua farm follows strict practices and uses cutting-edge technology to raise and breed more than 30 seahorse species.
When visiting, you can partake in a tour that takes you around the marine farm. You can interact with the seahorses in a way that's safe for them as well. A visit to this farm is truly unique and also helps support seahorse conservation efforts.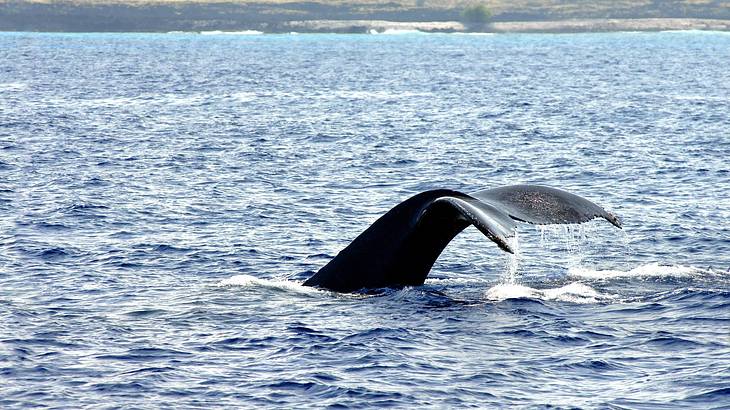 Find humpback whales on a whale watching tour
Kona is the ideal place to spot humpback whales. Whales tend to be in the area between November and May. If visiting then, a whale watching tour is one of the top things to do in Kailua Kona, Hawaii.
Some places offer a whale-watching cruise at affordable rates, so make sure to shop around! They will take you to whale pod locations, ensuring you see these majestic mammals. You'll likely spot dolphins, sea turtles, rays, and other aquatic life too.
Hike around Kaloko-Honokōhau National Historical Park
Kaloko-Honokōhau National Historical Park is an incredible park in Kona. The park offers a range of hiking trails that lead to the Honokōhau Settlement, sacred temples, and petroglyphs.
The national park additionally features unique Hawaiian fishponds, and you'll likely spot a selection of wildlife. Animals to see include various bird species, Hawaiian monk seals, and green sea turtles on the coastal paths.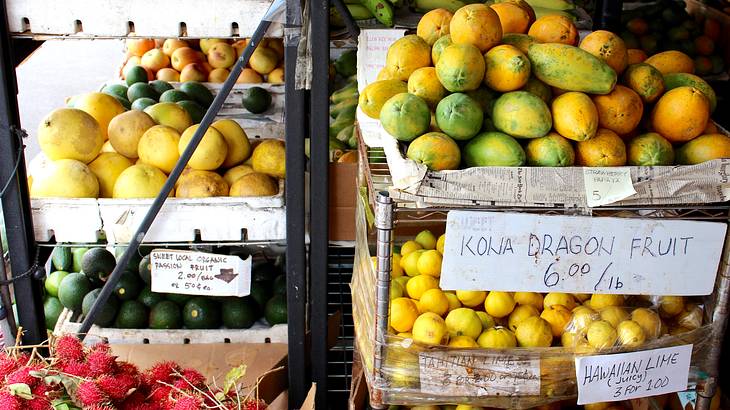 Shop at the Kona Farmers Market
If you're looking for the best things to do on Kona, HI, visiting Kona Village Farmers Market is a must. Located next to the Kona Public Library, the market is open Wednesday through Sunday.
The market offers a range of local produce as well as craft items. Items to buy include fresh pineapples and mangoes, refreshing coconuts, flowers like orchids, and handmade jewelry.
The Kona Farmer's Market offers a great local experience and is the perfect place to try tasty Hawaiian produce and buy some souvenirs.
Shop and eat along Ali'i Drive
Ali'i Drive is one of Kona's main streets. This bustling area is filled with shops, bars, and restaurants. As it runs right along the coast, it's beautiful, too!
If you're looking to buy some souvenirs, you'll find many options here, including Kona Inn Shopping Village. Having explored the shops, you'll discover an array of bars, cafes, and restaurants. Popular spots include Menehune Coffee and Umeke's.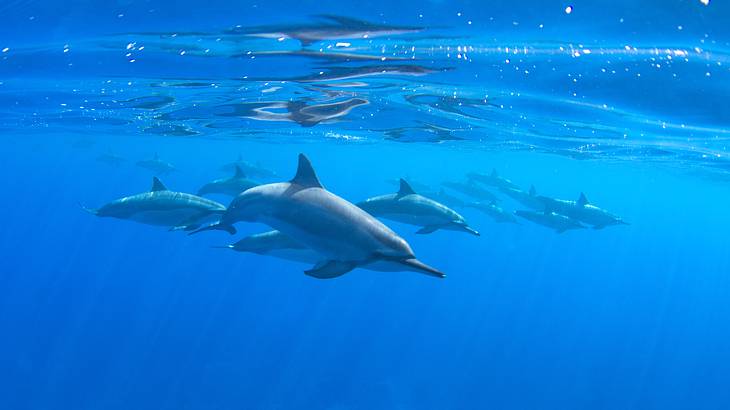 Go swimming with dolphins
Kona's waters are home to beautiful dolphins, and while visiting the island, you can swim with them! A dolphin-watching experience tends to be a few hours long, with your guides taking you to areas known to be home to dolphins.
Once you've found a pod, you can hop in the water and swim with these stunning animals. You can also snorkel with the dolphins and may spot various Hawaiian marine creatures like parrotfish, manta rays, and tang fish.
Check out Kona's breweries
Kona has a few fantastic local breweries to check out. Kona Pub & Brewery is a local favorite. This brewery serves Hawaiian-inspired beers and yummy eats in a brewpub made from only local materials.
Kona Pub & Brewery also supports the local community by purchasing fresh ingredients from across Hawaii.
Ola Brew is another popular spot to head to. This community-owned business makes beers, ciders, and hard seltzers, and teas with quality local ingredients.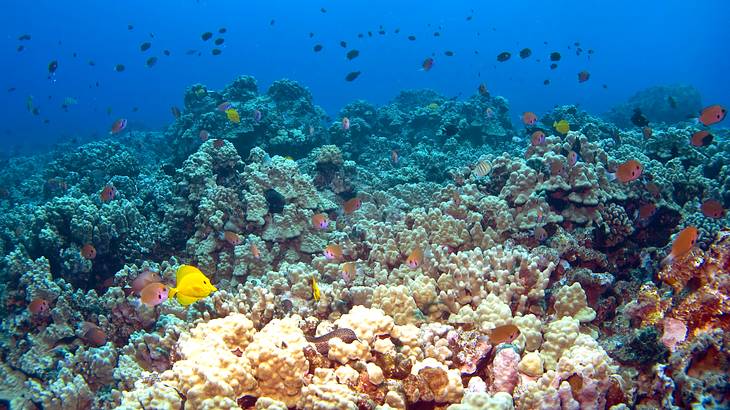 Explore under the ocean on a submarine
Have you ever wanted to see into the depths of the ocean? Then you have to try a Kona Atlantis Submarine tour!
Once aboard the submarine, you'll plunge to 100 feet below the ocean surface to view Kona's waters in a way only a few have before. Things to see include an 18,000-year-old coral reef and a vast array of tropical fish.
It's one of the best things to do in Kona, HI, for those after a one-of-a-kind experience.
Experience a Hawaiian luau
A luau is a Hawaiian event that incorporates music, hula and other dancing, and incredible food and drinks. Attending one of these fun parties is a must when in Kona.
Royal Kona Resort hosts one of Kona's most popular luaus. If you attend, you'll enjoy music and dance performances (including a Samoan fire dancer show), an open bar, and all-you-can-eat local cuisine. They even offer Polynesian temporary tattoos and lei workshops to complete your luau look.
View Kona from above on a helicopter tour
Kona is fantastic to explore on foot, but it's also incredible from above. Seeing this Hawaiian town from a helicopter is one of the best activities in Kona, Hawaii!
There are many helicopter tour companies in Kona, with Mauna Loa Helicopter Tours' Kona Coast Tour being a popular choice.
On your 30-minute flight, you'll enjoy stunning views of the ocean, land, and nearby volcanoes. You could even spot a pod of whales! A sunset tour is also available.
If you want to go further on a helicopter tour, then check out these other Big Island helicopter providers.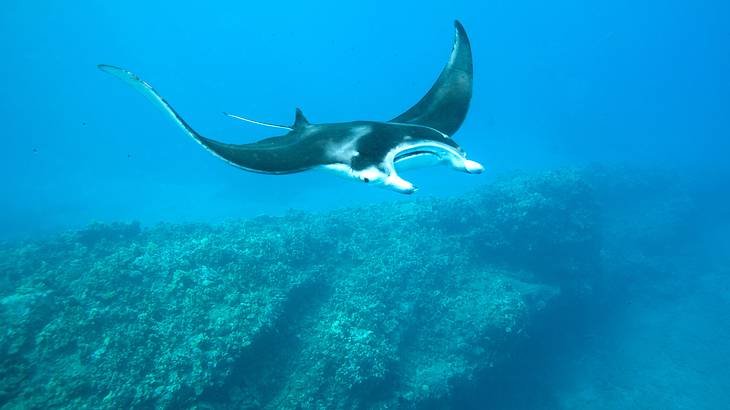 Go on a glass bottom reef tour
If diving or snorkeling isn't your thing, but you want to view Kona's marine life, then a glass-bottom reef tour is the perfect activity.
Kona Glassbottom Boat offers eco-friendly tours in its unique see-through bottom boats. Hop on board, and you'll be amazed by the array of marine life you can see below.
Guests will view coral reefs, tropical fish, manta rays, and dolphins. You may even see whales and sharks, both under the water and from the boat's upper deck.
Experience the paranormal on Kona's only haunted ghost tour
While many Kona attractions focus on the area's stunning natural scenery, this one focuses on the supernatural! Big Island Ghost Tours is Kona's only ghost tour company and offers nighttime spook-fests well worth showing up for.
Once the sun sets, you'll set off on a tour of six Kona spots known for their spooky history and paranormal activity. You can also book a psychic reading before your ghost tour begins.
Take a group surf lesson
Kona offers many outdoor activities to try, and learning to surf is one that must be on your Hawaii bucket list! Kona Town Surf Adventures offers a range of lesson styles taught by experienced instructors.
Whether it's your first time on a surfboard or you've got some experience, taking lessons is sure to perfect your technique. Plus, taking a surf lesson is one of the fun things to do on Kona, HI, that will also teach you a lifelong skill.
Interact with octopi at Kanaloa Octopus Farm
There are various aquatic creatures to see in Kona, and the octopi at Kanaloa Octopus Farm are some of the most fascinating!
This aquaculture research center focuses on learning more about aquatic species, particularly octopi, to discover how we can solve problems like over-fishing and the extinction of marine life.
If this interests you, you can tour the farm, where you'll interact with a range of octopus species and learn more about these intelligent creatures.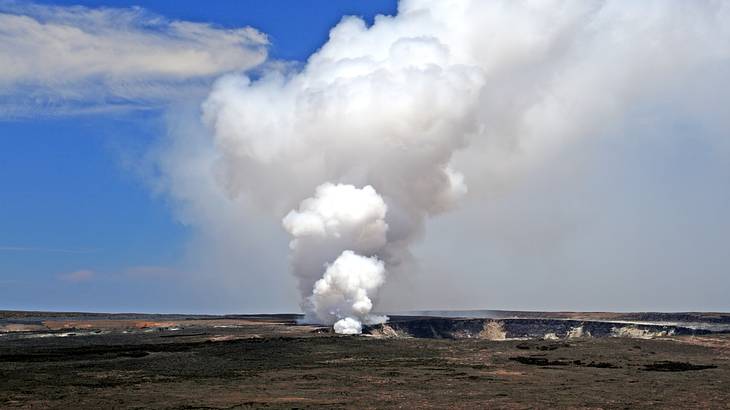 This fun activity will see you exploring volcanic caves and craters while also taking in Kona's scenic beauty. The Hidden Craters Hike by Hawaii Forest and Trail will take you to Hualalai and Kona Coast State Park.
During the five-hour adventure, you'll discover lava tubes and other volcanic formations. You'll also learn more about Kona and enjoy breathtaking mountainous and coastal views. A must-do for those who love outdoor activities!
Visit a vanilla orchard
The Vanillerie is a vanilla orchard that allows guests to explore the farm and learn about vanilla growing. You'll also get to taste varieties of vanilla.
Before you leave, you can purchase a selection of food and beauty products, all including Vanillerie vanilla. These products include vanilla extract, vanilla sugar, vanilla lip balm, and vanilla body cream.
When considering what to do in Kona, Hawaii, a visit to this sweet-scented farm is recommended!
Best Things to Do Near Kona, Hawaii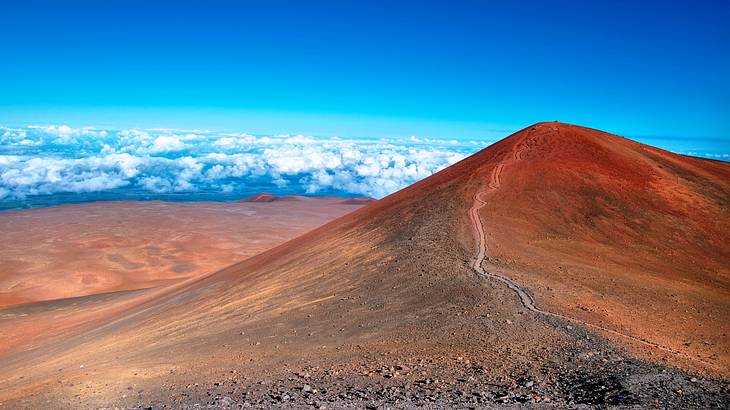 Adventure up to Mauna Kea Summit
Mauna Kea Summit is a dormant volcano, reaching 4,207 meters above sea level. The volcano's peak is the highest in Hawaii.
To venture to Mauna Kea Summit, you can hike a six-mile trail, which will take eight hours round trip. To drive, you must use a four-wheel-drive vehicle and can only go during daylight hours. Once you reach the summit, you'll enjoy the most stunning views of Kona from the highest point possible.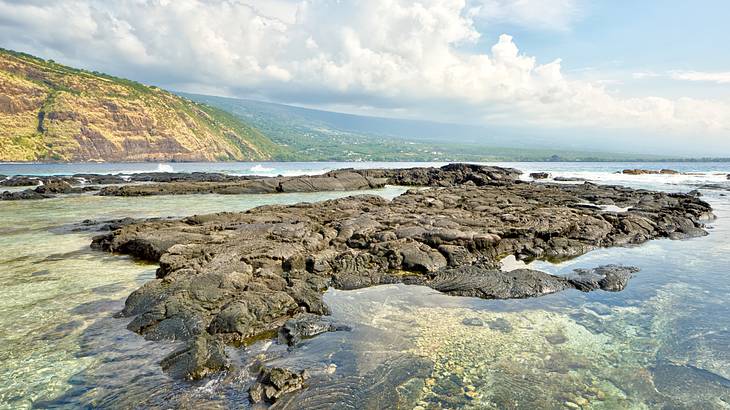 Explore Kealakekua Bay
Adding a trip to Kealakekua Bay to your Kailua-Kona itinerary is a must! Located on the South Kona coast, Kealakekua Bay is a beautiful coastal paradise. Interestingly, Captain James Cook first landed in Hawaii near Kealakekua Bay in 1778.
Today, you can enjoy various activities here, including snorkeling, scuba diving, sailing, and kayaking. There are some coastal hiking trails and a monument dedicated to Captain Cook to discover too.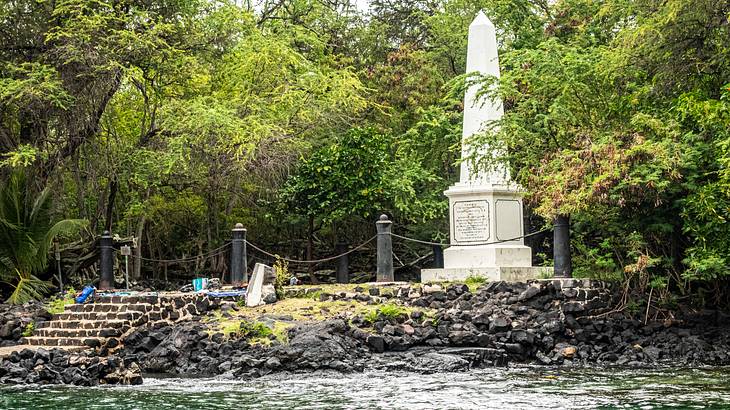 Kayak to the Captain Cook Monument
Visiting the Captain Cook Monument is a popular activity in Kona. But why not kayak there? Kayaking and snorkeling tours will take you right to the monument.
You'll be provided with a kayak, snorkeling equipment (and snacks!), and will head out on your adventure with an experienced guide. These guides will point out places of interest and identify the fish you see while snorkeling. A kayak tour is ideal for seeing more of Kona and reaching the island's famous monument.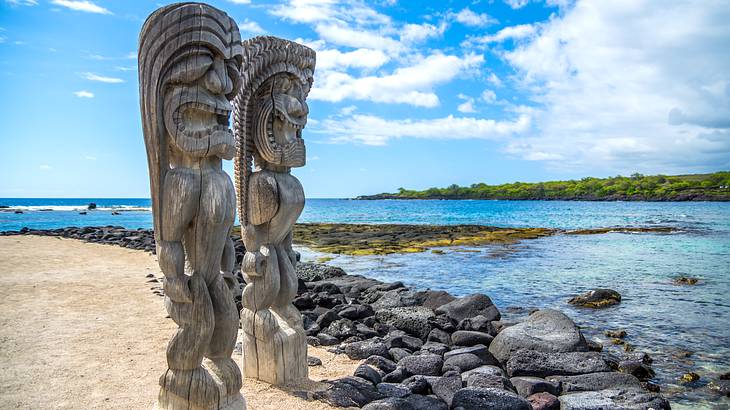 Discover Pu'uhonua o Hōnaunau National Historical Park
A list of Kona activities wouldn't be complete without visiting at least one of the area's national parks. Pu'uhonua o Hōnaunau National Historical Park is a popular one to check out.
This park spans 182-acres and gets its name from the sacred place of refuge, called Pu'uhonua, found within it. Being right on the coast, you'll enjoy ocean views and palm tree-lined paths while visiting. There are also incredible snorkeling opportunities here if you're looking to try some water activities.
Treat yourself to a dinner cruise around Kealakekua Bay
This memorable historical dinner cruise will see you set sail down the Kona Coast to the Captain Cook Monument and Kealakekua Bay. As soon as you board, you'll be treated to a complimentary Hawaiian cocktail, snacks like local appetizers (Island Style Pupus), and live entertainment.
During the sail, you'll be alerted to a range of notable and historic sites and will be able to enjoy a delicious Hawaiian-style buffet dinner. You can also do this cruise during lunchtime instead if you'd like.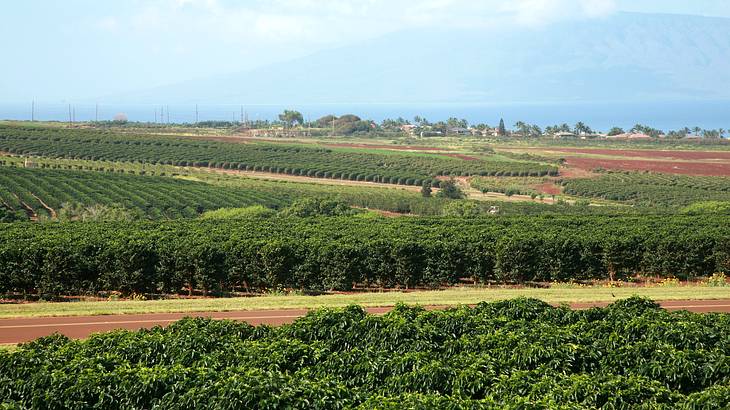 Taste delicious Kona Coffee
Kona is well-known for its coffee, simply called Kona Coffee. The area is also home to the only living history coffee farm in the U.S: Kona Coffee Living History Farm.
While you can get Kona coffee all over town, a trip to the coffee farm offers a unique experience. Visitors will get to explore this 1920s farm and learn about the history of coffee in Kona. You'll also see how it's made and get to try samples. This farm is a fascinating historical site, especially worth visiting if you're a coffee lover!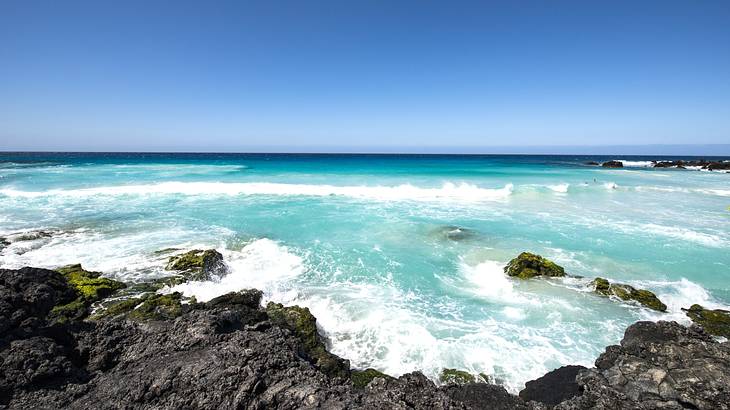 Chill out on Manini'owali Beach
Also known as Kua Bay, Manini'owali Beach is found near Kekaha Kai State Park. The beach boasts white-sand shores and crystal-clear turquoise waters. It's an ideal place to surf, snorkel, or just hang out.
Due to this beach's beauty, it's very popular and can get busy. However, if you arrive early, you'll have no problem taking advantage of one of the most beautiful beaches in Hawaii.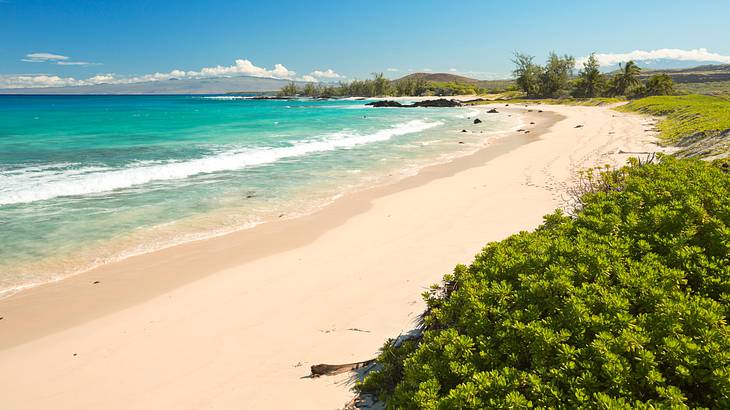 Relax on Makalawena Beach
Makalawena Beach is another incredible beach to visit. To enjoy the beach's transparent water and fine-grained sand, you must hike a 20-minute trail. Luckily, this trail is easy and doable for all activity levels.
This beach is a lot less crowded than others around Kona, so once you reach it, you'll be able to relax in a more tranquil setting. It's the perfect place to sunbathe, swim, and unwind.
Conclusion
While less well-known than some Hawaiian towns and islands, Kona is an excellent place to visit. This list of 26 things to do in Kailua-Kona should give you an idea of just how many exciting activities you can try in this Hawaiian paradise!
Give us feedback about this article
More visual stories related to this article:
---
---
Want to keep exploring?
Subscribe for discounts on tickets and hotels and our latest guides.
Thank you for subscribing
We will be in touch soon with discounts on tickets and hotels and our latest guides.
Want to keep exploring?
Subscribe for discounts on tickets and hotels and our latest guides.
Thank you for subscribing
We will be in touch soon with discounts on tickets and hotels and our latest guides.
Related Articles