20 Best Excursions in Kauai, Hawaii, You Can't Miss
Destguides may receive commissions from purchases made through affiliate links in this article.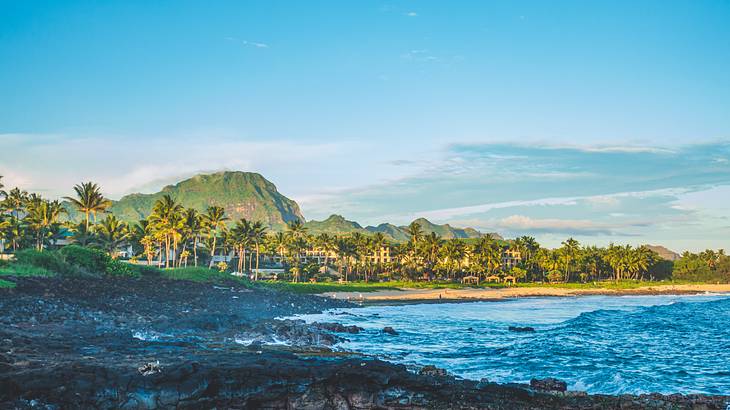 Kauai is one of the many beautiful destinations in the state of Hawaii. This breathtaking vacation spot has numerous white sand beaches, warm clear ocean waters, and lots of attractions. The island also features so much lush greenery and forests that it's known as the Garden Isle.
If you're looking for ways to explore this oasis, this list of the best excursions in Kauai, Hawaii, is here to help! You can discover various tours and experiences to enjoy that will allow you to see all of the island's most famous landmarks.
Memorable tour options range from whale watching cruises and scuba sessions to waterfall hikes and ATV adventures. No matter what type of activities you like to partake in on vacation, there's sure to be a Kauai excursion for you!
20 Best Excursions on Kauai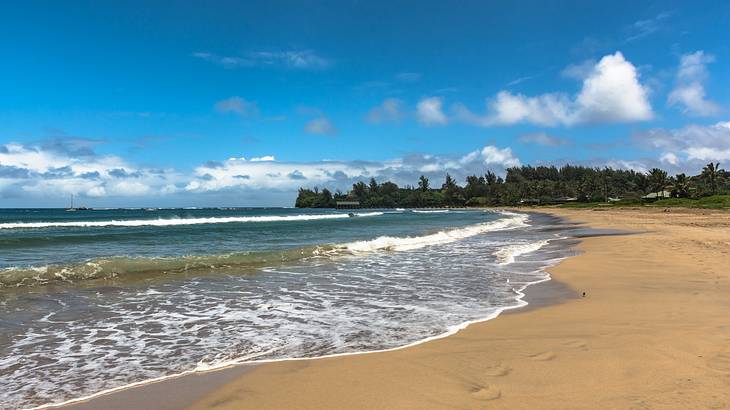 Head to the beach for a surf lesson
Hawaii is one of the best places in the United States to learn how to surf. Due to this, you can discover many surf lesson operators in Kauai.
A top surf company to book lessons with is Hawaiian Surfing Adventures. You can choose from private, semi-private, or small group classes, which all take place at Hanalei Bay on the North Shore. If you have surfed before, you can also book advanced lessons to improve your skills.
Take a self-guided tour of Limahuli Garden
Limahuli Garden is one of five stunning botanical gardens found on Kauai. These breathtakingly beautiful gardens feature a vast array of tropical plants and flowers to admire. You can also view traditional agricultural terraces, often used for taro crops.
You can explore solo or take a guided tour to ensure you see everything the gardens have to offer. You'll also be provided with information on the flowers and plants you encounter.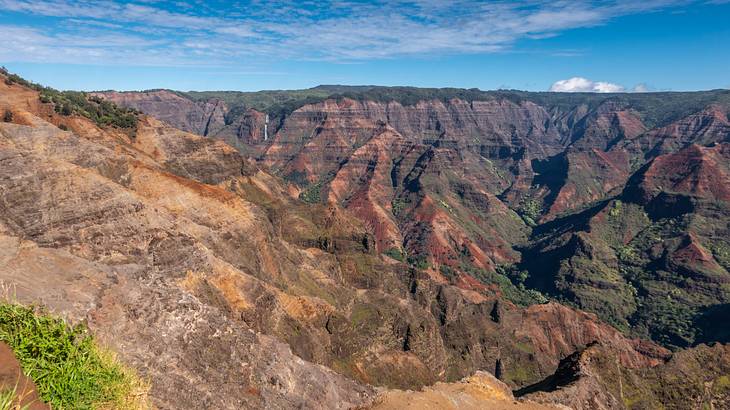 Discover the Pacific's Grand Canyon on a Waimea Canyon guided tour
Waimea Canyon State Park is one of the most well-known Hawaiian landmarks. The perfect way to see this iconic attraction, known as the Grand Canyon of the Pacific, is on a Waimea Canyon private guided tour.
One of the best tours in Kauai is offered by Kauai Island Shuttle. This operator will take you around Waimea Canyon State Park, as well as Poipu Beach Park and Spouting Horn on the South Shore.
Explore under the ocean on a scuba diving tour
Snorkeling is a highly popular activity in Kauai. But if you want to see even more marine life, also taking a scuba diving lesson is recommended.
A diving lesson is appropriate for all levels, from beginners to experienced divers. Once in the water, you'll encounter exotic fish, green sea turtles, and many other creatures.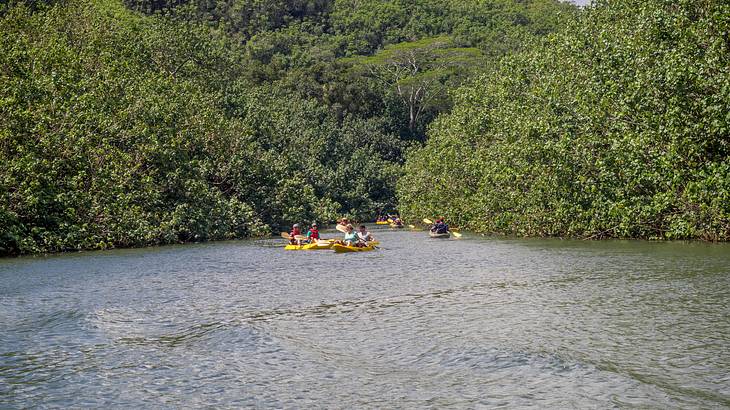 Go on a Wailua River kayak and Scared Fall hiking tour
Another of the amazing Kauai tours available is a Wailua River kayak excursion. On this adventurous kayak and waterfall hike tour, you'll start the day by kayaking on the scenic Wailua River.
Next, you'll hike through the lush jungle to a breathtaking waterfall that's hidden deep in the forest. The tour also includes a picnic lunch, and a knowledgeable guide will accompany you.
While exploring Wailua River State Park is one of many free things to do in Kauai, going on an organized tour ensures you see the best parts of the park!
Fly through the forest on a Koloa zipline tour
One of the adventurous Kauai activities to experience is going on a zipline course through the Koloa forest. This tour features an eight-track course that allows you to soar across Kauai's longest zipline.
From the courses, you can appreciate views of the Waita Reservoir and of the eucalyptus forest below. If you're an adrenaline junkie, this activity can't be missed!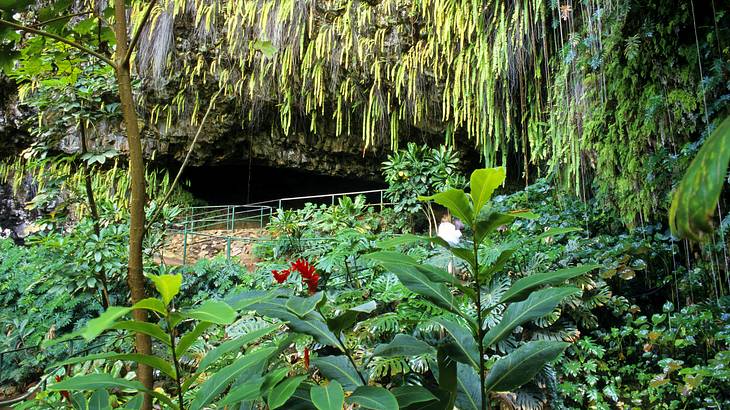 See the best of the island on a Kauai land, river, and air tour
One of Kauai's best sightseeing tours is the land, river, and air tour. This experience allows you to access various landmarks via car, boat, and helicopter.
You get the chance to visit numerous North American landmarks found in Kauai. Attractions to see on this excursion include the Fern Grotto and the Kilauea Point National Wildlife Refuge.
Taste Hawaiian cuisine on a Kauai food tour
A fun way to try the delicious cuisine of Hawaii is on a Kauai food tour. After meeting with your guide, you'll walk to numerous eateries known for their outstanding dishes.
Snacks to try include poke bowls, fish tacos, and sweet treats. This tour offers the perfect way to see Kauai off the beaten path and try some local dishes.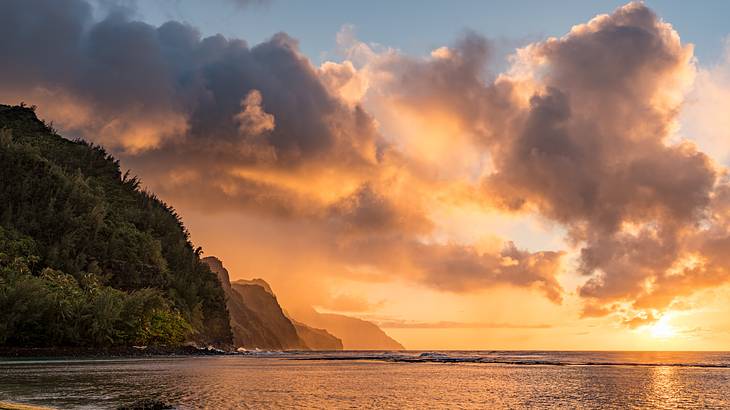 Luxuriate on a Na Pali Sunset and Sightseeing Boat Tour
One of the most luxurious Kauai, Hawaii, excursions is a Na Pali Coast sunset tour. This scenic sunset dinner cruise will take you through the Kauai landmark that is the Na Pali Coast State Wilderness Park.
On the boat, you can enjoy dinner and delicious drinks as you take in the amazing surroundings and stunning sunset. Sightings of dolphins and whales are highly likely too!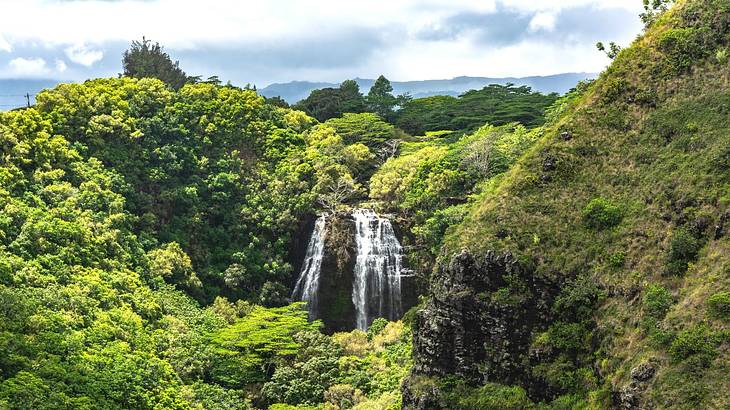 See all of Kauai on an entire island air tour
Want an easy way to see all of Kauai? Then you have to try the entire island air tour! This exciting excursion includes a helicopter ride over the whole of the island.
Notable sites to spot include the Menehune Fish Pond, Opaekaa Falls, and Old Koloa Town. During your journey, your pilot will also provide information on all of the amazing landmarks you see below.
Go on a Princeville Botanical Gardens tour and chocolate tasting session
Princeville Botanical Gardens is popular Kauai attraction. This landmark features stunningly designed gardens and is also a chocolate farm!
During a tour, you can explore the gardens and learn how chocolate is made. Best of all, you get to taste some of this delicious handmade chocolate! To ensure you get in, purchase a Princeville Botanical Gardens skip the line ticket before you go.
Tackle an adventurous ATV tour
Another of the fun Kauai adventures for outdoor activity enthusiasts is going on an ATV tour. On this experience, you can hop on an ATV and drive through a range of terrain and past the Waita Reservoir. Snacks and water are also included, and you'll ride with an experienced guide.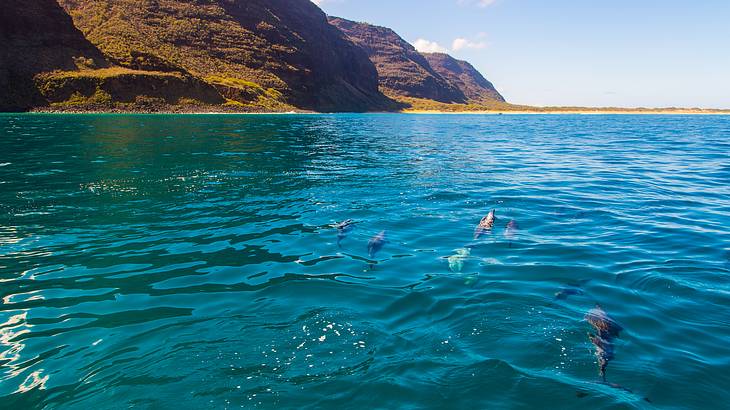 Swim with tropical fish on a Na Pali morning snorkel tour
The Na Pali Coast is one of the best places to snorkel on Kauai. A fun idea is to head out in the water first thing in the morning on a Na Pali snorkel tour.
You'll be taken to the best snorkeling locations on a catamaran before hopping in the water to explore. Along with seeing vibrant colored fish, you may see sea turtles, dolphins, and more!
Spend the night at Luau Kalamaku
If looking for things to do at night, one of the best Kauai activities to enjoy is attending the Kalamaku luau. A luau is a traditional Hawaiian party that includes food and dancing.
At the Kalamaku luau, you can enjoy a delicious four-course meal complete with tasty cocktails. You also have the chance to watch a Polynesian show, with hula dancing, fire dancing, and music acts.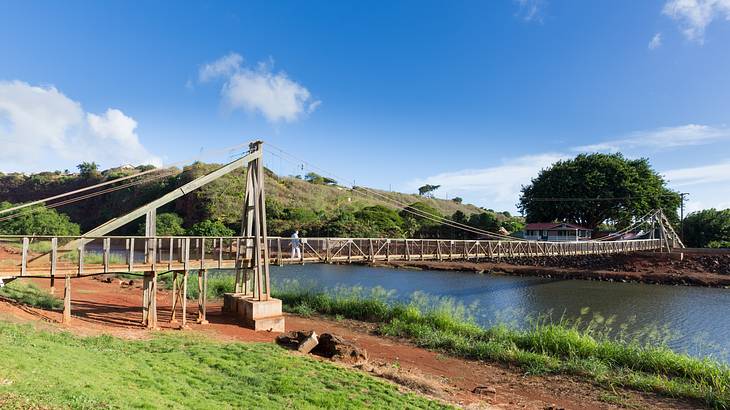 Get to know West Kauai
For travelers that want to explore all of Kauai, spending a day on a Kauai Westside tour is a must. Exciting attractions to visit include Kauai Coffee Company, Hanapepe Swinging Bridge, and Koke'e State Park.
Best of all, your guide will drive you to and from each site, allowing you to completely relax. Your guide will also offer lots of information on the places you visit.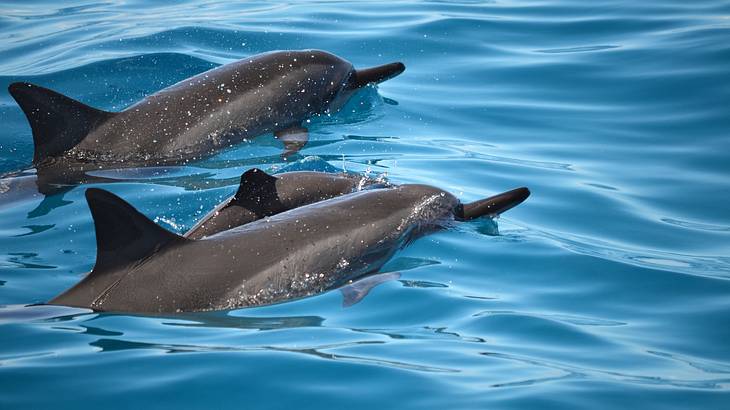 Spot marine mammals on a whale and dolphin boat adventure
One of the best activities for animal lovers is a whale and dolphin boat adventure. Going on a whale and dolphin watching cruise is also an ideal activity for those traveling to Kauai with kids.
This tour will take you out on the water to areas known to be home to dolphins and humpback whales. Sightings of these majestic marine mammals are almost guaranteed! You may also see seals, sea turtles, and many other creatures.
Try an exciting raft adventure
Another of the best Kauai excursions that will take you out on the water is raft adventure. You can choose from a selection of tours that take place around the Na Pali Coast and Nu'alolo Kai Beach Landing.
On a rafting adventure, you'll sail past various landmarks and scenic sights. Spotting sea animals, like humpback whales, is a possibility too, and many tours allow you to get into the water to swim and snorkel.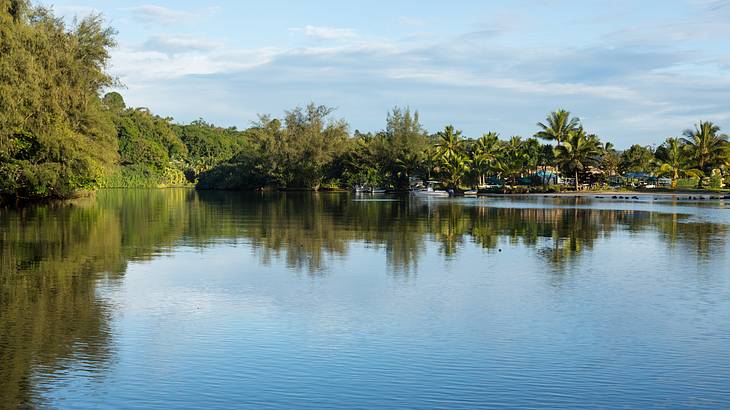 Hop in the water for a Hanalei river paddle and Hanalei Bay snorkel tour
Hanalei Bay is a beautiful part of Kauai's North Shore. It's also the perfect place to enjoy some water activities, such as participating in a Hanalei river paddle and snorkel tour.
This excursion begins with a gentle paddle down the Hanalei River in a kayak. Once at the main part of the bay, you can jump in the water to snorkel among Hawaiian sea creatures.
Stand-up paddleboard along Wailua River
There's no shortage of outdoor activities in Kauai, and another excellent thing to do is going stand-up paddleboarding on the Wailua River. You can rent paddleboards and follow a route all the way to Secret Falls.
At the waterfall, you can swim and get out of the water for a short hike. This is the perfect excursion if you want to enjoy Kauai off-the-beaten-path!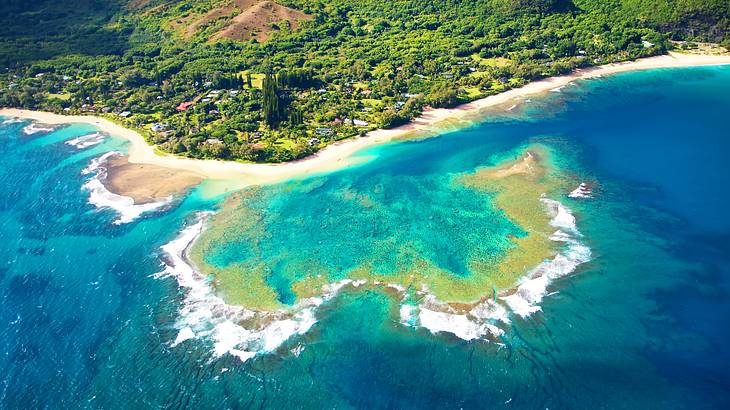 Appreciate the views on a memorable Kauai helicopter tour
Flying high above the Garden Isle on a helicopter ride is one of the most memorable things to do on your vacation! If interested in this activity, you can find many Kauai helicopter tours to choose from.
On your helicopter ride, you'll get a bird's eye view of an array of landmarks and the beautiful coastline. For those that want to splurge on a once-in-a-lifetime experience, a helicopter tour has to be on your Kauai itinerary.
In Summary
Kauai is a vacation hotspot that has something for everyone. As you explore Kauai Island, you can enjoy a range of outdoor activities, spot Hawaiian wildlife, learn new skills like surfing, and much more.
If planning a trip to the Garden Isle, this list of the 20 top excursions in Kauai should have given you some great ideas for what to do while visiting. No matter which tours you decide to try, you're guaranteed to have an incredibly memorable vacation!
---
---
Want to keep exploring?
Subscribe for discounts on tickets and hotels and our latest guides.
Thank you for subscribing
We will be in touch soon with discounts on tickets and hotels and our latest guides.
Want to keep exploring?
Subscribe for discounts on tickets and hotels and our latest guides.
Thank you for subscribing
We will be in touch soon with discounts on tickets and hotels and our latest guides.
Related Articles