23 Exciting Things to Do on Kauai With Kids
Destguides may receive commissions from purchases made through affiliate links in this article.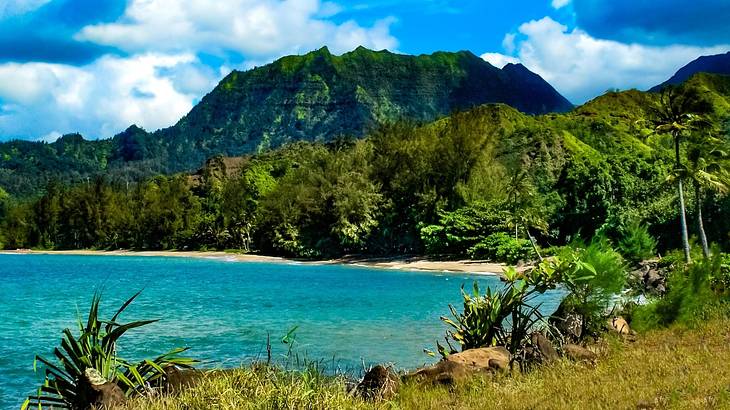 If you're looking for a great family vacation location, you must consider Kauai! Located in the United States in the state of Hawaii, this tropical destination features breathtaking surroundings and lots of exciting outdoor activities.
Things to do on Kauai with kids include snorkeling, dolphin watching, and riding ATVs. No matter what you and your children enjoy doing on vacation, you're sure to find lots to do in beautiful Kauai!
23 Best Things to Do With Kids in Kauai, Hawaii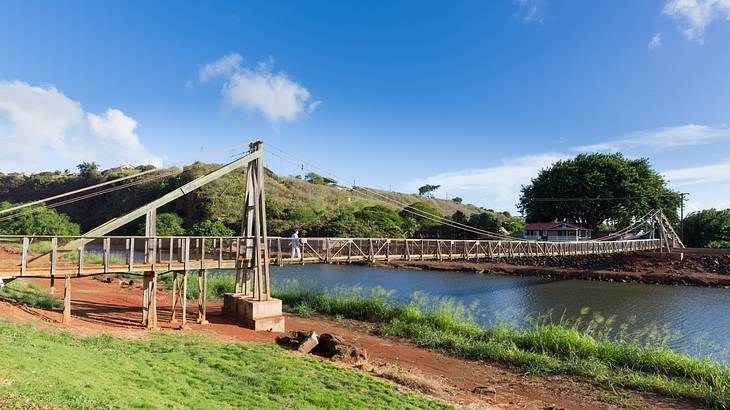 Run across the Hanapepe Swinging Bridge
An exciting place to visit on your Kauai family vacation is the Hanapepe Swinging Bridge. This landmark is a swinging suspension bridge that crosses a small river.
Many tourists come to the bridge to enjoy the thrill of running across it. When visiting, your kids can take turns attempting to get to the other side of the unique and fun Hanapepe Swinging Bridge.
Go tubing through an old sugar cane plantation
You can find lots of fun outdoor activities on Kauai, and tubing is a great one for kids. With Kauai Backcountry Adventures, you can go on an exciting mountain tubing adventure.
On the eco-adventure, you'll tube through water-filled tunnels between lush green mountains that were dug for an old sugar cane farm. Do note that this experience is only for children aged five or older.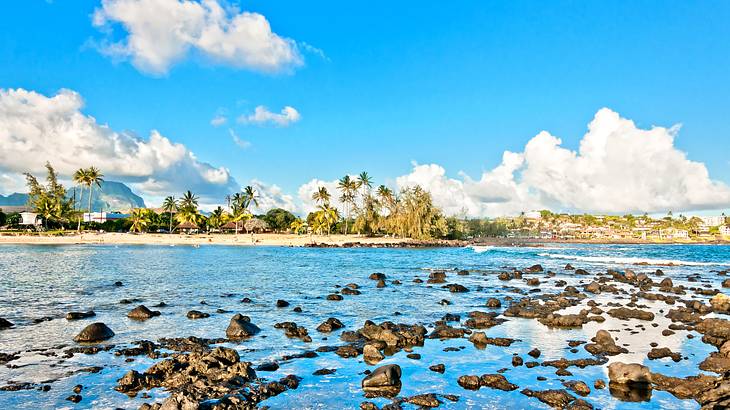 Hang out at Poipu Beach Park
Poipu Beach Park is another ideal family-friendly spot, and spending a day here is one of the fun things to do in Kauai with kids. This South Coast beach has beautiful white sand shores. Your kids can play on the sand as you relax and enjoy the warm weather!
The swimming, surfing, and snorkeling conditions are good here too. The calm waters of Poipu Beach are ideal for children looking to try some water sports.
Have a picnic at Lydgate Beach Park
You can't visit Hawaii without going to a few beaches, and Lydgate Beach Park is a great one for families. The calm and peaceful tree-lined beach is the perfect place to enjoy a picnic and play games.
If your kids like being in the water, the swimming and snorkeling conditions are good here too. You can also find some playing field areas by the beach, which are great for letting the kids run around.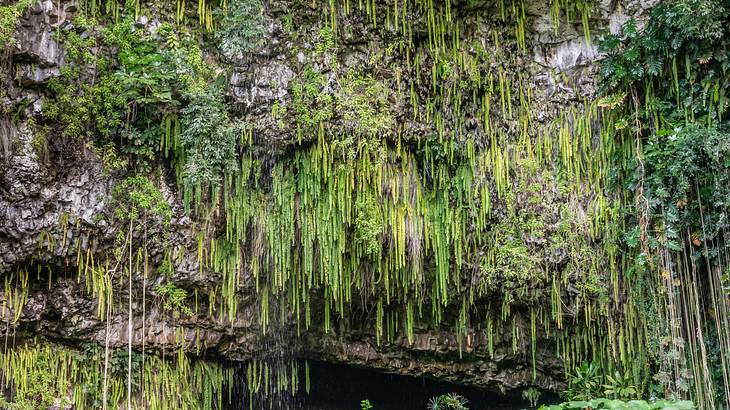 Explore the Fern Grotto
If your kids like fairy tales and magical stories, you must visit the Fern Grotto. Located on the Wailua River, the grotto resembles an enchanting cave surrounded by green ferns.
The Fern Grotto is only accessible by boat, but many guided tours will get you there. A recommended tour to join in the Best of Kauai tour. You'll be taken to a range of attractions, including the Fern Grotto, by boat and car. You can also add on a helicopter experience if you desire!
Learn about sugar growing at a sugar farm museum
Sugar farming is a significant industry in Hawaii and was introduced to replace whaling in the 1800s. A fascinating and educational way to learn about this industry is by visiting the Grove Farm Sugar Plantation Museum in Kauai.
The 80-acre site the museum sits on was formerly a sugar farm, but today can be explored by visitors. At the museum, you'll learn about this specific farm and the sugar-growing industry in Hawaii. If interested in visiting, make sure you book ahead of time to arrange a tour.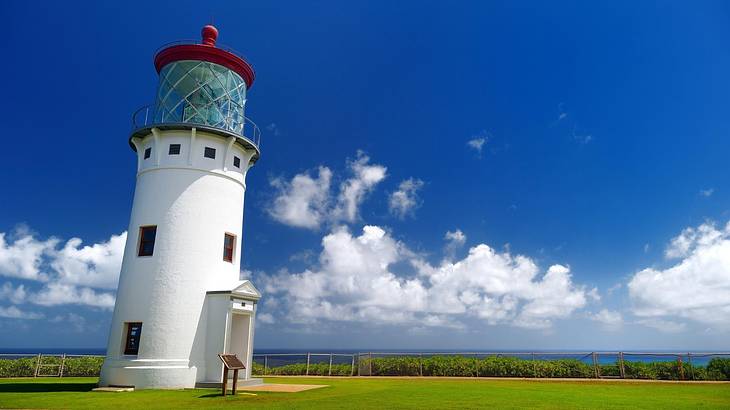 Visit the Kilauea Lighthouse
The Kilauea Lighthouse is a Kauai landmark located on the North Shore in the Kilauea Point National Wildlife Refuge. The quaint lighthouse sits on a cliff 180 feet above the ocean.
When visiting, you can climb to the top of the lighthouse and enjoy the stunning views of the Pacific Ocean. There aren't too many stairs to climb, making it easy for kids, and they'll love the excitement of being in a real lighthouse!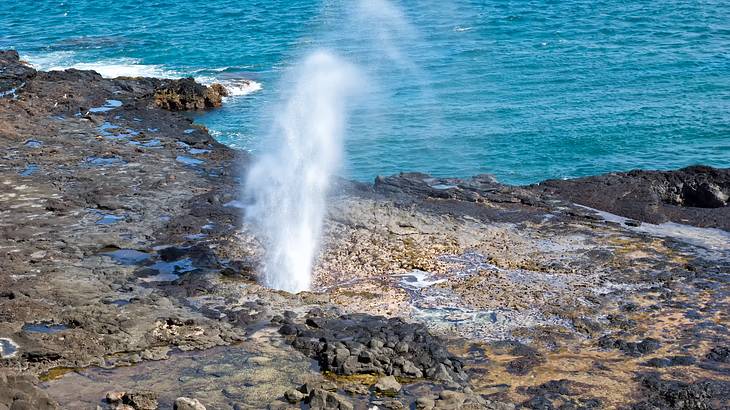 Tour the geologically fascinating Spouting Horn Park
Spouting Horn Park is a coastal area that's home to the Spouting Horn Blowhole. The geological feature sprays water out of the rocks up to 50 feet in the air.
This is definitely an attraction that will fascinate kids and adults alike! You can visit the area alone or consider a Kauai tour that will take you to Spouting Horn, Poipu Beach Park, and Waimea Canyon State Park.
Sail through Port Allen
Going on a sailboat is an exciting experience for both kids and adults. A great way to see the Kauai coast is on a sailing tour that your whole family will enjoy.
Once aboard the sailboat, you and your children will be served a delicious breakfast as you set sail from Port Allen. On the journey, you can admire stunning views of sparkling water and tall mountains. You can also get in the ocean to snorkel and may spot whales, dolphins, and turtles from the boat.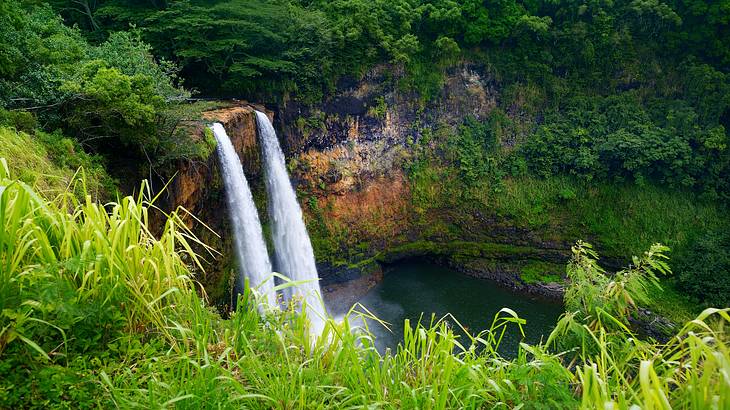 Hike to waterfalls near the Wailua River
If you like hiking, one of the adventurous things to do on Kauai for families is taking a hike around the Wailua River. A waterfall hiking adventure allows you to hike through lush forest to a stunning waterfall. At the falls, you can take scenic photos and swim in the pool below.
This experience also includes kayaking on the Wailua River. While in the area, be sure to check out the Wailua twin falls too.
Spend the evening at a Hawaiian luau
One of the most exciting Kauai family activities is attending a traditional Hawaiian luau. The most popular luau in Kauai is Kalamaku Luau, which is held at the historic Kilohana Plantation.
At the event, you can enjoy a delicious buffet dinner with lots of Hawaiian dishes. Of course, you'll also get to enjoy the show, complete with Polynesian dancing and fire dancing. Your kids will love the unique performance held in a stunning tropical location.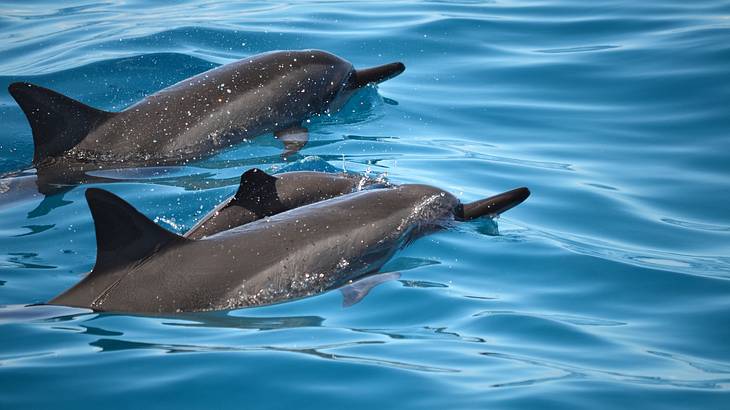 Set sail on a whale and dolphin watching boat tour
Kauai is home to some amazing marine animals, like humpback whales and various species of dolphins. If your children like animals, going on a whale and dolphin boat tour is a must.
Once aboard, you'll sail to areas known to be home to majestic humpback whales and beautiful dolphins. Your guide will also offer information on the marine animals' habitats and "lifestyles" so your kids can learn more about these incredible creatures.
Participate in a chocolate tasting at Princeville Botanical Gardens
Princeville Botanical Gardens are one of the numerous gorgeous botanical gardens in Kauai. A unique thing about these gardens is that cacao is grown in them, and chocolate is produced on-site.
After wandering around the pretty tropical gardens, you can taste some freshly made chocolate. You and your kids can also try fruit and honey, which are produced in the gardens. To avoid long lines, get a Princeville Botanical Gardens skip the line pass before arriving.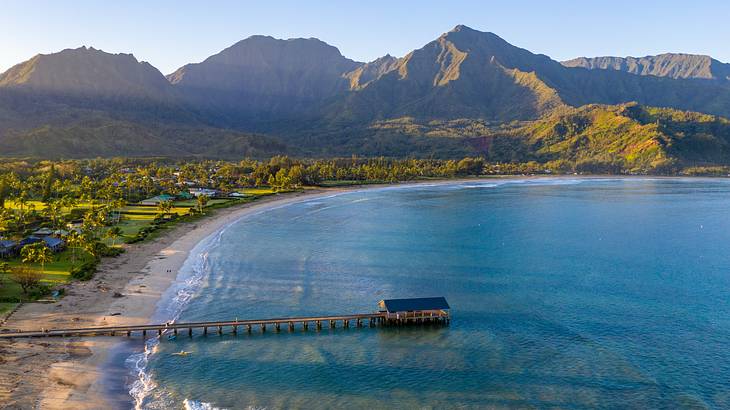 Kayak at Hanalei Bay
One of the best Kauai attractions to visit for those that want to see marine life is Hanalei Bay. The amazing beach is the ideal place to snorkel and kayak.
Joining a Hanalei Bay kayak tour is highly recommended. Kayaks are provided, and a guide will lead you and your family out to the best snorkeling spots in the area. You can then hop in the ocean to snorkel and spot exotic fish and sea turtles.
Taste local Kauai dishes on a food tour
One of the interesting things to do in Kauai with family, if you like sampling local cuisine, is going on a food tour. On a Kauai food tour, you'll explore local neighborhoods and try the best dishes on the island.
Along the way, your guide will also offer information about the history of the areas you pass. At each eatery, you can even meet the owners or chefs and learn more about the dishes you're eating.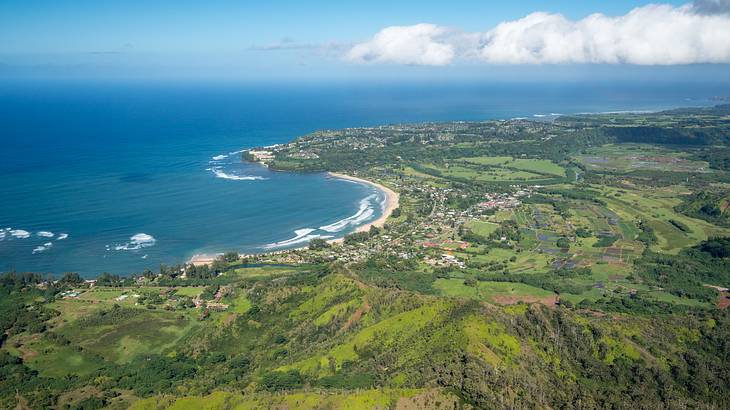 Take a helicopter adventure flight
Seeing Kauai from up high is a fantastic experience that you and your kids will remember forever. Taking a Kauai helicopter adventure tour is the perfect way to take advantage of incredible island views. Once in the air, you'll see Kauai's most stunning natural features.
Sites to fly over include Waimea Canyon and Na Pali Coast State Park. Manawaiopuna Falls, which was featured in the movie Jurrasic Park and is only accessible by helicopter, will also be flown over. If flying with children over 23 months, they must each have their own seat.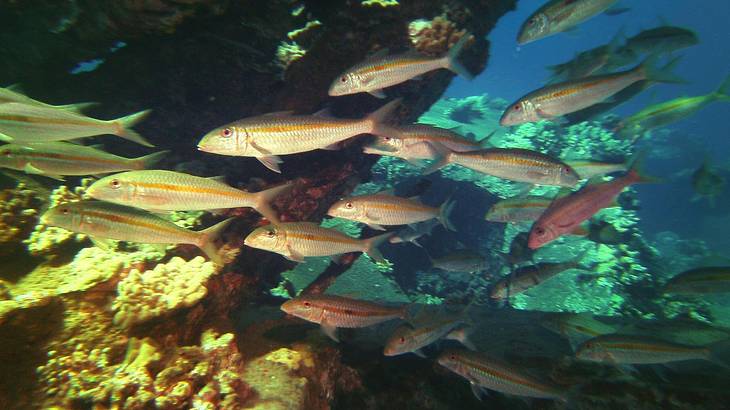 Discover marine life on a guided snorkel tour
Hawaii is home to some incredible sea creatures. The perfect way to see these pretty marine animals is on a guided snorkeling tour. The tour takes place in the waters of Kauai's south shore reefs.
Creatures you can expect to see include tropical fish, Hawaiian green sea turtles, and sea urchins. Before getting in the water, you and your kids might also spot nesting turtles and sunbathing Hawaiian monk seals.
Zipline through tropical forests
Going ziplining is definitely one of the best things to do in Kauai with kids. This adventure activity is perfect for adults too!
A Kauai zipline experience takes place near Koloa and will see you fly above the jungle-like forests surrounding the Waita Reservoir. Once at the zipline center, you can try eight fun and thrilling courses, all offering breathtaking views.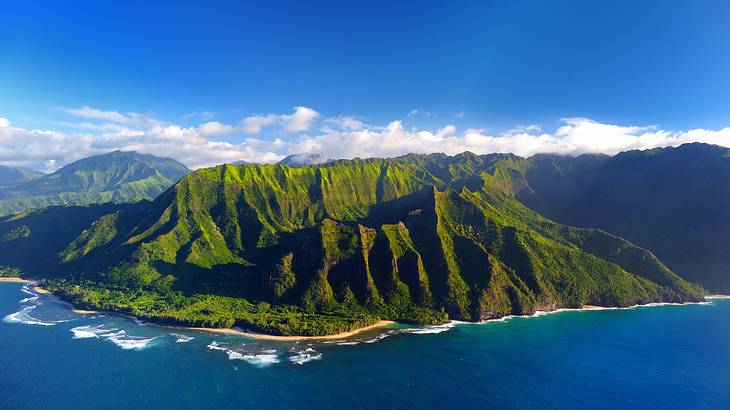 Experience a rafting adventure on the Na Pali Coast
Another of the many Kauai activities for kids is going on a rafting adventure within the beautiful Na Pali Coast State Wilderness Park. This tourist hotspot features lush forests and lots of stunning turquoise coastline; it's the perfect place for water-based activities.
On the Na Pali Coast raft adventure, you'll get to go out on the water and get in to snorkel. You'll also spot lots of marine creatures, like spinner dolphins and sea turtles.
Get some beautiful photos with a Kauai photography session
You're bound to want to take lots of pictures on your family trip to Kauai, so why not get some professional-quality images taken? With a Kauai adventure photography session.
Your family will go with the photographer to various Kauai attractions within Poipu, Princeville, and Kapa'a. At each stop, incredible photos will be taken of you and your kids. This experience is a great way to have lasting reminders of your trip. The breathtaking pictures can be framed and given as gifts too!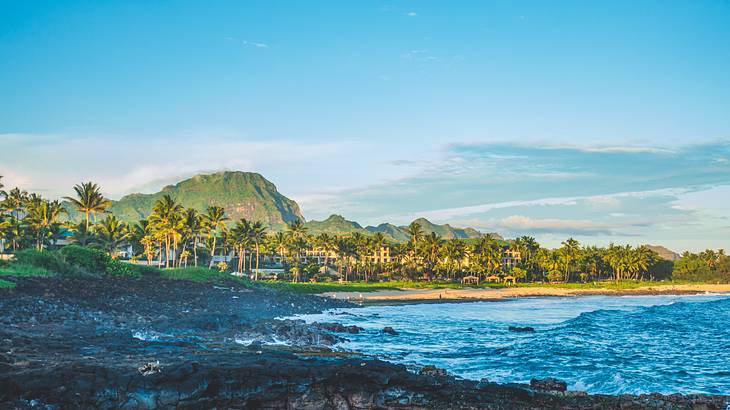 Surf at Shipwreck Beach
Located in Poipu, Shipwreck Beach is another incredible destination found near the Grand Hyatt Kauai. If you're looking for things to do in Kauai for kids, a trip to Shipwreck Beach is a must!
Along with just hanging out on the shore, you can try various water activities here. Due to the strong surf, surfing and bodyboarding conditions are excellent here. It's the perfect place for kids to try surfing for the first time! Swimming, however, is not recommended. You can also discover some easy hiking trails to follow.
Ride an ATV on a waterfall tour
Going on an ATV adventure is a fun activity for families that enjoy adventure activities. On the tour, you can ride your ATV down a range of tracks that will take you past beautiful off-the-beaten-path locations and the Waita Reservoir. Do note that anyone under 18 must be accompanied by an adult over 25.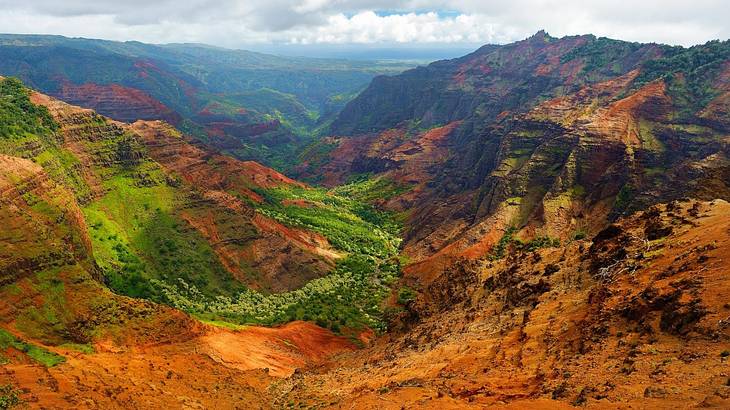 Bike around Waimea Canyon State Park
Waimea Canyon State Park is one of the most beautiful Hawaiian landmarks and has been called the "Grand Canyon of the Pacific." If your kids enjoy riding their bike, exploring the area on a Waimea Canyon cycling tour is the perfect activity for your family.
On the tour, you'll follow a few scenic downhill paths that offer the most amazing views of the canyon. Once you've reached the bottom of the mountain, you can watch the glorious sunset. Do note that your children must be 4'11" or taller to participate.
In Summary
Kauai is one of the best Hawaiian Islands to visit when traveling with children. If you're planning to visit and have been wondering what to do in Kauai with kids, hopefully, this list has given you some inspiration!
Give us feedback about this article
Learn more about Kauai:
More articles about Hawaii:
Read more articles about the United States:
More articles about things to do:
---
---
Want to keep exploring?
Subscribe for discounts on tickets and hotels and our latest guides.
Thank you for subscribing
We will be in touch soon with discounts on tickets and hotels and our latest guides.
Want to keep exploring?
Subscribe for discounts on tickets and hotels and our latest guides.
Thank you for subscribing
We will be in touch soon with discounts on tickets and hotels and our latest guides.
Related Articles