35 Fun Things to Do in Boise, Idaho
Destguides may receive commissions from purchases made through affiliate links in this article.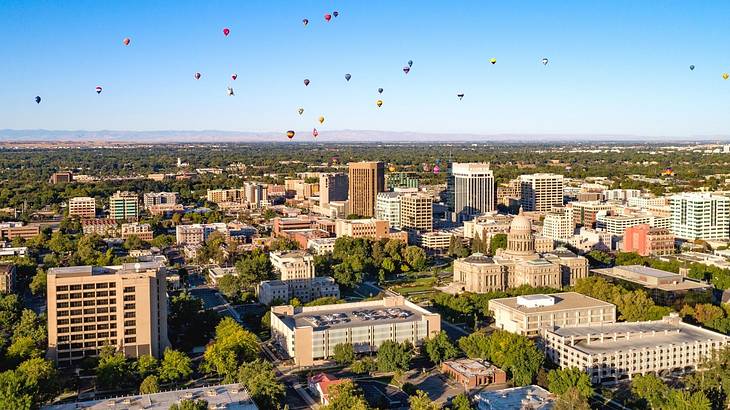 A unique destination to check out in the Northwest United States is Boise. This city is the capital of Idaho and is known for its Greenbelt and exciting attractions.
Fun things to do in Boise, Idaho, range from wandering along the Boise River Greenbelt to visiting the Idaho State Capitol and watching the Boise State Broncos college football team play.
Still wondering: "What is there to do in Boise, Idaho?" Keep reading for 35 activities to try in the Gem State's capital!
35 Fun Things to Do in Boise, ID
Boise Things to Do Map
A map of Boise. Use the map to explore all the things to do.
Boise, Idaho, Things to Do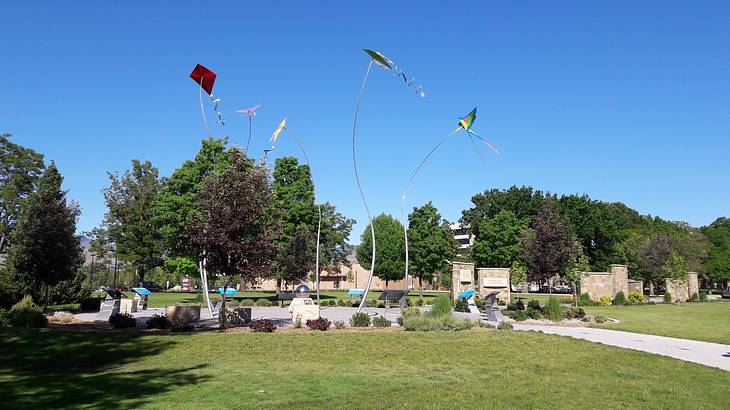 Spend time outdoors at Julia Davis Park
Located in Downtown Boise, Julia Davis Park is one of the city's oldest parks, having been opened in 1907. During a visit to the park, you can follow nature trails, relax on the grass, or bird watch. There's also a scenic lake, a beautiful rose garden, and playgrounds for children.
Admire flower displays at the Idaho Botanical Garden
Opened in 1984, the Idaho Botanical Garden remains one of the most popular outdoor attractions in Boise. At the gardens, you can explore a range of displays featuring colorful flowers, unique plants and trees, and sculptures. There are also events held at the gardens, like plant sales and music performances.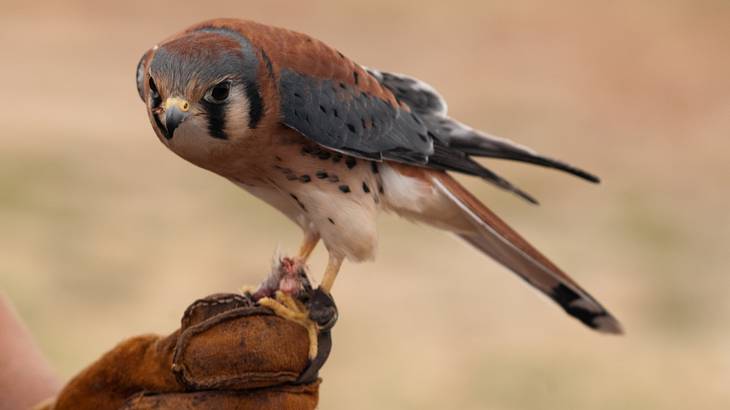 Interact with raptors at The World Center for Birds of Prey
The World Center for Birds of Prey is part of The Peregrine Fund and looks to preserve endangered birds of prey across the globe. During a visit to the center, you can see different raptors and learn more about the birds and the fund's conservation efforts. Birds to see include red-tailed hawks, turkey vultures, and American kestrels.
Visit the Anne Frank Human Rights Memorial
A notable landmark in Boise is the Anne Frank Human Rights Memorial. This memorial features a cenotaph, a statue of Anne Frank, portions of text from the Universal Declaration of Human Rights, and some other sculptures. It was created to memorialize victims of the Holocaust and all those that have suffered due to human rights atrocities.
Interact with nature at the Morrison-Knudsen Nature Center
The Morrison-Knudsen Nature Center, or MK Nature Center, has wildlife trails and an underwater fish viewing area. As you wander along the StreamWalk path, you can admire the scenery and see animals like wading birds and frogs.
You'll come across various windows as well, that allow you to see under the river and spot fish, crayfish, and more. Deer, foxes, minks, and other land mammals live in the area too.
Watch a performance at the Idaho Shakespeare Festival
If you're visiting in the summer, one of the best Boise, ID, things to do is seeing a performance at the Idaho Shakespeare Festival. The plays are performed 15 minutes from downtown and run from the end of May through September. You can see a selection of classic Shakespeare plays at the outdoor theater, with a show performed almost every day.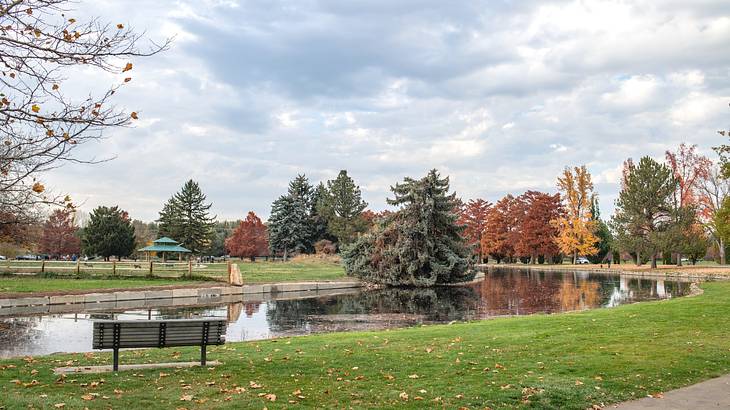 Spot wildlife at Kathryn Albertson Park
Another beautiful park in Boise is Kathryn Albertson Park. You'll find lots of footpaths to follow here, and the park is abundant with wildlife.
Creatures to see include a variety of bird species, salamanders, raccoons, and beavers. There are a few ponds throughout the park too, which are home to ducks, frogs, and other aquatic animals.
Purchase local goods at Capital City Public Market
If you want to feel like a local, one of the best attractions in Boise, ID, to visit is Capital City Public Market. You can discover up to 150 vendors here, selling products from fruit and vegetables and baked goods to flowers, jewelry, and art. Even if you don't want to buy anything, wandering around the market and seeing what's on offer is a must.
Shop for local produce at the Boise Farmers Market
The Boise Farmers Market is another great place in the city to get some local produce. Things to buy include locally grown fruit and veg, flowers, and baked goods, plus jams and salsas, and a variety of other products. If it's a nice day, exploring the Boise Farmers Market is a great idea!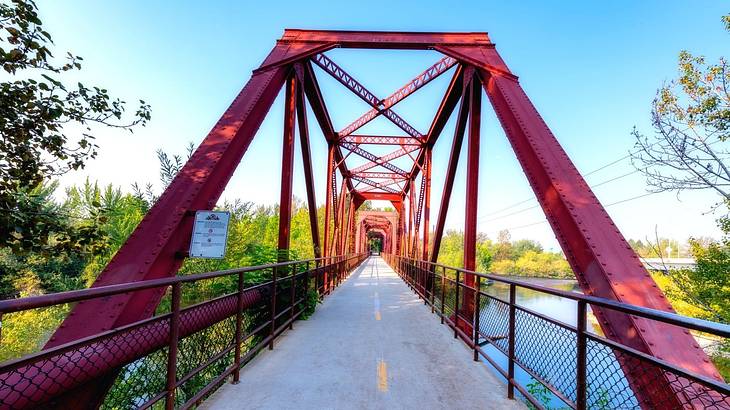 Bike along the Boise River Greenbelt
A great place to bike in Boise is along the Boise River Greenbelt. The trail covers 25 miles and features green trees, wildlife, and scenic river views. As you bike the route, you'll also pass many local parks, which you can stop at for a break.
Learn more about The Gem State at the Idaho State Museum
The perfect place to get to know a little more about Idaho, also known as the gem state, is at the Idaho State Museum. Things to learn about include significant historical events and the nature to be found in the area, and there are various interactive exhibits to see. You'll be able to discover an array of Idaho artifacts and photographs as well.
Sip cocktails at Grove Hotel
The Grove is a trendy 4-star hotel in downtown Boise. Even if you don't stay at the hotel, you can stop for a drink at their luxurious bar, called The Bar. You can order delicious cocktails, beer, wine, and non-alcoholic drinks. The Bar also has a happy hour that runs Sunday through Thursday from 4 PM to 6 PM.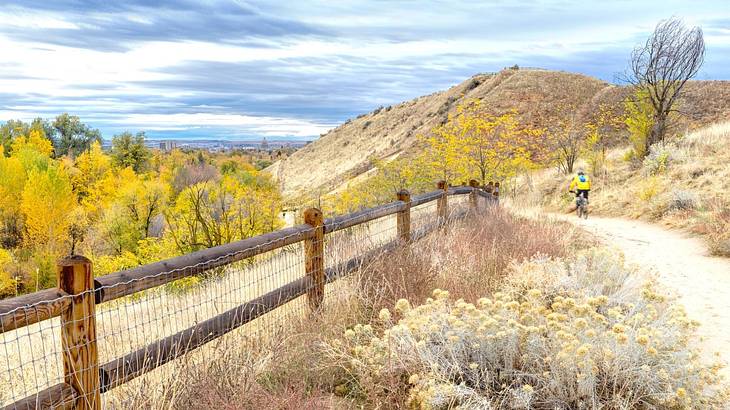 Follow nature trails at Hulls Gulch Reserve
Going to Hulls Gulch Reserve is one of the Boise things to do that you can't miss if you're an outdoor enthusiast. The site covers 292 acres and is the ideal place to hike, mountain bike, or even walk your dog.
As you explore the area, you're guaranteed to see an abundance of wildlife. Creatures to see include deer, red foxes, and lizards.
Appreciate artworks at the Boise Art Museum
The Boise Art Museum is another of the great cultural venues in the city. The gallery houses approximately 4,000 pieces in its permanent collection, many of which are contemporary in style.
Works to see include paintings, sculptures and ceramics, and drawings. Temporary exhibits are also on-site, allowing you to see new works each time you visit.
View unique exhibits at the Basque Museum and Cultural Center
The Basque Museum and Cultural Center is one of many fascinating Boise attractions that you should visit. Displays focus on Basque heritage and culture and will appeal to both children and adults. The museum also hosts some events like book clubs and Basque cooking classes.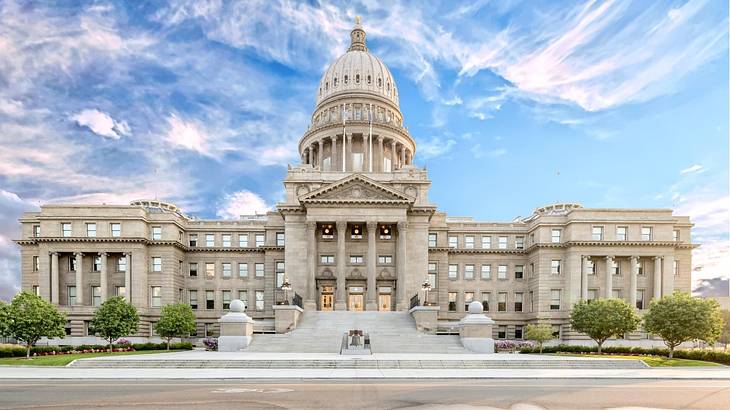 Go to the Idaho State Capitol
Constructed in 1905 and opened in 1920, the Idaho State Capitol is the seat of government for the state. During a visit to Boise, which has been the capital city since 1864, you can tour the building. This activity will allow you to learn more about politics in Boise and its history in general.
Find out something new at the Idaho Black History Museum
Another of many fascinating museums in Boise is the Idaho Black History Museum. This museum is dedicated to African American history and culture and is the oldest of its kind in the Pacific Northwest.
Located inside a former church building, displays feature photographs, stories, and informative facts relating to African American history in the state. You're guaranteed to learn something new when visiting the Idaho Black History Museum!
Create glass artworks at Boise Art Glass
One of the most fun and creative activities in Boise is going to a class at Boise Art Glass. This premier studio offers classes for all levels that will teach you how to make various glass items.
Anyone eight years or older can join in, making it a unique family-friendly activity too! If you don't have time for a class, beautiful glass pieces like jewelry, vases, and bowls can be purchased.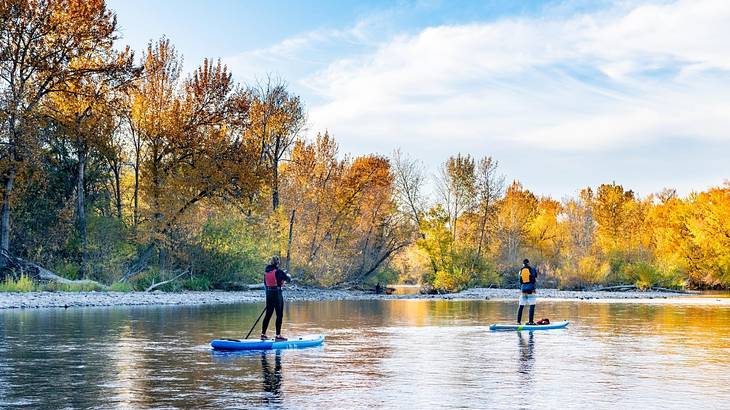 Float along the Boise River from Barber Park
A popular activity among locals is going to Barber Park to float along the Boise River. You can find a selection of raft and tube boat rentals in the area, or bring your own. Once on the river, you can float along, enjoying the surrounding scenery.
Snap pictures at Freak Alley Gallery
If you like street art, one of the Boise, Idaho attractions that you'll enjoy visiting is the Freak Alley Gallery. Notably, it's the largest open-air, multi-artist mural gallery in the Northwest.
Once you arrive at the alleyway, you'll discover a range of vibrant and unique street art. You can snap some fun pictures with the murals and may even see some artists working on new pieces.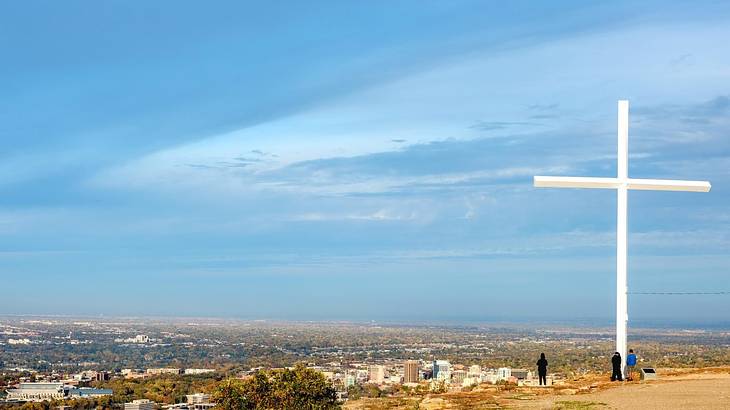 Hike to the peak of Table Rock
Table Rock is located about 20 minutes from downtown. It has a peak elevation of 3,650 feet above sea level and offers stunning views of Boise. The primary trail here is a loop trail that covers 3.7 miles. As you hike or bike along it, you can appreciate the surrounding nature and panoramic vistas.
Take your kids to the Discovery Center of Idaho
If traveling to Idaho with family, check out the Discovery Center of Idaho. This educational attraction has various exhibits that will teach your kids some new facts.
They can learn about dinosaurs, space exploration, scientific phenomena, and much more. Even if you aren't traveling with children, the Discovery Center of Idaho is a fun place to visit.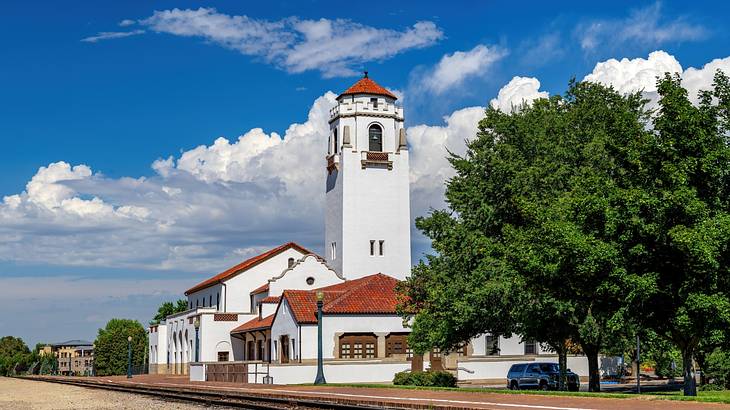 Go on a sightseeing tour
If it's your first time in Boise, spending some time sightseeing is a must. Famous Idaho landmarks to see include the Idaho State Capitol Building, the Boise Train Depot, and the Anne Frank Human Rights Memorial. As you explore the city, you'll come across other attractions, shops, and restaurants too.
An alternate way to look around the city is with Boise Trolley Tours. They offer guided tours that take you to all of the city's top sights.
Relax with a beer at Hops & Bottles
After a long day of exploring Boise, relaxing with a beer is always a good idea! A recommended place to grab a brew is Hops & Bottles. The bar serves a vast selection of beers, ciders, and seltzers; you're guaranteed to find your new favorite drink here.
Get Creative at JUMP
Jack's Urban Meeting Place, commonly known as just JUMP, is a creative and entertainment complex with an array of activities to enjoy. There's a slide zone for kids, a scenic rooftop terrace, studios to make films and music, and so much more to discover. If you like trying new things, being creative, and meeting new people, going to JUMP is for you!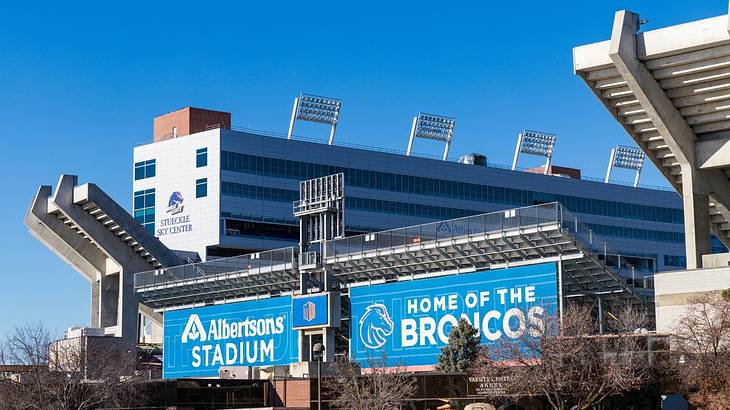 Catch a Broncos game at Albertsons Stadium
A fun activity while in the city is watching the Boise State University football team, the Broncos. The NCAA team plays at Albertsons Stadium, a 14,500-seat arena. Whether you follow college football or not, catching a game is one of the most memorable Boise activities.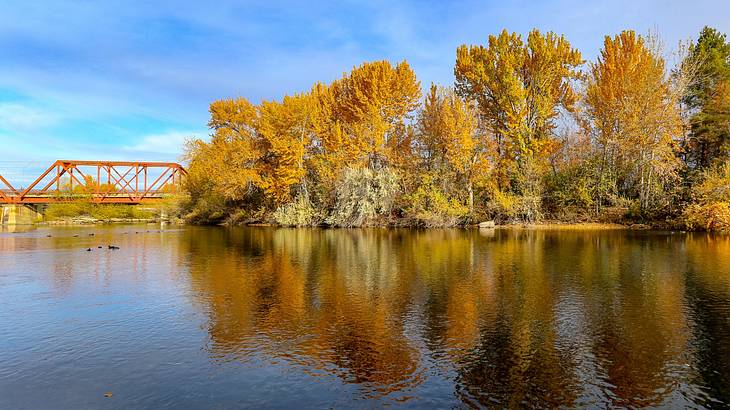 Raft along the Boise River
Those that like outdoor adventure activities will be interested in going rafting on the Boise River. By booking a guided tour, you are supplied with all the equipment you need, and your guide will take you to the most beautiful parts of the river.
During the three-hour excursion, you'll also see lots of wildlife and can even swim in some areas. Best of all, this tour is appropriate for all levels, from those that go rafting frequently to first-timers.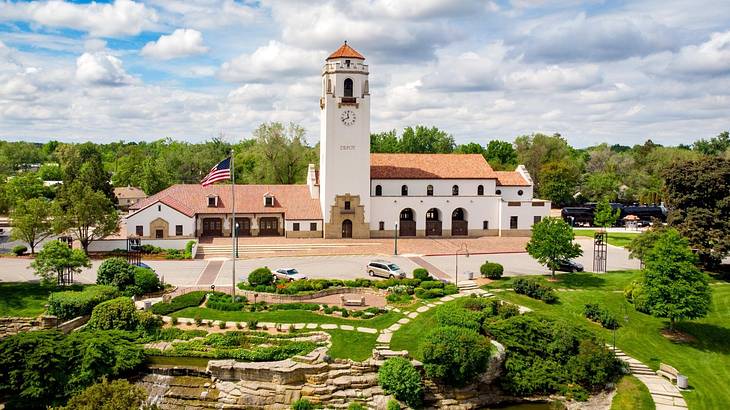 Pass by the Boise Train Depot
Opened in 1925, the Boise Train Depot is an iconic building that was added to the National Register of Historic Places in 1974. It was designed by architects from New York in a Spanish Colonial style. While the station is no longer active, you can pass by the building to admire the architecture and take pictures.
Dine at Chandlers
A highly regarded fine-dining spot in Boise is Chandlers. This eatery, that's located in Hotel 43, serves a variety of dishes, including various cuts of steak and fish and seafood options. They also have an extensive wine list, so you can find the perfect drink to accompany your meal.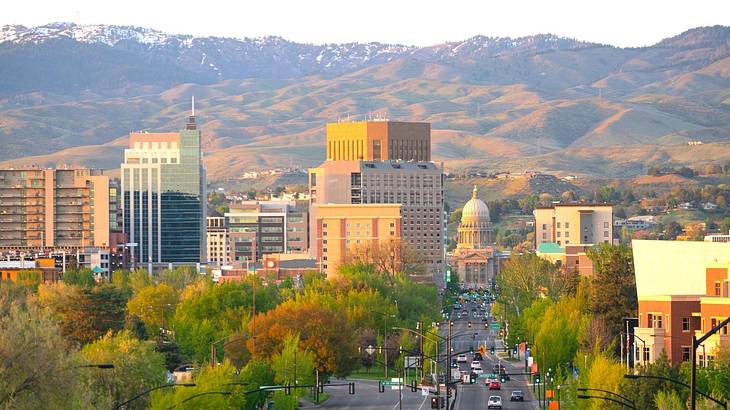 Tackle a Boise scavenger hunt
An interesting way to get to know the city is by trying a Boise scavenger hunt. Simply download the guide and begin following clues and completing challenges. As you do, you'll discover a range of Boise landmarks and attractions and learn some fun facts about the city.
Grab an ice cream cone at Goody's Soda Fountain
One of the much-loved attractions in Boise, Idaho, is Goody's Soda Fountain. The outlet sells ice creams as well as chocolate and candy. Treats to order include banana splits, sundaes, and assorted chocolate truffles. If you're looking for a sweet treat, Goody's is the place to be!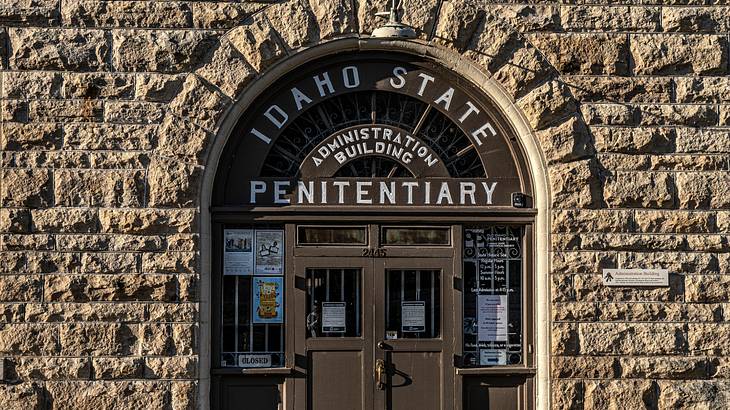 Explore the Old Idaho Penitentiary
A unique attraction to visit in Boise is the Old Idaho Penitentiary. Opened in 1872, the building acted as a prison for 101 years, finally closing in 1973. Today, you can tour the penitentiary and view exhibits on the history of the building. You'll learn about prison escapes, other scandals, and general day-to-day life at the institution.
Stop for a coffee at Java Hyde Park
Hyde Park is a vibrant area of Boise with trendy eateries and shops. When passing through the neighborhood, stopping at Java Hyde Park for a coffee is a great idea.
You can choose from classic and more unique drinks, such as Mexican hot chocolate with four espresso shots. Baked goods and other food items are also available.
Taste local wines at Telaya Wine Co.
Located just five minutes from downtown beside the Boise River, Telaya Wine Co. is a charming place to taste some local wines. After trying a variety of reds, whites, and roses, you can relax on the patio with a glass of your favorite.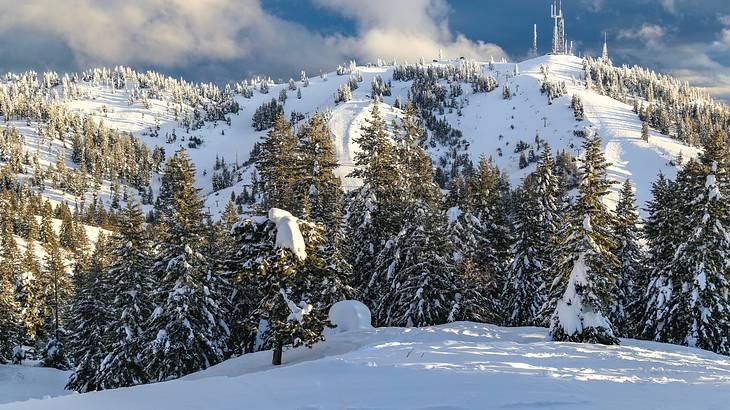 Ski or snowboard at Bogus Basin Mountain Recreation Area
Lovers of snowsports will be pleased to learn that there is a ski slope in Boise. The Bogus Basin Mountain Recreation Area features snow-covered hills for all abilities, from beginners to pros. If you're new to snow sports or want your kids to learn, you can take lessons here too.
In Summary
If you're planning a trip to the Northwest and want to know what to do in Boise, Idaho, this extensive list of activities should have given you lots of ideas. Boise truly has an activity for everyone, from history lovers to outdoor activity enthusiasts and sports fans.
Give us feedback about this article
For more interesting articles about United States, read:
For some great articles about things to do, check out:
For visual stories related to this article, take a look at:
---
---
Want to keep exploring?
Subscribe for discounts on tickets and hotels and our latest guides.
Thank you for subscribing
We will be in touch soon with discounts on tickets and hotels and our latest guides.
Want to keep exploring?
Subscribe for discounts on tickets and hotels and our latest guides.
Thank you for subscribing
We will be in touch soon with discounts on tickets and hotels and our latest guides.
Related articles