25 Fun Things to Do in Lafayette, Indiana
Destguides may receive commissions from purchases made through affiliate links in this article.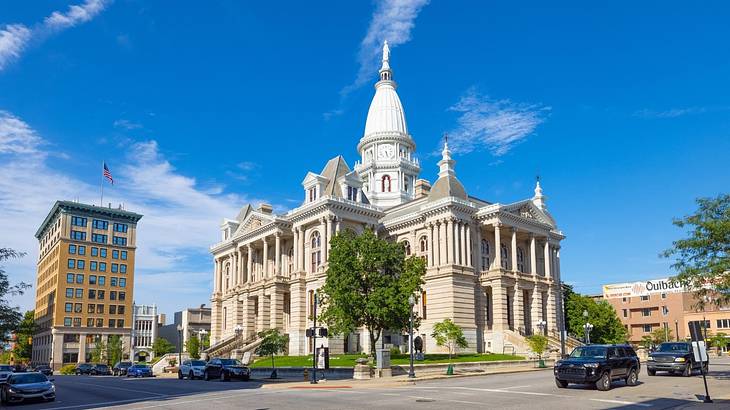 Located in the county of Tippecanoe in Indiana, United States, Lafayette is an interesting destination to visit. The charming and friendly city is home to numerous historical landmarks and cultural attractions. You can also find great outdoor activities to try and kid-friendly places.
A few of the many fun things to do in Lafayette, Indiana, include kayaking on the Wabash River, seeing artworks at the Haan Museum of Indiana Art, and checking out the shops and eateries downtown.
If you want to answer the question, "What is there to do in Lafayette, Indiana?" Read on for 25 fun and unique activity suggestions for all types of travelers!
25 Fun Things to Do in Lafayette, IN
Lafayette, Indiana, Things to Do
Wander through Jerry E. Clegg Botanic Gardens
Also known as the Clegg Memorial Garden, the Jerry E. Clegg Botanic Gardens features a range of gardens with plants and flowers native to Indiana. Along with viewing flora, you can follow a range of trails through woodlands and past Wildcat Creek.
You'll also discover a variety of wildlife, and it's a great place to birdwatch. If you have a dog, they can join you too, as long as they're kept on a leash.
Sip local wines at Wildcat Creek Winery
One of the most fun things to do in West Lafayette, IN, is wine tasting at Wildcat Creek Winery. The local winery produces a range of high-quality whites, reds, and roses.
Once at the winery, you can go inside a charming 20th-century farmhouse to taste a selection of beverages. You can then purchase some of your favorites to take home for yourself or as gifts.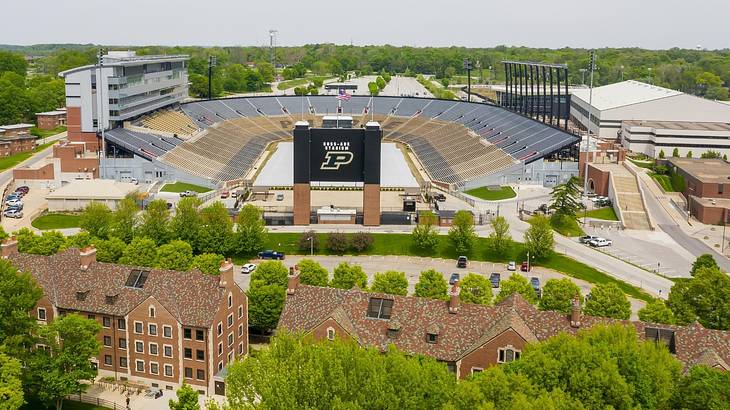 Watch a sports game at Purdue University
Purdue University is a well-known educational institution in Lafayette. If you like sports, watching a collegiate game at the school is a great idea. Perdue's teams play a range of sports and are called the Boilermakers.
A popular game to go to is a football game at Ross-Ade Stadium that's located on campus. Watching the men's or women's basketball team play at Mackey Arena is also fun. Other sports at Perdue include volleyball, wrestling, and soccer.
Walk the Wabash Heritage Trail
The Wabash Heritage Trail is located in West Lafayette and covers 13 miles. The route is easy to walk for all activity levels and will take about four and a half hours to complete. You can also bike on certain sections of the trail. Along the way, you'll see wildlife and can admire the Wabash River.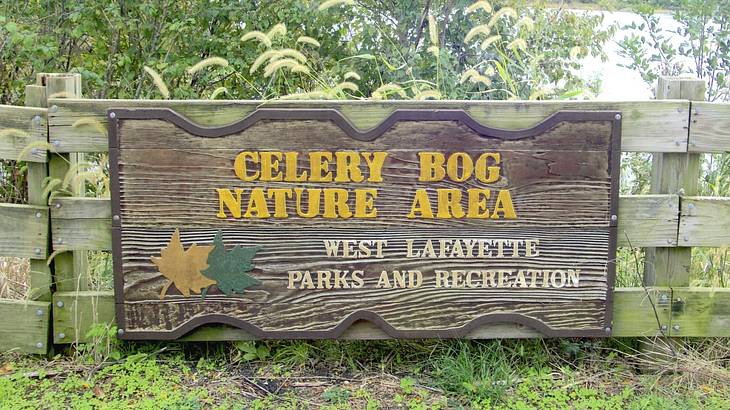 Spend time in nature at Celery Bog Nature Area
Spending some time at Celery Bog Nature Area is one of the best Lafayette things to do that gets you outdoors. The 105-acre wetlands sit on the site of a former vegetable farm and is home to a vast array of wildlife.
Creatures to see include turtles, 120 species of birds, rabbits, and more. As you explore, you'll also get to admire the scenic surroundings.
Hang out at Happy Hollow Park
Located next to the Celery Bog Nature Center, Happy Hollow Park is a great place to hang out. You can find a selection of trails to follow in the 81-acre park, and there are also picnic areas. If visiting with family, small children can also play on two playgrounds, with slides, roundabouts, and climbing features.
Check out the pinball machines at Main Street Amusements
If you're looking for something to do in the evening, one of the fun places in Lafayette, Indiana, to check out is Main Street Amusements. This location has over 40 pinball machines and other arcade games, including Godzilla and Back to the Future-themed machines.
Main Street Arcades is generally open on weekends until 11 PM, making it a great late-night attraction.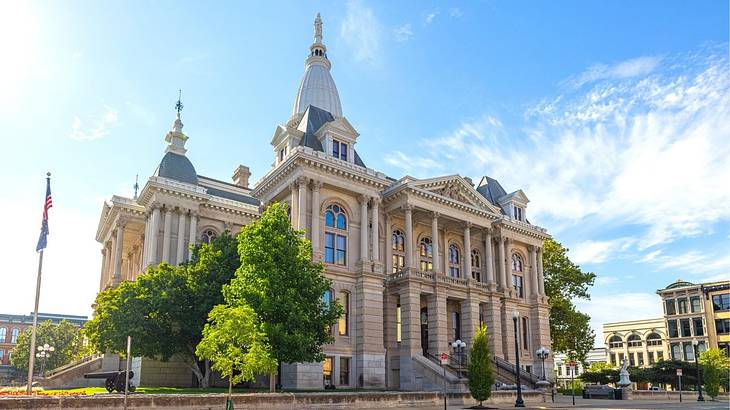 See the Tippecanoe County Courthouse
A must-see historical landmark in Lafayette is the Tippecanoe County Courthouse. Built in 1881, the Neoclassical-style building was added to the National Register of Historic Places in 1972.
The stone building features columns, domed roofs, and ornate glass windows. If you appreciate stunning architecture, you'll definitely want to view the Tippecanoe County Courthouse!
View artworks at Haan Mansion Museum of Indiana Art
A top cultural attraction in Lafayette is the Haan Mansion Museum of Indiana Art. Interestingly, it's home to the largest collection of art from Indiana in the world.
You can see a variety of works here, including paintings and sculptures, plus furniture and accessories like clocks and music boxes. Along with the permanent collection, temporary exhibits are on display too, with previous displays including mid-century ceramics and Egyptian pieces.
Visit Tippecanoe Battlefield Park and Museum
Another National Historic Landmark in Lafayette is Tippecanoe Battlefield Park. The park commemorates the Battle of Tippecanoe that was fought in 1811. While visiting the 104-acre park, you can see an obelisk monument dedicated to the battle.
Other things to do here include hiking along trails and visiting the Harrisonville Cemetery. In addition, there's a small museum in the park where you can learn more about the battle.
Stroll around the Haan Museum Sculpture Garden
Wandering around the Haan Museum Sculpture Garden is another of the cultural activities in Lafayette, Indiana to enjoy. Located on the site of the art museum of the same name, the five-acre space features 27 sculptures that you can discover as you follow paths through the manicured gardens.
Various events are held in the gardens too. These include kid-friendly events like reptile meet-and-greets!
Interact with animals at Columbian Park Zoo
Columbian Park Zoo is located just five minutes from downtown and is home to a variety of animals. Creatures to spot include wallabies, otters, and Galapagos tortoises.
After exploring the animal enclosures, you can check out the Historic Animal House that was built in 1928. While the majority of this structure is closed to the public, you can see spider monkeys and gibbons here.
Farm animals like goats, pigs, and llamas are onsite too. There's even a butterfly garden that features an array of beautifully colored insects.
Splash around at Tropicanoe Cove
If visiting Lafayette in the summer, spending the day at Tropicanoe Cove is a fun idea, especially if traveling with kids. The water park features slides, a lazy river, and aquatic obstacle courses. There are also sun beds and a kiddy pool.
Enjoy lakeside views at Fairfield Lakes Park
Fairfield Lakes Park in the greater Lafayette area features four scenic lakes, plus trails and picnic areas. It's the ideal place to go for a relaxing walk while enjoying the lake views and fresh air.
You can then hang out on the lakeside, chatting with friends and family or sharing a picnic. Boating is also allowed here, but do note that there are no boat entry ramps.
Go to Prophetstown State Park
One of the interesting historical Lafayette, Indiana, activities to add to your to-do list is going to Prophetstown State Park. The park commemorates a Native American Village that was located there in the early 1800s.
At the park, you can learn more about the village and the people that lived there. You can also follow nature trails, camp, and visit a small farm.
Kayak on the Wabash River
An iconic natural landmark in Indiana is the Wabash River. The 503-mile-long river runs through the state and can also be accessed from Illinois.
If you enjoy outdoor activities, kayaking on the Wabash River is a must. You can bring your own equipment, or there are a few kayak rental stores in the city. You can access the river in Lafayette from Mascouten Park, Davis Ferry Park, Shamrock Park, or Tapawingo Park.
Pick fruit at Wea Creek Orchard
If you're looking for stuff to do in Lafayette, Indiana, with kids, going to Wea Creek Orchard is a must. The orchard and farm are open in the Summer and Fall.
During a visit, your family can pick apples, peaches, and pumpkins. Over 15 varieties of apples are in the orchard at one time, plus three types of peaches. In the fall, ten to fifteen varieties of pumpkins can be picked.
Some products are available for purchase too, like jams, salsas, and fruit butter. Kids can also explore the grounds around the farm and say hi to the three farm dogs.
Play a game at Monster Mini Golf
A great attraction for kids in Lafayette is Monster Mini Golf. The fun venue features a monster-themed indoor mini-golf course that also glows in the dark.
After playing the 18-hole course, your kids can play games and win prizes in the arcade. As the attraction stays open until 9 PM or 10 PM, depending on the day, adults can enjoy a game of mini-golf later in the evening too.
See the 300-year-old Fort Ouiatenon
One of the more unique Lafayette, Indiana, attractions to visit is Fort Ouiatenon. Constructed in 1717, it was used as a French trading post and today is a notable landmark in Indiana.
During a visit, you can view the over 300-year-old structure and explore the surrounding park. Another popular thing to do here is going to historical re-enactments called Feast of the Hunter's Moon. At these events, you can watch actors partake in historical battles and taste classic 18th-century dishes.
Canoe along Wildcat Creek
Wildcat Creek is a tributary of the Wabash River that's accessible from various places in Lafayette. Once on the river, you can canoe through the gentle waters, enjoying the surrounding forest views. You can also follow trails next to certain parts of Wildcat Creek.
Get a beer at People's Brewing Company
A much-loved brewery in Lafayette is People's Brewing Company. If you're looking for a place to relax with a beer, going to the taproom is a must. People's Brewery Company serves a good selection of brews, including seasonal options and hard seltzers. You can also order food, like pretzels, flatbreads, and nachos.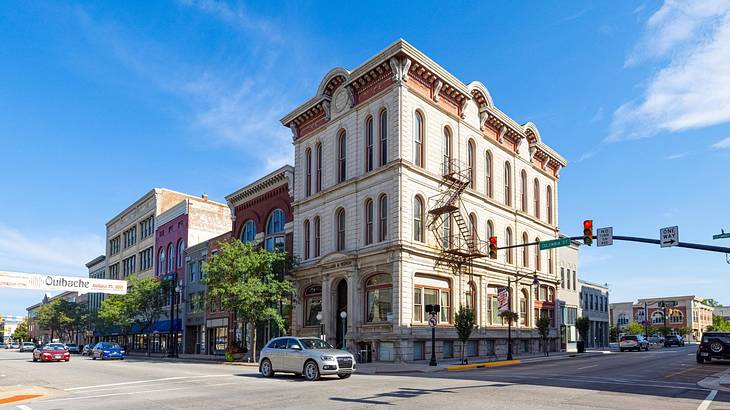 Shop and dine downtown
Exploring downtown is another of the Lafayette, IN, things to do for visitors to the city. The downtown area has many unique independent stores. Just a few of the must-visit shops include Jewelry by Adorn, which sells locally made jewelry, and Root Floral Design, a florist and gift shop.
Having shopped around, you can stop at a local coffee shop, bar, or restaurant for drinks and a snack. Eateries include ice cream shops, pizza places, and tapas bars.
Things to Do Near Lafayette, Indiana
Spot wolves at Wolf Park
Established in 1972, Wolf Park is a conservation park that's home to wolves and other animals like foxes and bison. You can take tours of the park, which will allow you to spot these beautiful creatures. You can also learn more about the conservation research that Wolf Park participates in.
If you're looking for something to do in the evening, there's also an evening tour. As night sets in, you'll spot the wolves exploring the park with more curiosity and showcasing their iconic wolf howls!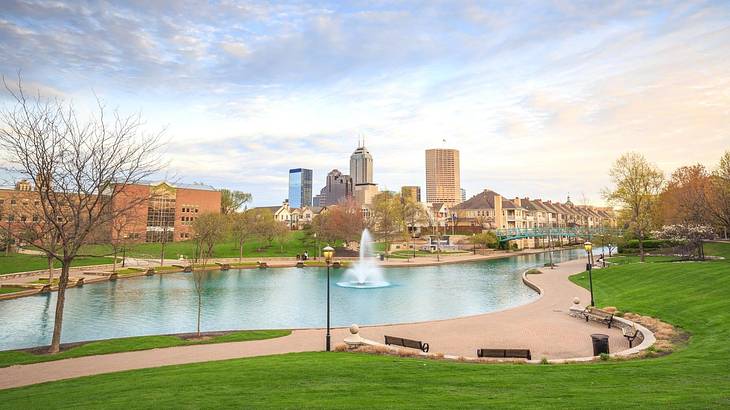 Drive to Indianapolis
Indianapolis is probably the most well-known city in Indiana. As it's located only an hour's drive away from Lafayette, going on a day trip to the city is a fun idea.
In the city, you can find many fascinating museums, including the Indianapolis Museum of Art, the Indianapolis Motor Speedway Museum, and the Children's Museum of Indianapolis. You can also visit a range of historical Indiana landmarks, plus pretty parks, outstanding restaurants, and more.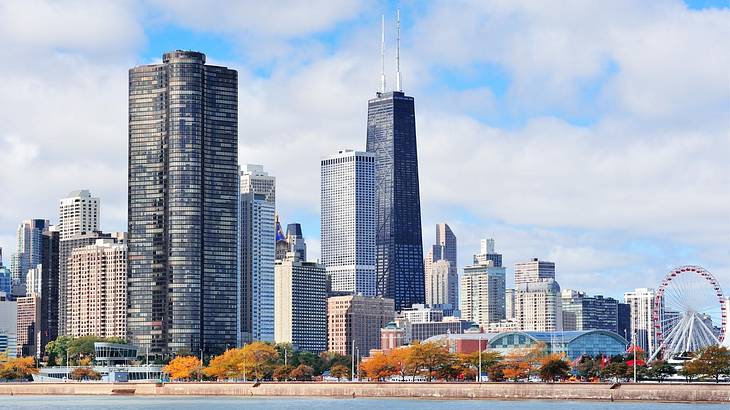 Take a trip to Chicago
Another well-known destination located just two hours from Lafayette is Chicago. The Windy City offers visitors lots to do, including exploring world-class museums, watching renowned sports teams play, and viewing Chicago landmarks like Cloud Gate and the Willis Tower.
If you plan to stay overnight, you can also find an array of fun things to do at night in Chicago. These include watching the Navy Pier fireworks and going on a Lake Michigan dinner cruise.
In Summary
If you've been wondering what to do in Lafayette, Indiana, this article should have answered that question and given you lots of ideas for your to-do list. Outdoor enthusiasts will be glad to hear of the many parks to visit and water activities to try.
Equally, history lovers will find many historical sites to check out, like Tippecanoe Battlefield. In addition, you can find a range of shops and museums to look around, and fun day trips to locations like Chicago and Indianapolis are easy from Lafayette.
Give us feedback about this article
More articles about Indiana:
Read more articles about the United States:
More articles about things to do:
More visual stories related to this article:
---
---
Want to keep exploring?
Subscribe for discounts on tickets and hotels and our latest guides.
Thank you for subscribing
We will be in touch soon with discounts on tickets and hotels and our latest guides.
Want to keep exploring?
Subscribe for discounts on tickets and hotels and our latest guides.
Thank you for subscribing
We will be in touch soon with discounts on tickets and hotels and our latest guides.
Related Articles