30 Famous Landmarks in Iowa You Definitely Must See
Destguides may receive commissions from purchases made through affiliate links in this article.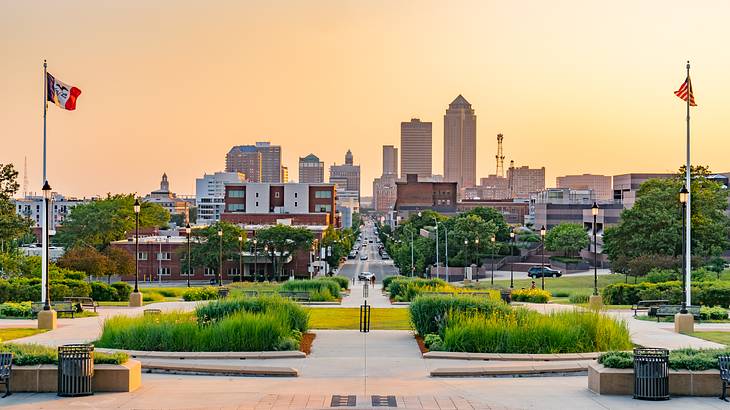 If you're wondering what Iowa is famous for, you're not alone when it comes to this unfairly overlooked state. While Iowa now appears in the geographical middle of the United States, it was a frontier state for much of its history.
As a result, Iowa is famous for a number of important sites along Lewis and Clark's famous voyage across the American West.
For nature-lovers, Iowa is bordered on the east and west by the Mississippi and Missouri Rivers, and the whole state is crisscrossed with scenic waterways.
All of these unique features make it an intriguing place to visit, so read on to find 30 famous landmarks in Iowa that will help you plot your course!
30 Famous Iowa Landmarks
American Gothic House Center
American Gothic is one of the most recognizable pieces of American art, with a stern, pitchfork-wielding couple standing in front of a small, white house.
The house that artist Grant Wood used for the backdrop of this painting is found in Eldon, Iowa, and a visitor's center next door provides pitchforks for guests seeking to imitate Wood's masterpiece.
African American Museum of Iowa
Black history runs deep in Iowa. This museum chronicles the African American experience from capture and transport to the Americas through the Civil War, the Civil Rights Movement, and the ongoing struggles of today.
The museum's mission is to preserve, publicize, and educate the public on the African American heritage and culture of Iowa, making this Cedar Rapids landmark one of the historical sites in Iowa not to miss.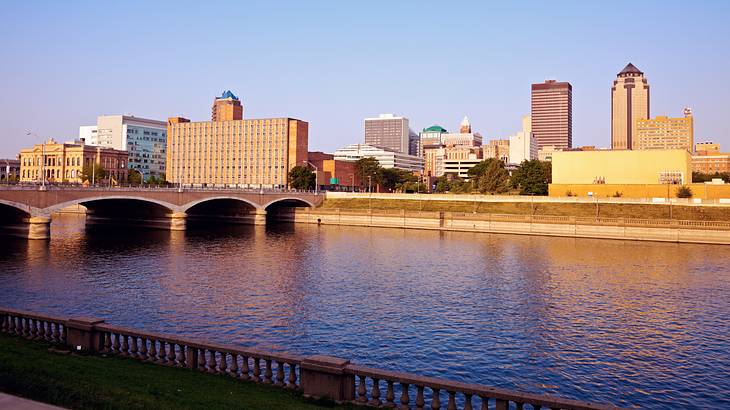 Des Moines River
The Des Moines River is a tributary of the Mississippi River that stretches over much of the state of Iowa. Two of the best ways for visitors to experience this scenic waterway is to kayak the Des Moines River Water Trail or to stroll along the Principal Riverwalk in downtown Des Moines.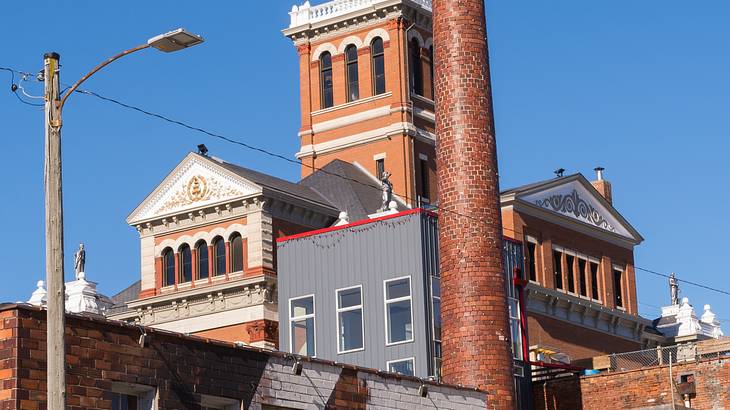 Dubuque County Jail
After getting shut down in 1971, the Dubuque Country Jail was put on the National Register of Historic Places by the National Park Service for its local significance and unique architecture. By 1987, it was officially declared a National Historic Landmark.
The centuries-old jail and former Sheriff's residence now host the eclectic combination of a museum, the medical examiner's office, the Office of Veteran Affairs, and the IT department.
Effigy Mounds National Monument
A thousand years ago, a culture now known as the Effigy Moundbuilders, made their home in the region between the upper Mississippi River and Lake Michigan.
Some of these mounds were used as burial sites and some for other ceremonies that remain a mystery, allowing visitors to this wooded monument in Harpers Ferry, Iowa, plenty to speculate on.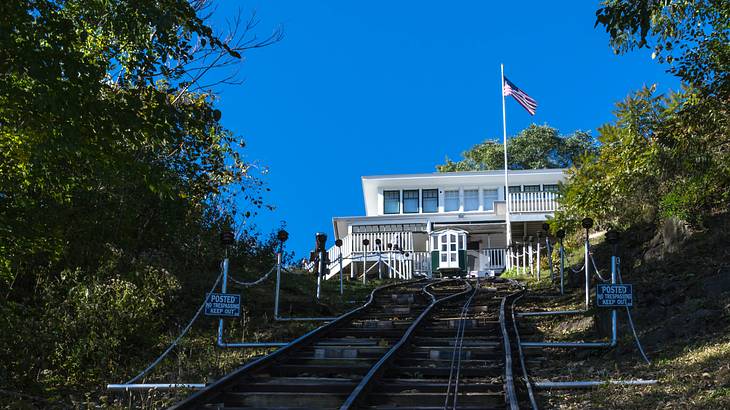 Fenelon Place Elevator Company
The Fenelon Place Elevator Company calls itself "the world's steepest, shortest scenic railway," making it one of the famous sites in Iowa to include on your trip. Passengers will ascend just shy of 200 vertical feet and be treated to views of downtown Dubuque upon reaching the top.
Greater Des Moines Botanical Garden
The Greater Des Moines Botanical Garden more than delivers on its ideal of helping people to explore and celebrate plants. Its collections include indoor and outdoor gardens, a water garden, and plant collections containing bonsai trees, orchids, and other flora from around the world.
Herbert Hoover National Historic Site
Herbert Hoover has the unfortunate distinction as the US president that held office at the dawn of the Great Depression, but this National Historic Site strikes a different note.
His humble birthplace cottage in West Branch, Iowa, preserves, and documents the life of the 31st President, from his Quaker upbringing to his self-described "unbounded hope" that drove his career in public service.
Hitchcock House
The home of Reverend George B. Hitchcock provided safe passage for escaped slaves traveling through Iowa on their way north and east to free states or Canada.
Additionally, Hitchcock was a central leader in Iowa's anti-slavery movement in the years leading up to the American Civil War, making this one of the most important national landmarks in Iowa.
Iowa Old Capitol Building
Before Des Moines became the capital of Iowa in 1857, Iowa City was where the head of government resided. The Old Capitol Building dates back to 1840 and was absorbed by the fledgling University of Iowa when it was no longer needed as the seat of government.
Today, the Old Capitol is one of the state's national historic landmarks and has rotating exhibits focusing on the humanities.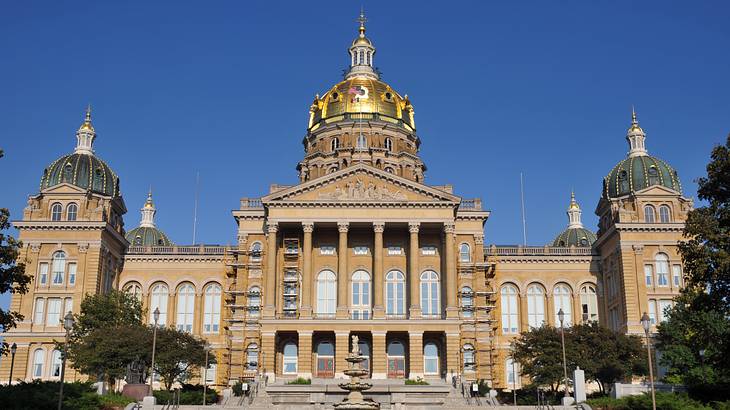 Iowa State Capitol Building
The current Iowa State Capitol Building can hardly be called new, dating back almost as far as its predecessor. Construction on the building began in 1871 and was completed in 1886.
Tours of the Capitol run all week long, where visitors can learn about current legislative issues, the history of the building, and facts about Iowa's statehood.
Iowa's Great River Road
The Great River Road National Scenic Byway is one of the natural Iowa landmarks that should be topping your list on your trip to the Midwest.
The Byway follows the Mississippi River from the state's northern to southern borders, and it is lined with limestone bluffs, river towns, and panoramic views of North America's longest waterway.
John Wayne Birthplace Museum
Marion Robert Morrison, better known by his stage name of John Wayne, was born in 1907 in Winterset, a small town in Madison County, Iowa.
Since its opening in 1982, over a million visitors have flocked to the John Wayne Birthplace Museum, where they are treated to artifacts, information, and even the wardrobe from the Western icon's film career.
The Future Birthplace of Captain James T. Kirk
According to lore, Captain James T. Kirk of the Starship Enterprise will be born in Riverside, Iowa, on March 22, 2228. The fact that this is over two hundred years away has not stopped Trekkies from boldly going to southeastern Iowa in hopes that one day life will imitate art.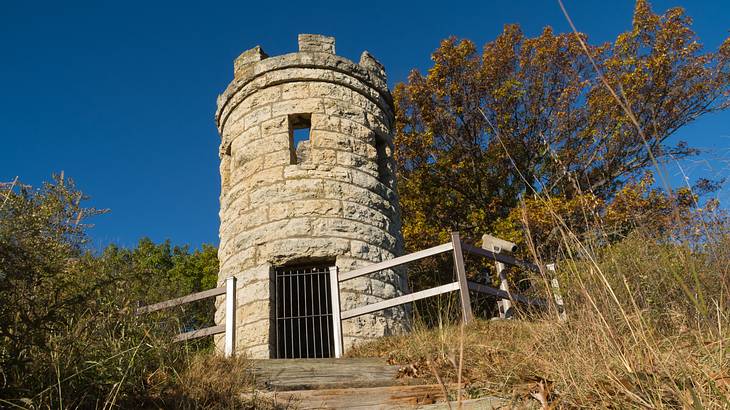 Julien Dubuque Monument
In the 17th and 18th centuries, the region that would become Iowa, was an important trading post for Europeans and Americans on the continent.
This monument was built posthumously in 1897 for Julien Dubuque, the founder of the area's first Euro-American settlement built after Dubuque was given rights for lead mining by the Mesquakie Indians.
Lake Manawa State Park
Lake Manawa, and the 1,500 acres of state land surrounding it, provide some of the region's best opportunities for hiking, boating, and camping.
Nestled into a meander along the Missouri River, this is one of the most famous attractions in Iowa for people looking for ways to enjoy the great outdoors.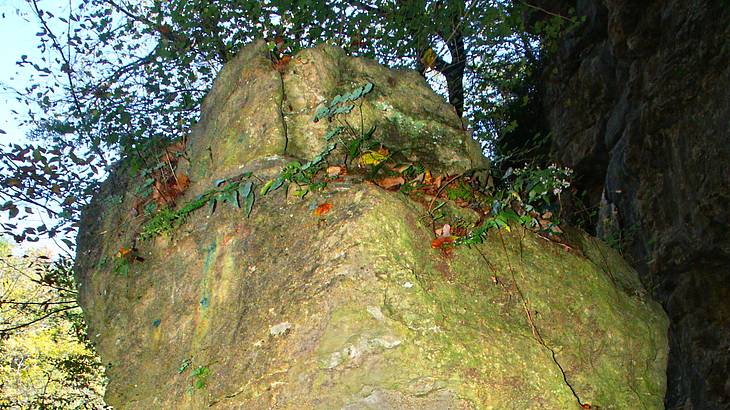 Maquoketa Caves State Park
Maquoketa Caves States Park is home to over six miles of trails that link its abundant cave system with the park's above-ground beauty and scenic overlooks.
The caves range from the spacious Dancehall Cave to tiny passages reserved for true spelunkers, leaving something for all park visitors to enjoy.
National Mississippi River Museum & Aquarium
The mighty Mississippi was a fundamental part of North American trade before automobiles. This museum chronicles the major events and innovations that took place in and along its muddy waters.
Additionally, the aquarium seeks to educate about the unique aquatic and wetland ecosystems that its wide, continental swath and rich delta have created in states like Iowa, Illinois, Missouri, and Louisiana.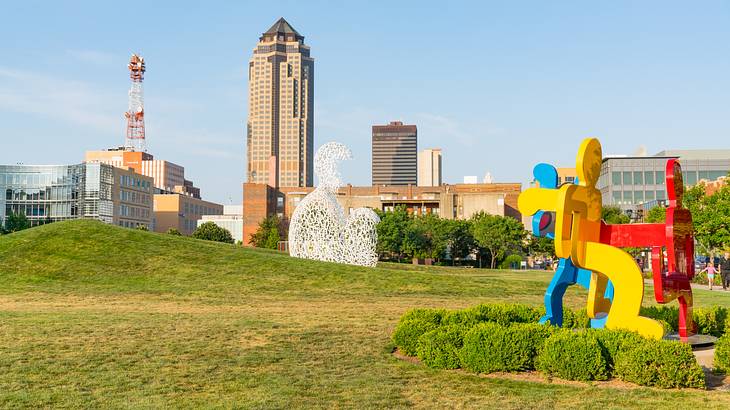 Pappajohn Sculpture Park
John and Mary Pappajohn opened this sculpture park in 2009 when they donated twenty-four sculptures valued at about $40 million to the 4.4-acre lot.
Found in Des Moines' Western Gateway Park, the sculptures are considered one of the best collections of outdoor art in the country and one of the most famous tourist attractions in Iowa.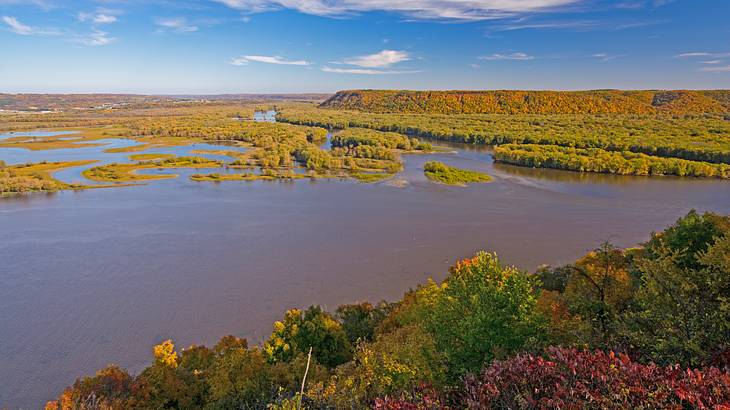 Pike's Peak State Park
Pike's Peak State Park offers some of the nation's best views of the Mississippi River from its eleven miles of trails and lookout points.
There's also a boardwalk path to the beautiful Bridal Veil Falls, and the region is well-known among rockhounds for its plentiful mineral and fossil deposits.
Sergeant Floyd Monument
A 100-foot obelisk in Sioux City marks the final resting place of Sergeant Charles Floyd, the only member of Lewis and Clark's expedition to die on the voyage.
He suffered what was likely a ruptured appendix, and died shortly after. Today, it is one of the most popular spots along the 4,900-mile Lewis and Clark National Historic Trail.
Squirrel Cage Jail
For a brief but very strange period in history, people thought it would be a great idea if they could make jail cells rotate via a hand crank controlled by the jailer.
The Squirrel Cage Jail in Council Bluffs is a museum of this short-lived fascination, with three levels of stacked, rotary jail cells more akin to a nightmarish terrarium for rodents than a prison.
University of Iowa Stanley Museum of Art
The Stanely Museum of Art in Iowa City has stayed true to Grant Wood's vision of having students study art from their own time period.
Its collection focuses on alternative styles and forms of art in the 20th century, featuring works from Jackson Pollack, Joan Miro, and Damien Hirst, making it an important Iowa landmark for art lovers.
Villisca Axe Murder House
In June of 1912, Josiah and Sarah Moore and their four children were murdered in their beds by the ax of a still-unknown killer. Two other girls on a nearby farm were killed in a similar way, leading many to believe that a serial killer was on the loose.
The "murder house" is believed by many to be haunted, and it is open for tours and even overnight stays for emboldened visitors.
The World's Largest Wooden Nickel
Once you experience the vast expanse of the United States firsthand, you'll begin to more clearly understand the allure of its many strange roadside attractions.
Enter: the World's Largest Wooden Nickel, getting highway-hypnotized travelers excited about a relatively pointless 4,000-pound disk since 2006. You won't know why you want to see it, nor will you easily explain to others why this is one of the most famous places in Iowa.
The World's Largest Concrete Gnome
At fifteen feet tall, Elwood the Gnome is another world record residing in Iowa that calls to weary travelers needing a break. He was constructed to unseat Gnome Chomsky, whose slightly shorter form resides on a minigolf course in New York.
Upon finding that an eighteen-foot fiberglass behemoth existed in Poland, Elwood's creators cleverly distinguished him as the world's largest concrete gnome.
The Day the Music Died Memorial
On February 3rd, 1959, the plane carrying Buddy Holly, Ritchie Valens, and the Big Bopper crashed near Clear Lake, Iowa. All three promising musicians died along with the pilot, leaving the music world mourning what could have been.
Today, a large pair of Buddy Holly's iconic black-rimmed glasses marks the trail to the crash site. It is one of the most tragic historical landmarks in Iowa.
Zombie Burger and Drink Lab
This unique Des Moines restaurant describes its ambiance as "post-apocalyptic chic," It comes complete with wall art that shows the advancing zombie hoards.
While not quite as lubricated as the Winchester Tavern from "Shaun of the Dead," it's got cocktails and spiked milkshakes to help ease the gloom of humanity's twilight.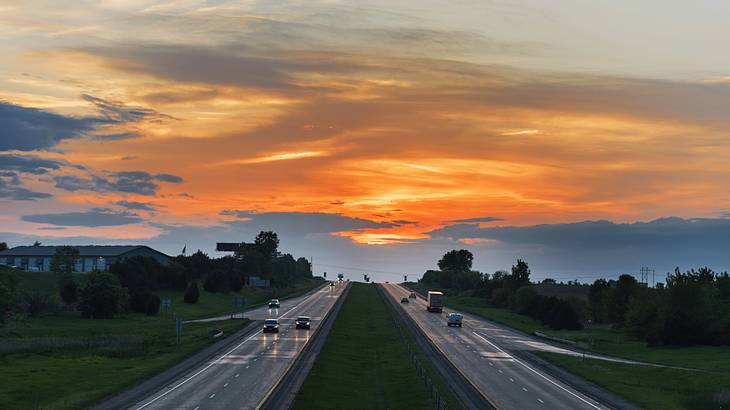 Iowa 80 Truck Stop
In becoming the largest truck stop in the world, the Iowa 80 Truck Stop has transformed into more of a mall complex than a typical waystation for long haulers.
It's also the home of the annual Trucker's Jamboree held every July and features barbecue, live music, fireworks, and antique truck displays.
The Hobo Museum
Hobos are a group of Americans that are homeless by choice, stemming from the need for migratory labor. The cycle of traveling for work and then working to travel is on full display at Britt's Hobo Museum, which pays tribute to the fierce individualism at its root. Britt is also the site of the National Hobo Convention that has taken place every August for over 120 years.
Conclusion
Starting at the crease of the Mississippi River in the east and extending west into the Great Plains, Iowa showcases the range of the American Midwest. Iowa does this not with just geography but through its history and culture as well.
Hopefully, these 30 famous places to visit in Iowa will make your trip to the Hawkeye state a memorable one and leave you hungry for more!
Give us feedback about this article
More visual stories related to this article:
---
---
Want to keep exploring?
Subscribe for discounts on tickets and hotels and our latest guides.
Thank you for subscribing
We will be in touch soon with discounts on tickets and hotels and our latest guides.
Want to keep exploring?
Subscribe for discounts on tickets and hotels and our latest guides.
Thank you for subscribing
We will be in touch soon with discounts on tickets and hotels and our latest guides.
Related Articles