15 Landmarks in Wichita, Kansas, to Visit
Destguides may receive commissions from purchases made through affiliate links in this article.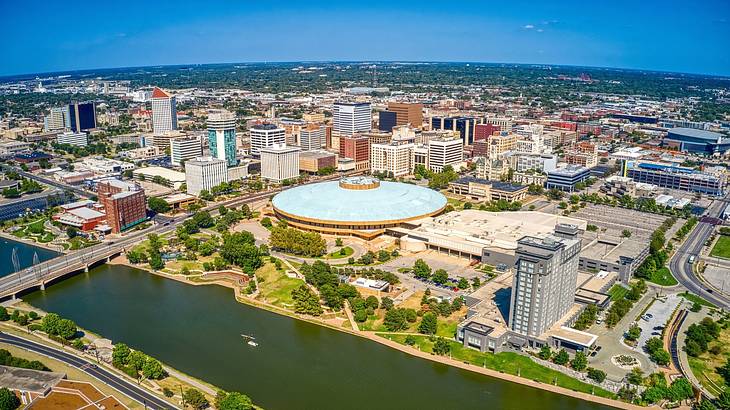 Located next to the Arkansas River, Wichita has more attractions and famous landmarks than you may imagine! From the largest art museum in Kansas to buildings designed by Frank Lloyd Wright and stunning outdoor spaces, the city has something for everyone.
To find out more about the top historical, natural, and cultural places of interest in this Great Plains city, keep reading. This list of 15 landmarks in Wichita, Kansas, will give you an overview of which places have to be on your itinerary.
15 Wichita, Kansas, Landmarks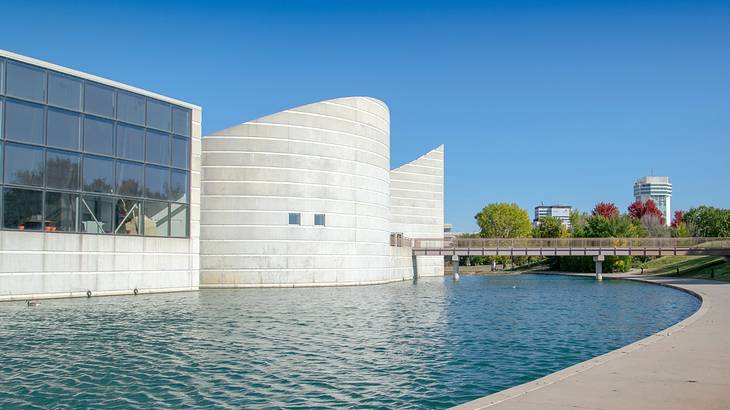 Exploration Place
If you're looking for family-friendly landmarks, you'll want to check out Exploration Place. The science center opened in 2000 in a beautiful contemporary building designed by renowned architect Moshe Safdie.
Exploration Place intends to encourage a deep interest in science and technology. This is done via a range of interactive exhibits that will appeal to all ages.
Arkansas Valley Lodge No. 21, Prince Hall Masons
Chartered in 1885 and constructed in 1910, Arkansas Valley Lodge No. 21, Prince Hall Masons, is one of many Wichita historical sites to see. The completed building featured three floors and is notable as it was designed by Joshua (Josiah) Walker, a prominent African-American architect, one of few at the start of the 20th century.
Interestingly, the building was supposed to be torn down in 1975, but efforts by the famous poet Maya Angelou saved the building. It was also added to the National Register of Historic Places in 1977.
Frank Lloyd Wright's Allen House
Famed architect Frank Lloyd Wright has designed properties across the United States, including in Wichita. The two-story Allen House was completed in the early 20th century in a Prairie School style.
The home also features some Japanese elements inspired by the Imperial Hotel in Japan, which Frank Lloyd Wright was working on. It was designed for Henry Justin Allen, a Kansas governor, and his wife. Today, you can tour the home, admiring the architecture and learning more about its history.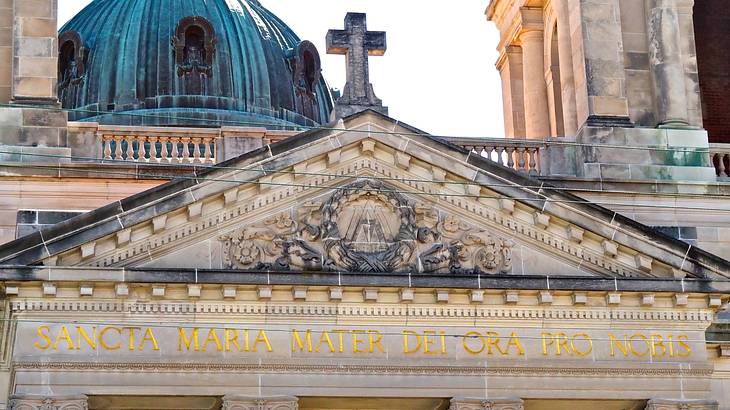 Cathedral of the Immaculate Conception
Construction of the Cathedral of the Immaculate Conception was completed in 1912, 40 years after the first Catholic church had been built in Wichita in 1872. Designed by Emmanuel Louis Masqueray in a Renaissance Revival style, the building remains an architectural marvel to this day.
The cathedral is open for visitors when services are not in session, allowing you to admire the domed ceiling, stained glass, and other stunning design elements.
Great Plains Nature Center
Great Plains Nature Center is a natural oasis located around nine miles from Downtown Wichita. The intention of the outdoor space is to preserve wildlife and promote stewardship of natural resources.
At the Great Plains Nature Center, you can follow various trails that take you through different habits. While exploring, you'll see an array of flora and fauna. There's also an indoor education center with exhibits about animal and plant life in the area.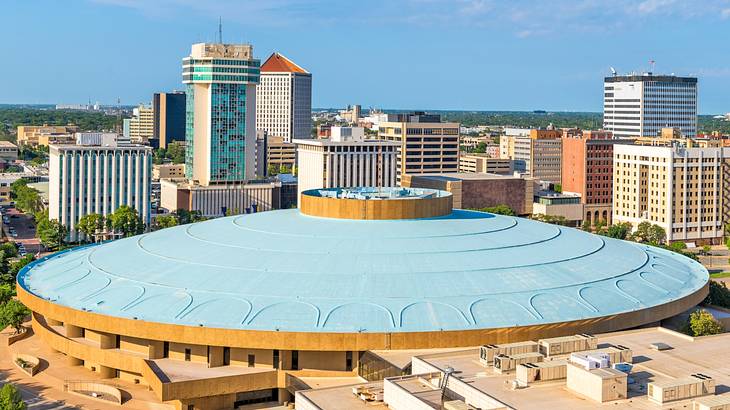 Century II Performing Arts Center
Lovers of the arts can't miss going to the Century II Performing Arts Center. This attraction opened in 1969 and is a performance venue and convention center.
Along with attending events at the convention center, you can see musicals and shows by the Wichita Symphony Orchestra. As an important cultural landmark, it was added to the National Register of Historic Places in 2020.
Great Plains Transportation Museum
Those interested in railroad history can't miss visiting this unique Wichita landmark. The exhibits at the Great Plains Transportation Museum cover the history and importance of railroading in the Great Plains. At the museum, you'll also find restored locomotives and other railroad equipment and artifacts.
Intrust Bank Arena
Intrust Bank Arena is one of the Wichita, KS, landmarks that will interest sports fans. The arena has been in Wichita since 2010 and is home to multiple teams.
These include the Wichita Thunder, a minor league ice hockey team, the Wichita State Shockers men's basketball team, and Wichita Force, an indoor soccer team. The around 16,000-capacity stadium hosts events all year, so be sure to attend one when in the city!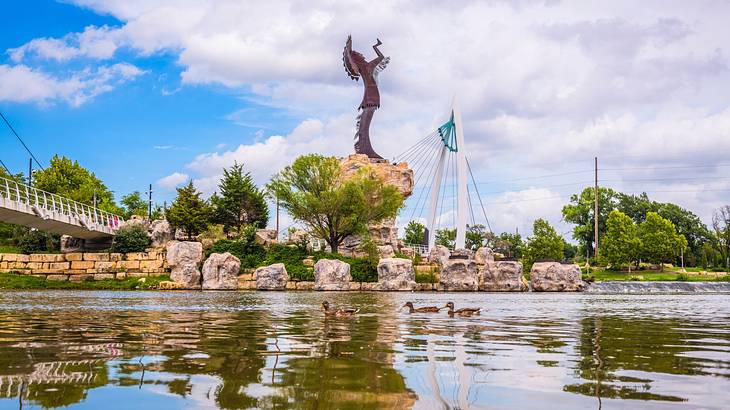 Little Arkansas River
Little Arkansas River is a central Great Plains river that flows for 123 miles. It begins in Ellsworth County, Kansas, and runs all the way into the Arkansas River.
You can see both the Little Arkansas River and the Arkansas River from various places in Wichita. The point where they meet in the city is also marked by the Keeper of the Plains statue, a landmark in itself.
Kansas Firefighters Museum
Another fascinating specialty museum in the city is the Kansas Firefighters Museum. Notably, this landmark houses the state's largest collection of firefighting memorabilia.
Things to see include old photographs and vintage fire engines. Even the museum building is related to firefighting as it's a horse-drawn fire station building from 1909.
Mid-America All-Indian Museum
An interesting fact about Kansas is that many Native American tribes lived across the state in the past. These included the Cheyenne and Arapaho tribes. Today, you can learn more about the history and culture of these tribes at the Mid-America All-Indian Museum.
Founded in 1976, the museum has educational exhibits and many artifacts, including beadwork, pottery, and an extensive collection of art by Blackbear Bosin. The flags of more than 70 American Indian tribes can also be seen here.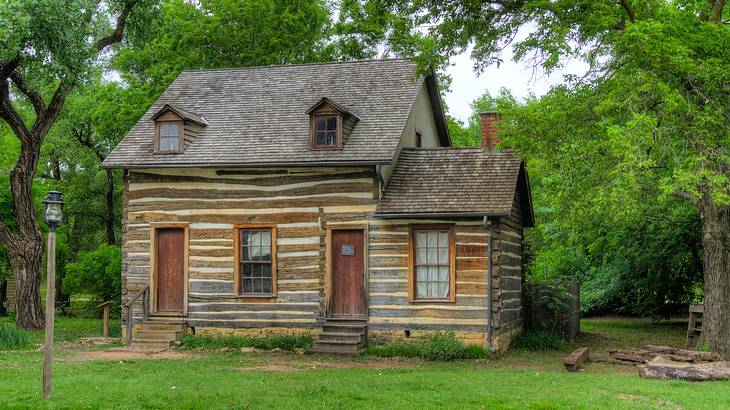 Old Cowtown Museum
A visit to Old Cowtown Museum allows you to travel back in time to 19th-century Wichita. The living history museum features replicas of homes and businesses from the 1800s. While looking around the 23-acre site, visitors will learn more about life in the area during the period.
Museum of World Treasures
Located in Old Town Wichita, the Museum of World Treasures is one of the most fascinating Wichita, Kansas, attractions. This landmark was founded in 2001 and displays a range of pieces and exhibits on world history.
Items to see include dinosaur specimens, a part of the Berlin Wall, and even a genuine shrunken head. You can also view the signature of every United States president, among many other fantastic artifacts.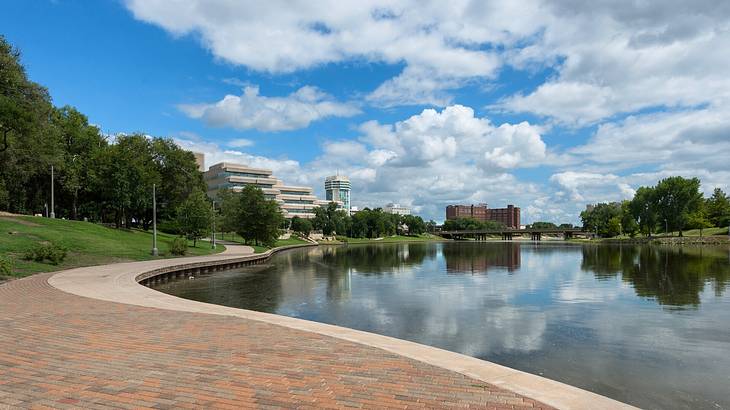 Veterans Memorial Park
Sitting along the Arkansas River, Veterans Memorial Park is an important outdoor landmark. The park gets its name because of the memorials found there.
These memorials honor US soldiers, veterans, and Gold Star mothers, American mothers who have lost children in service for the US Armed Forces. After paying respects at the memorials, you can go to the riverbank and enjoy views across the river.
Wichita Art Museum
The Wichita Art Museum is one of the best cultural landmarks in the city. The museum's history dates back over 100 years, having been founded in 1915.
At the gallery, one of the largest art museums in Kansas, you can admire the collection of over 10,000 pieces. Works to see are in a range of mediums, and there's a stunning chandelier by Dale Chuily in the lobby.
In Conclusion
As you can see, there are many natural, cultural, and historical sites in Wichita, Kansas, that are worth visiting. Whether you're an art and culture lover, enjoy exploring the outdoors, or like attractions that teach you about events of the past, Wichita has landmarks that will appeal to you!
Give us feedback about this article
More articles about Kansas:
Read more articles about the United States:
More articles about landmarks:
---
---
Want to keep exploring?
Subscribe for discounts on tickets and hotels and our latest guides.
Thank you for subscribing
We will be in touch soon with discounts on tickets and hotels and our latest guides.
Want to keep exploring?
Subscribe for discounts on tickets and hotels and our latest guides.
Thank you for subscribing
We will be in touch soon with discounts on tickets and hotels and our latest guides.
Related Articles