35 Fun Things to Do in Baton Rouge, Louisiana
Destguides may receive commissions from purchases made through affiliate links in this article.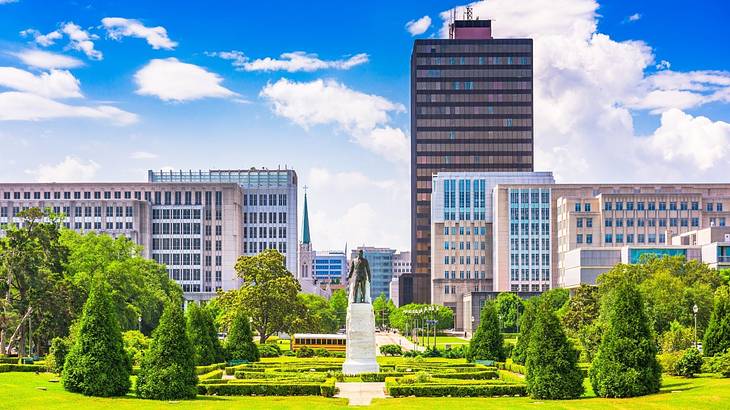 Baton Rouge is the capital city of the state of Louisiana and features many landmarks and other attractions. Fun things to do in Baton Rouge, Louisiana, range from visiting the LSU Rural Life Museum to seeing an LSU Tigers game and checking out one of these several bars and restaurants.
Baton Rouge is also close to the famous city of New Orleans, making it a great overnight or weekend trip destination for those visiting NOLA. Continue reading to learn more about all the fantastic things to do in Baton Rouge!
35 Fun Things to Do in Baton Rouge, LA
Baton Rouge, LA, Things to Do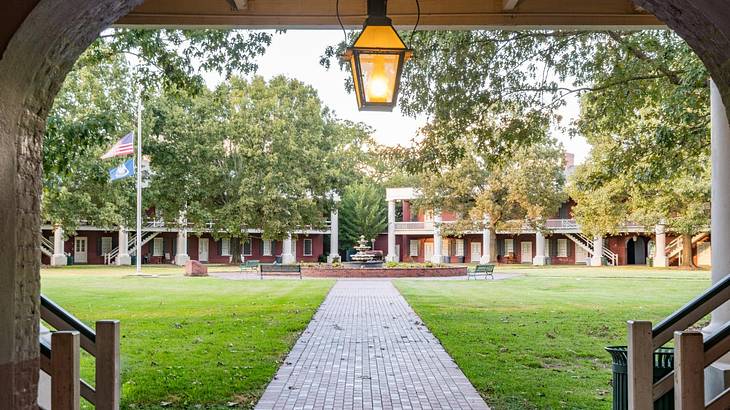 Visit the Pentagon Barracks Museum
The Pentagon Barracks Museum is built around Old United States barracks that were used in the early 1800s. Before the barracks you see today were built, the grounds were used by French, British, and Spanish soldiers, as well as Americans fighting in the Revolutionary War.
When visiting, you can wander around the barracks and surrounding grounds and learn more about their uses. Interestingly, the site has been used and visited by some notable people, like Abraham Lincoln and Zachary Taylor.
Get drinks and play games at Main Event
Main Event is a great place to spend a fun night out. The games bar has many arcade games, including virtual reality games, plus billiards, laser tag, and bowling. Other attractions include karaoke, mini-golf, and escape rooms.
As you play games, you can get drinks from the bar, like cotton candy cocktails. Food, including burgers, pizza, salads, and more, is also available.
Watch a show at the Shaw Center for the Arts
The Shaw Center for the Arts is home to the Manship Theatre, where you can see various shows. Performances include musicals, comedy shows, and plays for children. The Shaw Center for the Arts also has an art museum to visit, the LSU Museum of Art.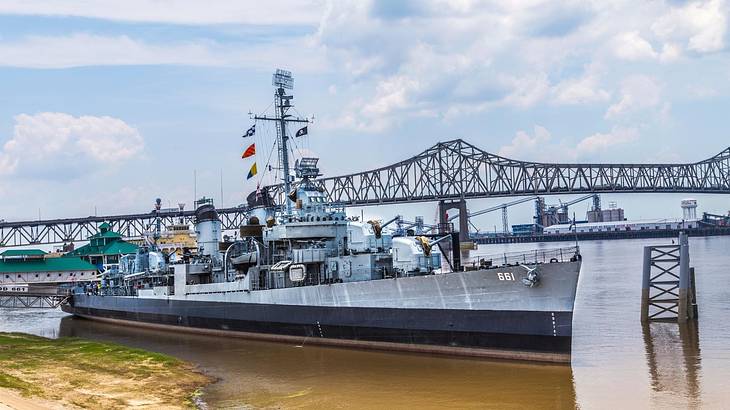 Hop aboard the USS KIDD Veterans Museum
Opened in 1943, the museum is located aboard the USS KIDD and is named after Rear Admiral Isaac C. Kidd, who died during the WWII attack on Pearl Harbor. The ship is also the first in the United States Navy to be named after him.
Exhibits cover US naval history, the construction of the ship, and Admiral Kidd's career. This attraction is also very family-friendly and is one of the best places to go with kids in Baton Rouge.
Buy local produce at Red Stick Farmers Markets
The Red Stick Farmers Market is hosted on Saturday in Downtown Baton Rouge. The market features farmers selling locally grown produce.
Things to purchase include freshly picked fruit like peaches and blueberries, vegetables, and flowers, including sunflowers. If you're new to the area or visiting, you'll also get the opportunity to mix with locals. Additionally, exploring the market is one of the best daytime date ideas in Baton Rouge.
Cool off at Blue Bayou Water Park
Blue Bayou Water Park is a great attraction to visit as a family. The waterpark features numerous water slides, swimming pools, and a lazy river. There's also a kiddie pool for little ones and areas to relax by the pool. If visiting Baton Rouge with kids, a trip to Blue Bayou Water Park has to be on your to-do list.
Spend the day at Dixie Landin'
Another of the best things to do in Baton Rouge, Louisiana, for those in the city with kids is going to Dixie Landin'. This theme park is located next to Blue Bayou Water Park and features an array of rides and roller coasters.
Amusements include rides for thrill-seekers and those for younger kids, like a train or toy plane carousel. After enjoying all the rides, you can get theme park snacks like cotton candy, corn dogs, and popcorn.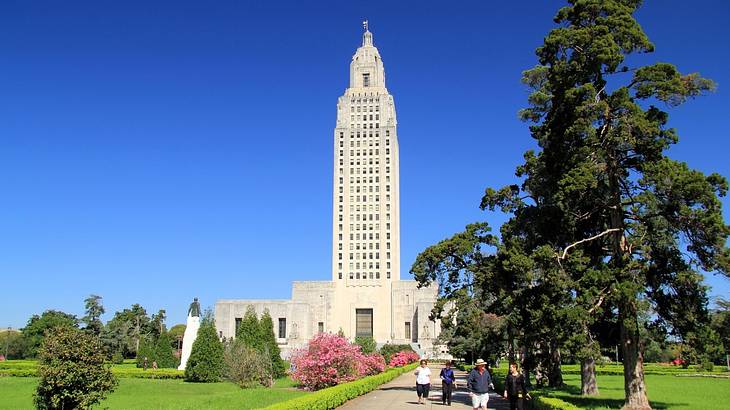 Tour the Louisiana State Capitol Building
The current Louisiana State Capitol Building opened in 1932 and remains the seat of government for the state. Visitors can tour the building, known for its tower that reaches 460 feet tall. A unique feature here is the building's observation deck, where you can look out across the city.
Wander around Bluebonnet Swamp Nature Center
Another excellent nature attraction in Baton Rouge is Bluebonnet Swamp Nature Center. The 103-acre site has trails that take you through hardwood forests and swamps. There's also a nature center with many animals and exhibits on the wildlife and ecology of the area.
Hang out at North Sherwood Forest Community Park
North Sherwood Forest Community Park is a 133.18-acre park located on an old Federal Sharp Station Depot used in WWII. The park has a lake, trails, tennis courts, a children's playground, and much more. You can also attend free fitness classes at the park, like aerobics.
Take your kids to the Knock Knock Children's Museum
Knock Knock Children's Museum is one of the most fun places to take your kids in Baton Rouge. The interactive museum has 18 learning and play areas, including arts and crafts sections, a pretend supermarket and a reading space. There's also an indoor jungle gym for your kids to enjoy.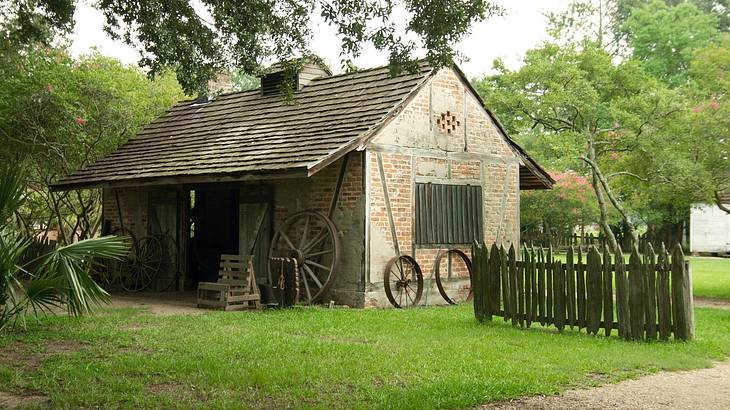 Travel back in time at the LSU Rural Life Museum
The LSU Rural Life Museum is one of the most interesting Baton Rouge attractions. The open-air living history museum has exhibits on life in 19th-century Louisiana. You can see a range of old-fashioned buildings and view exhibits on the state's past. Areas to explore include a post office and a blacksmith shop.
Rock climb at UpTown Climbing
Adventure activity enthusiasts will definitely want to plan a trip to UpTown Climbing. The indoor climbing center has multiple walls, including a 90-foot wall and more than 60 rope stations. There's also a fitness room and yoga classes, and you can have climbing lessons if needed.
Stay at the Hilton Baton Rouge Capitol Center
If visiting Baton Rouge, staying at the Hilton Baton Rouge Capitol Center is a great idea. The four-star hotel has sophisticated rooms, a gym, a rooftop pool, and a deck with views over the city. The Hilton additionally has a bar and grill to relax at with a meal and a drink.
Admire artworks at the Louisiana Art & Science Museum
Art lovers wondering what to do in Baton Rouge, Louisiana will want to check out the Louisiana Art & Science Museum. The museum was founded in 1925 and has a variety of art exhibits, including temporary and permanent ones.
You can also see some science-related displays here, like those on solar systems and the dinosaurs. There's additionally a vast collection of Ancient Egyptian artifacts.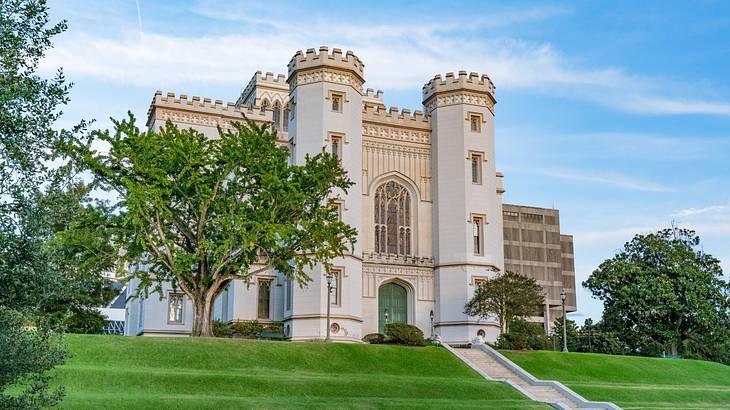 Visit Louisiana's Old State Capitol
Constructed in 1847, the Old State Capitol was used until the 1930s, when the current State Capitol Building was opened. Visiting this historical site is a great idea and will allow you to learn about Louisiana politics in the 19th and early 20th centuries.
You can tour the National Historic Landmark and see exhibits while also admiring the building's architecture and impressive stained glass windows.
Learn about Louisiana at the Capitol Park Museum
If you want to learn more about the state of Louisiana, one of the best things to do in Baton Rouge, LA, is to going to the Capitol Park Museum. Exhibits cover a range of periods from the 1600s to the present. Topics to learn about include the state's musical, industrial, and cultural past.
Stroll through City-Brooks Community Park
City-Brooks Community Park is a great place to go for a walk with various trails to choose from, some of which take you around a scenic lake. There's also a dog park and a children's playground. In addition, you can find many sports facilities within the park, like tennis courts, a 9-hole golf course, and an outdoor basketball court.
Look around the Old Governor's Mansion
The Old Governor's Mansion was the residence of state governors between 1930 and 1963. Today, you can tour the building, which was designed to resemble the White House. As you look around, you'll get to admire the elegantly decorated rooms and learn some interesting facts about Louisiana state history.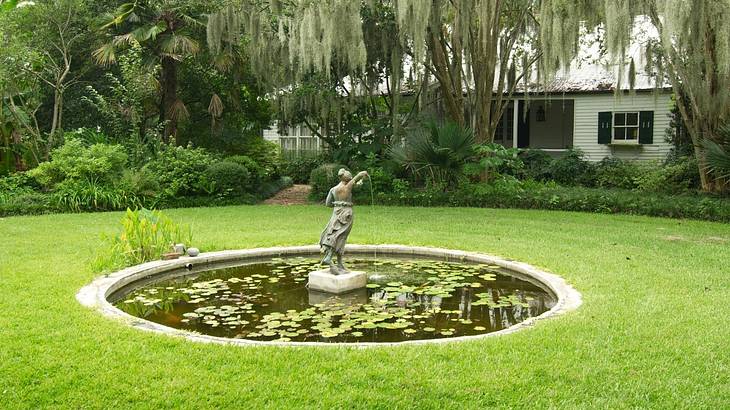 Walk around the Windrush Gardens
On a nice day, one of many cool things to do in Baton Rouge, Louisiana, is wandering through the Windrush Gardens. The gardens are located at the Louisiana State University AgCenter and feature scenic paths through pretty floral displays. You'll also see oak trees and interesting statues.
Go to the LSU Museum of Art
The LSU Museum of Art is another of the arts and culture attractions in Baton Rouge to add to your to-do list. The gallery has a variety of artworks dating from the 16th century to the present. Temporary exhibits are held, too, allowing you to see unique collections and works by local artists.
Enjoy Celebration Station
Celebration Station is a fun spot for families or adults that want to feel like kids again. The entertainment venue has many attractions, including go-karts, mini-golf, arcade games, and batting cages. There are also some rides for young kids, like a train. After enjoying the amusements, you can get snacks like pizza and wings.
Splash around at Liberty Lagoon
Liberty Lagoon is another great water park in the area. It has pools, waterslides, water playgrounds, and poolside pavilions. Swim classes for kids can also be booked here. If you're looking for cool things to do in Baton Rouge, LA, with your kids, taking them to Liberty Lagoon is a must!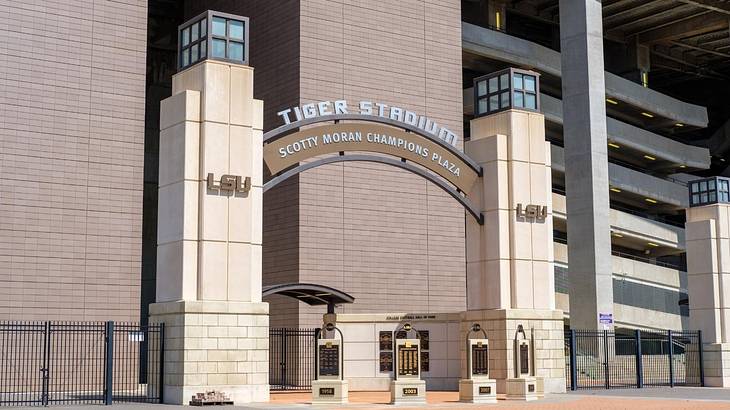 Watch a game at LSU Tiger Stadium
LSU Tiger Stadium is a sports arena located at Louisiana State University. The university's football team, the LSU Tigers, plays at the stadium, and watching a game is an excellent idea if you're a sports fan. The university also has many other sports teams to watch, including basketball and volleyball teams.
Indulge in sweet treats at Smallcakes
If you want to treat yourself, pick up some sweets at Smallcakes Cupcakery & Creamery! The bakery and ice cream shop sells various cupcake flavors like peanut butter, lemon drop, and red velvet.
Ice cream is also available, including mint chocolate chip, cookies n' cream, and salted caramel. Cookies, cupcake bites, and pupcakes for your dog can be ordered too.
Snack on cookies from Insomnia Cookies
Insomnia Cookies is another of the fun places in Baton Rouge to go if you have a sweet tooth. The bakery specializes in fresh baked cookies, with traditional flavors like chocolate chip as well as more unique combos available.
More unique cookies include a PB&J-filled cookie and a caramel apple pie cookie. You can also get ice cream sandwiches with cookies of your choice.
Kayak on the Mississippi River
The Mississippi River is one of the largest rivers in the United States, and you can see and access it from Baton Rouge. Kayaking on the river is an enjoyable activity, and you can rent equipment at The Backpacker in Baton Rouge. The company offers rentals of kayaks and stand-up paddleboards, which you can keep all day or for multiple days, for an additional cost.
Dine meal at Roux 61
Roux 61 is a popular local eatery serving American classics with a focus on Southern dishes. Just a few of the menu options include crawfish etouffee, seafood gumbo, and fried catfish. A kids' menu is also available if visiting with children, and you can end your meal with desserts, like bread pudding or cheesecake.
Sip cocktails at Hayride Social
You can discover many excellent bars in Baton Rouge, and if you like cocktails, Hayride Social is a must-visit. The bar serves classic and signature cocktails, including a rum, banana liqueur, and sherry mix and a light rum, pineapple, ginger, and white chocolate liqueur cocktail. You can also get wine and beer, and there are happy hour offers from 4 PM to 7 PM.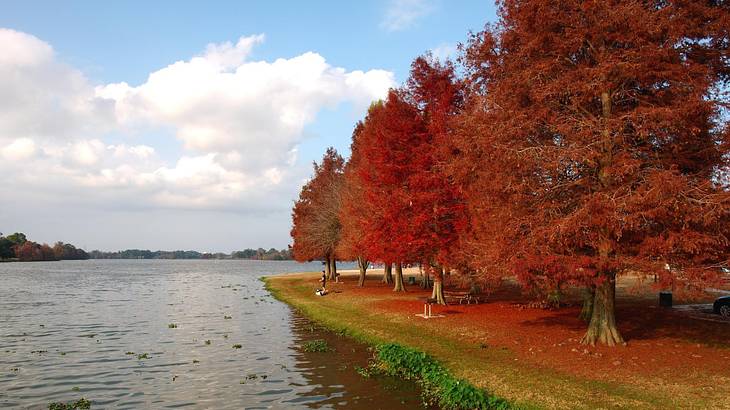 Go to University Lake
University Lake is another scenic outdoor area, complete with a lake and trails. At the park, you can wander around the lake, taking in the stunning views.
Some watersports are also allowed on the lake, and you'll see lots of wildlife during your visit, like Pelicans. If you're looking for more fun activities in Baton Rouge, Louisiana, that allow you to enjoy the outdoors, be sure to go to University Lake!
Grab a coffee at French Truck Coffee
French Truck Coffee is an independent coffee shop that's the perfect place to stop for a quick drink. The store has its own line of coffee, with some unique blends like one with hints of chocolate brownie, caramel, and praline. You can also order baked goods along with your coffee and can pick up a bag or two of your favorite blend to brew at home.
Have brunch at The Ruby Slipper Cafe
The Ruby Slipper Cafe is a popular brunch and breakfast spot that was founded in New Orleans. At the Baton Rouge location, you can order dishes like fried chicken with French toast bites, loaded tater tots, and many types of pancakes. Brunch cocktails like mimosas are also on the menu to accompany your meal.
Interact with animals at Baton Rouge Zoo
Baton Rouge Zoo is located just outside of downtown and is home to many animals from across the world. Creatures to see at the zoo range from tigers and cheetahs to various species of birds and snakes. You can also see some farm animals, like goats and sheep.
Things to Do Near Baton Rouge, Louisiana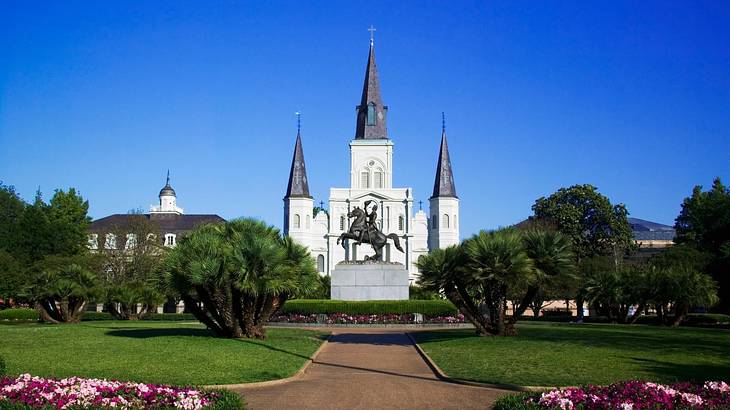 Drive to New Orleans
New Orleans is a unique city that's located just an hour and 15 minutes from Baton Rouge. Driving to the city for a day or even an overnight trip is a must! There are several things to do in New Orleans, like visiting museums such as the Louisiana State Museum and exploring the scenic French Quarter.
Other activities to add to your NOLA itinerary include going on a ghost tour and enjoying a river cruise. If you plan a multi-day trip, you'll be able to enjoy many fun things to do at night in New Orleans too.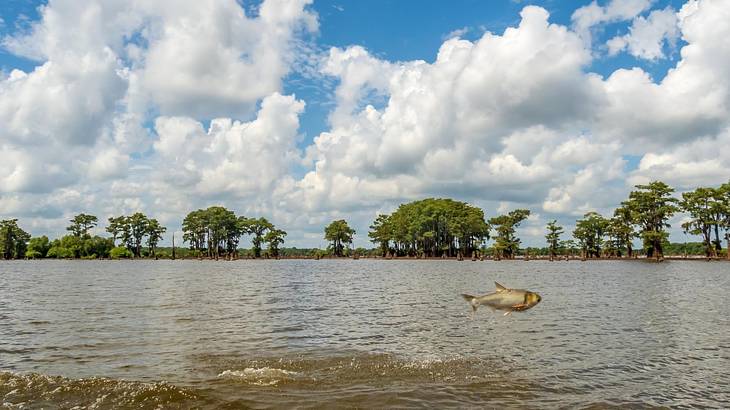 Explore Atchafalaya National Wildlife Refuge
Atchafalaya National Wildlife Refuge is a 15,000-acre preserve in "Cajun Country" with trails, lakes, and lots of wildlife. It's the ideal place to hike, boat, or go wildlife watching, with bird watching being a popular activity. On top of numerous species of birds, you can see animals like Louisiana black bears, white-tailed deer, and alligators.
In Conclusion
This article should have offered many great ideas for those wondering what to do in Baton Rouge, LA. Whether you enjoy outdoor activities, visiting museums and historical sites, or checking out excellent bars and restaurants, Baton Rouge will have something for you!
---
---
Want to keep exploring?
Subscribe for discounts on tickets and hotels and our latest guides.
Thank you for subscribing
We will be in touch soon with discounts on tickets and hotels and our latest guides.
Want to keep exploring?
Subscribe for discounts on tickets and hotels and our latest guides.
Thank you for subscribing
We will be in touch soon with discounts on tickets and hotels and our latest guides.
Related Articles