35 Fun Things to Do With Kids in Baton Rouge, Louisiana
Destguides may receive commissions from purchases made through affiliate links in this article.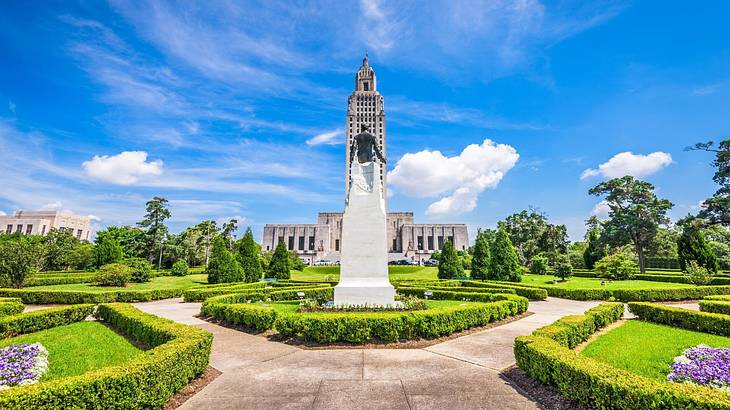 If you're planning a family vacation in the south of the US, visiting Louisiana's state capital of Baton Rouge is highly recommended. Fun things to do with kids in Baton Rouge, Louisiana, include going to nature centers, visiting water parks and theme parks, and watching the LSU Tigers play.
Whether you're traveling with small kids or teens, you'll find an array of exciting things to do in Baton Rouge. Read on for 35 top suggestions!
35 Fun Things to Do in Baton Rouge for Kids
Fun Things to Do in Baton Rouge With Kids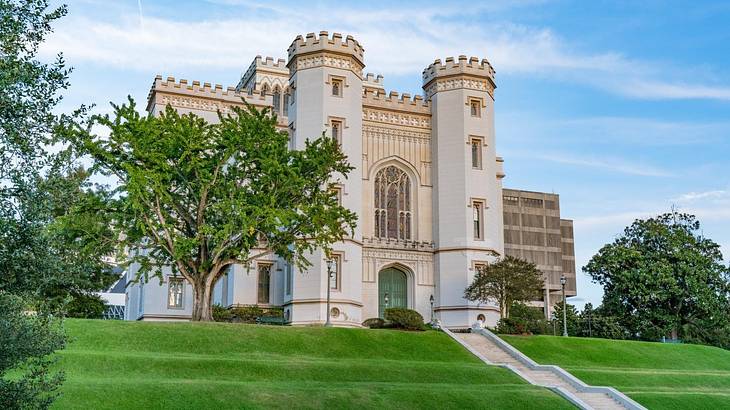 Visit the Louisiana Old State Capitol
Constructed in 1847, the Old State Capitol acted as the office for the Louisiana State Legislature until the late 1920s. Today, the important United States political building is a museum. During a visit, you'll learn about Louisiana history, especially politics in Louisiana.
Spend the day at Blue Bayou Water Park
Located in East Baton Rouge, Blue Bayou Water Park is one of the best family-friendly attractions in the area, especially if visiting in the summer. The water park features multiple water slides, a wave pool, and a lazy river. There's also a fun pirate-themed kiddie pool for little ones.
Enjoy the rides at Dixie Landin
Dixie Landin is located adjacent to Blue Bayou Water Park. The amusement park has a range of rides for kids of all ages to enjoy, including roller coasters, a kids' train, and spinning teacups. After trying all the rides, your kids can grab classic theme park snacks, like cotton candy or corn dogs.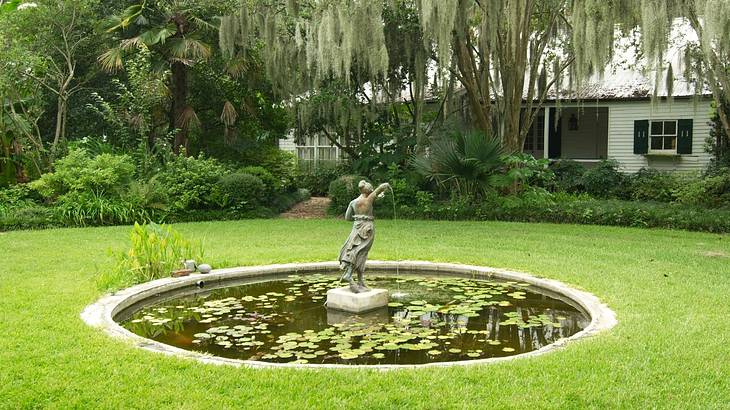 Admire flowers at Windrush Gardens
Going to Windrush Gardens is one of the kid-friendly things to do in Baton Rouge that allows you to be outdoors. The gardens are found near the LSU Rural Life Museum and are also administered by Louisiana State University.
In the gardens, you can walk along paths that are lined with beautiful trees and pretty flowers. You'll also discover sculptures and water features throughout the space.
Hang out at Perkins Road Community Park
Perkins Road Community Park is an ideal place to take your kids to play. The area has a skate park, a children's playground with slides and climbing features, a climbing wall, and a BMX area. There are also some trails to walk or bike along.
See animals at Baton Rouge Zoo
Your kids can see a range of exotic and adorable animals at the Baton Rouge Zoo. The zoo is home to over 800 animals, including tigers, alligators, and zebras. As your kids discover all the animals, they'll learn more about each species and where they come from in the world.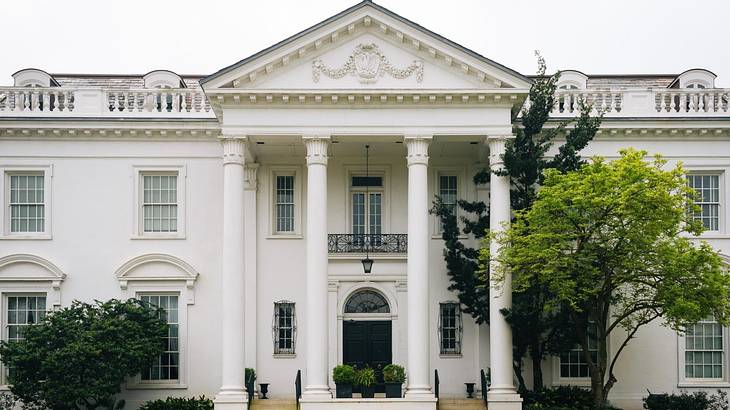 Tour the Old Governor's Mansion
Constructed in 1930, the Old Governor's Mansion is known by many as "Louisiana's White House." It was used as the governor's house between 1930 and 1963 and today is a house museum. Your family can tour the home, and learn more about its history and the governors who have lived there.
Check out the LSU Museum of Natural Science
Another of the best Baton Rouge family attractions is the LSU Museum of Natural Science. Located on the LSU Campus, the museum has exhibits on wildlife in Louisiana, conservation, and environmental science. The venue is sometimes closed to the public, so check it's open before visiting.
View artworks at the Louisiana Art and Science Museum
The Louisiana Art and Science Museum is housed within an old railway station and has an impressive collection of art to discover. As you and your family wander around the museum, you'll see works by various artists in mediums, including paintings, drawings, and photographs. This attraction also has some educational science-based displays to see.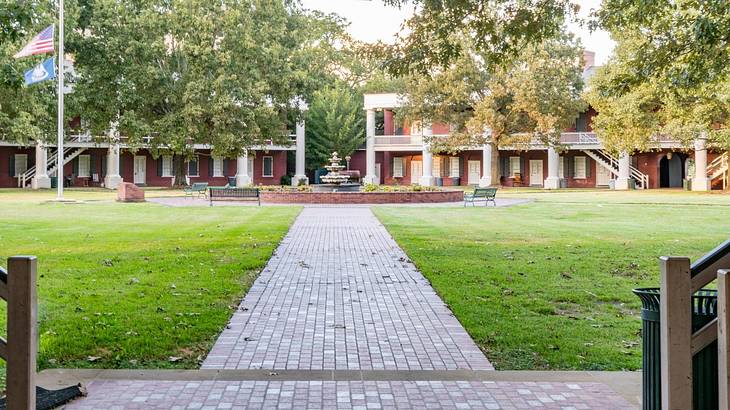 Look around the Old Pentagon Barracks
An interesting historical place to visit with family is the Old Pentagon Barracks. The barracks are located on the State Capitol grounds and are free to enter. Your kids can wander around the open area, and you can snap some nice pictures here too.
Follow trails at Forest Community Park
Forest Community Park is a scenic outdoor space in the Greater Baton Rouge area. It has multiple trails that you and your family can follow, enjoying the views.
In the summer, there's a splash pad for younger children to play in too. Forest Community Park also has a dog park if you want to bring your family dog with you.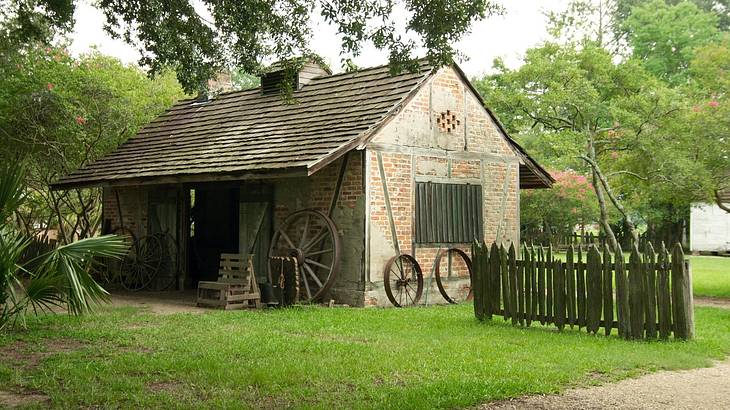 Travel back in time at the LSU Rural Life Museum
The LSU Rural Life Museum is a great educational attraction. The open-air museum has exhibits relating to 19th-century life in Louisiana.
Your kids can look inside rural-style buildings that are decorated as they would have been in the 1800s. You can also learn more about the daily lives of people living in the area at the time.
Immerse yourself in nature at the Bluebonnet Swamp Nature Center
A great place to enjoy the fresh air with your family is Bluebonnet Swamp Nature Center. Located just 20 minutes from downtown, the 103-acre nature reserve allows your kids to learn more about nature.
At the center, you can see animals and enjoy displays on the natural environment. There are also boardwalk paths to follow on which you'll spot a range of wildlife.
Have a fun day at Celebration Station
Celebration Station is a theme park with an array of kid-friendly amusements. Things to do include riding go-karts, playing arcade games, and practicing baseball skills at the batting cages. There's also a miniature golf course and a fun children's playground for smaller kids.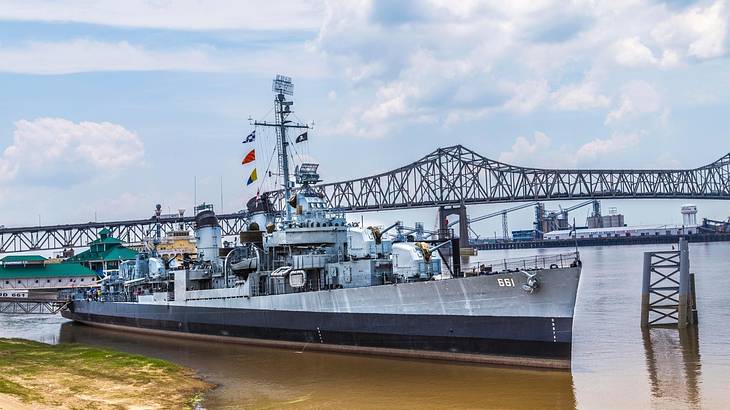 Tour a destroyer at the USS Kidd Veterans Museum
Another of the educational family things to do in Baton Rouge is going to the USS Kidd Veterans Museum. The museum's exhibits are housed aboard a destroyer ship, the USS Kidd. It is one of the most famous landmarks in Louisiana.
Displays cover topics relating to the US military, especially the Navy, and the role of Louisiana citizens in the army. The museum and the destroyer get their name from Rear Admiral Isaac C. Kidd, who died during the WWII attack on Pearl Harbor.
Rock climb at Uptown Climbing
If your kids like adventure activities, one of the fun things for kids in Baton Rouge is rock climbing at Uptown Climbing. Kids can try activities like climbing bouldering walls and doing top-rope climbing.
Kids must be supervised by an adult at all times and children must be over three years old to climb. Other rules apply based on which activities kids want to do and how many children are participating.
Splash around at Liberty Lagoon
Liberty Lagoon is another top water-based attraction in Baton Rouge. This venue has swimming pools, water slides, and a flow rider for surfing. There's also a children's pool with a jungle gym, plus a splash zone for little kids.
Try fun tricks at Defy
Defy is a cool attraction that allows kids, and adults, to practice air tricks. At the venue, you'll find foam pits and trampolines where kids can tumble and practice aerial tricks, such as flips.
Kids can also enjoy a zip line, an area to do trapeze tricks, and a trampoline basketball court, among other attractions.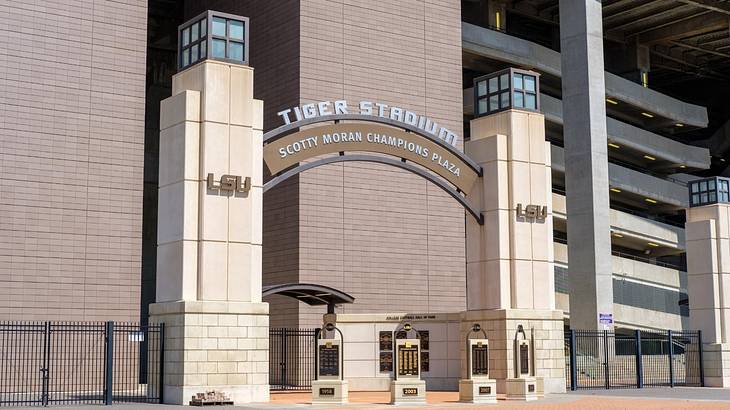 Catch a football game at LSU Tiger Stadium
If your family likes sports, one of the most fun things for kids to do in Baton Rouge, LA, is going to LSU Tiger Stadium to watch an LSU Tigers' game. The Tigers play for Louisiana State University in the NCAA Division.
At the stadium, you can cheer on the team and enjoy the collegiate spirit. Some of the other LSU sports you can watch include baseball and men's and women's basketball.
Enjoy cookies from Insomnia Cookies
A fun place to go to grab some cookies for your kids is Insomnia Cookies. The bakeshop stays open until late and has a vast selection of cookies. Flavors to choose from, including classic chocolate chunk, double chocolate, and snickerdoodle. You can buy individual cookies or get a box of six, 12, or 24.
Sign up for a class at The Little Gym
A good way to keep your kids active and occupied is by taking them to a class at The Little Gym. There are classes for kids aged four months through to 12 years old. Classes focus on gymnastics and growing kids' confidence!
Get ice cream at Marble Slab Creamery
Marble Slab Creamery is one of the best places to take kids in Baton Rouge to get some ice cream. Treats to order include cotton candy, cookies and cream, and cookie dough flavored ice creams.
Kids can choose from tubs of ice cream, milkshakes, or sundaes topped with brownie and chocolate sauce or strawberry sauce and whipped cream.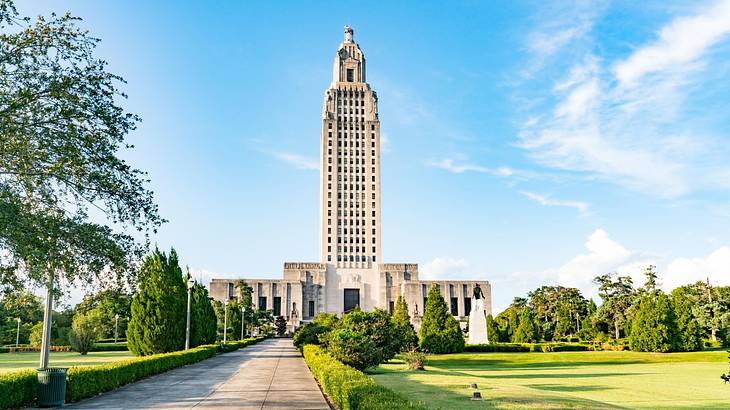 Look out across the city from the State Capitol observation deck
The new Louisiana State Capitol building is a tall structure located downtown. It's been the seat of government for the Louisiana State Legislature since the 1930s.
You and your family can tour the building and head up to the observation deck. From the lookout, you can admire views across Baton Rouge.
Shop at Red Stick Farmers Market
The Red Stick Farmers Market is held every Saturday downtown. The market gets its name from the English translation of "Baton Rouge" and offers visitors the chance to buy local produce.
You and your kids can shop for products like fresh fruit and veg, homemade baked goods, and artisan food products at the market. A market is also held on Thursdays a little outside of downtown.
Play arcade games at Main Event
Main Event is another top venue for family fun in Baton Rouge. The entertainment complex has arcade games, including VR gaming, plus a bowling alley, a laser tag arena, and a ropes course. There's also an on-site bar and restaurant to refuel at.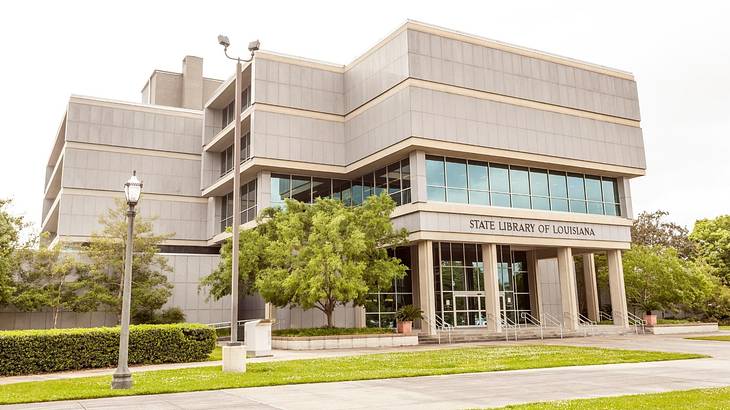 Find new books at the State Library of Louisiana
At the State Library of Louisiana, your kids can find some new favorite books to enjoy. After exploring the shelves of books, children can hang out in one of the reading areas for story time or borrow the book to take home.
You can also find numerous public libraries around the city, many of which have events for kids too.
Eat at Elsie's Plate & Pie
A great kid-friendly eatery to check out in Baton Rouge is Elsie's Plate & Pie. This Southern comfort food spot has a kid's menu with options like grilled cheese, chicken strips, and popcorn shrimp. For dessert, you can share an indulgent treat, like S'mores pie or sweet nachos.
Learn and play at Knock Knock Children's Museum
One of the most fun activities for kids in Baton Rouge is going to Knock Knock Children's Museum. The attraction is created with kids in mind and has a selection of interactive exhibits that allow them to learn as they play.
Things to do include playing in a pretend veterinary office, doing craft projects, and building block structures.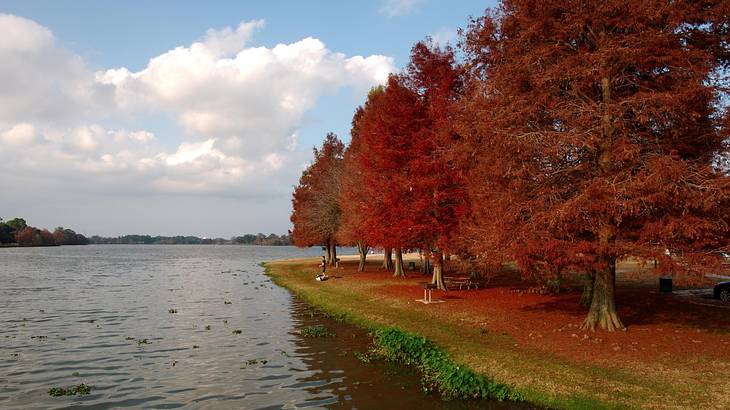 Walk around University Lake
University Lake is a scenic park and lake located on the outskirts of downtown. On a nice day, it's the perfect place for your family to get some fresh air. You can walk along trails, enjoy lake views, and spot wildlife like pelicans. In fall, the leaves look beautiful here too!
Discover all the things to do at Highland Road Park and Observatory
Highland Road Park offers many kid-friendly activities. Things to do here include playing on the children's playground or baseball fields, taking boats out on the water, and visiting the park's observatory.
The latter is part of the LSU Department of Physics and Astronomy and can be found in the south part of the park.
Share cupcakes from Smallcakes Cupcakery & Creamery
Another great spot to spoil your kids with sweet treats is Smallcakes Cupcakery & Creamery. Flavors to order include cookies n cream, caramel crunch, and peanut butter cup. They also sell ice cream and a few other baked goods, like cake pops.
Watch a show at the Shaw Center for the Arts
Located in downtown Baton Rouge, Shaw Center for the Arts features a theater and the LSU Art Museum. You can see a variety of cultural shows at the Manship Theatre, including concerts and drama productions.
At the art museum, you can discover immersive and contemporary art exhibits. Shaw Center for the Arts is a good place to visit if traveling with older children.
Fun Things to Do Near Baton Rouge, Louisiana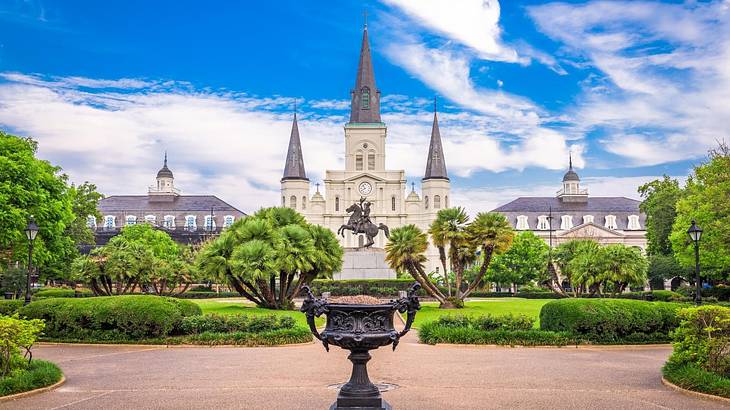 Take a trip to New Orleans
New Orleans is an hour-and-a-half away from Baton Rouge when driving. Going on a day trip to the popular destination is a fun idea for the whole family.
Things to do in New Orleans with kids include visiting museums, going on a Steamboat Natchez tour, and checking out Mardi Gras World.
Explore Cat Island National Wildlife Refuge
If you're willing to drive 45 minutes outside of Baton Rouge, going to the Cat Island National Wildlife Refuge is recommended. The refuge is the perfect place to hike and spot wildlife. Creatures you may see a variety of bird species, plus white-tailed deer and bats.
Paint pottery at BrushFire Studio
If your children like crafts, one of the kid activities in Baton Rouge that you have to try is painting ceramics at BrushFire Studio. The art venue has a range of pottery for kids to paint, including animal sculptures. They can also paint on canvas.
Best of all, no reservation is required making planning a trip to BrushFire Studio easy!
In Summary
If you're visiting Louisiana with family and wondering what to do with kids in Baton Rouge, this list should have provided you with many suggestions.
Kid-friendly activities in the state capital include visiting educational attractions, spending time outdoors, and getting some sweet treats like cookies and ice cream. No matter what your kids like to do, there's something for them to enjoy in Baton Rouge!
Give us feedback about this article
More visual stories related to this article:
---
---
Want to keep exploring?
Subscribe for discounts on tickets and hotels and our latest guides.
Thank you for subscribing
We will be in touch soon with discounts on tickets and hotels and our latest guides.
Want to keep exploring?
Subscribe for discounts on tickets and hotels and our latest guides.
Thank you for subscribing
We will be in touch soon with discounts on tickets and hotels and our latest guides.
Related Articles