20 Fun Things to Do in New Orleans With Kids
Destguides may receive commissions from purchases made through affiliate links in this article.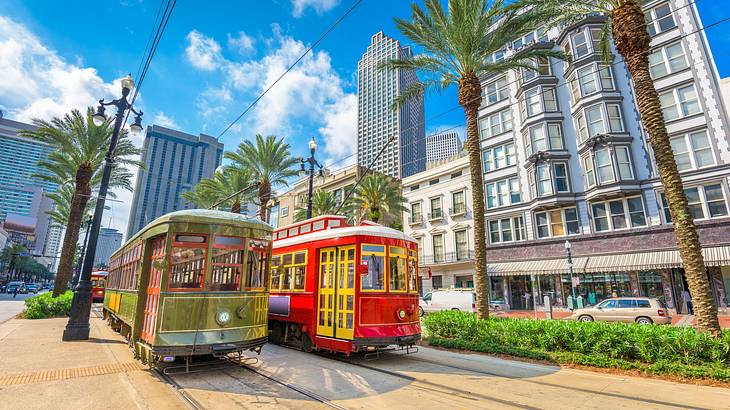 New Orleans, or NOLA for short, is a highly unique city found in Louisiana. This bustling area is known for its stunning French-style buildings, jazz music legacy, and incredible food, among many other things. These traits make it a popular destination, even for road-tripping families!
You can find a host of fun things to do in New Orleans with kids, from kayaking in nearby swamps to learning about the city's history and culture. If you're planning your next family getaway, be sure to consider this amazing city and check out these 20 New Orleans attractions for kids.
20 Fun Things to Do With Kids in New Orleans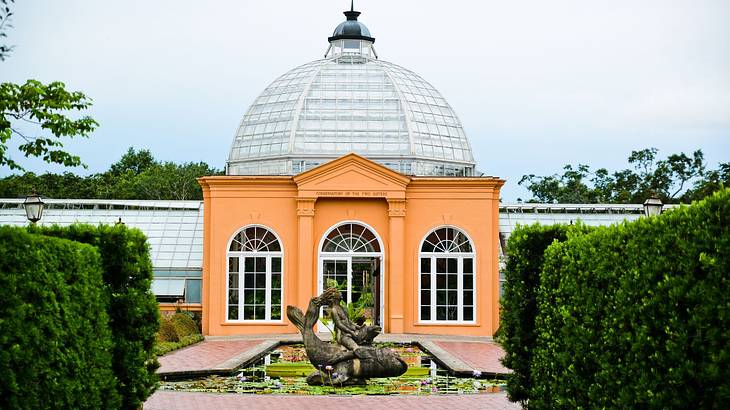 Wander around the New Orleans Botanical Garden
The New Orleans Botanical Garden is found in City Park and features an array of stunning floral displays. With so many vibrant gardens to explore, it's one of the most fun family attractions in New Orleans, LA.
There are 23 different gardens to discover, including a rose garden and a Japanese garden. There's even a train garden with miniature trains and buildings - a kid-friendly favorite!
You can also pick up boxed picnic-style meals to enjoy anywhere in the park. Having a quaint picnic surrounded by stunning gardens is sure to keep all your kids happy!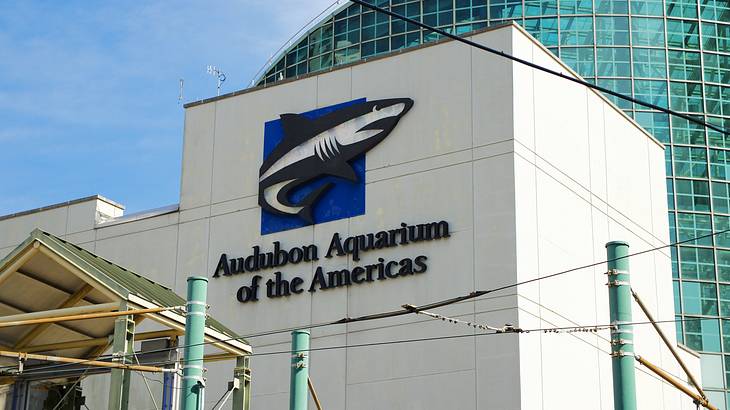 Learn about sea life at the Audubon Aquarium of the Americas
Audubon Aquarium of the Americas is the ideal place to take your kids if they're interested in sea life. This vast attraction features multiple fish tanks, a walk-through marine life tunnel, and exhibits with larger sea creatures.
Animals your kids can spot include colorful fish, sharks, rays, and penguins, among many others. The sea turtle area is an exhibit of particular interest if you want to teach your children about animal conservation. These turtles are rescue animals that are being prepared to be re-released.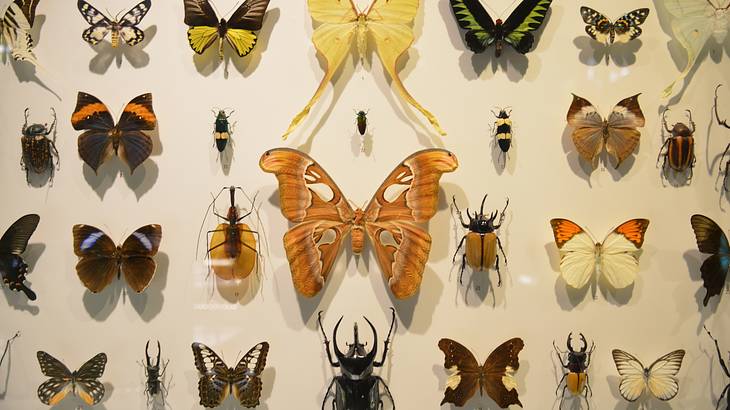 Discover beautiful butterflies at the Audubon Butterfly Garden and Insectarium
Audubon Butterfly Garden and Insectarium is another incredible wildlife attraction for kids in New Orleans. Exhibits to see feature different species of beautiful butterflies and those with various bugs.
Along with viewing the creatures, your kids can learn more about their habitat and life cycle. The Butterfly Garden and Insectarium recently moved to the Audubon Aquarium of the Americas, so your kids can check out both attractions in one day.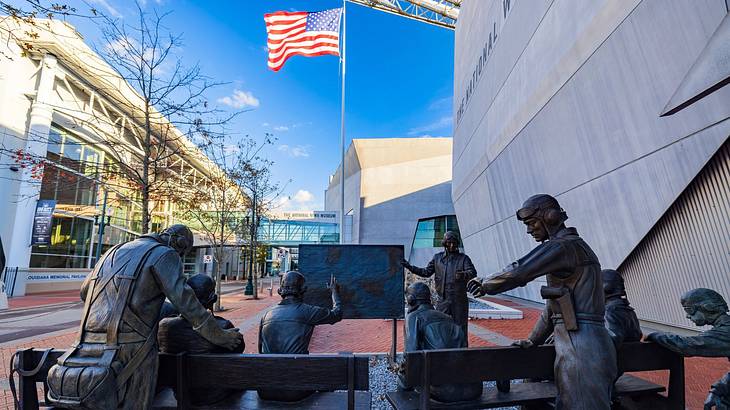 Have a historical day out at the National WWII Museum
If your kids are a little older, then a visit to the National WWII Museum is well worth it. The museum houses exhibits on military history and the US' role in WWII.
Along with traditional-style exhibits, you'll discover many multimedia exhibits and can watch a 4D film. Having explored the museum, your kids will have learned a vast amount about the United States' efforts in WWII and the stories of those affected.
Explore Mardi Gras World
Mardi Gras World is where the floats that get used in the annual Mardi Gras parade are made. This large warehouse is open to the public, making for a fun attraction. During your visit, you can see the colorful floats come to life and learn more about the iconic Mardi Gras celebration.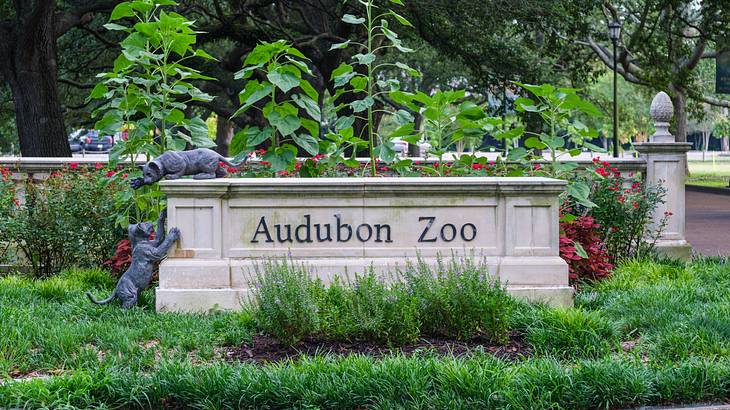 Spot exotic animals at the Audubon Zoo
The Audubon Zoo is another of the animal-based New Orleans attractions for families. Your kids will get to view an array of animals from all across the globe. Creatures to see at the zoo include tigers, zebras, penguins, and black bears.
Along with seeing animals from the greater United States and other countries, you'll get to see animals from Louisiana. These Louisiana habitats include alligators and other swamp creatures.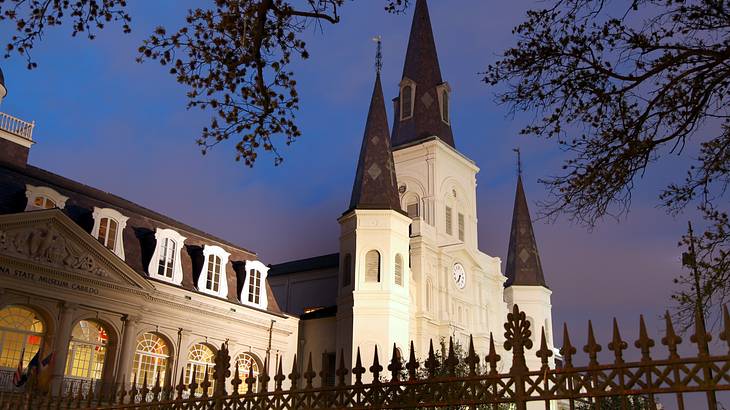 Dare to go on a family-friendly ghost tour
New Orleans is known for its paranormal and spooky past. It's also believed that many of the places in the city are haunted. Due to this, you can find an array of ghost tours. While lots of them aren't kid-friendly, you can find a few that are.
The New Orleans family-friendly ghost tour takes your family to some of the French Quarter's most haunted spots. You'll hear spooky tales relating to each area that are scary but not over the top for little ones.
Check out the kid-friendly Louisiana Children's Museum
Visiting the Louisiana Children's Museum is one of the most fun things to do in New Orleans with kids. This attraction is not just great for kids but is created with them in mind.
The museum features a range of interactive exhibits as well as a climbing wall and art studio. It's the ideal place for kids with active imaginations to explore. Visiting the Children's Museum is notably an ideal rainy-day activity.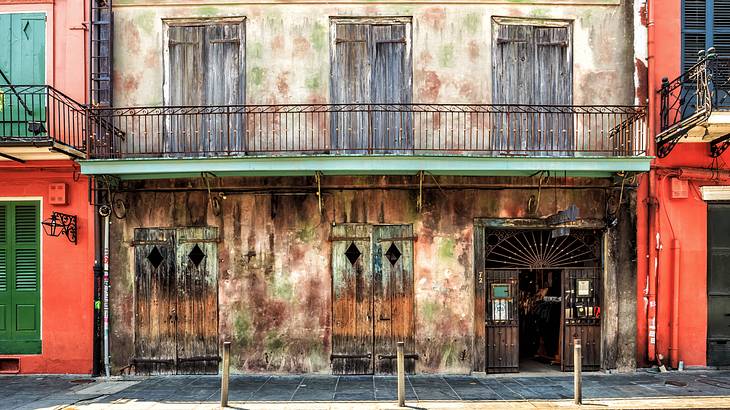 Listen to jazz music at Preservation Hall
Preservation Hall is an iconic jazz venue located in the French Quarter. When visiting New Orleans, you can go into Preservation Hall and listen to live jazz performances.
Your kids will love the live music and may be able to sing along to some of the more well-known songs. You do need tickets to attend this event at Preservation Hall, so try to book in advance to avoid long lines once you arrive.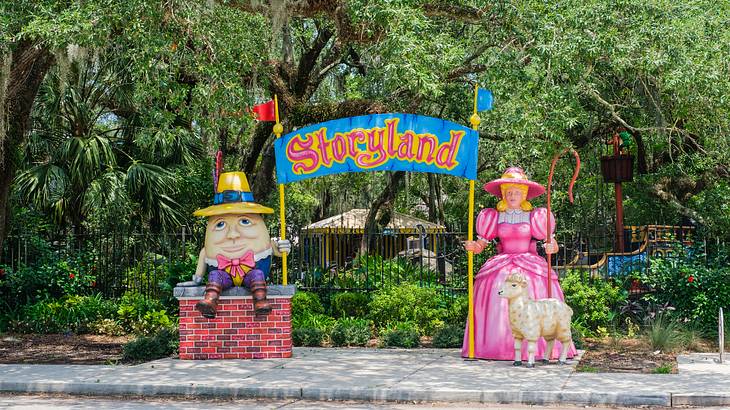 Have a fun day at Storyland and Carousel Gardens Amusement Park
Storyland and Carousel Gardens Amusement Park are some of the most kid-friendly attractions in New Orleans. Storyland is a fairy tale world complete with an array of magical creatures.
Kids can explore the park and take pictures with all the interesting surroundings. Carousel Gardens Amusement Park, next to Storyland, features a selection of fun theme park rides.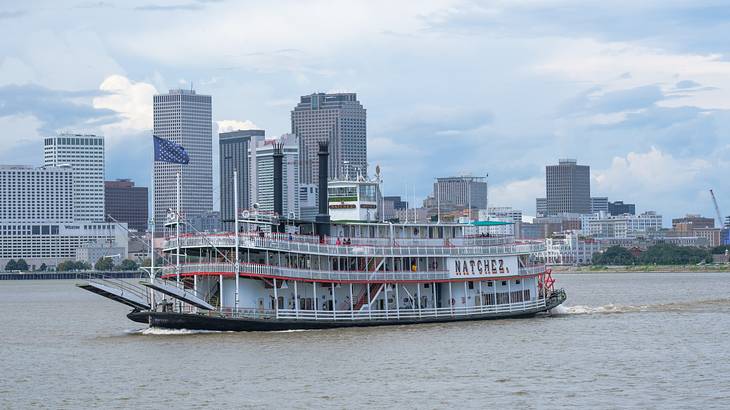 Venture out on the water on a Steamboat Natchez river tour
Heading out onto the Mississippi River on a Steamboat Natchez river tour is one of the fun things for kids in New Orleans that the adults will also enjoy. These cruises are taken on an old-fashioned steamboat, with many offering live music and food.
Once on the boat, you'll be taken along the Mississippi and can take in incredible views of New Orleans. Your kids are sure to love the unique-looking boats and the fun of enjoying food and music aboard.
Try on costumes at the Mardi Gras Museum of Costumes and Culture
Another fun and kid-friendly Mardi Gras attraction in New Orleans is the Mardi Gras Museum of Costumes and Culture. This highly interactive museum features a range of exhibits on Mardi Gras celebrations in New Orleans.
You can look at costumes worn by those in the parades. The kids can even try an array of costumes on. They're sure to love the bright and bedazzled looks, and you'll be able to get some adorable pictures!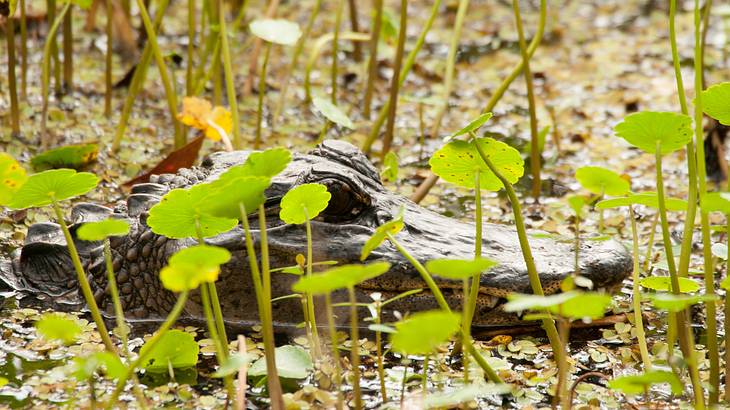 Head to New Orleans' swamps on a swamp tour
Kids will love heading out into the Barataria Preserve's swamps near New Orleans to learn about all the creatures that live there. They may even spot an alligator! Multiple companies offer tours of the swamps. The majority include transport to and from New Orleans and the swampland.
Once at your destination, the boat will take you through the swamps, and a guide will give you more information on the area. You're also likely to have wildlife encounters that will amaze you and your children.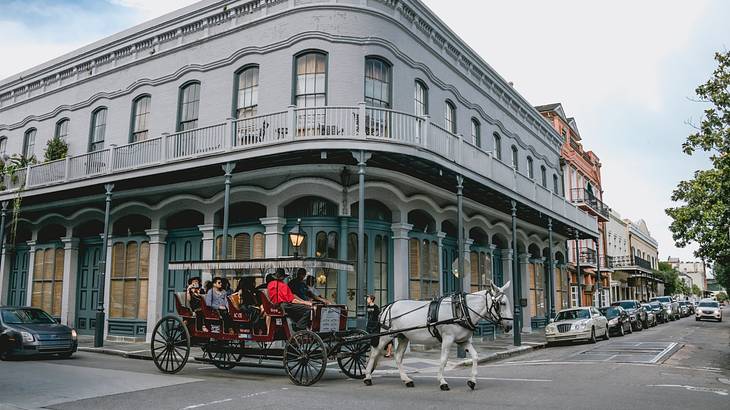 Go on a horse and carriage ride of the French Quarter
Going on a horse and carriage ride of the famous French Quarter is one of the most memorable family activities in New Orleans, LA. Your kids are sure to enjoy this mode of transport that reminds them of carriages in a fairytale. If they love horses, it will be even more of a hit!
The ride will take you past famous Louisiana landmarks, and your guide will offer more information on them and the general area. It's the ideal way to see the French Quarter, especially if you have younger kids that can't walk around for too long.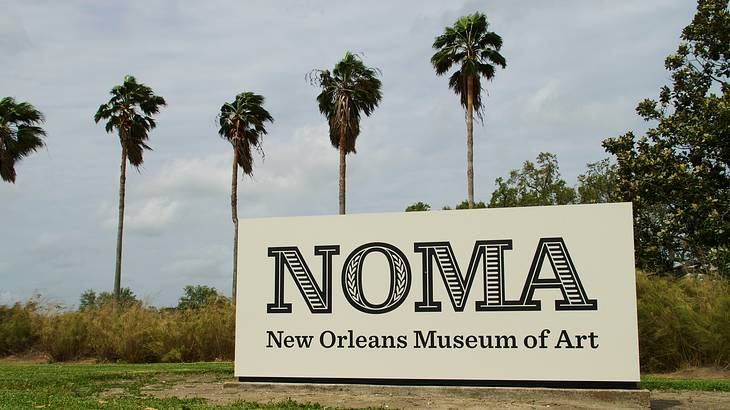 Visit NOMA and the Walda Besthoff Sculpture Garden
If your children are interested in art, then visiting the New Orleans Museum of Arts, or NOMA, must be on your to-do list. The museum features over 40,000 artworks. Pieces on display cover a range of styles and come from multiple eras.
Due to the variety of exhibits, the museum is the ideal place for kids to learn about art and spark their curiosity. Additionally, you can check out the Sydney and Walda Besthoff Sculpture Garden. This New Orleans landmark features a range of interesting sculptures that you can discover as you wander around the garden's path.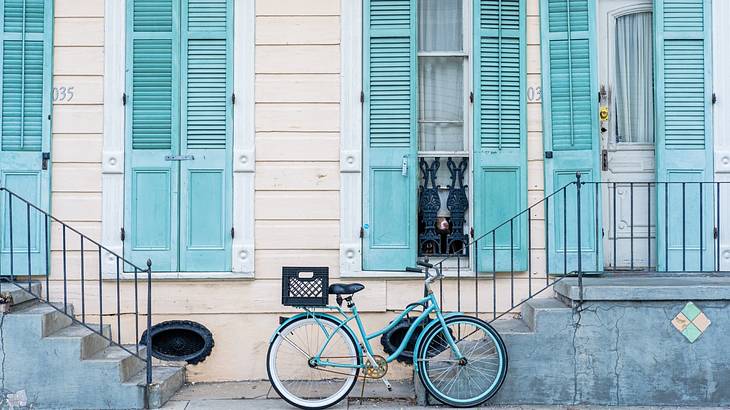 Bike around New Orleans
If your kids are at an age where they can ride a bike for a few hours, then trying a bike tour of New Orleans is a great idea. The tour provider will supply bikes and helmets, so even if you don't have bikes, you can still participate in the experience.
Once ready to go, your local guide will lead you to famous sites and provide background information on everything you see.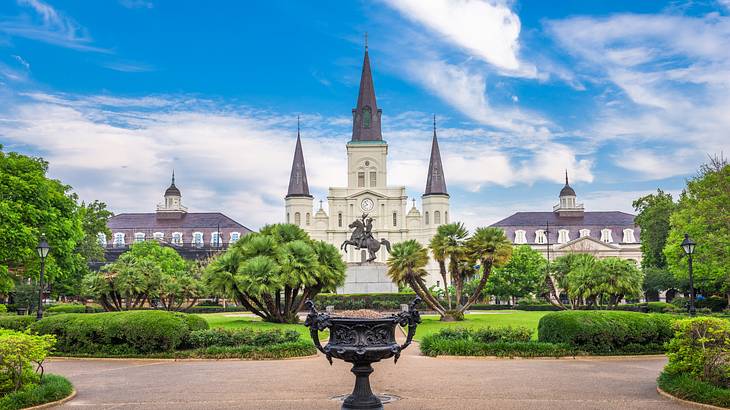 Get up to date on NOLA history and culture on a New Orleans tour
Going on a New Orleans city tour is a fun and easy way for you and your family to explore the city. On the tour, you'll learn about New Orleans' culture and history. Places to visit include the French Quarter and the Garden District.
You'll be taken from place to place on a bus, making it ideal for those with younger children who may not want to walk a lot. This tour is definitely one of the best family things to do in New Orleans!
Kayak on Manchac Swamp
A fun kid-friendly outdoor activity near New Orleans is kayaking on Manchac Swamp. Once you reach the swamp, your guide will provide kayaks, and you can then begin exploring the marshy area.
Along with taking in the surroundings, you may spot alligators, turtles, owls, and many other creatures. Your guide will additionally offer more information on the plants and animals you're seeing. This activity is a memorable and exciting way to see Louisiana's swamps. Kids must be six years of age or older to participate.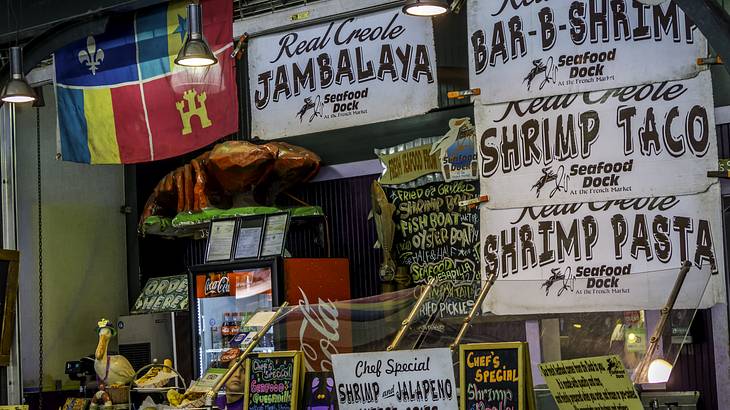 Eat your way around New Orleans on a food tour
New Orleans has some of the most delicious and unique cuisine in the US. If your kids are adventurous eaters, why not take them on a culinary tour of the city?
A New Orleans French Quarter food tour provides the opportunity to try the best eats in NOLA. You'll be guided around the French Market and French Quarter to try an array of delicious samples.
Food to taste includes beignets, red beans and rice, and praline. The tour is child-friendly, and kids under six can currently come along for free.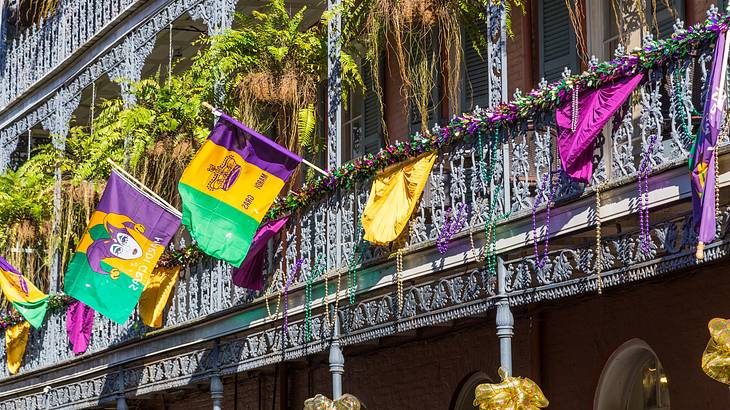 Celebrate Mardi Gras
Mardi Gras, an annual celebration to mark the beginning of Lent, is New Orleans' biggest party. While some think it's a more adult-themed event, it's actually highly family-friendly. The celebration features vibrant costumes, exciting parades, live music, and traditional food and activities.
Your kids will love seeing the bright-colored decorations and playing a range of games hosted on the street. They can even dress up and adorn themselves with bead necklaces. The whole family will also get the chance to try yummy dishes, many of which are only available at Mardi Gras.
If you're wondering when to visit New Orleans to go to Mardi Gras, it varies! The celebration aligns with the start of Lent. This generally occurs in February or March, with a different exact date each year.
In Conclusion
New Orleans is an exciting and unique vacation destination for all travelers, including families. No matter what age your kids are, these 20 family activities in New Orleans, LA, are guaranteed to keep everyone happy.
Want to keep exploring?
Subscribe for discounts on tickets and hotels and our latest guides.
Thank you for subscribing
We will be in touch soon with discounts on tickets and hotels and our latest guides.
Want to keep exploring?
Subscribe for discounts on tickets and hotels and our latest guides.
Thank you for subscribing
We will be in touch soon with discounts on tickets and hotels and our latest guides.