20 Most Haunted Places in New Orleans, Louisiana, to Visit
Destguides may receive commissions from purchases made through affiliate links in this article.
New Orleans, Louisiana, is a unique destination known for its rich history and vibrant and friendly locals. However, NOLA also has a dark side, with many calling it a haunted city.
New Orleans' past features voodoo queens and serial killers, among other creepy residents and activities. The city and its stories were even used as inspiration for the horror TV show American Horror Story. If visiting and interested in paranormal activity and the occult, be sure to check out some of the most haunted places in New Orleans, Louisiana!
20 New Orleans Haunted Places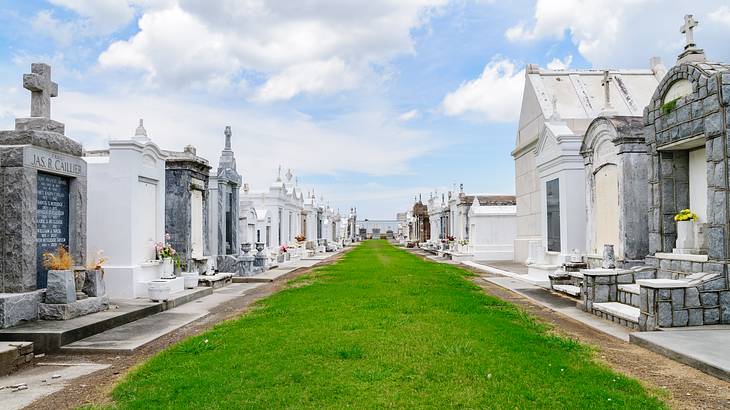 Saint Louis Cemetery
St. Louis Cemetery No. 1 is one of the most well-known haunted places in New Orleans. The cemetery notably houses the tomb of Voodoo queen Marie Laveau. Not only do followers still flock here to leave the priestess offerings, but she also haunts the cemetery at night.
The cemetery is additionally the final rating place for victims of the yellow fever epidemic. Some of these souls are also said to haunt the area. To best understand the history of the cemetery, take a cemetery and voodoo tour.
Le Petit Theatre du Vieux Carre
Le Petit Theatre du Vieux Carre is one of the most historic playhouses in the city. You can still catch an array of shows there today. However, you may also run into a haunt of different ghosts. Numerous ghastly events that have occurred in the past at the theater have resulted in spirits remaining inside.
Ghosts you could see include an actress who committed suicide and another who died accidentally. A former theater manager and Union soldiers are just a few more of the individuals you may encounter. You can visit the haunted spot alone, or there are a few ghost tours taking you to Le Petit Theatre.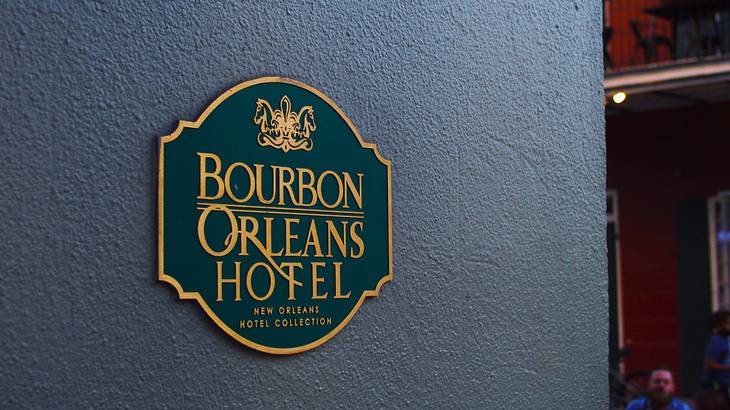 Bourbon Orleans Hotel
You'll find a few haunted hotels in New Orleans, with the Bourbon Orleans Hotel being one of the spookiest. The hotel even ranks as one of the most haunted hotels in the US!
Ghosts to spot include a Confederate soldier and a lonely dancer in the ballroom. In addition, during the yellow fever epidemic, the hotel was an orphanage run by nuns. Some report seeing the apparitions of children and women, likely those who died at the orphanage. You can still stay at the hotel today - if you dare!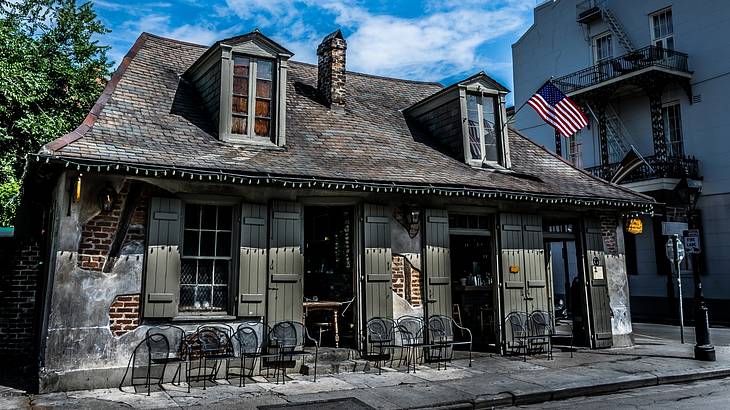 Lafitte's Blacksmith Shop Bar
Found on iconic Bourbon Street, Lafitte's Blacksmith Shop Bar is one of America's oldest bars. It's also the most haunted bar in New Orleans.
This location gained the title of being one of the most haunted sites in New Orleans due to pirate Jean Lafitte frequenting the bar. To this day, his ghost has been spotted inside. Others have seen the ghost of an unknown woman roaming around upstairs.
While you can simply stop by the bar, going on a haunted pub crawl is a more exciting way to visit. The tour will take you to Lafitte's Blacksmith Shop Bar and four other spooky locations.
The Jimani Lounge
The Jimani Lounge is the site of a more recent tragedy that has left the building haunted. While most of New Orleans' ghost stories hail from the 1700 and 1800s, Jimani Lounges' spirits were tragically murdered in 1973.
Upstairs Lounge was a gay club that sat above Jimani Lounge. In 1973 the bar suffered a horrific intentional fire killing 32 people. Nobody was ever charged with the crime.
While Upstairs didn't reopen, regulars of Jimani Lounge still report paranormal activity. It's assumed that the ghosts are those who died at Jimani, looking for answers and justice.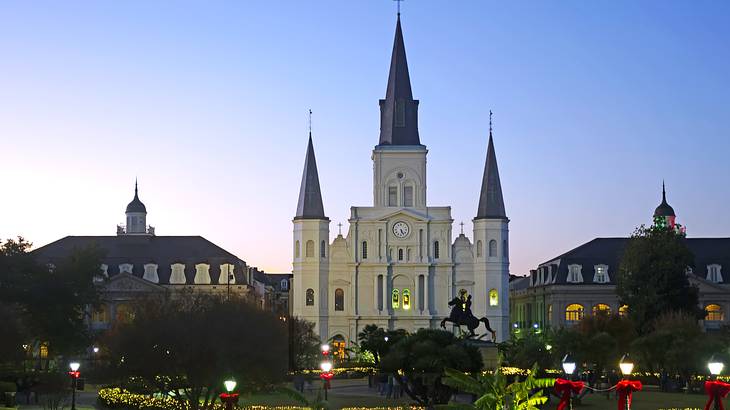 Saint Louis Cathedral
St. Louis Cathedral is another of the various haunted buildings in New Orleans. This iconic NOLA church stands in Jackson Square and is said to be haunted by the ghost of Pere Dagobert.
Dagobert was the cathedral's pastor in the 1700s, and people report having seen his ghost wandering through the church pews. Others say that the church was built atop a burial ground. The souls of individuals originally buried there have haunted the cathedral to this day.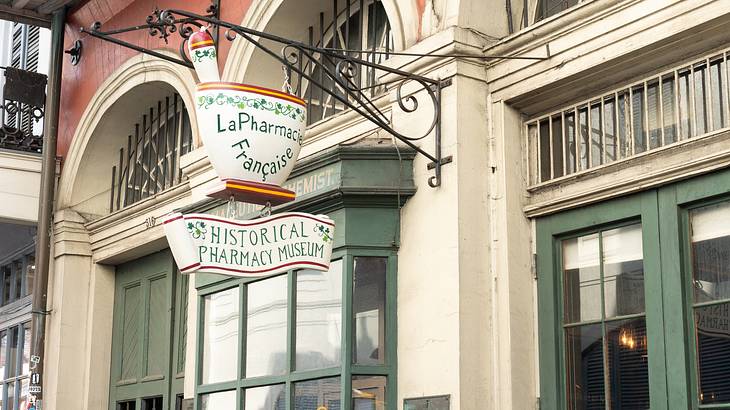 New Orleans Pharmacy Museum
The New Orleans Pharmacy Museum is the location of America's first licensed pharmacist. The museum has a range of exhibits on medicine and apothecary from the 1800s onwards.
Being such an old building in New Orleans, there are numerous ghost stories associated with the museum. Some believe that Dr. Dupas, a former owner of the pharmacy, haunts the building after dark. It's rumored that he conducted unthinkable experiments on enslaved people before his death, making him a nasty ghost you'd rather avoid!
You can get more background on the ghosts that haunt the pharmacy on the New Orleans Killers and Thrillers tour.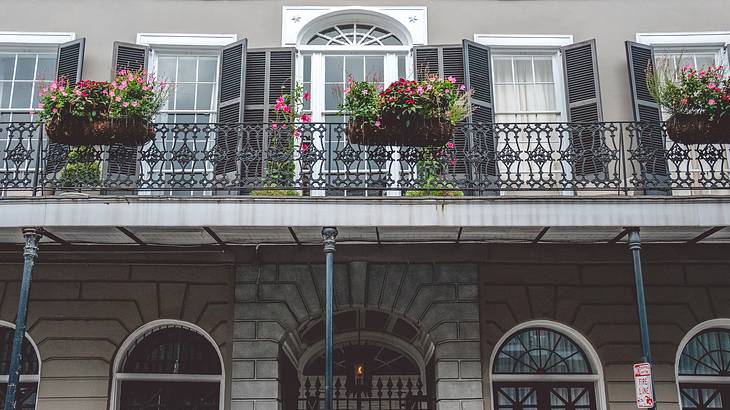 The LaLaurie Mansion
You can't go on a ghost tour of New Orleans without visiting the LaLaurie Mansion. The house was inhabited by wealthy socialite Delphine LaLaurie in the 1830s. It's said that Madame LaLaurie treated the people who were enslaved at her property incredibly badly, but the extent to which this torture occurred isn't clear.
Due to these terrible tales, a range of ghosts have been spotted around the haunted mansion. Many people will know LaLaurie from the TV show American Horror Story, where she was depicted as a cruel and torturous slave mistress.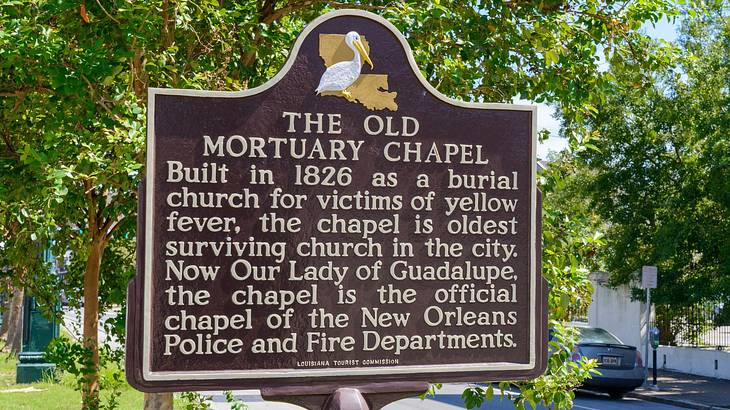 Our Lady of Guadalupe Church
Our Lady of Guadalupe Church, previously known as Old Mortuary Church, is the oldest church in New Orleans. The building was previously a morgue-type structure where bodies would wait to be transferred to St. Louis Cemetery for burial.
These bodies included yellow fever victims, the elderly, and even murder victims. Having housed so many of the dead, it's said these individuals still haunt the church even if they were buried elsewhere.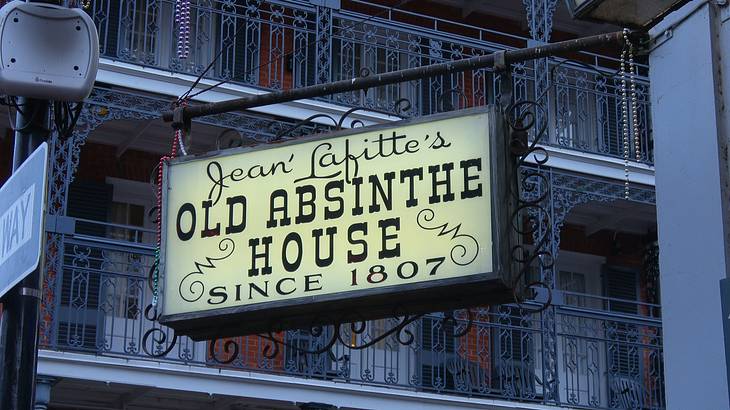 Old Absinthe House
Old Absinthe House is another of the haunted buildings in New Orleans that's also a bar. The speakeasy-style bar serves absinthe-based drinks along with other alcoholic beverages. The Absinthe Frappe, created at the bar, is a must-try!
Along with having some great drinks, you may run into some paranormal spirits when in the bar. Like at Lafitte's Blacksmith Shop Bar, the ghost of Jean Lafitte is said to frequent Old Absinthe House. Other famous ghosts supposedly seen include Andrew Jackson and Marie Leveau.
A fun way to visit Old Absinthe House is on a walking tour of Bourbon Street. You'll also get to visit or pass by other Louisiana landmarks.
Museum of Death
Although the Museum of Death is not thought to be haunted, it's still highly spooky. The museum has exhibits covering a range of things associated with death and crime.
Things to see include coffins, antique mortician apparatus, crime scene photos, letters from serial killers, and more. It's an absolute must-visit for those interested in creepy phenomena and true crime. If you enjoy the museum and find yourself on the West Coast, there is also a Museum of Death in Los Angeles.
Mortuary Haunted House
The Mortuary Haunted House is a haunted house offering ghost tours in New Orleans. The Victorian mansion was a mortuary for almost 80 years. This fact means that this haunted house is likely home to the real ghosts of people whose bodies were prepared for burial at the mortuary.
If you want to visit, the mortuary now offers a range of attractions, including ghost tours and escape rooms. During October and November, you can also experience the infamous haunted mansion, with a range of scary rooms to explore.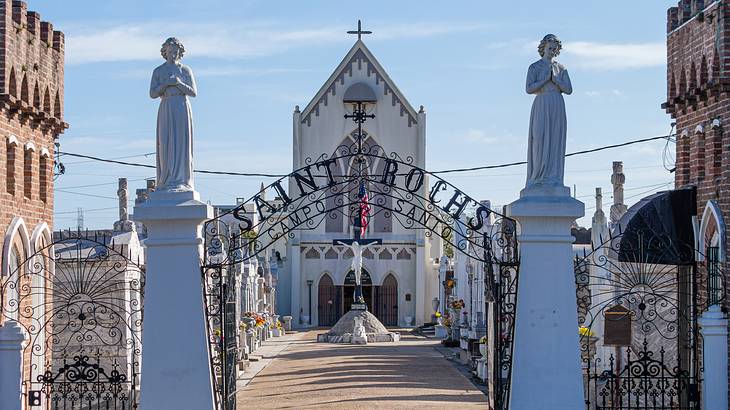 Saint Roch Chapel and Cemetery
St. Roch Chapel and its adjoining cemetery are a few more of the creepy haunted places to visit in New Orleans. The chapel arose during the 1860s yellow fever outbreak when Reverend Leonard Thevis prayed to Saint Roch. With most of his congregation spared from catching the disease, the Reverend built a chapel in Saint Roch's honor.
The chapel features a spooky shrine with offerings to Saint Roch, including artificial limbs. It's also thought that the Reverend's ghost wanders around the church and cemetery. The ghost of a dog is also seen in the area. Residents have tried to catch the dog before it disappears into thin air.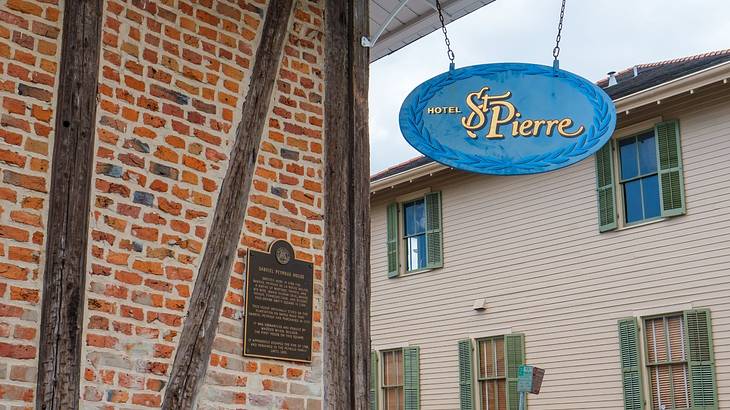 Hotel Saint Pierre
Hotel St. Pierre is another haunted hotel in New Orleans. It's also one of the oldest buildings in the city. People staying at the hotel have reported the feeling that someone is sitting on their bed and of hands running over their skin. Footsteps are also heard frequently, yet when guests go to investigate, nobody is there.
Some say the ghosts are Confederate soldiers, and others say they are the spirits of former owners of the property. However, despite its paranormal guests, Hotel Saint Pierre has been ranked one of the best places to stay in New Orleans.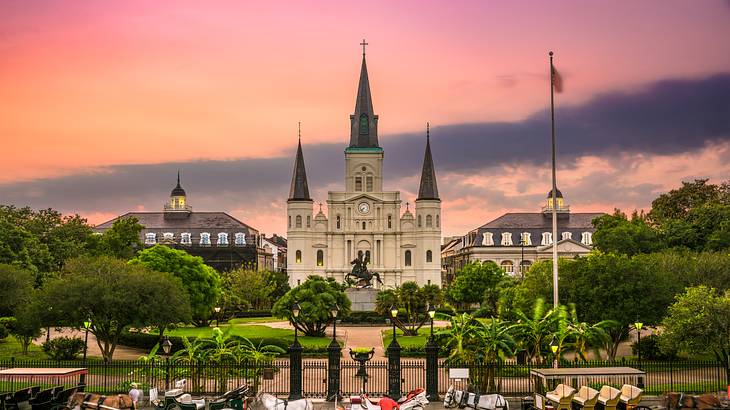 Jackson Square
Located in the French Quarter, Jackson Square is one of the most famous places in New Orleans. It's also got its fair share of ghost stories.
The square was historically where public executions took place. It's thought that many of those condemned to death now haunt the area looking for revenge on the people who executed them.
Jackson Square is also where the haunted St. Louis Cathedral sits. Over the years, a range of paranormal sightings have been documented in the area, so if you visit, there's a good chance you'll see something spooky!
Charity Hospital
Hurricane Katrina is another devastating modern-day event that has resulted in some 21st-century ghost stories in New Orleans. Charity Hospital was a teaching hospital opened in 1736 that was abandoned when Hurricane Katrina hit.
The building still stands abandoned, as it was when Katrina arrived. New Orleans residents thinks that the ghosts of those who died in the hospital haunt the building. A notable occurrence is a light that was seen in one of the windows. It sparked controversy online, with many assuming it was a paranormal event.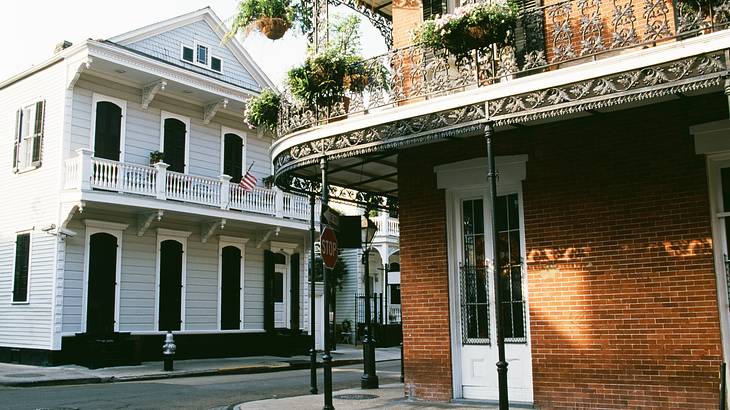 The French Quarter
The historic French Quarter is home to the vast majority of haunted locations in New Orleans. You can explore this area on a range of haunted tours. While most of these tours aren't child-friendly, you can find family-friendly ghost tours.
The two-hour tour will take you around the French Quarter, explaining the paranormal sights you see in a spooky but not too scary way! A ghost tour is definitely one of the best things to do with kids in New Orleans.
The Haunted Hotel
As another of the haunted locations in New Orleans that operates as a hotel, the Haunted Hotel doesn't attempt to hide its paranormal past. Constructed in 1829, the hotel has been the scene of at least 12 murders. The famous Axeman of New Orleans, a 20th-century serial killer, is also said to have stayed at the hotel.
To this day, the majority of hotel visitors report seeing spirits. Could these be the ghosts of victims murdered there? Or could it be the Axeman continuing to terrorize New Orleans? Nobody knows for sure, but if you enter the hotel, you'll likely spot a spooky apparition.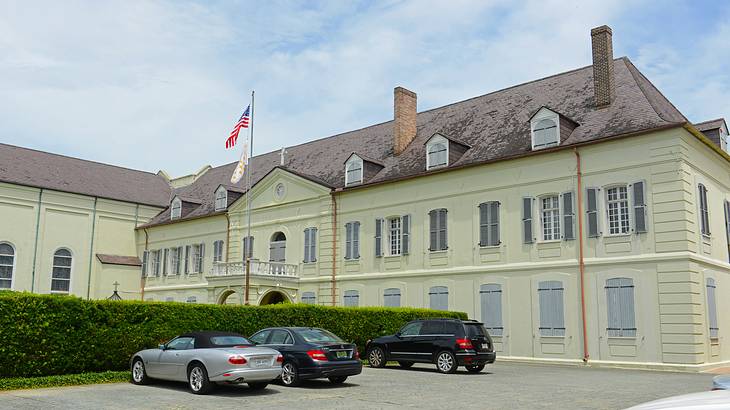 Old Ursuline Convent Museum
While lots of New Orleans' ghost stories focus around Voodoo and those that died in torturous ways, the Old Ursuline Convent Museum is said to have housed vampires.
In the 1700s, the Ursuline Convent was run by nuns and housed Casket Girls. These girls came from France to marry French colonists. Soon after their arrival, some of the girls disappeared, and strange happenings began. Many started to believe the girls were vampires or had transported vampires from France.
Whether you believe the tale or not, you can view the Convent on a range of haunted walking tours. Just be careful if doing so after dark!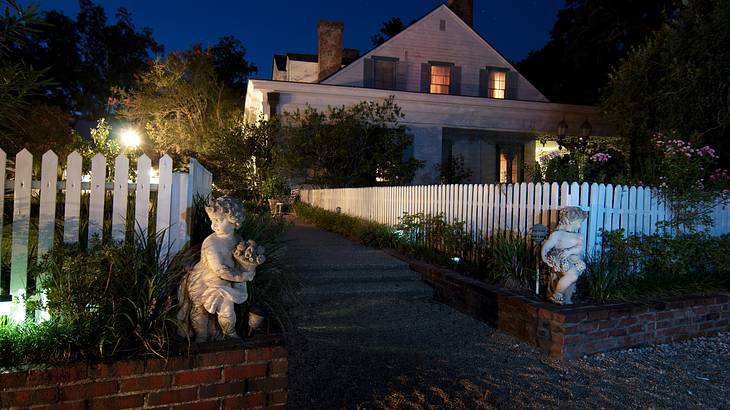 Myrtles Plantation
Myrtles Plantation is one of the most interesting haunted sites in New Orleans. The haunted plantation is located almost a two-hour drive outside of central New Orleans but is worth the trip.
Ghosts seen at the plantation include that of a young enslaved girl called Chloe, a family who died of tuberculosis, and a former owner of the house who was shot on the porch. Today, the Plantation is a B&B, making it another of the haunted places in New Orleans you can stay at if you don't mind ghostly guests!
In Conclusion
New Orleans is a fun and friendly city. Although, it does have a dark and creepy history. If interested in learning more about this spooky past and the paranormal activity reported here, you must check out these 20 haunted places to visit in New Orleans.
---
---
Want to keep exploring?
Subscribe for discounts on tickets and hotels and our latest guides.
Thank you for subscribing
We will be in touch soon with discounts on tickets and hotels and our latest guides.
Want to keep exploring?
Subscribe for discounts on tickets and hotels and our latest guides.
Thank you for subscribing
We will be in touch soon with discounts on tickets and hotels and our latest guides.
Related Articles