15 Best Breweries on Cape Cod Not to Miss
Destguides may receive commissions from purchases made through affiliate links in this article.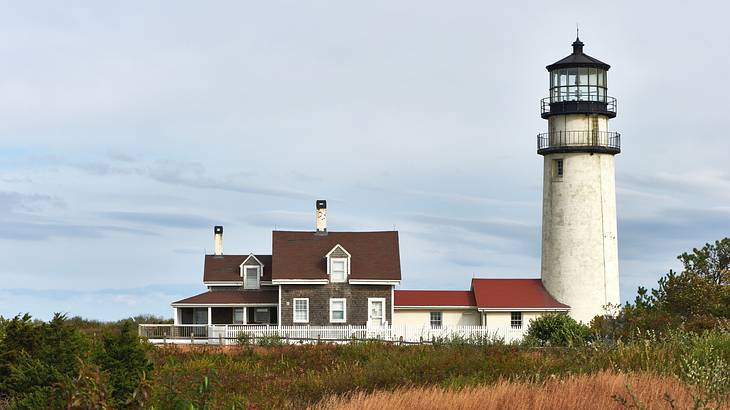 Are you visiting Cape Cod and looking for the perfect spot to grab a cold beer? Look no further than this article that covers some of the best breweries on Cape Cod!
A busy summer destination yet beautiful year-round, Cape Cod is the "hook" of Massachusetts and is full of quaint towns, sandy beaches, and great restaurants.
About 70 miles from Boston, Cape Cod is a great place to visit for a vacation, weekend away, or a day trip, as it has something for everyone to do.
Many individuals like to stop at breweries for a crisp beer and a bite to eat with family and friends when visiting the Cape. If this is you and you plan to visit the area, keep reading to discover the 15 best breweries in Cape Cod.
15 Best Cape Cod Breweries
Stone Path Malt, Wareham
Located at the very beginning of Cape Cod in Wareham, MA, Stone Path Malt is a craft malt company. Stone Path Malt works with Germany's leading malt supplier to give the beer a unique taste and color.
There is a small taproom inside the facility that serves this New England craft beer. With at least eight options on their menu and rotating varieties, Stone Path Malt is an excellent stop on your Cape Cod itinerary.
You can bring your own food, buy beer to go, and even participate in a weekly corn hole tournament. Come to Stone Path Malt for a hoppy, refreshing beer!
Buzzards Bay Brewing, Westport
Another brewery at the beginning of Cape Cod is Buzzards Bay Brewing. This brewery believes in the motto "farming is flavor," as they brew nearly exclusively with local barley, their own farm-raised wheat, and Massachusetts-grown hops.
You can find these locally-grown ingredients in their Buzzards Bay IPA, Golden Flounder, and Flying Pig Cider (apples, pears, and quince grown at the nearby Noquochoke Orchard). Enjoy your beer with live music every weekend, team trivia during the week, or karaoke.
Also offering canned beer, growlers, and local wine to-go, Buzzards Bay Brewing is an excellent spot for a drink or to grab a beer to bring on your Cape Cod adventures. They also have a room full of fun games like darts, bumper pool, shuffleboard, board and bar games, puzzles, and more.
Tree House Brewing Company, Sandwich
A must-visit Cape Cod brewery located in Sandwich, MA, is Tree House Brewing Company. This brewery offers beers to go and has indoor and outdoor seating for those who want to hang out at the brewery. It also offers breathtaking water views and is situated between the water and a busy boardwalk.
With catchy beer names and unique flavor combinations, you can order options such as a bourbon-barrel coconut stout or a German-style Witbier. Tree House is also known for its charitable giving to combat human suffering, so you can buy your beer knowing you are helping others.
Bad Martha Farmer's Brewery, Falmouth
Bad Martha Farmer's Brewery, located in Falmouth, is a well-known Cape Cod craft brewery. It has a 15-barrel brewing system that makes some of the most delicious beers in the area.
This brewery also offers food such as charcuterie platters, cheese plates, and specialty pizzas. Beer is served by the glass, or you can get a flight with four beers. You can also get take-home four-packs and growlers.
With indoor seating and an eclectic beer garden patio, this Cape Cod brewery is open seven days a week and can get very busy in the summer months.
Bad Martha Farmer's Brewery also has outdoor games, apparel for purchase, live music, and a second location in Edgartown. Visiting this brewery is a must-do on your next trip to Cape Cod!
Aquatic Brewing, Falmouth
Located close to Falmouth's downtown, Aquatic Brewing is a conveniently located brewery with first-come, first-serve seating in their taproom. They offer up to ten beers at one time, including popular varieties like stouts and pale ales.
You can also get some more unique flavor combinations, like a brown ale with hints of vanilla and cinnamon or a hibiscus-flavored brew. The brewery has light food offerings and on-site food trucks, but feel free to also bring your favorite snacks to eat with your drinks. You can even bring your dog!
Naukabout Brewery and Taproom, Mashpee
With a 6,000-square-foot outdoor beer garden and taproom seating, Naukabout Brewing has something for everyone! It is open seven days a week and is very family-friendly. With backyard games, movie nights, and live entertainment, there is an activity offering for all ages.
Craft beer lovers can order Naukabout's New England IPAs, and those preferring tropical tastes can sample one of their tasty fruit beer options. Also available are delicious snacks, non-alcoholic beverages, and flavorful homemade root beer.
The brewery has to-go items as well, so you can bring Naukabout with you wherever you go. Make a reservation or walk in for a hand-crafted beer, locally sourced food, and great company.
Barnstable Brewing, Hyannis
Co-owner of Barnstable Brewing, Peter Connor, started home-brewing beer for family occasions like weddings, graduations, and barbecues. He even won the 2012 "Come Brew With Us" contest by Samuel Adams! Barnstable Brewing was then born thanks to Peter's passion for beer.
The brewery now has many beers on tap. There's an indoor tasting room and an outdoor patio where you can enjoy your flight or a cold glass of beer. Head to this Cape Cod brewery where family and friends come together to create memories while discovering delicious beer!
Cape Cod Beer, Hyannis
Cape Cod Beer is open daily to enjoy beer tastings and pints. Tastings are reasonably priced and come with a souvenir-tasting glass. With a sprawling outdoor beer garden in the summer and indoor seating in colder weather, you can have a beer with friends and family all year long.
Cape Cod Beer has a wide variety of beer offerings, ranging from the popular IPAs and porters to seasonal options like Christmas in July, 12 Beers of Christmas, and Pumpkin Coffee Dunkel. In addition, you can enjoy on-site food trucks serving options like barbecue and seafood dishes. Live music is hosted on the weekends as well.
Finn's Craft Beer Tap House, Barnstable
Finn's Craft Beer Tap House has 32 local craft beers on tap, as well as ciders, seltzers, wine, and spirits. Visitors can enjoy a beer flight with one of the brewery's sharable food items.
This Cape Cod tap house is an excellent spot for lunch, dinner, or casual drinks! There is an outdoor beer garden where you can sit in nicer weather seven days a week. Finn's also hosts events like live bands and themed trivia nights.
Devil's Purse Brewing Company, South Dennis
Devil's Purse Brewing Co. is a Cape Cod brewery in South Dennis. It is home to a variety of beers, with Handline Kölsch being its flagship beer.
Initially brewed in Cologne, Germany, this beer variety is made by fermenting kölsch ale yeast at low temperatures. However, Devil's Purse adds vanguard hops to bring a new flare to the much-loved German recipe.
There are many other options on the menu, including beers with oysters! With a seasonal beer patio, visitors can sit in the sun while sipping a cold drink with friends or family. Online ordering and take-out options for beer and merchandise are also available.
Hog Island Beer Co., Orleans
Located on Little Pleasant Bay in Orleans and overlooking the infamous Nauset Beach, Hog Island Beer Company is Cape Cod's outermost brewery. It has seven beers on tap ranging from Summer Ale to Far Out Stout and White Shark Wheat.
Visit the taproom Thursday to Sunday for lunch or dinner or go on a tour and finish with three beer tastings in the tasting room. Come to Hog Island Beer Co. for a "built by locals, brewed by locals, drunk by locals" experience - you will love it!
Provincetown Brewing Company, Provincetown
You can find this Cape Cod brewery in the heart of Provincetown, where crafting quality beer and evoking a sense of community are the main focal points.
Provincetown Brewing Company has many seasonal varieties of beer and consistent year-round options. For example, their Bearded Mistress beer is perfect for summer beach days. There is also a food menu offering sandwiches, salads, and desserts.
Provincetown Brewing Company is more than just a brewery! They like to support local causes and charities, so they donate some of their sales of certain items to causes like LGBQT+ rights and land conservation. They also host events, like trivia nights.
Shoal Hope Ciderworks, Provincetown
For hard cider lovers, Shoal Hope Ciderworks is the place to visit. Associated with Cape Cod Beer Co., this cider brewery makes eight different varieties for people to enjoy. Each cider has a unique flavor. Located in the heart of Provincetown, Shoal Hope Ciderworks is a great place to relax with good company and a tasty beverage.
Nor' East Beer Garden, Provincetown
Nor' East Beer Garden is a great place to hang out on a nice day. This beer garden is located close to Provincetown Brewing Company and serves craft beers, cocktails, and wine in an atmospheric outdoor space.
Beers on offer include traditional German beers and more unique brews, like a pumpkin pie blend and a beer and margarita mix. You can order snacks with your beers, including soft pretzels, German potato salad, and loaded fries.
Offshore Ale Company, Oak Bluffs
The first and only brewpub in Oak Bluffs on the island of Martha's Vineyard, Offshore Ale has been open year-round since 1997. Their beers range from fruity blueberry and seasonal pumpkin to red ales, stouts, and porters. Offshore Ale offers food for purchase and also has The Food Truck for catering events.
There is indoor and outdoor seating, but the brewery does not take reservations. Offshore Ale is another brewery that donates money from beer sales to island organizations, a program they call Pints for a Purpose. Make sure to add Offshore Ale to your Martha's Vineyard itinerary!
Conclusion
Cape Cod is home to many great breweries and pubs. So, if you're looking for a place to relax with a great beer, add some of these Cape Cod craft breweries to your next vacation itinerary!
Give us feedback about this article
Learn more about Cape Cod:
More articles about Massachusetts:
Read more articles about the United States:
More articles about breweries:
More visual stories related to this article:
---
---
Want to keep exploring?
Subscribe for discounts on tickets and hotels and our latest guides.
Thank you for subscribing
We will be in touch soon with discounts on tickets and hotels and our latest guides.
Want to keep exploring?
Subscribe for discounts on tickets and hotels and our latest guides.
Thank you for subscribing
We will be in touch soon with discounts on tickets and hotels and our latest guides.
Related Articles