35 Fun & Best Things to Do in Salem, Massachusetts
Destguides may receive commissions from purchases made through affiliate links in this article.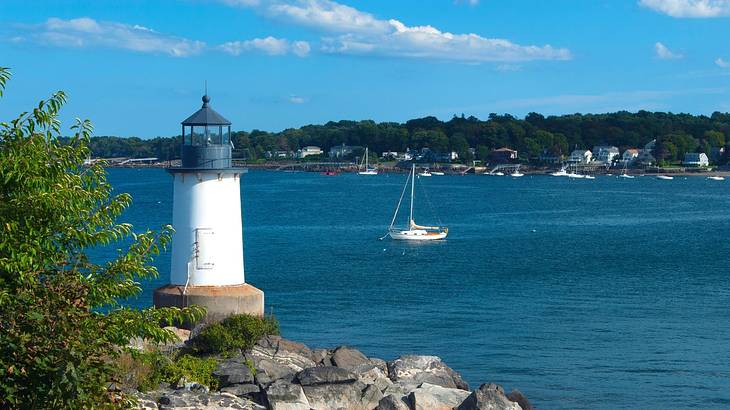 A great destination to visit in Massachusetts is Salem. This small city is known for being the place of the 1692 Salem Witch Trials. As such, Salem has an interesting history and remains a city immersed in the supernatural.
For those that plan to visit, some of the best things to do in Salem, Massachusetts, include going to Witch Trial-based landmarks, shopping in eccentric shops, and hanging out on the pretty harbor front.
Salem has also been featured in various TV shows and movies, with the Bewitched Sculpture and landmarks from Hocus Pocus being some of the A-list attractions to see.
Still wondering "what is there to do in Salem, MA?" Read on for 35 fun suggestions!
35 Best Things to Do in Salem, MA
Best Things to Do in Salem, Mass
Go inside The Witch House
The Witch House, or the Jonathan Corwin House, is another historically significant home in Salem to see. This house was occupied by Jonathan Corwin, a Witch Trials judge. This building is the only remaining structure in the city with direct ties to the trials.
You'll be able to look around the building and learn more about Corwin, his family, and the witch hunt of the 1690s.
Play games at Bit Bar
Bit Bar is a fun spot that allows you to play games while sipping on drinks. Games include air hockey, skeeball, and arcade games like Donkey Kong and Pac-Man. There's also a selection of pinball machines.
You can also choose from arcade game-themed cocktails, wine, and draft beer. Bar food is available too.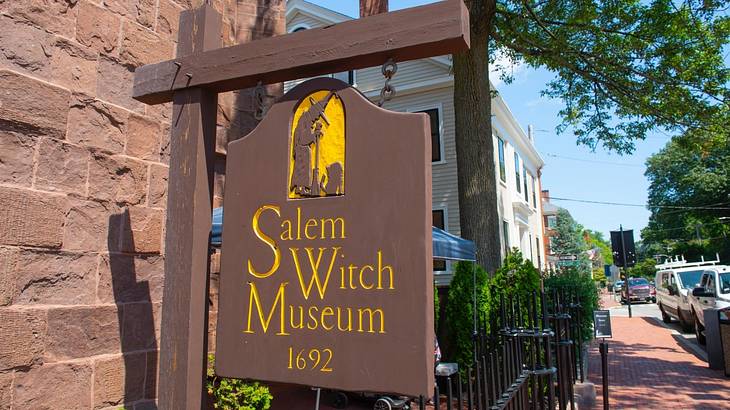 Explore the Salem Witch Museum
The Salem Witch Museum has numerous immersive exhibits on the witch trials of the 1600s, plus displays on witchcraft up until the present day. You can also watch a theater production that shows what it was like to be at the trials. You can then take a tour and learn more about everything relating to witchcraft.
View the Witch Trials Memorial
Another of the Salem, Massachusetts, things to do relating to the witch trials is the Witch Trials Memorial. The somber memorial commemorates the 20 victims killed in 1692 due to other citizens believing they were witches.
The stone wall memorial has each victim's name, their date of execution, and execution method.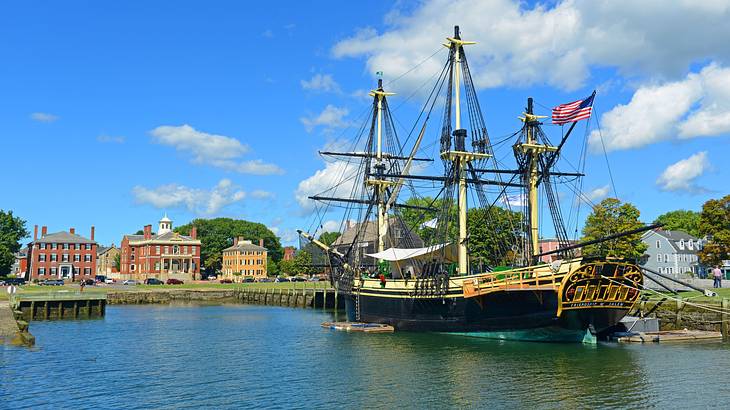 Discover landmarks at the Salem Maritime National Historic Site
Located on the waterfront, the Salem Maritime National Historic Site covers nine acres. As you walk around the site, you'll learn more about the role of sailing and international trade in the city.
You can also see a replica of the ship, the Friendship of Salem. Interestingly, this landmark was the first-ever National Historic Site in the US, having been established in 1938.
Make witchy purchases at Crow Haven Corner
Crow Haven Corner is the place to go if you want to make some witch-inspired purchases. The fascinating store sells herbs, crystals, candles, jewelry, and even spell books! You can also get psychic readings done in the shop.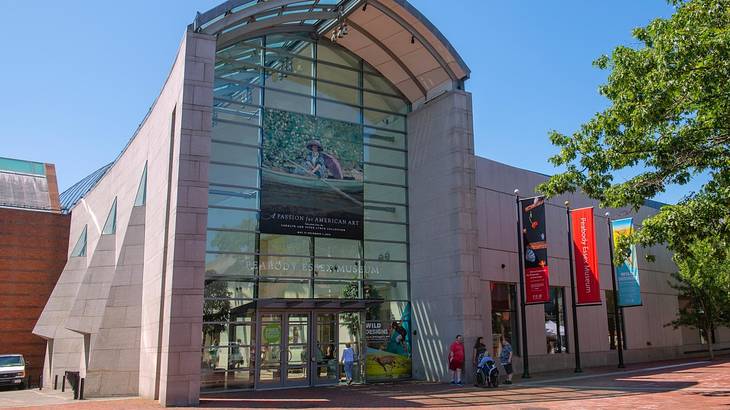 Visit the Peabody Essex Museum
The Peabody Essex Museum is an art and culture museum that's one of Massachusetts' largest museums. Inside, you see a range of art pieces and artifacts from New England as well as from other places in the United States and across the globe. Items to view include clothing, paintings, and pottery. It is a must on a New England itinerary !
Look around the New England Phillips House
The New England Phillips House, also known as Stephen Phillips House, is an iconic home that was originally built in 1806. In 1821, the house was moved to Salem.
During a visit, you can explore the home that's decorated as it would have been in the 1800s. You can also learn more about the Phillips family.
Find out pirate facts at the New England Pirate Museum
A fun Salem attraction that's not about witches is the New England Pirate Museum. The museum has exhibits on pirates in the 17th-century and features some artifacts thought to belong to pirates who passed through Salem and New England. The Pirate Museum is a great attraction to visit if you're in Salem with kids!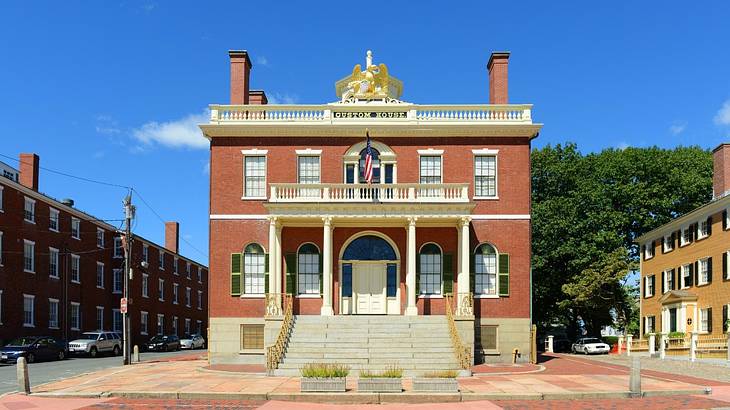 Walk the Salem Heritage Trail
One of the fun and free Salem, MA, things to do is following the Salem Heritage Trail. The trail is painted onto the sidewalks in the city and connects Salem's main landmarks and attractions. Places to pass include the Witch House, the Phillips House Museum, and the Bewitched statue.
Take a look inside the House of the Seven Gables
Another of the must-see attractions in Salem, MA, is the House of the Seven Gables. Constructed in 1668, the colonial mansion was owned by ship merchant John Turner.
The house is probably most well known for being featured in Nathaniel Hawthorne's novel, The House of the Seven Gables. When visiting the house, you can explore the structure and wander around the pretty gardens.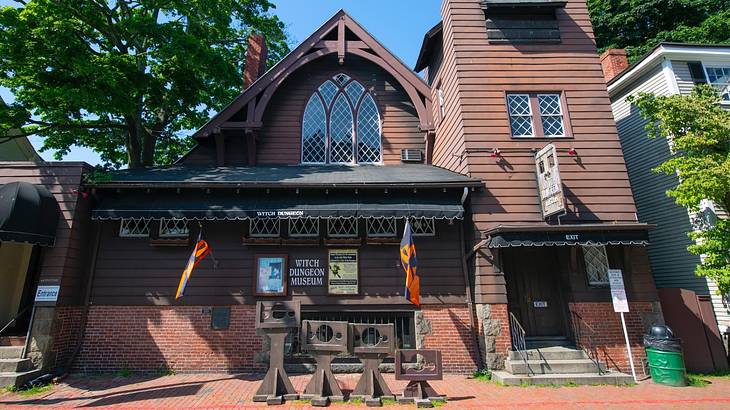 See a witch trial reenactment at the Witch Dungeon Museum
Salem is most well-known for being the place of the Salem Witch Trials. When in the city, you can find many landmarks and attractions relating to the historic event.
One of those places is the Witch Dungeon Museum. At the museum, you'll be transported back to the 1600s and will watch actors play out a witch trial. You can also tour the dungeon and learn more about the gruesome trials.
Unearth some unique pieces at the Black Veil Shoppe
Looking for some unique souvenirs to remind you of your trip to Salem? Then a trip to the Black Veil Shoppe of Drear and Wonder is a must!
The quirky shop sells clothing, accessories, art prints, and stickers with fascinating yet spooky designs. You're guaranteed to find a one-of-a-kind piece at Black Veil Shoppe.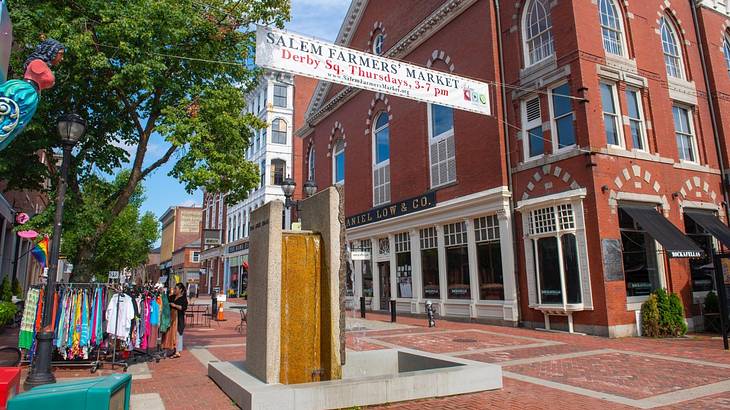 Shop on Essex Street Pedestrian Mall
Essex Street Pedestrian Mall is a great place to pick up some souvenirs. The street is filled with shops, as well as museums and restaurants, and is closed off to traffic. You'll find gift shops, quirky clothing stores, tattoo parlors, and more as you wander along the vibrant shopping area.
Order brunch at Fountain Place
One of the best places to visit in Salem, MA, to visit for brunch is Fountain Place. The eatery offers an array of delicious dishes for breakfast and lunch. Menu options include omelets, and waffles, French Toast, or pancakes with a variety of toppings. You can accompany your meal with fresh juice or a fruit smoothie.
Have drinks at the Hawthorne Hotel
Named after Nathaniel Hawthorne, Hawthorne Hotel is an iconic hotel in the city. Even if you're not staying there, you can go inside to have a drink at The Tavern.
The drinks menu has unique cocktails, plus beer and wine. You can also order mule cocktails, including a caramel apple mule and a maple rye mule.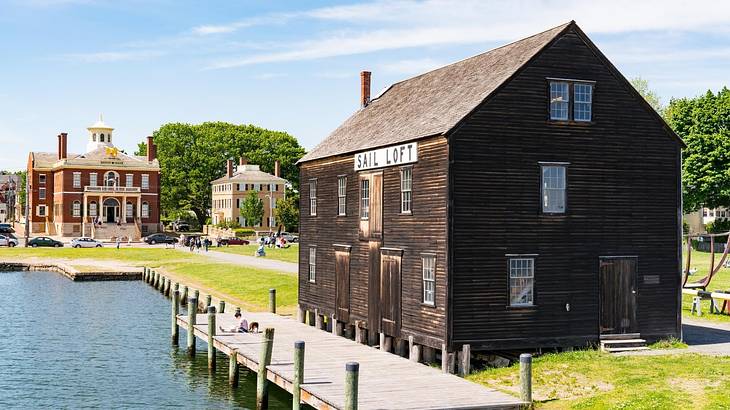 Experience a Salem history tour
Salem is a city full of history. One of the best ways to see all of the area's historical landmarks is by going on a Salem history walking tour.
On the two-hour guided tour, you'll visit various attractions while learning more about the history of the city from your guide. You'll also hear some spooky tales relating to paranormal activity in Salem.
Tour the Daniels House
The Daniels House was constructed in 1667, making it one of the oldest structures in Salem. Today, the building acts as a Bed and Breakfast and is open for tours.
If interested in looking around the landmark, make sure you book a tour of the Daniels House. As you explore, you'll get to see original features and learn more about the home's history.
Sip cocktails at All Souls Lounge
After a busy day exploring Salem, relaxing with a cocktail is a perfect idea. One of the best places to do so is at All Souls Lounge.
The retro-style bar offers a range of cocktails, like an apple brandy and maple mix or a tequila, elderflower, lemon, and soda cocktail. Accompany your drinks with gourmet grilled cheese or hot dogs, plus pretzels and dips.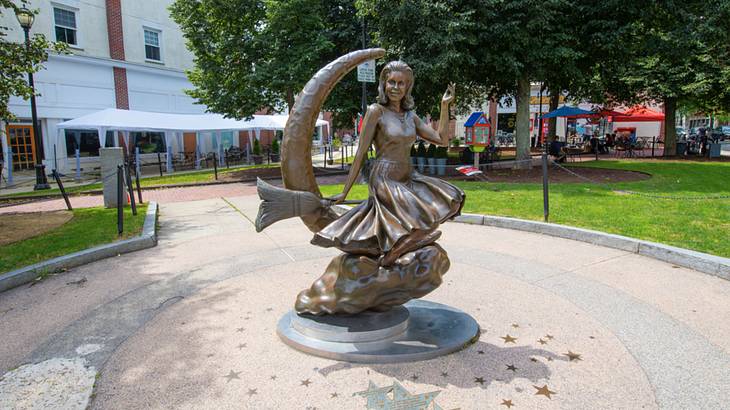 Snap a picture with the Bewitched Statue
One of the most popular Salem, Mass, attractions is the Bewitched Statue. The sculpture depicts Elizabeth Montgomery, the actress who starred in the witch-themed sitcom Bewitched, sitting on a broomstick with a crescent moon behind her.
When in the downtown area, make sure you stop by the statue to take some pictures.
Dine at Ledger Restaurant & Bar
Salem has some great high-end restaurants, and Ledger is one of the best. Located in a 19th-century bank building, the restaurant serves New England-inspired dishes with seasonal ingredients.
Dishes to try include grilled asparagus toast, roast salmon with parsnip puree, and spring vegetable cassoulet. For dessert, you can indulge in caramel apple sticky toffee pudding or strawberry rhubarb galette, among other treats.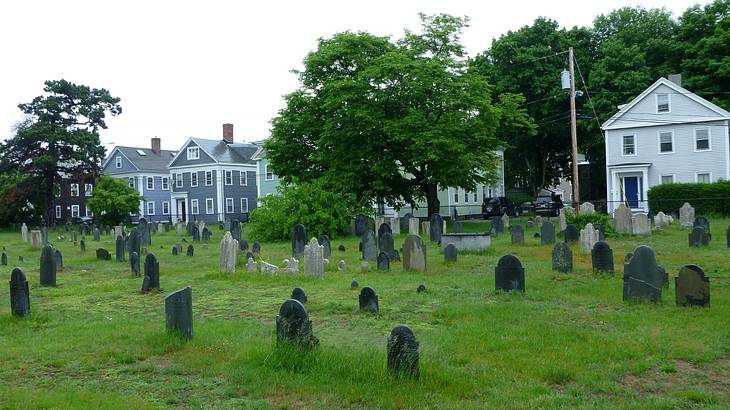 Wander through the Old Burying Point Cemetery
Also known as Charter Street Cemetery, the Old Burying Point Cemetery features graves of Witch Trial judges and victims of the Revolutionary War. The cemetery was founded in 1637, making it the oldest cemetery in Salem.
Other cemeteries to visit are the Broad Street Cemetery and the Howard Street Cemetery.
Relax with a coffee at Front Street Coffeehouse
If you want to take a break between seeing attractions, stop in one of Salem's coffee shops. Front Street Coffeehouse is recommended if you can't pick which place to visit. At this location, you can enjoy a range of coffees and teas, plus sandwiches, salads, and juices in a cozy setting.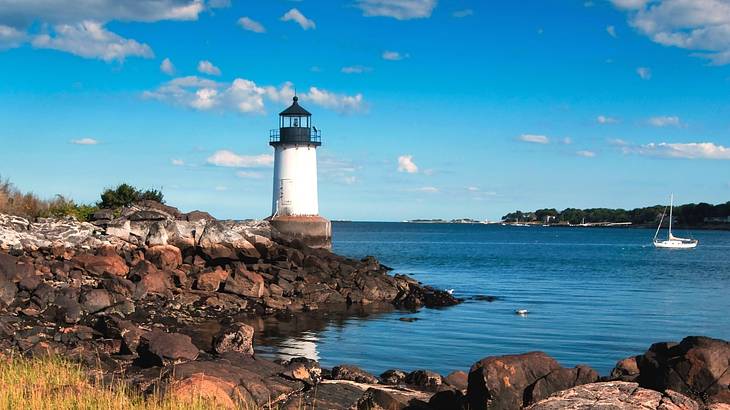 Visit the Fort Pickering Light
The Fort Pickering Light, also known as the Winter Island Light, is a 19th-century lighthouse in Salem. It was constructed in 1871 and sits on Winter Island.
It takes about 10 minutes to get to the lighthouse if driving or 30 minutes if walking. Once there, you can admire the structure and the views of Salem Harbor.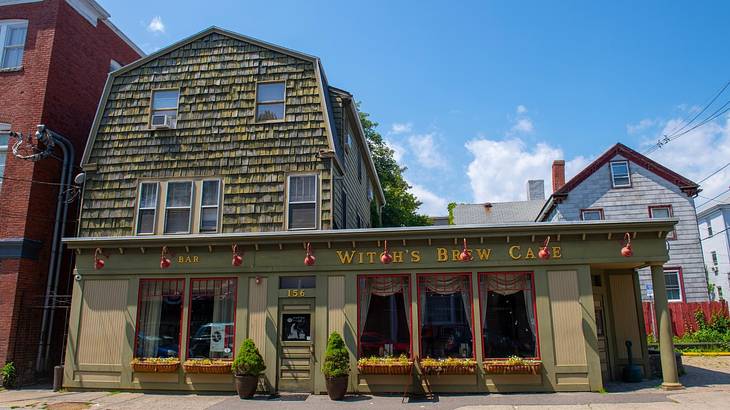 Eat at Witch's Brew Cafe
One of the best places to visit in Salem, Massachusetts, to grab food is Witch's Brew Cafe. This popular location serves pub-style dishes like burgers, fish and chips, and BLTs.
You can also enjoy a selection of cocktails, including eight signature martinis. Wine, spirits, and coffee-based drinks are on offer too.
Look around Pickering Wharf Marina
Pickering Wharf is a shopping and dining area located on the marina in Salem. While on the wharf, you can also enjoy the views of the harbor.
Shops to visit include craft shops, clothing outlets, and those offering tarot card readings. After exploring the shops, stop for a meal at one of the scenic harborside restaurants.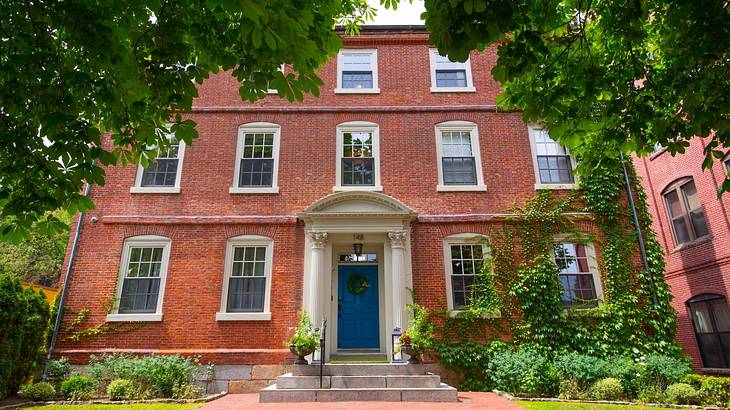 Spot ghosts at the Joshua Ward House
The Joshua Ward House is another of the Salem, Massachusetts, attractions that's on the National Register of Historic Places. The three-story home was added to the register in 1978. It was constructed in 1784.
Although the home isn't open to the public to see, it's connected to many paranormal stories and sightings. You can try to spot ghosts when passing the house on a self-guided Salem ghost tour!
Grab a beer at Notch Brewing
A fun place to grab a beer in Salem is at Notch Brewing. The bar is located in a converted warehouse space and features a taproom and beer garden. Along with freshly brewed beers, you can enjoy snacks like soft pretzels and pierogies.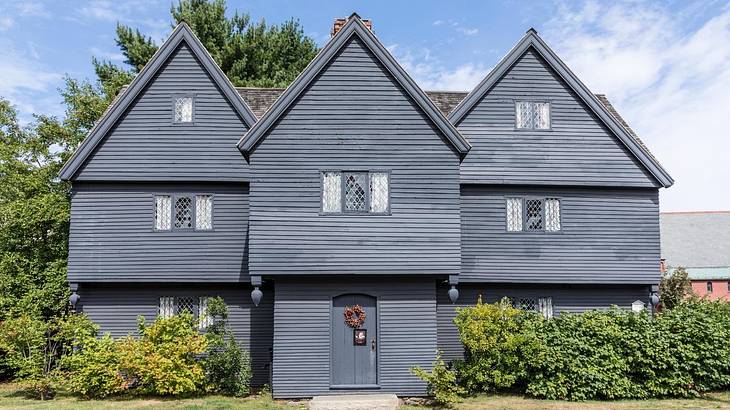 Dare to go on a Salem ghost tour
Due to Salem's dark history, it's understandable that there are many haunted places in the city. A great way to see some of these locations is by going on a Salem ghost tour.
There are many tour options to choose from, but no matter which you choose, you'll learn more about the array of paranormal events that have occurred in the area.
Experience a Hocus Pocus tour
Salem was the filming location of the hit witch movie Hocus Pocus. If you loved the film, you can book a fun Hocus Pocus tour that will take you to notable places. Spots to visit include Salem Common and Ropes Mansion.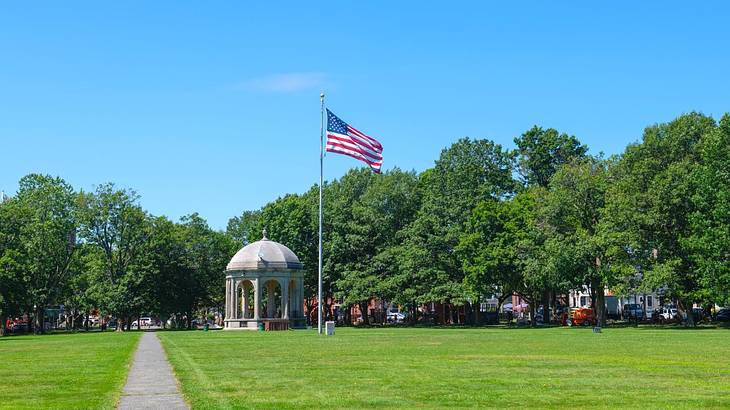 Spend some time on Salem Common
Salem Common is a small green that's located near the Salem Witch Museum. It was established in the 17th century and is the perfect place to hang out on the grass and take a break from exploring Salem.
There's also a charming bandstand to see and festivals and events are sometimes held on Salem Common.
Things to Do Near Salem, MA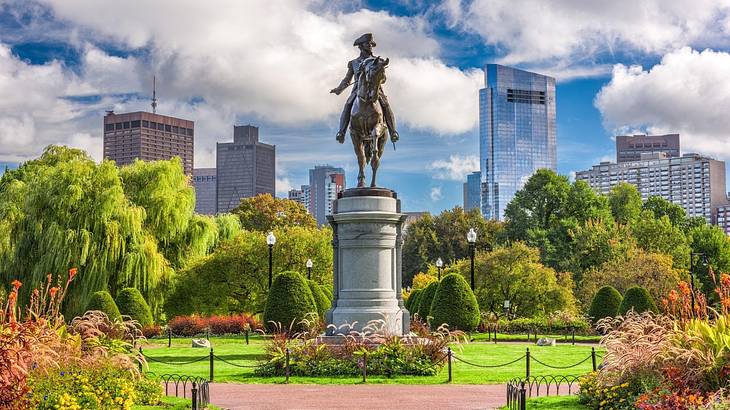 Take a trip to Boston
Boston is located just a 30-minute drive away from Salem. If you have some spare time, making the drive and spending some time in Massachusetts' capital is a great idea.
Things to do include seeing some of Boston's famous landmarks, visiting various museums, or watching local sports teams, like the Red Sox, play.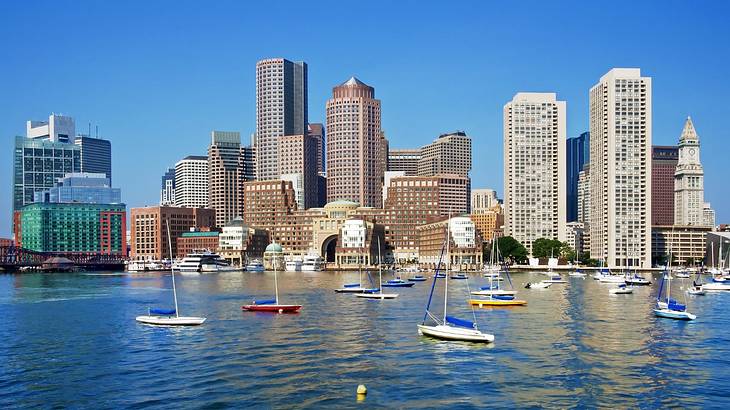 Hop on the Salem Ferry to Boston
If you don't want to drive to Boston, you can also take the Salem Ferry. You can book a one-way or round trip, depending on your plans. Once aboard you can admire the Salem and Boston skylines, along with the scenic coastal views between each destination.
Hike in the Breakheart Reservation
The Breakheart Reservation is located 30 minutes from central Salem. It features two freshwater lakes and hiking trails that go through hardwood forests. If you decide to hike to some of the elevated points in the park, you may also be able to see Boston.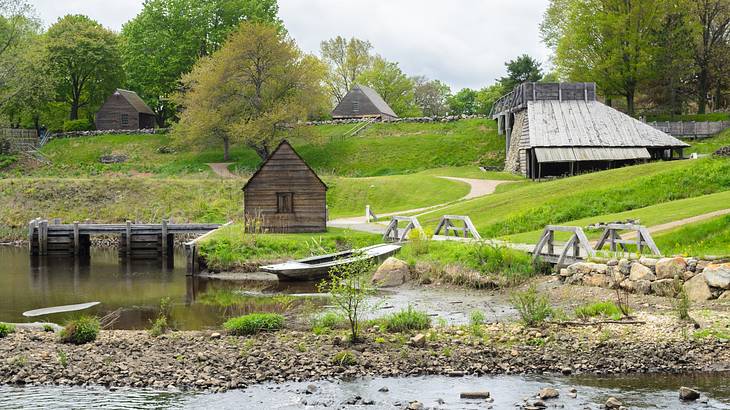 Learn something new at Saugus Iron Works National Historic Site
Many refer to the Saugus Iron Works National Historic Site as the birthplace of the American steel and iron industry. The site was the first ironworks in North America and was opened in the mid-1600s.
Today, you can explore the site and see features like waterwheels, mills, and houses from hundreds of years ago.
In Summary
If you're planning a visit to the area and want to known what to do in Salem, MA, this list should have given you lots of inspiration!
This destination is rich in history and has a culture that's unique to the East Coast. From a variety of witch and supernatural themed landmarks to great outdoor attractions, Salem is one of the most magical places in the US!
Give us feedback about this article
More articles about Massachusetts:
Read more articles about the United States:
More articles about things to do:
More visual stories related to this article:
---
---
Want to keep exploring?
Subscribe for discounts on tickets and hotels and our latest guides.
Thank you for subscribing
We will be in touch soon with discounts on tickets and hotels and our latest guides.
Want to keep exploring?
Subscribe for discounts on tickets and hotels and our latest guides.
Thank you for subscribing
We will be in touch soon with discounts on tickets and hotels and our latest guides.
Related Articles