35 Fun Things to Do in Worcester, Massachusetts
Destguides may receive commissions from purchases made through affiliate links in this article.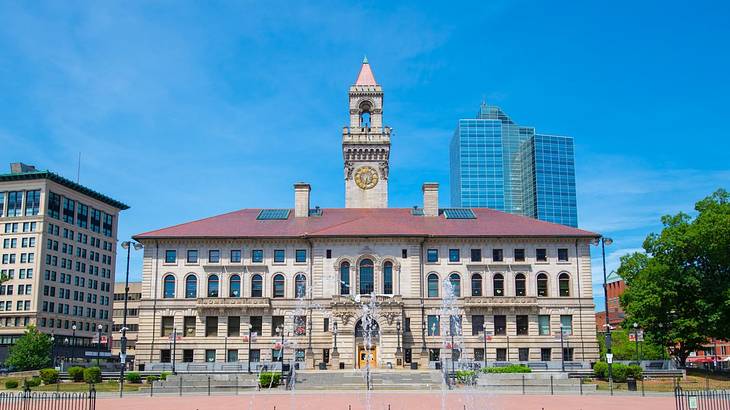 Worcester is a unique New England destination located under an hour from Boston. Visitors to this charming city will discover an array of attractions, landmarks, and entertainment venues to check out.
Fun things to do in Worcester, Massachusetts, range from visiting the Worcester Historical Museum or American Antiquarian Society Museum to dining at high-end eateries. You can also get drinks at local breweries like Wormtown Brewery, play golf at Green Hill Golf Course, and so much more. To discover all the things to do in Worcester, read on!
35 Fun Things to Do in Worcester, MA
Worcester, Massachusetts, Things to Do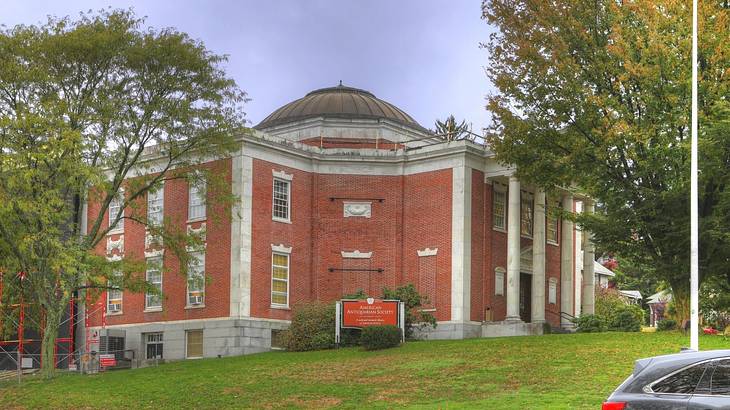 Learn about US history at the American Antiquarian Society Museum
The American Antiquarian Society Museum was founded in 1812 and is the oldest historical society in the United States. It comprises a research library and history museum and preserves over three million artifacts relating to national history.
As you look around, you'll get to see unique items and learn about US history dating back hundreds of years. Many of the events to learn about occurred in Massachusetts, like the Boston Tea Party.
Look around the Worcester Historical Museum
The Worcester Historical Museum is another fascinating history museum in the city. Founded in 1875, the museum covers the city's history, including significant events and life over the last hundreds of years. As you learn more about the city, you'll also get to see many artifacts like photographs, books, and letters.
Explore Green Hill Park
Green Hill Park is a fun place to spend some time on a nice day and is an especially great place to visit with family. Spread across 480 acres, the park has trails and lots of green lawns, where you hang out and chat or enjoy a picnic.
There's also a small farm with animals like alpacas, goats, and chickens. In addition, the park is home to the Massachusetts Vietnam Veterans' Memorial, an iconic landmark in the state.
Play a round Green Hill Golf Course
If you enjoy golf, one of the best things to do in Worcester, Massachusetts, is playing a game at Green Hill Golf Course. The golf course is located in Green Hill Park and features 18 holes. After your game of golf, you can relax at the Grill on the Hill with some drinks and a meal.
Let your kids learn and play at EcoTarium
EcoTarium is one of the best attractions for kids in Worcester. The science museum has many exhibits on topics like space travel, animals, and ecology. All exhibits are hands-on, meaning your kids can play and do experiments as they learn. There's also an outdoor area with nature trails, a play area, and a train.
Tour Salisbury Mansion
Also known as Salisbury House, Salisbury Mansion is a historic house museum. It was constructed in 1836 and was added to the National Register of Historic Places in 1975. Interestingly, the Greek-Revival house is the only historical house museum in Worcester.
During a tour of the property, you can learn more about previous owners, like Stephen Salisbury II, son of a 19th-century Worcester merchant. You can also admire the architecture and see some antique furniture and other items.
Watch a Worcester Bravehearts game
One of the fun activities in Worcester, MA, for sports fans is going to a Worcester Bravehearts game. The baseball team plays in the Futures Collegiate Baseball League, and you can catch a game at Hanover Insurance Park. The team plays in the summer, with games generally running from Mid-May through August.
Catch a Holy Cross Crusaders football game at Fitton Field
Fitton Field is a sports stadium named after Reverend James Fitton. It is primarily used for collegiate sporting events by the College of the Holy Cross. One of the most popular teams to see is the Holy Cross Crusaders football team. You can watch a game between October and November in the regular college football season.
View artworks at Worcester Art Museum
Going to Worcester Art Museum is a must for art lovers wondering what to do in Worcester, MA. Opened in 1898, the museum features 38,000 works, with pieces dating from ancient times to the present.
Works to see include paintings, sculptures, and thousands of Japanese prints. One of the most notable artworks in the gallery that relates to Worcester history is a portrait of Elizabeth Tuckerman Salisbury by artist Gilbert Stuart.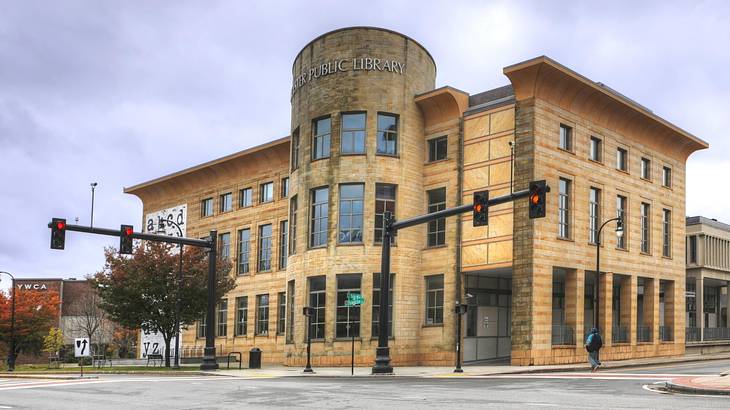 Read a book Worcester Public Library
For those looking for laid-back places to visit, the Worcester Public Library is one of the attractions in Worcester, MA, you'll want to check out. Founded in 1859, the building houses books of many genres and has a section with children's books.
If you find a book you want to read, you can check it out of the library or read it in one of the reading areas. Storytime sessions are also held most days for young kids.
Climb at Central Rock Gym
If you enjoy adventure activities or are looking for things to do on a rainy day, head to Central Rock Gym. The indoor rock climbing center has walls for all levels, and lessons are offered if needed. You can also do various types of yoga here, and kids climbing classes are offered if visiting with children.
Walk around Elm Park
Elm Park opened in 1854 and remains a popular outdoor space to this day. Interestingly, the park you see today was designed by Fredrick Law Olmstead, the landscape architect who designed Central Park in New York City. The park covers 60 acres and has trails, sports fields, and a kids' playground.
Dine at 111 Chop House
111 Chop House, also known as One Eleven Chop House, is one of the most popular restaurants in Worcester. The sophisticated steakhouse serves various cuts of steaks and numerous seafood dishes. To accompany your meal, you can order drinks from an extensive wine menu, and cocktails and craft beer are also available.
See a show at Hanover Theatre for the Performing Arts
Another of the best things to do in Worcester, MA, for art and culture enthusiasts is seeing a show at Hanover Theatre for the Performing Arts. The venue was constructed in 1904 and was called the Franklin Square Theatre before the name change to the Hanover Theatre for the Performing Arts.
Plays and musicals are the primary types of performance to see, with productions of Shakespeare's Macbeth, Annie, and Disney's Aladdin being just a few of the shows previously hosted at the venue.
Snap pictures of Bancroft Tower
Bancroft Tower is one of the most famous landmarks in Worcester. The Romanesque castle-like tower was constructed in 1900 by philanthropist Stephen Salisbury in honor of statesman George Bancroft. It was also added to the National Register of Historic Places in 1980. Once at the tower, be sure to take some pictures of the iconic landmark.
Have breakfast at Birch Tree Bread Company
Birch Tree Bread Company is a local bakery that sells baked goods and serves all-day breakfast, plus some other dishes. Things to order include quiches, avocado or salmon on toast, and granola with yogurt. Pizza and sandwiches on freshly baked bread are also available. After your meal, you can buy a loaf or two of bread from the bakery.
Go to a concert at Mechanics Hall
Mechanics Hall is another of the musical venues in Worcester that hosts incredible performances. Concerts to see include classical music performances and operas. For those looking for things to do at night, going to a show at Mechanics Hall is one of the best Worcester activities!
Shop at the Crompton Collective
The Crompton Collective is a great place to shop for some gifts or a one-of-a-kind item for yourself. This marketplace sells goods from various local vendors, including antique furniture and decor items, children's toys, and jewelry. The Crompton Collective also has another store downtown called The Haberdash, which sells clothing, homewares, and gifts.
Grab a craft beer at Wormtown Brewery
Opened in 2010, Wormtown Brewery quickly became one of the most popular spots in the city to go for a beer. The brewery serves local craft beers that you can taste at the taproom.
You can choose from many beers, including light and dark brews and seasonal beers, like pumpkin ale in the fall. Unique specialty beers are also available, such as chocolate pecan pie ale or strawberry rhubarb ale.
Take a look around Union Station
Union Station is an architectural landmark that's worth visiting even if you don't have a train to take. The building was constructed in 1911 and added to the National Register of Historic Places in 1980. The exterior of Union Station is gorgeous, with two towers and ornate details carved into the bright white building.
Marvel at Cascading Waters
Cascading Waters is a waterfall located within Cascades Park. To get to the waterfall, you'll need to hike a trail through the forest. The trail is very scenic, and once at the falls, you can admire them and then continue to hike through the park.
Pass a fun evening at Palladium
Palladium is a fun music venue hosting concerts, predominantly by rock and indie bands. The venue initially opened in 1928 and was called the Plymouth Theater. The venue also hosts events, like dance party nights with local DJs and bands.
Create an artwork at Worcester Center for Crafts
If you like arts and crafts, one of the most fun Worcester, MA, things to do is taking a class at Worcester Center for Crafts. Things to learn to make include ceramics and glass art. There are also photography classes if you're interested in that art form.
Tackle an escape game at Live Action Escapes
Attempting an escape room is a great activity, especially on cold or rainy days. One of the best escape game venues in Worcester is Live Action Escapes. You can choose from various themes of varying difficulty, from easy to challenging. Depending on the game, you'll have 45 minutes to two hours to complete puzzles and solve clues in order to escape.
Get a cupcake at The Queen's Cups!
The Queen's Cups is a local bakery that's the ideal place to stop for a sweet treat. Menu items include various flavors of cupcakes, macarons, cookies and cookie sandwiches, and more!
You can also purchase whole cakes or special orders for events. What's unique about this bakery is that they change their menu daily, so you get to order from a new menu of delicious treats every time you visit!
View local artworks at ArtsWorcester
ArtsWorcester is an art gallery housed within a building from the 1920s. The gallery features a range of art mediums and genres, with a focus on local artists. You can visit to see the current set of exhibitions and events are held frequently, like talks with artists.
Hear the Massachusetts Symphony Orchestra at Tuckerman Hall
Seeing the Massachusetts Symphony Orchestra is a must for lovers of classical music. Even if you aren't the biggest classical music fan, watching a performance is a fun and memorable thing to do.
The orchestra was founded in 1947 and performs at Tuckerman Hall, which was designed by Josephine Wright Chapman in 1902. You can also see them at Worcester Mechanics Hall and the Hanover Theatre, among other venues.
Fun Things to Do Near Worcester, MA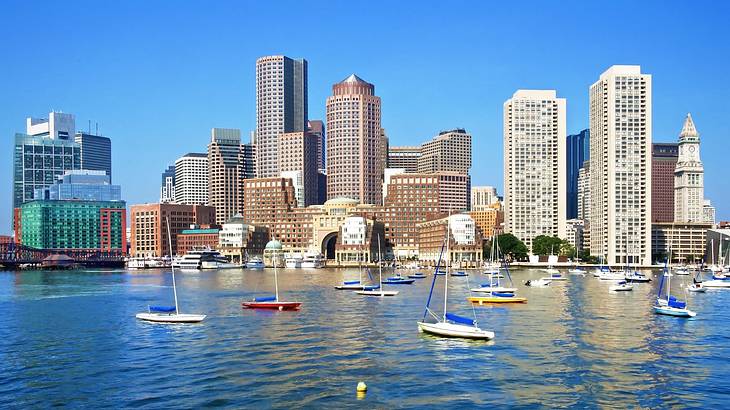 Plan a trip to Boston
Boston is the most famous city in Massachusetts and is also the state capital. This destination is rich in history and is just 50 minutes from Worcester. When spending the day, you'll find an array of fun activities in Boston to enjoy.
Visitors can be amazed by many Boston landmarks, including the State Capitol Building, and sites relating to the American Revolutionary War like the Old South Meeting House and the Paul Revere House. Other activities to add to your Boston itinerary include shopping at Faneuil Hall Marketplace, going to the Boston Public Library, and seeing art at the Isabella Stewart Gardner Museum.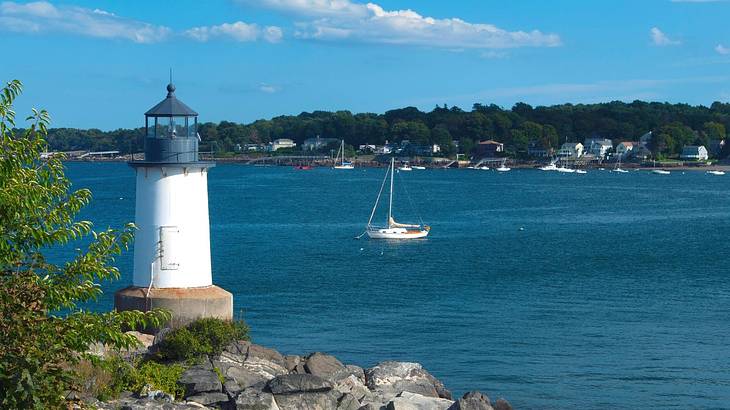 Spend the day in Salem
Primarily known for its witch trials in the 1600s, today, Salem is an exciting city with many one-of-a-kind attractions. Conveniently, the town is just an hour and ten minutes from Worcester, making it easy to reach for a day trip. It's also just 30 minutes from Boston if you wanted to plan a trip to both destinations.
Things to do in Salem range from going to museums like the New England Pirate Museum or Witch Dungeon Museum to shopping at one-of-a-kind boutiques. You can also book many tours and excursions in Salem, including those that tell you more about the city's spooky past.
Admire pretty flowers at the New England Botanic Garden
Located 15 minutes from Worcester in Boylston, the New England Botanic Garden at Tower Hill features 171 acres of stunning plant displays. The flowers and plants change with the seasons, but some flora to admire include sunflowers, foxgloves, and Japanese iris. You'll also see wildlife like butterflies and various species of birds.
Eat at Farmer and the Fork
Farmer and the Fork is located next to the New England Botanic Garden and serves seasonal dishes using local ingredients. Menu items range from salad bowls and soup to sandwiches and wraps. Baked goods are also available, and you can enjoy your meal overlooking the surrounding countryside.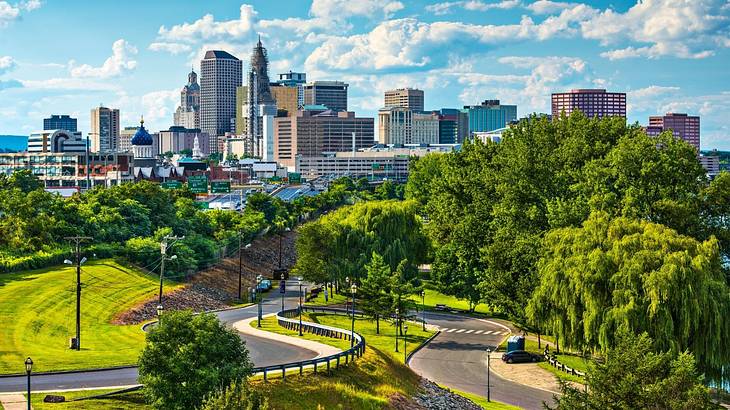 Explore Hartford, Connecticut
Hartford in Connecticut is a beautiful city with many attractions. It's located just an hour from Worcester, and spending a day exploring the city is highly recommended. Just a few of things to do in Hartford include wandering around the pretty ​​Elizabeth Park Conservatory, visiting the Harriet Beecher Stowe Center, and seeing Connecticut landmarks like the State Capitol Building.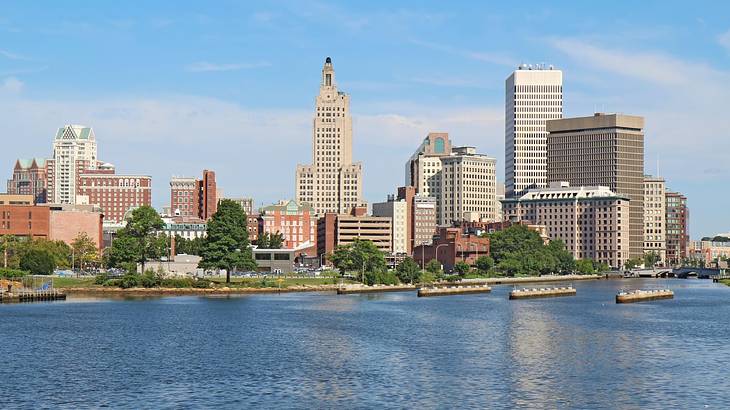 Drive to Rhode Island
Rhode Island is another excellent getaway location just an hour from Worcester. Popular cities to visit when in the state include Providence and Newport. Fun things to do in Rhode Island range from seeing the Newport Mansions to going on a boat tour and hanging out at the beach.
Some notable Rhode Island landmarks that you can't miss during your trip include Green Animals Topiary Gardens and the Block Island Southeast Lighthouse. Due to the many family-friendly attractions found here, visiting Rhode Island with kids is also highly recommended.
Do snowsports at the Ski Ward Ski Area
One of the most fun things to do near Worcester, Massachusetts, for snow sports enthusiasts is going to the Ski Ward Ski Area. The 45-acre attraction is 15 minutes from Worcester and has nine ski slopes and a snow sports school for those that want to learn to ski or snowboard. In the summer you can still visit to go tubing or play volleyball.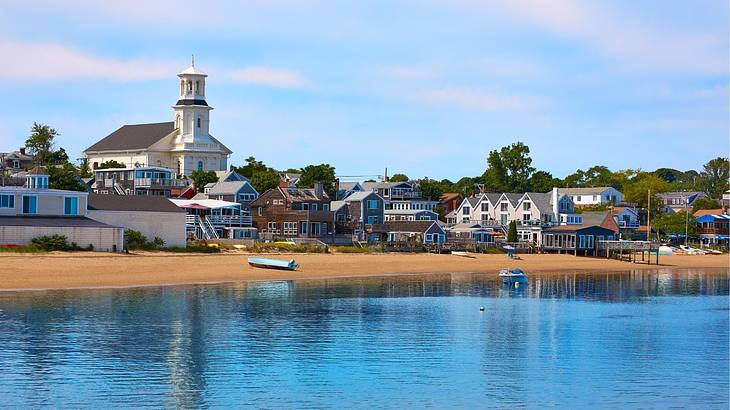 Enjoy Cape Cod
Cape Cod is one of the most beautiful places in New England and is only two hours drive from Worcester. This scenic Massachusetts seaside town is the ideal place to go to spend time on the beach, go boating, and more.
A trip to the area is especially recommended for families as there are many things to do with kids in Cape Cod. Activities to enjoy include going to the Cape Cod Children's Museum and visiting the Wellfleet Bay Wildlife Sanctuary. Adults can also discover many amazing breweries on Cape Cod!
In Conclusion
Worcester has something for every visitor, from those that enjoy museums and performing arts venues to those that want to visit breweries and unique shops, like the Crompton Collective. No matter what you like to do, you'll discover an array of Worcester attractions to check out!
Want to keep exploring?
Subscribe for discounts on tickets and hotels and our latest guides.
Thank you for subscribing
We will be in touch soon with discounts on tickets and hotels and our latest guides.
Want to keep exploring?
Subscribe for discounts on tickets and hotels and our latest guides.
Thank you for subscribing
We will be in touch soon with discounts on tickets and hotels and our latest guides.