25 Famous Landmarks in Michigan You Have to See
Destguides may receive commissions from purchases made through affiliate links in this article.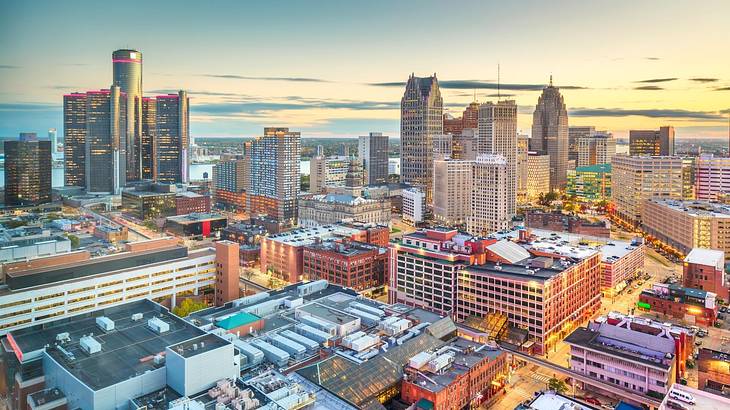 Did you know Michigan touches four out of the five Great Lakes? A map of Michigan has been included below to see which four of the five lakes border the state, and to help you visualize where the landmarks on this list are located.
If you are curious to know what Michigan is known for, Michigan is known for places like Mackinac Bridge, the Henry Ford Museum, and Warren Dunes State Park. It is a mecca for all things nature and lakes. Because of its rich lands, many of the famous landmarks in Michigan are nature-based.
With this curated list, you'll go on a fantastic trip of lakefronts, state parks, and historical museums. Michigan is beautiful in all seasons. If you plan to visit during the winter, be sure to bring your ice boots and Michigan mittens!
25 Famous Michigan Landmarks
Alden B. Dow Home & Studio
For lovers of all things design and architecture, the Alden B. Dow Home and Studio is possibly the most well-known national historic landmark in Michigan. Established in 1989, the private home of Alden B. Dow is now a museum showcase of the 20th-century architect.
Built into nature, a walk around the home grants lovely views of a pond, plum grove, and multiple gardens. Be aware that you must make a public tour reservation at least 24 hours in advance.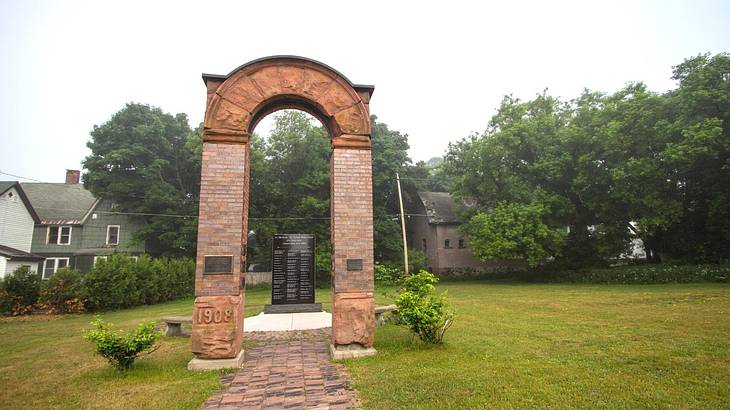 Calumet Historic District
The Calumet Historic District makes up most of Calumet, Michigan. Calumet became a true village (Red Jacket) when Edwin Hulbert established his Hulbert Mining Company and changed its name to Calumet in 1929.
Calumet is a historical mecca for the copper mining industry in the U.S. This Upper Peninsula town is flooded with all things copper, from jewelry to art pieces, and numerous galleries and restaurants make a day in the Calumet Historic District a worthwhile trip.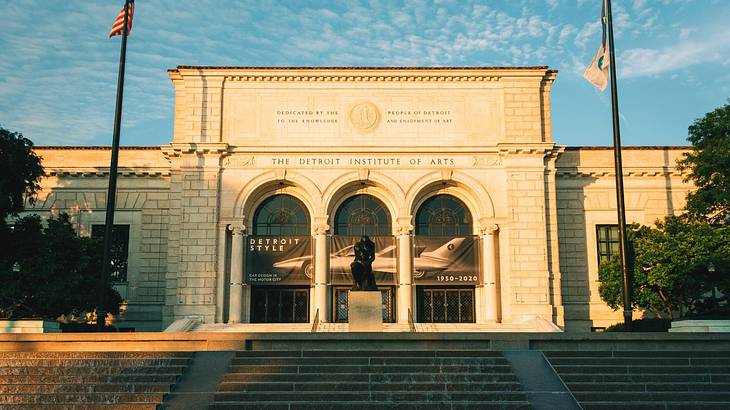 Detroit Institute of Arts Museum
Right in the heart of Wayne County is the Detroit Institute of Arts Museum. Plan for several hours or a half a day to visit the massive museum. The Detroit landmark has 30 galleries over three floors to explore!
The Art Museum isn't just paintings on a wall. It's filled with many historical artifacts from multiple periods in history. The building itself is even a work of art. It was built in the Beaux-Arts style and features lots of ornate details throughout.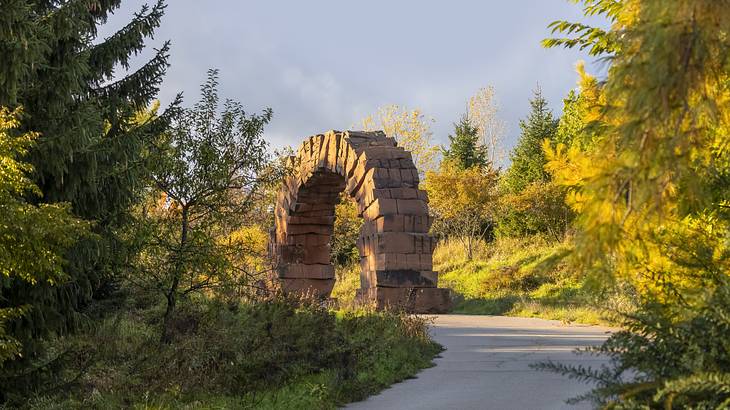 Frederik Meijer Gardens & Sculpture Park
There is something uniquely special about the Frederik Meijer Gardens & Sculpture Park. The 158-acre property includes a botanical garden, an art museum, and an outdoor sculpture park.
There is a tactile garden for children and a butterfly maze to solve. Sculptures are dispersed around the gardens inside and out.
Gardens of every style and size, including an eight-acre Japanese garden, will delight everyone's senses. There's even a five-story tropical plant display featuring plants and trees from countries around the world.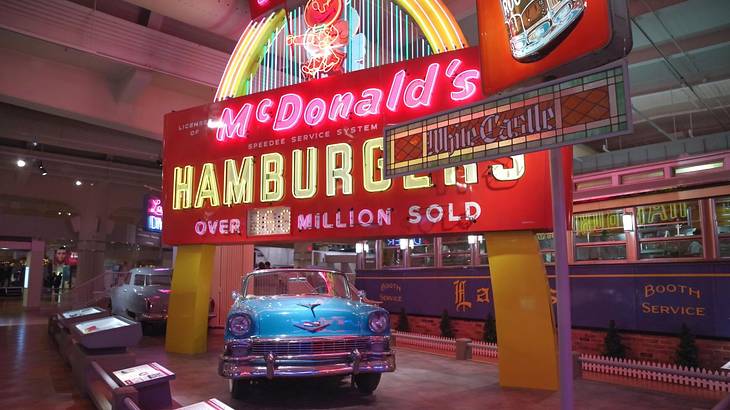 Henry Ford Museum of American Innovation
The names Henry Ford and Michigan are synonymous with cars and American innovation. Henry Ford founded his museum in 1929, and it has been growing ever since.
The Henry Ford Museum of American Innovation is one of the most historical landmarks in Michigan. It even houses a public charter high school on its grounds, the Henry Ford Academy.
This museum is worth a full-day visit to see both the indoor museum of American Innovation and the outdoor Greenfield Village. It's more than just cars. The Henry Ford Museum truly reflects and demonstrates the spirit of American innovation through all its exhibits.
Isle Royale National Park
Did you know there is a lake island in Michigan? It's so big that it's the fourth-largest in the world! The Isle Royale National Park includes the Isle Royale and 400 smaller islands. It is one of the best national parks in the United States to visit.
There are so many well-preserved shipwrecks within the park that it's now listed in the National Register of Historic Places for Michigan.
But sadly, did you also know that of all the national parks in the lower 48, the Isle Royale National Park is the least visited? Be sure not to leave it out in your tour of Michigan!
Lake Michigan
Yes, on a sunny clear day, you can see all the way across Lake Michigan from Michigan to Wisconsin, Illinois, or Indiana. Lake Michigan is also the only one of the Great Lakes located within the United States.
Near Michigan's Upper Peninsula, the lake contains numerous islands and inlets. Further down the Michigan coastline, it forms rocks and bluffs until it reaches the sandy shores of the Indiana Dunes.
Many fishers enjoy the deep waters of Lake Michigan, and the eastern coast of the lake is popular with summer vacationers wanting to escape the city life.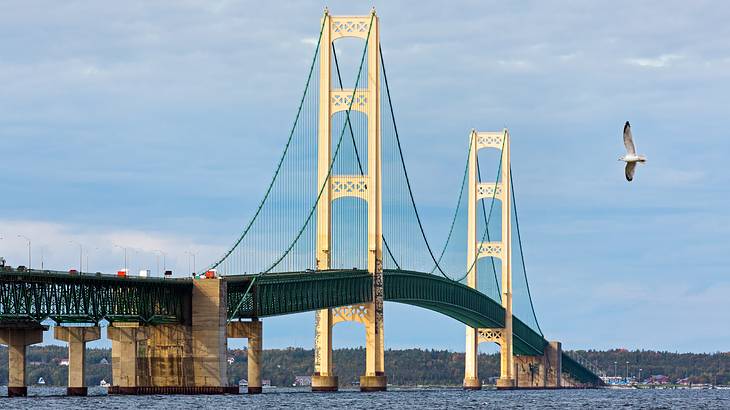 Mackinac Bridge
What is the most famous landmark in Michigan? It's probably Mackinac Island and its famous bridge! Did you know the Mackinac Bridge is the third-longest suspension bridge in the United States? It is about five miles long!
The Mackinac Bridge connects the mitten of Michigan to the Upper Peninsula. It even has its own bridge authority to keep and maintain the state of the bridge.
To withstand the severe weather both in the Mackinac Straits and in fierce, windy gales, the Mackinac Bridge is probably the strongest suspension bridge in the world.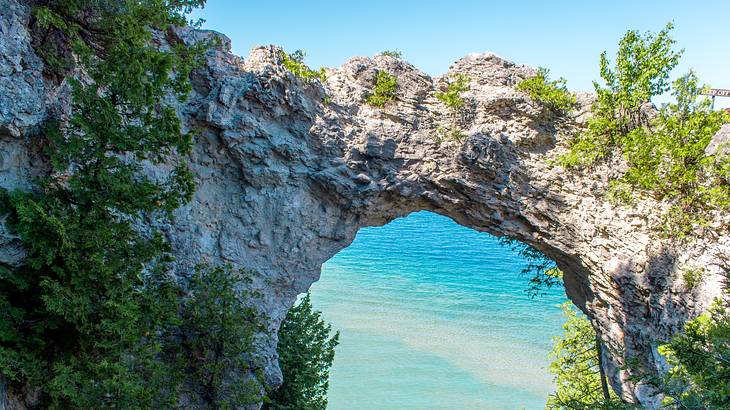 Mackinac Island State Park
If you go to Mackinac Island, chances are you will be in Mackinac Island State Park. More than 80 percent of the island is contained in the park.
The island is sacred to the Ojibwa and Odawa Great Lakes Indian tribes, so you will see many influences from their heritage here. You can hike, bike, and even ride on horseback through the park.
Thanks to the National Park Service, you can visit the exquisite park for limestone bluffs, mystical forests, geological formations, and endless water.
Michigan History Museum
There is an entire museum system oriented around Michigan history, 12 museums in total. The Michigan History Center is the bedrock of them all and provides five floors of Michigan history.
The museum showcases the history of the earliest people in Michigan, the Anishinaabe, until the mid-20th century. There are also yearly changing exhibits that delve more into Michigan's history.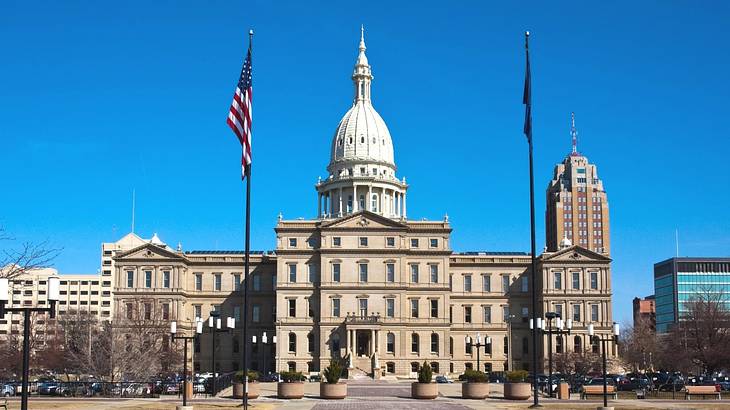 Michigan State Capitol
Did you know that the Michigan State Capitol building was one of the first to have an iron dome placed on top? It took its inspiration from the newly-rebuilt Washington D.C. Capitol building, and it consequently served as inspiration for many others.
The Capitol is currently the state's third capital and is one of the famous historical landmarks in Michigan. The State Capitol has partnered with the Library of Michigan to co-show pieces of interest related to the history of the state of Michigan.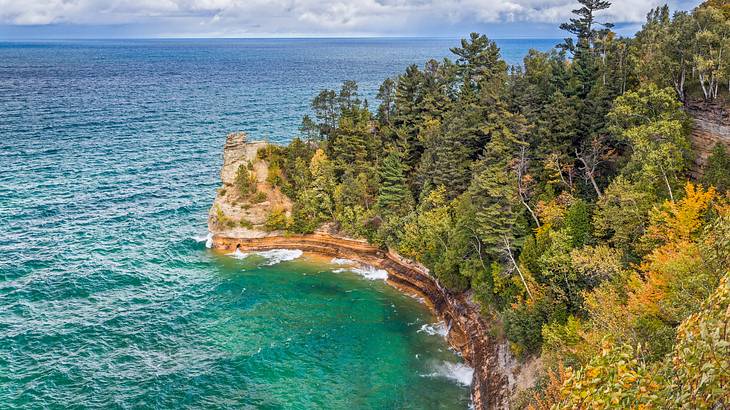 Pictured Rocks National Lakeshore
What is the most beautiful place in Michigan? Once you've seen it, you'll probably agree it's the "Pictured Rocks" along the Lake Superior shoreline! You can take a local cruise or kayak by the painted rocks where there are numerous archways and caverns.
You can also stop by an overlook adjacent to Miners Castle, reached via a steep trail on land. The Pictured Rocks National Lakeshore is alone worth a visit to the Upper Peninsula of Michigan!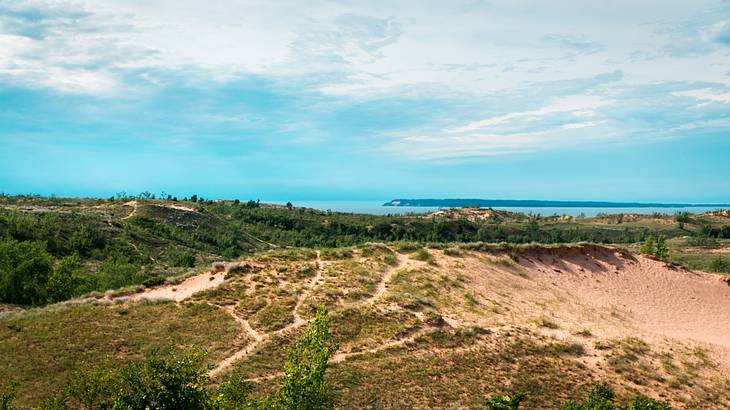 Sleeping Bear Dunes National Lakeshore
Sleeping Bear Dunes National Lakeshore is a refuge of lakes laden with forests of flora and fauna. The towering dunes offer views across Lake Michigan on clear days.
The dunes are a wonderful place to bird watch as well. Once named the "most beautiful place in America," it's easy to see why Sleeping Bear Dunes National Lakeshore is a popular natural landmark in Michigan.
St. Clair River Tunnel
What is so miraculous about the St. Clair Tunnel? It was the first subaqueous tunnel built in North America that was large enough to have a railroad in it.
The newer underwater tunnel was built in 1995 to replace the original from the late 1800s. The tunnel runs under the St. Clair River and connects Michigan to Ontario, Canada. For its engineering achievements, it's been granted the status of one of the national historic landmarks of Michigan.
Tahquamenon Falls State Park
Looking for a place to be at one with nature? Tahquamenon Falls State Park has over 25 miles of hiking trails in its 52,000-acre park. There are paved pathways leading to the Upper Falls, one of the largest waterfalls in the Eastern United States, from the main parking lot.
The Lower Falls is a series of five cascading falls around an island. View them from the riverbank or rent a rowboat and venture out to the island for an unobstructed view. During the spring and summer, come to enjoy hiking, camping, fishing, or canoeing at Tahquamenon Falls State Park.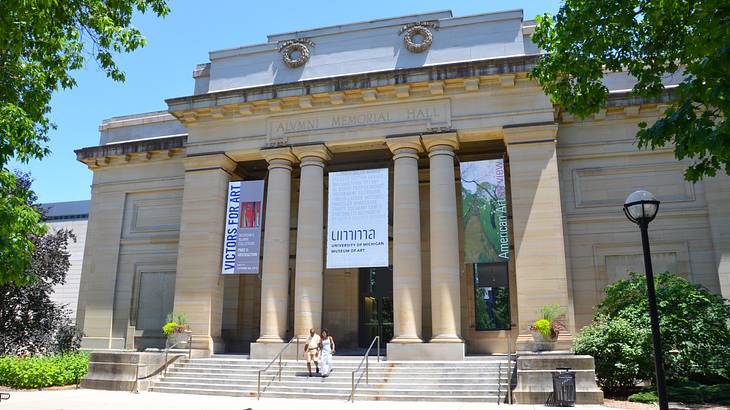 University of Michigan Museum of Art
The University of Michigan Museum of Art was foremost built as a war memorial at the beginning of the 20th century. It was built in honor of the fallen from the university during the Civil War.
The museum now displays more than 21,000 pieces of art and represents over 150 years of collections. It also hosts more than 20 special exhibitions every year, in addition to lectures, films, and even performing arts concerts in the Helmut Stern Auditorium.
Warren Dunes State Park
Hugging the state line with Indiana is the Warren Dunes State Park. This state park is popular for hang gliding off the highest dunes. The beach is three miles long, and there are six miles of hiking trails through the rugged dunes.
The Warren Dunes State Park is further south and more accessible year-round. There is a campground as well as shops for food and souvenirs.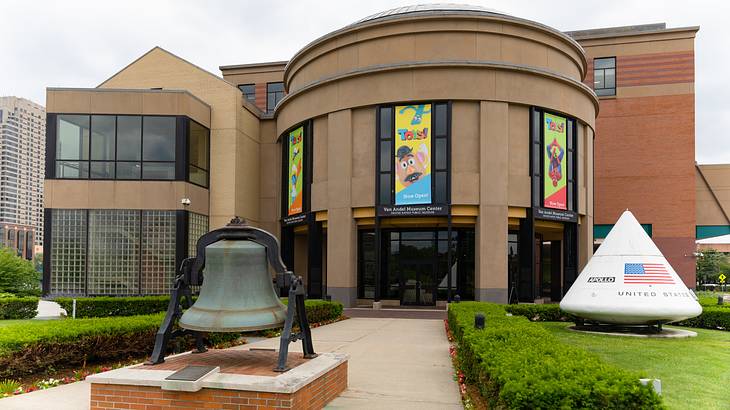 Grand Rapids Public Museum
Are you curious about a lot of things? The motto of the Grand Rapids Public Museum is "Be curious," and it serves the museum well. This museum is a neat roundup of various exhibits, including natural histories, dinosaurs, fashion, and space. You can also find a 1928 carousel and planetarium here.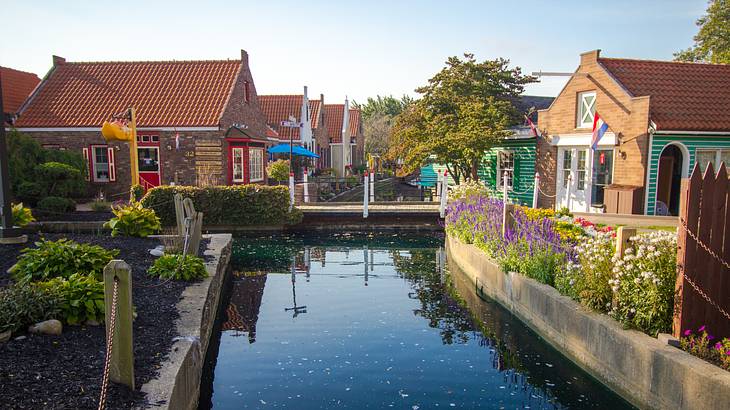 Nelis' Dutch Village
Did you know there is a Dutch Village in Holland, Michigan? Nelis' Dutch Village serves the town name well for sure! This village is a step back in time, over 100 years. Enjoy Dutch Dancing (in wooden shoes, of course). It's a modern-day carnival set in the olden days of Holland!
Kids can enjoy rides, games, and even a petting zoo. Learn how to do a Dutch dance, make a Stroopwafel cookie, or even speak a few words in Dutch!
Zekelman Holocaust Center
The Holocaust Memorial Center isn't a "fun" place to visit, but it is a moving one. The sadness behind the tragedy of the Holocaust may only be prevented when we learn the lessons ourselves. The Holocaust Memorial Center strives to not just provoke a tear of sadness, but to spark a fire of change.
Four days of the week, the museum offers a public tour led and hosted by a Holocaust survivor. Be sure not to miss an opportunity to learn about the Holocaust from the perspective of a survivor that was there.
Motown Museum
Are you a music lover, specifically Motown? Did you know that Motown is a portmanteau of where it all started? Detroit, Michigan: motor-town!
Yes, you can go to the Motown Museum in Detroit. It was founded by a former Motown Records executive in 1985. Stop by Hitsville, U.S.A., to see Studio A, photos, and memorabilia of the Motown music era.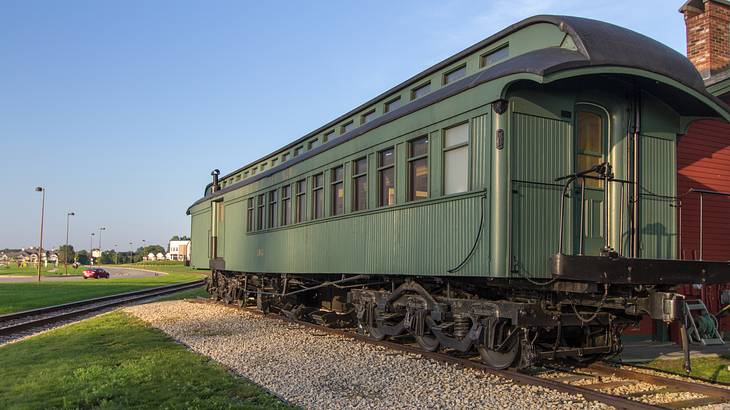 Thomas Edison Depot Museum
One of the popular historical sites in Michigan, The Thomas Edison Depot Museum, is a great museum to delve into the life and inventions of Thomas Edison.
The museum is built inside the historic Fort Gratiot train depot, where Edison worked as a news reporter for five years. Enjoy the exhibits showcasing the story of Edison's life. There are unique hands-on displays to learn and experiment on your own as well.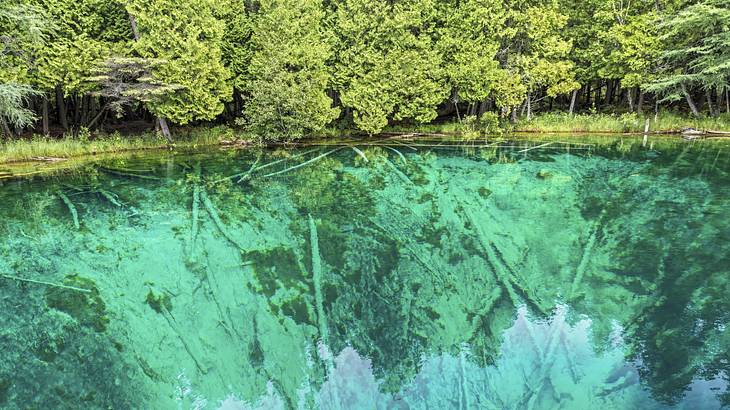 Big Spring (Kitch-iti-kipi)
Big Spring is, as you guessed it, Michigan's largest spring. The water is so calm and still that the early inhabitants originally called it the "Mirror of Heaven."
Even though it is in Michigan's Upper Peninsula, the spring never freezes. There are fissures in the limestone under the spring that keep a constant flow of warm water flowing through it year-round.
You can hike the paved path to the shoreline. A raft on a cable is also available to get a closer view. Be sure to ask about how Kitch-iti-kipi got its name. It's quite the folklore tale, or is it?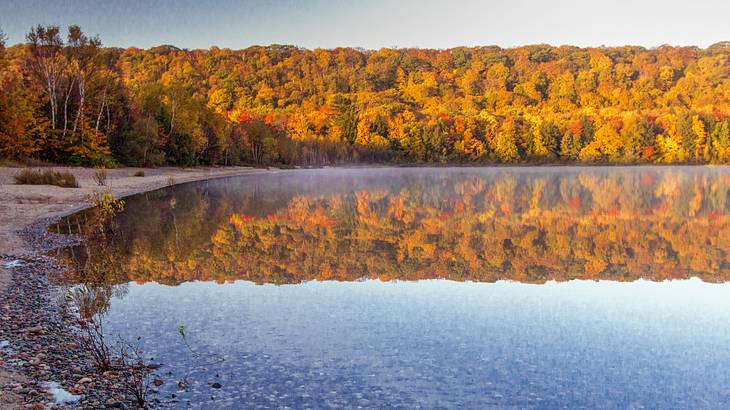 Hiawatha National Forest
The Hiawatha National Forest cozies up to three of the five Great Lakes: Superior, Huron, and Michigan. This massive national forest houses islands, waterfalls, and lighthouses. There is so much to do that you'll find yourself coming back to this Upper Peninsula National Forest year after year.
Have fun horseback riding, mountain biking, hiking, sea kayaking, fishing, and much more. In addition to the Great Lakes, more than 75 smaller lakes and streams are woven through the Hiawatha National Forest.
A. E. Seaman Mineral Museum
Do you like bright shiny rocks? One of the most prestigious mineral museums, nationally and internationally, is located in the United States.
The museum is on Michigan Tech's south campus and is nearly at the western edge of Michigan's Upper Peninsula. The A.E. Seaman Mineral Museum is ironically built on an old copper mine. There is also a gorgeous garden of labeled plants and rocks on the museum's west side.
In conclusion
Michigan is a vast and beautiful state to visit. It has a wild nature that will bless you with breathtaking views, and its museums will inspire you to innovate, investigate, and return to the Great Lakes state.
Give us feedback about this article
More visual stories related to this article:
---
---
Want to keep exploring?
Subscribe for discounts on tickets and hotels and our latest guides.
Thank you for subscribing
We will be in touch soon with discounts on tickets and hotels and our latest guides.
Want to keep exploring?
Subscribe for discounts on tickets and hotels and our latest guides.
Thank you for subscribing
We will be in touch soon with discounts on tickets and hotels and our latest guides.
Related Articles