30 Fun Things to Do in St. Paul, MN
Destguides may receive commissions from purchases made through affiliate links in this article.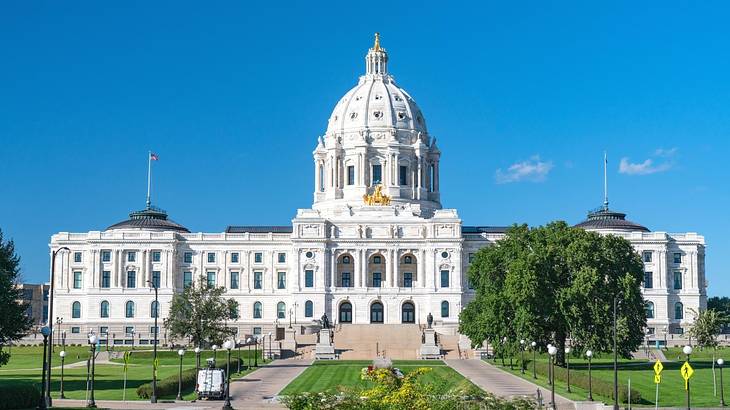 St. Paul is the capital of Minnesota and one of the two Twin Cities, along with Minneapolis. This friendly and exciting destination has a variety of attractions and landmarks, with something that will appeal to everyone.
Fun things to do in St. Paul, MN, include dancing at the Wabasha Street Caves, seeing a Minnesota Wild hockey game, and admiring the stunning Victorian homes on Summit Avenue.
You'll also find cool things to do around St. Paul, like visiting Minneapolis, shopping at the Mall of America, and hiking to Minnehaha Falls. Want to know about all the fun activities in St. Paul? Then keep reading for 30 activity suggestions!
30 Fun Things to Do in St. Paul, Minnesota
St Paul, MN, Things to Do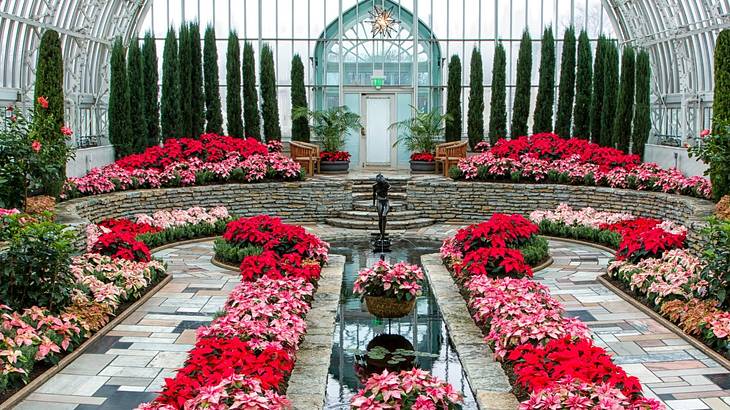 See animals the the Como Park Zoo and Conservatory
Located in Como Regional Park, the Como Park Zoo and Conservatory opened in 1873 and was added to the National Register of Historic Places in 1989.
At the zoo, you can see an array of animals, including giraffes, arctic foxes, flamingos, and penguins. Along with seeing the animals, you can explore pretty gardens like water gardens, a Japanese garden, and the Marjorie McNeely Conservatory.
Watch a show at Ordway Center for Performing Arts
Spending an evening at Ordway Center for the Performing Arts is a great idea. The venue hosts operas, musicals, theater performances, concerts, and much more. No matter what you see at the venue, you'll have a fantastic and memorable night out!
Explore the Mississippi National River and Recreation Area
If you like outdoor activities, one of the best things to do in St. Paul, MN, is going to the Mississippi National River and Recreation Area. The attraction covers 54,000 acres of protected land along the Mississippi River.
Visitors can hike along trails that take you through stunning natural landscapes. Other activities include boating, canoeing, and wildlife watching. There's also a nature center with exhibits on the area's ecology.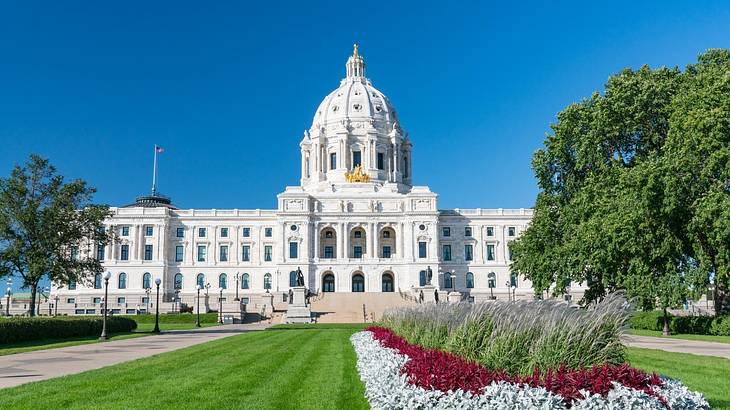 Tour Minnesota State Capitol Building
The Minnesota State Capitol was constructed in 1905 and has been the primary seat of government for the state ever since. The building is an impressive piece of architecture and features a combination of Beaux-art, Renaissance, and Neoclassical styles.
In addition, the building's distinctive copper dome is the world's second-largest self-supported marble dome, after the dome on St. Peter's Basilica in Rome. Visitors to this Minnesota landmark can tour the building and learn more about politics in the state over the last one hundred plus years.
Learn about the North Star State at the Minnesota History Center
Want to learn more about the state of Minnesota? Then plan a trip to the Minnesota History Center. The museum is managed by the Minnesota Historical Society and has exhibits on significant events in the state's history.
Additionally, you can discover information on life and industry in the area over the last few hundred years. You'll also be able to see many artifacts, including old photographs.
Discover new things at the Science Museum of Minnesota
The Science Museum of Minnesota is a fascinating attraction with exhibits on natural history, technology, science, and more. Just a few of the displays to see include those on dinosaurs and fossils, space travel, and the human body. In addition, the museum has an Omni Theater that shows educational films on various topics.
Look around Historic Fort Snelling
Historic Fort Snelling is one of the St. Paul attractions you won't want to miss if you're a history enthusiast. The military fort was constructed in 1819 and named a National Historic Landmark in 1996.
Visitors to the fort can look around and learn more about the military base's rich history. One of the most interesting things to find out about is the secret military language learning center that was housed in Fort Snelling during WWII.
Catch a Minnesota Wild game
The Minnesota Wild play in the National Hockey League, and you can see a game at Xcel Energy Center in St. Paul. Games run between October and mid-April in the regular season. Whether or not you're a big sports fan, cheering for this NHL team with local fans is sure to be fun. By attending a game, you'll also understand why the Minnesota nickname, the State of Hockey exists!
Swing dance at Wabasha Street Caves
The Wabasha Street Caves are a highly unique landmark to see in St. Paul. The caves feature an event hall that was carved into the rock. In the past, this space has been used by mobsters and as speakeasies during the prohibition era. Today, you can tour the space, and fun swing dancing classes are held on Thursdays.
Go to Allianz Field for a Minnesota United FC game
Another of the best things to do in St. Paul, Minnesota, for sports fans is seeing a Minnesota United FC game at Allianz Field. The MLS team plays at the ground between March and October. The team has been playing in the city since 2017 and has built up a loyal fan base that you can cheer with when watching a game.
Unearth another side of St. Paul on a gangster tour!
St. Paul is known for its fascinating past, which includes being home to gangsters and bootleggers during the prohibition era. To learn more about this topic, take a St. Paul gangsters tour.
On the tour, you'll visit various locations that were speakeasies and places for gangsters to meet up. Spots to visit include the Historic Castle Royal nightclub, the Wabasha Street Caves, and the Hamm's mansion kidnapping site.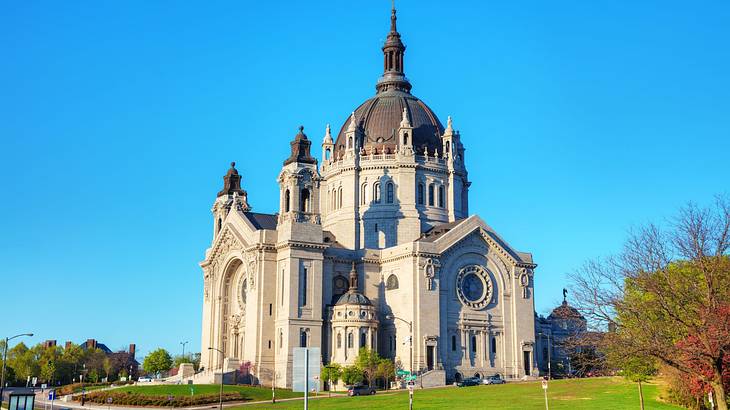 Marvel at the Cathedral of Saint Paul in Cathedral Hill
Cathedral Hill is a popular neighborhood in St. Paul that's home to the Cathedral of Saint Paul. Constructed in 1904, the current Cathedral of Saint Paul was built on the site of another church from the 1840s.
The building you see today features Beaux-art and Neoclassical design elements and is a stunning piece of architecture both inside and out. If you go inside the Cathedral, you'll be able to admire the intricate designs covering the walls and tall ceilings. Guided tours of the building are offered in the afternoons.
View the Victorian homes on Summit Avenue
Summit Avenue is a unique street in St. Paul. It's lined with Victorian homes, which comprise the longest stretch of Victorian homes in the United States.
You can head to the area yourself to see the residences or join a Summit Avenue Victorian homes tour. During this two-hour excursion, your guide will take you past the most famous houses on the street and tell your stories of the wealthy families that owned them.
Relax with a coffee at Cafe Astoria
Cafe Astoria is a laid-back and friendly place to stop for a coffee. You can order classic coffee drinks and more unique beverages. Options include a campfire latte with coffee, caramel, chocolate, marshmallows, and graham cracker or espresso with wildflower honey and chili. You can also order food like crepes, smoothie bowls, and sandwiches.
Grab a beer at a local brewery
St. Paul has many amazing breweries to check out. If you're unsure where to go, visiting Bang Brewing is a great idea. The brewery sells locally produced organic beers, lagers, and ales. You can taste these beers in the taproom, which includes a tranquil outdoor patio surrounded by plants.
Saint Paul Brewing also comes highly recommended. This brewery creates small batch brews, plus hard seltzer that you can taste at the taproom. You can enjoy your beer on the outdoor patio, where you can order food. Both spots are also dog-friendly, and Saint Paul Brewing even has food menu items for pups!
Look around the Bell Museum
Going to the Bell Museum is one of the best St. Paul things to do on a cold or rainy day. This natural history museum will also interested both kids and adults. The attraction has a planetarium and exhibits on animals and the environment. Notably, you can see life-sized dioramas of animals in their natural habitats, including beavers, moose, and tundra swans.
Take your kids to the Minnesota Children's Museum
If you want to know what to do in St. Paul, MN, with kids, visiting the Minnesota Children's Museum is recommended. The attraction is designed with young kids in mind and has many exhibits that allow them to learn and play.
Things to explore include an arts and crafts area, an underwater adventure space, and a pretend town with a post office, farmers market, and more. There's also an indoor and outdoor play area.
Start the day right at Hope Breakfast Bar
Hope Breakfast Bar is a popular breakfast and brunch spot that serves breakfast dishes into the afternoon. Menu items range from bourbon smoked salmon toast or chicken and waffles to carrot cake or banana bread pancakes. You can accompany your meal with unique drinks, like a sea salt caramel or coconut flavored caffe latte.
Buy local produce at Saint Paul Farmers' Market
Saint Paul Farmers' Market is the perfect place to pick up some local produce. Interestingly, this market dates back to 1854! The market sells fruit and veg, including seasonal produce like pumpkins, flowers, bread and other baked goods, and much more.
Have a fun day at Can Can Wonderland
Can Can Wonderland is another of the fun family-friendly attractions in St. Paul. The indoor amusement park has numerous attractions, including mini-golf, an arcade, and vintage pinball. After enjoying the amusements, you can grab snacks like pizza, malted milkshakes, and puzzle tots. Adults can also order delicious craft cocktails.
Visit the museums at the Landmark Center
The Landmark Center is another of the historic St. Paul, MN, attractions to visit. Opened in 1902, the Richardsonian Romanesque building was added to the National Register of Historic Places in 1962. Today, the building features museums, including art galleries, the Schubert Club Music Museum, and the HORA Romanian American Cultural Center.
Get sweet treats at Wuollet Bakery
Those with a sweet tooth won't want to miss a trip to Wuollet Bakery. The bakery sells many products, including whole cakes and slices with varieties ranging from princess torte to classics like carrot or red velvet cake. Bars, cookies, donuts, and lots of types of cupcakes can also be purchased.
Hop aboard locomotives at the Minnesota Transportation Museum
The Minnesota Transport Museum is another interesting attraction in the city. It focuses on the history of the state's railroads and other forms of transport. You can see old train cars and locomotives as well as some artifacts relating to the railroads. In addition, you can go on real train rides from the museum that take you through scenic areas around St. Paul.
Bike or walk along the Mississippi River Trail
The Mississippi River Trail is a walking and biking path that runs through St. Paul and along the Mississippi River. The trail begins in Lake Itasca, Minnesota, and goes all the way to the river's mouth in Louisiana. When following the part of the trail located in St. Paul, you'll be able to take in views of this famous river and escape the bustle of downtown.
Check out Keg and Case Market
Keg and Case Market is a dining complex that features various eateries and breweries. It is housed within an 1850s brewery. Places to eat range from a Jamaican street food restaurant and a grilled cheese food truck to a vendor selling edible cookie dough.
There are also a few shops here, including a soap shop and a store selling CBD products. Breweries, coffee shops, and juice bars are on-site too.
View the St. Paul skyline from Raspberry Island
If you want a great view of the city skyline, one of the St. Paul activities you can't miss is going to Raspberry Island. The island sits within the Mississippi River across from downtown. Due to its location, you can enjoy stunning views of the St. Paul skyline. Going to the island just before sunset to watch the sun go down over the city is incredibly scenic.
Sip cocktails at Herbie's on the Park
If you're looking for something fun to do in the evening, be sure to stop at Herbie's on the Park for some drinks. The stylish spot serves cocktails as well as wine, bubbles, and beer. You can also order bar food here, like burgers, watermelon feta salad, and spicy fried cauliflower.
Things to Do Near St Paul, Minnesota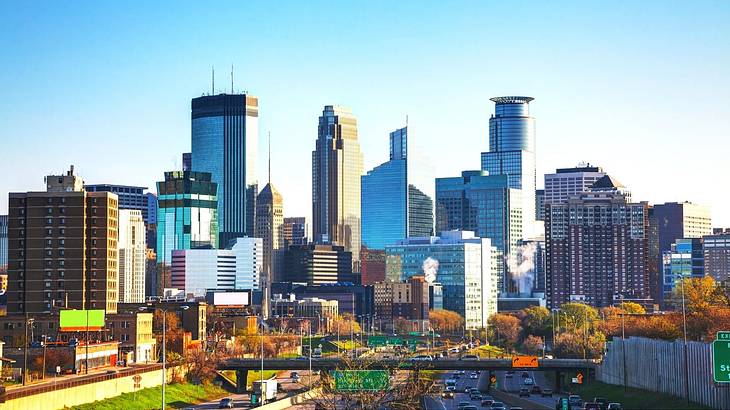 Spend the day in Minneapolis
Minneapolis is another well-known city in Minnesota and combines with St. Paul to become the Twin Cities. Minneapolis can be reached in about 20 minutes when driving from Downtown Saint Paul, making it an excellent place for a day trip.
Some things to do in Minneapolis include going to the Minneapolis Institute of Art, hiking to Minnehaha Falls, and watching a Minnesota Vikings NFL game. If you want to see a Vikings game, the best time to visit Minneapolis is between September and the start of January.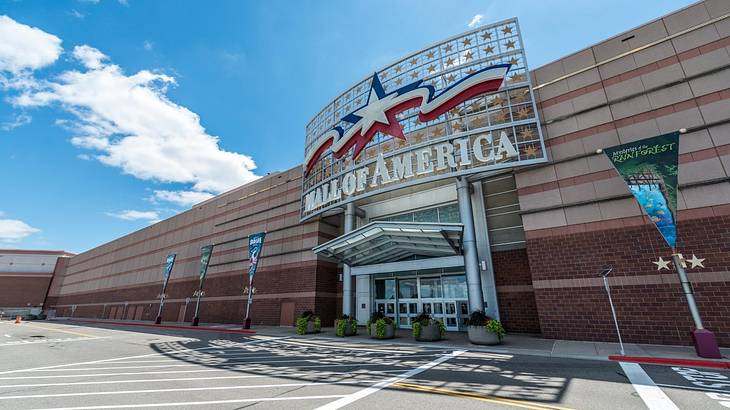 Shop at the Mall of America
The Mall of America is situated in Bloomington, Minnesota, about 20 minutes from central St. Paul. This shopping center and entertainment complex is notably the largest mall in the United States.
You'll discover over 520 shops at the mall, including chains, boutiques, and food outlets. Some notable attractions and entertainment options include an M&M World store, escape rooms, and Crayola Experience for kids.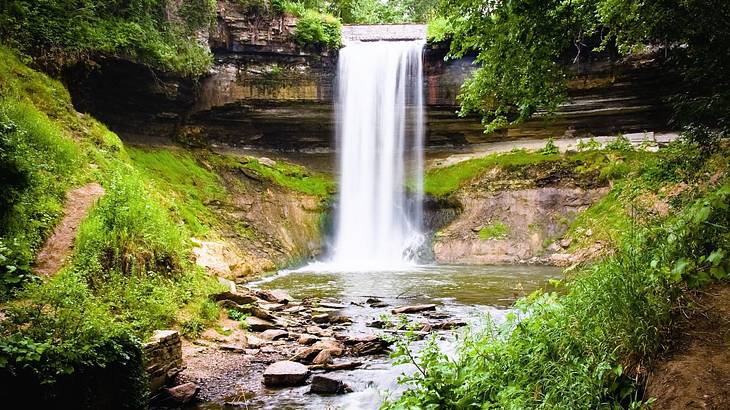 Hike to Minnehaha Falls
Minnehaha Falls is a must-see natural landmark near St. Paul. It's located just 20 minutes away in Minnehaha Park. Once at the park, you can follow trails that will take you to the beautiful 53-foot waterfall. You can then explore the rest of the park, which covers 193 acres and has dense woodlands with trees like elm, oak, and silver maple.
In Conclusion
This article should have given you many ideas on what to do in St. Paul, Minnesota. Whether you like visiting historical landmarks, finding the best bars and coffee shops, or watching local sports teams, St. Paul will have a fun activity for you!
---
---
Want to keep exploring?
Subscribe for discounts on tickets and hotels and our latest guides.
Thank you for subscribing
We will be in touch soon with discounts on tickets and hotels and our latest guides.
Want to keep exploring?
Subscribe for discounts on tickets and hotels and our latest guides.
Thank you for subscribing
We will be in touch soon with discounts on tickets and hotels and our latest guides.
Related Articles