25 Famous Landmarks in Missouri for Your Bucket List
Destguides may receive commissions from purchases made through affiliate links in this article.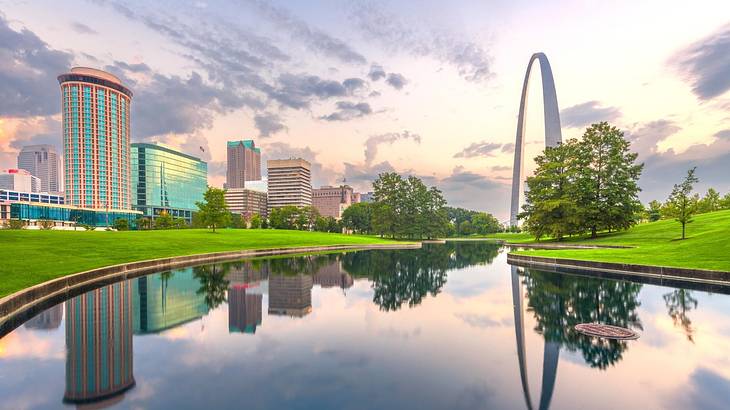 Anyone who has studied US history knows that Missouri was one of the most important states in the country's westward expansion. However, when thinking about Missouri in the present day, you might be wondering:
What are some famous landmarks in Missouri?
Famous landmarks in Missouri include The Nelson-Atkins Museum of Art and the Gateway Arch, an iconic state symbol. Missouri is also famous for its beautiful outdoor spaces and historical sites, like the Mark Twain Boyhood Home & Museum.
Whether you're planning a trip to the state for the first time, or you're just curious about what Missouri has to offer, this article is for you! Keep reading for 25 Missouri attractions and landmarks you have to visit at least once!
25 Famous Missouri Landmarks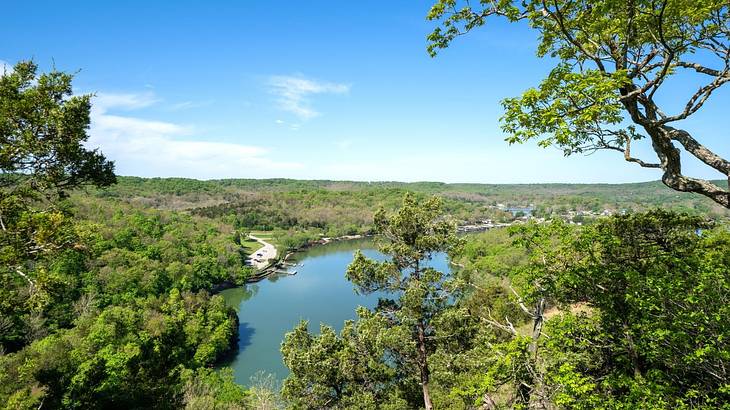 The Lake of the Ozarks
The Lake of the Ozarks is a must-visit Missouri destination if you love spending time in or on the water. Also known as the Missouri Dragon, the lake boasts over 1,000 miles of shoreline due to its twisting shape.
Activities to enjoy include swimming, boating, and kayaking. If you prefer spending time on dry land, that's okay too! You can go for nature walks or golf on one of the area's courses.
Graham Cave State Park
With artifacts dating back 10,000 years, Graham Cave State Park is a time capsule and a getaway rolled into one. The park gets its name from Graham Cave, a cavern over 100 feet wide and nestled into one of the park's hills. However, there is much more to see than that.
The park has multiple exhibits and learning areas throughout its 300 acres. You and your whole family will enjoy learning about the cultures of people who have called the park home. You'll also have hours of enjoyment walking through the pristine woods that will make you feel like you're in a different world.
City Museum
St. Louis is home to some of the state's most well-known attractions. However, one, in particular, is gaining momentum in becoming a famous landmark in Missouri.
Opened in 1997 in an abandoned warehouse in the city's downtown area, City Museum gained immediate popularity. This interactive museum is part modern art museum and part theme park.
You can easily spend a day exploring the galleries, enjoying interactive activities, or riding around on the museum's train. It's also the ideal place to visit with family as the museum has many child-friendly exhibits.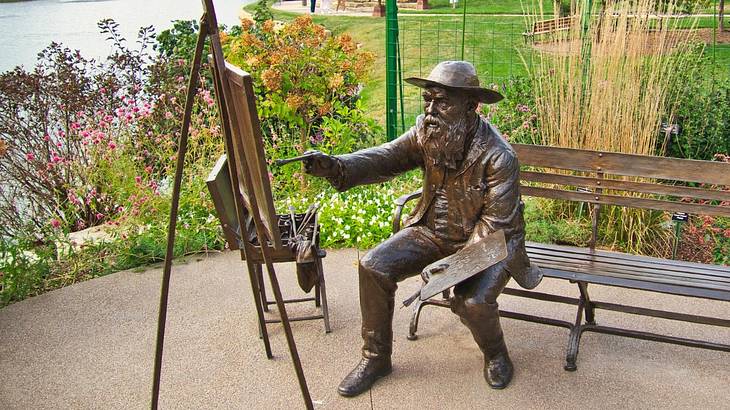 Overland Park Arboretum & Botanical Gardens
Are you planning a trip to Kansas City and want to spend time outside? Going to the Overland Park Arboretum & Botanical Gardens is one of the best outdoor activities in KC and must be on your trip itinerary.
With over 300 acres of land and nearly 2,000 different plant species, there's plenty to explore in the park. In fact, the area was designed to keep visitors from getting bored! The gardens feature multiple landscapes and styles, so every part you visit differs.
During a visit, you can go back and forth between feeling like you're lost in nature and like you're meandering through a secret garden.
Wilson's Creek National Battlefield
The Civil War marked one of the most critical periods of United States history. The continued fascination with the battles that culminated in the abolition of slavery draws people to one of the most historical sites in Missouri.
Wilson's Creek National Battlefield marks the site of the first Civil War battle in what was the American West. Though it ended in a Confederate victory, this battle renewed war efforts for the Union that helped determine the rest of the war.
The Nelson-Atkins Museum of Art
Kansas City might be in the heart of America, but its Nelson-Atkins Museum of Art will take you on a global journey. This museum contains art from every inhabited continent and nearly every known culture. This attraction is undoubtedly the place to go if you're looking for a crash course in art!
Thanks to the museum's outdoor sculptures, your art education will start before you walk in the doors. These whimsical statues are in the shape of badminton birdies and are so iconic that they have helped put the museum on the map.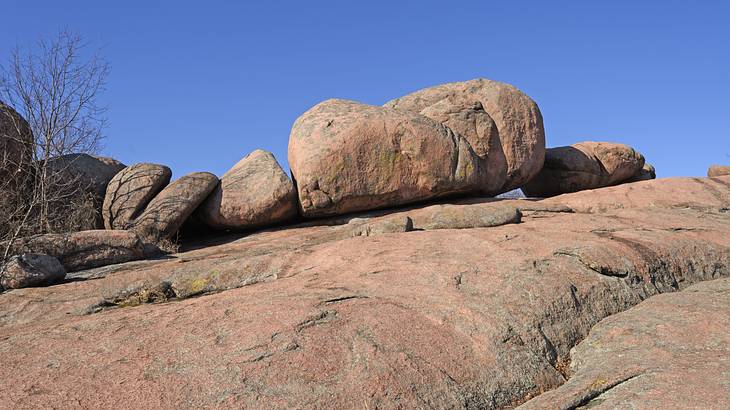 Elephant Rocks State Park
What do you get when you combine 1.5 billion-year-old geological formations, hiking trails, and the great outdoors? One of the most exciting state parks in all of North America! Elephant Rocks State Park has wowed guests for decades thanks to its boulders that look like a giant has arranged them.
No matter where you find yourself in the park, you'll be able to get on a trail that leads back to the namesake Elephant Rocks. As you explore the park, you will also discover an old railroad engine house and many great picnic spots.
First Missouri State Capitol State Historic Site
Today, the capital of Missouri is Jefferson City, but that wasn't always the case. From 1821 to 1826, the Missouri seat of power was actually in St. Charles. Even though state government business was conducted out of St. Charles for a mere five years, a capitol building was still assigned.
If in the area, you can relive a short but important part of Missouri political history by visiting the First Missouri State Capitol State Historic Site. This landmark has exhibits, historical reenactments, and much more!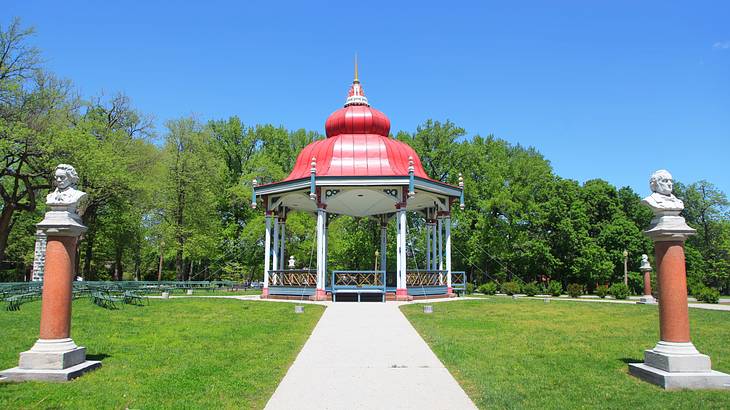 Tower Grove Park
When St. Louis locals want to escape their busy city lives, they head to Tower Grove Park. With nearly 300 acres of land and a three-mile loop walking trail, it's easy to feel like you're in a new world at this urban park.
Most of the land was donated to the city by Henry Shaw, a botanist who called St. Louis home until he died in 1889. Tower Grove Park was added to the National Register of Historic Places in 1972.
Activities to partake in include going for a stroll, relaxing on the grass, or taking a carriage ride around the park to feel like you've gone back in time. If you're looking for a place to unwind surrounded by nature, this is one of the landmarks of Missouri you must visit!
Scott Joplin House State Historic Site
Scott Joplin may have had a short career as a composer, but it was impactful. Known as the "King of ragtime" and posthumously awarded multiple awards for his composing, Joplin helped shape American music history.
For that reason, the room Joplin called home during his 1902 stay in St. Louis has been preserved. The boarding house is now a museum with exhibits highlighting his life and musical genius.
Washington State Park
Washington State Park is the perfect place for nature lovers. You can spend a day relaxing as you wander through over 2,000 acres of beautiful woodland. You can also swim in the Big River.
Another exciting activity in the park is hunting for petroglyphs found in many stone formations. As you explore, don't forget to admire the breathtaking views of the Ozarks. These vistas alone are a top reason why locals and tourists continue to visit each year.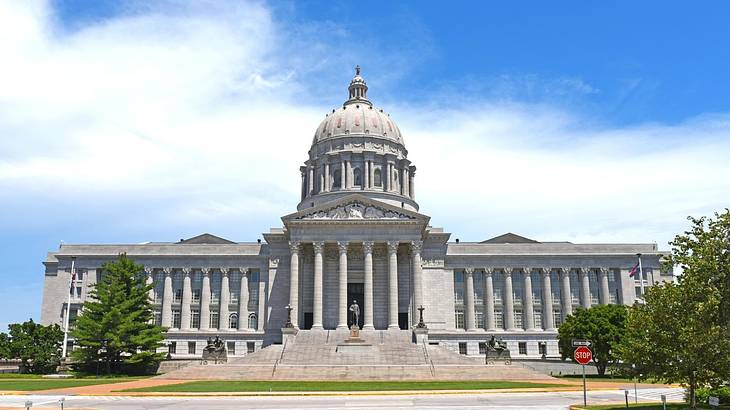 Missouri State Capitol
This Jefferson City landmark might be one of the most important national monuments in Missouri. Steeped in state history, the capitol is the current heart of the Missouri government and has been since 1917.
However, political history buffs won't be the only ones in awe of this monument. Architecture enthusiasts will fall in love with the American Renaissance design inspired by Greek and Roman architecture. Visiting the capitol brings past and present together as no other Missouri landmark can.
Fort Osage National Historic Landmark
Missouri may have its fair share of national historic landmarks, but Fort Osage still distinguishes itself from the rest. William Clark, of Lewis and Clark exploration fame, built this fort in the early 1800s as a military outpost.
At the time, Missouri had just been acquired by the US as part of the Louisiana Purchase. Thus extra protection was needed in the developing state. Though parts of the original fort were destroyed over time, it's been reconstructed to offer visitors as authentic an experience as possible.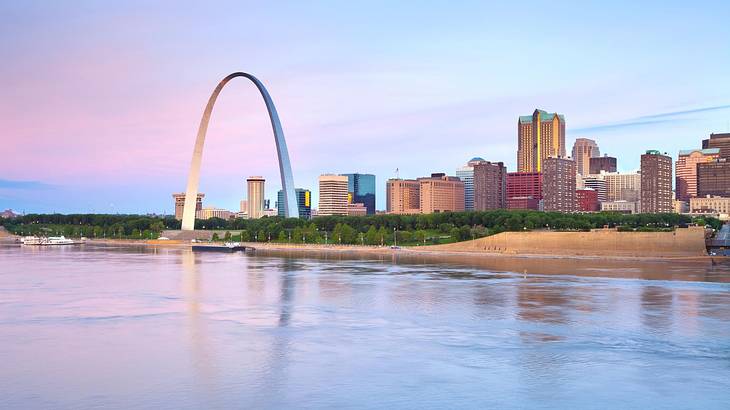 Mississippi River
The mighty Mississippi River is the longest river in the United States and one of the longest in the world. This river passes through multiple states, starting from its source in Minnesota and running to the Gulf of Mexico.
When in Missouri, you should visit the state's portion of this famous body of water. Missouri's stretch of the Mississippi is the inspiration behind famed stories like Mark Twain's Huckleberry Finn. Thus, visiting means getting an authentic taste of American culture and history.
Ulysses S. Grant National Historic Site
Not all Missouri state landmarks get the honor of being on the National Register of Historic Places. However, the Ulysses S. Grant National Historic Site does boast such a claim.
Grant is one of the most influential figures in American history. Not only was he the general who helped bring the Union to victory in the Civil War, but he was also the eighteenth president of the United States.
White Haven was Grant's home in Missouri and has now become a nationally recognized landmark for history lovers to visit.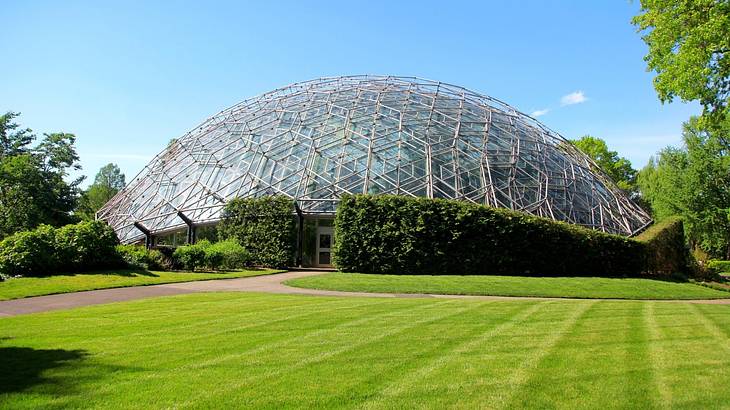 Missouri Botanical Garden
Once the property of Henry Shaw, the Missouri Botanical Garden was donated to the city of St. Louis in 1859. It is the oldest botanical garden in the United States and the second-largest after the New York Botanical Garden.
In the nearly 200 years since it first opened, the gardens have acquired a collection of over 51,000 plants housed across 79 acres of land.
You'll love visiting at any time of year; however, if you're looking for fun fall activities in St. Louis, going to the gardens is an excellent idea as you can see the beautiful changing leaves.
The Mark Twain Boyhood Home & Museum
Mark Twain is perhaps one of the most famous writers in American history. However, before he could grow up to become a renowned author, Mark Twain was a simple Missouri boy.
Mark Twain called this house in Hannibal, Missouri, home back when he was still known as Samuel Langhorne Clemens. Twain lived in the residence from 1844 until he turned 18 in 1853. Today, you can visit his boyhood home, which is now a house museum, and learn more about the father of American literature.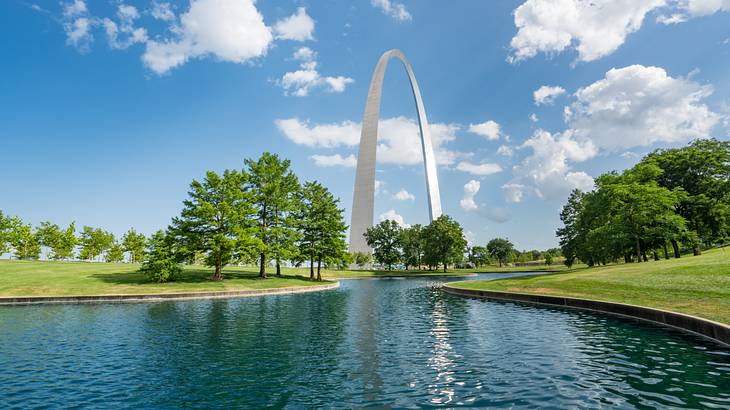 Gateway Arch National Park
Of all the national landmarks in Missouri, the Gateway Arch in St. Louis is probably the most famous. Also known as the Gateway to the West, the arch was built to represent the US westward expansion after the Louisiana Purchase. It's managed by the National Park Service and is open to the public.
The arch was completed in 1965, was added to the National Register of Historic Places in 1987, and has National Park status. When in the city, you can admire this St. Louis landmark in person. Then, check out its visitor center and wander around the tranquil park grounds.
General John J. Pershing Boyhood Home State Historic Site
If you're fascinated by World War I, this is the national historic landmark for you! In adulthood, General John Joseph "Jack" Pershing would serve as the leader of the expeditionary forces during the Great War. He would continue his impressive military career after the war, reaching the prestigious General of the Armies rank.
Yet, before becoming the military man he would become known as, Pershing lived a simple life in Laclede, Missouri. Visiting his boyhood home will give you an insightful look into the past of one of the most underrated heroes of World War I.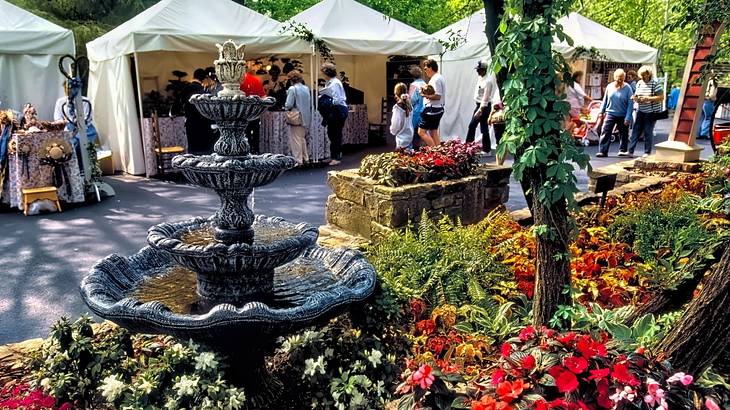 Silver Dollar City
Amusement park and history lovers alike will want to spend a day at Silver Dollar City in Branson, Missouri. The park aims to take visitors back in time thanks to its 1880s theme that explores the state's mining history.
However, you don't have to worry about the thrill-seekers on your trip getting bored by history lessons. There are plenty of theme park-style rides in the park to keep you entertained for hours. There are also themed shows and plenty of eating options so you can spend a whole day having fun!
Laura Ingalls Wilder Historic Home & Museum
Fans of the Little House on the Prairie books and television show may be aware that Laura Ingalls Wilder called Minnesota home for much of her childhood.
However, the place she called home for most of her adulthood is Missouri, and her former home is now one of the most-visited national historic landmarks in Missouri.
Laura Ingalls Wilder's books brought joy and comfort to generations of children, and many of them were written in this very home that you can visit today. You can learn more about the author's life and career at the house.
Onondaga Cave State Park
The state has so many caves that the Missouri nickname of the Cave State was created! You can see some of these caves at Onondaga Cave State Park.
It has only been open to the public as a government-funded service since 1982; however, its namesake caves are much older, with estimates putting them at 600 million years old. Unlike other caves in Missouri parks, you'll be able to travel deep into the cavern systems.
You can get an up-close look at the stalactites and stalagmites that give the caves their distinctly beautiful but other-worldly appearance. After seeing the stunning caves, you can go hiking or canoe on the Meramec River.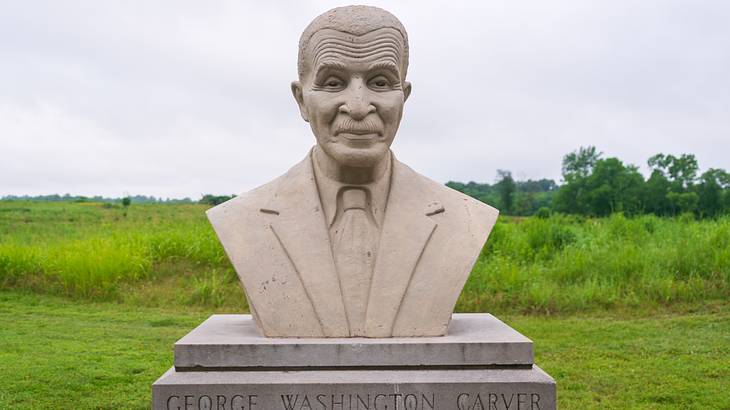 George Washington Carver National Monument
For decades, in pop culture, George Washington Carver was known as "the peanut man." However, not only did Carver find hundreds of uses for peanuts, but he was also a renowned scientist in the field of plants.
The George Washington Carver National Monument was placed in 1943 to honor his great work. This monument is a testament to Carver's scientific advancements and was also the first monument to be established at the birthplace of someone who wasn't an American president.
Christ Church Cathedral
The Christ Church Cathedral in St. Louis opened in 1859 and remains an active church. However, you don't have to be religious to add it to your list of places to see in the state.
The church parish came from humble beginnings. In 1823, the Christ Church parish consisted of 26 people. Over time, however, more people joined the church, leading to the cathedral's construction in the mid-19th century. The church design is inspired by Gothic architecture, making it a breathtaking site for art and culture lovers.
Anheuser-Busch Brewery
Founded in 1852, the Anheuser-Busch Brewery is one of America's oldest breweries. It's also part of the largest brewery company in the world.
Though Anheuser-Busch has factories across the country, its St. Louis location is still the flagship. Visitors of any age can tour the factory and learn a little about the history of one of the biggest companies in the US.
Adults 21 and over can also sample some of the brewery's beers. Kids, instead, will love seeing the famed Budweiser Clydesdales.
In Summary
Did you know that there were so many famous places in Missouri to visit? While everyone knows about St. Louis and its Gateway Arch, this article has shown you that there are other impressive landmarks to see all over the state!
Missouri has something for you if you're a history buff, an art-lover, or enjoy being in the great outdoors. So, what are you waiting for? Get to planning your trip to the "Show Me" state: You won't be disappointed!
Give us feedback about this article
More visual stories related to this article:
---
---
Want to keep exploring?
Subscribe for discounts on tickets and hotels and our latest guides.
Thank you for subscribing
We will be in touch soon with discounts on tickets and hotels and our latest guides.
Want to keep exploring?
Subscribe for discounts on tickets and hotels and our latest guides.
Thank you for subscribing
We will be in touch soon with discounts on tickets and hotels and our latest guides.
Related Articles