35 Omaha Date Ideas to Wow Your Other Half
Destguides may receive commissions from purchases made through affiliate links in this article.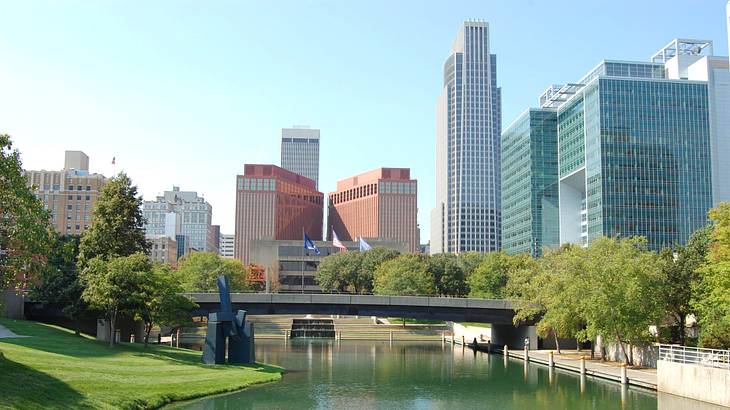 Whether you're visiting Omaha with your partner or live in the city and want to plan a fun date, you'll find no shortage of great daytime and nighttime date spots. Couples can explore The Old Market, visit unique museums, and hang out at parks and coffee shops during the day.
Omaha date ideas in the evening include dining at high-end restaurants and visiting bars, including Tiki bars and breweries. You could even go on a ghost tour; the possibilities are endless! To find out all the fun couples things to do in and around Omaha, keep reading for 35 date ideas.
35 Fun Date Ideas in Omaha, NE
Fun Date Ideas in Omaha, Nebraska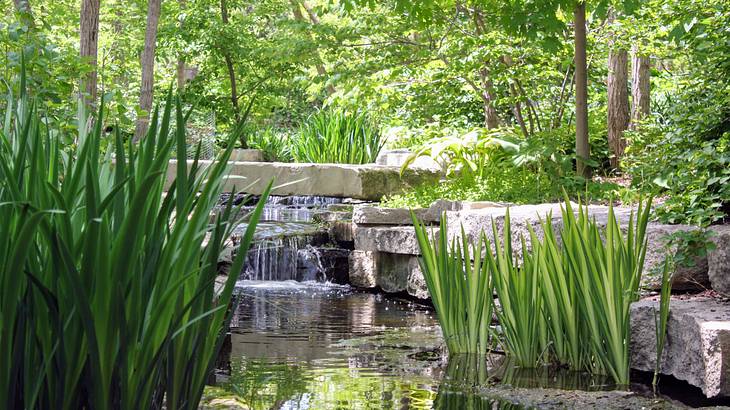 Stroll through the Lauritzen Gardens
Omaha's botanical gardens, the Lauritzen Gardens, are a scenic and romantic place for a date. During a visit to this Omaha landmark, you can wander through pretty themed gardens filled with greenery and colorful flowers. There are also sculptures and art installations to spot as you look around.
Treat your date to ice cream at Coneflower Creamery
Couples with a sweet tooth will be pleased to learn that there are many excellent ice cream shops in Omaha. If you can't decide which one to go to, Coneflower Creamery is a local favorite.
The ice creamery offers a variety of flavors, including classics like chocolate or cookies and cream, plus more unique options. You can also add a range of sauces and toppings to your ice cream or opt for an ice cream sandwich.
Purchase local produce at the Omaha Farmers Market
Looking around the market stalls at the Omaha Farmers Market is a fun thing to do on a weekend morning with your partner. The market is hosted on Saturday at Old Market and Sunday at Aksarben Village.
Vendors sell a range of local items, from produce and baked goods to flowers and ready-to-eat meals and desserts. If you and your date want to cook dinner together later in the day, it's a great spot to pick up fresh ingredients.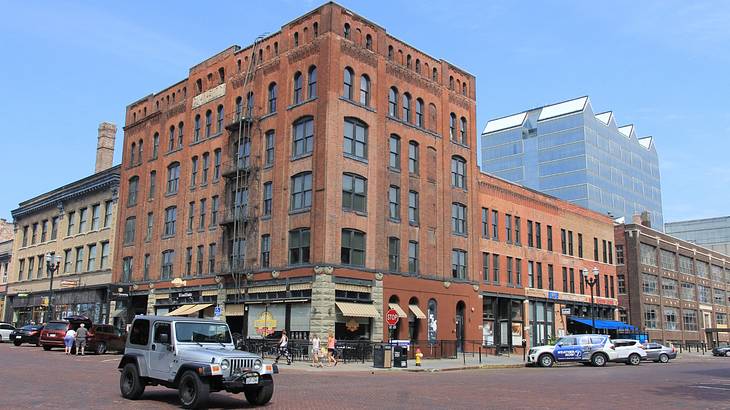 Explore The Old Market
The Old Market is a Nebraska landmark, and looking around this area is one of the best things for couples to do in Omaha, NE. While exploring the neighborhood, you'll find unique independent shops, art galleries, and many bars and restaurants.
Most businesses are open all day, so you could visit for a daytime date or head back at night to check out the bustling bars and pubs.
Treat your date to sweets at the Old Market Candy Shop
If your date has a sweet tooth, taking them to the Old Market Candy Shop is a must! This old-fashioned sweet shop sells retro candy, plus homemade chocolates and fudge. No matter what treats you choose, you're sure to be impressed!
Learn new things at the Durham Museum
The Durham Museum is an interesting place to visit near Downtown Omaha. This attraction covers American history, focusing on the western United States and the state of Nebraska.
As you look around, you'll learn about topics from the last few hundred years and can see many artifacts, including medals, political memorabilia, and vehicles. Visiting the museum is also one of the best first date ideas in Omaha, NE, if you're both interested in US history.
Enjoy the fresh air at the OPPD Arboretum
The OPPD Arboretum is an excellent place to visit with your date on a nice day. The park has trails that go through gardens and woodlands, including areas that have plants native to Nebraska. As you explore, you'll see wildlife as well, like many species of birds.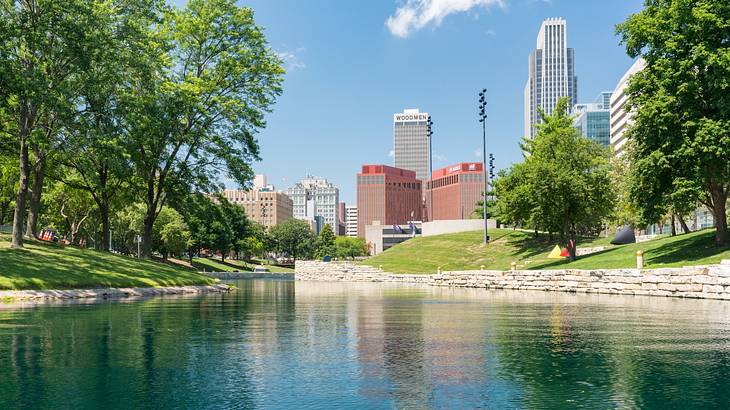 Hang out at Gene Leahy Mall at The RiverFront
Gene Leahy Mall at The RiverFront is a 10-acre urban park located next to The Old Market. It features paths to wander along with your date and lots of places to sit and chat. There are also some scenic water features and sculptures to check out.
Chat over coffee at Hardy Coffee Co.
Whether you're looking for first date ideas in Omaha, Nebraska, or want to do something with your long-term partner, going for coffee is always a good idea. A great coffee shop to check out in Omaha is Hardy Coffee Co.
You can enjoy various coffee drinks made with specialty blends, and baked goods like scones, cinnamon buns, and cupcakes are also available.
See the ships at Freedom Park
Freedom Park is a unique outdoor attraction to visit with your partner. The park has lots of green space, trails, and river views. As you explore, you'll also see military ships, submarines, and aircraft, like the USS Hazard AM-240 Minesweeper and the USS Marlin SST-2 Submarine. Do note that this park is open seasonally, from May to October.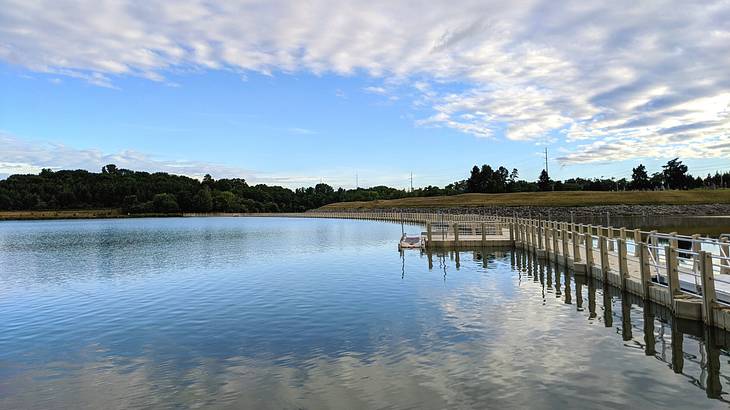 Paddleboard at Standing Bear Lake
Going to Standing Bear Lake on a nice day is a great idea. At the lake, you can paddleboard or kayak on the water, taking in the views. You can also hang out on the shore together, and there are hiking and biking trails through the surrounding forests.
Relax with spa treatments at Sakoon The Spa
Unwinding with some spa treatments is one of the most romantic things to do in Omaha for couples. At Sakoon The Spa, you can book massages, facials, and exfoliating treatments. No matter which option you choose, you and your partner will leave the spa feeling relaxed and rejuvenated.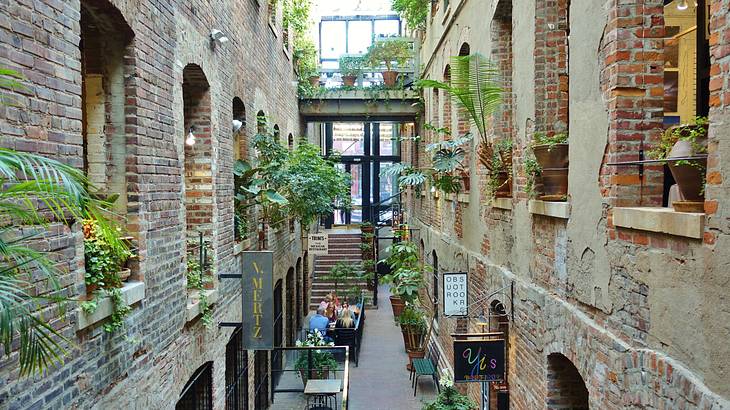 Admire artworks at the Omaha Old Market Artists Gallery
The Omaha Old Market Artists Gallery is a must-visit attraction when exploring The Old Market with your date. The gallery features works by local artists, including paintings, sculptures, jewelry, glass pieces, and more. The area housing the gallery is also beautiful and is a great place to take some pictures together.
Take a walk in Pioneer Courage Park
Another place to go for a laid-back walk with your loved one in Omaha is Pioneer Courage Park. This park features paths that take you past interesting sculptures. The sculptures relate to American pioneers, and depict wagons, horses, and pioneer men and women.
Look around the Bemis Center for Contemporary Arts
Another art attraction to visit is the Bemis Center for Contemporary Arts. Located in the Old Market Historic District, the venue features works by numerous artists, including many Omaha-based artists. You can also attend events here, like live music sets and talks with artists.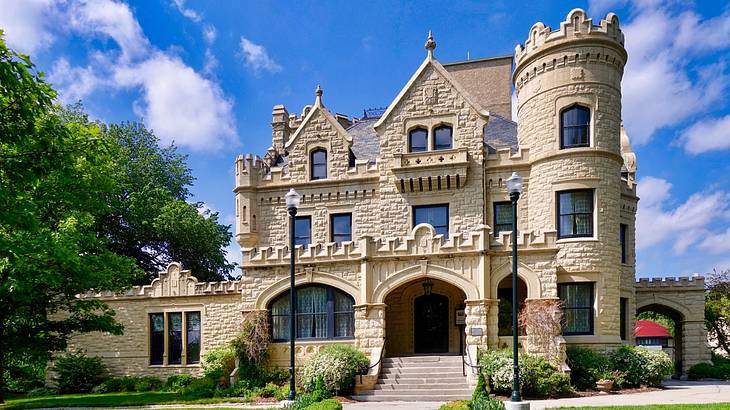 Tour the Joslyn Castle & Gardens
One of the interesting historical attractions to visit with your partner is Joslyn Castle & Gardens. The building was constructed in 1903 and is located in the Gold Coast Historic District.
It was home to Omaha entrepreneurs and philanthropists George and Sarah Joslyn during the first half of the 20th century. During a visit, you can tour the stunning residence before exploring the beautifully manicured gardens.
Stay at the The Farnam
The Farnam, Autograph Collection is one of the most romantic places in Omaha, Nebraska, to stay with your other half. This centrally located and stylish hotel has modern rooms and amenities like an outdoor terrace, a trendy bar and grill, and a high-end cocktail bar.
Get dessert at Sweet Magnolias Bake Shop
Sweet Magnolias Bake Shop is another great spot for couples that have a sweet tooth. The bakery serves various treats, including cinnamon rolls, donuts, and cookie sandwiches. Some dairy-free baked goods are also on the menu, like vegan brownies.
Date Night Ideas in Omaha, NE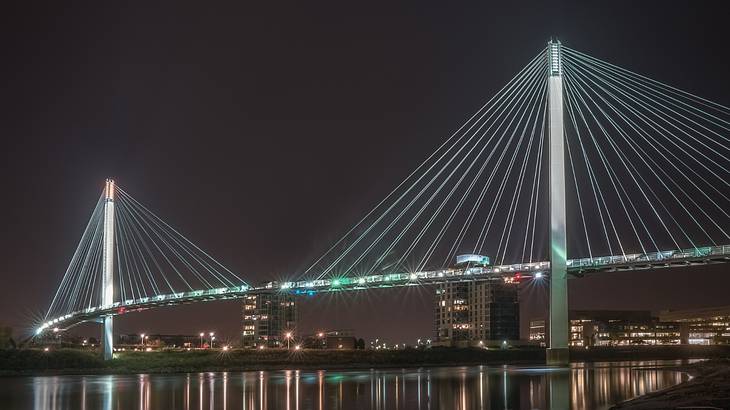 Go for a nighttime stroll by the river
Omaha's nickname, River City, was created due to its beautiful location along the Missouri River. Admiring this famous river with your other half is an excellent date idea. Notably, wandering along the banks of the Missouri River and across the Bob Kerrey Pedestrian Bridge is very scenic at night.
On your walk, you'll be able to view the illuminated Omaha skyline and see across to Council Bluffs, Iowa. If you walk all the way over the bridge, you can also check out Tom Hanafan River's Edge Park, which is open until 10 PM and offers fantastic views of the Omaha skyline.
Have cocktails at Wicked Rabbit
Wicked Rabbit is an excellent spot for a fun date night in Omaha, Nebraska. Located in Hotel Deco, the speakeasy-style bar serves unique craft cocktails like a cranberry whiskey sour or a Count Chocula cereal-inspired drink. The bar sometimes hosts live music acts as well.
Grab a beer at Upstream Brewing Company
There are many excellent breweries to check out together in Omaha, like Upstream Brewing Company. You can choose from a range of beers brewed on-site, and flights are available if you can't decide what to order. Wine and cocktails are also available, and you can order pub food with your drinks.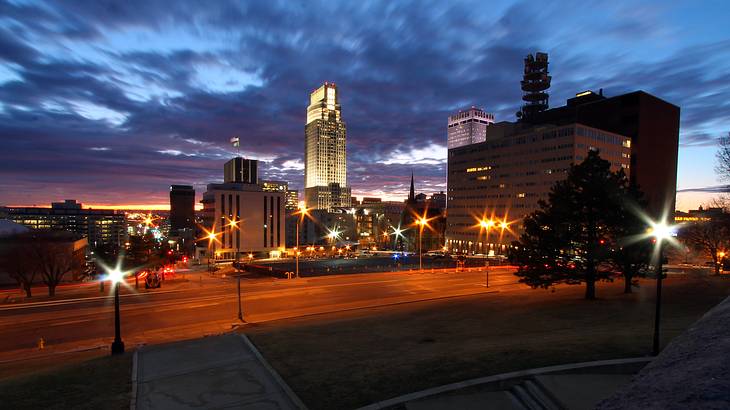 Hear spooky stories on a Omaha ghost tour
While there are lots of bars to visit in the evening, you can find some more unique things to do on a date night in Omaha, NE, such as going on a ghost tour. On the tour, your guide will take you to places with a haunted past, where you can learn about eerie events and ghost sightings.
Sip wine at Nosh Restaurant and Wine Lounge
Nosh Restaurant and Wine Lounge is a sophisticated spot to take your date for a few drinks. The menu features a variety of red, white, rose, and sparkling wines. There are also great happy hour deals, and you can get snacks to share, like truffle fries or bruschetta.
Feel like you're on vacation at Laka Lono Rum Club
Another of the fun Omaha date night ideas is going to Laka Lono Rum Club. At the Tiki bar, you can order tropical drinks, including many rum cocktails. You can also get cool drinks that are set on fire and can take cute tiki cups home after enjoying your beverages!
Most Romantic Restaurants in Omaha, Nebraska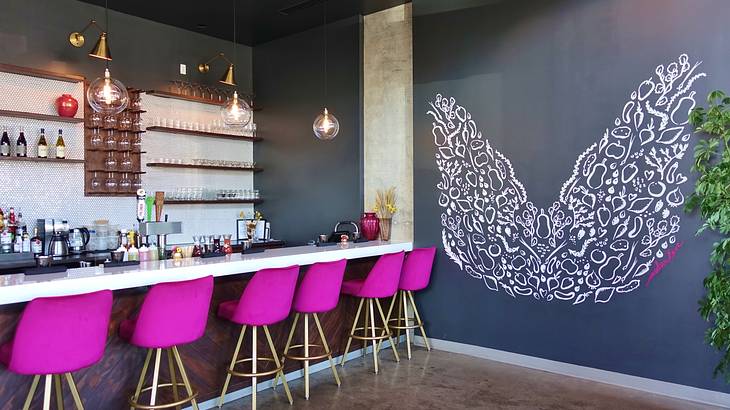 Modern Love
Modern Love is a stylish plant-based restaurant that makes an excellent dinner date spot. You and your partner can order vegan comfort food, like Buffalo wings, poutine, and mac and cheese. Salad bowls, burgers, chick'n sandwiches, and much more are also available. Plant-based desserts and milkshakes, including alcoholic shakes, can also be enjoyed.
Au Courant
Another romantic restaurant to plan a date at is Au Courant. This modern European-style eatery serves dishes using seasonal and local ingredients. Opting for the six-course tasting menu, which includes dessert, is highly recommended, and wine pairings are available.
The Boiler Room
The Boiler Room is a rustic eatery serving contemporary dishes. It's also one of the most romantic restaurants in Omaha, NE! If you get a table, menu options to enjoy include grilled Florida swordfish, pan-roasted bass, and various types of steaks. You can finish your meal with decadent desserts, and wine and cocktails are also available.
Le Bouillon
If you want to treat your date to fine dining dishes, going to Le Bouillon is a must. Menu items include steaks, caviar, and various canapes to start your meal. You can then enjoy desserts, like basque cheesecake or affogato, and wine and cocktail menus are available.
Avoli Osteria
At Avoli Osteria, you and your date can enjoy northern Italian dishes in a cozy yet trendy setting. Dishes on offer include burrata salad, penne alla vodka, and gnocchi with cream sauce. Italian classics, like tiramisu, are available for dessert. Of course, there's also an extensive Italian wine list to choose a bottle or two to accompany your meal.
Fun Things to Do Near Omaha, Nebraska, for Couples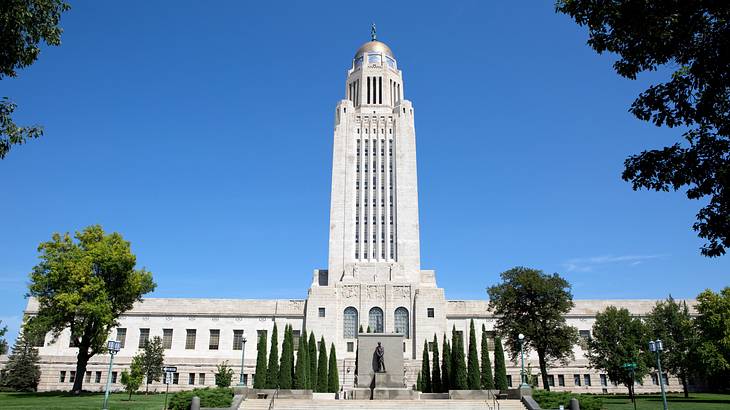 Spend the day in Lincoln, Nebraska
Lincoln is the capital of Nebraska and is conveniently located only an hour from Omaha, making it a fun day or overnight trip destination.
In the city, you can visit the State Capital Building, explore the Sheldon Museum of Art, visit independent shops and eateries, and much more. The city is also surrounded by outdoor attractions, like parks and state recreational areas.
Hike in Eugene T. Mahoney State Park
A fun fact about Nebraska is that Nebraska's Natural Resources Districts has planted over 100 million trees in the state since 1972. Therefore, it's no surprise that you'll find many state parks to visit.
The scenic Eugene T. Mahoney State Park is one of these parks, and it's conveniently located about 30 minutes outside of Omaha in Ashland. At the 637-acre park, you and your date can hike various trails that take you through forests and past lakes.
There are also attractions like ropes courses, and you can stay in the park overnight, with cabins and camping spots available.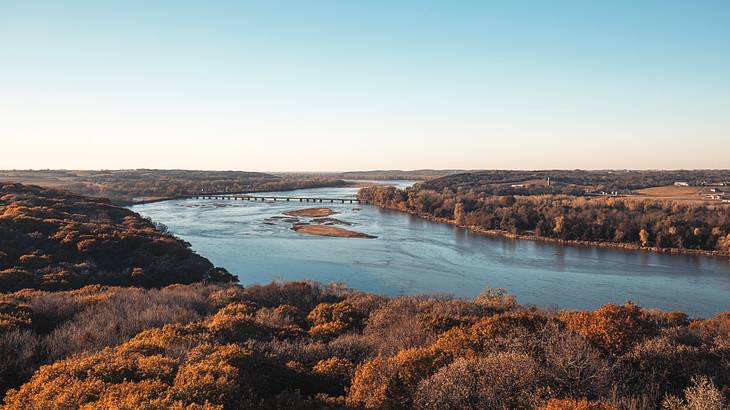 Camp at Platte River State Park
Another park to visit just outside of Omaha is Platte River State Park in Louisville. As the name suggests, the park sits next to the Platte River and can be reached in about 40 minutes when driving from Omaha.
If you and your partner like outdoor adventures, camping at the park is a must! During the day, you can hike or bike, enjoy watersports on the river, and much more. It's the perfect place to spend quality time together surrounded by nature.
Visit the Strategic Air Command & Aerospace Museum
The Strategic Air Command & Aerospace Museum is another of the interesting museums to visit in the Omaha area. This attraction in Ashland features exhibits on aircraft, aviation history, and space travel. During a visit, you can see a variety of commercial and military aircraft, and there's also a planetarium.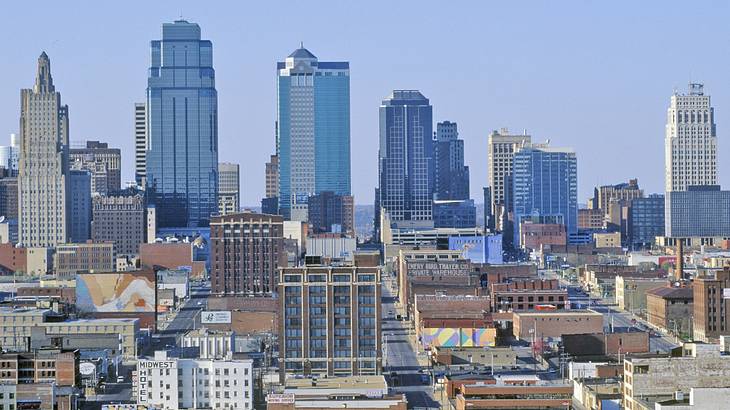 Plan a weekend trip to Kansas City
While there are many romantic things to do in Omaha, Nebraska, you can also plan some fun couples getaways from the city. Located approximately three hours from Omaha, Kansas City is an excellent option for a weekend trip!
Things for couples to do in Kansas City include visiting the Nelson Atkins Museum of Art, wandering around the Loose Park Rose Garden, and getting drinks at the trendy Monarch Bar.
Spot animals at the DeSoto National Wildlife Refuge
The DeSoto National Wildlife Refuge sits on DeSoto Lake and is just across the Nebraska border in Iowa. You can reach the park in around 30 minutes when driving from Omaha. Once you arrive, you can follow trails and look out for animals like Canada geese, raccoons, and white-tailed deer.
In Conclusion
You'll find no shortage of fun things to do on a date in Omaha. Whether you and your partner like exploring the outdoors, checking out museums and art galleries, or finding the best date night bars and restaurants, there'll be something for you in this Nebraskan city!
---
---
Want to keep exploring?
Subscribe for discounts on tickets and hotels and our latest guides.
Thank you for subscribing
We will be in touch soon with discounts on tickets and hotels and our latest guides.
Want to keep exploring?
Subscribe for discounts on tickets and hotels and our latest guides.
Thank you for subscribing
We will be in touch soon with discounts on tickets and hotels and our latest guides.
Related Articles