51 Best Free & Cheap Things to Do in Vegas
Destguides may receive commissions from purchases made through affiliate links in this article.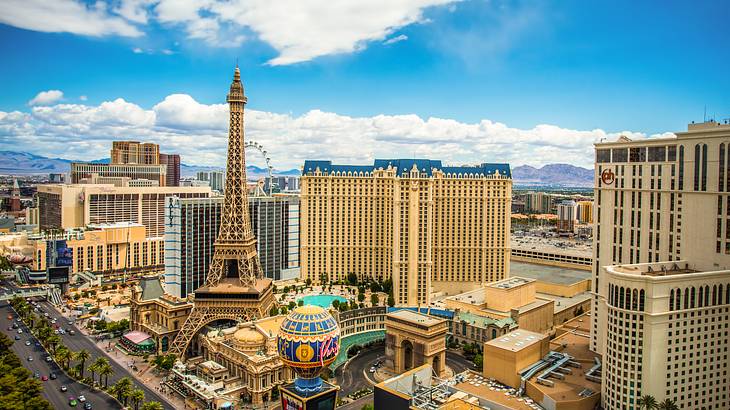 Las Vegas in Nevada, United States, is one of the most popular destinations in the world. Known for casinos, luxury hotels, high-end restaurants, and incredible nightlife, it's no wonder it's such a hit with tourists! Vegas is also associated with spending money, whether to gamble, enjoy a fancy meal, or shop at high-end stores.
However, you'll be pleased to hear that you can visit many attractions at no cost. This list of the best free and cheap things to do in Vegas, Nevada, covers the 51 most popular complimentary attractions in the area.
From mermaid shows to hanging out with flamingos and seeing the world's largest piece of gold, these fun free things to do in Vegas won't disappoint!
51 Cheapest Things to Do in Vegas
Best Free & Cheap Things to Do in Las Vegas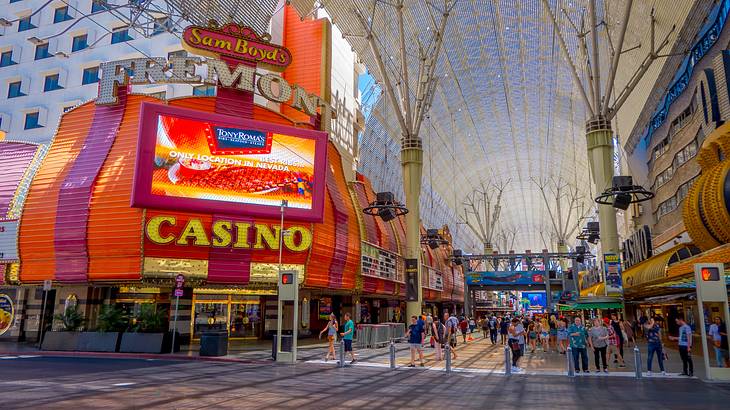 Attend a free concert at the Fremont Street Experience
Located in Old Las Vegas, the Fremont Street Experience features lots of attractions. Many things to do here cost money, but the concerts held on Fremont Street are one hundred percent free.
Most concerts feature rock bands and are mainly held in the summer. While on Fremont Street, don't forget to also check out Viva Vision, the world's largest video screen.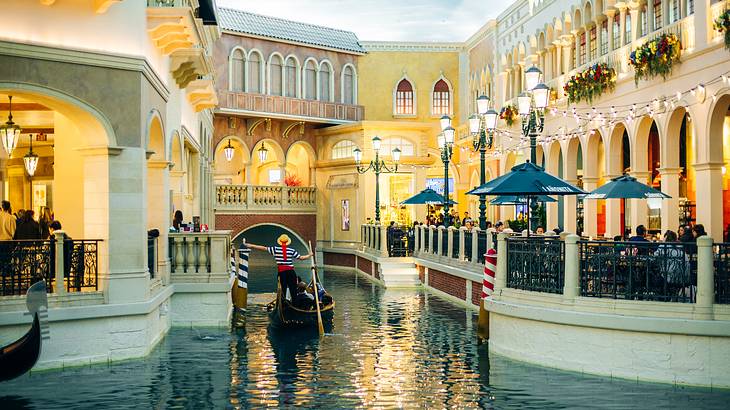 Explore the Grand Canal Shoppes at the Venetian Resort
The Grand Canal Shoppes at the Venetian hotel are highly unique. The inside shopping area is modeled after the canals of Venice, complete with an actual waterway and gondolas. The ceiling is even painted like the daytime sky!
While purchasing anything in the shops will cost, exploring the area will not. It's an ideal place to take some fantastic pictures and get the feeling you're spending the day in Venice.
Enjoy views from the High Roller Observation Wheel
The High Roller Observation Wheel at the Linq Hotel is one of the most famous Las Vegas landmarks. Interestingly, it's also one of the best free attractions in Las Vegas.
While going to the High Roller Ferris Wheel observation deck is $20, you can visit the 107 Skylounge located below the observation deck for free.
You can then take in the 360-degree views before heading back down. If you do want to spend a little, drinks and snacks are available.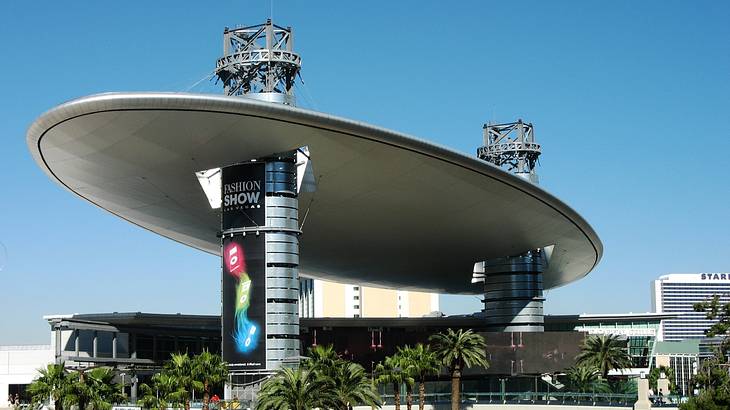 Watch the fashion show at the Fashion Show Mall
If looking for free stuff to do in Vegas, consider attending the fashion show at Fashion Show Mall. On weekends, there is a runway show in the middle of the mall that's free for everyone to watch.
All the incredible outfits modeled can also be purchased after the show if anything catches your eye. Watching the show is a great way to add a bit of style to your Vegas trip without breaking the bank.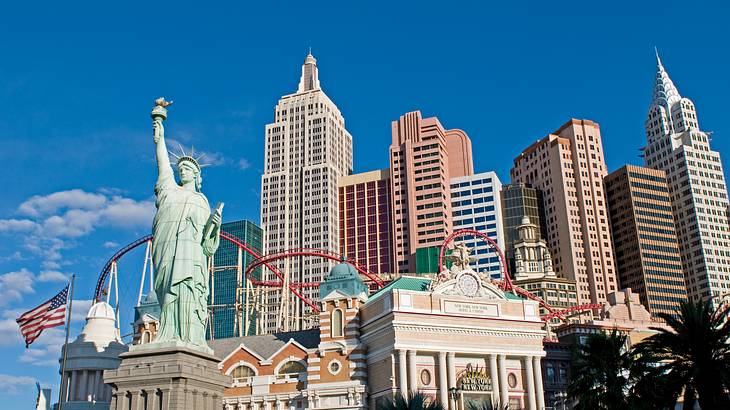 Transport yourself to New York at the New York-New York Hotel & Casino
The New York-New York Hotel and Casino is a fascinating place to explore. The exterior features replicas of well-known New York City landmarks, such as the Statue of Liberty and the Empire State Building.
Inside, you can wander around streets that replica New York's neighborhoods. There are many restaurants and bars to try, but if you don't want to spend money, just exploring the "streets" is a fun activity!
Catch the rainstorm show at the Miracle Mile Shops
Another of the fascinating things to see in Vegas for free is the rainstorm at Miracle Mile Shops. The shopping mall is located in Planet Hollywood Resort and Casino.
The show takes place on the hour, every hour, between 10 am and 11 pm. You'll get to see the pond in the center of the mall suddenly fill up as rainwater pours down. It's definitely a unique experience to watch a rainstorm happening inside!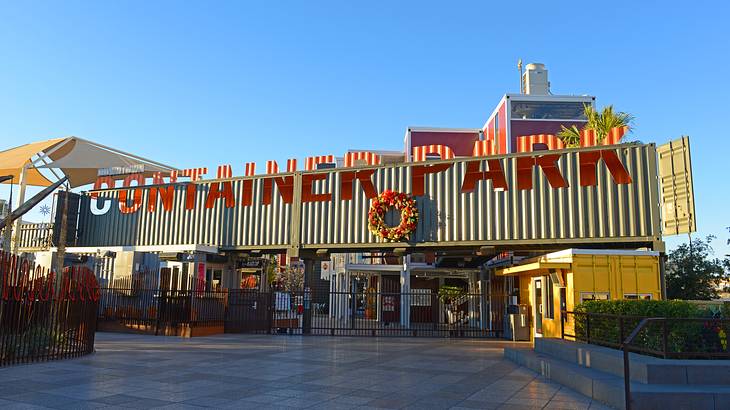 Discover the Downtown Container Park
The Downtown Container Park is one of the fun and free attractions in Las Vegas. This park is actually an open-air shopping mall, with each shop housed in an old shipping container.
Of course, you can spend money at the shops, but just wandering around this unique mall is also a great experience. Having "window-shopped" a little, be sure to see the flame-shooting praying mantis statue!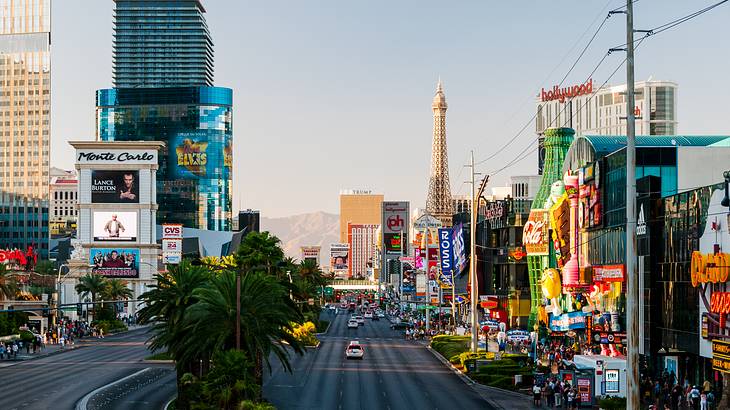 Walk down Las Vegas Boulevard
One of the most iconic and best free activities in Las Vegas is walking down Las Vegas Boulevard, also known as the strip. The strip features a vast array of unique and fascinating attractions.
You'll spot replicas of world landmarks, like the Eiffel Tower, and be amazed by the array of LED illuminations. You may also see street performers and other unique sites.
Walking down the strip will additionally allow you to see the most famous Las Vegas hotels.
Check out TV's Gold & Silver Pawn Shop
If you enjoy the reality TV show Pawn Stars, you'll want to check this free attraction out. The Gold & Silver Pawn Shop is the shop that features in the show, and it's located in Las Vegas.
Entering the shop is completely free, but do expect long lines. Once inside, you can check out all the items on sale and take pictures of this reality TV spot.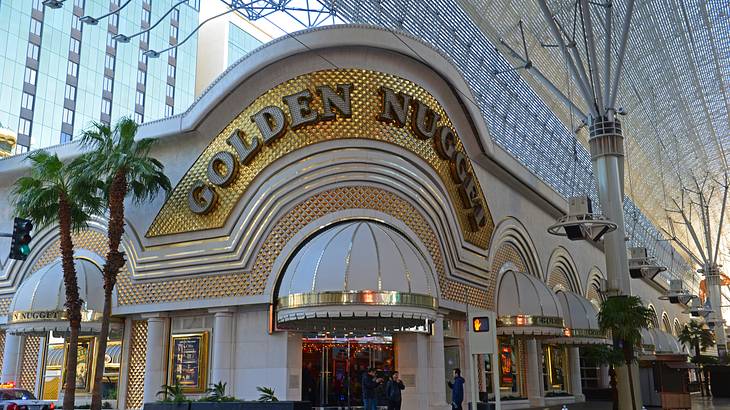 See the Hand of Faith Golden Nugget at the Golden Nugget Hotel & Casino
Las Vegas is known for its extravagance, and this attraction is definitely that! The Hand of Faith Golden Nugget is the largest golden nugget in existence. It can be seen, for free, at the Golden Nugget Hotel and Casino on Fremont Street.
The nugget can be seen in the hotel's lobby. While it calls Las Vegas home today, the golden nugget was discovered in Australia in the 1980s.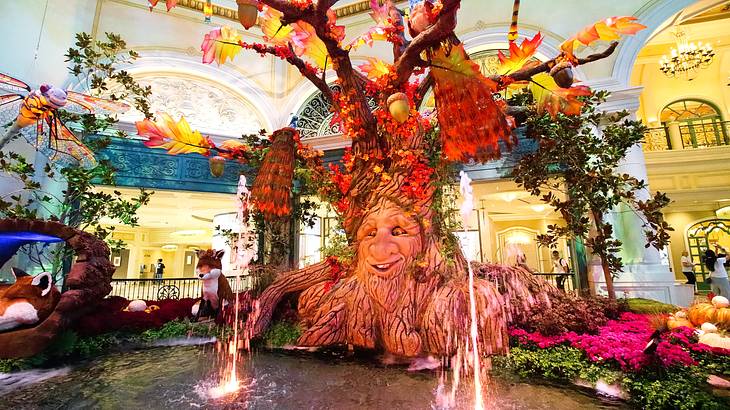 Get lost in the magical Bellagio Conservatory and Botanical Gardens
The Bellagio Conservatory and Botanical Gardens is one of the best free attractions in Las Vegas. This 14,000 square foot conservatory features a range of colorful plants and trees.
The displays also include cute elements, like large butterfly sculptures as well as tigers, foxes, and fairy-tale creatures. The garden design often changes for holidays, including Chinese New Year and Christmas.
During the winter season, a fir tree with a Swarovski crystal tree topper takes center stage.
Learn about TV production at CBS Television City
CBS Television City Research Center is located in the MGM Grand Hotel and Casino. It's a research center used by CBS to get opinions on various topics for CBS, Nickelodeon, Viacom, and MTV.
Entrance is free! Simply head over to watch a screening and offer your opinion on what you saw. CBS often runs incentives to get viewers to come along. So, not only is this a free attraction, you may get something in return for visiting.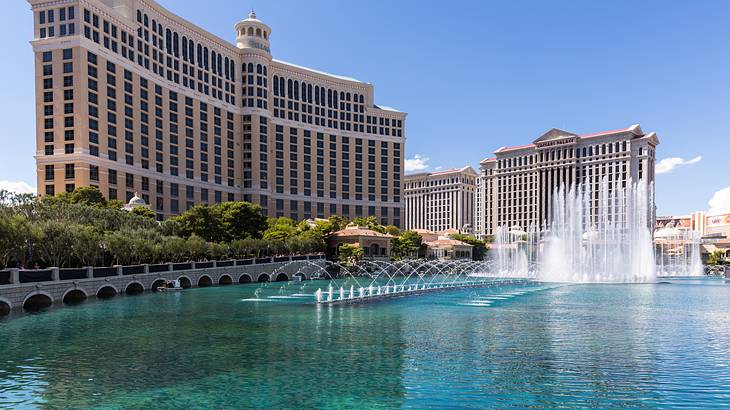 Marvel at the Bellagio Fountain Show
You can't go to Vegas and not watch the dancing fountains at the Bellagio at least once. Conveniently, this iconic show is free to watch any time of the day. To get the best views, try to grab a spot as the previous show is finishing.
Having enjoyed the marvelous water display, head inside the Bellagio Hotel to see the world's largest chocolate fountain, featuring over 2,000 pounds of chocolate!
Wander through Mystic Falls Park
Found in Sam's Town Hotel and Casino, Mystic Falls Park is an indoor park. It's complete with trees and plants, water features, statues, and bright colored lights.
You can access the park during the day or at night when the lights illuminate the area. There's also an evening lights show called Sunset Stampede. In the winter, the park even becomes a winter wonderland, complete with fake snow and Christmas decorations.
Even if you're only in Las Vegas for 36 hours, this is a fun and free stop to add to your to-do list.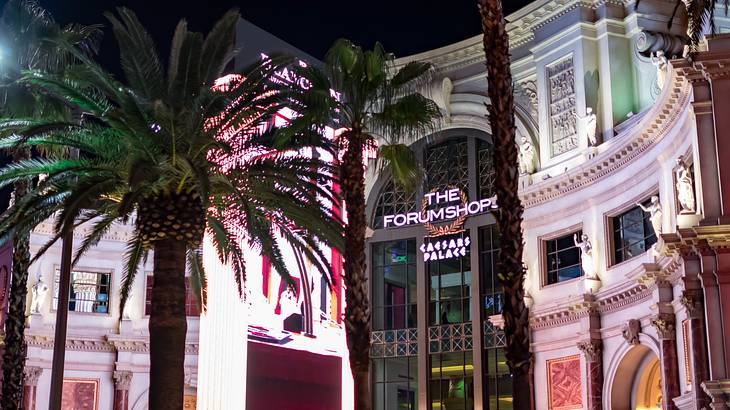 See the Atlantis Aquarium at the Forum Shops at Caesars Palace
The Atlantis Fountain Show at Caesars Palace is another of the fascinating free things to see in Vegas.
The 50,000-gallon aquarium is home to an array of exotic fish. In addition, there is an hourly complimentary show around the aquarium featuring animatronic characters.
Once the show is over, be sure to explore the rest of Caesars Palace. The Trevi Fountain replica is particularly impressive!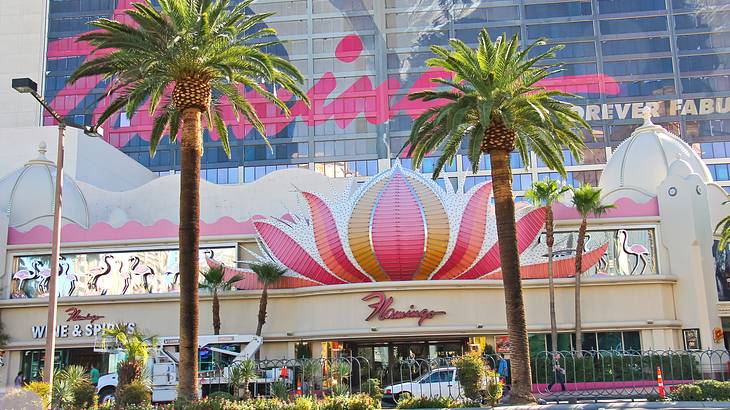 Hang out with flamingos at the Flamingo Wildlife Habitat
Who doesn't want to see pretty pink flamingos? Luckily, you can do so for free in Vegas at the Flamingo Hotel's Flamingo Wildlife Habitat. The habitat allows you to escape from the bustle of Las Vegas and enjoy a four-acre garden.
In the garden, you'll find waterfalls, turtles, tropical birds, and, of course, stunning flamingos. Taking some beautiful pictures here is also one of the best things for couples to do in Las Vegas!
See Mermaids in the Silverton Casino 117,000 Gallon Aquarium
You can expect to see many things in Vegas, but few people think they'll see mermaids. However, you can do just that (for free) at the Silverton Hotel, which features a 117,000-gallon aquarium.
The mermaid show runs at various times throughout the week and features colorful mermaids swimming around the tank. The aquarium is also filled with beautiful tropical fish and coral reefs.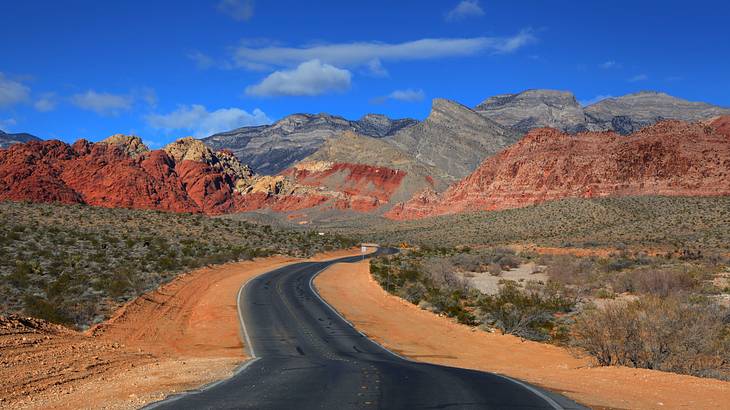 Go hiking at Red Rock Canyon National Conservation Area
Red Rock Canyon National Conservation Area is found in Nevada's Mojave Desert. It features red sandstone mountains and desert views. If you enjoy outdoor activities, then hiking here is highly recommended. Best of all, it's free to do so.
The area has a range of trails to follow that are achievable for most activity levels. Visiting Red Rock Canyon National Conservation Area is one of the top free things to do in Vegas if looking for activities off of the strip.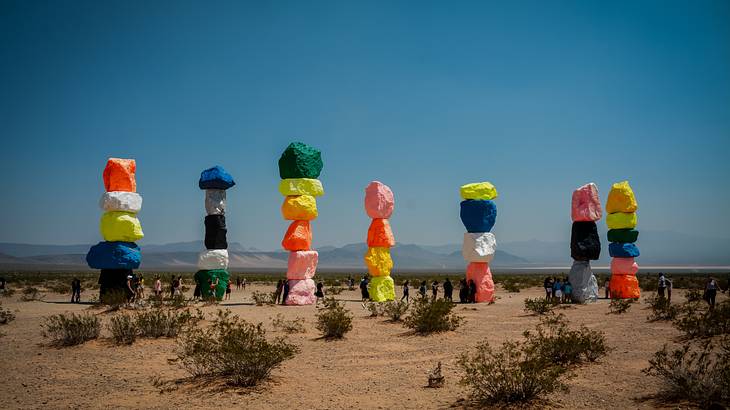 Be amazed by the Seven Magic Mountains
Located about a 20-minute drive from the strip, Seven Magic Mountains is an art installation created by Ugo Rondinone. The artwork comprises seven towers of brightly colored painted boulders that reach 35-feet high.
The view of the vibrant boulders against the desert landscape is an incredible sight to see. You'll also be able to get some beautiful photos, and visiting doesn't cost a thing.
Window shop at the Grand Bazaar Shops
Las Vegas' Grand Bazaar Shops is an open-air mall found on the strip. This shopping destination features an array of stores, restaurants, and fast-food outlets. Grand Bazaar Shops also has many souvenir shops.
If you don't want to shop, window shopping here is still incredibly fun (and free!) Wandering around a range of unique shops with interesting items for sale is a great laid-back activity if you want a break from partying and gambling.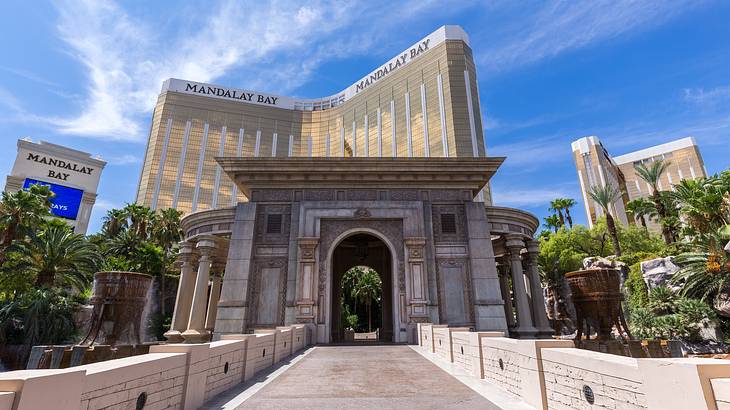 Marvel at sharks at the Shark Reef Aquarium at Mandalay Bay
The Shark Reef Aquarium at Mandalay Bay is a well-known attraction in Vegas. Featuring a 1,300,000-gallon saltwater aquarium and numerous species of sharks, it's an incredible place to explore. Along with sharks, you'll see other sea creatures, including stingrays, turtles, and piranha.
There is an admission fee to see the Shark Reef, but it is not too expensive and Nevada residents benefit from a discounted rate. If you don't want to pay at all, you can see a small part of the aquarium from the entrance.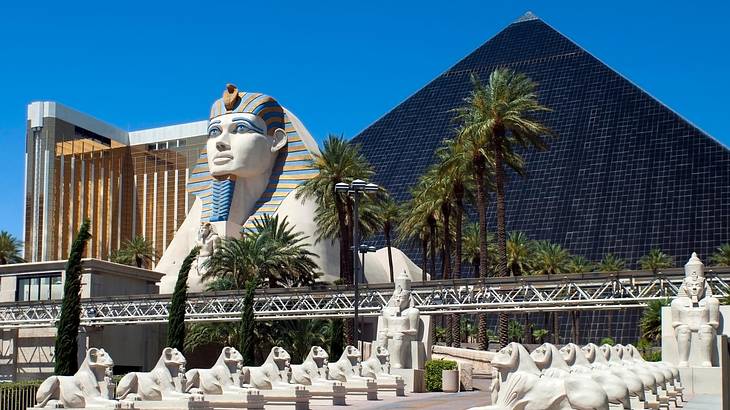 See the largest atrium in the world at the Luxor Las Vegas
One of the cool inexpensive things to do in Vegas is going to the Luxor Hotel and Casino to see one of the largest atriums in the world. The Luxor atrium is the largest in the world based on volume at 29 million cubic feet. This iconic area of the hotel sits within an equally renowned glass pyramid.
You can also see many other world record-breaking landmarks at the Luxor. Additional Fun Vegas facts about the hotel include that the Luxor sphinx is larger than the Egyptian original and that the Luxor houses the world's brightest light beam.
Taste whiskey samples at Spirits & Spice
Spirits & Spice is a specialty store selling spirits, including whiskey and tequila, and spices! The brand has a store at Venetian's Grand Canal Shoppes that's well worth checking out.
Along with searching through the various liquors and spice mixes, you can enjoy a free whiskey experience. This activity allows you to taste some outstanding whiskey at no cost. You'll also learn more about the production of each whiskey and what pairs well with it.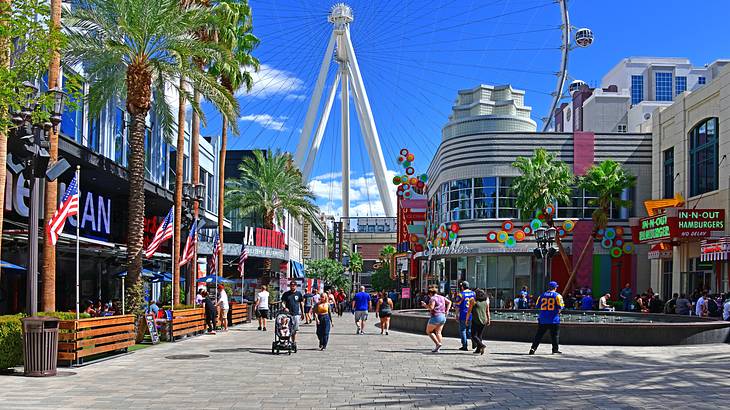 The LINQ Promenade Shops
Another of the affordable things to do in Vegas that involves shopping is going to the shops at the LINQ Promenade. You'll discover over 35 shops and dining options in this open-air entertainment complex.
If you don't want to splurge, checking out all the unique stores, including beauty outlets and candy stores, is still a fun activity. As you go from shop to shop, you can also appreciate views of the High Roller.
Appreciate artworks at The Arts Factory
If you're an art enthusiast, one of the must-see free attractions in Las Vegas is The Arts Factory. Located in a warehouse in the Arts District, this attraction houses an array of artworks.
Mediums to see include paintings, photographs, and sculptures, from approximately 26 artists. The Arts Factory often hosts events too, so be sure to see what's on when visiting.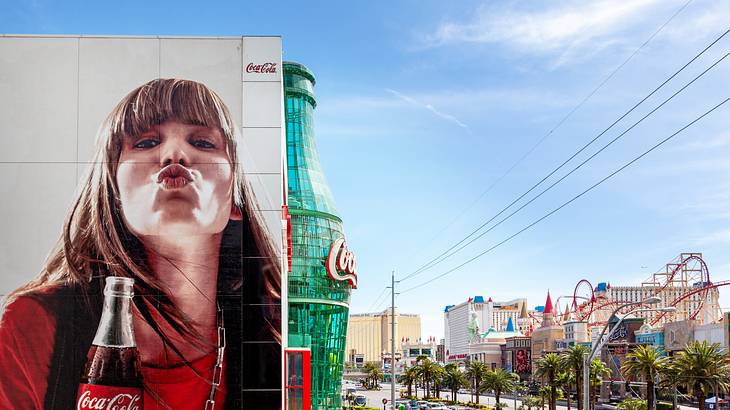 Immerse yourself in everything Coca-Cola at the Coca-Cola Store!
The Coca-Cola Store is located on Las Vegas Boulevard and is dedicated to all things Coca-Cola! This unique store has an array of cola merchandise and Coca-Cola experiences.
To avoid spending money, simply wander around the store and enjoy the interesting displays. Be sure to also take a picture with the giant Coca-Cola bottle at the front of the store. You may even be able to try samples of classic cola and interesting international flavors.
Go on exciting rides at the Adventuredome
Located at Circus Circus Hotel and Casino, the Adventuredome is an indoor amusement park. Similar to an indoor funfair, this attraction features roller coasters, rides, and carnival games.
There is also an arcade and adventure activities to try, like rock climbing on an indoor wall. Going to Adventuredome isn't free, but a ticket is affordable. To save money, buy a day pass and avoid buying overpriced refreshments.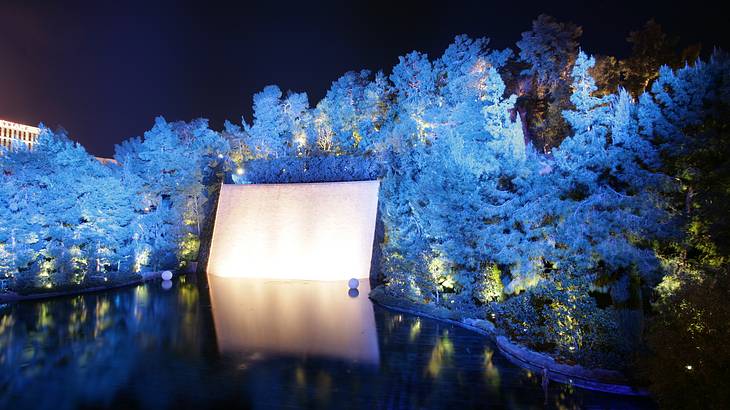 Watch the magical Lake of Dreams Show at Wynn Las Vegas
The Wynn Hotel is a stylish resort on the strip that's also one of Las Vegas' most romantic hotels. If you don't stay at the Wynn, still stop by for the Lake of Dreams Show.
This free puppetry and light show runs every 30-minutes in the evenings. It is held around the Lake of Dreams, a fairytale-style lake within the hotel. The exciting and magical show is sure to please viewers of all ages!
Find the Downtown Art Murals
In downtown Las Vegas, you can find over 30 colorful street art murals. Visiting the murals is a must for art lovers, and you get some exciting photos here.
A notable mural is found on Seventh Street and is the first solar-powered artwork in the area. This piece by Felipe Pantone features lights powered by solar, with extra energy produced sold back to the Las Vegas grid!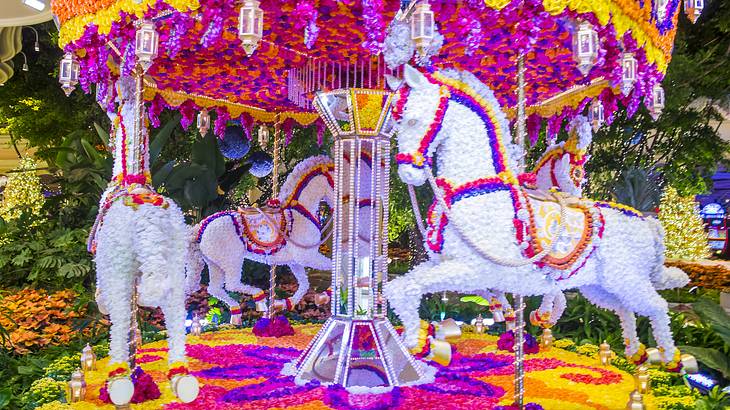 Discover the Wynn botanical garden
The Wynn Hotel is another Las Vegas resort with its own botanical garden. The garden is found within the casino and is a calm oasis from the excitement of the rest of the hotel. While exploring, you can discover a range of greenery, vibrant colored flowers, and some statues and water features to admire.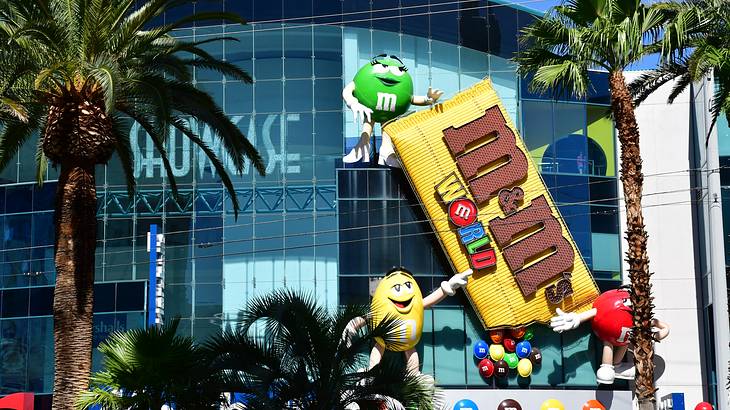 Get lost in the amazing M&M's World
When on the strip, you can't miss M&M World. The store is incredibly noticeable, with giant M&M statues and a candy bar on the exterior.
Inside, you'll be amazed by the rows of colorful M&Ms. If you want to spend a little, you can purchase customized M&Ms or create a mix with numerous colors and flavors. Don't forget to take some fun pictures with the M&M characters too!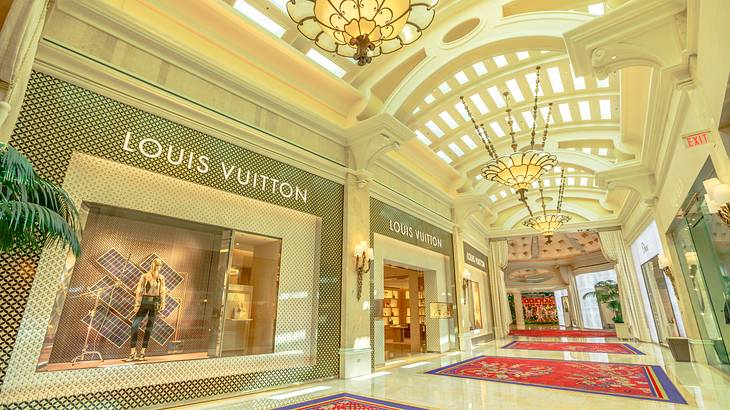 Explore luxury stores at the Wynn Plaza Shops
The Wynn Plaza Shops are home to luxury stores. However, if you're on a budget, simply wandering around these shops can be a fun experience. Stores to explore include Balmain, Off-White, and Stella McCartney. You can also find various art pieces by famous artists on display.
Snap vibrant pictures at Studio 71
Found in the Plaza Casino, Studio 71 is one of the coolest inexpensive things to do in Las Vegas. Designed as a backdrop for breathtaking photos, the attraction has vivid walls complete with glitter, neon sign, mirrors, and unique props.
From walls with colorful roller skates to an area covered in glitter balls, this retro destination is an Instagrammer's dream! Best of all, visiting and taking photos is free for everyone.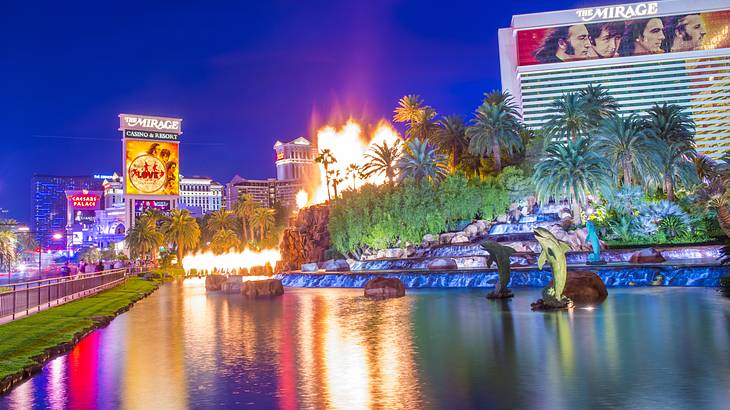 Witness the Mirage volcano erupt
The Mirage Hotel is a quirky destination, with a tropical-style pool and even a volcano! One of the must-do things in Vegas is heading to the hotel to watch the volcano "erupt."
A light show mimics a volcanic eruption every hour from 7 PM to 11 PM. The show is complete with music and special effects. While at the Mirage, you can also visit the fun front desk aquarium for free.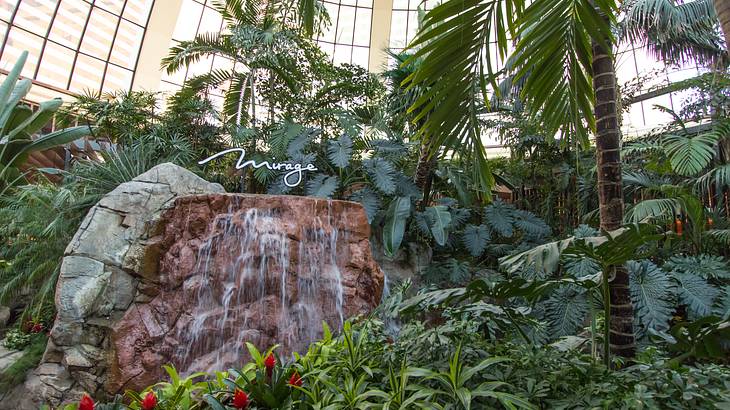 Wander around the floral atrium at the Mirage
The Mirage is also home to a stunning floral atrium which is free for all to explore. The botanical garden-style area offers visitors an escape from the bustle of casinos.
You can see lush plants, water features, and exotic flowers. If you need to unwind while in Vegas, going to the Mirage floral atrium is highly recommended!
Appreciate the breathtaking "Fiori di Como" by Dale Chihuly at the Bellagio
Found above the Bellagio check-in desk, the Fiori di Como sculpture by Dale Chihuly is breathtaking. This colorful art installation includes more than two thousand glass flowers. When passing the Bellagio, stopping in to see this masterpiece is an absolute must.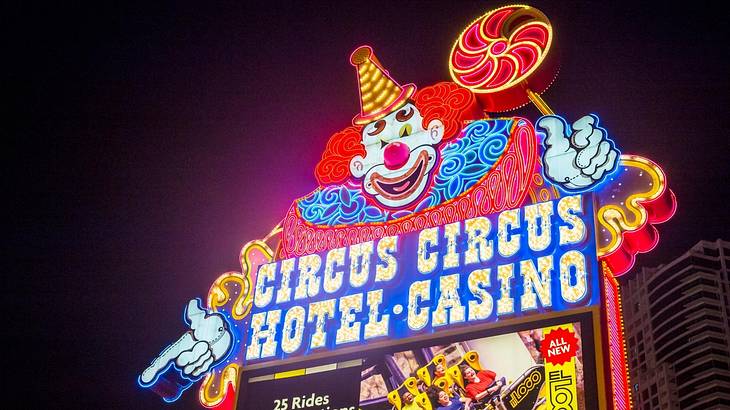 Be amazed by circus acts at Circus Circus
One of the unique free activities in Las Vegas you can't miss is watching the circus show at Circus Circus. This performance also holds the title of being one of the world's largest permanent circuses.
The free show runs every hour and features an array of incredible acts. Acts to enjoy include juggling, trapeze acts, and performances with clowns.
Pay respect at the Tupac Memorial
Found behind Ballys on the corner of Flamingo Road and Koval Road is the renowned Tupac Memorial.
The memorial is a simple telephone pole covered in messages and tributes left for the iconic rapper. It sits near where Tupac was fatally shot in 1996 and is a must-visit for all Tupac fans.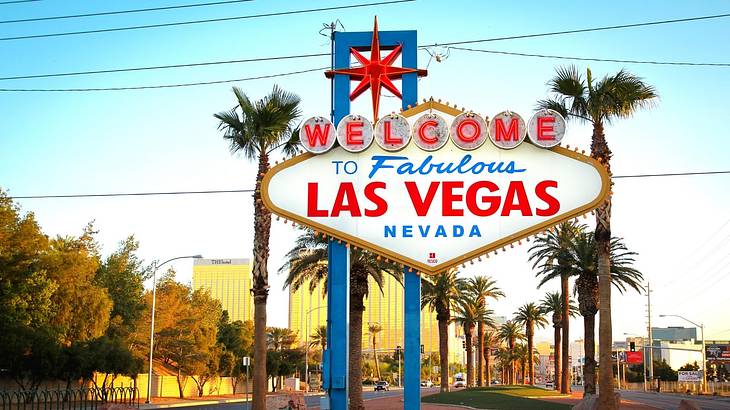 Stop by the Welcome to Fabulous Las Vegas Sign
You can't go to Sin City without seeing the Welcome to Las Vegas sign. Luckily, you can see it for free just off Las Vegas Boulevard.
You can take a cab to the sign or take the monorail to Mandalay Bay and walk. At the iconic landmark, you can get lots of pictures that will act as the ideal Las Vegas souvenir.
Hear a dueling piano show
One of the most fun cheap Vegas attractions is Harrah's Piano Bar. At this location, you can watch dueling piano shows and sing along to songs you know. Harrah's also offers an extensive drinks list, karaoke, and other live music shows.
The Bar at the New York New York Hotel is another amazing place to see a dueling piano show.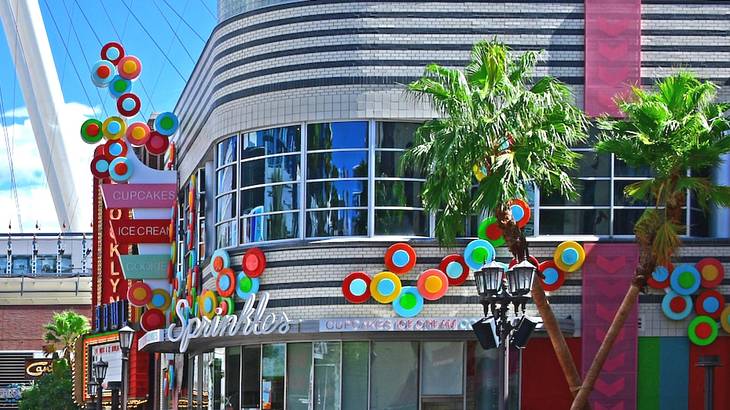 Use a cupcake ATM at Sprinkles Cupcakes
When in Las Vegas, you may expect to need to use an ATM, but going to a cupcake ATM probably isn't what you had in mind! However, Sprinkles Cupcakes allows you to do just that at multiple Vegas locations.
Both Fashion Show Mall and Galleria at Sunset have cupcake vending machines. Getting a cupcake is around 4 USD and is well worth it. Mccarran International Airport also has a Sprinkles ATM for a preflight treat.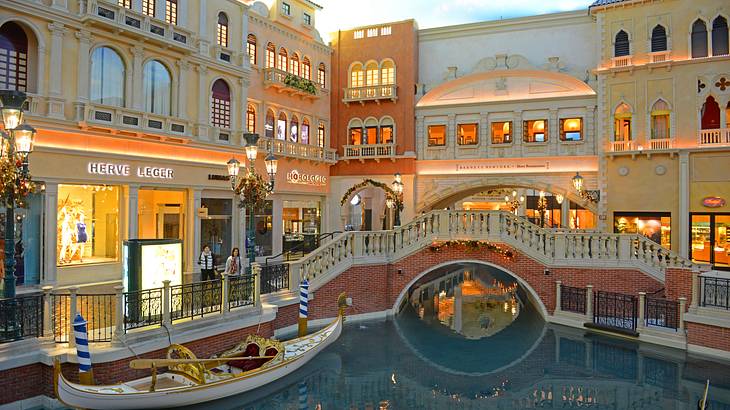 Experience Streetmosphere at the Grand Canal Shoppes
Streetmosphere is an exciting free performance held in the Grand Canal Shoppes at the Venetian. The show features classical musicians, dancers, and actors. Many of the performances are Italian-themed, and you can enjoy the show with the sights and sounds of Venice surrounding you.
See the waterfall in the Palazzo atrium
The Palazzo at the Venetian Resort and Casino features a scenic waterfall in its atrium. The waterfall also features a pool which is decorated with holiday-themed decorations throughout the year. Anyone can view the waterfall, even if not staying at the hotel, and it's a great attraction to take a few pictures of.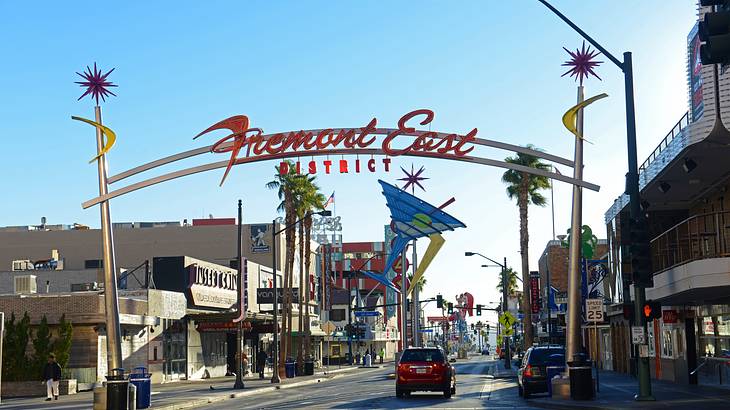 Jog in downtown Las Vegas
If you like staying active and outdoor activities, one of the most fun cheap things to do in Las Vegas is going for a jog in downtown Vegas. As you run, you can enjoy the sights of Old Las Vegas.
You can follow a range of routes past Fremont Street and other famous Nevada landmarks. There are also fewer pedestrians to pass here than when running on the strip.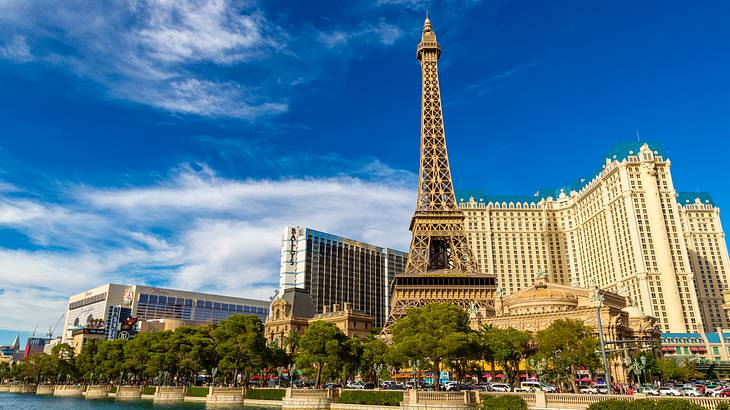 Take in the views from the Eiffel Tower Viewing Deck
You can discover a replica of the Eiffel Tower at the Paris Hotel. One of the cool affordable things to do in Las Vegas is going up the tower to the viewing deck.
On the deck, located on the 46th floor, you can take in panoramic views of Sin City. If you decide to splurge, also book a table at the Eiffel Tower restaurant.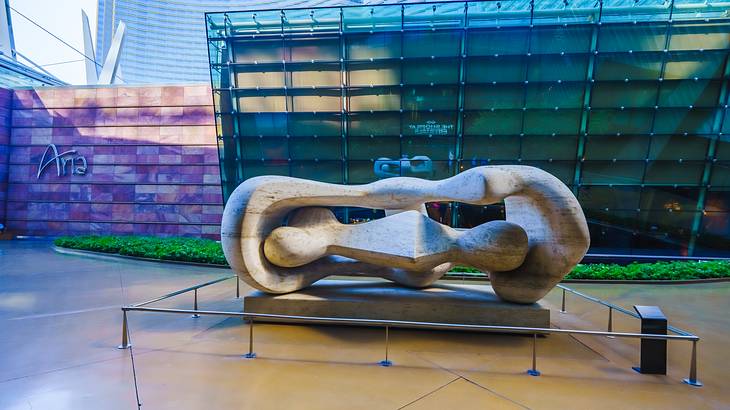 Appreciate fine art at the Gallery at ARIA
The ARIA is another amazing Las Vegas hotel. Best of all, this hotel features an impressive collection of fine art that's free to view.
When visiting, you'll discover a range of exciting sculptures, paintings, and installations by renowned artists. Talented artists with works on display include James Turrell, Maya Lin, and Frank Stella. It's a must-see collection for art and culture enthusiasts!
Catch the game at TAP Sports Bar
TAP Sports Bar is found at the MGM Grand on Las Vegas Boulevard. If you love sports, then catching a game here is a must.
Sports you can watch range from NFL, NHL, NBA, or MLB games to boxing fights, golf, and soccer. You're welcome to come in to watch for free, or you can grab a beer and some bar snacks as you cheer your team.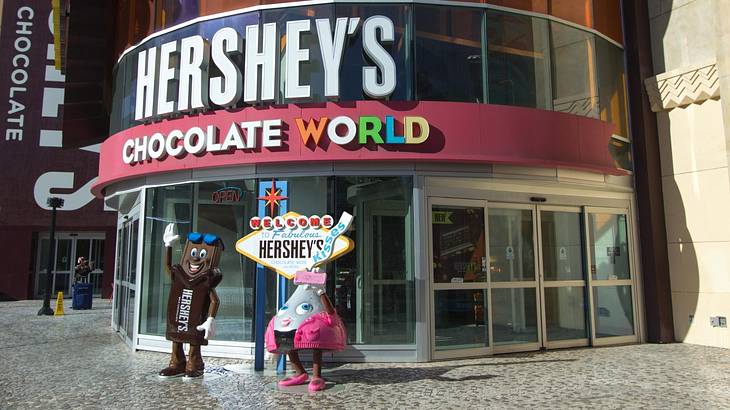 Immerse yourself in chocolate merchandise at Hershey's Chocolate World
Are you a chocolate lover? Then one of the affordable things to do in Las Vegas that you can't miss is going to Hershey's Chocolate World. The exciting store features everything Hershey!
You can take your picture with characters, star in a Reese's Peanut Butter Cup ad, browse merchandise, and find numerous varieties of Hershey's chocolate. You'll also discover a chocolate sculpture of the Statue of Liberty and can create customized chocolate bars.
Get cute treats at the Hello Kitty Cafe
One of Vegas' most adorable attractions is the Hello Kitty Cafe. This food truck-style cafe, located on the strip, features lots of pink and images of the famous Sanrio cat, Hello Kitty.
At the cafe, you can get affordable sweet treats and beverages, including iced tea, coffee, and lemonade. All products come in cute Hello Kitty boxes and cups!
Best Free & Cheap Things to Do Near Las Vegas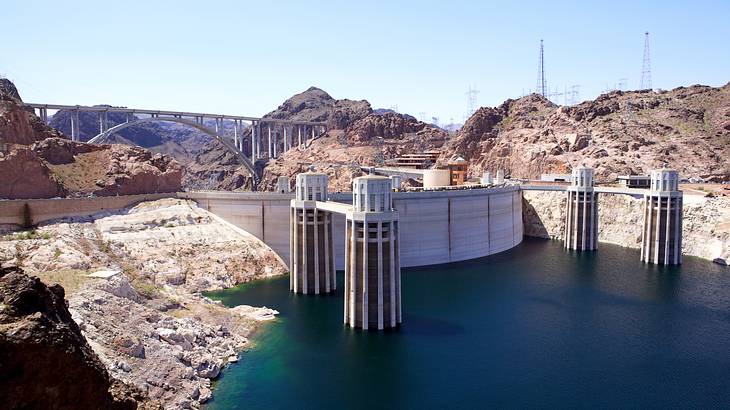 Travel to Hoover Dam and the Mike O'Callaghan-Pat Tillman Memorial Bridge
Hoover Dam is a must-visit North American landmark. Found 45-minutes from Las Vegas Boulevard, this iconic site is free for all to see.
The arch-gravity dam was constructed in the 1930s and provides irrigation as well as protects states on the Colorado River from flooding.
When visiting, check out the Mike O'Callaghan - Pat Tillman Memorial Bridge, which offers stunning views of the dam.
Visit the Ethel M Botanical Cactus Garden and Ethel M Chocolate Factory
One of the best things to do off of the Vegas strip is visiting the Ethel M Chocolates Factory and Botanical Cactus Garden. This unique attraction houses a botanical garden with various species of Cacti.
Once you've looked around the garden, you can tour the chocolate factory. You'll learn how luxurious chocolates are made and can get some to take with you. Best of all, it's all free (minus any chocolate purchases.)
In Summary
Las Vegas offers a host of exciting attractions. While many of these things cost money, you'll also discover a range of free stuff to do in Vegas.
Even if you have a larger vacation budget, checking out these free attractions is well worth it!
Give us feedback about this article
More visual stories related to this article:
Want to keep exploring?
Subscribe for discounts on tickets and hotels and our latest guides.
Thank you for subscribing
We will be in touch soon with discounts on tickets and hotels and our latest guides.
Want to keep exploring?
Subscribe for discounts on tickets and hotels and our latest guides.
Thank you for subscribing
We will be in touch soon with discounts on tickets and hotels and our latest guides.