51 Fun Things to Do in Vegas Off the Strip in 2022
Destguides may receive commissions from purchases made through affiliate links in this article.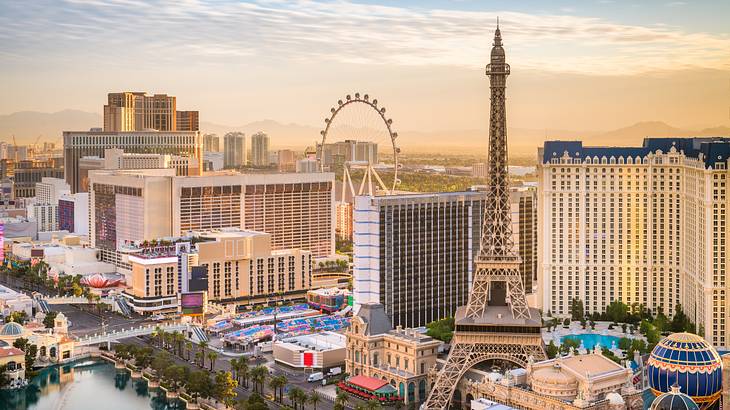 Las Vegas in the state of Nevada, United States, is an incredible destination. The city features casinos, luxury hotels, and unique experiences. Many tourists spend the majority of their time on the Vegas strip, also known as Las Vegas Boulevard. The strip is where most major attractions are located.
However, there are numerous fun things to do in Vegas off the Strip that shouldn't be missed. These off-strip activities include visiting an array of national parks, checking out some fascinating museums, and flying above Las Vegas in a hot air balloon!
If you've explored the strip enough and want to find some new activities to try in Sin City, read on for 51 fun things to do in Las Vegas off the strip.
51 Las Vegas things to do
51 Fun Things to Do in Las Vegas Off the Strip
Las Vegas Things to Do Map
A map of Las Vegas. Use the map to explore all the things to do.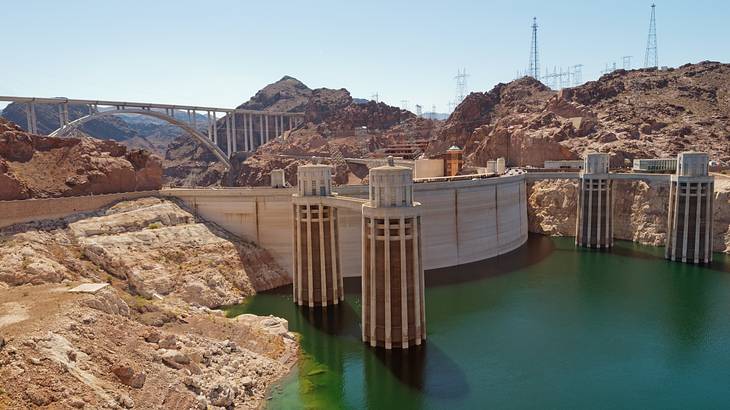 Visit Hoover Dam
Hoover Dam is one of the most-visited Nevada attractions and one of the most famous landmarks in the world. The dam sits on the Arizona-Nevada border and is 45-minutes from the strip when driving.
At Hoover Dam, you can take in this vast structure and walk across the Mike O'Callaghan - Pat Tillman Memorial Bridge for incredible views. If you want to try a Hoover Dam tour, there are numerous options to choose from. Some of these tours also hit other places of interest in Nevada.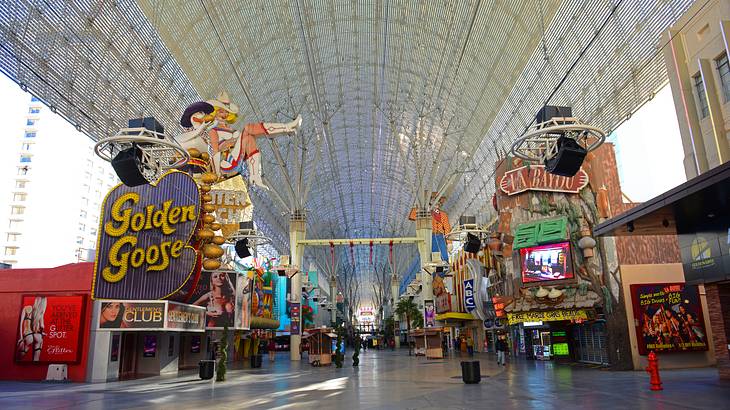 Check out the Fremont Street Experience
Fremont Street is a well-known spot off of the Las Vegas strip. Being in Old Las Vegas, it's still easy to get to from the boulevard. The Fremont Street Experience includes an illuminated mall, casinos, and free live shows.
You can catch free live rock music shows in the summer, check out the world's largest gold nugget at Golden Nugget Casino, and shop in a variety of stores. Fremont Street has similar vibes to the strip but is much more retro and laid-back.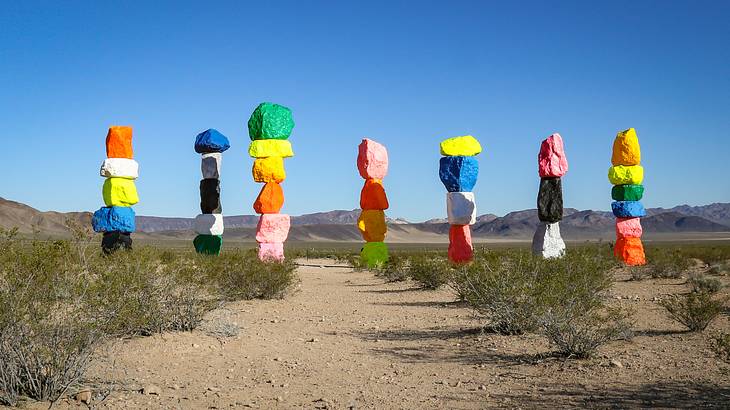 Appreciate the Seven Magic Mountains installation
Seven Magic Mountains is an art installation featuring seven brightly-colored boulder towers in the desert. Visiting Seven Magic Mountains is one of the best things to do off the Vegas strip. It's also one of the fun free activities to do in Las Vegas.
The unique display draws in thousands of tourists and is a great photo op! Lots of tour operators do trips to Seven Magic Mountains. These include direct trips and those that visit other areas of interest, like Red Rock Canyon.
Rise above Vegas on a hot air balloon
When tourists want to view the city they're visiting from above, they often opt for a helicopter tour or small plane trip. But in Vegas, those aren't your only options! A super fun way to get a bird's eye view of the strip and greater Las Vegas is by taking a hot air balloon ride.
Once in the hot air balloon's basket, you'll fly above the Pahrump Valley. In the air, views of the desert, mountains, and landmarks of Las Vegas will be astonishing. You'll even be given a glass of champagne to enjoy as you float high into the sky.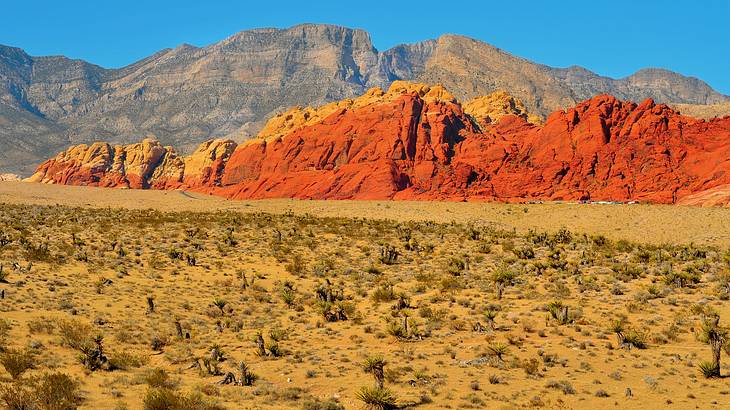 Hike at Red Rock Canyon National Conservation Area
Red Rock Canyon National Conservation Area is a popular Las Vegas landmark found off the strip. The vast park is in the Mojave Desert and is home to various desert animals and plants.
The park is an incredible place to hike or bike, with numerous trails to follow. You'll also find a variety of Red Rock Canyon tours, including hiking tours, horseback riding tours, and helicopter trips. A visit to Red Rock Canyon is the ideal way to relax and escape the bustle of the Vegas strip.
Learn about atomic weapons at the National Atomic Testing Museum
The Atomic Testing Museum is found about a ten-minute drive off of the strip. The museum houses exhibits relating to the Nevada Test Site and other elements of atomic testing in the US.
Displays include atomic testing artifacts and a large nuclear reactor. You'll also learn how atomic weapons are developed, tested, and deployed and can experience the simulation of an above-ground test in the Ground Zero Theater.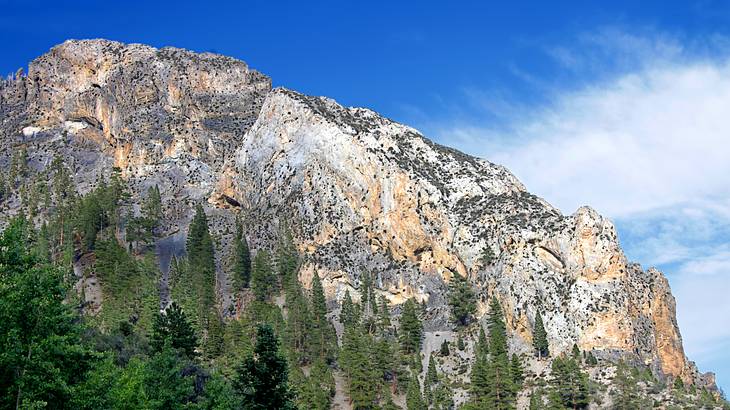 Explore Spring Mountains National Recreation Area
Spring Mountains National Recreation Area is another of the great outdoor places to visit in Las Vegas off the strip. The park is conveniently just a 20-minute drive from Las Vegas boulevard. The park has a large mountain range and numerous species of plants and animals.
This attraction is the perfect hiking or horseback riding spot. You can also picnic here and go mountain biking or rock climbing. If you don't feel like being active, Spring Mountains National Recreation Area is also the ideal place for a scenic drive.
Interact with nature at Springs Preserve
Springs Preserve is a 180-acre site with a museum, botanic garden, butterfly habitat, and nature walks. Trails to follow include the Springs Trail, which takes you through a turtle habitat, and the Cienega Trail, featuring lush wetlands.
You can additionally visit the Origen Museum, which has more than 75 exhibits. These displays relate to nature and wildlife and cover topics like animal habitat conservation and solar energy production.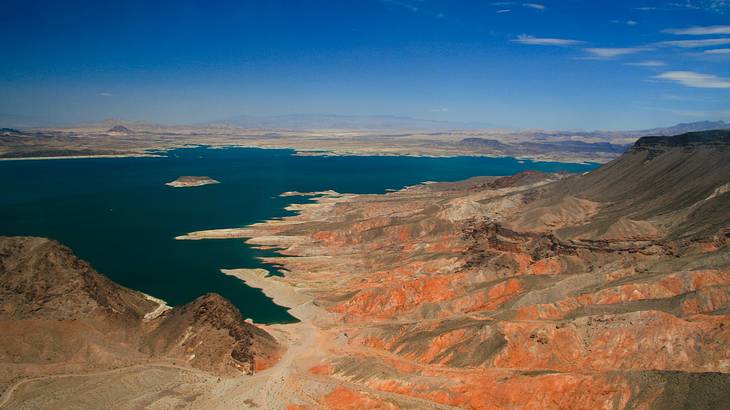 Enjoy watersports at Lake Mead
Lake Mead is a reservoir formed by Hoover Dam. It also happens to be the largest reservoir in the US. There are multiple activities to try at Lake Mead. These include tours of the lake and Hoover Dam, kayaking, and taking a helicopter tour over the lake and surrounding area.
You can additionally fish, boat, and water ski on the lake. Packing a picnic and heading to Lake Mead for a relaxed day of watersports is a fun idea!
View old illuminations at the Neon Museum
The Neon Museum is home to an array of old Las Vegas signage. Signs to see include those from well-known hotels and casinos, like the Hard Rock Hotel, and other Vegas attractions.
You can visit during the day, but it's most interesting to go at night when the illuminated signs shine in all their glory. The museum is also conveniently located just a ten-minute drive from the strip.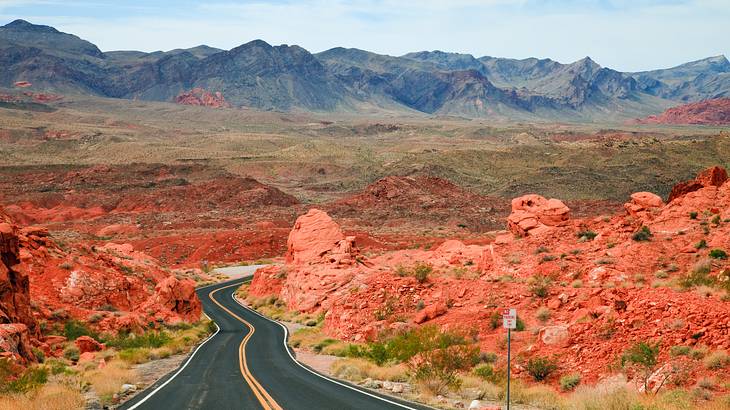 Take in the beauty of Valley of Fire State Park
Valley of Fire State Park is one more of the stunning parks close to the Las Vegas strip. The park covers 46,00 acres and features red sandstone mountains, sandy terrain, and dunes.
There are numerous activities and tours available in Valley of Fire State Park. Activities to try include guided hiking tours and dune buggy experiences. If possible, try to stay in the park until sunset, when the pink and orange sky blends with the red-orange mountains. When looking for things to do off the vegas strip, you must add Valley of Fire State Park to your Las Vegas itinerary.
Discover Vegas' dark side at the Mob Museum
The Mob Museum is another fascinating museum in Las Vegas that's 10-minutes from the strip. The museum houses a host of exhibits on organized crime in Las Vegas and the United States.
You'll learn how the largest crime groups were dismantled and can view a selection of crime and mob-related artifacts. Having explored the museum in full, head to the speakeasy for 1920s-themed drinks.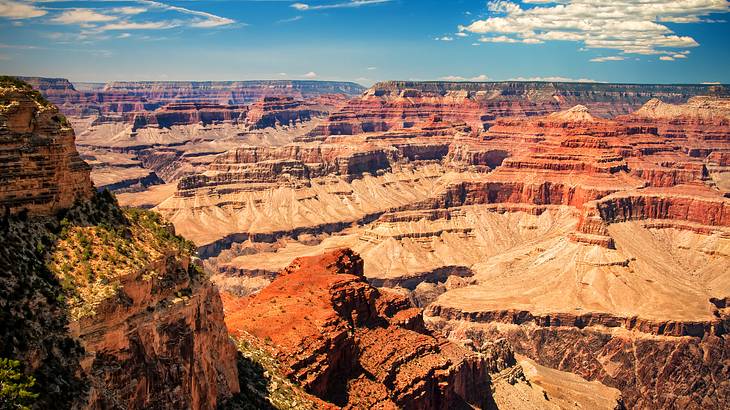 Marvel at the amazing Grand Canyon National Park
The Grand Canyon is one of the most famous landmarks in North America. Despite being in Arizona, not Nevada, Grand Canyon West is only a two-hour drive from Vegas.
At the national park, you can, of course, view the breathtaking Grand Canyon. There are also some hiking trails to follow and a range of viewpoints to stop at, including Guano Point and Eagle Point. A day trip to Grand Canyon National Park is definitely one of the best things to do off the Las Vegas strip and is worth the journey.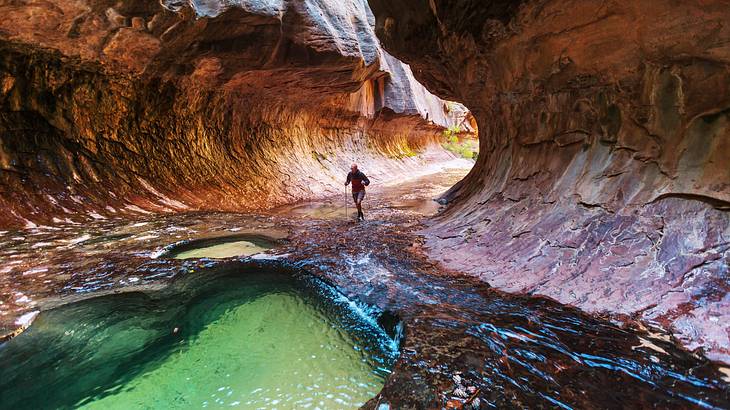 Go canyoneering at Zion National Park
Zion National Park features a range of activities to try and is located in Utah, just under a three-hour drive away from the strip. The park is known for its red rock canyons, many of which can be explored by visitors.
Experiences to try at the park include canyoneering and peekaboo slot canyon tours. The latter is when a guide will take you on trails throughout the breathtaking canyons. You can also take jeep tours or go horseback riding, both of which are great ways to see the scenic park.
Bounce around at an indoor trampoline park
Jumping around at a trampoline park is one of the fun things to do in vegas not on the strip. To do so, visit Sky Zone Trampoline Park, an exciting indoor trampoline park that's just a ten-minute drive from the strip.
The park has wall-to-wall trampolines to jump and do tricks on. There's also a trampoline basketball court, dodgeball court, and foam zone. If you want a challenge, you can head to the aptly named Challenge Zone to tackle obstacles. Visiting Sky Zone is the ultimate chilled-out activity after a busy weekend on the strip.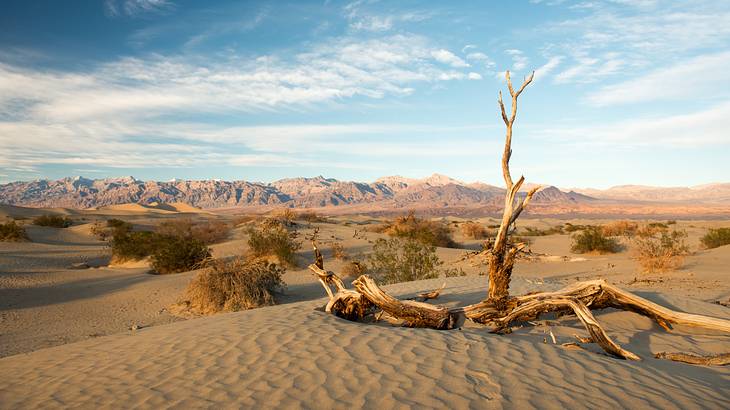 Tour Death Valley National Park
Death Valley National Park is a vast West Coast National Park that spans California and Nevada. The most famous landmark in the park is Titus Canyon, and visitors get to enjoy stunning desert views, sand dunes, and pine forests. There's even a ghost town to explore!
If intending to visit from Las Vegas, there are a few Death Valley National Park tours options. Your tour guide will take you to the best parts of the park and offer more information on the area you visit.
Taste sweet treats at the Ethel M Chocolates Factory
The Ethel M Chocolates Factory and Botanical Cactus Garden is located a 20-minute drive from the strip. The factory makes delicious gourmet chocolates for the Ethel M Brands. When visiting, you can explore the factory and learn how the sweets are made. You may even get samples and can purchase chocolates before you leave.
There is also a botanical cactus garden adjoined to the site. Once you've shopped for some chocolate souvenirs, explore this cute garden featuring multiple species of cacti.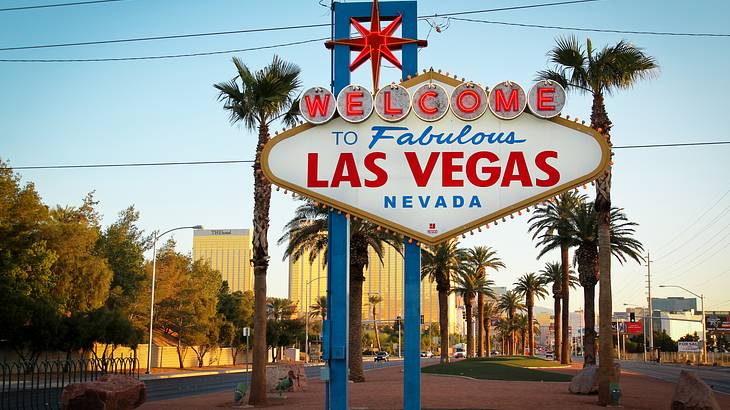 Snap a picture with the Welcome to Las Vegas sign
Located 10-minutes away from the main part of the Las Vegas Strip, viewing and taking pictures of the Welcome to Las Vegas sign is a must!
The iconic sign was installed in the 1950s and has since become the most photographed landmark in Las Vegas. When you reach the sign, you can take pictures in front of it to ensure you have the ultimate reminder of your Vegas trip.
Kayak at Emerald Cove
Emerald Cove is a stunning emerald blue lake found in the Colorado River canyon wall. Visiting Emerald Cove is another of the things to do off the strip in Vegas that's actually located in Arizona. The attraction is an hour away from the strip when driving.
The most popular activity in the area is kayaking on the waters of Emerald Cove. Your tour guide will take you through the water and canyons, allowing you to enjoy the scenic views. Guides will also offer more information on the sights and wildlife you see.
Ride an ATV through sand dunes
If you're a thrill-seeker, then riding an ATV through sand dunes is a must. With a Las Vegas Dunes tour, you'll be transported from the strip to the numerous desert sand dunes surrounding central Vegas.
Once at your destination, you can race through the sandy terrain for an exciting and memorable experience. You'll also get to stop halfway through the tour to appreciate views of the strip from the desert. You may even get to see a sandstorm!
Spend some time at Floyd Lamb Park
Floyd Lamb Park is located about a 40-minute drive from the strip in Tule Springs. This scenic outdoor space features lakes and hiking trails. You can also find mountain biking trails here and spot an array of wildlife. Animals to see include peacocks, rabbits, and geese.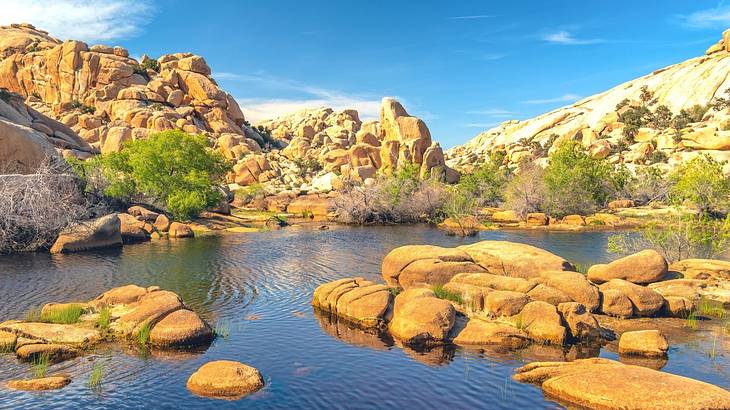 Take a trip to Joshua Tree National Park
If you like outdoor attractions and are willing to drive a little, a trip to Joshua Tree National Park is recommended. The park is in California, about 3 hours away from central Las Vegas.
The mountainous park is home to an array of wildlife and plant, tree, and flower species. At the park, you can hike, bike, and climb among other activities.
Marvel at Fly Geyser
Another of the things to do in Las Vegas outside the strip is going to Fly Geyser. The Nevada landmark has pools and geological formations that were made by hot, explosive water and deposits.
As you explore, you can discover a range of unique formations, unlike anything you've seen before.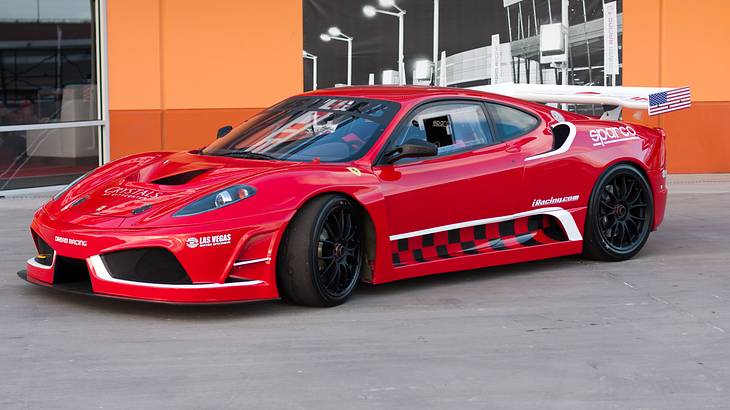 Drive luxury race cars
Just off the strip, you'll find the Las Vegas Motor Speedway venue. This attraction hosts car racing and speedway events.
Along with watching professional race car drivers here, you can drive some luxury race cars around the track. An exotic car driving experience allows you to pick a luxury car and drive laps around the race track just like a pro!
Jog, hike, or bike at Exploration Peak Park
One of the things to do in Vegas off of the strip for those looking to unwind in nature is going to Exploration Peak Park. The quaint park has some trails and lots of grassy areas to relax on. It's the perfect place to hike, jog, bike, or walk your dog. There's also a kids' playground if traveling with little ones.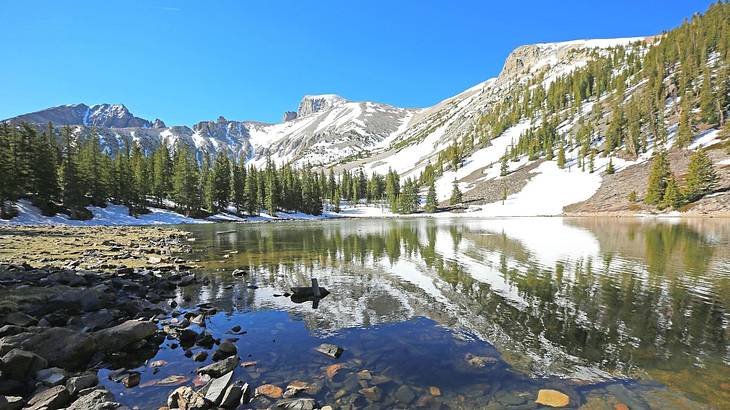 Explore Great Basin National Park
For those willing to go on longer trips, heading to Great Basin National Park is a must. The park is four hours from the Las Vegas strip and sits on the Nevada-Utah border.
The park has a mountainous landscape and has forest hiking trails and lakes. You can also see woodland animals, like deer, hares, and beavers.
Play laser tag
Whether you're traveling with kids or not, a game of laser tag is always a fun idea! You can find a couple of laser tag venues off of the strip. One of the most popular is Flip N Out Xtreme, which also has trampolines, obstacle courses, basketball, and more. You can also play laser tag at Battle Blast Laser Tag and Rex Center.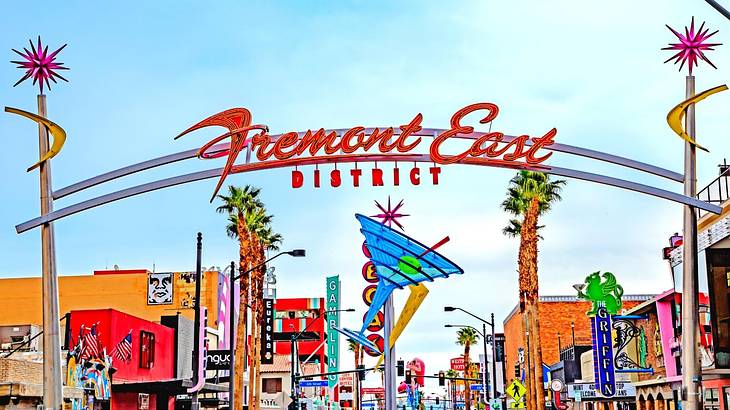 Go on a pop art walking tour of Old Las Vegas
Old Las Vegas has an array of interesting signs, landmarks, and street art murals. A cool way to see them all is on a pop culture walking tour.
Places to see include the Casino at the Downtown Grand, Neonopolis, and the iconic Vegas Vic neon sign.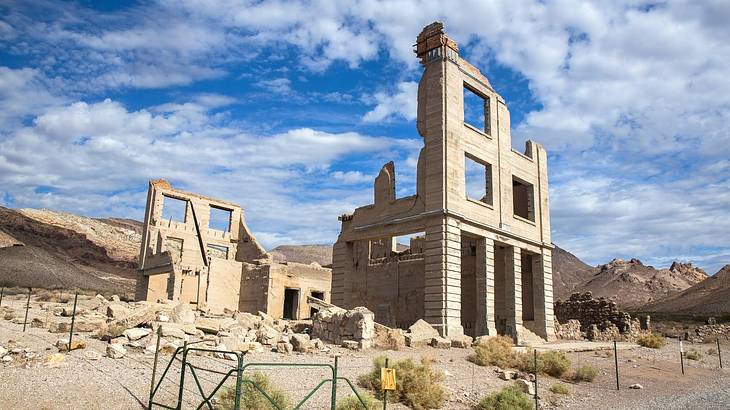 Look around the Rhyolite Ghost Town
Rhyolite was a town built in 1904 to accommodate those moving west due to the gold rush. However, the town effectively closed down in 1916, leaving the homes and businesses that once thrived there empty. Today, you can visit the area and view the remnants of this once bustling town.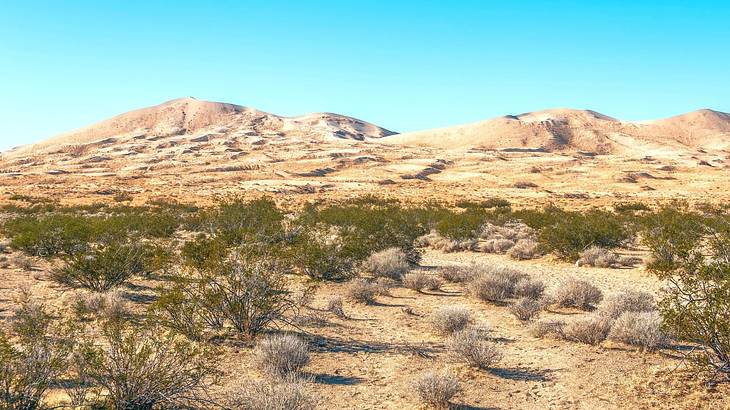 Spot wildlife at the Mojave National Preserve
Located one hour from Las Vegas in Southern California, the Mojave National Preserve is a must-visit landmark. The desert area features canyons and mountains and is home to numerous animals.
As you hike around the park, you could see bighorn sheep, desert tortoises, mule deer, and more. You can also camp overnight in the area if you want to extend your trip.
Try indoor skydiving
If you enjoy adventure activities, one of the fun things to do off the strip in Las Vegas is indoor skydiving. With the help of a professional guide, you can learn skydiving techniques before putting them to work in an indoor wind tunnel.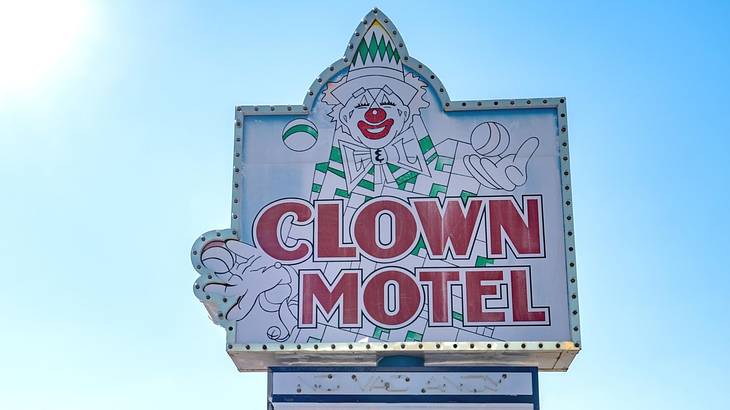 Experience the Clown Motel
Known as The World Famous Clown Motel, this Tonopah attraction is an interesting sight to see! You can reach the motel in three hours when driving from Vegas.
On arrival, you'll be greeted by clown-themed decor, both inside and outside the motel. With some calling the accommodation "America's scariest motel," daring to stay there is up to you.
Learn about wildlife at Clark County Wetlands Park
The Clark County Wetlands Park has wildlife habitats, walking trails, and an educational nature center. At the nature center, you can learn more about the animals that live in the area.
After seeing all the exhibits, you can go out into the park to spot different creatures and enjoy the surrounding scenery.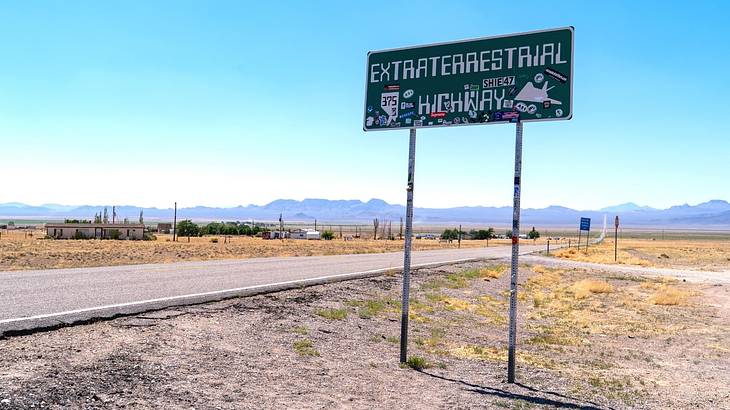 Search for aliens at Area 51 and the Extraterrestrial Highway
Area 51 is a site that interests almost everyone. When in Vegas, you can visit the fascinating site on an Area 51 day tour. During the trip, you get the chance to visit Area 51 along with the Extraterrestrial Highway, the Harry Reid International Airport, and more.
Marvel at the lights show at Mystic Falls Park
The Mystic Falls Park lights show at Sam's Town Hotel & Gambling Hall is one of the things to see in Las Vegas off the strip that you can't miss.
The park has water features, like waterfalls, and pretty gardens. At night, Mystic Falls Park is lit up with colored lights. After watching the light display, you can gamble or dine at the hotel and casino.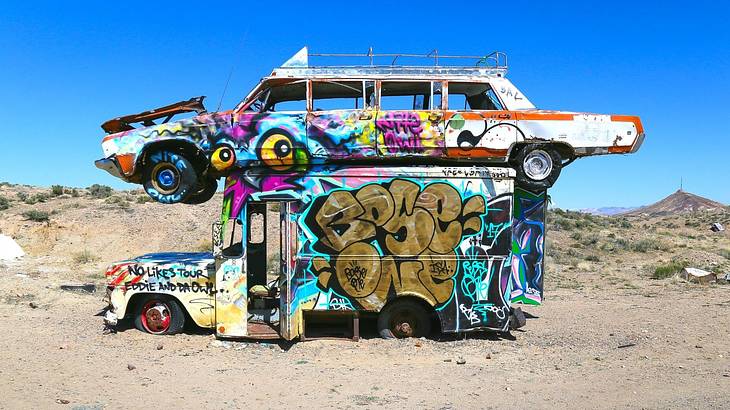 Visit the International Car Forest of the Last Church
Another of the interesting landmarks off of the Vegas strip is the International Car Forest of the Last Church. The site features a range of old vehicles, most of which have art and graffiti painted on them.
The view of art-covered vehicles in an otherwise barren desert landscape is fascinating to see!
Grab a drink at Pioneer Saloon
Pioneer Saloon is one of the most iconic bars in Nevada. It's found 35 minutes from Las Vegas Boulevard and resembles a bar from the Wild West.
At the saloon, you can enjoy cold beers, whiskey, and more. They also serve food, including tacos, burgers, and decadent desserts.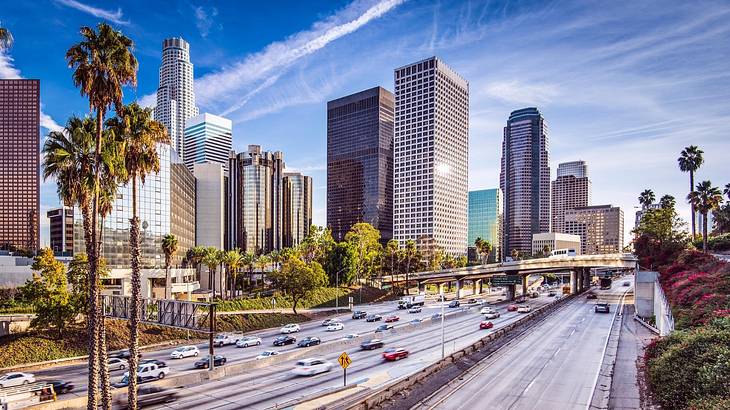 Go on a trip to Los Angeles
Los Angeles is relatively close to Las Vegas, making it the perfect place to go on a day or overnight trip.
You can drive out yourself, or consider going on a Los Angeles day tour. Once in the city, you can see an array of famous LA landmarks, like the Hollywood sign, the TCL Chinese Theater, and Santa Monica Pier.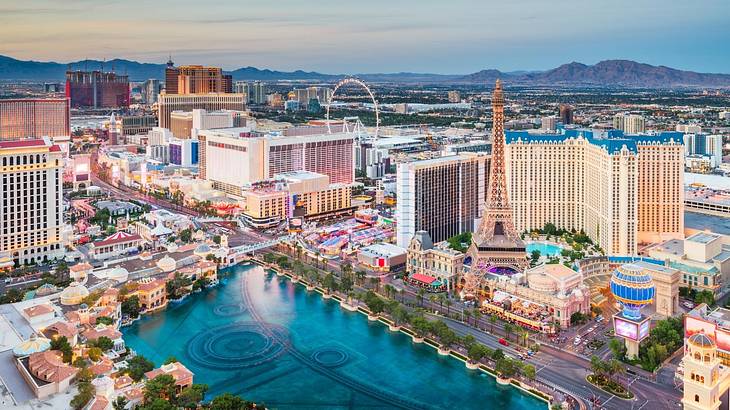 See Sin City from above on a helicopter tour
An exciting activity to book when in Vegas is going on a nighttime helicopter tour. As night sets in, you'll fly above the city, viewing a range of landmarks. Along with seeing the sights of the strip, you get to fly over Old Las Vegas and Fremont Street.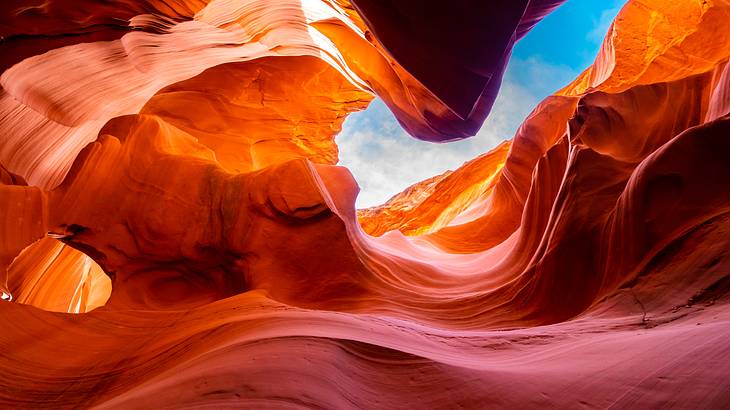 Marvel at the beautiful Antelope Canyon
Antelope Canyon is one of the most spectacular landmarks in Arizona. The colorful canyon consists of pink and orange rock mountains that are unique to this part of the US.
You can access the attraction relatively easily from Las Vegas on an Antelope Canyon tour. This experience allows you to see Upper and Lower Antelope Canyon as well as Horseshoe Bend and Lake Powell.
Attempt to break free from an escape room
One of the newer Vegas attractions off the strip is a SAW-themed escape room. Found about 10 minutes from the strip, this escape room mimics the horror movie franchise. The multi-room game features a range of puzzles that you must crack to escape.
If this horror movie-based attraction is a little too scary, you can visit Escape Game Las Vegas to try museum heist, gold rush, and prison break themed games.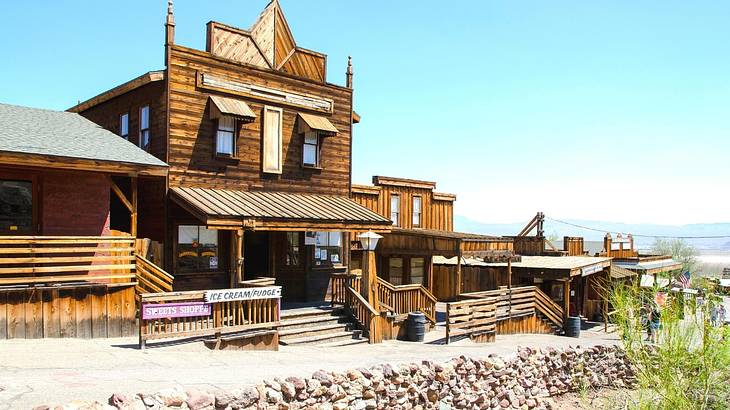 Head to the Calico Ghost Town
Another "ghost town" near Las Vegas is the Calico Ghost Town. This landmark is in California and is a former mining town. The town was developed around 1880 but was abandoned by the mid-1890s due to silver losing value.
Today, the town has been restored to how it would have been in the 1800s. You can explore the area, learn more about mining in the 19th century, and grab some food and drink at old-fashioned cafes and bars.
Shop and dine at Town Square Las Vegas
Town Square is an open-air entertainment, shopping, and dining complex found about 10 minutes from the strip. When visiting, you can wander around the on-site stores before grabbing something to eat. There's also a cinema, a theater, and a children's park.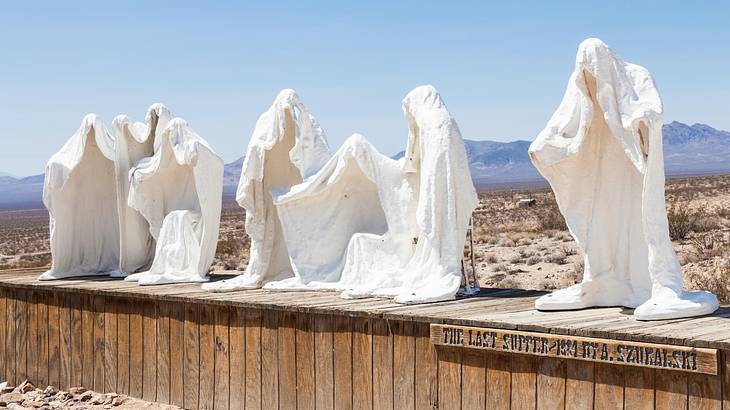 Discover artworks in the desert
Another of the unique Vegas off the strip things to do is going to the Goldwell Open Air Museum. The outdoor museum has a collection of sculptures and art installations to see. Albert Szukalski's Last Supper piece is one of the most well-known to view at the museum.
Taste delicious wines on a desert winery tour
A fun fact about Las Vegas that many don't know is that the city has vineyards and wineries nearby.
If you're a wine enthusiast, going on a desert winery tour is a unique activity to try off of the strip. You'll get to visit three wineries in the Mojave Desert area where you can do a tasting and purchase bottles to take home.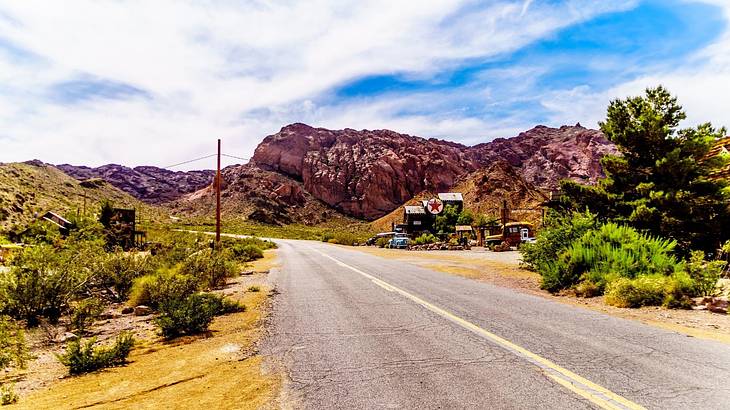 Explore Eldorado Canyon
Eldorado Canyon features red rock mountains and a desert landscape, It's also known as being a Gold Rush site. You can visit the area on a Eldorado Canyon tour.
On the tour, you can visit the Nelson Ghost Town, the El Dorado mining town, and the Techatticup Gold Mine. The latter was the largest producing gold mine in Nevada during the 1860s.
Dine at some of the best restaurants in Chinatown
Chinatown Plaza is another of the many places to visit in Las Vegas off the strip. You can get some of the best Asian food in the city here and will also find some unique shops to check out.
Places to eat include Vietnamese, Japanese, and Taiwanese restaurants. You can also find lots of dessert options, including bakeries and ice cream stores.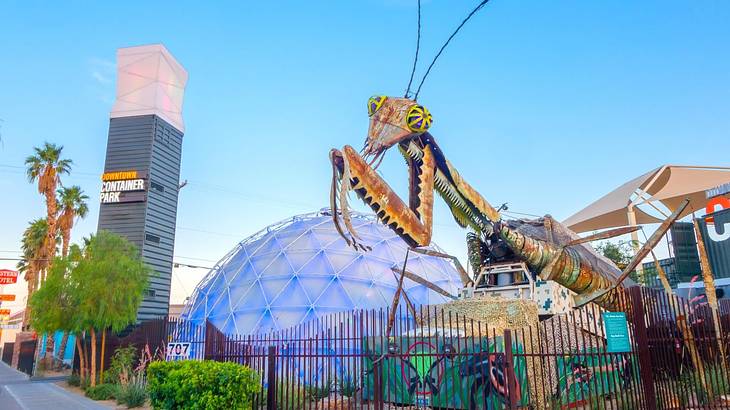 Hang out at the Downtown Container Park
The Downtown Container Park is one of the best Las Vegas attractions off the strip. It features shops and eateries that are housed in shipping containers.
As you wander around the open-air mall, you'll be able to shop for unique pieces from independent sellers and try delicious food. Look out for the giant praying mantis statue too!
Sip local wines at the Pahrump Valley Winery
Another top place near Vegas for wine tasting is the Pahrump Valley Winery. The winery is located an hour from the strip. Going on a Pahrump Valley Winery tour is a convenient way to visit.
You'll get to go wine tasting at the winery and then visit some nearby landmarks, like Death Valley National Park. If visiting Sin City with your partner, going to Pahrump Valley winery is also one of the most romantic things to do in Vegas!
Relax at the Red Rock Casino, Resort, & Spa
The majority of visitors to Vegas will choose to stay at hotels on the strip. However, you can find great options off of the strip, like the Red Rock Casino, Resort, & Spa.
The hotel has luxurious rooms, plus a spa to relax in. There's also an outdoor pool where you can swim surrounded by the scenic mountainous landscape. The Red Rock Hotel is also one of the most romantic places to stay in Las Vegas!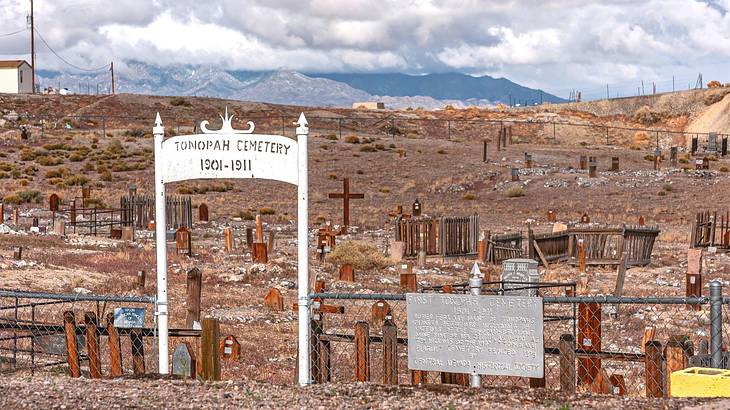 Dare to look around the Old Tonopah Cemetery
The Tonopah Cemetery is a fascinating yet spooky landmark, found near to the equally interesting Clown Motel. The cemetery was predominantly used in the early 1900s and features some notable graves.
Notable individuals include Bina Verrault, who supposedly also haunts the town's visitor center, and George "Devil" Davis, a political figure and the first African American to live in Tonopah.
In Summary
Having enjoyed all that the strip has to offer, be sure to check out some of these 51 sights to see in Las Vegas off the strip. You won't regret it!
Give us feedback about this article
For more interesting articles about United States, read:
For some great articles about things to do, check out:
For visual stories related to this article, take a look at:
---
---
Want to keep exploring?
Subscribe for discounts on tickets and hotels and our latest guides.
Thank you for subscribing
We will be in touch soon with discounts on tickets and hotels and our latest guides.
Want to keep exploring?
Subscribe for discounts on tickets and hotels and our latest guides.
Thank you for subscribing
We will be in touch soon with discounts on tickets and hotels and our latest guides.
Related articles