The 70 Best Non-Touristy Things to Do in NYC
Destguides may receive commissions from purchases made through affiliate links in this article.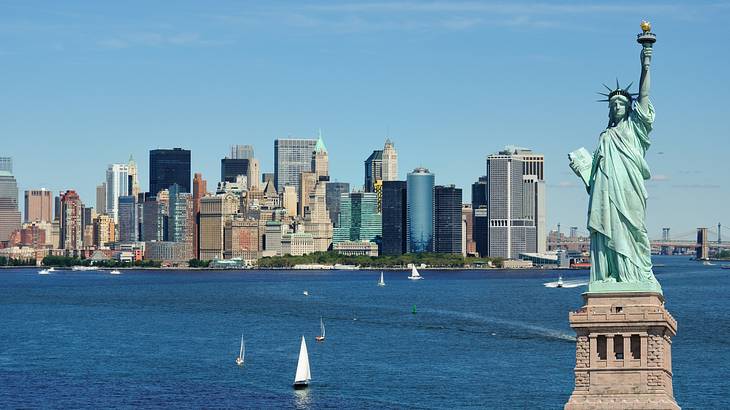 New York City is a world-renowned destination that every traveler must check out at least once in their lifetime. Not only does it have historical significance, but the city also has endless activities and attractions you can enjoy.
While many tourists flock to famous North American attractions like Times Square and the Empire State Building, there are many other lesser-known places to visit in New York City.
The best way to explore the Big Apple is by checking out its hidden gems. If you're unsure where to start, see the list below for the best non-touristy things to do in NYC!
70 Non-Touristy Things to Do in NYC
Non-Touristy Things to Do in Manhattan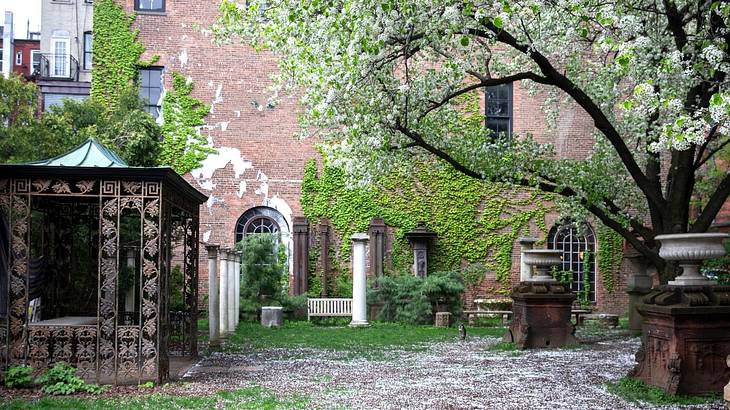 Explore Elizabeth Street Garden
Looking for something a little more idyllic than Central Park? Then the Elizabeth Street Garden is for you. This public garden is nestled in Little Italy in Manhattan, and it provides a lovely green space to those looking for a quiet area not too far from the bustling city. It's the ideal place to relax in nature or enjoy a picnic with friends.
Create your own magical cocktails at The Cauldron
Located in the Financial District of Manhattan, The Cauldron is a magic-themed bar where you can create your own "potions."
What separates The Cauldron from any other cocktail-making class is its immersive nature, where you will craft your own potions in a cauldron guided by potion masters who are highly skilled in mixology.
Even if you don't want to create your own tinctures, you can head straight to the bar and explore their magical menu.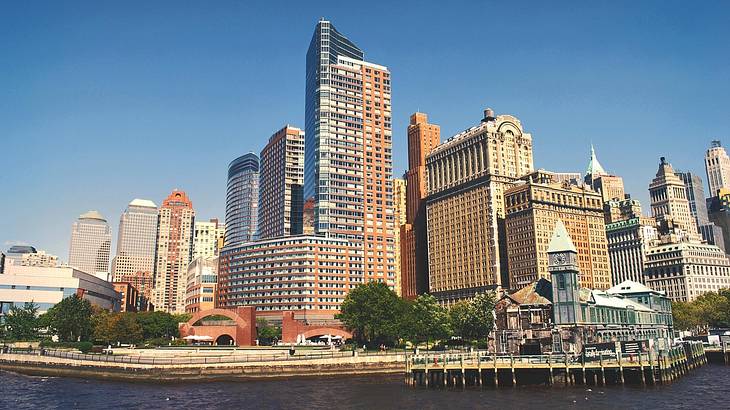 Experience a hot tub boat tour with Sea the City
Perhaps one of the most unusual things to do in NYC, this tour allows you to discover the city inside a hot tub! Sea The City is essentially a Jet Ski tour where you can cruise along the Hudson River in an hour.
If you're looking for something more interesting, Sea The City also has a Hot Tub Boat Tour package where you can chill in a hot tub on a boat while traveling down the Hudson.
Pamper yourself at AIRE Ancient Baths
You don't need to go all the way to Greece to experience the ancient baths; you can go to TriBeCa to bathe in the AIRE Ancient Baths.
Offering a rustic ambiance with their exposed bricks, AIRE Ancient Baths has various services, like aromatherapy massage, salt exfoliation, wine baths, and other relaxing experiences. Whichever service you choose, you'll also get to relax in the spa's ancient thermal baths.
Experience modern contemporary art at its finest at Mmuseumm
Another of the NYC non-touristy things to do is going to one of the most unique museums in the world! Found in Lower Manhattan, Mmuseumm doesn't look like your typical Smithsonian. Instead, the entire museum is located inside a freight elevator shaft.
You can find "contemporary artifacts" like plastic bottles, dollar bills, board games, and more in this six-by-six space. There are five ways to experience the museum, and one of them is through the peephole that's open 24/7.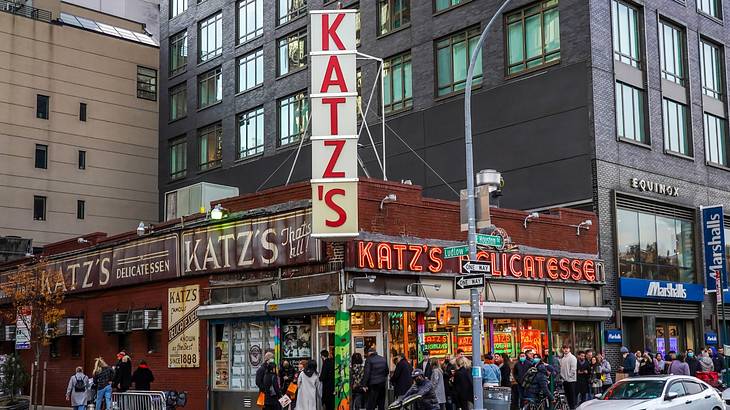 Indulge in pastrami from Katz's Delicatessen, Manhattan's oldest deli
New York City is filled with delis and bodegas, but nothing quite compares to the caliber of Katz's Delicatessen. Located between the Bowery district and the Lower East Side of Manhattan, Katz's Delicatessen has served authentic Jewish sandwiches since 1888. It's the oldest deli in the city!
The deli is famous for its cuts of meat, no-frills yet delicious food, and an atmosphere that remains true to its heritage.
Take a circus aerial class at Aerial Arts NYC in Manhattan
Ever wondered how circus stars train for their magical and breathtaking shows? Then you should check out the Aerial Arts in Chelsea.
Here, you can witness acrobats and other circus professionals in their natural habitat: dangling and somersaulting through the air high above the ground. If you want to get in on the action, you can sign up for one of their beginner classes or independently train with an expert.
Have a romantic night out at the Temple Court on 10
Temple Court on 10 is the perfect dining spot for a romantic night out in NYC, thanks to its elegant menu and floral decor. Vines of lavender snake the walls and ceiling, complete with fairy lights to really amp up the dreamy ambiance. You can finish your night out with a cocktail in the adjacent The Bar Room.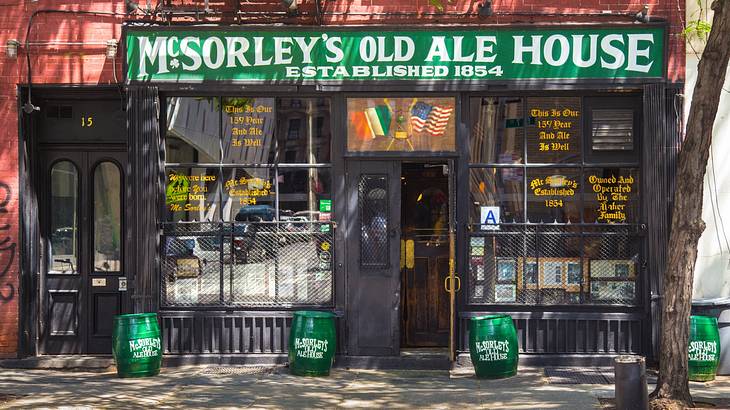 Travel to 1850s Ireland at McSorley's, Manhattan's oldest pub
Keeping with the same theme as Katz's, McSorley's Old Ale House is a pub that was opened sometime in the 1850s, making it the borough's oldest Irish bar.
Located between NoHo and the Ukrainian Village in Manhattan, the bar maintains a decor that stays true to its Irish heritage, and they mainly serve light and dark beer on tap. If you ever want to experience Irish heritage and pub culture, McSorley's is the place to go.
Learn the art of espionage at Spyscape
Visiting museums is one of the most fun things to do in NYC, but the Spyscape takes museum-hopping up a notch. Spyscape is an espionage museum, but instead of showcasing memorabilia, it educates visitors about the art of espionage through themed rooms.
These rooms cover the topics of surveillance, encryption, and more. To make the museum more interesting, you can also participate in immersive experiences that test your spy skills. You can book tickets for Spyscape NYC in advance to make admission easy.
Experience an audio-visual installation at Artechouse
Among NYC's many art installations, Artechouse offers something a little bit different. Located in the Chelsea Market, Artechouse combines art, science, and technology to bring you an experience you won't find in a museum. You can explore geometric properties, fractal dimensions, and other unique audio-visual experiences.
On top of that, Artechouse is a great place to snap a few pics for Instagram or to take your significant other for an out-of-this-world date night. You can also book Artechouse entrance tickets in advance.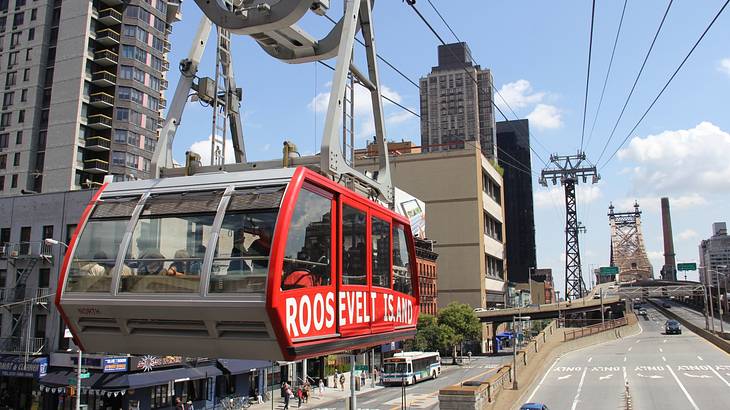 Bask in the beautiful Manhattan skyline with the Roosevelt Island Tramway
If you've ever wondered what an aerial view of the Upper East Side looks like, then your next stop should be the Roosevelt Island Tramway. From the tram, you can enjoy views of the Manhattan skyline and the quaint but historic Roosevelt Island.
The tram runs from 6 AM to 3:30 AM every day, making it an ideal spot to catch the golden hour. Do note that you can only access the tram with an MTA MetroCard.
Go for a nightcap inside a bank vault at Trinity Place Restaurant
This hidden bar in the Financial District of Manhattan wasn't just decorated to look like a bank vault. Trinity Place is located inside an actual vault dating back to the early 1900s.
The vault was restored in 2006, and the bar was commissioned to open by the New York Realty Bank. Not only does the bar have a vast collection of classic cocktails, but it also serves an eclectic menu from pasta to paté.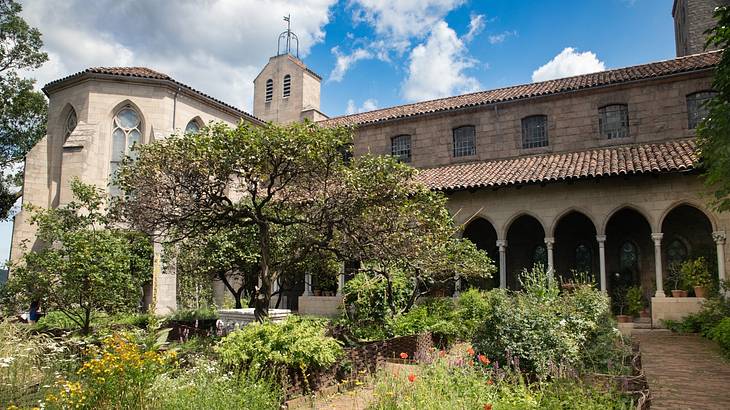 See a medieval monastery at The Met Cloisters in Fort Tryon Park
Manhattan is mainly known for its skyscrapers and beautiful brownstones, so this particular site might seem a little out of place amidst the concrete jungle. It doesn't take away the beauty of The Met Cloisters, though, which are a replica of a medieval European monastery.
Most of the building was built from European ruins collected by George Grey Barnard. The surrounding landscape was designed to highlight the Romanesque style of The Cloisters, with Gothic walls and structures.
The best thing about New York City is that it's filled with secret spots not many tourists are aware of. This hidden bar, aptly named The Little Shop, is located behind a bodega in the Seaport district just below Lower East Manhattan.
You can get to this speakeasy through a sliding door at the back of the bodega. The bar serves various cocktails with a touch of exotic ingredients, like tamarind, lavender, and chili. If you're looking for things to do in NYC that aren't touristy, grabbing a drink at The Little Shop has to be on your list!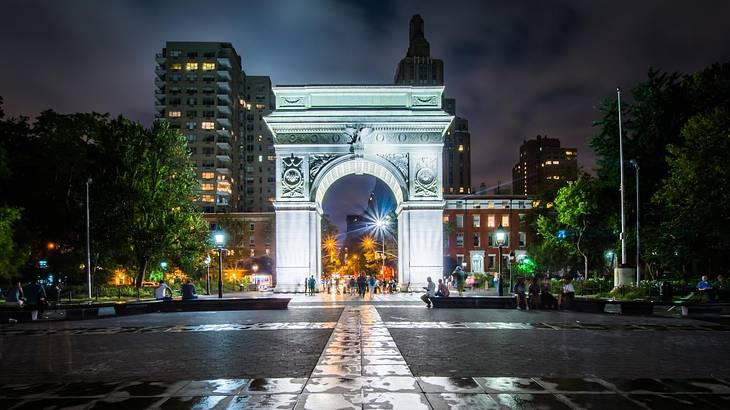 Get spooked with the ghosts of New York walking tour
Being part of a tour group can get boring sometimes, but that definitely won't be the case on a ghost tour! As one of the most unique things to do in NYC, a New York ghost tour will take you to some of the most haunted sites in the city.
You can choose from a range of operators, with public and private ghost tour options available. Places to head to hear spooky stories include Greenwich Village and the East Village. You can even go on a haunted pub crawl!
Try the chopped cheese from Hajji's in Harlem
New York City delis are famous for their Reubens and sandwiches made with fresh, high-quality meats. Hajji's (also known as Blue Sky Deli and Harlem Taste) chopped cheese is slightly different from the rest; it is a sandwich made with ground beef, onions, tomato, and lettuce, topped with melted cheese and condiments.
Often called NYC's take on a Philly cheesesteak, Hajji's chopped cheese rose to fame due to its affordability and status as comfort food.
Feast on halal street food with the Halal Guys food truck
For those looking for a halal option when visiting New York City, one of the best places to get it is from the Halal Guys food trucks. They are known for their gyros, kebabs, shawarmas, and other Middle Eastern delicacies that are 100% halal.
Deemed as the pioneer of halal food in New York state, the Halal Guys now have several food trucks operating across the city, but make sure to visit the OG outlet on West 53rd St.
Kayak on the East River or Hudson River
You don't have to go all the way to Coney Island or Rockaway Beach to have some summer fun. You can rent a kayak and take it down the East River or the Hudson River to see the city skyline. Manhattan Kayak is a great rental provider, and they also rent paddleboards.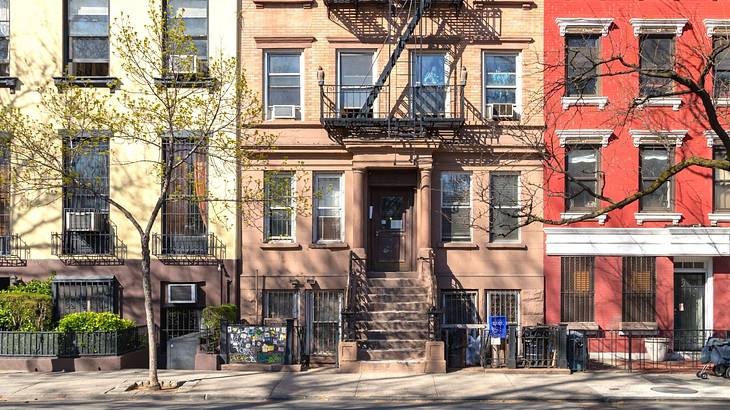 Explore the East Village
The East Village is a Manhattan neighborhood known for its bars, pubs, and clubs. You can also find many independent shops and unique boutiques in the trendy area.
If you're looking to do some shopping, be sure to visit No Relation Vintage. The thrift store covers two floors and has a vast selection of clothing items to discover.
For those wanting to grab a drink, Barcade is a fun place to check out. The bar has a range of retro and newer arcade games, plus an interesting cocktail list to order from.
Check out the eclectic Morgan Library and Museum
Visitors to NYC can never run out of museums to explore. Yet, instead of going to the Metropolitan Museum of Art or the Guggenheim, why not check out the lesser-known museums that are just as interesting?
The Morgan Library and Museum is one of those museums. It houses the private collection of J Pierpont Morgan and other collectibles. You can expect to find Charles Dickens' manuscript of A Christmas Carol, Mozart's handwritten scores, and much more.
Taste local cheese at Bedford Cheese Shop
Good quality cheese is often attributed to Italy, France, and the Netherlands, but New York City has its own gourmet cheese as well. Bedford Cheese Shop is a popular store to check out if you want to try some local cheese. You can find a range of varieties, like cheddar, Taleggio, goat cheese, and more.
Make your own candles at Wick and Pour
There's nothing better than personalizing your own souvenir, and you can do precisely that at Wick and Pour in Queens. You can create your own scent and learn the process of candle-making from start to finish.
Wick and Pour offers classes for solo travelers and big groups. You can either keep this personalized souvenir for yourself or create bespoke candles for your loved ones back home.
Shop for books at Strand Bookstore
One of the top non-touristy things to do in NYC is spending some time looking at books at Strand Bookstore. The iconic bookstore's main location is on Broadway at 12th Street, but there is also a location on Columbus Avenue.
At the store, you can explore the many floors of books, with fiction and non-fiction offerings available. You can also find new books and rare collectibles.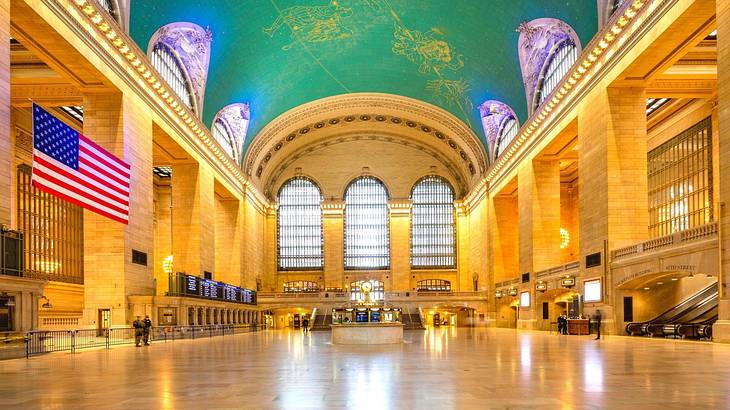 Find the Whispering Gallery at Grand Central Terminal
Grand Central Terminal is one of the most famous NYC landmarks. A fun New York City fact that many don't know, however, is that the station has a secret whispering gallery.
In this section of the station, visitors can stand on either side of the gallery and whisper messages, which will be heard across the room. While at the station, also be sure to take pictures of the beautiful main terminal.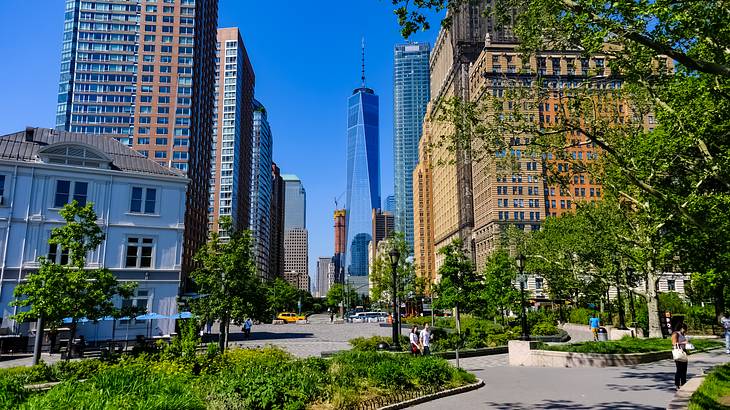 Hang out at Battery Park City
Another of the fun non-touristy things to do in NYC is spending some time at Battery Park City. The park is located along the Hudson River and is the ideal place to enjoy green space and river views.
At the park, you can walk or bike along the river walk and discover attractions like the Battery Urban Farm. You'll also come across the Gardens of the Battery, a 195,000-square-foot public space with beautiful plant and flower displays.
If traveling with kids, there's also a playground and an under-the-sea-inspired carousel for them to use. Battery Park City is one of the best places to unwind in Manhattan, and a trip here must be on your New York City itinerary.
Eat sweet treats at the city's best bakeries
If you have a sweet tooth, one of the New York non-touristy things to do is checking out some of the locals' favorite bakeries.
Popular spots with New Yorkers include Magnolia Bakery in the West Village, Angelina Bakery, and Veniero's Pasticceria & Caffe. Desserts on offer range from cupcakes and brownies to pastries and cheesecake."Veniero's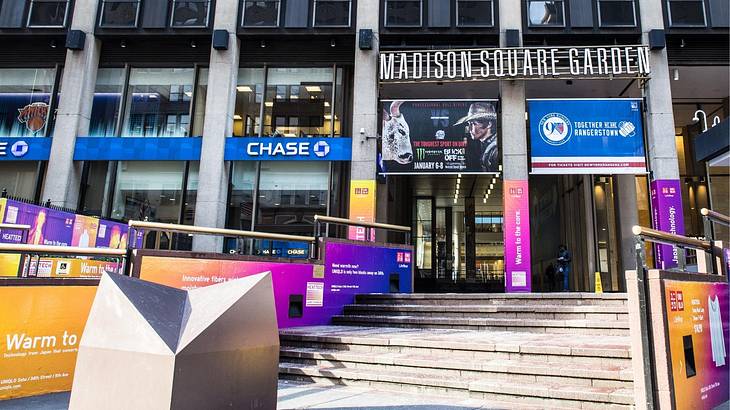 Cheer for NYC's sports teams
New Yorkers love their sports teams, and catching a game when you're in the city is a must! If you're looking for the best NYC nighttime activities, head to Madison Square Garden to watch the New York Rangers NHL team or the New York Knicks NBA team.
You can also watch the New York Giants or New York Jets NFL teams play at MetLife Stadium. If you prefer baseball, catch the New York Yankees MLB team when playing at home at Yankee Stadium.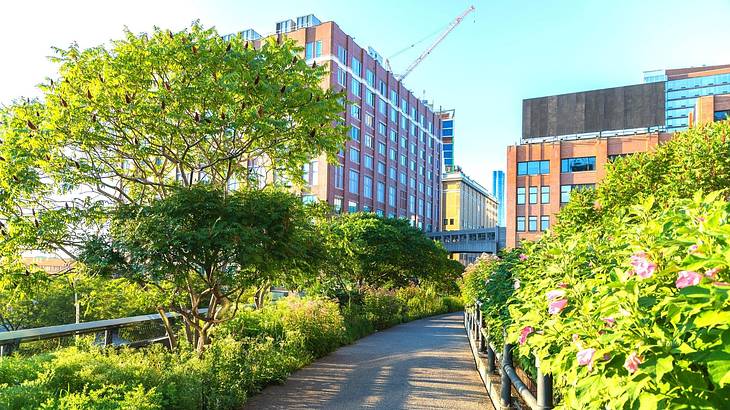 Wander along the High Line
If you're looking for an outdoor activity, one of the cool non-touristy things to do in NYC is strolling along the High Line. This elevated urban park is found along an old train line.
The park runs for 1.45 miles and features many flowers and plants. You can choose to walk just part of the High Line or walk the entire trail in about two and a half hours.
Dare to go into the New York Catacombs
One of the off-the-beaten-path activities to try in NYC is going underground into the city's catacombs. On a candlelit catacombs tour, you'll get to explore the Basilica of St. Patrick's Old Cathedral.
You can then go underground to the catacombs, which house tombs. As you look around, your guide can offer more information on those buried there and the creation of the catacombs.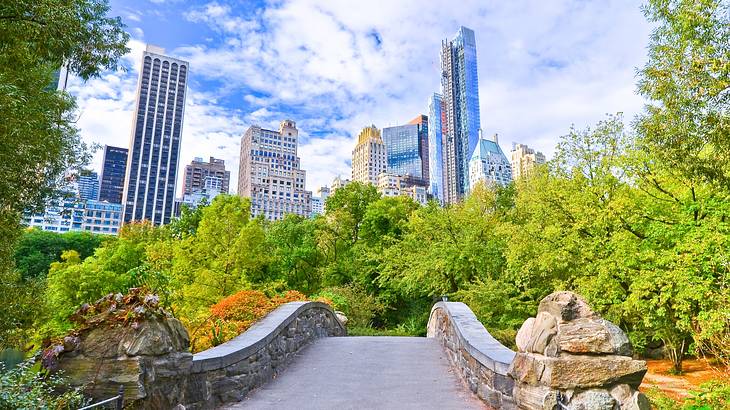 Discover secrets in Central Park
Almost everyone will visit Central Park when in New York City. However, there are some non-touristy activities to enjoy in the park.
One of those activities is a secrets of Central Park walking tour. On the tour, your guide will take you to lesser-known areas and offer lots of fun facts about the park and NYC history.
If you're unsure of the best time to visit New York City to go to Central Park, it really depends on what you want to do there and your weather preferences.
During the spring and summer, the weather is excellent, allowing you to easily explore the park for hours. You could also have a picnic, and events are held throughout the area.
On the other hand, fall and winter allow you to see the pretty autumn trees or a snow-covered central park, and crowd levels are generally much lower than in the warmer months.
Relax and read at the New York Public Library outdoor reading room
The New York Public Library is another of the well-known landmarks with lesser-known attractions. While many visit the library to look around the interior, fewer people know about the charming outdoor reading room. When at the library, grab a book and head to the outdoor area to read in the fresh air.
Treat yourself to milkshakes at Lexington Candy Shop
Lexington Candy Shop is one of many hidden gems in NYC, especially for those with a sweet tooth. The retro diner serves a range of classic diner dishes but is most well-known for its old-fashioned soda machine and treats like milkshakes, floats, and. sundaes. No matter what you order, you'll enjoy your visit to Lexington Candy Shop!
Get drinks at The Spaniard in the West Village
Another of the excellent bars in Manhattan that isn't frequented much by tourists is The Spaniard. This West Village bar serves a variety of delicious cocktails as well as many types of whiskey, tequila, and mezcal. As you enjoy your drinks, you can order lunch or dinner dishes, and brunch is served on weekends.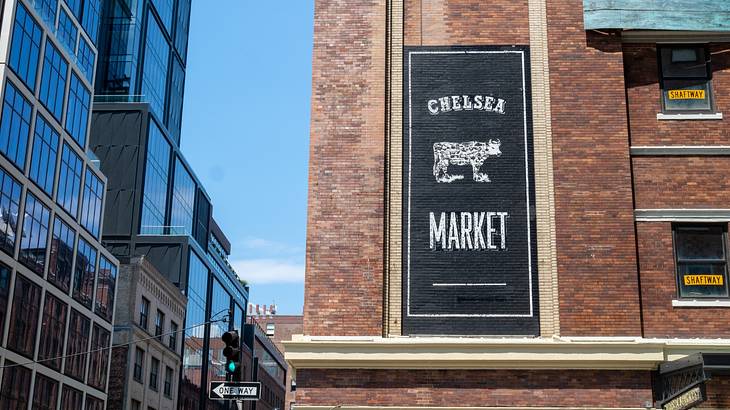 Shop at Chelsea Market
Opened in 1997, Chelsea Market features a vast food hall and shopping mall. You can discover a range of vendors here, selling dishes and food items from across the world.
You can also check out fashion, home decor, and gift stores. If you want some help finding the best vendors in the market, take a Chelsea Market food tour!
Cuddle with cats at Meow Parlour cat cafe!
One of the best local things to do in NYC for animal lovers is visiting Meow Parlour. This adorable cat cafe is home to many fluffy felines that you can hang out with while enjoying a coffee and macarons from Macaron Parlour.
Don't forget to take lots of pictures of the cute cats, and as they're adoptable, you could find a new furry friend to take home!
Learn to cook delicious meals at a cooking class
A fun idea for those that like to cook or want to learn is taking a cooking class. You can find an array of options across the city, but if you love Italian food, going to an Italian dinner cooking class is the perfect choice.
During the class, you'll learn to make various dishes for a three-course meal, including handmade pasta and tiramisu. Once everything is ready, you can sit down and enjoy your delicious meal.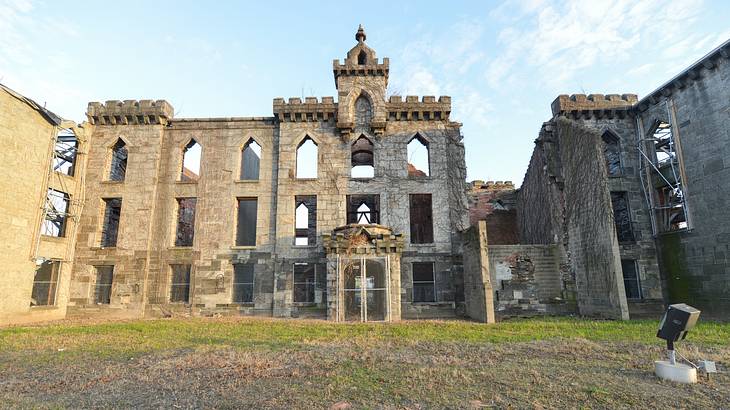 Check out the Smallpox Hospital on Roosevelt Island
Roosevelt Island itself isn't very well-known to tourists, despite being well worth visiting. On the island, you can also find a spooky site that most tourists don't know about, the Smallpox Hospital.
This hospital opened in 1856 and, as the name suggests, treated smallpox patients. Today, many ghost stories are connected to the site, and is a unique place to check out when in NYC.
Dine on high-end plant-based food at Dirt Candy
New York has many great plant-based eateries, like Dirt Candy on the Lower East Side. This high-end spot serves a variety of creative dishes with a decadent five-course tasting menu on offer. Menu options vary but expect to see dishes like spinach mille-feuille and pumpkin pad Thai.
Non-Touristy Things to Do in Brooklyn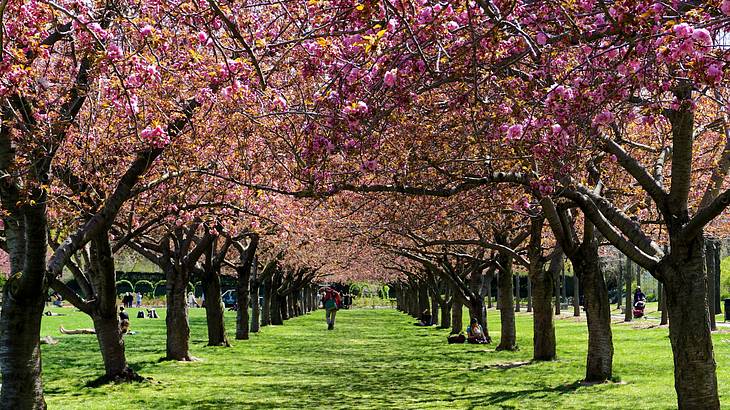 Unwind under cherry blossoms at the Brooklyn Botanic Garden
Considering how dense New York City is, it's always a treat every time you come across an outdoor space or activity. The Brooklyn Botanical Garden is located in Prospect Heights in Brooklyn, adjacent to the Prospect Park Zoo.
It features stunning landscapes inspired by areas like Japan and Europe. If you visit in the spring, you can enjoy a stroll underneath the beautiful cherry blossoms as well. The park also has activities and performances for people of all ages.
Hunt for the best pizza in the city
Another non-tourist thing to do in NYC is to hunt for the best pizza in the city. To ensure you see some of the pizzerias known only to locals, consider going on a pizza tour. Two popular options are a pizza tour of Brooklyn and a Greenwich Village pizza walk.
Your local guide will take you to a handful of off-the-beaten-path pizza joints to try some of the best food you've ever had. You're guaranteed to find a new favorite place to grab pizza in NYC too!
Have a feast at DeKalb Market Hall in Brooklyn
The food scene in Brooklyn is massive, let alone in the entire city. As a little bit of a shortcut, you can check out DeKalb Market Hall in Downtown Brooklyn.
It's one of the largest food halls in the area, featuring food stalls with various cuisines. Some of the vendors you can find in Dekalb Market are Katz's Delicatessen, Arepa Lady, Creamline, and Pulkie's.
Discover pinball heaven at the Sunshine Laundromat
Some of the best places in NYC are pretty underground, and only those who seek these places will be able to find them. Sunshine Laundromat is one of those locations. This arcade and bar houses many vintage pinball and arcade machines.
The arcade is hidden behind a laundromat, so you can easily miss it if you're not paying attention. Sunshine Laundromat also offers various beers on taps, like Golden House Lager, Pinner Throwback IPA, and more.
Catch the sunset at Westlight at The William Vale
Rooftop venues are a-plenty in New York City, but this one provides one of the best views, especially during sunset. Westlight is a restaurant and bar located on the 22nd floor of the William Vale Hotel in Brooklyn.
The Westlight offers a 360-degree view of the city, directly overlooking the Hudson River on one side. It serves a variety of cuisines, along with delicious cocktails to accompany your sunset viewing.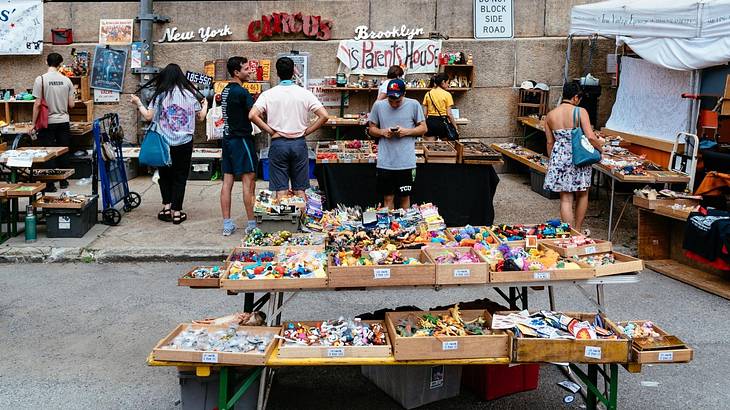 Shop for unique souvenirs at the Brooklyn Flea Market
Visiting flea markets is one of the best non-tourist things to do in NYC, as you can immerse yourself in the local scene and support the local businesses. Check out the Brooklyn Flea, a weekend market where vendors selling jewelry, snacks, and other local goods gather.
Forget the "I Love NY" mug or magnet; at this flea market, you can find unique souvenirs to bring back home that you won't find in your typical souvenir shop.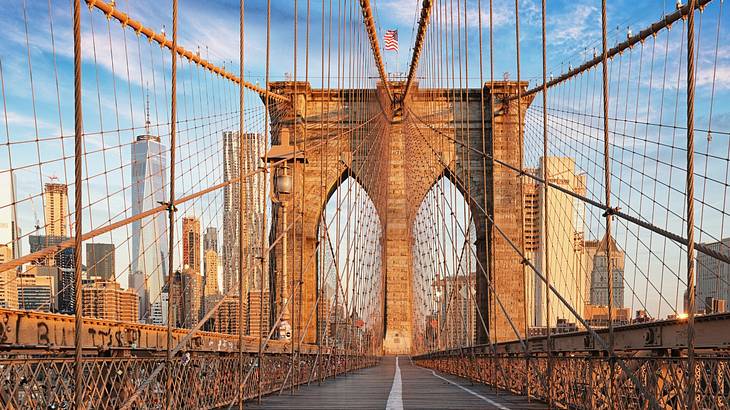 Take your bike out on the Brooklyn Bridge
One of the best ways to discover a new city is to explore it on your own. Nothing beats taking a bike ride or a walk on the Brooklyn Bridge when you're visiting NYC.
Guided bike tours will take you to see sights like the Statue of Liberty, Ellis Island, Wall Street, Battery Park, and Hudson River Park. If you're feeling extra adventurous, you can do it on your own without the guidance of a tour.
Dance the night away at the House of Yes in Brooklyn
New York City is no stranger to weirdly-themed parties that only a few have access to. The House of Yes offers the same experience without the exclusivity of some NYC clubs.
At the House of Yes, you don't only drink and dance but also watch performances by trapeze artists and aerialists. The parties always have extravagant themes, like Carnaval, Amateur Burlesque, and Golden Era.
Feel the thrill at Beat The Bomb escape room
Beat The Bomb is not your average escape room, and it's perfect for thrill-seekers visiting the city. Located in Brooklyn, Beat The Bomb is the world's first paint blast escape room.
Here, groups play arcade games, like Hack Attack or Laser Maze, to defuse a bomb in under an hour. Failure to do so within the set timeframe and you will be blasted with paint bombs in fun neon colors.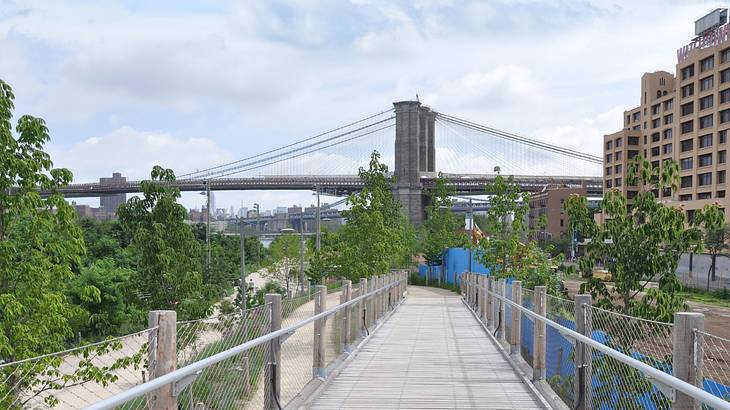 Stroll through Brooklyn Heights on the Squibb Park Bridge
The Brooklyn Squibb Park Bridge is a hidden gem that not even many locals have heard of. Just like its namesake, the park comprises a footbridge connecting Brooklyn Bridge Park and Brooklyn Heights.
It's delightful in the summer, with its lush greeneries acting as a canopy to protect you from the heat. Whatever season you find yourself in the city, visit the Squibb Park Bridge for a skyline unlike any other.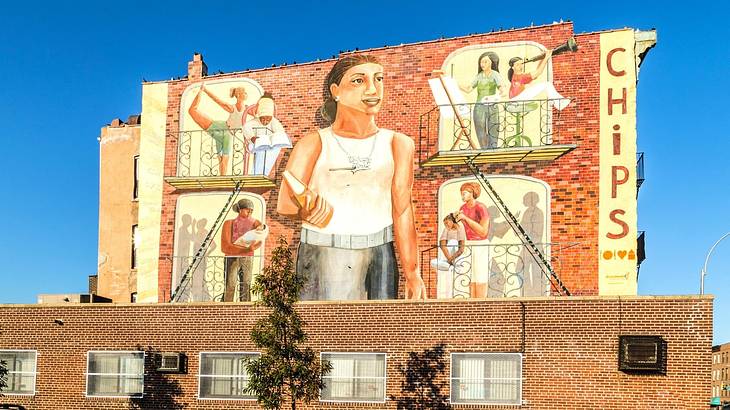 Go on a Brooklyn and Bushwick Collective street art tour
Brooklyn is a trendy part of NYC that has some great street art murals to discover. On a Brooklyn street art walking tour, your guide will take you to the best murals in the area.
You can admire the art and take some interesting snaps for Instagram. You'll also learn more about some of the street artists and the art scene in the borough.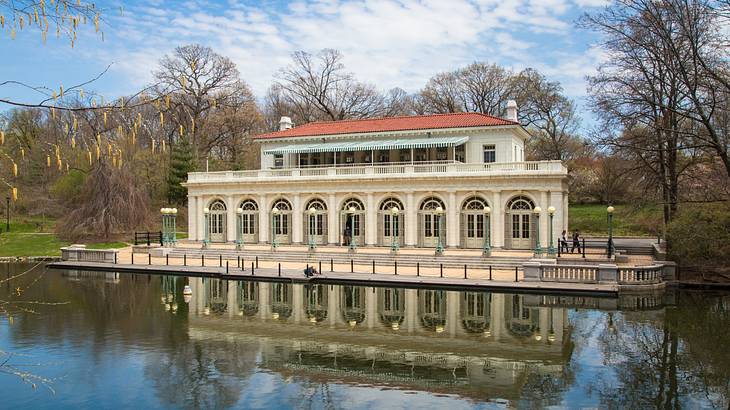 Spend some time in Prospect Park
Another park that first-time visitors to NYC don't tend to go to is Prospect Park in Brooklyn. Due to this, it's a lot quieter than other more popular parks, like Central Park.
You can wander around the park in almost any weather, admiring the plants, trees, ponds, and more. You could also take a Prospect Park tour, which will help you see all the best parts of the park.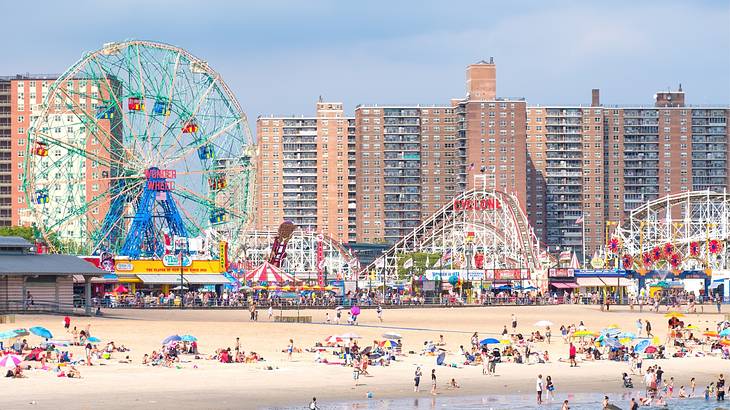 Enjoy a fun day out at Luna Park on Coney Island
The boroughs of Manhattan and Queens are more well-known for their food, art scene, and historical sites. If you're an adrenaline junkie, make your way to the tip of Brooklyn to visit the Luna Theme Park on Coney Island.
Opened in 2010, Luna Park is relatively new, but it sits at a site once home to other famous parks, like Astroland and Dreamland. Luna Park has both thrill and family-friendly rides for everyone to enjoy.
Non-Touristy Things to Do in Queens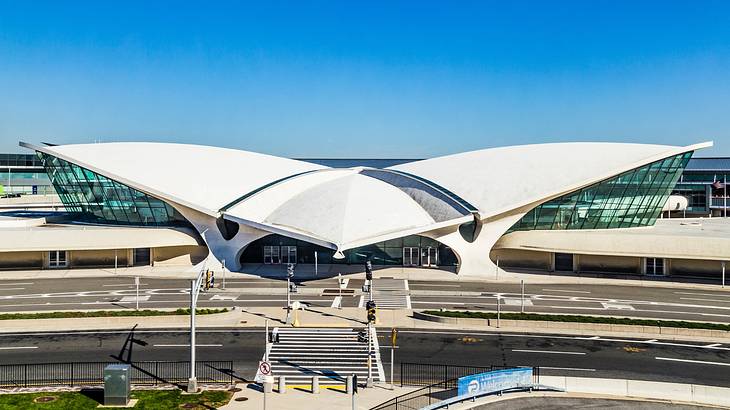 Travel back through time at the TWA Flight Center at JFK Airport
Airports aren't usually a go-to attraction for tourists, but the TWA Flight Center is not your average terminal. The Trans World Airline terminal was built in the 1960s, but it closed down after TWA was sold to American Airlines.
In 2019, the TWA Flight Center reopened, and what you see now is a chic boutique hotel with views of the airport runway and authentic 1960s elegant vibes. Think of red velvet chairs, exaggerated arches, and vintage trinkets.
Try pizza ice cream from Max and Mina's in Flushing
Out of all the creameries in New York City, Max and Mina's is probably the most creative one yet. When you visit Max and Mina's, go beyond your usual vanilla or chocolate scoop to try one of their specialties.
Since its opening in 1997, this Queens ice cream joint features many exciting but sometimes odd flavors. You can find unique flavors here, like Corn on the Cob, Merlot, and even Pizza.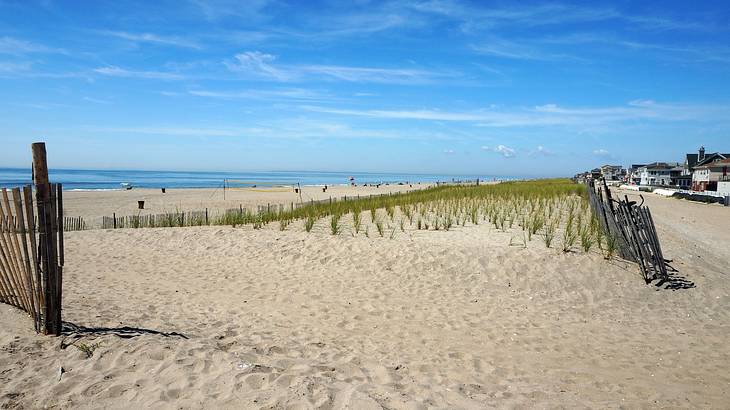 Have a summer surf sesh at Rockaway Beach in Queens
Most people don't usually associate New York City with surfing, and maybe that's because you can't really find a good surfing spot around.
Rockaway Beach, however, is the only legal surfing beach in NYC, and it's also considered the largest urban beach in the United States. After a long day of surfing, head on to the Rockaway Beach Surf Club for some grubs and classic summer cocktails.
Buy fresh, authentic pasta from Cassinelli Pasta
New York City might be known for its pizza, but thanks to the large concentration of Italian-Americans in the city, you can also experience authentic pasta and other Italian dishes. Cassinelli Pasta is Queens' oldest pastificio, or pasta factory, founded in 1912.
Cassinelli makes fresh pasta from gnocchi and penne to spaghetti, ravioli, and more using their original recipe. You can choose either ready-to-make pasta or sheets of dough to use for your own ravioli recipe.
Have bottomless brunch at The Shady Lady in Queens
Brunch is such a great way to unwind and spend time with your loved ones, and there's no place more perfect for doing this than in the brunch scene in Queens.
The Shady Lady in Astoria is known for its delicious brunch, as it has a wide selection of Mediterranean-inspired food and classic brunch dishes. To top it all off, they also serve bottomless mimosas, a staple element of brunch culture today.
Check out the Panorama of New York at the Queens Museum
New York City might be a massive metropolis, but this panorama lets you overlook the city in its entirety. As the highlight of the Queens Museum, the Panorama of New York is a room-sized model covering all five boroughs of the city.
Although it was made in the 1960s, there are initiatives to keep the scale model up to date. For instance, the Adopt-a-Building program lets visitors "purchase" a building in exchange for a donation.
Non-Touristy Things to Do on Staten Island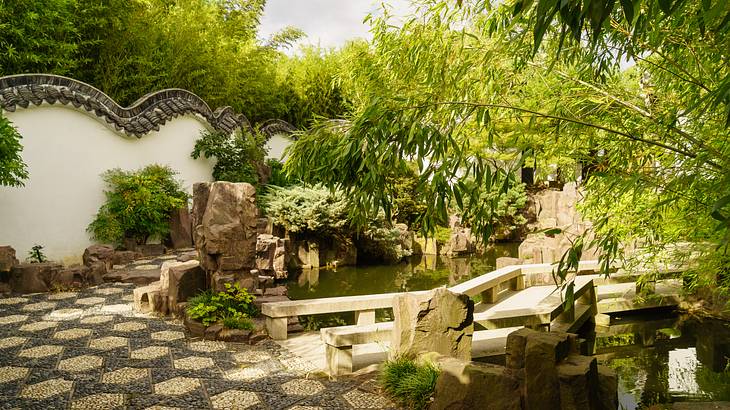 Reach a state of zen at the New York Chinese Scholar's Garden
If you ever find yourself in Staten Island, a must-see place is the New York Chinese Scholar's Garden, part of the Snug Harbor Cultural Center and Botanical Garden. Forty Chinese artists built the Chinese Scholar's Garden, and it has authentic Chinese cultural elements.
For instance, no nails were used in constructing the garden, following the Ming Dynasty's techniques. The garden also has a koi pond, moon gates, and flowers that represent different values.
Treat yourself with vintage desserts at Holtermann's Bakery
The journey to this Staten Island bakery might be long and winding. If you don't have a car, you need to take a ferry to the island and then a one-hour bus ride. Yet, all the baked goods from Holtermann's are worth the journey.
Other than the usual bread and cakes, Holtermann's offers desserts from the yesteryears. Pullman bread and Charlotte Russe are some of the vintage desserts you can try.
Boogie in your skates at RollerJam USA
The ice rink in Central Park is iconic, but it tends to be swarmed with tourists. For a similar experience that's just as fun, head over to RollerJam USA in Charleston, Staten Island.
RollerJam is an indoor roller skating rink for people of all ages, complete with DJ nights and arcades. In fact, it was voted the no. 1 party place in all of NYC.
Have a fresh pint at the Flagship Brewing Company
Staten Island might be called "New York's forgotten borough," but the beers from this brewery are far from forgettable. Flagship Brewing Company offers an array of locally-brewed beer, ranging from IPA, seltzer, and pale ale to stout.
One of the most popular beers here is the Ezekiel, an 8% double IPA with citrus and mosaic hops. The brewery always schedules new flavors of beer to keep their menu interesting.
Catch a show at the historic St. George Theater on Staten Island
Broadway shows are a must-see when you visit the city, but for those looking for unique things to do in New York City, try to catch a show at the historic St. George Theater on Staten Island.
St. George Theater was opened in 1928, and today, not only does the theater host community events, but it also has been the chosen venue for many stars like Tony Bennett, Air Supply, and Sarah Brightman.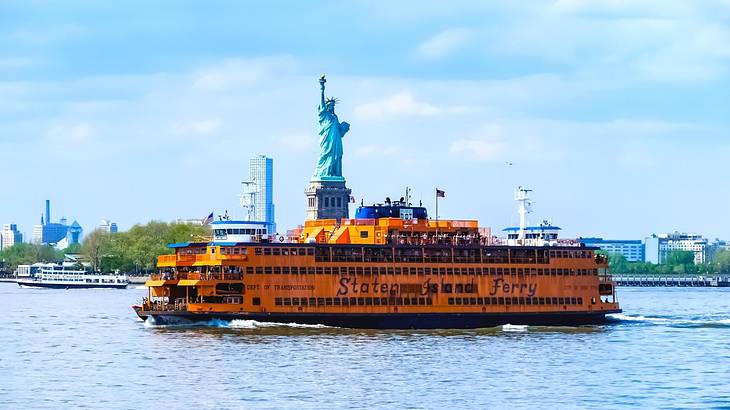 Ride the Staten Island Ferry
One of the best ways to see the Manhattan skyline is by riding on the Staten Island Ferry. You can board the ferry from Manhattan, and the ride to Staten Island takes 25 minutes.
During the journey, you can admire the skyline and famous landmarks, like the Statue of Liberty. Best of all, riding the ferry is free! Once on Staten Island, you can check out local shops, bars, and restaurants.
Taste grandma's cooking at Enoteca Maria on Staten Island
No matter how good a restaurant is, nothing beats grandma's cooking. Fortunately for foodies in Queens, this restaurant is run entirely by a group of grandmothers.
The menu at Enoteca Maria changes daily to showcase the grandmothers' different star dishes. Enoteca Maria has featured dishes from all over the world, including Japan, Turkey, Venezuela, and Italy. For those searching for things to do in NYC not for tourists, having dinner at Enoteca Maria is a must.
Non-Touristy Things to Do in the Bronx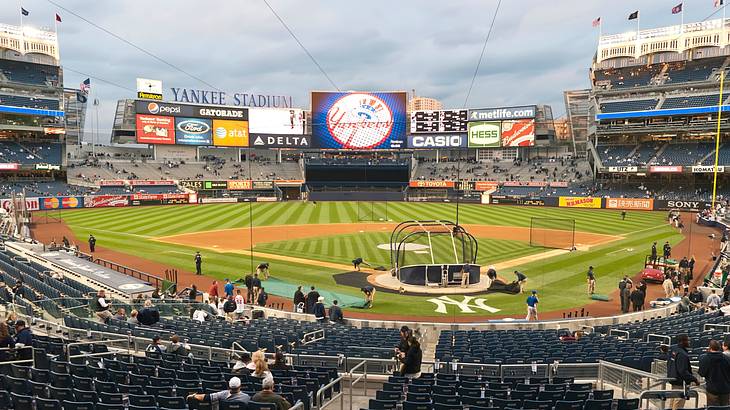 Visit the Yankee Stadium in the Bronx
If you're an avid baseball fan, the Yankee Stadium in the Bronx is a must-visit. It is the home field for the New York Yankees, a legendary baseball team that has contributed many Major League Baseball accolades. It's also one of the most expensive stadiums in MLB and has the ability to hold up to 50,000 fans.
Try Puerto Rican moonshine at Port Morris Distillery
Most distilleries often focus on creating wine, beer, whiskey, tequila, and other typical liquors. Port Morris Distillery is slightly different, however, as they let their Puerto Rican moonshine take center stage.
Port Morris is the only distillery that produces Puerto Rican moonshine, or pitorro, in the United States. Pitorro is made with sugar cane and flavored with apples, coconuts, honey, and ginger, all locally sourced within the state.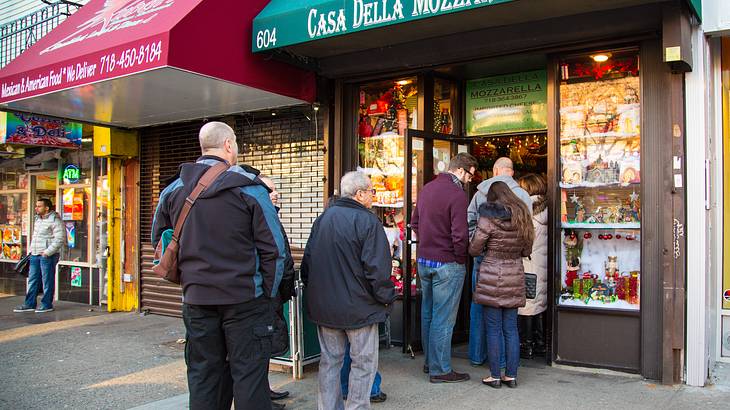 Go to the other Little Italy in the Bronx
Mulberry Street in Manhattan is not the only neighborhood known for its Italian heritage. There is also a Little Italy in the Bronx, located on Arthur Avenue, to be precise. You can find various restaurants, bakeries, and shops selling authentic Italian dishes and other goods here.
Snack on molé with a side of activism at La Morada in the Bronx
La Morada is a little Mexican food joint tucked below an apartment building on Williams Avenue. Serving an array of Oaxacan dishes, La Morada is perhaps most famous for its rainbow molé, a thick sauce made with chiles, tomatillos, nuts, and spices. No matter what you eat here, you're sure to be impressed!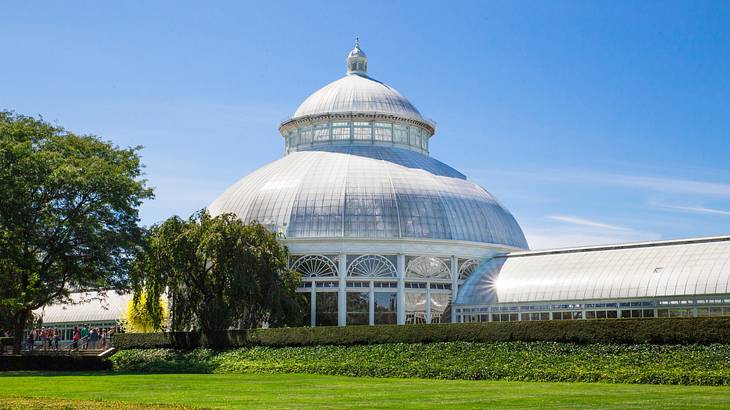 Wander around the New York Botanical Garden
Located in the Bronx, the New York Botanical Garden is a beautiful attraction that many tourists don't know about. Opened in 1891, the garden covers 250 acres and features an array of stunning plant and flower displays. You can also see water features, wildlife, and more. To make admission easy, book New York Botanical Garden passes in advance.
Conclusion
These 70 things to do in NYC that are not touristy are just the tip of the iceberg, but hopefully, you'll have learned of many off-the-beaten-path places to visit!
Keep in mind that the best places in the city are those favored by the locals and remain a secret. So, keep an ear out for local trends and hotspots because so many changes can happen in a New York minute!
Give us feedback about this article
More visual stories related to this article:
---
---
Want to keep exploring?
Subscribe for discounts on tickets and hotels and our latest guides.
Thank you for subscribing
We will be in touch soon with discounts on tickets and hotels and our latest guides.
Want to keep exploring?
Subscribe for discounts on tickets and hotels and our latest guides.
Thank you for subscribing
We will be in touch soon with discounts on tickets and hotels and our latest guides.
Related Articles