Best Time to Visit Charlotte, NC, for Weather, Prices, and Crowds
Destguides may receive commissions from purchases made through affiliate links in this article.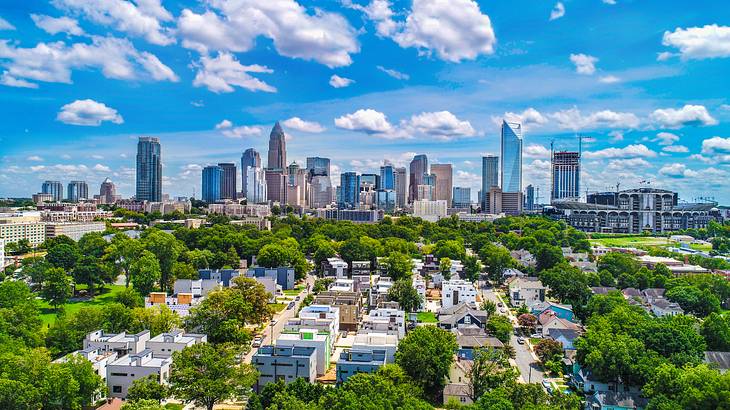 Charlotte is the most populous city in North Carolina, and for good reason. It's full of art, history, culture, and outdoor adventure. Also home to several major businesses, financial institutions, and universities, Charlotte has a booming economy and an ever-growing population.
Numerous museums, galleries, and outdoor murals breathe life into Charlotte's iconic art scene. Performing arts take center stage with The Charlotte Ballet, Charlotte Symphony Orchestra, and other local productions.
There are also endless opportunities for outdoor adventure in Charlotte, from hiking and biking to rock climbing and whitewater rafting. Nearby mountains offer an easy way to retreat into nature for a weekend. At the end of the day, there are plenty of places to unwind in Charlotte, from restaurants serving gourmet cuisine to laid-back breweries.
Charlotte's mild weather for most of the year and abundance of activities make it a popular vacation destination in the south. There's always something to do in Charlotte, from summer sports to winter festivals. If this sounds like the perfect destination, read on to learn the best time to visit Charlotte, NC!
Best Time of Year to Visit Charlotte, NC
Charlotte Best Time to Visit Tips Video
Check out our highlights video of Charlotte best time to visit tips.
Charlotte Vacation Planning Questions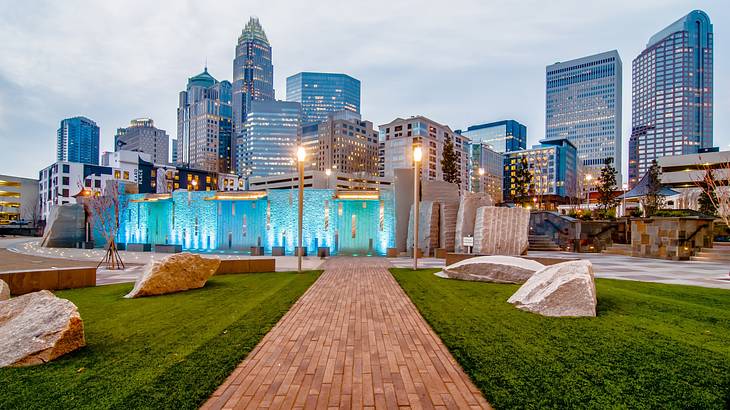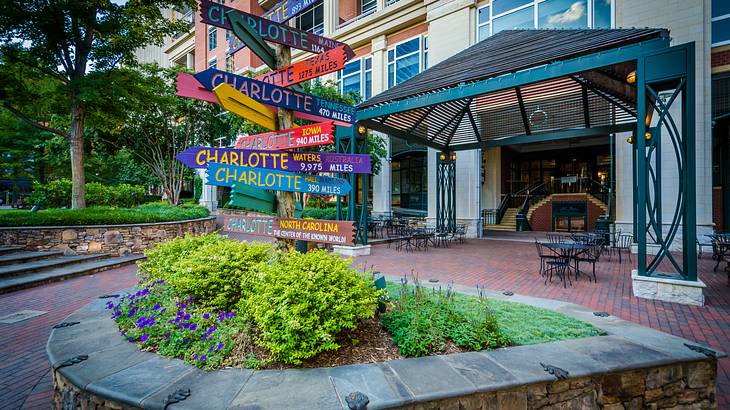 When is the best time to visit Charlotte, NC?
Like many destinations, the best time to go to Charlotte will depend on what you want to do. With year-round typically mild weather and many seasonal things to do, Charlotte is a great travel destination any time of the year.
Music and beer lovers are drawn to Charlotte in the spring (March to June) for the North Carolina Brewers and Music Festival. Dozens of music performances and over 40 breweries make this festival a springtime favorite.
Foodies love visiting Charlotte in the summer (June to September) for the annual Taste of Charlotte, a food festival showcasing over 100 restaurants with live demos from chefs. Outdoor adventurers will also enjoy the summer for hiking, biking, and watersports.
The locals consider fall (September to December) to be the most scenic. Crisp temperatures and changing landscapes offer great opportunities for hiking and scenic drives. Notably, the colorful fall foliage usually reaches its peak in October. Winter (December to March) is best for those who prefer colder weather and tranquility.
Deciding on when to visit Charlotte may be a head-scratcher, but once you are there, you will surely have a good time. There are also plenty of things to do year-round, including visiting museums and art galleries, shopping, and trying out restaurants.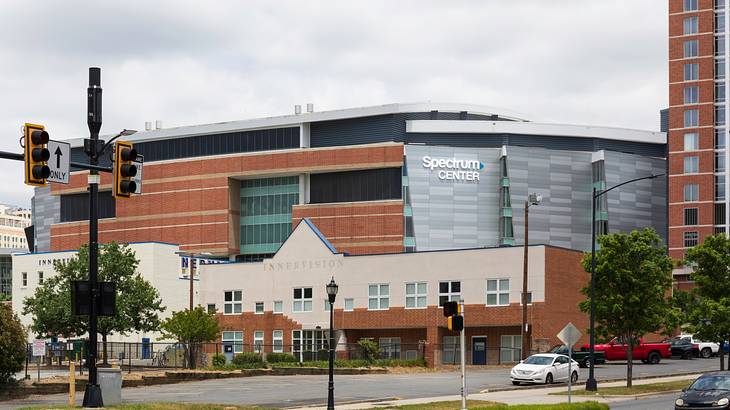 When is the Charlotte Hornets basketball season?
Charlotte is famous for its basketball team, the Charlotte Hornets. Catching a home game at Charlotte's Spectrum Center is a favorite pastime of locals and visitors alike. The Charlotte Hornets basketball season typically runs from October through April in the regular season. If the team gets into the playoffs, they could keep playing until June.
Visitors who want to catch a game will find many ticket options, from economy to premium or courtside seats. Fans can also sign up to be part of "The Hive" for season tickets and to get offers exclusive to fans.
Game nights at the Spectrum Center are understandably busy. Expect traffic delays and plan to arrive early. Local bars and breweries typically have watch parties for fans not attending the game. Fans can still watch the game in a lively atmosphere with much lower-priced food and drinks than at sporting venues.
No Charlotte, NC vacation guide is complete without mentioning the Hornets. Whether you are a basketball fan or not, there's no denying the energy a Hornet's game brings to the city. Going to a game is also one of the best date ideas in Charlotte, especially if your partner loves sports!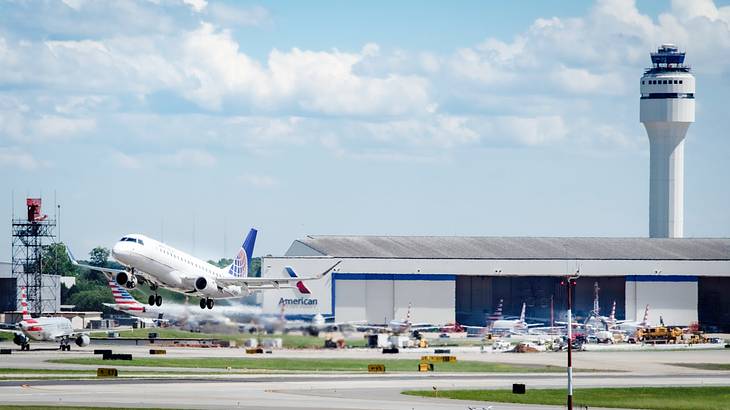 When is the cheapest time to fly to Charlotte, NC?
The cheapest time to fly to Charlotte, NC, is typically January or February. According to online flight price data trackers, you can find the cheapest flight to Charlotte during January or February, when you will save up to 30 percent on average prices. Therefore, this is the best time to travel to Charlotte if you are on a budget.
January and February are considered the low season in Charlotte, with visitation rates declining steeply right after the Christmas and New Year holidays. Flights departing on weekdays should cost the least.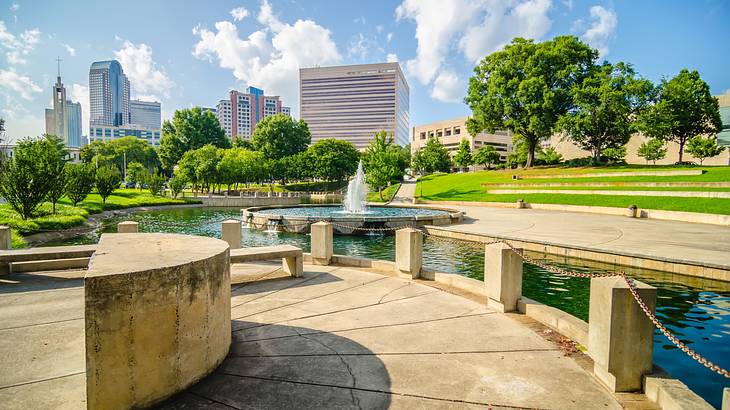 What is the cheapest way to get to Charlotte, NC?
The cheapest way to get to Charlotte, NC, depends on where you are leaving from. If arriving from North Carolina or surrounding states, driving will probably be your best option. The route can also be very scenic if you traverse the Blue Ridge Parkway.
Amtrak train has routes that stop in Charlotte, with some originating as far north as New York City and as far south as New Orleans. Ticket prices vary, but Amtrak is generally a budget-friendly way to travel. Traveling by train has perks regarding price, but it takes longer to reach your destination. So if your time is limited, train travel may not be the best choice.
If flying is the only option, discounted plane tickets can often be found in January or February, Charlotte's low season. The cheapest flights to Charlotte are generally on weekdays. The Charlotte airport is one of the busiest in the country, and various flight options are usually available, meaning you'll likely find a flight whenever you want to travel.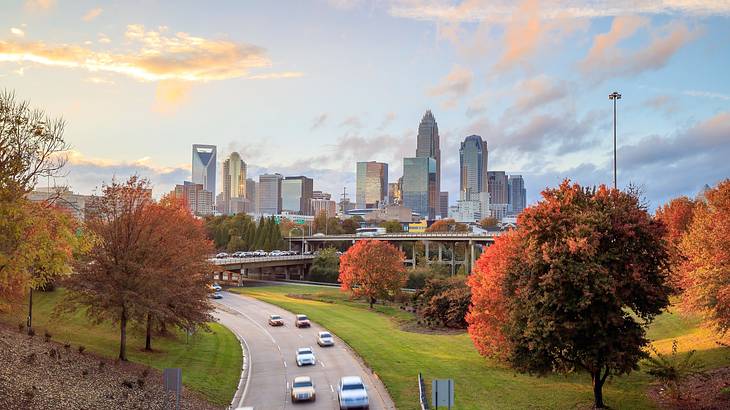 What are the cheapest hotels in Charlotte, NC?
Travelers on a budget don't have to worry, as there are plenty of options for cheap hotels in Charlotte. Whether staying close to the airport or downtown, there is an option for every budget.
Near the airport, you'll find the Wingate by Wyndham. This hotel features all the comfy basics, including complimentary breakfast, at a budget-friendly price.
Downtown, the Aloft Charlotte City Center offers a boutique experience at an affordable price. Located adjacent to the light rail station, this hotel gives you easy access to all of Charlotte's downtown attractions, and it's an excellent option for those not renting a car.
Across town, in the University area, the Holiday Inn Express is close to parks and museums. This hotel helps stretch your travel dollars further with free parking, Wi-Fi, and breakfast.
Overall, hotel prices fluctuate with high and low seasons. June, July, and August are often at peak pricing because of the abundance of tourists in the city. When there are events, you'll find hotel bookings around Charlotte, North Carolina, will be hard to get. January and February typically have lower prices with the least amount of visitors.
Weather, Prices, and Crowds in Charlotte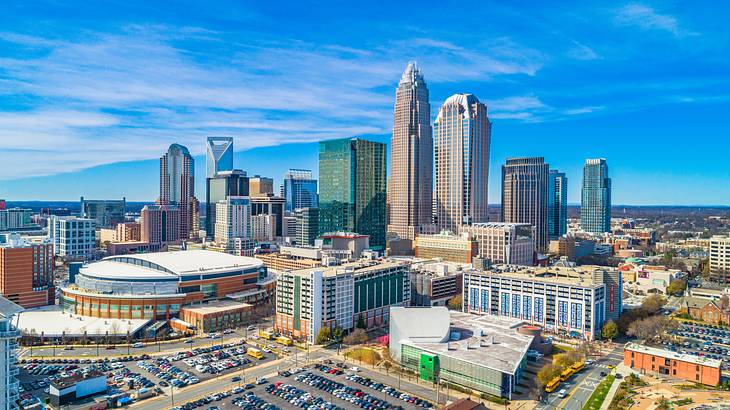 Winter in Charlotte, NC
Charlotte's winter season falls in December, January, and February. While it is this city's coldest time, it's relatively mild compared to other big cities in the north. Temperatures range from the 30s to 50s degrees Fahrenheit with some snow, and January is typically the coldest month with the most snowfall.
Winter in Charlotte is usually still tolerable for outdoor activities, but on the coldest days, Charlotte's many museums offer an indoor reprieve. Going to The Mint Museum of Art or visiting Discovery Place Science are just two the things to do indoors in Charlotte.
Around the holidays, Charlotte also has an array of festive light displays, Christmas markets, and winter festivals. Additionally, the Charlotte Ballet performs special shows with holiday favorites like 'The Nutcracker.'
While December sees a slight uptick in visitors around the holidays, January and February usher in the low season. January or February can be the best time of year to go to Charlotte to avoid crowds and save on accommodation. The winter activities in Charlotte include ice skating at the Whitewater Center and snow tubing on Beech Mountain.
Spring in Charlotte, NC
Spring in Charlotte falls in March, April, and May. Early spring often has much cooler temperatures, ranging from 40 to 60 degrees Fahrenheit, and later spring can warm up to the 70s and 80s. It's usually very pleasant for hiking, biking, and exploring the city on foot.
Springtime in Charlotte is known for sunny skies, blooming flowers, and a full schedule of festivals and events. The famous Charlotte St Patrick's Day Parade brings out the crowds in early March with a full day of Irish food, drink, and festivities.
In April, Tuckfest celebrates the outdoor lifestyle with a multiday event centered around trail running, rock climbing, kayaking, and other outdoor sports. In addition, the North Carolina Brewers and Music Festival occurs every May, showcasing live music and local breweries.
In between all the festivities, spring is a great time to visit one of Charlotte's botanical gardens when all the flowers bloom. The weather is also perfect for a segway tour of Charlotte's Uptown neighborhood.
Crowd levels and pricing in spring can be moderate to high. Spring Break and local festivals contribute to the higher volume of tourists. Hotels closest to events are often full around festival times, so book early to avoid disappointment. The best deals can be found in early or late spring, before and after Spring Break.
Summer in Charlotte, NC
Summer in Charlotte is hot and humid and falls in June, July, and August. Temperatures often reach 90 degrees Fahrenheit, however, rain frequently features in the forecast for a Charlotte summer, so pack your umbrella if you plan any outdoor activities.
Crowds and pricing in summer can be moderate to high, with July being the busiest month. Independence Day (July 4th) celebrations are extensive in Charlotte, with music, food, and fireworks.
Summer is also time for the Taste of Charlotte, a three-day food festival with access to over 100 restaurants, chef demonstrations, and live music. The Summer Pops Concert Series offers family-friendly fun with the Charlotte Symphony's live shows showcasing various themes from The Beatles to Star Wars.
Additionally, swimming and watersports are popular in the summer, offering a great way to cool off from the heat and humidity. The lakes can get crowded in the summer, so it's best to arrive early to secure a good spot or a kayak rental. For those willing to brave the rapids, summer is an ideal time to visit the Charlotte Whitewater Center and try your hand at whitewater rafting.
Summer nights in Charlotte are perfect for exploring the local craft beer scene. There are over 30 breweries in Charlotte and even more in the surrounding areas. Brewery tours and pub crawls are very popular and fill up fast in the summer.
Overall, Charlotte is a busy summer vacation destination. It's best to plan, especially if you want good deals on flights and hotels. Popular tours can sell out during the summer, so those are better booked in advance. The most famous Charlotte landmarks will also be busiest at this time of year.
Fall in Charlotte, NC
Cooler temperatures, colorful foliage, and a new lineup of festivals mark the fall season in Charlotte. The fall months of September, October, and November see temperatures in the 40s to 60s degrees Fahrenheit, with colder dips in late November which can sometimes usher in early-season snow.
The Charlotte Labor Day Parade marks the transformation of summer to fall. Summer crowds tend to dissipate right after Labor Day in the first week of September, and fall crowds are typically moderate, and better deals on flights and hotels can be found.
Fall in Charlotte has plenty of festivals, from The Great Pumpkin Fest and The Carolina Renaissance Festival to Oktoberfest Charlotte. There are also many spooky season events like Halloween-themed pub crawls and haunted Charlotte ghost tours. November highlights include Charlotte's famous Novant Health Thanksgiving Day Parade which packs the downtown area with spectators.
Colorful fall foliage is on display in Charlotte's many parks and outdoor spaces. Those willing to venture a little further will also see spectacular fall colors on a scenic drive through the nearby mountains. The colors usually peak around mid-fall, so October is the best month to visit Charlotte if you hope to see fall foliage.
In Summary
With so much to see and do in Charlotte, it's easy to understand why it's such a popular city. If you're planning a trip, this article should have given you a good idea of the best time to visit for all your needs. Whether you choose to go in winter, spring, summer, or fall, you'll have a great time exploring the city!
Give us feedback about this article
Learn more about Charlotte:
More articles about North Carolina:
Read more articles about the United States:
More articles about best time to visit tips:
---
---
Want to keep exploring?
Subscribe for discounts on tickets and hotels and our latest guides.
Thank you for subscribing
We will be in touch soon with discounts on tickets and hotels and our latest guides.
Want to keep exploring?
Subscribe for discounts on tickets and hotels and our latest guides.
Thank you for subscribing
We will be in touch soon with discounts on tickets and hotels and our latest guides.
Related Articles