10 Breweries in the Outer Banks of North Carolina to Visit
Destguides may receive commissions from purchases made through affiliate links in this article.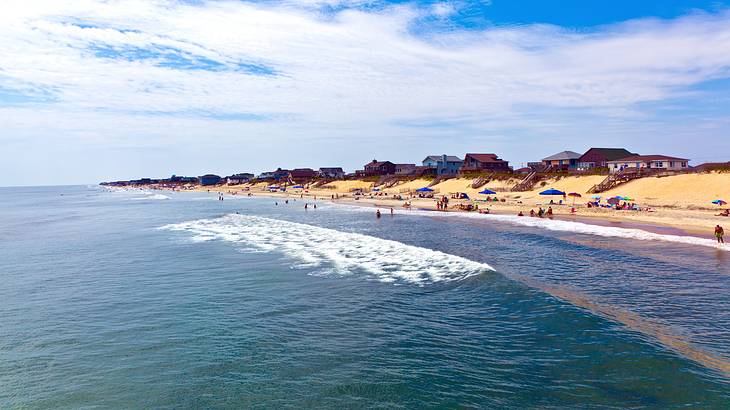 The Outer Banks are found on North Carolina's Atlantic Coast in the United States. This bustling vacation destination has several attractions, from beaches and maritime forests to activities galore. You'll also find several outstanding breweries in OBX.
These breweries are located in many of the towns on the Outer Banks, and all serve delicious and refreshing craft beers. While some brew their beers in-house, others curate a selection from other breweries, including those on the Outer Banks and in the rest of North Carolina.
If visiting and looking for the ideal place to relax with a cold beer, be sure to check out these 10 breweries in the Outer Banks of North Carolina. A convenient map is also included below to help you see which are close to you. You could even use it to plan an Outer Banks brewery crawl!
Planning a last-minute trip to Outer Banks?
Book your Outer Banks accommodations and experiences early! Here are some top choices to make your trip enjoyable.
Top Accommodations in Outer Banks
Top Tours and Experiences in Outer Banks
10 Outer Banks Breweries to Visit
Outer Banks Breweries Map
A map of Outer Banks. Use the map to explore all the breweries.
Weeping Radish Farm Brewery & Butchery, Grandy
Weeping Radish Farm Brewery & Butchery is a German-inspired farm-to-table brewery and restaurant in Grandy, Outer Banks. The brewery was one of the first on the Outer Banks and in North Carolina, opening in 1986.
All the craft beer you can enjoy here is Bavarian-inspired and quite heavy on the hops! This beer is some of the best you can get on the Outer Banks, so a visit here is a must.
Corolla Gold is a favorite among locals and visitors, with proceeds from sales going to the Corolla Wild Horse Fund. Other beers to try include Black Radish lager and OBX Beer.
The brewery also makes its own German-style sausages, and you can enjoy many German dishes at their onsite gastropub restaurant. To stick with the beer theme, be sure to try their award-winning Beer Bratwurst!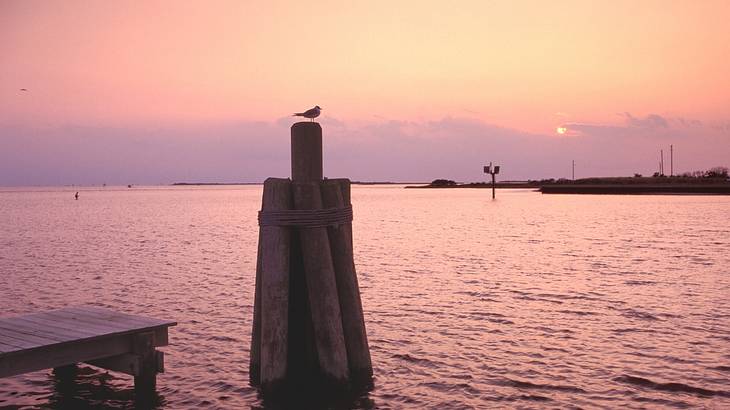 Lost Colony Brewery and Cafe, Manteo
Named after the famous Lost Colony of Roanoke, Lost Colony Brewery and Cafe in Manteo serves some of the most delicious craft beers you'll try.
This brewery specializes in British and Irish-style beers. While Lost Colony produces many outstanding beers, Hatteras Red is their bestseller. This British-style ale has a full but vibrant and delicious flavor. Flights are available if you want to try multiple beers.
Lost Colony was formerly a restaurant called Full Moon Cafe. Despite the rebranding, they still have a great Atlantic pub-style food selection, including yellowfin tuna sashimi, crab pretzel au gratin, and shrimps and grits.
A visit here is essential as you can only get Lost Colony beers at this location. You'll also be able to enjoy the brewery's ideal location, right on the water opposite Roanoke Island Park.
Off the Wall Taphouse, Corolla
Off the Wall Taphouse is another of many incredible Breweries in the Outer Banks. Located in Corolla, this super rustic spot has amazing craft beer on tap and is the perfect place to hang with friends. Off the Wall is a newer brewery on the Outer Banks craft beer scene, but it has quickly become a hotspot.
What's cool is that you can serve yourself! Their fun and innovative "Wall of Beer'' features 20 craft beers and allows you to self-serve. Beers on tap change frequently, and you can test any of the beers available before committing to a full pint. It's the ultimate craft beer experience!
If trying so many outstanding beers triggers your appetite, you can order a range of yummy bar snacks. These include spicy pickle fries, pork belly BLT, and pretzels with shrimp and crab dip.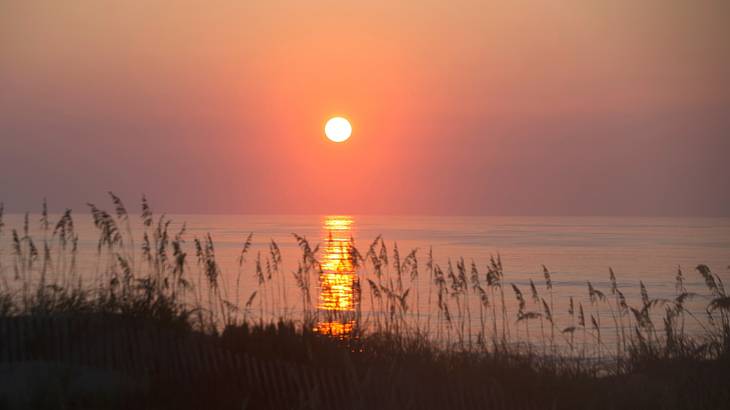 Northern Outer Banks Brewing Company, Corolla
Northern Outer Banks Brewing Company is also found in Corolla and is another newer brewery. This microbrewery was opened by a lifelong Corolla resident and serves incredible locally made beer.
The brewery started with four flagship beers: Penny's Hill IPA (the most popular on the menu), Corolla Blonde Lager, Swan Beach Honey Pale Ale, and Corolla Saison Ale. These are still available today, plus an additional three to four other beers are on draft. Pints, flights, and samples are served here.
Outer Banks Brewing Company focuses on its beers, so food is not available. However, some snacks are available to enjoy alongside your brew. Only outdoor seating is available currently, so be sure to head to the brewery on a sunny day!
Buffalo City Jug Shop, Kill Devil Hills
Kill Devil Hills is home to some of the best breweries in the Outer Banks, and Buffalo City Jug Shop is one of them. This brewery allows you to enjoy a beer at this location or take it to go, labeling themselves as "the Outer Banks first to-go growler shop." Beer on tap, in cans, and for growler filling is available.
This brewery focuses on beers from the Outer Banks and the rest of North Carolina. Beers come from North Carolina breweries including Burial Beer Co., Trophy Brewing Co., and Wooden Robot.
Some international beers are also available. Their menu always includes 24 beers, but these get rotated frequently, so you can try something new each time you visit.
Jack Brown's Beer & Burger Joint, Kill Devil Hills
Burgers and beers go perfectly together, and that's what Jack Brown's Beer & Burger Joint in Kill Devil Hills specializes in. Their beer offerings include both local craft beers and options from around the world. Around 100 beers are available, so there's something for everyone.
If you decide to frequent Jack Brown's Beer & Burger Joint, why not try to join their "Notch Club." To get membership, you must try every different beer on the menu. This will take some time, so it is best attempted by residents or frequent OBX vacationers!
Once you've found your favorite beer, make sure to grab a burger. All burgers use wagyu beef patties, and ten variations, from a classic cheeseburger to the spicy Cobra Kai or southern-inspired Cowboy burger, are available.
There's also a burger of the day, and you can finish your meal with a decadent deep-fried Oreo. This spot is pet-friendly, as long as you are happy to sit in the outside seating area.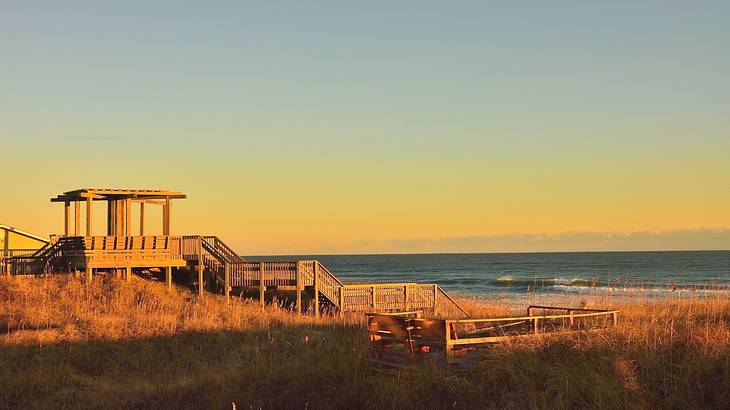 Outer Banks Brewing Station, Kill Devil Hills
Outer Banks Brewing Station is one of the best known on the Outer Banks and is conveniently located on the Bypass in Kill Devil Hills. All beers get brewed onsite, and a wind turbine powers the operation!
This brewhouse serves a range of beers from light pilsners to darker ales and porters. Nine Outer Banks Brewing Station beers are currently on the menu, including the popular Lemon Grass Wheat Ale, a chocolate malt, and their original Olsch!
A few other brands' beers also get rotated but if visiting, be sure to try at least one home-brewed Outer Banks Brewing Station beer. Pints and sampling flights are available.
You can also fill a 64oz growler if you want to take some of their beer home. Bar-style food is served if you need a snack. Along with incredible beers and yummy food, there are frequent live music events, open mic nights, and other events to make your visit even more memorable.
Tap Shack, Duck
Duck isn't home to many of the breweries in the Outer Banks, but Tap Shack is a local favorite! This quirky beer garden is nestled behind Coastal Cravings, a cute seaside restaurant.
Tap Shack is simply a shack in the garden behind the restaurant that sells draft beer and other beverages. They also have live music and activities like ping pong and backyard games.
Beers change frequently, so it's hard to recommend one to try. You can choose from a range of international, American, and specifically North Carolina beers.
It's the perfect place to spend a warm summer evening! If you are hungry, be sure to grab a meal at Cravings too.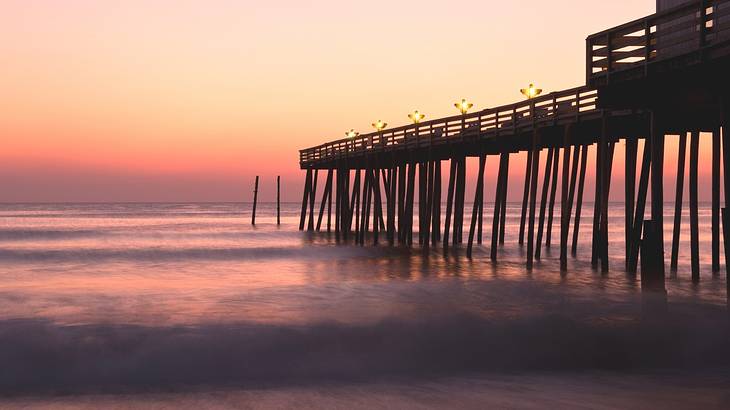 Growlers to Go Craft Beer, Duck and Kitty Hawk
Growlers to Go is another grab-and-go beer location. Well, it's actually two locations, with one in Duck and one in Kitty Hawk.
Along with filling a growler (bring your own or buy there), you can enjoy a pint or flight onsite. You can also purchase wine, premium cigars, and ready-to-go packaged beer.
When choosing a beer, you'll have up to 42 options. Beers on tap include those from North Carolina and across the US. Draft, IPAs, strong and light ales, porters and stouts, and sour and fruit beers are available.
This brewery is another on the Outer Banks that caters to all tastes. With so many options, choosing what to get can be challenging!
Due to the vast selection, a consistently recommended beer does not exist - everyone has their favorite! Luckily, you can taste samples onsite to help you make the best decision. Ultimately, if you love beer, a stop at Growlers to Go is a must!
1718 Brewing, Ocracoke
This brewery and tasting room is located in Ocracoke, a remote but beautiful town off the Outer Banks. 1718 Brewing is the southern Outer Banks' sole brewery and is known for brewing delicious craft beers onsite.
The beers on tap rotate, and there are always seasonal options to try. Both pints and flights are available, meaning you can grab a cold glass of your preferred beer or test a few to find your favorite.
There is additionally an onsite restaurant serving appetizers and other small plates. Live music and open mic nights often happen too, so if in Ocracoke, be sure to head to 1718 Brewing for a super fun night out!
In Conclusion
If on the Outer Banks, visiting at least a few of these awesome breweries is a must! Whether you are just here for a weekend or are spending a week on the Outer Banks, there's always time for some incredible local craft beers!
If you want to learn more about the Outer Banks or North Carolina, then be sure to check out these 45 fun facts about the Outer Banks and these 75 interesting facts about North Carolina.
Give us feedback about this article
For more interesting articles about United States, read:
For some great articles about breweries, check out:
For visual stories related to this article, take a look at:
---
---
Want to keep exploring?
Subscribe for discounts on tickets and hotels and our latest guides.
Thank you for subscribing
We will be in touch soon with discounts on tickets and hotels and our latest guides.
Want to keep exploring?
Subscribe for discounts on tickets and hotels and our latest guides.
Thank you for subscribing
We will be in touch soon with discounts on tickets and hotels and our latest guides.
Related articles