16 Best Outer Banks Cities and Towns to Visit
Destguides may receive commissions from purchases made through affiliate links in this article.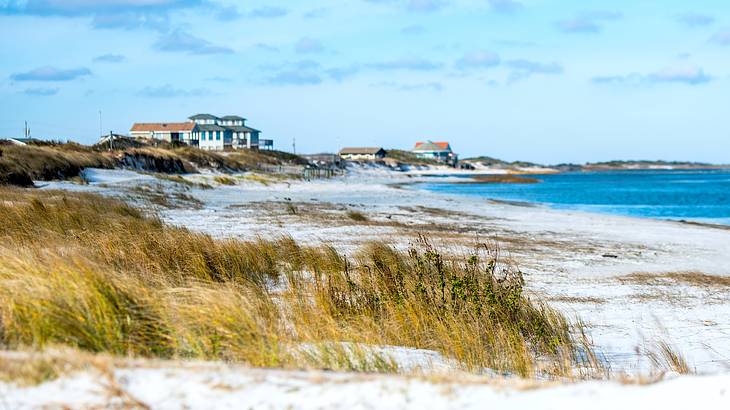 The Outer Banks in the United States is a chain of sandbar islands. On each of these Outer Banks islands are small, beautiful, and quaint coastal towns. The towns in the Outer Banks, North Carolina, listed below, have been visited by tourists for centuries. There are several reasons why a trip to at least one should be on your vacation bucket list!
The Outer Banks has something for everyone, from incredible food and beautiful beaches to historical attractions and activities galore.
Due to the many outstanding OBX towns, choosing which to check out when visiting the region can be challenging. Hopefully, this comprehensive list of towns in the Outer Banks, NC, will help you plan your visit to this beautiful part of the Eastern seaboard.
Before jumping into the list, here is an overview of the towns that will be covered. An Outer Banks map of towns is also included below, making it easy to see how far away each city is from the others.
Conveniently, there are many airports close to the Outer Banks, making it easy to reach any of these towns from across the US, or internationally.
Think a trip to the Outer Banks is for you? Then, let's jump into this list of 16 Outer Banks locations in North Carolina to visit!
16 Best Outer Banks Towns
Northern Beaches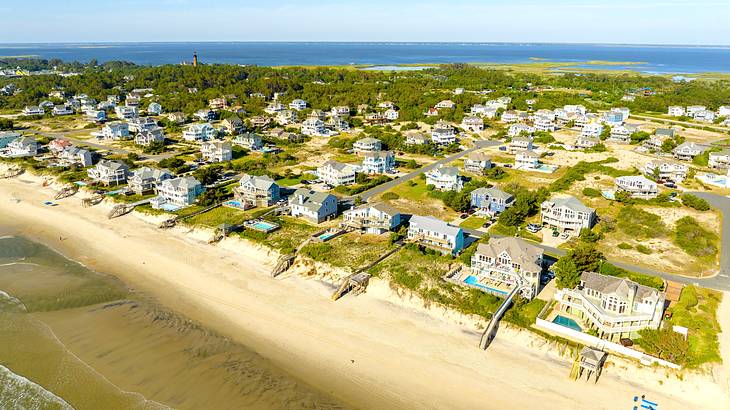 Corolla, Northern Beaches
Corolla, found in Currituck County, is a modern and upscale Northern Beach town. From ocean-front mansions to expansive beaches and boardwalk shopping, a trip to Corolla is the ultimate coastal getaway.
Popular attractions here include the Currituck Beach Lighthouse and the Whalehead Historic House Museum. Other top things to do in the Outer Banks and Corolla include kayaking, paddleboarding, and trips to the spa.
A fascinating thing to see here is the Corolla wild horses. This herd of Colonial Spanish Mustangs can be seen roaming the beaches, making for a unique and tranquil viewing experience.
Many of the beaches that these horses frequent are only accessible by 4x4, but tours are available to ensure you get to view these majestic creatures. Corolla additionally features a range of delicious beachside restaurants and chic seaside shopping spots.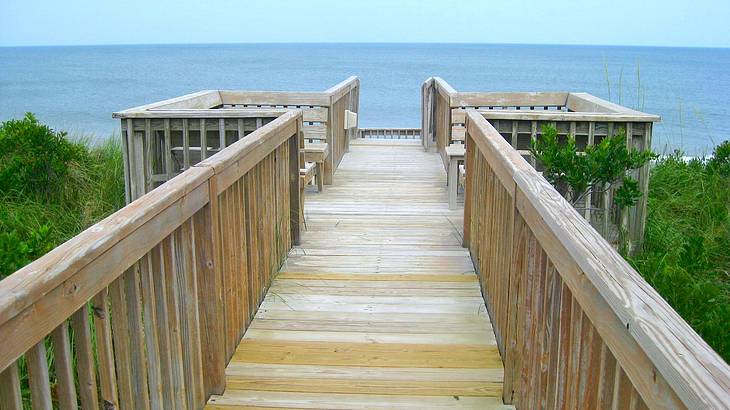 Southern Shores, Northern Beaches
Southern Shores is a secluded residential town found between Kitty Hawk and Duck. This quiet and peaceful community is one of the best Outer Banks towns for those looking to unwind and escape the city bustle.
This town is known for its stunning maritime forests and impeccable beaches. Fun activities to partake in include golf, water skiing, and exploring the serene landscape of sandy beaches and forests. Beaches are only accessible to residents, although most vacation accommodation grants you access to nearby beaches.
Having enjoyed the many activities on offer, Southern Shores has a range of outstanding dining options to try. Or, it's just a short drive (or walk, in some cases) to busier Outer Banks towns and attractions.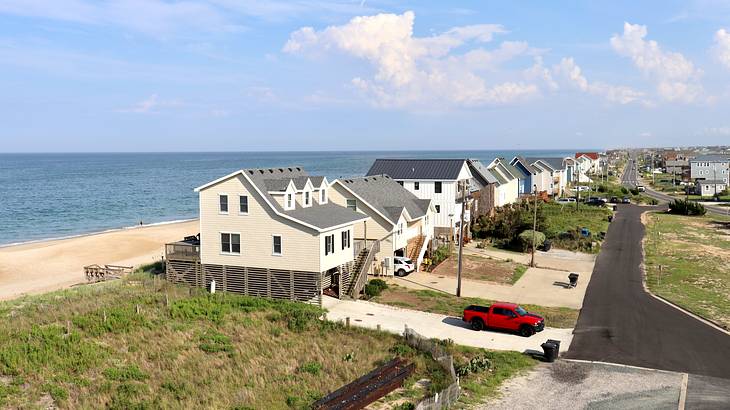 Kitty Hawk, Northern Beaches
Kitty Hawk is another breathtaking Outer Banks vacation spot. This vibrant seaside town offers something for everyone. From vast sandy beaches and a quaint pier to multiple dining and shopping outlets, you won't get bored exploring.
Watersports are very popular in Kitty Hawk, so be sure to try them at least once. Aquatic options available include kayaking, surfing, and paddleboarding. Rental shops abound if you don't have gear with you.
For nature and wildlife lovers, a visit to the Kitty Hawk Woods Coastal Reserve is also a must. Creatures you may spot are toads, snakes, raccoons, and a vast selection of bird species.
A notable fun North Carolina fact is that this is where the world's first flight took place. Despite this, the Wright Brothers' first powered flight was in the nearby Kill Devil Hills, where you'll find most North Carolina landmarks relating to this feat.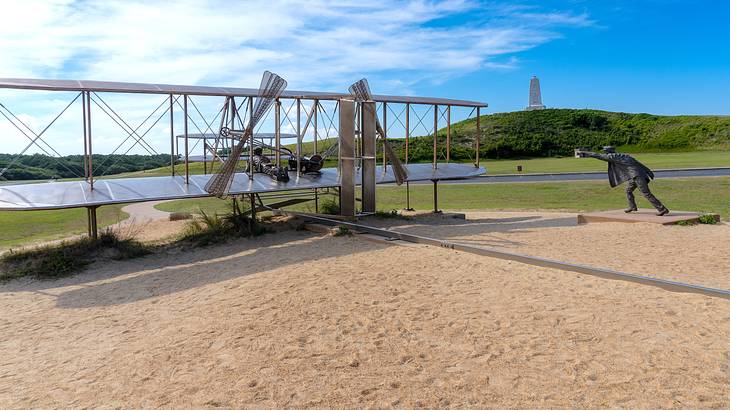 Kill Devil Hills, Northern Beaches
Most say that this town got its unique name after barrels of Kill Devil rum split into its waters decades ago. Others even say that barrels of the rum are still hidden in the town's sand dunes. Along with an interesting namesake, Kill Devil Hills is the oldest and one of the most-visited towns in the Outer Banks.
A popular attraction is the Wright Brothers National Memorial. The brothers took their first powered flight here, and the memorial commemorates Kill Devil Hills' claim to fame. This event is so important to the state that a North Carolina nickname, First in Flight, commemorates the event and is featured on NC license plates!
At night, you can even see it lit up from all over town. A small fee is required if you want to see the memorial and grounds, but a visit is a must, and all proceeds go to the area's upkeep. Other activities to partake in include relaxing on the beach, visiting Avalon Fishing Pier, and trying incredible dining options.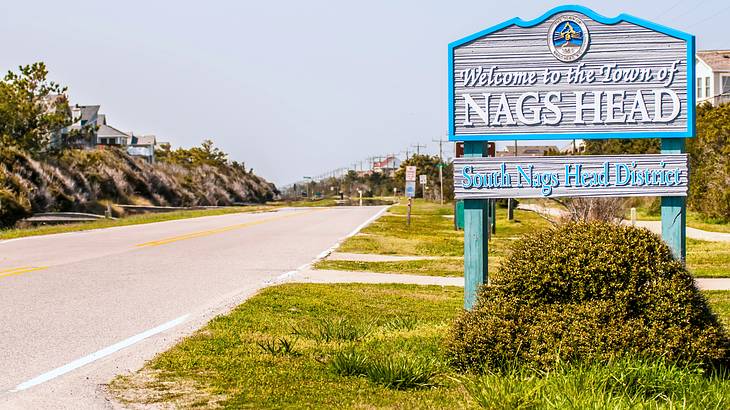 Nags Head, Northern Beaches
This Outer Banks town is another trendy tourist destination packed with amazing beaches, attractions, and nature spots.
Bodie Island Lighthouse is particularly well-known. This scenic lighthouse is surrounded by lush grass and a charming boardwalk. Venture to the lighthouse viewing point for stunning views of Nags Head.
Jockey Ridge State Park is also a much-loved attraction. It's home to the largest sand dune on the east coast and has many hiking trails to try. You can even try hand gliding here!
Additionally, Pea Island National Wildlife Refuge, found 10 miles south of Nags Head, is the perfect day trip location for nature and wildlife lovers. Creatures you may see include loggerhead turtles, otters, and over 300 species of birds.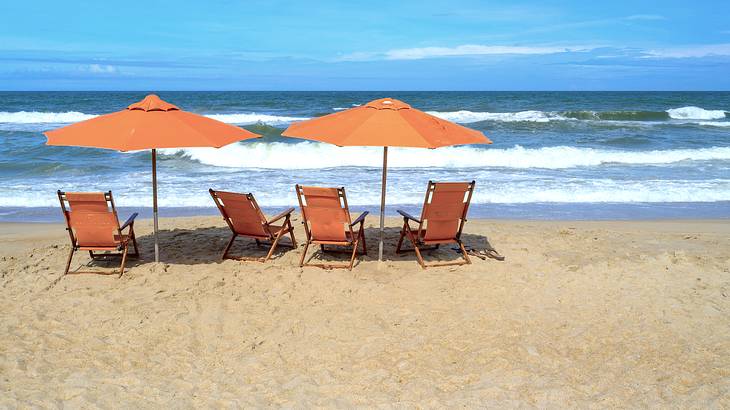 Duck, Northern Beaches
Are you looking for a coastal town that's off the beaten path? Then Duck might be the answer. Thousands of tourists flock here every year to enjoy the area's natural beauty and the vast array of wildlife. The town is named Duck simply due to the many waterfowl in the area.
The ocean views here are incredible too. You can admire views of Currituck Sound on one side and the Atlantic Ocean on the other. Popular activities to enjoy in Duck include kiteboarding, surfing, and hiking. Of course, beach days are a must also!
The town has recently seen an influx of restaurants and shops, too, several of which are on the charming boardwalk. Notably, Duck is home to Duck Donuts, a popular North Carolina chain. Be sure to pick up some of the brand's sweet treats before you leave.
Roanoke Island
Wanchese, Roanoke Island
This lesser-known Outer Banks town is a must-visit for those looking for a peaceful and less busy getaway destination. This charming fishing town has a stunning marina and a vast array of seafood restaurants serving fresh and delicious local catches.
Living up to its fishing village heritage, the houses here are adorned with painted lobster and crab pots and seashell garden decor. This picturesque town will leave you yearning for the quiet seaside village life!
Want to give the real fisherman's life a go? There are daily fishing charter tours to join. You may even spot dolphins!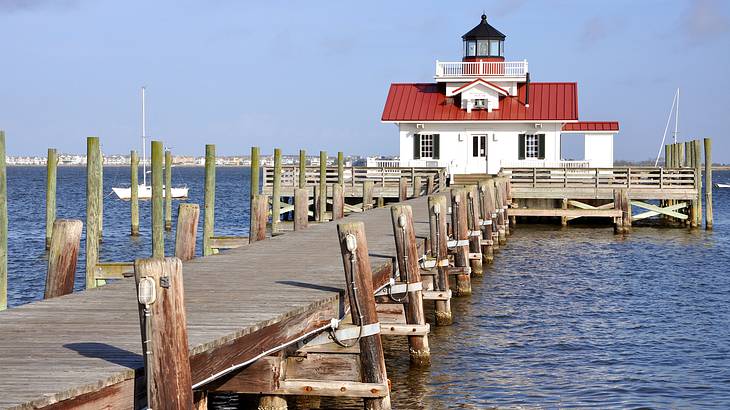 Manteo, Roanoke Island
This colonial-style OBX town sits on Roanoke Island in Dare county. Manteo is one of the places in the Outer Banks with the most history, making it a popular vacation spot for tourists from across the globe.
Notably, this is where the famous Roanoke Colony formed, marking the start of the English colonization of America. It's also where the first English child was born into the New World.
This colony is particularly interesting because its entire population disappeared without a trace between 1587 and 1590. What happened to them is still unknown and gained them the nickname "The Lost Colony."
Along with being home to this historical mystery, you can visit the Fort Raleigh National Historic Site. Other attractions include the Elizabethan Gardens and the Roanoke Island Festival Park. The waterfront here is just stunning too!
Hatteras Island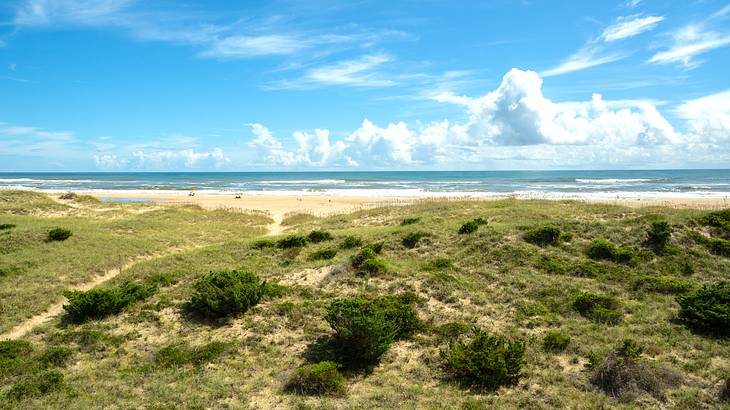 Hatteras, Hatteras Island
Hatteras Village is the southernmost town on Hatteras Island. It's best known as a fishing town, and the world-class fishing opportunities are what draw most tourists to Hatteras.
Hatteras is even known as the "Blue Marlin Capital of the World" due to the fish being both abundant and some of the largest you can catch (some say illustrious Blue Marlins weighing over 1,000 pounds swim in the waters!) The town additionally boasts a rich history and stunning beaches.
When visiting this part of the Cape Hatteras National Seashore for a fishing trip, you can join a charter or fish from the shoreline (surf fishing). Other fun water activities to try in Hatteras Village include canoeing, kayaking, windsurfing, and kiteboarding.
The North Carolina Maritime Museum and a scenic trail, the Sea Breeze Trail, can also be found in Hatteras.
Waves, Hatteras Island
Waves and Rodanthe were previously one town called Chicamacomico before separating in 1939. Today, Waves is a much-loved beach, surfing, and kitesurfing destination and the second Tri-Village town on Hatteras Island.
Being such a renowned water sports destination, you'll find two of the biggest watersports rental companies: Kitty Hawk Kites and REAL Watersports. These are the go-to outlets to get everything you need for a fun day of water activities.
Of course, you can also relax on the Atlantic beaches if watersports aren't your thing. After a busy day in Waves, you can dine at one of many cute eastern seaside town-style eateries.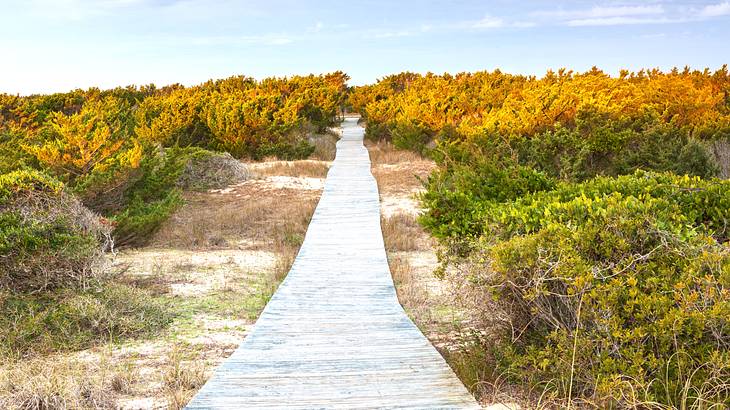 Salvo, Hatteras Island
Salvo is the third of Hatteras Island's Tri-Villages and the southernmost. This Outer Banks town is mainly a residential area, but some vacation rentals are available.
Salvo is an optimal location for those looking for a quiet getaway, with few other tourists and beautiful beaches. Many of the beaches in Salvo also have picnic areas and designated spots that offer the best sunrise and sunset views.
Along with being the perfect quiet getaway, Salvo is a fantastic family-friendly vacation destination, especially if you're looking for some quality time with the family without a range of distractions.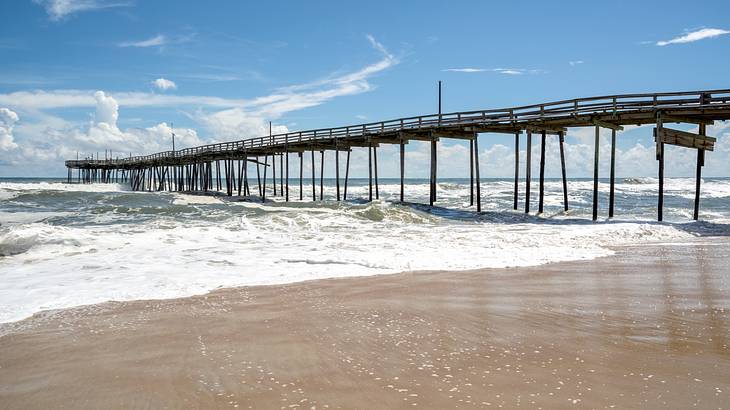 Avon, Hatteras Island
This town on Hatteras Island is known as the center of the island. Avon features the only chain grocery store on all of Hatteras and boasts a vast selection of incredible dining options and other amenities. Despite having more cosmopolitan amenities than other Outer Banks towns, Avon retains its peaceful beachside charm.
Of course, you'll find stunning beaches in Avon. But there are also other attractions, including a spa, mini-golf course, and fishing pier.
If you don't want your evening to end too early, you can check out Koru Village Beach Club and Spa too. The club features a restaurant and late-night dancing. There's also a pool and spa if you want to hang out there during the day.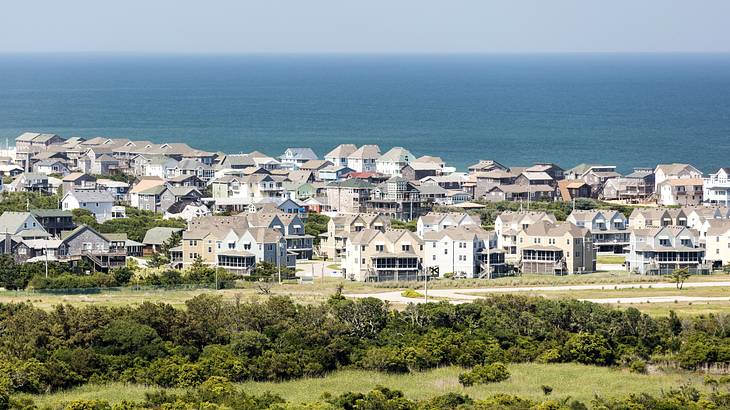 Buxton, Hatteras Island
Buxton is another of the great cities in the Outer Banks, North Carolina, found on Hatteras Island. The most popular attraction here is the Cape Hatteras Lighthouse.
This lighthouse reaches almost 200 feet tall, making it the tallest in the US and second tallest in the world. Cape Hatteras Lighthouse is also known for its fun swirly black and white stripes and red base; getting a picture of it is a must!
While visiting the lighthouse, be sure to hike the trails of Buxton Woods, too - wildlife sightings are guaranteed! Other popular Buxton activities include windsurfing, beach days, and stopping by the famous Orange Blossom Bakery. While at the bakery, be sure to pick up one of their delicious Apple Uglies.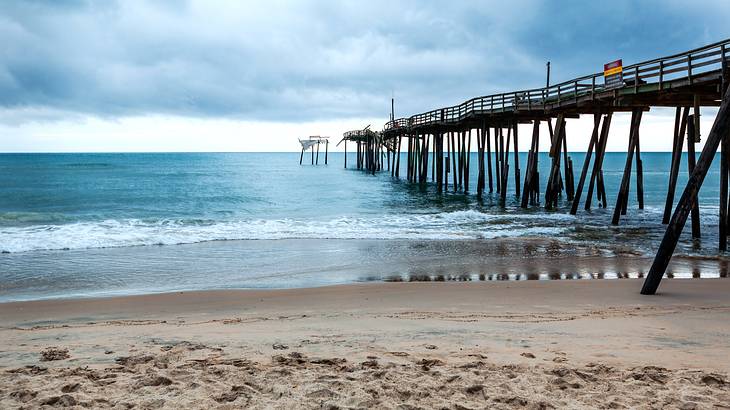 Frisco, Hatteras Island
Frisco is one of the most relaxed and remote parts of Hatteras Island. It's an excellent camping spot and perfect for those looking to explore unspoiled and uncrowded beaches.
Vacationers come here to enjoy stunning sunrises and sunsets and take in the beautiful and quiet surroundings. While amenities are few, a handful of local restaurants serve super tasty home-style and seaside dishes. Cute vacation rentals are aplenty too, with many located on the beach.
If looking for the best Outer Banks cities for secluded getaways, Frisco should be top of your list!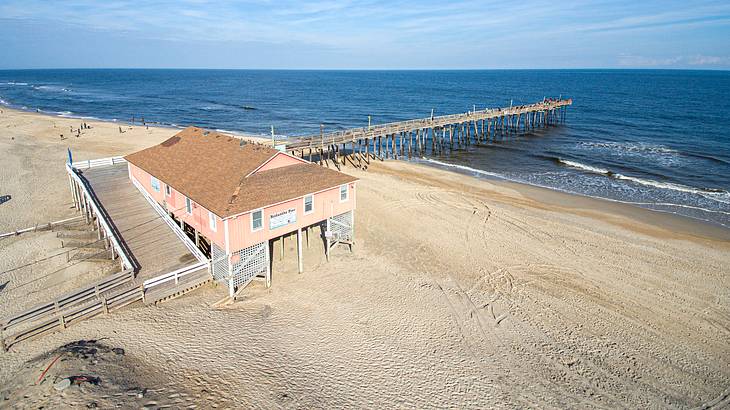 Rodanthe, Hatteras Island
Rodanthe is another of many places in the outer banks with stunningly pristine beaches and is one of the three Tri-Villages of Hatteras Island. It's also known for being the setting of Nicholas Sparks' novel and movie Nights in Rodanthe.
This location is additionally renowned as being home to the Chicamacomico Life-Saving Station. This former maritime rescue hub is now a museum worth visiting.
Vacationers here can also kayak, kitesurf, windsurf, or relax on the tranquil, wind-swept beaches. Parts of the formerly mentioned Pea Island National Wildlife Refuge also cross into Rodanthe.
Ocracoke Island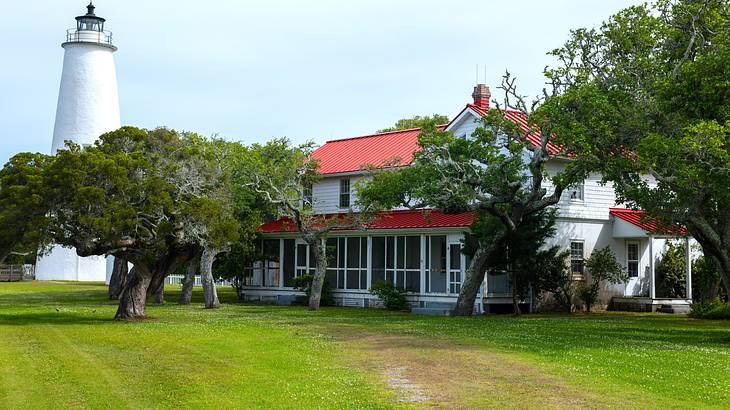 Ocracoke, Ocracoke Island
Ocracoke stands apart from the other Outer Banks areas. This secluded paradise features maritime forests, stunning beaches, and a host of island activities to try.
These activities include wandering or biking around the quaint village, horseback riding on the beach and through the forest, and tackling hiking trails. There is also the charming Ocracoke Lighthouse to view.
Another unique attraction is the British Cemetery of Ocracoke. This cemetery has the graves of four WWII soldiers and is on land perpetually leased to the United Kingdom. Therefore, if you visit, you are on foreign soil!
Despite only being accessible by boat, getting to Ocracoke isn't too challenging. There are ferries that run from Hatteras, Cedar Island, and Swan Quarter.
The Hatteras to Ocracoke ferry is free, and the fares for the other two are based on the length of the vehicle. You also need reservations to take a car on the Cedar Island and Swan Quarter ferries.
You can take a private boat as well. If you have access to a small plane, you can land at Ocracoke Island Airport, too.
In Conclusion
The towns of the Outer Banks, North Carolina, are stunning vacation spots on the Atlantic seaboard. With so many to choose from, you're sure to find the ideal OBX getaway!
Whether you are enjoying a weekend away or are planning a longer seven days in the Outer Banks, you are sure to have the most incredible North Carolina holiday!
If you want to learn even more about the Outer Banks, then be sure to check out these 45 fun facts about the Outer Banks, North Carolina.
Give us feedback about this article
More visual stories related to this article:
---
---
Want to keep exploring?
Subscribe for discounts on tickets and hotels and our latest guides.
Thank you for subscribing
We will be in touch soon with discounts on tickets and hotels and our latest guides.
Want to keep exploring?
Subscribe for discounts on tickets and hotels and our latest guides.
Thank you for subscribing
We will be in touch soon with discounts on tickets and hotels and our latest guides.
Related Articles