35 Best & Fun Things to Do in Raleigh, NC
Destguides may receive commissions from purchases made through affiliate links in this article.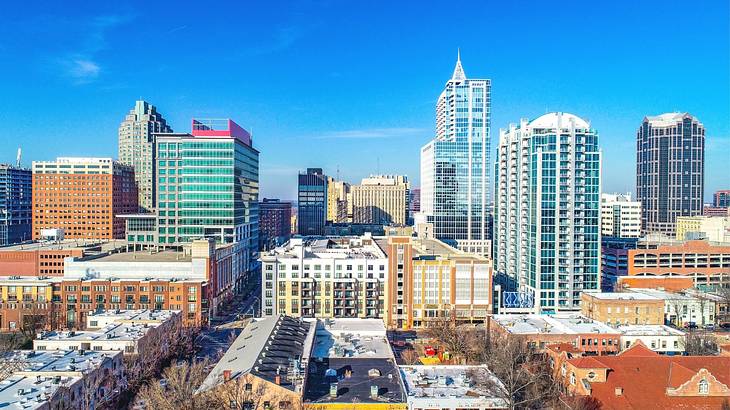 North Carolina is a great destination, and one of the best cities to visit is the state capital of Raleigh. No matter what activities you enjoy, you'll find many fun things to do in Raleigh, NC.
Just a handful of the things to do and see include going to local flea and farmer's markets, checking out the best bars and restaurants, and visiting a host of historical NC landmarks. If a trip to Raleigh is on your travel bucket list, read on to discover all the things you can do when visiting.
35 Things to Do in Raleigh, North Carolina
Raleigh, NC, Things to Do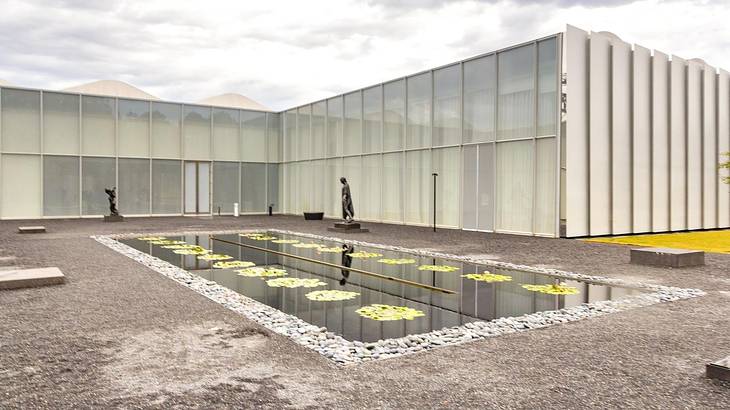 Visit the North Carolina Museum of Art
An interesting North Carolina fact is that due to the vast number of museums in Raleigh, the city is often called the "Smithsonian of the South."
One of the best museums to visit during your trip is the North Carolina Museum of Art. Opened in 1956, the attraction houses a collection of works by renowned artists. They also have pieces that date back more than 5,000 years.
Get drinks and a meal at The Raleigh Times
Found in the old Raleigh Times building, The Raleigh Times is a gastro-pub style bar serving classic American dishes and great drinks. Menu options range from tacos and sandwiches to shrimp and grits and fried pickles.
You can accompany your meal with a delicious cocktail or wine or beer. There's also a kids menu and you can enjoy taco and margarita deals on Tuesdays.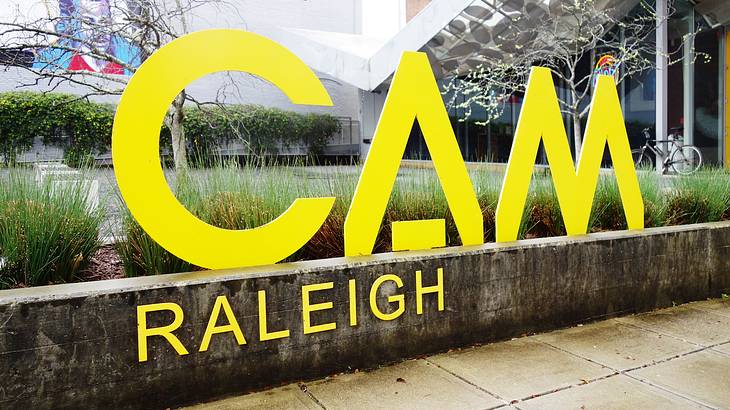 Admire artworks at the CAM Raleigh
Another of the cultural attractions in Raleigh that has to be on your North Carolina bucket list is the Contemporary Art Museum of Raleigh or CAM Raleigh. The gallery features an array of works, including paintings, murals, and multimedia installations.
The majority of the pieces displayed here are contemporary in style. Exhibits rotate, too, so new works are always being shown.
Check out Fayetteville Street
Fayetteville Street is a main street in downtown Raleigh. It has an array of shops, ranging from clothing and accessory stores to decor and antique outlets.
You can also discover many bars and restaurants, plus lots of other attractions. Additionally, from April to September, a farmers market is held in the area on Wednesdays.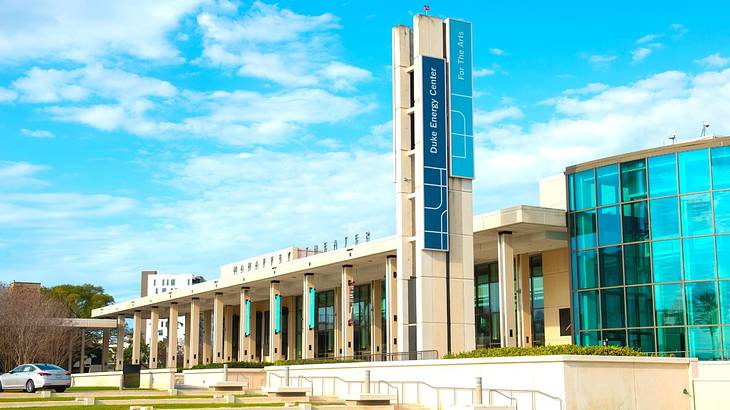 Watch a show at the Martin Marietta Center for the Performing Arts
Raleigh's primary performing arts venue is the Martin Marietta Center for the Performing Arts (formerly Duke Energy Center for the Performing Arts). The venue opened in 1932 and continues to host outstanding performances.
Shows to see include ballets, symphony orchestra concerts, and theater productions. No matter what you choose to watch, you're guaranteed to be impressed. Catching a show is also one of the best date ideas in Raleigh!
Shop at Historic City Market
A great place to find locally grown and produced goods in Raleigh is at Historic City Market. This shopping area is on the National Register of Historic Places and has a farmers market, shops, and restaurants.
Along with the produce section, shops to visit include nail salons, a boutique pet store, and a french-inspired decor outlet. Eateries to head to after shopping range from ice cream parlors to sushi restaurants.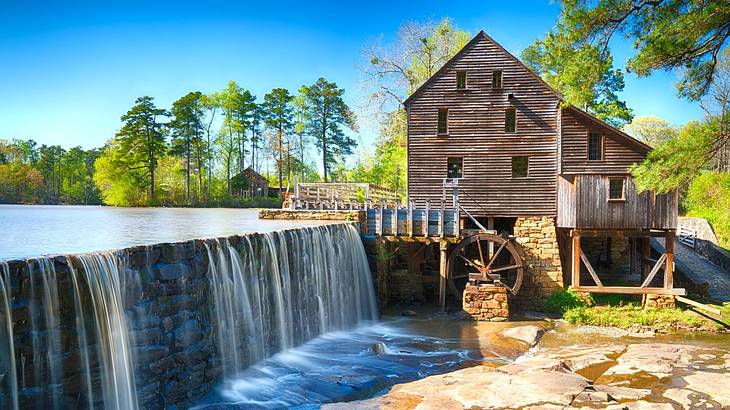 See an over 250-year-old mill at Historic Yates Mill County Park
Yates Mill was built in 1756 and has been restored to its former glory. You can see the mill yourself when visiting Historic Yates Mill County Park. After viewing the mill, you can explore the rest of the 174-acre park. You can follow a range of trails and will discover scenic lakes and dense woodlands.
Walk around Historic Oakwood Cemetery
One of the interesting things to do when visiting Raleigh, NC, is going to the Historic Oakwood Cemetery. This landmark opened in 1869 and was added to the National Register of Historic Places in 1974.
When visiting, you can wander along the tree-lined paths and view the old tombstones, some of which date back 150 years.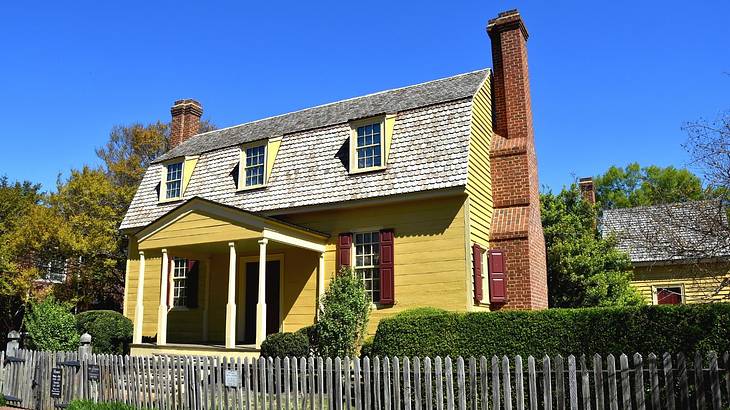 Go to the Joel Lane Museum House
Joel Lane Museum House holds the title of being the oldest dwelling in Wake County, having been constructed in 1769. Today, this Raleigh landmark acts as a museum.
The attraction is furnished as it would have been in the late 1700s and has antique furniture and other artifacts. After looking around the home, you can also visit the beautifully manicured gardens.
Let your kids play and learn at Marbles Kids Museum
If you're traveling with young children, one of the best things to do in Raleigh, NC, is going to Marbles Kids Museum. This fun and interactive attraction allows your kids to get creative and learn as they play.
Things to do include exploring an outside garden, creating block structures, and shopping and playing in a model town.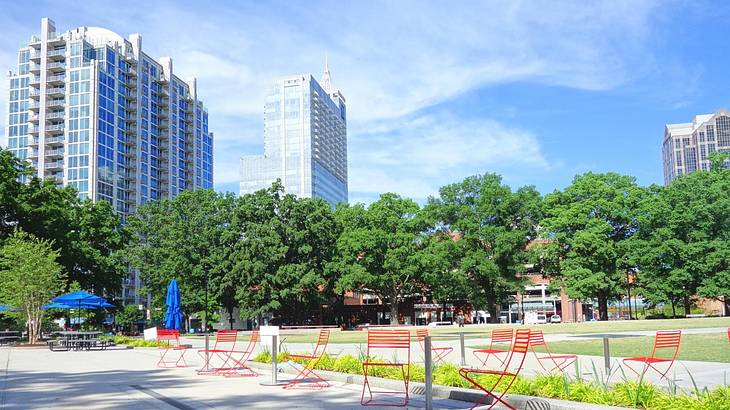 Hang out at Moore Square
A perfect place to relax and get some fresh air in Raleigh is at Moore Square. You can find open grassy areas, shaded seating, and pretty flower displays.
There's also a water fountain and some park games, like giant chess. If you want a snack, you can head to Square Burger in the park to grab burgers, fries, and shakes.
Find unique pieces at The Raleigh Market
The Raleigh Market is a flea market that's held on Saturdays and Sundays. It's North Carolina's largest flea market and has vendors selling a wide variety of goods.
Items for sale range from decor pieces and antiques to jewelry, clothing, and even gourmet food items. The Raleigh Market is the ideal place to find a one-of-the-kind purchase!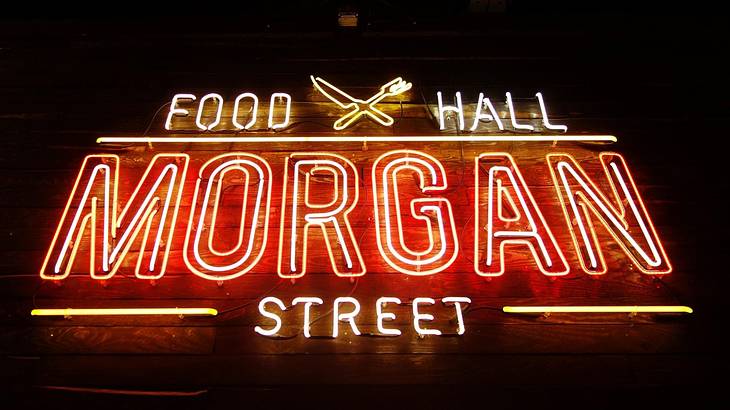 Eat delicious dishes at Morgan Street Food Hall
A fun Raleigh, NC, thing to do if you get hungry when exploring the city is going to Morgan Street Food Hall. The venue offers visitors a vast selection of vendors to choose from that sell cuisine from across the world. Just a handful of the options include Makus Empanadas, Buena Papa Fry Bar, and Amitie Macarons.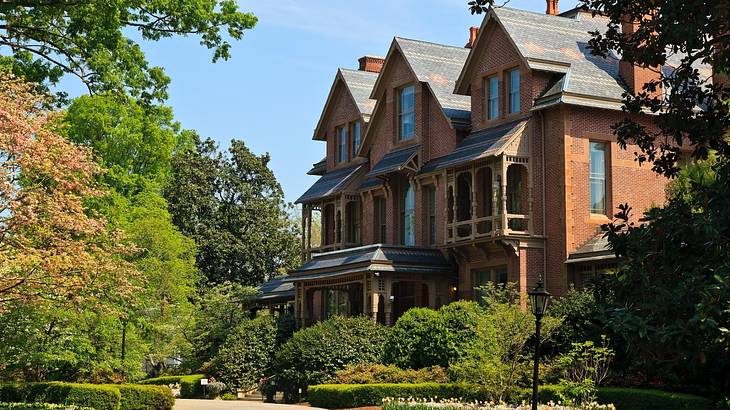 Tour the North Carolina Executive Mansion grounds
Constructed in the 1890s, the North Carolina Executive Mansion is home to the state's governor and their family. The Queen Anne style house is currently closed for internal tours, however, you can explore the surrounding grounds.
You can also admire the exterior architecture and take an online virtual tour of the inside of the house.
Look around the Pope House Museum
Another of the fascinating historical Raleigh, NC, attractions to visit is the Pope House Museum. The home, built in 1901, was originally owned by Dr. Manassa Thomas Pope, a prominent African American figure in the community.
As you look around the house, you can learn more about Dr. Pope, his achievements, and his life in Raleigh.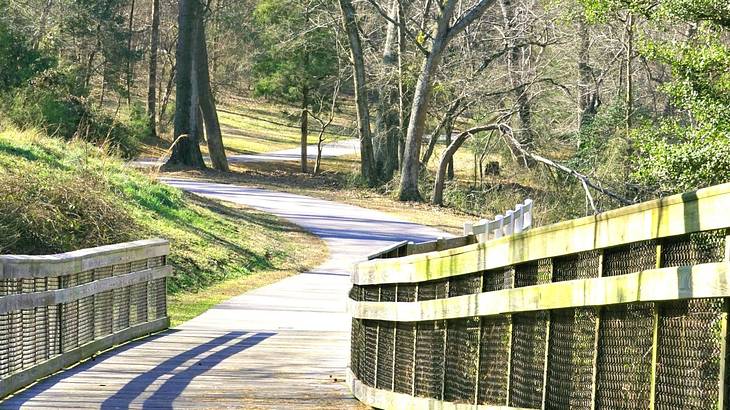 Bike or walk along the Neuse River Greenway Trail
One of the fun activities in Raleigh, NC, for those that like being outdoors is biking or walking along the Neuse River Greenway Trail. Covering 27.5 miles, the trail takes you past the Neuse River and allows you to admire scenic views.
This trail begins at Falls Lake Dam, located 20 minutes from Raleigh. It ends in Clayton, and it will then also take 20 minutes from there to get back to central Raleigh.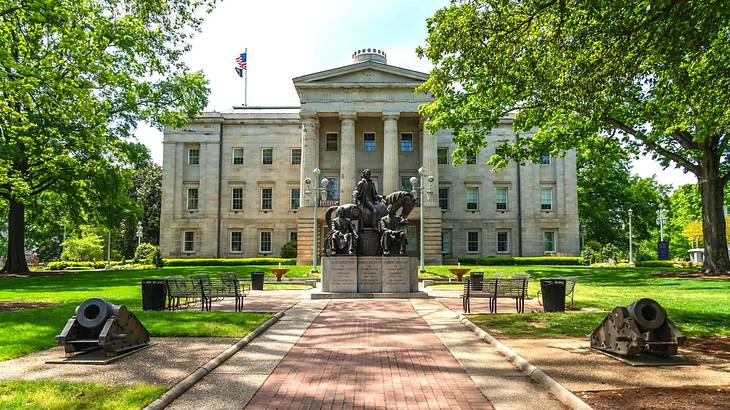 Tour the North Carolina State Capitol
One of the most significant buildings in Raleigh is the North Carolina State Capitol. This National Historic Landmark opened in 1833 and houses government offices to this day.
To learn more about the building and politics in North Carolina, you can take a guided tour. You can also take a self-guided tour if you want to explore on your own.
Sip cocktails at Haymaker
Haymaker is a trendy vintage-style bar serving delicious cocktails. Drinks on the menu include a hot mulled wine, gin, and lemon beverage and a vodka, gin, St. Germain, and sparkling rose mix.
Punch bowl cocktails for sharing and some non-alcoholic drinks are also available.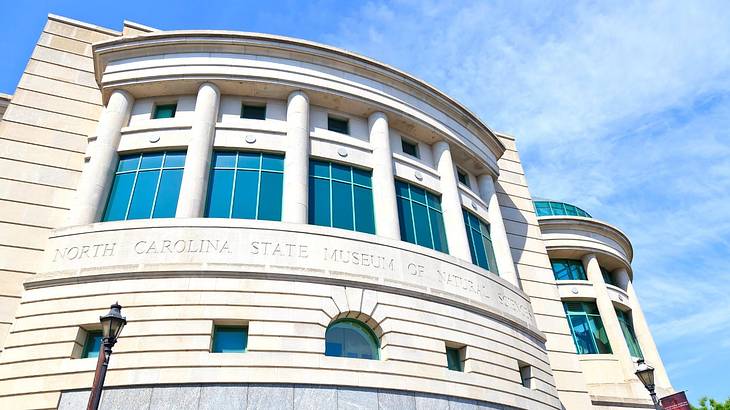 Learn new things at the North Carolina Museum of Natural Sciences
Founded in 1879, the North Carolina Museum of Natural Sciences is the oldest museum in the state. It also happens to be the largest natural history museum in the Southeastern United States.
During a visit, you can see exhibits covering the dinosaurs, wildlife, and other natural science topics. There are also interactive exhibits and fascinating events are often held.
Relax with a drink at Raleigh Beer Garden
Raleigh Beer Garden is a laid-back spot that has the largest selection of draft beers at one restaurant in the world. If you can't choose from the vast menu, the bartenders can offer suggestions.
You can also get cocktails, wine, and mixed drinks. As you relax with your drinks, you can order bar food like pizza, burgers, and wings too.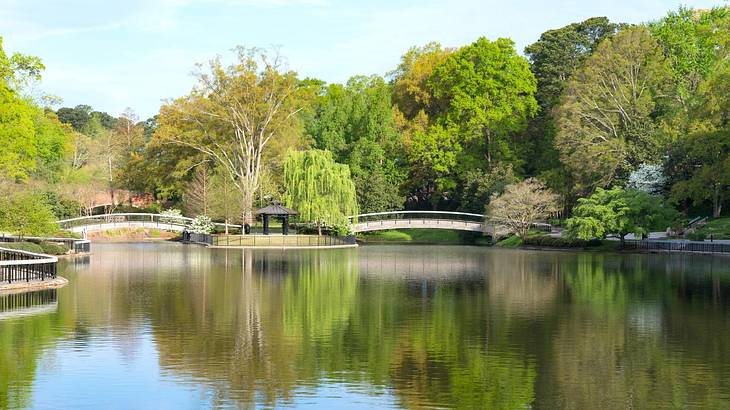 Enjoy the amusements at Pullen Park
Pullen Park is located to the west of downtown and covers 66.4 acres. The park is also adjacent to North Carolina State University. Interestingly, it's also the oldest park in the state, having opened in 1887.
Along with walking around the park, you can use pedal boats on the lake or play sports on the public fields. There is also a carousel for kids.
Buy some new jeans at the Raleigh Denim Workshop + Curatory
Raleigh has a lot of great shopping opportunities. One of the best stores to check out is the Raleigh Denim Workshop + Curatory. The brand specializes in high-end, hand-crafted jeans and other denim clothing.
They have men's and women's collections, plus accessories such as denim hats and bags.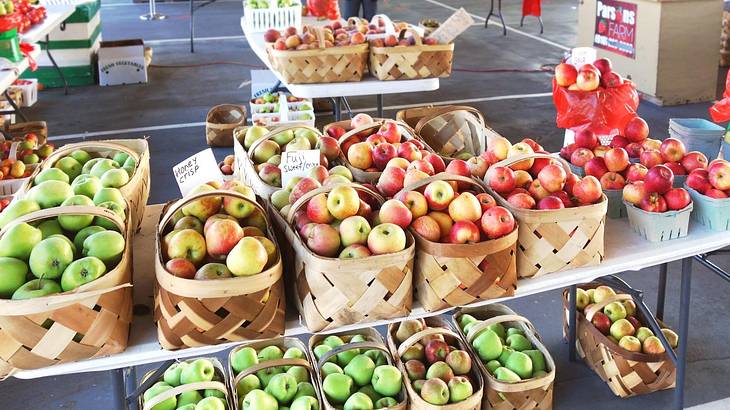 Discover local produce at a Raleigh farmers market
One of the top things to do in Raleigh is stopping by the North Carolina State Farmers Market. Located ten minutes from downtown, the venue hosts a variety of local vendors and is open all week.
Goods for sale include locally grown fruit and veg, fresh flowers, and baked goods. There are also some cafes and restaurants at the market, like the State Farmers Market Restaurant and 321 Coffee.
Chill out with a cup of coffee at Sir Walter Coffee
If you're after a laid-back activity, head to Sir Walter Coffee to relax in the trendy cafe. Along with classic coffees like espresso or cappuccino, you can get more unique brews.
These options include ginger and espresso latte and an old-fashioned cocktail-inspired coffee infusion. Regular teas, plus tea cocktails are also on offer along with food options.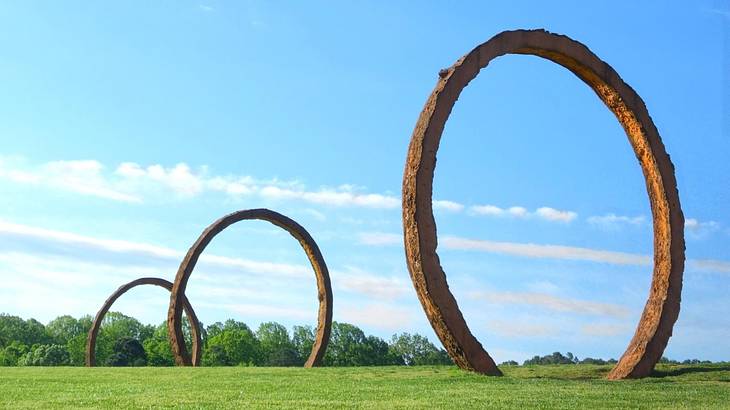 Stroll around the Ann and Jim Goodnight Museum Park
The Ann and Jim Goodnight Museum Park is part of the North Carolina Museum of Art and is located next to the main museum building. The park features a selection of art installations and sculptures. You can wander around the park, admiring the artwork and enjoying the fresh air.
Treat yourself to candy at Videri Chocolate Factory
Videri Chocolate Factory makes decadent chocolate treats within Raleigh's Warehouse District. At the store, you can take a tour of the factory to learn about the production process.
Afterward, you can treat yourself to sweets, including chocolate bars, truffles, and hot chocolate mix. You can also get soft-serve ice cream or hot chocolate in the on-site cafe.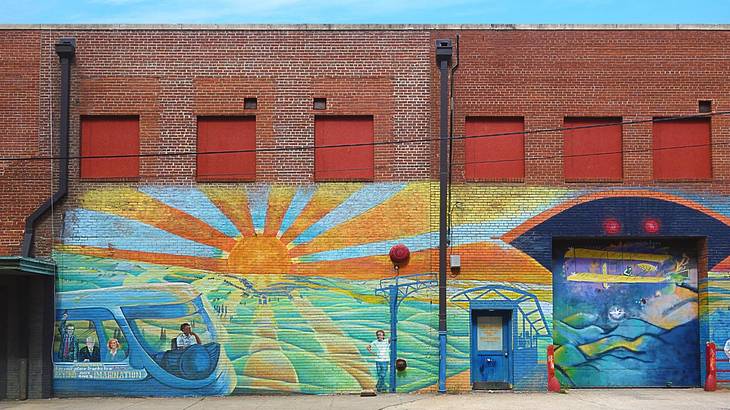 Bar hop in the Warehouse District
If looking for the best entertainment in Raleigh NC, make sure you head to the Warehouse District. The area is filled with bars, breweries, and eateries. You can also find art galleries and other trendy attractions.
Places to check out in the area include Crank Arm Brewing and Legends Nightclub.
Hike around William B. Umstead State Park
A fun outdoor activity near Raleigh is hiking in William B. Umstead State Park. The state park is about 30 minutes away from central Raleigh.
When visiting, you can follow a selection of scenic trails and will come across forests, lakes, and even wood cabins. You can spot wildlife, like elk, bison, and a variety of birds too.
Explore Mordecai Historic Park
Located just a 20-minute walk from downtown Raleigh, Mordecai Historic Park is notable as it features the birthplace of Andrew Johnson. Along with seeing the childhood home of the 17th president of the United States, you can follow trails and see some other historical buildings.
Mordecai House is another of these significant buildings and is one of Raleigh's oldest homes, having been built in 1785.
Listen to live music at Tin Roof
If you're looking for cool things to do in Raleigh at night, consider going to Tin Roof. The vibrant bar has a friendly atmosphere and great food and drinks menu.
Tin Roof also hosts live music nights featuring a range of local bands. Drinks offers are available each night as well, such as discounted fishbowls on Fridays and mimosa deals on Sundays.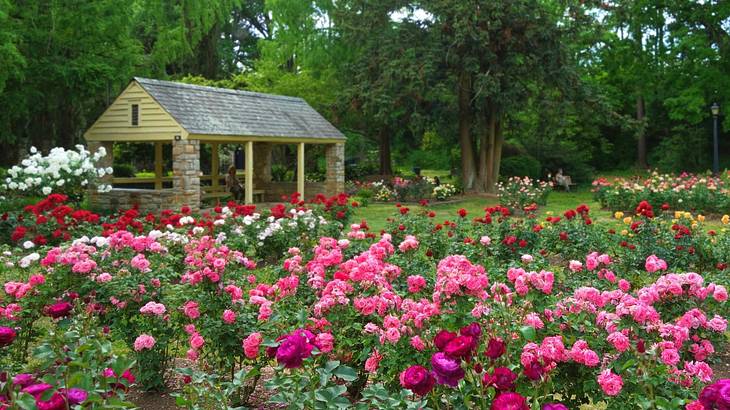 Smell the flowers at Raleigh Rose Garden
Found on the Raleigh Little Theatre campus, the Raleigh Rose Garden has a variety of beautiful floral displays. The garden has sixty rose beds with a range of rose varieties. Raleigh Rose Garden is a charming place to walk around and snap some nice pictures.
Dine on the patio at Jolie
Eating al fresco is always a fun idea! One of the Raleigh places to visit that has a patio and great food is Jolie. The French bistro-style eatery has a rooftop terrace where you can enjoy dishes like steak tartare, coq au vin, and onion soup. On colder days, the patio has outdoor heaters.
Fun Things to Do Near Raleigh, NC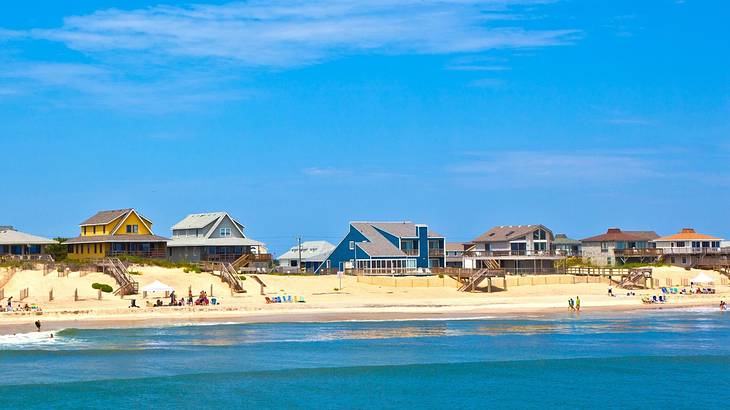 Take a trip to the Outer Banks
If you're looking for an all-day or overnight activity, why not drive to one of the Outer Banks towns? Located three and a half hours from Raleigh, the area features beaches and seaside attractions.
You can also discover an array of breweries in the Outer Banks that serve locally brewed beers.
Get back to nature at Hemlock Bluffs Nature Preserve
Hemlock Bluffs Nature Preserve is the perfect place to get outside and connect with nature. Covering 140-acres, the preserve is home to an array of flora and fauna.
At the preserve, you can follow trials and spot wildlife. You can also visit the Stevens Nature Center, which has educational exhibits.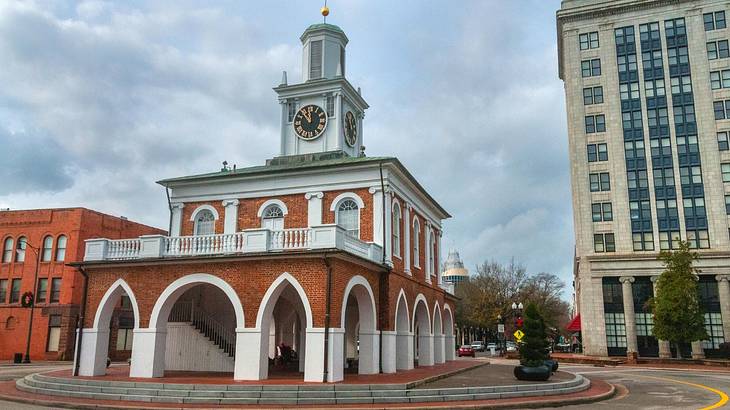 Spend a day in Fayetteville
Fayetteville is a small and charming town located one hour from Raleigh. Taking a short road trip to the area is highly recommended. Some of the fun things to do in Fayetteville include visiting the Cape Fear Botanical Garden, shopping on Hay Street, or seeing the historic Market House.
In Summary
If you've been looking for ideas on what to do in Raleigh, North Carolina, this extensive list should have provided you with lots of inspiration. From bars and eateries to markets, museums, and hiking trails, Raleigh has something for everyone!
Give us feedback about this article
More visual stories related to this article:
---
---
Want to keep exploring?
Subscribe for discounts on tickets and hotels and our latest guides.
Thank you for subscribing
We will be in touch soon with discounts on tickets and hotels and our latest guides.
Want to keep exploring?
Subscribe for discounts on tickets and hotels and our latest guides.
Thank you for subscribing
We will be in touch soon with discounts on tickets and hotels and our latest guides.
Related Articles